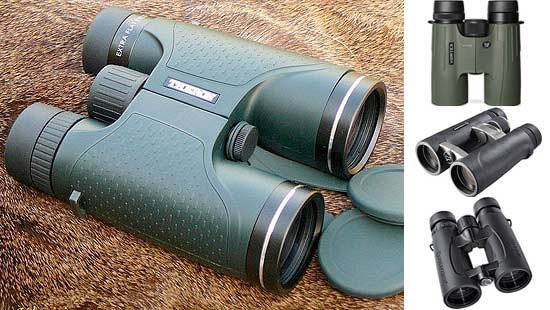 Somebody recently sent me this e-mail looking for some advice on which mid range ED binoculars they should get for birding, hunting and sporting events:
Question:
I was set to buy the Theron Wapiti 8x42 APO ED binoculars until I read your article. I do like a lighter binocular but my main interest is quality.

I own the Pentax 8x42 DCF WP, Nikon Execulite's 9x30 and the 12x36 featherweight binoculars. I wanted and upgrade to an ED glass.
The Vanguards look like the Nikon Monarch ATB's which I don't care for.

I am intrigued . . . Help! Which binocular should I buy? I am a hunter, birdwatcher and sporting event enthusiast.

Thank you for your wonderful reviews. I enjoy your commentary and points of view on optics.
Answer
Hi there, thanks for the question, which I will attempt to answer to the best of my knowledge. I have also decided to publish it on my site as I feel my answer may be of use to others who have a similar predicament:
What is ED Glass?
Before getting into which are the best ED Binoculars, I thought that I would quickly point out my complete guide to Extra Low Dispersion Glass (ED Glass), which goes into detail as to exactly what it is, what it does and lists some of my highest rated ED binocular reviews, which may also help you decide which one to get.
Which ED Binocular?
In your question, you mention that "I read your article", I am not sure which one you are referring to, but I have a hunch that it is this one about
You also didn't specify your budget, but as the Theron Wapiti 8x42 costs about $350, I thought that I would try and keep my recommendations pretty close to this.
Bins for Bird Watching, Hunting & Sporting Events
In your question, you mention that you are a " hunter, birdwatcher and sporting event enthusiast" this is great information.
From this we can basically combine all the needs of these three main uses and come to the conclusion that the most important features to look out for would be a tough, waterproof binocular that has a nice wide field of view and good low light performance. (I won't go into all the details here exactly why, but you can take a look at my guides to choosing bins for: birding, hunting and for sporting events to see why I say this.)
You also say that whilst you like a lightweight bin, quality is a more desirable characteristic – I will take this to mean image quality as well as build quality.
Obviously I cannot comment on the quality of view through any binocular that I have not written a review on or used myself. This unfortunately is the case with the 8x42 Theron Wapiti APO EDs, but what I can do is take a look at their specs and features and compare them to some that I have used and see if we can't fine some possible alternatives.
So to help us choose, I have included a table below that compares some of the main features and specifications of a few ED bins that I would immediately recommend within this price range that I have reviewed.
You also state that "The Vanguards look like the Nikon Monarch ATB's which I don't care for" – I think that you are referring to the Spirit EDs, but have included them as I think they offer great value for money and are worth keeping in, even if it is just to use them for comparison. I have also included the Vanguard Endeavor EDs which have an open bridge design which you may prefer the look of.
You will also see that I have also included the Vortex Viper, which is more expensive than the rest, but it is one which I feel, if you really want to go for a quality view and build and you have a little extra to spare, you should consider: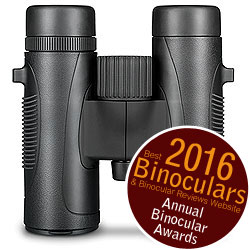 Scoring an "Outstanding" 80% on the BBR scale, these mid-sized Hawke binoculars are for me the perfect match for your need and the best bit is not only do they use ED glass, but also come in way under budget!
Their small size not only makes them a perfect companion to easily carry to sporting events, but on any travel adventure. Indeed for my test, I took them on safari with me to Africa and came back very impressed.
In my review I remark that the quality of glass as well as the coatings used on the Endurance ED is as good as you are ever going to see within this mid-level price range.
Add to this an impressive build quality, that includes a full magnesium chassis and small attentions to detail like flush fitting lens covers
Main Highlights:
Fully Waterproof and Nitrogen Filled Magnesium Chassis
ED Glass
Fully Multi-Coated Optics
Bak-4 Phase Corrected Roof Prisms
Field of view: 129m wide at 1000 meters
18mm of Eye-Relief
Close focus: 6.6ft
Price Range

The last time I checked, these had a retail price of around $210 in the US, £150 in the UK and around €200 in Europe, which for me makes them easily one of the best vale mid-sized bins currently on the market: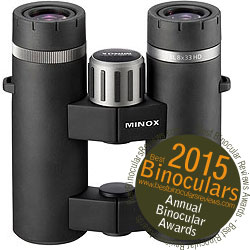 Not only are these Minox binoculars bang on budget and come with ED (HD) glass, but they also come with a whole host of other very high end features that you would expect for a top spec bin that is not only made in Germany, but each one is individually finished off by hand employing the highest level of quality control inspections:
Main Highlights:
Made & Designed in Germany
Waterproof as well as Nitrogen Purged body
Extra-Low Dispersion glass
Fully Multi-Coated Optics
Phase Coated Roof Prisms
Field of view: 140m wide at 1000 meters
17.5mm of Eye-Relief
Close focus: 8.2ft
Minox Warranty: 30 Years
Price Range

At the time of writing these were available for about $350 in the US or £380 in the UK, however I also expect this price to drop as this was not long after their release so are well worth checking again:
List Price: $429.99 / £379.99
Current approx Price: $292.86 / £240.39
Save $137.13 (32%) or almost £140!
As well as the Celestron's above, I have decided to highlight these Vanguard Endeavor binoculars over the rest as they usually are way over your budget, but are currently being offered at a cracking price and is way less than many equivalent ED binoculars.
Scoring an outstanding 85% on the BBR scale these went on to win the award as the Best Value For Money Binocular in 2013 and they come with all the high end features of those listed below and more:
Main Highlights Include
ED (extra low dispersion glass)
Fully Multi-coated Lenses
Phase Correction Coatings on the prisms
BAK-4 Prisms
100% Water & Fog Proof

Where to Buy
To Check and compare the current prices quickly at a number of on-line retailers both in the UK and the US, use the link below: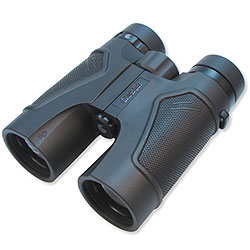 When I reviewed these Carson binoculars they had a street price of around $300 / £250, which not only brings them within budget, but I thought was good value. However since then the price on these has dropped to around £220 in the UK and $260 in the US which is now truly excellent value when you consider their image quality and everything else that you get.
Note: The 10x magnification on this model does mean you get a narrower field of view, which especially for sports may not be ideal, unless you have seats right at the back of the stadium. If this is a problem, consider the 8x42 version instead.
Main Highlights Include
Bright & High Qulity Image
Compact and Lightweight Body for a 42mm Bin
ED Glass Lenses & Fully Multi-coated Optics
Phase Correction Coatings on the BaK-4 prisms
FOV: 105m at 1000 meters
Comes with the excellent Wrap around BinoArmor Case and a Binocular Harness!

Where to Buy
Current prices of these Carson ED binos are around £220 in the UK and $260 in the US, to check and compare use the link below:
Sorry you cannot see this table as your browser does not support iframes. Click here to open it up in a new tab.
As you can see above, they are all pretty evenly matched in most areas, but each one has their own unique strengths and weaknesses:
Theron Wapiti APO ED
They are a bit heavier than the rest, indeed they weigh more than the the Vanguard Endeavor ED which has larger 45mm objective lenses.
The have a nice wide field of view
They use APO (apochromatic) lenses with three elements that are potentially better at reducing both chromatic aberrations and spherical aberrations than the much more commonly used achromat lenses.
So the Theron's look like a nice binocular with great quality glass and coatings a nice wide FOV, which is perfect for your needs, but as I said, I cannot comment on the view through them or their build quality.
But having said that, the fact that they use APO lenses, which adds a lot of cost to manufacturing, but also usually improves the quality of the image is a good sign. This also explains why these Theron binoculars are a little heavier: glass is heavy and the extra set of elements in the APO objectives do add weight to the instrument.
Has the widest field of view of all, which combined with all of their other features makes them an excellent choice as a full sized birding sports bin.
Choose this bin if you are after a well priced, great quality bin and a really wide FOV is important to you .
Has a slightly higher powered 8.5x magnification, for just that bit more detail
Uses larger 45mm objective lenses, which will take in more light. This combined with their high quality coatings and glass translates to a brighter image in low light. Perfect when out birding or hunting at dusk or before sunrise.
The scored an impressive 9/10 for both the body quality and the quality of the view through them when I tested them.
Very large amount of eye-relief. (Only really important if you wear glasses).
Choose this bin if you are after a very high quality image and excellent low light performance, but you are not too worried about weight or size.
Is quite a bit cheaper than all the others
Is the lightest of all the binoculars on the list
But at 330ft @ 1000yards, they have the narrowest FOV of all the bins on this list.
Choose this bin if a wide FOV is not that important to you, but price is, as the Vanguard Spirit ED is much cheaper than the rest. The fact that they still come with ED glass and high spec coatings makes them excellent value for money.
Is more expensive than the rest, but:
At 85%, it has the highest overall score
Scored an outstanding 9/10 for the quality of the image
Excellent close focusing distance
Very large amount of eye-relief. (Only really important if you wear glasses).
Build quality is excellent and is a popular choice amongst serious hunters and birders.
Choose this bin if you are willing to pay that bit extra to get a really high quality binocular that performs very well in just about every department.
Also Worth Considering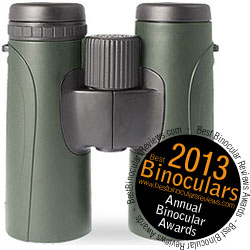 Hawke Sapphire ED 8x42 Binoculars
Current approx Price: $410 / £349.99
I have included these Hawke binoculars especially for those in the UK, as not only are they a cracking set of bins, but also just come within budget. However in the States, they are still just a little over the $350 mark, but I expect the prices to come down in time as they have only recently been introduced.
BBR's choice as the Best Birding Binocular in 2013 they not only produce an excellent quality image, but also very wide field of view and so makes them ideal for a wide range of uses including birding, wildlife observation and hunting.
I hope that at least some of this advice helps you in some small way. If you have any further questions, please just use the comment section at the bottom of this page to ask it. I would also love to know which one you eventually opt for and how you feel about them after testing them for a while.
More Information & Related Content
Also Need Advice?
Can't decide between two or more binoculars, or do you want to know more about a technical term or particular feature that I have not already covered on BBR: I would love to try and help you out – Follow this link to Ask