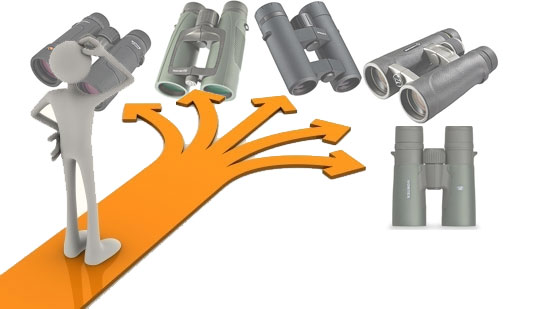 Advice on how to choose between binoculars
I received an email today from someone who is having some difficulty in deciding which binocular to get. They have narrowed their shortlist down to two pairs which is great, but still wanted some advice from me as to which one between the two they should go for:
I get this type of question sent into me very often and so rather then just replying to this and all the other similar emails individually, I thought I would share my ideas on the blog and hopefully this can help many more of you to make your own choice if you are in a similar situation.
Reviews & Testing
The problem for me in giving advice in this as well as many other situations like this, is I have not actually reviewed or even used either of the exact binoculars in question.
True I have fully reviewed two Vanguard Endeavor ED models, the 8.5x45 and the 10x42, but not the 10x45, so for the Vanguard binoculars I can at least draw from these experiences. However I have never used any Hawke binoculars (They have never sent me any to review… BIG hint to Hawke!) and so I would feel really uncomfortable about giving you any specific advice especially as to their performance in this situation.
Hint: You can se all the binoculars I have reviewed here: Browse Binocular Reviews by Brand.
So What to Do Now?
So if you cannot find a review of the exact model you are interested in on my site or any other for that matter (please make sure it is a real and fully independent review and that the person has actually used the binoculars) of the optics that you are interested in what should you do?
1) Read Reviews of the Same Range
Look for reviews of the same line or range of binocular but not the exact model. So to take this example, I have already fully reviewed both the Vanguard 8545 Endeavor ED and the 1042 Endeavor ED. Read them.
This will give you a very good feeling of what to expect in regards to the design, build quality of the chassis, optical components, the coatings used and indeed the extras like the neck strap, carry case and lens covers.
Performance wise as well, you will at least get an idea as to what kind of quality you are lightly to get from the model that you are specifically after.
2) Compare the Main Features & Specifications
Now once you have read as much information as you can find on the binoculars you are interested in, compare their main specifications and features against each other. Most of the specs you can get from the manufacturers websites or by working some of them out.
If I have reviewed the pairs that you are interested in then you can Compare Binoculars and there main features here or Try out my Features Search to return a list of binoculars that I have reviewed that match your requirements.
In this way you will often get a much clearer understanding of each of their particular strengths and weaknesses compared to each other.
So lets do this for this particular example and see what turns up:
| | | |
| --- | --- | --- |
| | | |
| | Hawke Frontier ED 10x43 | Vanguard Endeavor ED 1045 |
| | | |
| Magnification: | 10x | 10.5x |
| Objective Lens Diameter: | 43mm | 45mm |
| Weight: | 743g | 760g |
| Length: | 16.7cm | 15.6cm |
| Width: | ? | 13.0cm |
| | | |
| Exit Pupil: | 4.3 | 4.3 |
| Twilight Factor: | 20.7 | 21.7 |
| | | |
| Field of View@1000m: | 113m | 105m |
| View Angle: | 6.4° | 6.0° |
| Close Focus: | 2m | 3m |
| | | |
| Eye Relief: | ? | 17mm |
| | | |
| Water & Fogproof: | Yes | Yes |
| ED Glass | Yes | Yes |
| Lens Coatings: | Fully Multi-Coated | Fully Multi-Coated |
| Prism Type: | Roof Prism | Roof Prism |
| Prism Glass: | Bak-4 | Bak-4 |
| Phase Correction Coatings: | Yes | Yes |
| | | |
| Locakable Diopter Setting | Don't think so | Yes |
| Tripod Adaptable | Not Sure | Yes |
| Body Construction: | Magnesium | Magnesium |
| | | |
| Approx Price UK: | £299 | £280 & £40 Cashback = £240 |
| Approx Price US: | $450 | $399 & $50 Cashback = $349 |
Optical Components & Coatings
The first thing that stands out for me from these stats and features is that these two binoculars are fairly evenly matched. This is especially the case in the quality of the optical components and coatings used:
Both use extra-low dispersion glass (ED) in their lenses. Many high end optics these days use ED glass because it can reduce the amount of chromatic aberration (color fringing) and thus improve the sharpness of the image even further when compared to those made from standard glass.
Both have fully multi-coated lenses, which basically means that the lenses have received multiple layers of anti-reflective coatings on all air-to-glass surfaces which helps to increase light transmission to produce a brighter image and therefore better low light performance.
Both the Vanguard and the Hawke binoculars use roof prisms made from BaK-4 glass. This superior optical glass helps to produce clearer images will outperform the BK-7 prisms found on cheaper optics.
Both sets of optics have phase correction coatings added onto their prisms. Phase correction coatings counter the "phase shift" that occurs at the opposite faces of a roof prism resulting in a small amount of deterioration in sharpness. Phase correction coatings keep the light in the correct color phases and therefore produce images that have better contrast, a higher resolution and improved color reproduction.
Chassis & Body
Like the optical components and coatings, they are also very similar in their outer design.
Both feature an open bridge design with a body made from magnesium. Their weights and dimensions are also relatively similar and both are fully waterproof and fog poof.
One small difference is that the Vanguard Endeavor ED's have a lockable diopter adjustment ring which is used to correctly set up and focus the binoculars to your particular eyesight. The fact that it is lockable is a nice touch and an indication to the amount of attention to detail shown.
Main Specifications
Apart from their price, the biggest difference between the two is in their main specifications.
The Vanguard has a slightly more powerful magnification. This means that you get slightly more detail in the image and because they also have larger objective lenses (45mm vs 43mm) they still produce the same size exit pupil as the Hawke binoculars (4.3mm) which is excellent because it means that you get the higher magnification without sacrificing any low light performance.
Because of the higher magnification and equal exit pupils, the Vanguard Endeavor ED 10.5 x 45 also has a higher Twilight Factor rating, meaning that you get a better resolution image through them at twilight or in very poor light conditions.
However, the one downside to the larger magnification that larger objective lenses can't overcome and is one area where the Hawke Frontier ED 10 x 43 does outperform the Vanguard is that it has a slightly wider field of view and a slighter shorter minimum focusing distance. The differences are not huge, but may be something to keep in mind if either are very important to you. However if a really wide field of view is important, you should also consider the 8 or 8.5x versions of these binoculars.
Conclusion
As we have seen in most areas these two binoculars are very close and where there are differences and where one excels, the other makes up for it in the opposite areas. So personally I would choose the one that best suits my individual needs. Basically you are looking at a very slighter wider field of view and close focusing distance versus a potentially higher definition image, especially in lower light conditions. But to be honest the differences in both cases will be very minor and hardly noticeable unless you are REALLY looking for it and comparing the view next to each other.
So if you are still not swayed by comparing the stats and features between two or even more binoculars, I would just go on price and choose the one that offers better value for money.
Price Comparisons
Take a look at my Where to Buy Binoculars page that lists many of the best online optics retailers in the USA, UK as well as a few from Canada, Australia and Germany. Find the binoculars you are interested in and compare their prices – always take into account current deals and rebates etc.
For this example, you can either just take a look on Amazon both in the UK and USA:
Or you can compare prices at a number of different online retailers including Eagle Optics, Binoculars.com and Cabela's in the US or Warehouse Express (WEX) and Jessops in the UK:
I hope this helps and as you can see, you can use this method when choosing between any binoculars.
Further Reading