Bushnell Binoculars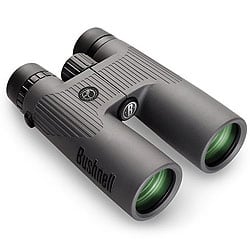 Bushnell: Most Trusted Brand
OpticsPlanet's Brilliance award 2008 for the company that has taken the satisfaction of their customers as their number one priority
About Bushnell Outdoor Products
Bushnell is now one of the most recognized and reputable sports optics brand in the world, which all started back in 1948 when Bushnell first began life as a mail-order binocular company. Since then the company has grow to become Bushnell Outdoor Products that not only produce binoculars, but 15 product lines that includes 11 brands that include very diverse products like their Golf Range Finders.
One feature that remains at the core of Bushnell is the focus on the outdoors with almost all of their products related to this sector. They offer binoculars and other products for most outdoor pursuits including: spectator sports, nature study (wildlife viewing), hunting, fishing birding and stargazing.
Located in Kansas, Bushnell has been one of the most recognizable brands in binoculars and an industry leader in high-performance sports optics. They have a leading market share in all of the sports optics categories, and their products have consistently won design and performance awards from prestigious organizations.
Not resting on past successes, Bushnell® are constantly exploring emerging technologies in optics as well as other outdoor products with the aim of combining leading edge design with performance innovation.
The Bushnell Mission Statement
"To develop and market superior optical products that enhance the experience of outdoor and sports enthusiasts"
Bushnell Binocular Range
With over 50 years in the optics industry you can be sure that excepting all but the cheapest pairs you have an instrument of excellent quality, using some of the latest optical technology in your hands. Right from the value Powerview series to the uncompromising Legend Ultra HD series, Bushnell make some of the finest binoculars currently available:
Bushnell Legend Ultra HD Binoculars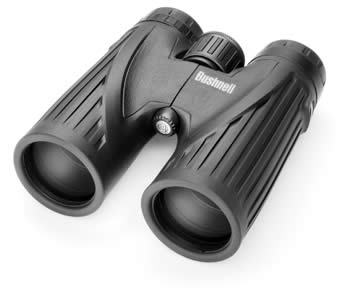 One of Bushnell's most popular series is the Legend Ultra HD and with a modern stylish finish, impressive features, great stats and relatively low cost, it is easy to see why:
Main Highlights
Fully Multi-coated Optics
Extra-low Dispersion (ED) Glass
Phase Correction Coatings on Bak-4 Roof Prism Models
Magnesium Body on some models
Rainguard Lens Coating
The use of ED Prime glass elements in their lenses helps to minimize color fringing which leads to improved color resolution and contrast in the image you see. The optics on the Legend Ultra HD are also fully multi-coated with Bushnell's Ultra Wide Band coating which dramatically improves light transmission compared to uncoated or only partly coated bins. Phase Correction coatings are also applied to the BaK-4 roof prism models.
The larger models are tripod adaptable and have a lightweight Magnesium body that is both water and fogproof.
Small touches and extra signs of their quality include a locking diopter and a water repellent coating on the exterior lenses that not only mean you get a better view in wet weather, but ensure dirt, grime and oil is less likely to stick on the glass keeping them clean for longer and when you do have to clean them, you can be less vigorous which in turn ensures you don't scratch them.
Bushnell also offers a limited lifetime warranty on their Legend Ultra HD binoculars.
Models Available:
Legend Ultra HD 8x42 (Sku: 198042)
Legend Ultra HD 10x42 (Sku: 191042)
Legend Ultra HD 8x36 (Sku: 190836)
Legend Ultra HD 10x36 (Sku: 191036)
Legend Ultra HD 10x42 Realtree AP (Sku: 191043)
Legend Ultra HD 10x25 Roof Prism Compact (Sku: 190125)
Legend Ultra HD 8x26 Porro Prism Compact (Sku: 198026)
Legend Ultra HD 10x26 Porro Prism Compact (Sku: 190126)
Bushnell Legend Reviews & Articles
Price Range
The Ultra HD's currently range in price from about $130 to $250 / £120 - £250, depending on where you get them and which model you choose. For current prices and to compare take a look at the link below:
Bushnell Elite Binoculars - New ED Versions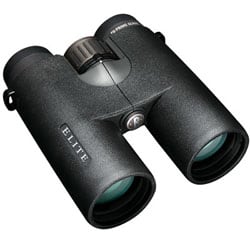 An updated version of the very well respected standard Bushnell Elite binoculars, the Bushnell Elite ED Binoculars now feature ED Glass (Extra low dispersion glass) for even brighter and clearer, high definition viewing.
Basically extra low dispersion glass prevents chromatic aberration because it concentrates and directs the wavelength of light more effectively onto your eyes. It does this because the lenses are made from high-quality, high-precision ED Glass that has less air bubbles and glass deformities in them that are more likely to cause image distortion.
The quality continues as they also feature fully multi-coated optical elements with their XTR technology and BaK-4 phase corrected high-reflection prism that give a sharp and high-contrast image over the full field of view.
XTR Technology: Uses 60 layers of coatings on each prism, to harnesses and optimizes light, boosting Elite binoculars to class leading 99.73% light transmission per lens. It's exclusive to Bushnell, and is said to be one of the most efficient means for transporting light through an optical system. The result is unmatched edge-to-edge clarity, contrast and true color imagery.
An interesting coating on the lenses is their RainGuard HD coating that according to Bushnell eliminates lens fogging, boosts brightness and scatters moisture even faster than original RainGuard. Elite binoculars are also 100% waterproof, fog-proof and built around a tough, lightweight magnesium chassis for reliability in the most extreme conditions.
Sizes Available:
Elite 10x42 ED Binoculars
Elite 8x42 ED Binoculars
Elite 7x26 ED Binoculars
Bushnell Elite Reviews & Articles
Price Range
Depending on the model, they range in price from about $400 - $600 / £400 - £500
Bushnell Elite Binoculars - Old Standard Glass Versions
The Bushnell Elite Binoculars offer a 90% light transmission through the whole pair of binoculars, they're the brightest binoculars in their class. The quality BaK-4 roof prisms with PC-3® phase coating produce outstanding image clarity and contrast. The binoculars are waterproof and fogproof with the Bushnell patented Rainguard® coating that keeps your view clear in almost all weather conditions. Make no mistake these are quality binoculars. An great accessory is the Doubler that multiplies the magnification by 2.5x and transforms your Elite binoculars into a spotting scope.

Sizes in the Elite Range include:

Bushnell 8x43 Elite Binoculars
Bushnell 10x43 Elite Binoculars
Bushnell 10x50 Elite Binoculars
Bushnell 12.5x50 Elite Binoculars

Bushnell NatureView Binoculars - New Range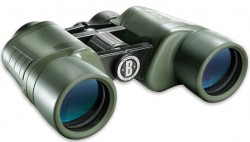 Bushnell Outdoor products have recently completely revamped the entire range of their very popular NatureView binoculars.
This series now consists of seven different models, with both porro and roof prism designs in both mid and full sized options.
Almost all models come with fully multi-coated optics and BaK-4 prism glass. Some models are fog and waterproof, but not all. For more details, read my guide to the New Bushnell NatureView Binoculars that contains a full specification and feature comparison table of all the models in this series.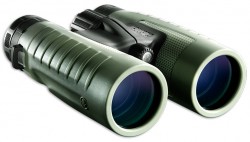 Sizes Available:
6x30 NatureView Porro Prism Binoculars (220630)
8x40 Backyard Birder NatureView Porro Prism Binoculars (220840)
8x42 NatureView Porro Prism Binoculars (224208)
10x42 NatureView Porro Prism Binoculars (224210)
8x32 NatureView Roof Prism Binoculars (220832)
8x42 NatureView Roof Prism Binoculars (228042)
10x42 NatureView Roof Prism Binoculars (220142)
Related Articles
Price Range
Depending on the model, suggested retail prices range from $99 to $149 in the US with most models costing less then £150 in the UK:
Bushnell Natureview Binoculars - - Old Versions
The Natureview binoculars are fully multi-coated optics for superior light transmission and have excellent close-focus capabilities for short-range viewing to help you catch every detail. BaK-4 prisms for bright, clear, crisp viewing. Extended eye relief makes long glassing sessions comfortable. Good general all-rounders that make excellent safari, wildlife and birdwatching binoculars.

Sizes in the Natureview Range include:


Bushnell AW (All Weather) Binoculars
Exclusive to Jessops in the UK, the Bushnell AW binoculars combine excellent value for money with a tough waterproof exterior.
Read the full review of the Bushnell 12x42 AW Binocular.
Bushnell Trophy Binoculars
These binoculars are built tough, with a rubber-armor housing that's O-ring sealed and nitrogen purged for 100% waterproof and fogproof dependability, perfect as hunting, hiking, fishing, birding and safari & wildlife viewing binoculars.
Bushnell H2O Waterproof Binoculars
The H20™ series of binoculars from Bushnell are O-ring sealed and nitrogen purged to completely lock out moisture. On top of this the rubber armouring with textured pads gives you a grip in slippery situations. Multi-coated optics and premium quality BaK-4 prism glass maximize light transmission and image clarity. These obviously make excellent marine binoculars or for use in any other situation where you may get wet.
Bushnell Excursion Binoculars
These BaK-4 roof prism binoculars feature Wide field-of-view, PC-3® phase coating for color fidelity and clarity of image, fully multi-coated optics, 100% waterproof and fogproof construction and long eye relief.
Bushnell Excursion EX Binoculars
The Excursion EX binos feature a very wide field of view, fantastic brightness and clarity that are a match for any other brand of binocular in their price range. The fully multi-coated optics and high-performance BaK-4 prisms with the Bushnell PC-3® phase coating produce outstandingly bright, clear images from edge to edge and are 100% waterproof and nitrogen purged.
Bushnell Marine Binoculars
Designed specifically as Marine Binoculars, they are built to withstand extreme nautical environments and also float. The Marine binoculars from Bushnell are buoyant, waterproof and corrosion resistant. Rugged rubber armouring provides a sure grip, absorbs shock and keeps them from sliding in rough conditions. There is also a version that has a 3-Axis Digital Compass, with the newest featuring a digital compass for true heading. All Bushnell Marine binoculars come the 7x50 configuration.
Bushnell Powerview Binoculars
The PowerView® series has the most products of all the Bushnell series of binoculars with an emphasis on quality yet affordable binoculars. No matter what your purpose, you'll find a variety of magnifications, styles and sizes. Standard-size porro models feature Insta-Focus for fast and easy focus on moving targets. The mid-size roof prism models with 32mm objectives provide increased brightness for low-light viewing conditions.
---
Bushnell Night Vision Monoculars
The Bushnell Night vision monocular range features built-in infrared illuminators and advanced light-gathering technology, perfect for surveillance, camping, nocturnal wildlife viewing.
Bushnell Stealthview
The 5 x 42mm Bushnell Stealthview digital night vision monocular uses an infrared spotlight for long-range brightness and clarity.
Bushnell Prowler
The 4.0 x 50mm Bushnell Prowler has a powerful 4x magnification that is perfect for long range viewing. Features include a rubber armored grip, built-in tripod mount and infrared illuminator.
---
Bushnell Night Vision Binoculars
Bushnell have two binoculars in their night vision range both are 1st Generation's:
Bushnell 2.5x42 Night Vision Binoculars
Exceptionally comfortable to use and perfect for extended periods of observation and viewing. They come with a built in Infrared illuminator for viewing in almost complete darkness, this along with their wide field-of-view and many other features makes them ideal for law enforcement, night navigation and wildlife surveillance.
3.1 x 50mm Bushnell Night Vision Binoculars
This night vision binocular features a good magnification and extra-large objective lenses, extracting as much light from the night sky as possible. They have a bright light protection circuit, to protect the sensitive equipment to any sudden exposure to bright lights. The binoculars also come with a tripod mount and IDP adjustment and so are ideal for prolonged viewing at longer ranges.
Bushnell Night Vision Goggles
The Bushnell 1X20 Night Vision Gen 1 Goggle comes with Headgear (261020) and a built in infrared illuminator and has a viewing range of half a foot up to 100 feet. They are lightweight, compact and great for close range night vision uses where where you need both hands free.
Features
Gen 1 Hands-Free Goggle & Headgear
Detachable for Use as a Binocular
Built-In IR
Water-Resistant
---
Bushnell Telescopes
Reflector telescopes have rugged, maintenance-free designs and use mirrors to focus and lenses to transfer light. Reflector telescopes produce high-quality images at an economical price, while catadioptric telescopes capture the best properties of refractor and reflector telescopes; dobsonian telescopes offer superior viewing without complicated operation.
---
Bushnell Range Finders
These are available in monocular and binocular models and are perfect for outdoor sports like hunting and golfing.
Some models are waterproof, fogproof and shockproof. Large objective lenses are designed for hunting when weather is poor and light is low. Laser range finders use refracting beams to calculate distance.
For Mor information on Bushnell Rangefinders, including their range of Golf Laser and GPS rangefinders, follow the links below
---
Bushnell Spotting Scopes and Astronomy Scopes
Perfect for observing wildlife with magnifications from 20x to 60x. Some Bushnell spotting lenses are collapsible and completely portable.
---
Bushnell Riflescopes
Available in a variety of sizes, powers, and configurations, with range estimation, illuminated reticles, and long eye relief to effectively bring targets into close view. Red dot lasers reduce distortion and add depth perception. Night vision scopes use infrared thermal light technology, offering a clear view even on a cloudy night.
---
Bushnell Binoculars with Digital Camera
An obvious idea, but as yet not fully delivered. Most binoculars with a built in digital camera are not much more than a novelty item. Bushnell have been pioneers in this field and whilst I think they still have a long way to go before they produce a quality pair of binoculars with a combined digital camera that matches the stand alone versions, they continue to improve. Bushnell produce 2 models of Digital Camera Binoculars, the Instant Replay that can also capture video and the Image view series.
For more details read my articles on:
---
>Where

to Buy Bushnell Binoculars:
---
Bushnell Terminology
XTR® Technology
Using 60 layers of coatings on each prism, this revolutionary system harnesses and optimizes light, boosting Elite binoculars to their world-leading 99.73% light transmission per lens. It's exclusive to Bushnell, and hands-down the most efficient means for transporting light through an optical system.
PC-3® Phase Coating
A chemical coating applied to the prisms to enhance resolution and contrast for the brightest and clearest images possible.
RainGuard® HD
This patented, permanent, water-repellent coating causes moisture from rain, snow, sleet or condensation to bead up and scatter less light, so you get a clear, bright view when other optics would be rendered useless
Ultra Wide Band Coating
An anti-reflection coating process that is customized for every lens element in the optical path, in order to allow the best possible light from the front glass all the way back to the eyepiece. The result? Optimum brightness and true color across the light spectrum.
---
Bushnell Brands
On top of Bushnell binoculars they have many very well known brands in their portfolio these include:
Bushnell - Binoculars, Scopes, Rangefinders, GPS, Night Vision, Telescopes
Tasco - Binoculars, Spotting Scopes, Telescopes, Riflescopes
Serengeti -Eyewear and Glasses
Bolle - Eyewear and Glasses
Uncle Mike's
Hoppe's
Stoney Point
Butler Creek
Uncle Mike's Law Enforcement
Final Approach
Kolpin
---
Bushnell Binocular Repairs
USA Residents
Bushnell recommend that if you are having any problems with your Bushnell binocular or accessory and that you want to send it back for repair, the first thing to do is to fill out their repair form and then send it to them. I personally would first contact their Customer Service Dept. on 1-800-423-3537 be for sending your binoculars.
Once you have done this they will ask you to fill out a returns form and attach it to the product to be repaired. A dated Proof of Purchase must be included with electronic products that do not have lifetime warranties. This includes: Laser Rangefinders, Trail Cameras, GPS (inc. BackTrack), ImageView (binoculars and spotting scopes), Night Vision, Speed Radar, and Flashlights.
You will also need a check or money order for the return shipping and handling fee for all Bushnell products, this at the time of writing was $10.00 for everything except for telescopes that c have a $15.00 shipping and handling fee due to their larger size and weight. Please Note: There is return shipping/handling fee for warranty repairs of Bushnell Elite riflescopes and binoculars and California residents are excluded from paying shipping and handling fees for warranted items only.
Bushnell Binocular Repair USA
Bushnell
Attn: Repairs
8500 Marshall Dr.
Lenexa, KS 66214
Non US Residents
Because of US import and export laws, repairs that come form outside of the US cannot be returned. They advise that you contact the nearest subsidiary office that services your area for shipping information. or for Non USA Residents, they suggest that you contact their Customer Service Department on 1-800-423-3537
Canadian Residents
Are again advised to first contact their Customer Service Department on 1-800-423-3537, you will then send the binoculars to Bushnell by a insured trackable courier such as Canada Post, or UPS along with a short note explaining the reason you are sending the unit in to them and your email address and daytime telephone number.
Bushnell Binocular Repair Canada
Shipping Information
Bushnell Sports Optics Worldwide
Attention: Repair Department
25A East Pearce Street
Richmond Hill, ON L4B 2M9
For more information on repairing binoculars in general and where you can get your optics repaired, take a look at my section on Binocular Repairs.
---
Bushnell Contact Details
North American Office
Bushnell Outdoor Products
9200 Cody Overland Park,
KS 66214-1734
Email: Customersupport[@]Bushnell.com
Kansas City area - (913) 752-3400
Consumers - (800) 423-3537
Dealers - (800) 221-9035
Fax - (913) 752-3550
Europe
Bushnell-Europe
4 rue Diderot
92150 Suresnes
Tel: 33141449480 Fax - 33141440609
International Department
Bushnell International Department
9200 Cody Overland Park,
KS 66214-3259 United Sates
Tel - (913) 752-3400 Fax - (913) 752-3572