Celestron Binoculars
About Celestron
Celestron are probably best know for their telescopes, which they fist began producing in 1960, Since then they grown to become one of the world's leading makers of telescopes and giant binoculars used mostly for astronomy and now enjoy brand-name recognition among serious amateur astronomers for superior optics, outstanding design, innovative technology at a very competitive price. Celestron, known for their value for money can get the young astronomer started for under $150 with a dual-purpose telescope geared for terrestrial and celestial viewing, that produces bright and clear images.
The Celestron Binocular Range
In the past Celestron mainly focused on entry level binoculars, but recently they have started producing much higher quality binoculars and now I would say that their brand would stand for quality at an affordable price. Celestron have been able to bring their knowledge of telescope optics to the field of binoculars, where they have combined superior optics, modern design and technology to produce affordable binoculars and spotting scopes not only for astronomy but for most terrestrial uses as well.
Their newest series of Granite Binoculars have seriously impressed me (Read my full reviews of the 8x42 and the 9x33 Granites that both scored an outstanding 82%) - thanks to the use of high end ED glass and quality coatings on their prisms and lenses produce an excellent quality image, that has been wrapped up in a modern open hinge design magnesium body that not only looks good, but is light and very comfortable to hold.
---
The Celestron Binocular Range
Celestron Granite Binoculars
This is their top of the range series that currently includes an 8x42 and a 10x42 - These high quality, but still affordable binoculars feature a lightweight yet tough water and fog proof open hinge design body, excellent quality optics that includes the use of ED glass and phase correction coatings on the Bak-4 roof prisms.
Celestron Trailseeker Binoculars
This mid-priced series shares most of the top end components and optical coatings as that of Celestron's flagship Granite series, but come with a much lower price tag and is thus aimed at the more price conscious, yet still discerning user.
Celestron Nature DX Binoculars
One of the newest series from Celestron, the low cost Nature DX roof prism binoculars are available in 6 configurations aimed at new to intermediate users, but still pack in a pretty impressive set of features.
Nature Series Binoculars
Highlights include a state-of-the-art design with a modern open frame style. Fully multi-coated optics and high precision BAK-4 prisms. A tough aluminum main body has a rubber covering for additional protection for the optics. Twist up eyecups provide easy adjustment for your eyes. The Nature series is waterproof & fogproof with nitrogen filled gas for added protection when out in damp environments.
Celestron SkyMaster Binoculars
Celestron's Skymaster line of astronomy binoculars offers exceptional performance in the field of binoculars for astronomy not only providing a spectacular view of the universe, but can also be used for many land uses.
Celestron Echelon Binoculars
This range of high specification porro prism binoculars are made in the USA using the best quality Japanese optics ensuring the highest quality view. Designed for long range glassing and astronomy they are currently available in three configurations.
Celestron Cavalry Binoculars
The Cavalry range currently consists of four especially rugged porro prism bins that are specifically designed for uses within the military, security, marine, hunting and search and rescue fields. All come with high quality optics and some have features like an onboard compass, GPS and rangefinder.
Celestron Landscout Binoculars
A small rseries of innexpensive porro prism binoculars with magnifications ranging from 7x to 12x and with objectives from 35mm to 50mm, there is a model to cater for most users needs
Celestron Outland X Binoculars
Celestron's mid-size Outland X Series was designed to meet the needs of every outdoor enthusiast, from birders and hunters to sports fans to travelers. The optics are multi-coated to obtain high resolution and high contrast views. The prism are made of BaK-4 glass to give you enhanced color fidelity.
Celestron Outland LX Binoculars - discontinued
The Waterproof Celestron Outland LX Series Binoculars takes the popular Outland series to an even higher level. Features include fully multi-coated optics and a four-element objective lens for an ultra sharp focus across the whole field of view. All Outland LX models are waterproof as well as fog proof.
Outland Series Binoculars
The Celestron Outland Waterproof Series offer excellent value in roof prism binoculars. All models are waterproof for use in all weather conditions and with a rugged rubber covering and modern styling for a secure and comfortable grip. High performance optics feature BAK-4 prisms and multi-coatings to ensure high contrast and resolution. These binoculars are perfect for hunters but well suited to any sport or nature activity.
Oceana Series Binoculars
The Oceana 7x50 with compass and rangefinder, which is resistant to weather and fogging, precise and sturdy, and able to provide quick, permanent focuses. Vertical etched reticles help determine relative size of objects, while the rangefinder calculates distance.
Celestron UpClose Series Binoculars
Designed to be small enough to tuck away in a pocket, purse, backpack, or vehicle storage compartment, the UpClose Roof Prism Series from Celestron is perfect for catching that great view at a moments notice.
VistaPix Digital Camera Binoculars
Innovations include: 8x binoculars that are combined with a 3.1 megapixel digital camera with video capability, 16MB flash memory, and the ability to store 35 high and around 100 low resolution images
Celestron Binocular Harness Strap - The perfect accessory for your binoculars should you want to free up your hands and take the weight off your neck and shoulders.
Celestron Granite Binoculars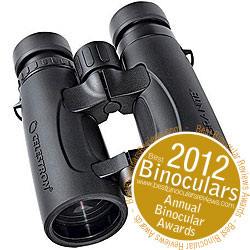 The top of the range Celestron Granite roof prism binoculars come in 8x42, 10x42, 10x50, 12x50, 9x33 and 7x33 configurations and feature extra low-dispersion (ED) glass which reduces color dispersion and helps prevent prevents chromatic aberration and therefore is able to produce a superior image with minimal (or none) color fringing, improved sharpness and clarity with exceptional light transmission and remarkable color resolution and contrast.
The open frame design looks great, provides you with excellent grip even with one hand and is comfortable to handle whilst also helps to reduce weight. On top of this the body is made of magnesium which is much lighter and stronger than the more commonly used aluminum.
All models have been Nitrogen-purged (meaning their internal air has been replaced with dry nitrogen gas) and sealed, which makes the Granite both waterproof and fogproof.
Top quality optics and coatings have been used throughout and this includes: Fully Multi-Coated Optics and BaK-4 Prisms that have phase correction and the very best dielectric high reflectivity coatings on them.
A Binocular Harness comes free with the binocular which is something I have not seen any other brand offer before and is really a great idea.
Most models come with a wide field of view, and the 8x42 Granite boasts one that is 426ft wide at 1,000 yards which combined with a stunning view and all the other quality features and components helped them scoop the Best Birding Binocular for 2012 award.
Sizes Available:
Granite 7x33
Granite 10x42
Granite 10x50
Granite 12x50
Price Range
Depending on the model you choose, this mid-high level Celestron Granite binoculars are available for around $350 / £390:
Celestron Trailseeker Binoculars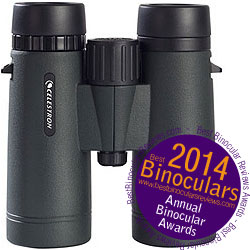 Whilst the Trailseeker series sits under the headlining Granite's and cost substantially less, they share many of the same high quality materials and optical coatings.
A visually obvious difference however is that they have a more traditional looking single hinge body shape, but Celestron have still used high spec magnesium alloy for it's frame material, which is not often seen on bins at this lower price.
One of the real highlights is that the Celestron 8x42 Trailseeker also has the same incredibly wide field of view (426ft @ 1000) as that of the Granite.
As you would expect they are fog and waterproof, but once again unlike many of their direct competitors, these have metal (rather than plastic) twist-up eyecups, which is another good indicator of quality.
Celestron have Fully Multi-Coated their optics and their roof prisms are made from BaK-4 glass, once again this is good, but what you should expect to find. However what is very surprising at this level is the prisms have been both phase corrected and dielectric coated, which is superb.
Once more and as with the Granite's, Celestron also include the same good quality binocular harness along with a soft carry case, neck strap and full lifetime guarantee.
Sizes Available:
Celestron Trailseeker binoculars come in four configurations, covering both the popular mid and full size markets:
Trailseeker 8x32
Trailseeker 10x42
Price Range
These mid priced bins cost between $195 and $240 / £170 and £200, depending on the model you select:
Celestron Nature DX Binoculars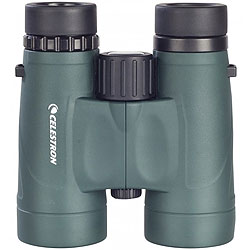 One of the newest ranges to the Celestron line-up, the Nature DX binoculars sit just above their older standard Nature series (see below) but are still primarily aimed at the novice to intermediate user and priced to appeal to those on a fairly tight budget. What is impressive however is that they still manage to pack in a good amount of higher quality features and optical components that should provide a more than decent view and which should match or better most in this price range.
All six models in the series are of a roof prism design, using very good quality BaK-4 glass. The optics are fully multi-coated and protected in a fully sealed and waterproof Polycarbonate body that is filled with nitrogen gas to prevent fogging of the lenses.
Sizes Available:
Nature DX 8x42 - Read My Full Review (No. 71332)
Nature DX 10x42 (No. 71333)
Nature DX 8x32 (No. 71330)
Nature DX 10x32 (No. 71331)
Nature DX 8x25 (No. 71328)
Nature DX 10x25 (No. 71329)
Price Range
Depending on the model you choose, these Celestron Nature DX binoculars are available for around $90 - $150 / £100 - £145:
Celestron Nature Binoculars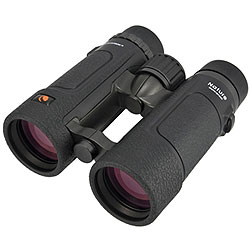 Aimed at the more price conscious observer, the Celestron Nature Series binoculars don't come with all of the high end features of the Granite's (see above) which is expected, but they do still feature some high quality components and coatings still result in a pretty good pair of optics and all at a great price (Take a look at my full Celestron 8x42 Nature Binoculars Review).
The Celestron Nature Series Binoculars is pretty diverse with three Porro Prism Designs and two Roof Prisms and like Celestron's top of the range Granites, all the Nature Series binoculars apart from the 8x30 Porro Prism model have an open frame design that looks great, is comfortable to hold and gives you an excellent grip even with one hand.
Aluminium is used for the body which is lightweight and tough yet not as expensive as magnesium ones used in the Granite's. All Nature Series binoculars have been Nitrogen-purged (meaning their internal air has been replaced with dry nitrogen gas) and sealed, which makes them both waterproof and fogproof.
Twist up eyecups provide easy adjustment for your eyes and god quality optics and coatings have been used throughout and this includes: Fully Multi-Coated Optics and BaK-4 Prisms.
Sizes Available:
10x42 Nature Series
8x30 Nature Series - Porro Prism
8x42 Nature Series - Porro Prism
10x50 Nature Series - Porro Prism

Related Articles
Price Range
Depending on the model, Celestron Nature binoculars are available for around $65 - $100 / £65 - £100:
Celestron Skymaster Binoculars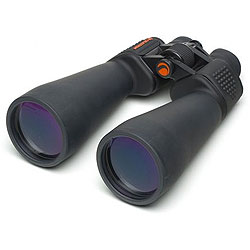 The Celestron SkyMaster Series of large aperture binoculars combine high performance with incredible value for money and make ideal astronomical binoculars as well as for terrestrial (land) use, especially when long distance observation is needed.
Every SkyMaster binocular features high quality BAK-4 prisms and multi-coated optics for enhanced contrast.
Celestron has also designed and engineered the larger SkyMaster models to meet the special demands of extended astronomical or terrestrial viewing sessions with maximum stability and secure optical alignment, the 80mm and 100mm SkyMaster models feature enhanced structural reinforcement to the main binocular body.
The Celestron 80 and 100mm SkyMaster binoculars also come with an integral super rigid photo tripod adapter to enable easy attachment to tripods and other fixing devices.
Sizes Available:
Skymaster 20-100x70 Zoom Binoculars
Skymaster 20x80 Binoculars
Skymaster 25-125x80 Zoom Binoculars
Skymaster DX 8x56 Binoculars
Skymaster DX 9x63 Binoculars
Skymaster 25x100 Binoculars
Price & Where to Buy
Depending on the model you choose Celestron SkyMaster binoculars are available from about $70 - $350 (£60 - £350)
Celestron Echelon Binoculars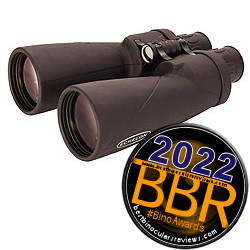 The Echelon series is similar to that of the SkyMaster's above in that they are larger (giant binoculars) designed for long range glassing as well as for astronomy or for use in poorer light conditions. Where they differ however is in their quality: whilst the SkyMaster focuses on value for money, the Echelon aims to be the very best:
Celestron Echelon binoculars are hand made in the USA, using the quality optics from Japan. This ensures a very high build quality and optical performance that combines to produce a superb all round binocular. And no I have not just copied the marketing hype, it is the conclusion I came to when I tested and reviewed the 20x70 Echelon.
Currently there are three models (se below) all of which use porro prisms made from BAK-4 glass and the optics are fully multi coated using Celestron's own XLT coating.
Unlike cheaper bins, with polycarbonate bodies, the chassis on every Echelon is made from Aluminium. They are fully waterproof and fogproof as well as being tripod adaptable.
Sizes Available:
16x70 Echelon
10x70 Echelon
Prices & Where to Buy
At the time of writing, Celestron Echelon binoculars cost between $750 & $850 depending on the model, but for current prices and comparisons in your country, please take a look at the link below:
Celestron Cavalry Binoculars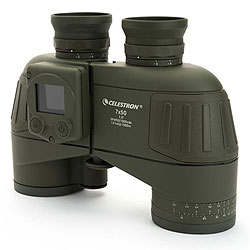 There are currently four models within the Cavalry range. All use BAK-4 porro prisms and come with fully multi-coated optics and are designed to be especially rugged to withstand the extreme elements.
Aimed at users like the military, police, security forces, boaters and hunters, these will perform well when the going gets tough.
One of the most interesting models within this range is the Celestron Cavalry 7x50 Binocular that despite it's low cost still comes with a with Digital GPS, Compass and bubble meter as well as a Rangefinding Reticle and is for my money one of the best value for money marine binoculars currently on the market and is also ideal for many security and search and rescue applications.
Available Configurations:
Prices & Where to Buy
This is a low to mid priced range and depending on which model you select, prices ranges from about $80 to $200 / £100 to £200. For latest prices and to compare between retailers in a number of countries, take a look at the link below:
Celestron LandScout Binoculars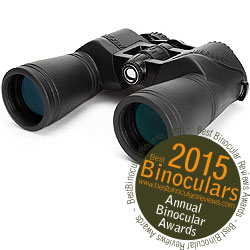 Whilst the LandScout series currently contains only four models all of which are of a porro prism design, but with the range of magnifications and objective lens sizes Celestron have ensured that most users needs will be catered for.
Whilst all models are what I would describe as low costing, they do seem to have the most important bases covered and an aspect that I do like is that they all come with Twist-up eyecups, which at this price level is most not usually the case on a porro prism bin.
Main Features
Fully waterproof and nitrogen purged Aluminum housing
BAK-4 porro prisms
Fully multi-coated optics
Twist-up eyecups
Tripod-adaptable
Current Configurations:
12x50 LandScout #71363
7x35 LandScout #71360
8x40 LandScout #71361
Prices & Where to Buy
The LandScouts are low costing binoculars, ranging in price from prices ranges from about $80 to $120 / £80 to £120. Follow the link below to check the current prices and compare between online retailers in a number of countries:
These binocular suspenders from Celestron are both simple and uncomplicated, yet they do what they are designed to do and they do it very well. The Celestron Binocular Harness strap is an inexpensive option for those wanting to both free up their hands and take the weight off their shoulders when not actually glassing.
More Information: Read my in-depth and hands-on review of the Celestron Binocular Harness Strap which includes photos, fitting instructions, my experience after using them and where to buy.
Where to Buy Celestron Binoculars:
Featured Celestron Binocular Reviews:
These Celestron Skymaster binoculars, with reasonably good quality optics and their large 70mm objectives with a very powerful 25x magnification make them an ideal low cost option for long distance terrestrial observation as well as perfect astronomy binoculars.

The waterproof body, protects high quality BAK-4 porro prisms and to help improve transmission levels, the the optics are multi-coated.

Price: (2/6) Low Cost Binoculars


Priced to appeal to those on a fairly tight budget, yet they they still manage to pack in a good amount of higher specification components and features which include very good quality BaK-4 glass and fully multi-coated optics which are protected in a fully sealed and waterproof Polycarbonate body that is filled with nitrogen gas to prevent fogging of the lenses.

The result is a tough, well priced binocular that produces a more than decent view which is as good as or better than most in this price range.

Price: (2/6) Low Cost Binoculars


High quality, high powered binoculars that are hand assembled in the USA using high specification Japanese optics, these are designed for long range terrestrial observation and astronomy.

With their large 70mm objective lenses and high quality optical coatings, these Celestron Echelon binoculars outperform many of their direct competitors in low light.

Tripod adaptable, their tough, yet lightweight aluminium body means you can also hand hold them in some situations for added flexibility.

Price: (5/6) High Value Binoculars


Low cost mid-sized binoculars that punch well above their price tag.

The 10x32 Celestron Trailseeker binocular incorporates many high end features found on far more expensive products including a magnesium alloy chassis, fully multi-coated optics with phase corrected, dielectric coated BaK-4 roof prisms.

Price: (3/6) Mid Priced Binoculars


Aimed at the more price conscious user, but who still want a high quality instrument, the Celestron Trailseeker binoculars come with an impressive array of features.

A fully sealed Magnesium alloy body, with metal twist-up eye-cups protect high quality and fully multi-coated optics that include phase and dielectric coated BaK-4 prisms to offer a performance that easily surpasses their price tag and thus almost all of their direct competition.

Price: (3/6) Mid Priced Binoculars


The 7x50 configuration, tough body designed to withstand the elements as well as it's bright image, wide field of view and of course the rangefinding reticle, digital GPS and compass mark these Celestron binoculars out as the ideal companion for boaters, security and military personnel as well as hunters and especially those involved in search and rescue operations.

Price: (3/6) Mid Priced Binoculars


Top of the line mid-sized binoculars from Celestron with that feature a lightweight open bridge magnesium body that protects high end optical components. These include fully multi-coated lenses, with ED glass elements and Bak-4 roof prisms with phase correction and very highly reflective dielectric mirror coatings that really do help produce a superior view.

Price: (4/6) Mid-High Value Binoculars


These low cost 50mm porro prism Celestron binoculars possess many components & features that are better than I would expect to see at this price point:

This includes an aluminium housing that is fully fog & waterproof, twist-up eye cups, BaK-4 prisms and fully multi-coated optics.

These all combine well to deliver a great value for money large aperture instrument that performs well in all weather conditions, but which excels in low light when compared to others in it's class.

Price: (2/6) Low Cost Binoculars


---

Related Celestron Articles
---
Additional Celestron Products
The Celestron Powerseeker Telescope
Whist the Celestron PowerSeeker telescopes open up the universe with high performance, enhanced brightness, and clarity from lenses that can triple viewing power.
Celestron SkyScout
One of their top innovations is the Celestron SkyScout, a handheld device that uses GPS technology with the convenience of point and click to identify thousands of stars, planets, constellations and more. All you have to do is Simply point the SkyScout at any star in the sky and click the "target" button. The SkyScout will tell you what object you are looking at.
Celestron are a privately held company with corporate offices and manufacturing facilities in Torrance, California and have received numerous industry as well as consumer media accolades, due to their innovative products. These awards include product innovation from Popular Science, PC Magazine, Popular Mechanics, the Consumer Electronics Association and the Reader's Digest.
They are also designers, manufacturers and importers of other high-quality optical products, including binoculars, spotting scopes, and microscopes in addition to their computerized and non-computerized telescopes and related accessories. A Celestron spotting scope optimizes observation with magnification of 20x-60x, ergonomic features, variable zoom, and tripod options.
---
Celestron Binocular Repairs
No-Fault Warranty on ALL Celestron Binoculars
Celestron offer a very comprehensive No fault Lifetime Warranty on their entire range of binoculars.
Most optical companies only offer such a comprehensive warranty on their top of the range binoculars, but the fact that Celestron have the same warranty for their entire range goes to show how much confidence they have in their products.
So what does this No fault Lifetime Warranty actually mean?
What it means is that regardless of how the binocular may have been damaged or rendered unusable (fully or partially), Celestron will repair or replace the product without any questions asked (there are a few restrictions) - This is Impressive
NOTE: This warranty is valid to U.S.A. and Canadian customers who have purchased this product from an Authorized Celestron Dealer in the U.S.A. or Canada. Warranty outside the U.S.A. and Canada is valid only to customers purchased from a Celestron Distributor or Authorized Celestron Dealer in the specific country and please contact them for any warranty service.
Technical/Customer Support
If you have questions about your Celestron product you can get hold of their Technical/Customer Support Department:
Telephone: 310-803-5955
Address:
Celestron, LLC.
2835 Columbia St
Torrance, CA 90503
USA