If it is a field binocular with maximum light gathering capabilities that you are after then you have to be looking at optics with larger objective lenses. The problem with this is the larger you go, the larger and more heavier the binoculars get until you get to a point where it is only feasible to use them with a tripod or some other form of support.
The Barr & Stroud Savannah 8x56 roof prism binocular strikes an ideal balance between excellent low light performance and portability. With their large 56mm objective lenses you have the potential for excellent low light performance, but it is not so big and heavy that carrying it about becomes a real mission. It is also the combination of the 8x magnification which makes it interesting as they should be relatively easy to hold steady without the need for additional support, such as a tripod, monopod or hide-clamp, in most conditions.
So do they live up to their potential, let's take a closer look:
Barr & Stroud
For those of you who are new to the brand, Barr & Stroud binoculars come with some great heritage. The British company started making optics for the Royal Navy over 100 years ago and since then Barr and Stroud have played a leading role in the development of modern optics. For more about the company and their wide range of binoculars: Barr & Stroud Binoculars.
The 8x56 Savannah Body
Compared to your "standard" full size 42mm binocular, a 56mm binocular is quite a bit bigger and heavier: The dimensions (167x148x66mm / 6.6x5.8x2.6in) of the Barr and Stroud 8x56 Savannah binocular is fairly standard for a 56mm binocular, but compare it to the Barr & Stroud 8x42 Savannah Binoculars that are 5.9in (150mm) long, 5.1in (130mm) wide and 2.2in (56mm) and you can see the difference.
Their weight of 37.2oz (1056g) is pretty good for a binocular this size, for example the Swarovski SLC 8x56 Binoculars weigh 43.7oz (1240g), but again comparing them to the Barr & Stroud 8x42 Savannah Binoculars that weigh 28.9ozs (819g) you can see that this is a far more "substantial" binocular.
Despite their larger size and heavier weight (compared to a 42mm binocular), they feel surprisingly good in the hands and I think this has a lot to do with the fact that they are really well balanced. The underside of these larger barrels sat nicely in the palms of my hands, with my fingers wrapping around them for a comfortable and secure grip. This may all sound a little trivial but I feel that for any longer observation periods it is important especially with these larger and heavier binoculars.
Rubber Armour
The rubber armor covering that you find on many binoculars including these Savannah's have a number of benefits that you may not have thought of:
It provides a secure and comfortable surface for making them easier to hold on to
It helps protect the binocular from the bumps and scratches that come with day-to-day use
It's easy to wipe clean after a tough day in the field
It dampens down any noise from bumping them that could frighten away skittish birds and other wildlife as I often do with my wedding ring.
Waterproof & Fogproof
Like all of the Barr and Stroud Savannah range, these 8x56's are O-ring sealed and are therefore fully waterproof and have been immersion tested at a depth of 1.5 meters for three minutes. They have also been "nitrogen purged", which means that the air inside the binocular has been replaced with nitrogen gas. This prevents the interior optical surfaces from fogging up due to rapid temperature changes or in areas that have high humidity.
The Eye Cups
As with all the Barr & Stroud binoculars that I have reviewed, they have twist-up eyecups. The ones on these however are even better quality than most as they are made of metal with a rubber coating for comfort. The twist up action has 3 click stops - flush against the eyepiece, half-way out or fully extended. Non-eyeglass wearers will use the eyecups in the fully extended position. There is an excellent 23mm of eye relief, easily putting them in the category of long eye relief binoculars, where an eye relief of 14 to 15mm is usually adequate for most people who wear glasses to be comfortable.
Focusing
Focusing is achieved using the central wheel on the binocular that takes two and a quarter full turns to go from near focus which is 3m (9.8ft) to infinity. I generally prefer a focusing wheel to take less turns to achieve this, but the less aggressive focusing mechanism does have the advantage of making fine tuning your focusing more accurate. On the binoculars that I tested, the mechanism was smooth and achieving a sharp focus was really simple.
The diopter adjustment is located behind the focusing wheel in the center of the binocular, which is different to the majority of binoculars, but becoming more and more common. It allows you to adjust the lenses separately to allow for differences in each of your eyes and plays an important part in correctly focusing your binoculars. The ring is notched which makes it easy to change and keep at the correct position. Where it is located does make adjusting it simpler than if it were located on the barrel, but it could also mean that you accidentally move it when focusing your binocular although this did not happen during my full day of testing.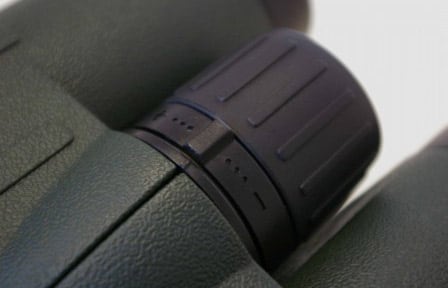 Barr & Stroud Savannah Optics
Like the 8x42 Savannah, I thought that the image produced by the full size roof prism Barr & Stroud Savannah 8x56 was really good. As you would expect it is really bright and I thought the image was sharp. I could not see any colour fringing and there was only the slightest hint of softening of the image on the periphery of the view.
Comparing the view through them with a pair of Barr & Stroud 10x42 Sierra binoculars that I had with me you can notice the difference in brightness and so if you are looking for performance over size, I would definitely choose the larger 8x56 binoculars.
Apart from just the physical size of the objective lenses, these Barr and Stroud binoculars have a number of other features that help produce the excellent quality image:

Lens & Prism Coatings
The 8x56 Savannah comes equipped with quality BaK-4 roof prisms which means that they are made of superior optical glass that will help in ensuring you get a high-contrast and sharp picture over the full field of view. These binoculars also have a set of phase correction coatings on the prism glass, this is an expensive process that keeps light in correct color phases, yielding brighter images and higher edge-to-edge sharpness. According to the manufacturers the "high-tech phase coatings alone increase prism reflectivity by 8% and it give you on average an extra hour of visibility at dawn and dusk compared to standard binoculars."
The optics are also fully multi-coated, so all air to glass surfaces have received multiple layers of antireflection coatings which again will ensure that more light gets to your eyes by reducing the light loss and glare due to reflection for a brighter, higher-contrast image.
Accessories
The Savannah 8x56 comes supplied with a good quality semi hard carrying case, that give your optics much more protection than the soft cases found on cheaper binoculars.
I also like the quality and feel of the neck strap that is padded an important feature on these larger optics. A lens cleaning cloth is also supplied.
The lens caps fit well onto the binoculars and should not fall off accidentally. I especially like the tethered objective lens caps, that make misplacing them much harder and don't get in the way when using your optics. If you don't like them attached to your binocular, they can also be removed (see video below).
Stats
8x56 binoculars like these Barr & Stroud's have an Exit Pupil of 7mm and a Twilight Factor of 21.16, both of which point to the fact that they will work really well in poor light conditions such as dawn and dusk when most birds and other wildlife is on the move, or for observation in dense foliage where light is restricted.
It is important to remember that whilst these figures do not take into account the quality of the prisms, lenses and their coatings, they do make it possible to compare the performance of different configurations of binoculars in low light conditions. Features like their phase coated Bak-4 prisms and fully multi-coated lenses mean that they will outperform cheaper 8x56 binoculars that have lower quality lenses, coatings and prisms.
The apparent field of view for the Barr & Stroud Savannah 8x56 is 107m at 1000m that does fall a little short of the very best like the Swarovski SLC 8x56 Binoculars (115m at 1000m), but it must be remembered that these high end optics are also more than 10x the cost of these Savannah's!
The close focusing distance is 3m (9.8ft) which beats even the most expensive 8x56 binoculars on the market, like the Swarovski SLC 8x56's.
Conclusion
Considering that the Barr & Stroud 8x56 Savannah's cost around £135, I would say that like all of the Savannah range, they make really good value for money. I would recommend them to anyone looking for a mid to entry level full size binocular that works really well in low light conditions especially if you rate performance above size and weight. They make great wildlife observation and birdwatching binoculars. Highlights include the low cost and bright image that is enhanced by the use of quality phase coated Bak-4 prisms.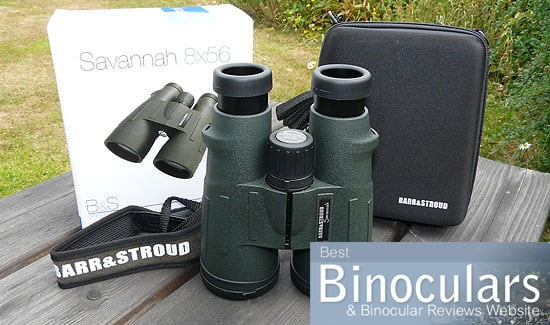 I would like to thank Barr & Stroud for supplying me with the sample to review.