The last instrument that I reviewed from the German brand Bresser Optics was the Pirsch ED 8x56 binoculars which after fully using and testing, I rated as "outstanding": The combination of high-end optics, a moderate 8x power and large 56mm lenses made for an excellent quality image and they performed extremely well in low light conditions.
However, as good as they are, there are times when a smaller, easier to carry/transport binocular is required even if it potentially means having to sacrifice a little in terms of their performance in low light.
This is when a compact or mid-sized instrument comes into play. Compacts are the smallest, but also capture the least amount of light, whilst a mid-sized binocular, as the name suggests, covers the middle ground, offering a good compromise between the two.
So as it had been a while since I'd tested any mid-sized binoculars, I reached out to several manufacturers, including Bresser to see if they had any they would like me to test.
I have to say that the support that BBR gets from the optics industry is incredible, so be prepared for a glut mid-sized binocular reviews over the coming months!
Bresser was one of the first to respond, sending in their 34mm Pirsch binoculars, that I have now comprehensively tested and so below is my full review:
Bresser Pirsch 8x34 Binoculars Review
Standout Features & Specifications:
Mid Level - approx $190 / £175
Body

Open Bridge Design
Rubber Coated Metal & Plastic Chassis
Multi-Position, Twist-up Eye-cups
Central Focus Wheel
Water & Fog Proof

Dimensions: 5.2in (13.2cm) x 4.9in (12.4cm) x 1.7in (4.3cm)
Weight: 15.6ozs (442g)

Optics

Fully Multi-Coated Optics

34mm Objective Lenses
BaK-4 Roof Prisms
Phase Correction Coatings
Bresser's "Ultimate Reflection" (Silver) Mirror Coatings

Optical Stats

Field of View: 122m @ 1000m / 366ft @ 1,000 yards
Min Focus Distance: 4m / 13.0ft
Eye Relief: 17.15mm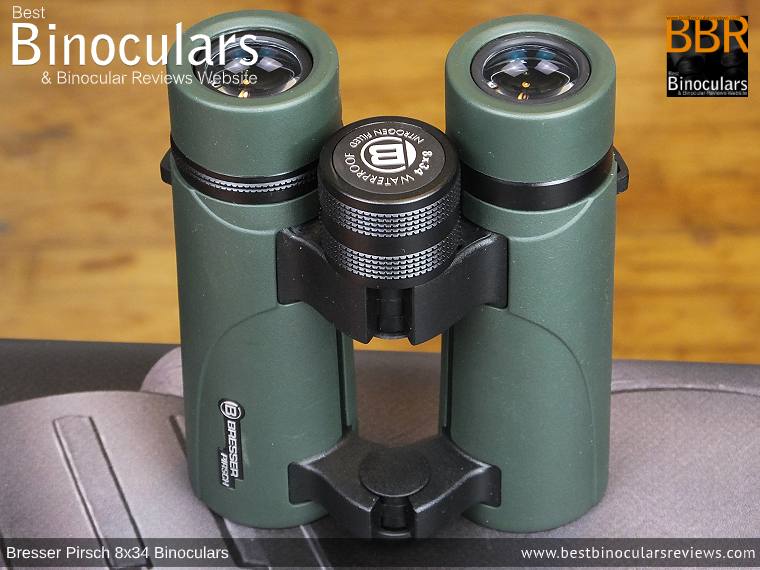 The Body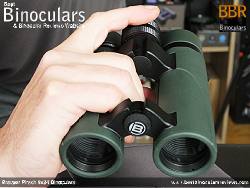 A defining feature on all Bresser Pirsch binoculars is their use of an open bridge body design.
The main advantage of this shape is that it exposes more surface area on the barrels and thus provides you with a more secure, comfortable way to hold onto them, which in turn, makes them much easier to use and carry with just one hand.
Whilst testing, I often found myself holding them up to my eyes and then focusing them all with one hand. If like me you also carry other equipment (like a camera) this is a definite advantage.
Hinges and Inter-Pupillary Distance (IPD) Adjustment
Made from metal, the two hinges, whilst quite thin, felt very robust on my sample and opened and closed with what I would consider as being an ideal amount of resistance.
What I mean by this is that opening and closing the hinge to adjust the IPD (Inter-Pupillary Distance) setting is not too difficult, whilst at the same time, they remain at your desired setting.
Speaking of which, at the maximum setting (fully opened hinge) the eyecups measure 76mm apart (center to center), whilst fully closed, the minimum IPD setting is 56mm, which is a pretty standard range for a mid to full-sized binocular and means that they should accommodate most adults and older children.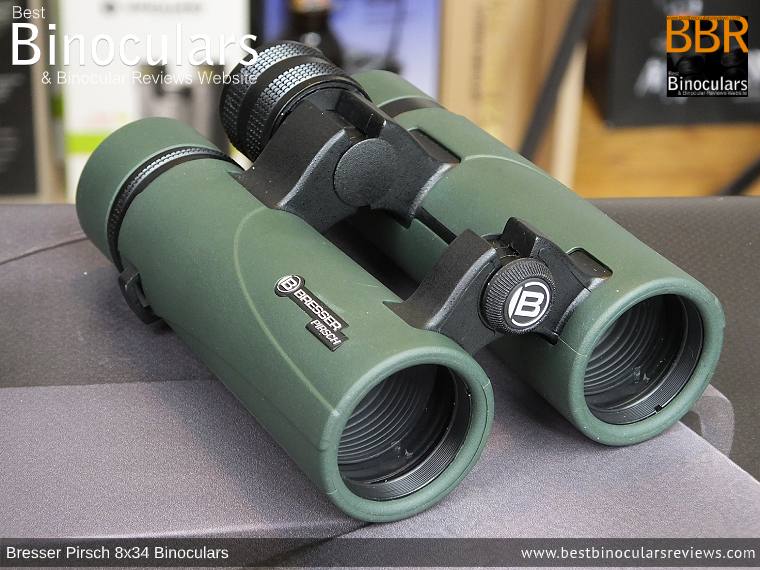 Main Chassis
According to their specifications, the body material used on all Bresser Pirsch binoculars is a combination of metal and plastic and so from that and in conjunction with their very low weight, I will assume that these have a polycarbonate plastic chassis.
At this price level, this is very much the norm and it is only once you get up to high-end products that magnesium chassis begin to appear.
Apart from the reduction in production costs, the big advantage here is the reduced weight, however, on the downside, a polycarbonate chassis is usually not as resistant to breakage as those made from magnesium or aluminum.
Depending on how you use your binoculars or how well/badly you treat them this may or may not be an issue.
Weatherproofing
The body on all Bresser Pirsch binoculars is also fully sealed protecting the interior workings from moisture and dust.
The air inside the instrument is also replaced by a completely dry Nitrogen gas, which prevents the internal glass surfaces from fogging/misting up.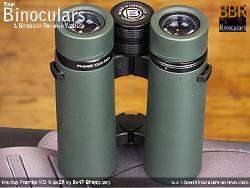 Exterior Rubber Armor
The optics on these Bresser binoculars are further protected with rubber armor that apart from the hinges covers pretty the entire exterior surface.
As well as a little impact protection, it increases grip and the neutral green color provides a good level of camouflage, whilst the rubber mutes any noise made that can occur from something like your watch or wedding ring striking the surface.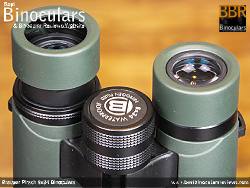 Eyecups
Similar to those found on most Swarovski binoculars, the design and indeed function of the eyecups used on these Bresser Pirsch binoculars is nothing short of excellent.
With over 17mm of eye-relief, they click into position at the fully extended and fully retracted positions and there is also a single click-stop halfway between the two, thus you get a good level of customization and these make a really good option for the eyeglass wearer.
Having said this, considering that they have so much eye-relief, they could easily have two intermediate click-stops, and on my sample, the resistance to twisting was a fraction on the light side meaning that whilst I could position the cups at any point, if I pressed the binocular firmly against my face, they did have a tendency to move inwards.
Note: For the vast majority of users this really will not be an issue at all and the click-stops provided will be sufficient, this is just me being ultra picky!
I found the twisting mechanism on my sample to work smoothly enough, but like most instruments at this level is not quite as refined as that which you get on high-end binoculars.
More Info: How To Use Binoculars With Glasses: Eye-relief & Eye-cups Explained.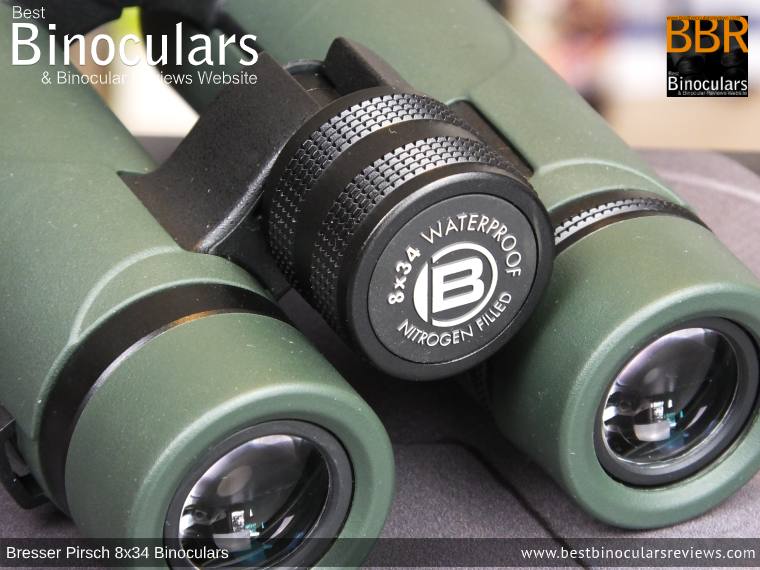 Focus Wheel & Focussing
The focus wheel that Bresser Optics uses on these binoculars is excellent, made from metal, it would not be out of place on a much more expensive, high-end binocular.
At this price range, most binoculars use plastic which just looks and feels cheaper to use and on top of this, they often have a fairly sloppy mechanism.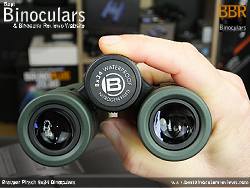 With my sample Bresser Pirsch 8x34 binocular, the complete opposite was true:
Measuring 31mm in diameter and 25mm deep, it is about the same size as that used on most full-sized 42mm instruments and thus is easy to reach, has a high profile, which when combined with a very smooth action, is easy to adjust, even when I tested them wearing my highly padded winter gloves.
The focus mechanism is geared so that it requires 1 ¾ turns to move the focus from one extreme to the other.
This is on the longer side of average, meaning it is a little easier to make fine adjustments, but at the same time takes a little longer to make large adjustments when compared to binoculars that take fewer turning of the wheel.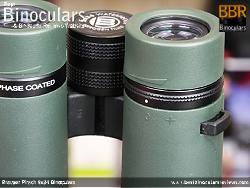 Diopter Adjustment
As with the vast majority of binoculars, to adjust the diopter, you turn the ring located on the right eyepiece.
For those who don't know, this is so that you can calibrate the binocular to compensate for any differences in vision between your eyes.
As you only need to do this very infrequently, ideally it would be lockable, but this feature is only sometimes found on a few, usually much more expensive binoculars and these are no different.
However, what I do like is that the profile of the ring and the tightness of movement is such that accidental movement is pretty unlikely.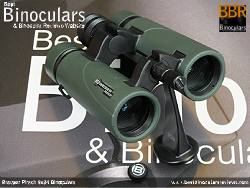 Tripod Adaptable
These Bresser Pirsch 8x34 binoculars are tripod adaptable, meaning that you can easily attach a tripod adapter to them by removing the dust cap with the Bresser Logo from the center of the front hinge by unscrewing it, then in its place, you screw in a tripod adapter.
An important point to mention here is that it can be difficult to attach a tripod adapter to some mid-sized binoculars, especially those with a single to hinge design because the barrels can be positioned quite close together and thus you have to be sure to get a tripod adapter with a thin body.
As the adapter fixes to the front hinge on these binoculars this is not at all an issue with these.
Rating for Body Construction Quality: 7/10
Weight
As is confirmed in the comparison table below, these Bresser Pirsch 8x34 binoculars are amongst the most lightweight mid-sized binoculars that I have recently tested.
As mentioned before, this is partly down to the use of a polycarbonate and not a magnesium or aluminum chassis which as you can see is often found on more expensive, but heavier instruments:
Dimensions
Considering that these use slightly larger 34mm lenses (more common is 32mm), it is impressive just how compact the Pirsch is for a mid-sized instrument.
I would also like to add that I like the shape and feel of these Bresser binoculars. They are well balanced, fit nicely in my hands and the large focus wheel, combined with the open bridge makes them easy to use and carry with just one hand.
BBR Rating for Body Stats compared to Mid Sized Bins: 8/10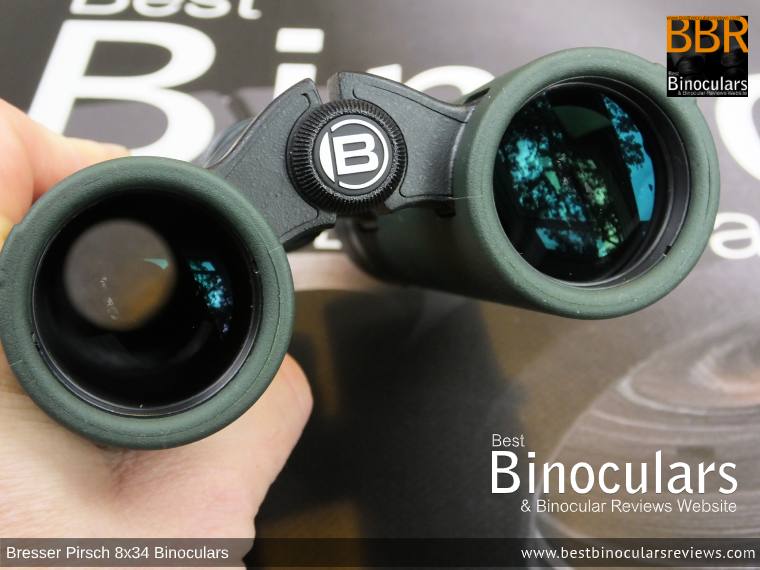 The Optics
The Bresser Pirsch binoculars incorporate a good level of optics and coatings and are about what I would normally expect to find at this price level:
Ocular Lenses
I measured the outer ocular lenses on the 8x34 Bresser Pirsch to be 21mm in diameter, which for a mid-sized binocular is good and indeed matches that of many full-sized instruments.
Not much is written about how the size of the ocular lenses affects performance, but one thing that is for sure is that larger ones are easier to line your eyes up with and you have the potential for an increase in image resolution. You can read more on the potential benefits of larger ocular lenses here: Ocular lens size in Binoculars.
Objective Lenses
The 34mm objective lenses on these mid-sized Bresser Pirsch binoculars are a little different and slightly larger than the more commonly used 32mm lenses. This potentially makes for a larger instrument, but as we have seen above, this instrument is no larger than the average mid-sized binocular.
The advantage is that these slight larger lenses can capture more light, which in turn has the potential to produce brighter, better quality views and offer slightly brighter-looking images in low light situations.
Much of this can be explained by the exit pupil size. These 8x34 binoculars produce a 4.25mm (34÷8) exit pupil, whilst the more common 8x32 configuration creates a smaller 4mm shaft of light. Whilst I'll admit the difference is very small, but everything adds up and it is something to consider. You can find out more in my complete guide to the exit pupil.
No ED Glass
An area where these differ from the more expensive Pirsch ED series, is as the name suggests, the standard Pirsch use "normal" low dispersion glass elements in the lenses as opposed to the "extra" low dispersion glass used in the lenses of Pirsch ED binoculars.
In theory, ED glass lenses can help reduce chromatic aberration, which in turn can lead to an image that has less color fringing in it. This is not always the case and I often come across well made non-ED glass binoculars, that perform as well as less well made ED glass instruments. You can read how these performed in this area in the Image Quality section below.
Prisms
All Bresser Pirsch ED binoculars use the Schmidt-Pechan Design of roof prisms made from BaK-4 glass, which is what we want to hear. Cheaper binoculars will sometimes use inferior glass, like BK7 for the prisms.
Optical Coatings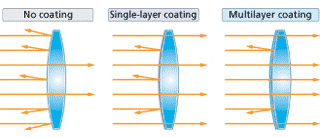 Anti-Reflection Coatings
The optics are Fully Multi-Coated, which is once again what we want to hear. At this price range, you will occasionally stumble across "Multi-Coated" optics, which sounds similar but means that only some of the lens surfaces are treated with anti-reflection coatings as opposed to all of them. The difference this makes is noticeable and for me is one of the most important things to look for when purchasing binoculars.
Prism Coatings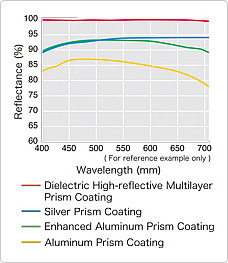 Bresser highlights the fact that these use their "Ultimate Reflection Coatings". What they are referring to here are the mirror coatings on the prisms. I have been able to establish that they are essentially Silver Mirror Coated.
Whilst not as good (in terms of their level of reflectivity) as the Dielectric coatings found on more expensive instruments, including their own Bresser Pirsch ED binoculars, they are a definite improvement on the aluminum ones that you will often find on cheaper instrument s and occasionally at this mid-tier price level.
Phase Correction
Also important to note is the fact the prisms used in the 8x42 Bresser Pirsch binocular have been coated with a material that corrects phase shift and thus these will deliver higher-definition images with improved contrast when compared to instruments that don't have these phase-corrected roof prisms, which at this price range is sometimes the case.
Optics Comparisons
Optical Components Quality Rating: 7/10
Optical Stats
Field Of View (FOV)
Whilst not spectacular, measuring 122 meters wide at 1000m (approx: 366ft wide at a distance of 1000yds), the field of view on these 8x34 Pirsch binoculars is good for an 8x binocular and certainly wide enough for most users and uses.
Close Focus
In the specifications, Bresser stipulates that the minimum close focus distance on these is 4 meters (13.1ft), which is not at all good. I did test my sample and the closes that I could focus on an object was a much better 2.7 meters (8.6ft) which is far better and far closer to what I would expect to see from a binocular in this class.
In terms of scoring them, I have to use their official figures as I cannot be sure that all of their instruments will perform as well as my sample. Either way, this should not be an issue for you unless your main interest is something like butterfly observation, where a very near close focus distance is required in which case I would not recommend these.
Eye-Relief:
I consider instruments with 18mm or more have Very long eye-relief, so at just over 17mm these come close and for a mid-sized binocular these are excellent.
Indeed, I have found that 16mm is usually more than enough for you to use a binocular with glasses and get be able to see the full image (by fully twisting down the eyecups).
Testing the Bresser 8x34 Pirsch whilst wearing my sunglasses, I indeed had no problems and thus would certainly recommend them as a good option for those using some sort of eye wear. For more check out my article on How To Use Binoculars With Glasses: Eye-relief & Eye-cups Explained.
Optical Stats Rating: 7/10
Image Quality
During testing, I compared the view through these Bresser Pirsch 8x34 binoculars against my 8x32 benchmark on a number of occasions and in a variety of light conditions and below are my thoughts:
Image Brightness
In general, I thought that the image brightness was excellent for a mid-sized binocular with an 8x magnification, both in good and poor light conditions.
In some ways this is to be expected as they do have slightly larger lenses than most mid-sized binoculars like my benchmark's that use 32mm lenses. On top of this, good quality glass is used and the optical pathway is fully multi-coated which certainly helps.
However, the silver mirror coatings on the prisms, whilst good and what you would expect to find at this price level, are inferior to the dielectric mirror coatings used on some higher level, more expensive binoculars like that of my benchmarks.
So it did surprise me a little to find that I struggled to notice any difference in the image brightness between the two instruments. In good light they certainly looked equal and I guess in poor light, the larger lenses and resultant larger exit pupil created by the 8x34 configuration somewhat counteracted the more highly reflective dielectric coatings used on my 8x32 benchmark.
Either way, image brightness on these is impressive for a mid-sized binocular, but especially so at this price level.
Contrast & Color Reproduction
Here again these Bresser Pirsch 8x34 binoculars do not disappoint:
The image is not only bright, but the colors are vibrant, yet still natural looking.
Contrast is also good with a nice variance between light and dark areas of the image, which leads to a good sense of depth.
At no time did I ever notice any unnatural tinting of the image, that you can find, especially on lower cost and cheap binoculars.
Color Fringing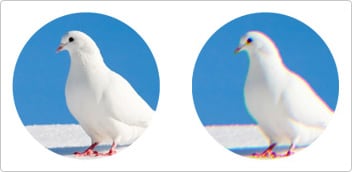 Whilst very minor, this is an area where I was actually able to notice a difference between these and my benchmark.
Looking very carefully along the edges a black telephone line with a bright blue sky as the backdrop, I was able to observe a slightly thicker halo of color on these Pirsch 8x34 binoculars than that of my benchmark.
As these Bresser binocular only use standard low dispersion glass in the lenses, whilst my benchmark has ED (extra low dispersion) glass lenses this is to be expected.
However, as I say the difference is very minimal and certainly no more than what i would expect to find. Indeed unless you are comparing the images and specifically looking for it, most users would not even notice.
Distortions, Image Flatness & Softening
Other than the minor color fringing, not once did I ever observe or notice any sort or type of other image distortions when looking through and testing these Bresser Pirsch binoculars.
Right at the edge of the view there is a certain level of image softening which is normal, but the amount is extremely minimal and certainly better than average.
Conclusion
Color reproduction and especially image brightness (for a 32mm instrument) are without doubt real highlights on these Bresser binoculars, especially when compared to others in this price range.
Image Quality Rating for a mid-size, 8x binocular: 8/10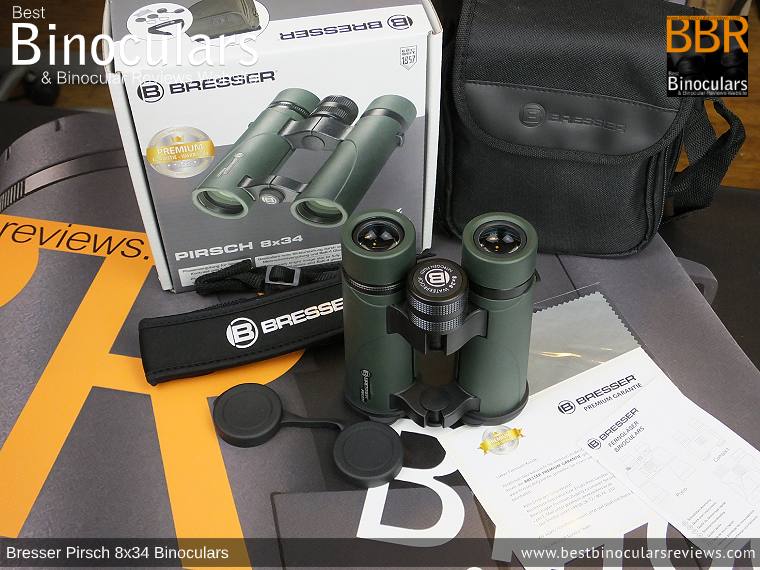 Included Accessories: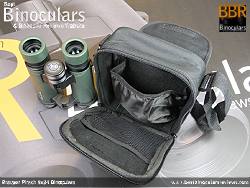 As normal, these Bresser Pirsch 8x34 binoculars come supplied with several accessories. These include a carry/storage case, padded neck strap, lens covers, rain-guard, cleaning cloth, warranty card and user manual.
Whilst they don't match that of high end instruments, in general, these are all about at the same level in terms of quality as what I would expect at this price level and all function pretty well:
Carry Case - Main Points
Good quality soft nylon material case
Good stitching
Double closure system - Zip and Velcro clip. Improved security & protection for storage, whilst quick and easy to access in the field
Excellent fit for the binoculars
Own carry strap with length adjustment - no swivels and not padded
Separate internal pocket
Belt loop on the rear
Bresser branding on the front lid - better than the many generic cases I see at this price level.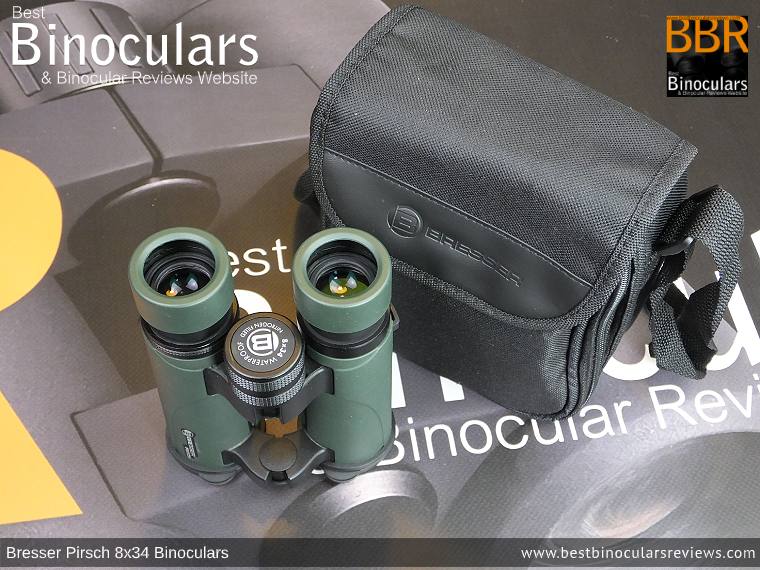 Neck Strap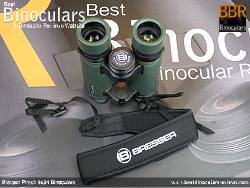 At this price level, the neck strap is at the higher-end in terms of the overall quality and function compared to what I usually find which is good. But as is almost always the case, there is room for improvement, especially if you were to compare it to the very best straps that you get with high end instruments.
The amount of padding and overall comfort is very good, especially when you consider just how lightweight the binocular is. I also like the fact that it is branded with the Bresser logo, which separates it from the many very generic straps that i find at the mid and low cost level.
The strap conects to the binocular in the usual way by looping the straps through the eyelets on the sides of the instrument and you can adjust the length using the sliders. Here it would have been nice and more convenient if they they used quick release clips, but this is not something that I often (if ever) see at this price point.
Whilst the padded section is slightly curved for a better fit, some of the better straps will also have a high grip surface on the underside section to prevent it from slipping around your neck an shoulders.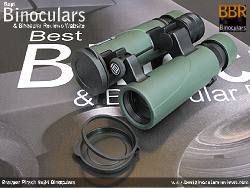 Lens Covers & Rain-Guard
The lens covers and the rain-guard are very typical to most that I find at this level:
Main Points
Made from a very thin, lightweight plastic/rubber material and so you need to be careful not to break the tethering rings and bridge section on the rain-guard
Whilst the rain-guard fits well over the eye-cups, the lens covers come away a fraction too easily for my liking
Tethered lens covers for easy access and less chance of misplacing
Loops on the sides of the rain-guard so it can be attached to the neck-strap if you wish
Common design with no branding - very generic looking
Cleaning Cloth
These Bresser Pirsch 8x34 binoculars come with a pretty good microfiber cleaning cloth that is better than many at this level.
Therefore it is more than adequate for cleaning the body and fine for very light use on the lenses when out in the field.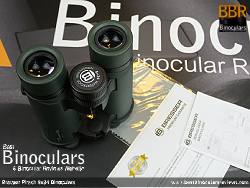 However, I would still recommend that you consider purchasing a lens cleaning kit for thoroughly cleaning the lenses without the risk of damaging the lenses and their coatings.
Instruction Manual
Bresser includes a small instruction booklet. This is very generic and is written for both porro and roof prism instruments and only covers the basics. Sadly this is all to common, both at this and even higher price levels.
Warranty
In Europe (and I think the US), the Bresser Pirsch comes with a "2-year guarantee" as standard. However, after online registration, Bresser then upgrades it to their Premium guarantee that grants you an unlimited warranty and a full repair warranty for life which is excellent.
Extras Rating: 7/10
Bresser Pirsch 8x34 Binocular Comparisons
The comparison table below displays a small selection of mid-sized binoculars with an 8x magnification that I have reviewed. To view the full results:
open the table in full screen mode.
Review Conclusions:
Costing well under $200 / £180, these mid-sized Bresser Pirsch 8x34 binoculars to my mind certainly offer a good performance to price ratio. So whilst understandably they don't quite match the higher-end Bresser Pirsch ED binoculars in all areas, they are also far less expensive and are certainly well worth considering if you are after a reasonably high performing binocular, but also on a fairly tight budget:
Strong Points:
Focus Wheel & Focussing
At this price, the overall build quality is good, but the all-metal focus wheel and the smooth focussing action is excellent and easily as good as that which you find on far more expensive instruments.


Low Weight
Very lightweight, even for a mid-sized instrument


Shape & Comfort
Combined with their lightness, the open bridge body design on these makes them a real pleasure to use: the Bresser Pirsch 8x34 binoculars feel great in the hands and I was even able to hold them to my eyes and focus them, all with just one hand. If like me you also carry other equipment (like a camera) this is a definite advantage.


Image Brightness
This is certainly another major highlight and I would say that their low light performance easily beats most mid-sized binoculars at this price range and matches that of much more expensive instruments
Weaknesses:
Lens Covers
Whilst quite typical at this price range, I did find the lens covers and the rain-guard to be rather generic in their appearance. They are also made from an extremely lightweight plastic/rubber and unless you are very careful, the tethers on the lens covers and the bridge on the rain-guard could easily snap.


Close Focus Distance
Whilst the field of view is good and the eye-relief is excellent, the official minimum close focus distance is poor. However, I did discover that my sample could focus on objects considerably closer than the official amount, even so, it may just be a little too long for those whose main focus is on the very close study of things like insects and flowers.
Ideal Uses & Users
This 8x34 Bresser Pirsch is ideal for those who simply want a smaller device that is just that bit easier to carry in the hands than a standard 8x42 binocular and will certainly appeal to those hiking on foot and/or carry extra gear like a camera.

Travel: Birding Holidays
Their low weight, reasonably small size, wide view are amongst the many reasons why this 8x34 Bresser Pirsch is a good option for birding vacations


Safaris & Wildlife Observation
As well as travel and birding, I think that these binoculars would also be great for general wildlife observation at closer ranges and fantastic on safaris, camping and hiking holidays.


Sports
Whilst not quite as convenient to carry as a full compact binocular, if you have a reasonably sized day-bag, their wide view makes them an excellent option to take along to a whole host of outdoor sporting events.