It is not often the case where I have had a mid-size, full-size, and a large-sized binocular all from the same brand and in the same range with me to test all at the same time. However, because I have been making a series of videos for the UK optics retailer, Stealth Birding about the whole range of Bresser Pirsch ED binoculars, I was sent all of them at once and thus this has enabled me to compare all of them at once.
As you would expect from three instruments in the same series, much remains the same, but it is the small differences that are interesting and so I thought it would be well worth my whilst to create a separate review of each. So below is my final installment.
As you will see below, because I have already reviewed the 8x56 and 8x42 Bresser Pirsch ED models, I try and not repeat myself too often by going over all that is the same between them, so this Bresser Pirsch ED 8x34 binocular review maybe a little shorter than normal as I will instead focus on the differences, what makes this model unique and thus what types of user and uses their particular characteristics are best suited for.
Bresser Pirsch ED Binoculars
A mid-high end series, Pirsch ED binoculars from the German brand Bresser incorporate a very good level of optics and body components, but at the same time always keep half an eye on the cost, with the result being an instrument that generally offers a good performance to price ratio.
The Pirsch ED series currently consists of five distinct models, all of which have ED glass lens elements and an open bridge roof prism design and come in three different sizes: these mid-sized 34mm ones, two standard 42mm pairs, and a large 56mm model aimed at producing a superior performance in low light.
Bresser Pirsch ED 8x34 Binocular Review
Contents:
ED (Extra Low Dispersion) Glass
BAK-4 Roof Prisms
Dielectric & Phase Corrected
Fully Multi-Coated
The Body
Shape
In regards to their body design, these have pretty much the same overall shape as all the other models in the series, only because of their smaller lenses, they are more compact and the instrument is a little shorter. I found that this in combination with the open bridge design makes this model particularly comfortable and secure for me to hold onto, both when holding them up to your eyes, but especially when carrying them about in one hand.
Should you have exceptionally large hands, the opposite may be true and in this case, you may find that the 8x42 version may suit you a little better as they have slightly larger diameter barrels. Although I think it is important to note that the distance between the two hinges is actually fractionally greater on the 34mm version (5.4cm vs 5cm).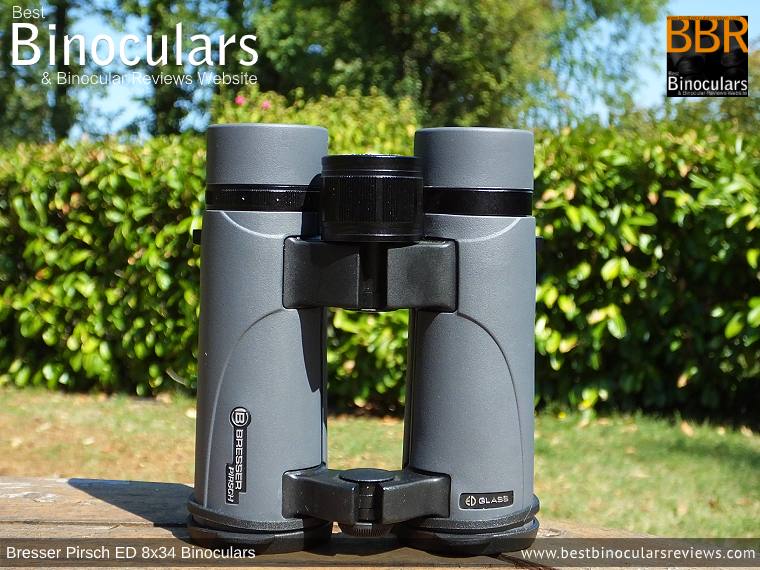 Materials & Weatherproofing
In terms of things like the materials used, water and fog proofing, etc. these are exactly the same as that of the other models and so I will ask you to refer back to the body section of the 8x56 review for those details.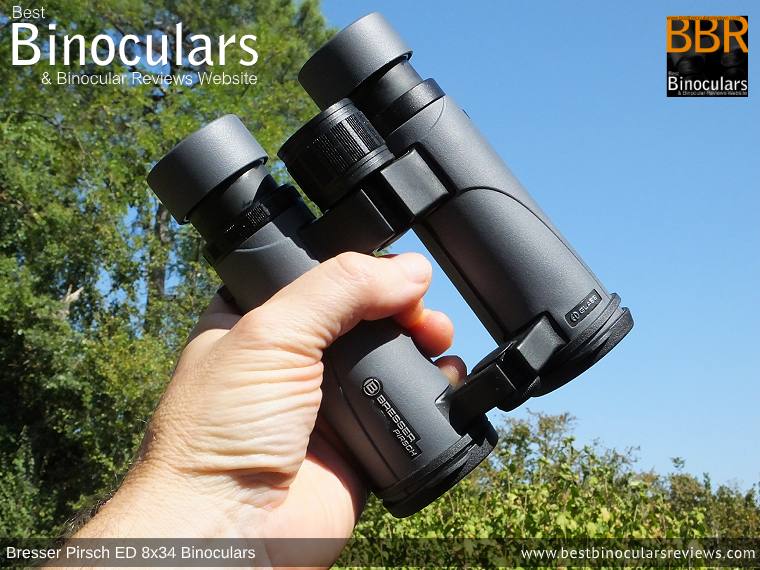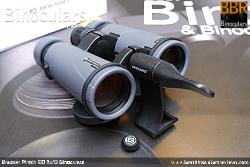 Tripod Adaptable
Whilst it is not often that you may need the feature, it is important to note that like all the others, these Bresser Pirsch 8x34 ED binoculars are tripod adaptable and so by removing the dust cap on the front hinge, you will be able to screw in just about any standard tripod adapter.
Eyepiece Housings & Eyecups
Once again, in regards to the design, materials used, and how the twist-up eye-cups function, these are once again the same as that of the larger models in the series.
Although in my review of the 8x56 Pirsch ED, I noted that whilst the twist-up/down action was very smooth on my sample, it was also a fraction on the light side and thus I had to be careful not to push the binoculars too firmly against your face otherwise they will just twist downwards.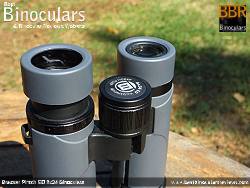 Perhaps this was just an issue with my sample, but on this 8x34 and indeed the 8x42 versions I had no such issues: The action is still very smooth, but there is noticeably more resistance and thus they remained at my desired setting even when pressed pretty firmly against my face.
This is better because it gives you much greater flexibility when choosing exactly the right amount of eye-relief should the maximum or minimum settings not be perfect for your specific face shape or glasses should you wear any. For more see my guide to using binoculars with glasses.
Interpupillary Distance (IPD)
As usual, by opening and closing the hinges, you can adjust the distances between the two eye-pieces to hopefully match the distance between your eyes. This IPD range on these Bresser Pirsch ED 8x34 binoculars is the same as that of the 8x42, but both differ slightly from the 8x56 model:
By closing the hinges, the minimum IPD on the 8x34 and 8x42 is a very small 5.6cm, whereas it is 6.5cm on the 8x56.
After fully opening the hinges, I found the maximum on all models to be exactly the same at 8cm (officially it is 7.6mm in Bresser's stats).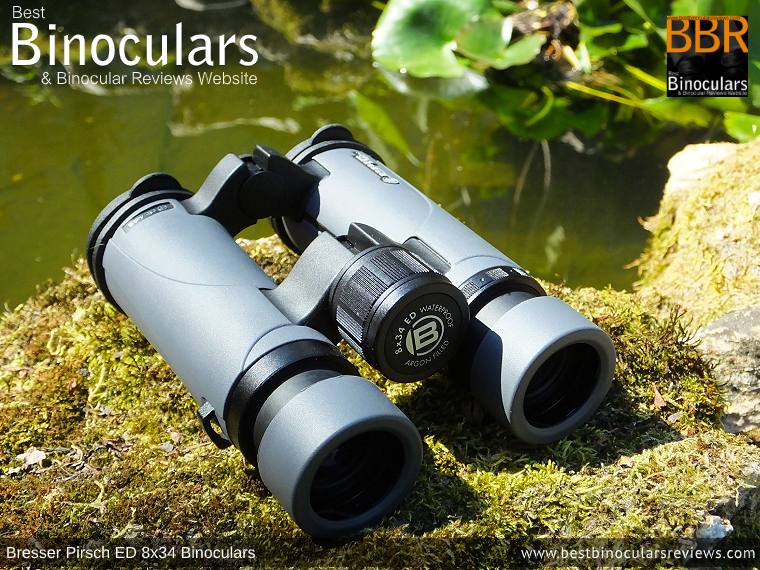 Focus Wheel & Focusing
Firstly I would just like to point out that the focus wheel itself is made from metal, which for me is worth highlighting as they just look and feel much nicer than the hordes of plastic ones I come across these days.
Whilst the 8x56 and 8x42 models use exactly the same focus wheels, the one on this model is slightly smaller, although this is just in the depth of the barrel (2.5cm vs 3cm) as all models have the same 3cm diameter.
On a shorter binocular this makes sense and I do like the fact that they have kept the diameter nice and large making it easy to reach and adjust.
In terms of the focussing mechanism, it is nice and smooth and like the 8x42 model, a fraction lighter and thus easier to turn than my sample 8x56.
Another difference between the models is in the gearing in that it takes about 1¾ turns (720°) to go from the extremes, whilst the larger models are lower geared and take just over two full turns (720°). The advantage of this is that there is less turning to do when making large focal adjustments which can be quicker, but on the downside, it can make it more difficult to fine-tune the focus. However, none of these gearings are at an extreme and thus in combination with the smooth mechanism, meant I never had an issue either way.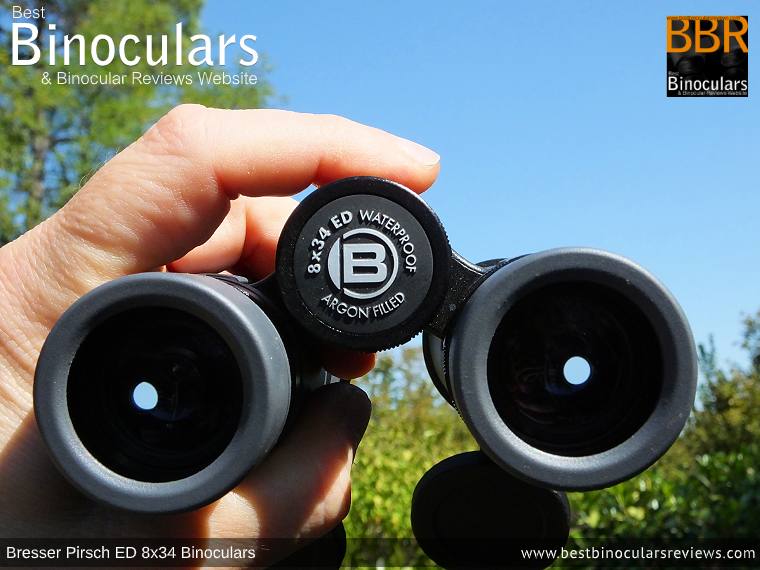 Diopter Adjustment
No notable differences. See the body section of the 8x56 Bresser Pirsch ED review for more details.
Rating for Body Construction Quality: 8/10
Weight
With a more lightweight, compact body (see below), this is one of the most important areas where these Bresser 8x34 Pirsch ED binoculars differ from the 8x42 and 8x56 and indeed would be one of the main reasons why you would choose a mid-sized model with its reduced light-gathering ability (because of the smaller lenses) over the others:
Tipping the scales at just 15.52ozs / 440g, it is instantly noticeable when you pick up the Bresser Pirsch ED 8x34 binocular that they are more lightweight than both the 8x42 (22.4ozs / 635g) and 8x56 (34.6ozs (981g) models.
If you are a smaller person with a lighter build or specifically need a lightweight binocular for long walks or travel/backpacking, this is certainly something to keep in mind.
Indeed, as you can see in the comparison table below, they also compare well against many other mid-sized binoculars, which when you consider that they use many metal parts (Focus Wheel & Eyepieces) and that they have slightly larger lenses compared to most other mid-sized instruments that usually use ones of 32mm in diameter, this is impressive. Also interesting is that you will see that for whatever reason, they are a fraction more lightweight than the non-ED version of the Bresser Pirsch 8x34.
Dimensions
The difference in size between mid and standard instruments is in my opinion even more important than the reduced weight and for me would usually be the main reason why I would opt for one over the other depending on my needs and as always keeping in mind that the smaller lenses have their downsides which we will get to later in the optics section of this review.
The listed dimensions of the Bresser Pirsch ED 8x34 binoculars are as follows:
Length: 5.2in / 13.3cm
Width: 4.9in / 12.4cm
Height (depth) 1.7in / 4.3cm
I found these to be all accurate and as standard, these measurements describe the binocular with the hinges fully open, the eye-cups fully twisted-down and the lens covers removed.
As you can see in the table above, these dimensions are pretty standard for a mid-sized instrument and as you would hope/expect, a fair bit smaller than the 8x42 and especially the 8x56 models:
8x42 Bresser Pirsch ED: 5.7in (14.5cm) x 4.8in (12.2cm) x 2.0in (5.1cm)
8x56 Bresser Pirsch ED: 6.5in (16.5cm) x 5.8in (14.7cm)
Also note, by closing the hinges, the width of these 8x34 Pirsch ED's reduces to 10cm but at the same time the height increases to about 7cm. Fully-extending the eyecups and adding the lens covers and rain-guard (ocular lens cover), increase the length to 14.7cm.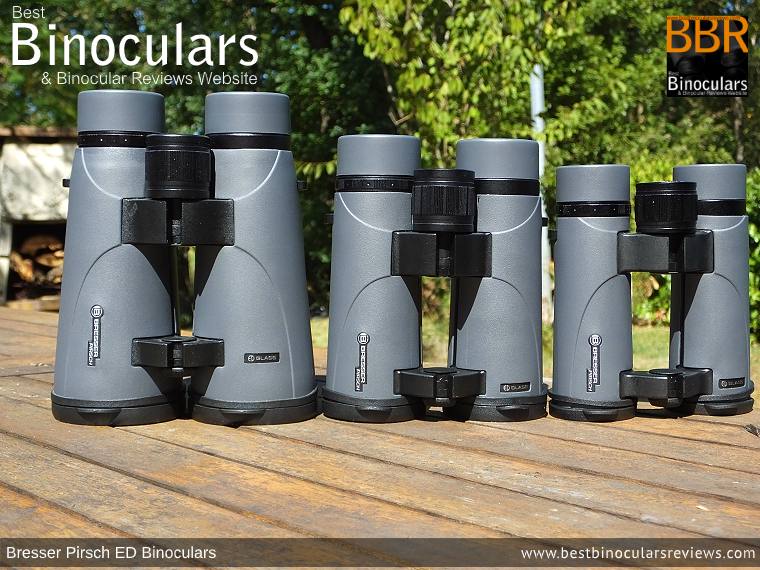 BBR Body Stats Score (compared to Mid- Sized Bins): 8/10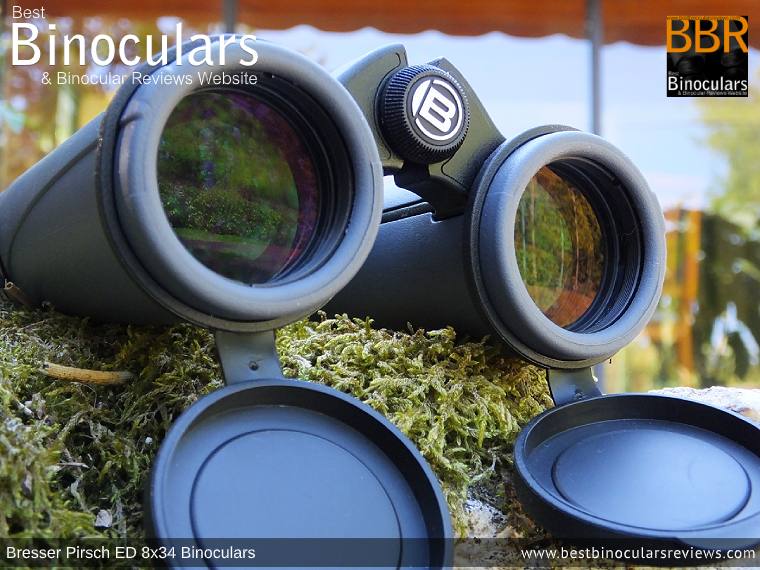 The Optics
8x34 Configuration:
The vast majority of mid-sized binos use 32mm diameter objective lenses, however, Bresser has opted to go with slightly larger 34mm ones which are not common at all, and so I thought I would quickly go over the potential benefits and downsides to this:
Size & Weight
Due to the extra glass needed, binoculars larger lenses are going to be a little heavier and indeed more expensive to make. When comparing these to something like an 8x42, this is noteworthy, but against a 32mm instrument, the amount is so small, the difference is not worth worrying about.
Likewise, larger diameter lenses also require larger barrels and shells to accommodate them, which in turn results in a larger and potentially heavier binocular in your hands. However, as we have already seen, these compare very well against other mid-sized instruments in this area.
Image Brightness & Low Light Performance
Where I do think the difference is worth more consideration is in the potential brightness of the image, especially in low light situations:
The exit-pupils produced by an 8x32 binocular are 4mm wide (32 ÷ 8 = 4), whereas by increasing the objective lens diameter by 2mm, you now generate fractionally larger 4.25mm exit pupils.
Whilst I'll admit, the difference is not huge, to put it in perspective, it does now mean these Bresser Pirsch ED 8x34 binoculars produce exit pupils that are actually a little larger than a 10x42 and so whilst you still don't get the light gathering ability of larger 42mm lenses and thus would never choose an 8x34 for their low light performance, if all else remains equal, they in theory, will have an edge in low light situations compared to your more typical 8x32mm mid-size instrument.
If this is all confusing as to why, then I encourage you to take a moment to go over my complete guide to the exit-pupil and how it relates to the available light and the size of the pupils in your eyes.
Optical Components & Coatings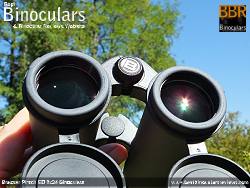 From what is listed in their specifications and from what I have been able to find out, apart from the different lens sizes, there is no difference to the glass used on all lens elements (including the extra-low dispersion / ED ones) nor indeed are there any differences to the coatings applied to them.
The same goes for the Schmidt-Pechan roof prisms which are all fashioned from high-quality BaK-4 (Barium-Kron) glass and which are both dielectrically coated and phase-corrected which is excellent and what we want to hear.
Indeed these are amongst the most important features of what to look for when buying binoculars and they make a huge difference to the brightness and quality of the view. You can also read more on Anti-Reflection Lens Coatings here.
So for a full and detailed rundown of all the different aspects of the optical system, their coatings, and the effects these have, please refer to the optics section on my Bresser Pirsch ED 8x56 Binoculars Review.
Optics Comparisons
As you can see from the comparison table below, all the Bresser Pirsch ED binoculars compare very well against other instruments in their price range in terms of the optical components used and their coatings:
Optical Components Quality Rating: 8/10
Optical Stats
Field Of View (FOV)
When looking through these Bresser Pirsch ED 8x34 binoculars the view is 122 meters wide at a distance of 1000 meters (approx: 366ft @ 1,000 yards), or to put it another way, the angle of view from the instrument is 6.97°.
This beats the 8x56 Pirsch ED: 114 m @ 1000m / 378ft at 1,000 yards / 6.51° aov.
But is not quite as wide as the 8x42 Bresser Pirsch ED binoculars: 125m a@ 1,000m / 375ft @ 1,000 yards / 7.1° aov.
Comparing them against other mid-sized instruments, you can see from the table below, they do well, beat some other top-level instruments, but are not what I would describe as being a particularly wide-angle binocular. Unless you specifically require a wide field of view, for most users the view is plenty wide enough and I never felt constricted whilst looking through them.
Close Focus
Bresser advertises these as having a minimum near focus of 3.5 meters, which I found to be incorrect and believe they are doing themselves an injustice as I was able to focus on objects at only 2.15 meters (7ft) away.
So whilst still not excellent, they are more than fine if you occasionally like to view things like flowers, butterflies, and other insects from a very close range, which I did often during testing.
Eye-Relief:
At 17.15mm, the amount of eye-relief is not quite excellent, but still very good and should be enough for most users who want to use their binoculars and keep their glasses on. here you would. For more see my complete guide on how to use binoculars with glasses.
In terms of the others in this series, the level is a fraction more than the 8x42 and beats the 8x56 model.
Optical Stats Rating (compared to 8x32-36mm Bins): 8/10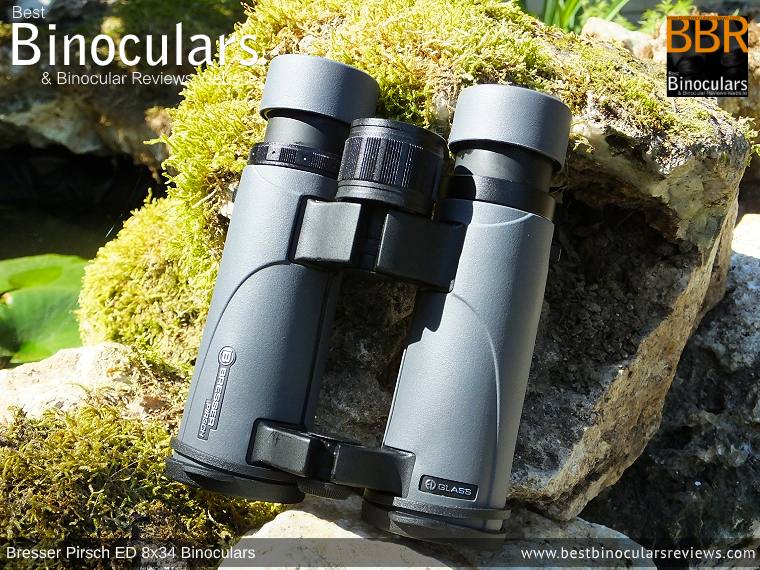 Image Quality
As well as using these Bresser Pirsch ED 8x34 binoculars on and off over a couple of months, I also took the opportunity on a number of occasions and in differing light conditions to closely compare the view through them against the other larger Pirsch ED models that I had with me as well as compared them to my benchmark 8x32mm binoculars. Below are my thoughts and observations:
Color Reproduction & Contrast
In these two areas, these 34mm binos compared very well against their larger siblings was very hard/ almost impossible to differentiate between them:
So to me, the color reproduction looked vibrant, but "normal" and I did not observe any artificial tinting of the image, which is something that you sometimes notice on lower-cost bins like this that use cheaper glass and coatings.
As with the colors, the contrast was also what I would describe as being neutral or "true to life", which is good as you get a nice feeling of depth and highlighted objects do stand out from dark areas, but at the same time, the level of contrast is not so high so as to look unnatural.
Image Brightness & Low Light Performance
As with my comparison between the 8x42 and 8x56 models, due to the different sized lenses and resulting exit pupil differences, this is one area where I was fully expecting to observe a difference between these and the larger models and this indeed turned out to be the case:
As I stated in my previous review, in moderate to good light conditions, the image brightness of the 8x42 and 8x56 Pirsch ED binoculars looked to me to be pretty much identical and it is very hard to tell them apart. In very good light, the image produced by the 8x34 looks bright and I think is about as bright as the others, but part of me also wants to say that they are a fraction less so. This may be me just convincing myself that they should be less bright, but either way, the difference is so minor so as to really not be a factor worth worrying about.
On dull overcast days, I did begin to notice more of a difference, especially against the 8x56, but even so, it is still very minor and unless I had all the models with me, quickly swapping between them, I would never be able to know for sure. So once again, I would describe the image brightness of the 8x34 under these conditions as good.
I also tested them all again once the sun had dipped below the horizon with the light going from what I would describe as poor to extremely poor. True to form, the 8x56 performed best, then the 8x42, and finally these 8x34 binoculars were notably less bright. To give you an idea of the difference, just after sunset, I could still "see" a tree out in my garden with all three instruments, but it all depends on how much detail you want or need to observe. So with the 8x56, you can still distinguish details like markings on the trunk, these are less obvious with the 8x42 and with the 8x42 it is pretty much in silhouette.
When comparing these against my mid-high level 8x32 benchmark instrument, they seemed to match each other in all light conditions and if anything were brighter, but once again it is very hard to tell, but what I can say is that I have no hesitation in saying that for a mid-sized 8x instrument, they are up there with the best in general brightness and low light performance.
Color Fringing
Using ED (Extra-low Dispersion glass) in the lenses can help reduce the chromatic aberrations that cause color fringing. But all ED glass is not created equal and unless the whole system is designed well and with this glass in mind, it is not always the case and I have often come across well made non-ED glass binoculars that show less color fringing than poorly, usually lower costing ED glass instruments.
Here again, and as with the other two Bresser Pirsch ED binoculars I tested, this 8x34 version performs extremely well and even under extreme conditions like viewing a black telephone wire against a bright blue sky or the edges of a dark green leaf against the sky, they show very little of the colored (often purple/blue/green) edges around them.
Image Flatness & Softening
During general use, testing, and in my comparison tests, at no time did I observe any sort of curvature of the image and once you have focused right in on an object, it remains sharp and in focus from the center of the view, right out to the edges.
Image softening, or vignetting at the edges of the view was minimal on my sample Bresser Pirsch ED 8x34 binoculars and thus about as good as you could hope for at this level.
Image Quality (Mid- Sized Bins) : 9/10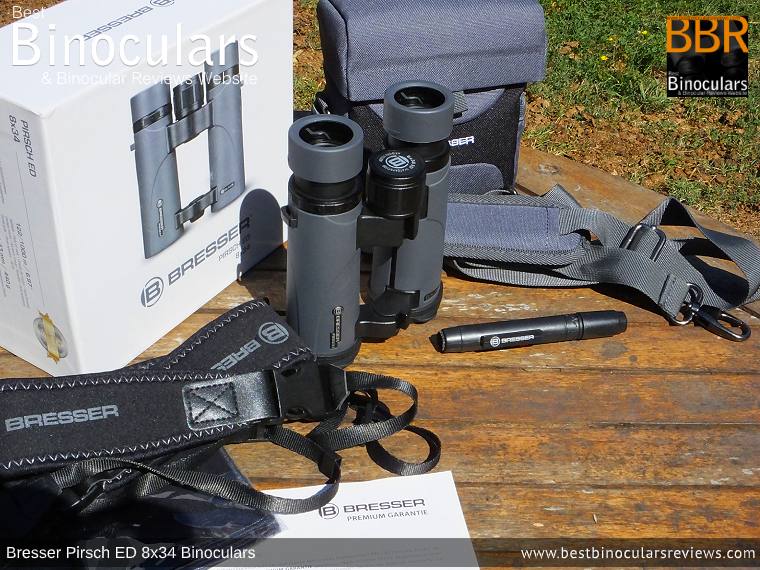 Included Accessories:
Apart from the smaller dimensions of the carry case, the included accessories and how they function is exactly the same as that of the 8x42 and 8x56 Pirsch ED Binoculars and so I once again ask you to refer to my 8x56 review for details: Accessories for the Bresser Pirsch ED Binoculars.
However, I would also like to add that the fact that Bresser includes the same neck strap is for me really impressive, but once again there are compromises to be had. Let me explain:
From the quick-release clips to oodles of padding and a non-slip grip on the underside, it is excellent in just about every way and even for a large 8x56 binocular is about as good and comfortable as it gets. So to include this exact same strap with a much smaller, more lightweight instrument is perhaps a little overkill and I guess it would have been tempting to swap it out for a thinner, less padded one as many other manufacturers do.
The advantage in doing this would be that it may have been a little less bulky, but personally I am glad they haven't, the neck strap is great, can easily be removed from the binocular and stuffed into your travel bag without fear of breaking and once around your neck, you'll hardly notice there's a pair of binoculars on the other end.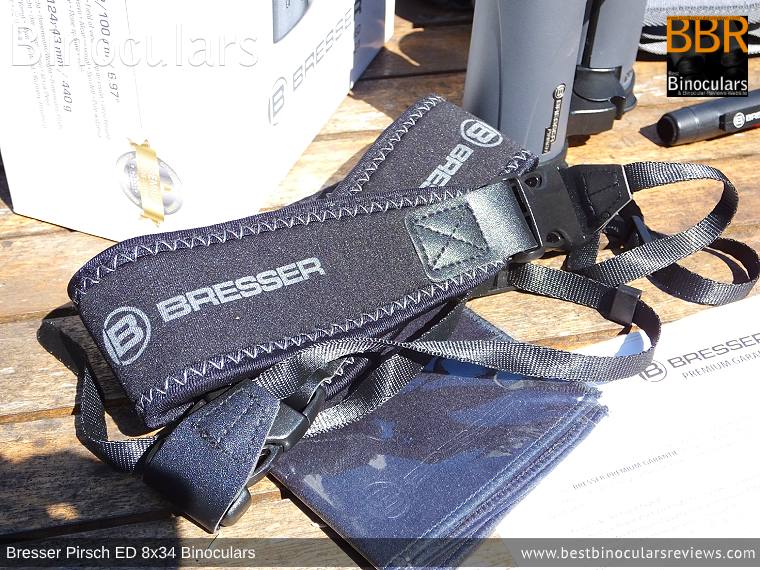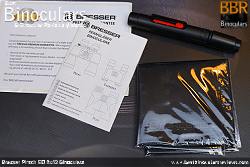 Cleaning Pen & Cloth
Also well worth highlighting here is that as well as a good quality microfiber cleaning cloth, Bresser also includes an excellent cleaning pen that is very similar to the Carson Optical C6 Lens Cleaners that I use on all my optics which saves you from needing to get an extra lens cleaning kit.
Warranty
In Europe, these and indeed all Pirsch ED binoculars come with Bresser's "2-year guarantee" supplied as standard. However, if you register the binocular with them online, they then upgrade it to their Premium guarantee that grants you an unlimited warranty and a full repair warranty for life which I am sure you will agree is impressive.
I am not sure what warranty you get in the USA.
Extras Rating: 8/10
Bresser Pirsch ED 8x34 Binocular Comparisons
You can compare some of the details of this binocular against a small selection of other Mid-to-High end, mid-sized 8x binoculars in the BBR database.
Open table in full-screen mode to view the full results.
Review Conclusions:
Just as with the 8x42 and 8x56 models, I think these Bresser Pirsch ED 8x34 binoculars perform very well within their particular size category and especially against their direct competition within this price range and thus I feel offer excellent value, making them a good choice should you want a high performance, take almost anywhere instrument at a reasonable cost.
Whilst not quite as versatile as the 8x42 Pirsch ED which is genuinely a fantastic all-rounder, these will perform well in many given situations (apart from extremely low light conditions) and will best suit those wanting a smaller, more lightweight instrument over a larger, heavier one.
Strengths:
Lightweight, reasonably small mid-sized instrument with a very comfortable open-bridge body shape, makes them a pleasure to carry about and use just about anywhere and everywhere you go
High-quality optical components and coatings directly translate to an equally impressive view
Metal focus wheel with a very smooth mechanism for fast accurate focal adjustments
Metal eye-piece housings and eyecups that are tough with an excellent twist up/down mechanism and more than 17mm of eye-relief- a good option for eyeglass wearers
From the materials used, to the build quality to their function, both the neck strap and carry case are excellent and certainly go beyond what I often come across at this price level
A nice touch is the included optical cleaning pen to compliment the microfiber cloth, which once again goes beyond all but some very high-end instruments
Weaknesses:
I don't think Bresser adds a toughened, oil/water phobic coating to the outer lens surfaces, or if they do, they don't tell us about it! This is not a deal-breaker and most others at this level won't have them either, but it is something I do sometimes come across at this level
Whilst I have no complaints with their functionality, when compared to the level of the other accessories included with these Bresser Pirsch ED 8x34 binoculars, the lens covers are a little simple and generic
Ideal Uses & Users:
As with most things, but especially when it comes to optics, there are compromises to be made, and when choosing a smaller, mid-sized binocular over a larger version, you are trading some light gathering ability for a more convenient, easy to carry and use instrument.
Thus this 8x34mm Bresser Pirsch ED is ideal for those who want or need a smaller device that is just that bit easier to carry in the hands than a standard 8x42 binocular and will certainly appeal to those hiking on foot and/or carry extra gear like a camera. But at the same time, with their high-quality optics and ever so slightly larger 34mm lenses, you can be certain that for a mid-sized binocular they are not too shabby in low light:
Birding & General Wildlife Viewing - especially when combined with travel for example birding holidays or a safari adventure


Safaris, Travel & Wildlife Observation
As well as general travel and birding, I think that these binoculars would also be great for general wildlife observation at closer ranges and fantastic on safaris, camping, and hiking holidays.


Backyard Birding - a convenient, easy to use binocular for use during the day when out in your garden


General Use - Where you prefer to have a smaller more lightweight instrument over a larger, heavier one that will perform better in low light


Sports
Whilst not quite as convenient to carry as a full compact binocular, if you have a reasonably sized day-bag, their wide view makes them an excellent option to take along to a whole host of outdoor sporting events.