If you have read a few of my other recent reviews of Astronomy binoculars, you may already know that over the past few years my interest in this particular niche of optics has really flourished and so because of this I have been drawn to them and thus find myself testing more and more binoculars that are either good for Astronomy (as well as other usually long-range terrestrial uses) or specifically designed with astronomy and stargazing in mind.
Thus when I was contacted by the German brand Bresser who are well known for producing excellent quality telescopes, binoculars as well as other instruments designed for astronomy, I jumped at the chance to test at least some of their products:
Bresser Spezial Astro Binoculars
Whilst most can be also used for long-range terrestrial observation, the series of Bresser Spezial Astro binoculars are the companies main line of Astro centric instruments and at the time of writing consists of five separate models.
All of which use Porro prisms and range from an entry-level 25x70 model costing under $100/£/€, offering you a good entry point into this great hobby right up to the very high-end Bresser Spezial Astro SF 20x80 ED binoculars that cost around $800/£/€, and as the name and higher price suggest incorporate many top quality features including ED glass lenses.
Which Model?
As already mentioned, Bresser currently offers the Spezial Astro in five different configurations:
Bresser Spezial-Astro SF 15x70 Binoculars
Bresser Spezial-Astro 20x80 ED Binoculars
Bresser Spezial-Astro 25x70 Binoculars
Bresser Spezial-Astro 20x80 Binoculars
Bresser Spezial-Zoomar 12-36x70 Binoculars (Zoom)
After much deliberation (and soul searching!), I eventually decided on the smallest 15x70 model and here is why:
Firstly I wanted a binocular that I could effectively use for astronomy, but as well as the occasional daytime use, both with and without a tripod and thus opting for a smaller, more lightweight instrument with a little less power made sense.
On top of this, having also just received a new telescope (review to follow shortly), I wanted a binocular that would work well alongside it, helping me to navigate the night sky.
Therefore because I knew that I would be able to achieve far more detailed views through the telescope, I chose the lower-powered Bresser 15x70 Spezial Astro over a 20x80 model as produces a wider field of view and thus would be ideal for orientating myself and taking in wider views before swapping over to the telescope to focus on a single star, planet or distant galaxy.
Bresser Spezial Astro SF 15x70 Binoculars Review
Important Specs & Features: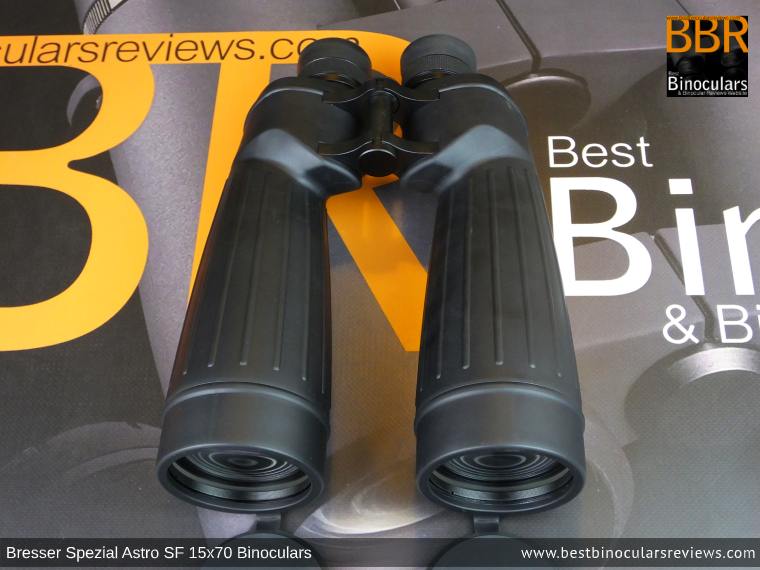 The Body
Shape
For a larger sized binocular for astronomy, the general shape and overall design of these Bresser Spezial Astro SF binoculars is very typical and so whilst to some people, the shape may seem a little old fashioned, for an Astro binocular, the design mostly a good thing: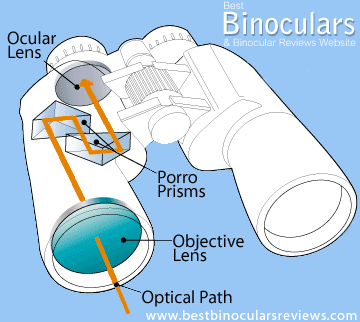 I will get to why a little later, but just wanted to mention that this shape is largely down to the fact that they utilize Porro prisms within the chassis in order to rectify the inverted image and not Roof prisms that are now used within the vast majority of modern binoculars designed with terrestrial, daytime uses in mind.
The slightly different shape of the Porro prisms and in particular the way the light exits them in a parallel line, but not directly in line with the entry point makes it possible to position the eyepieces nearer together than the objective lenses.
With your typical standard-sized binocular, say something like an 8x42, having the centers of the eyepieces directly in line with the centers of the objective lenses (42mm in this case), is not a problem as whilst larger, the objective lenses are not that much larger than the ocular lenses and so you can still make sure that the distances between the two eyepieces can accommodate the distance between the average person eyes and thus 'straight-through' roof prisms can be used.
However, on larger binoculars that have much larger diameter objective lenses like those designed for astronomy, if you used 'straight-through' roof prisms, the centers of the eyepieces would be too far apart to accommodate most people.
Therefor using Porro prisms, where you can divert the light to run parallel, but closer together makes perfect sense and is why these Bresser Spezial Astro SF 15x70 binoculars and indeed most astronomy binoculars use Porro prisms and therefore have this traditional looking shape to them.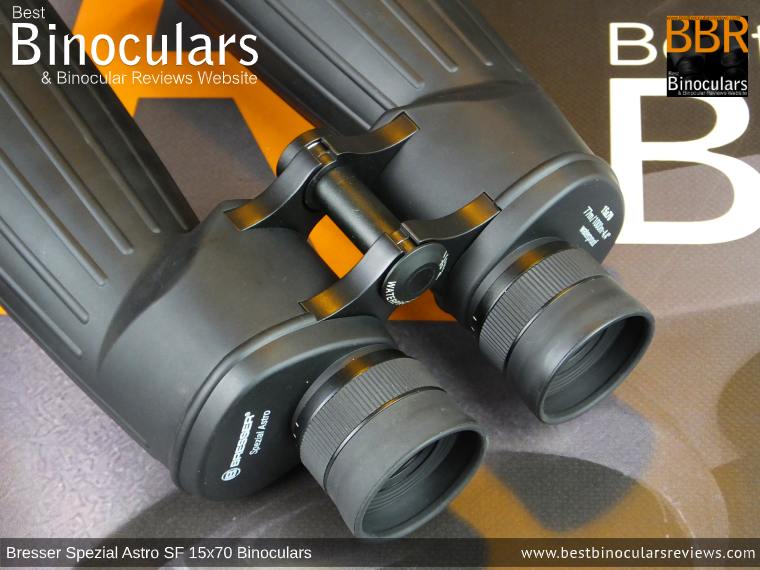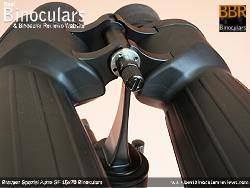 Further Advantages
Whilst not as compact, this "Porro prism" binocular shape also presents us with several other advantages.
Firstly because the objectives are set a little further apart, it is widely accepted that you are presented with a slightly better stereoscopic view through them when compared to a similar roof prism model.
I also find that this particular shape makes most Porro prism instruments very comfortable to hold and certainly helps when trying to keep the image as steady as possible when not using them mounted onto a tripod.
Tripod Adaptable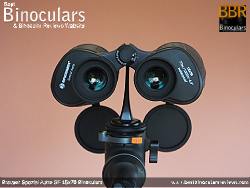 Speaking of mounting them to a tripod, this is another advantage larger "Porro prism" binoculars have over similar roof prism models. Once again, because the objective lenses are positioned further apart, it leaves us with plenty of space in between them with which to fit a tripod adapter.
I have found that even with 50mm roof prism binoculars, the barrels are often so close together that is impossible to use a tripod adapter.
Thankfully with these Bresser binoculars, there is no such problem and whilst I found that it is possible to handhold them for short periods and keep the image relatively still and shake free, for best results, especially for when using them for astronomy, mounting them onto a tripod is almost imperative.
Whilst Bresser does not include a tripod adapter, they can be easily purchased and are relatively inexpensive.
Whilst almost any standard tripod adapter with a standard 1/4inch thread will work, my advice would be to opt for a larger, metal one over a small plastic one as this is a fairly heavy instrument and so will ensure you get the most stable platform possible.
The tripod adapter attaches in the usual way by unscrewing the dust cap located on the central pivot and then screwing in the adapter.
Tripod Setup
For those who are interested, I used my Vanguard ABEO Pro tripod and Pistol Grip ball head with both a Snypex and an Athlon Tripod adapter when testing these binoculars, all of which I highly recommend if this is something you are also looking for.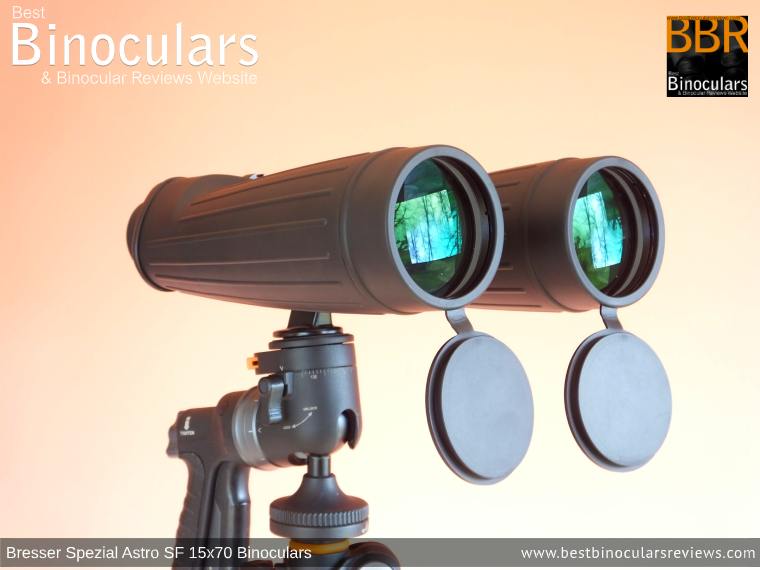 Body Materials
Bresser indicates that they use a combination of aluminum and polycarbonate plastic as the materials for the housing of the instrument.
Whilst almost entirely hidden under the rubber armor, it looks to me as though the main body of the binocular is made from aluminum, whilst the barrels are most likely polycarbonate which makes sense: added strength where you need it most and keeping the overall weight down using polycarbonate where appropriate.
Waterproof & Fogproof
Also important to highlight is that the chassis and barrels are completely sealed meaning that these Bresser Astro 15x70 binoculars are waterproof.
On top of this, Bresser has filled the interior cavity with completely dry Argon gas which prevents condensation or fogging of the internal glass surfaces.
For astronomy, where you almost certainly won't be using your binoculars out in the rain, this may not seem to be important features and you may be wondering why I am highlighting them.
Well, apart from the fact that a 15x70 binocular like these also make an excellent choice as a long-range, high powered binocular for use during the day where you may use them in wet conditions, these seals also prevent dust and other small particles from entering the system which can cause as much damage to the view as water.
Also, consider that internal fogging of lenses can easily and often does occur to unprotected binoculars when you subject them to a rapid change in temperature. Like for example going outside of your warm house in the evening or before sunrise to look at the stars in winter.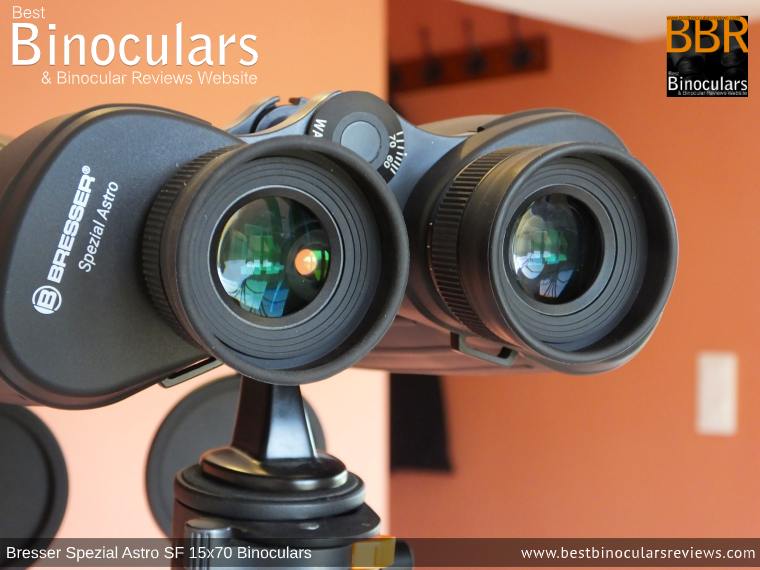 Focusing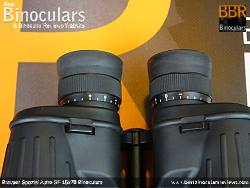 As with many stargazing binoculars, the Bresser Spezial Astro uses the individual eyepiece focusing system which essentially consists of a diopter adjuster on each of the eyepieces and thus enables you to calibrate them to each of your eyes.
For a high power, long-range binocular and especially astronomy, this works well as once you have done this and as long as you are focussing on infinity, no further focus adjustments are required and thus this makes them very easy and quick to use every time.
However, on the negative side, if you want to use the binoculars at closer ranges, you will have to adjust each of the eyepieces every time which is where a binocular with a single centrally located focus wheel that adjusts each side at the same time would be a more desirable option.
Eyecups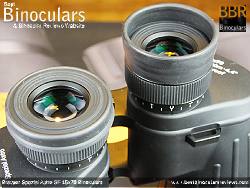 Rather than using twist-up eyecups, Bresser has chosen to use the more simple folding rubber eyecups on these Spezial Astro SF binos.
Whilst they are very comfortable and work well enough, they do not provide you with as much finesse when it comes to adjusting the level of eye-relief.
For the vast majority of users, this will not be an issue at all. As most of those who don't wear glasses will simply have the cups in their natural state (unfolded) and for those who wear some sort of eyewear, the massive 20mm of maximum eye-relief means that by folding down the cups, there will be plenty of space within to keep your glasses on and still have your eyes be positioned the correct distance behind the oculars to achieve the full field of view.
However, there may be a small minority of users that would prefer an intermediate distance and this is where twist-up cups would be better.
More Info: How To Use Binoculars With Glasses: Eye-relief & Eye-cups Explained.
Hinges & Interpupillary Distance Adjustment (IPD)
Made from metal, the open, double bridge hinge design is like the overall shape, a very common design and is used on many full-sized and larger Porro prism binoculars like these.
Even though they are fairly narrow and quite close together, the overall hinge system feels very robust, and whilst I did not test it anywhere near to breaking, I am sure it would take fairly large impact to knock the barrels out of alignment, which when you consider the weight and length of the barrels on an Astro binocular like these, this is an important consideration.
The level of resistance when opening and closing the hinges is good, if perhaps a fraction on the tight side, but for me, this is far preferable to binoculars that have hinges that are too loose and which results in you having to readjust your setting over and over again.
By fully opening the hinges, these Bresser Spezial Astro SF 15x70 binoculars have a maximum IPD distance of 7.4cm which reduces to a minimum of 5.6cm when fully closed.
This is a fairly standard IPD range and thus will accommodate the distance between the eyes of most users.
More Info: Interpupillary Distance on Binoculars.
Rating for Body Construction Quality: 8/10
Dimensions
At 11.4in (29cm) long x 8.5in (21.5cm) wide (with the hinge open) x 3.3in (8.5cm) high, in terms of their dimensions, this Bresser Spezial Astro SF is fairly typical for a 70mm binocular using the Porro prism design and compares favorably with most others in this size class.
Weight
Many entry-level and even mid-range astronomy binoculars will use many plastic polycarbonate parts, including the main housing and barrels. This not only makes them cheaper to make but is also more lightweight than the generally more robust options of Aluminium or Magnesium.
As we have already discussed these Bresser Astro binoculars have an Aluminium housing that includes the long barrels which results in them being a fair bit heavier than some of their competition.
When mounting on a tripod this extra weight will of course not be an issue at all, however, for use from the hands, it does mean that you are likely to tire just that bit sooner than a more lightweight, polycarbonate alternative.
This is something that I did notice while testing, but as this would most likely not be the instrument that I would choose to carry about on long walks, it was not an issue. Using it for short periods from the house looking out into the fields, the extra weight was no big deal for me.
BBR Body Stats Score (compared to 70mm Bins): 7/10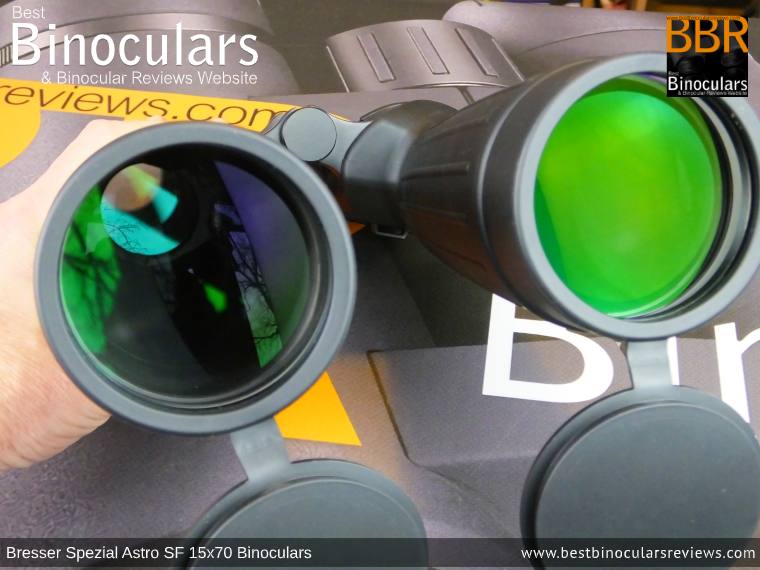 Optics
Like many manufacturers, Bresser is a little shy when it comes to describing the optical components and the coatings used on their Spezial Astro binoculars, however below are my thoughts based on what I know and what I have managed to ascertain:
15x70mm Configuration
Commonly used on many binoculars for astronomy and long-range terrestrial uses, the combination of a reasonably powerful 15x magnification with fairly large 70mm objective lenses produces a good balance between size, weight, image detail, light gathering and field of view which makes instruments like this one very useful in a wide range of situations and a good all-rounder for astronomy and long-distance terrestrial uses:
Light Gathering & Low Light Performance
As with the windows in your house, lager ones can capture and let in more light than smaller ones and so at 70mm in diameter, these are considered reasonably large for a binocular, but not so large to make the instrument too big and heavy and thus making them impossible to use from the hands (as is the case with an 80mm binocular).
The 15x70 configuration delivers a shaft of light that is 4.7mm in diameter (50÷7) as it exits the ocular lenses and goes on into your eyes.
Know as the exit pupil, this is a reasonably good, but not excellent size. However, if you do the maths, you will notice that it beats the 4mm exit pupil you get on the 20x80 configuration used on the Bresser Spezial-Astro 20x80 ED Binoculars for example, and thus even though they use larger 80mm lenses, in theory, these will seem to produce a brighter image in very low light when the pupils in your eyes are fully dilated and larger than the exit-pupil of both instruments.
More Info: complete guide to the exit-pupil.
Image Stability
Whilst you do get much more powerful binoculars, especially those designed for astronomy, at 15x I find that I am just able to hold them steady enough to use them without the need for a tripod.
Here I must stress that for the best possible views, long periods and especially for astronomy a tripod is still needed, but even so, it is nice to have a high powered device that you can quickly grab and easily lock onto something in the distance to get a better view of or positive id on.
Field of View
Higher magnifications also reduce the field of view and as we have already seen with the exit pupil unless you continuously increase the objective lens size, it also reduces the low light performance.
So whilst when you compare them to a standard 8x42 binocular these view is relatively narrow, at very long distances, I think the 15x70 set-up provides you with a reasonably wide field of view with a good level of image detail. For these reasons, I find them to be very useful for orientating myself when looking up at the stars, but at the same time also get to see far more stars than what I can see with the naked eye or even a 10x50 for example.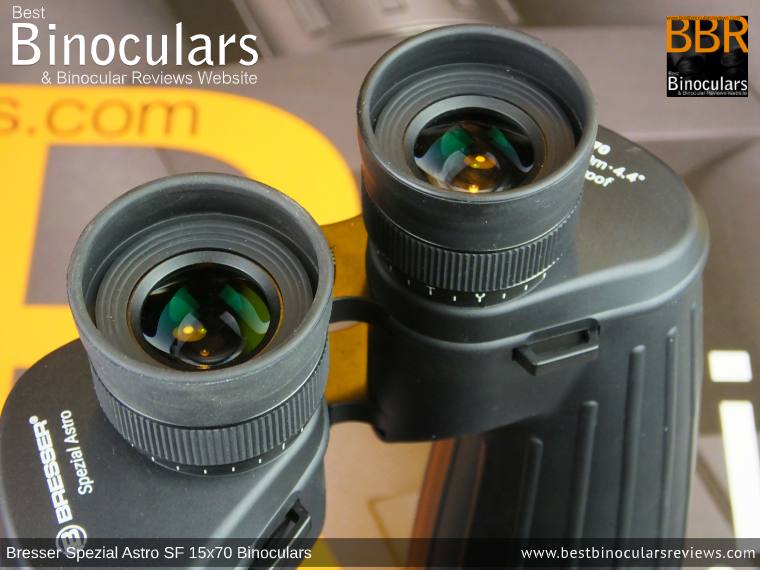 Ocular Lenses
Made up of 5 separate lens elements arranged into 3 groups what is interesting and well worth noting is just how large the outermost lens elements are on each of the eyepieces on these Bresser Spezial Astro SF 15x70 binoculars:
Measuring 24mm across, they are most certainly on the largen end of the scale which potentially offers up a number of advantages that includes making I the binocular easier to use, with less chance of black rings forming on the edges of the view.
More Info: Ocular lens size in binoculars
Objective Lenses
Once again, Bresser like most manufacturers does not go into any sort of detail when describing the make-up of the objective lenses, which is a shame.
However, what I can say is that at 70mm in diameter, these are very large when compared to a standard daytime binocular which usually have lenses of around 42mm in diameter. So whilst it is true they are on the smaller side for an Astro binocular they still present a large surface area and are able to capture a good amount of the available light, which I feel in combination with the 15x magnification is a good compromise between size and weight versus light gathering ability.
Prisms
At the start of this review, I mentioned that the main reason for the body shape where the eyepieces are positioned nearer together than the objectives was down to them having Porro prisms inside the chassis to flip over the upside-down image that gets created as the light passes through the lenses.
Much simpler than the roof prism design in that they do not require special treatments in order to achieve total internal reflection nor do the wavelengths of light go out of step with each other as the light passes through the prism and so phase correction coatings are not required, another major advantage these Porro prisms have when used with larger Astro binoculars like these Bresser 15x70's is that they enable you to use very large objective lenses and still be able to keep the ocular lenses close enough together to fit your face.
More Info: Is a Roof or Porro Prism Best?
Also, well worth mentioning is the fact that Bresser state that they use prisms made from BaK-4 glass, which for the use in binoculars is far superior to BK-7 glass that is also widely used.
Optical Coatings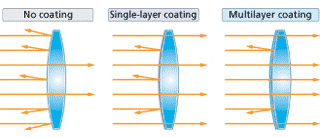 Anti-Reflection Coatings
Bresser 15x70 Spezial Astro binoculars are described as being Fully Multi-Coated which is exactly what we want to hear, as this means every single lens surface is treated with a special anti-reflection material which ensures as much light as possible passes through each element without any unwanted reflections.
Lesser quality instruments are only Multi-Coated meaning that only some (usually just the first and last outer lens surfaces) are treated with the anti-reflection material.
This isreally important as the level to which the optics on any binocular is treated with this anti-reflection material plays a pivotal roll in the quality and image brightness of the view and is one of the key aspects to look out for when buying binoculars.
For More: Guide to Anti-Reflection Lens Coatings.
Optical Components Quality Rating: 7/10
Optical Stats
Field Of View (FOV)
The field of view on these 15x70 Bresser Spezial Astro binoculars is measured at being 231 ft wide at a distance of 1000 yards away or in metric terms, 77 meters wide at a distance of 1000 meters.
In terms of the viewing angle, this equates to 4.4° and thus when you take into account their 15x magnification the apparent field of view: 66.0°.
For a 15x binocular this is more than decent and positions them quite comfortable among the best.
What is also important to remember and is one of the reasons why I like the 15x option for my astronomy binocular is that the field of view you are presented with through these is far wider than that of what you will get with most telescopes even when using a fairly wide-angle eyepiece. Therefore I find they make great companions and just give you another option when viewing the heavens above.
Note the image below shows these Bresser Spezial Astro binoculars with the Bresser Polaris 102/460 EQ3 Telescope that I am also currently testing and will have the review up on the BBR site soon!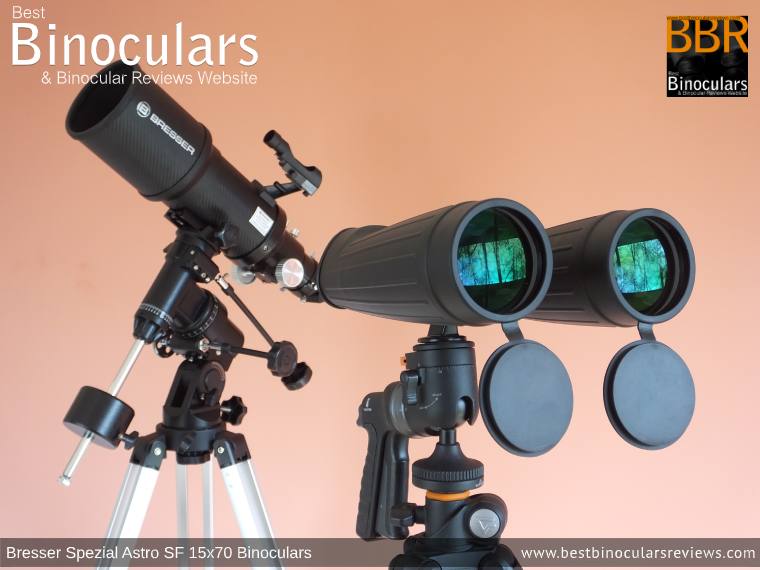 Eye-Relief:
The 20mm of eye-relief is truly excellent and they easily make it onto my list of binoculars with long eye-relief, which in turn means they make an ideal choice of eye-glass users because by folding down the eye-cups you will have able space for your glasses to take up and still have your eyes positioned at the correct distance behind the ocular lenses.
Close Focus
Binoculars like these that use the individual eyepiece focusing mechanism tend to have a relatively long minimum focus distance as the instrument is designed to have a very long depth of field for viewing distant objects without having to make frequent focal adjustments.
At around 10 meters (32.8 feet), these Bresser Spezial Astro binoculars are no different. However, as they are not designed for close-range observation this should not present a problem for most users.
Optical Stats Rating (compared to 15x Bins): 8/10
Image Quality
For this review, I compared the view through these Bresser Spezial Astro 15x70 Binoculars against that of my 15x70mm benchmark which I now use for all instruments within this size and magnification class and so which helps me to maintain a consistent opinion as possible. For my own interest, I also compared the view of these verses a high-end 7x50, an 8x42, and a 10x42 binocular:
Due to the poor weather at this time of year (I was testing them in winter), I actually conducted these careful comparisons on four separate occasions: Firstly during the day, but it was very overcast and drizzling, then some days later in good light during the day, then once again at and just after sunset in poor light and then lastly at night where I was obviously using them for astronomy and below are my thoughts:
Colors & Contrast
No noticeable artificial tinting of the image was detected at any time whilst using them nor indeed when comparing them against others and I would describe the colors when looking through the Bresser 15x70 Spezial Astro binoculars as being vibrant, but at the same time neutral and thus true to life.
Whilst this may not sound very exciting, I think that this is a good thing as an image where the colors are overly vibrant looks almost cartoonish and in most cases, an image that is tinted in some way is undesired and is often caused by the use of inferior quality glass.
The same can be said for the contrast in that you get a good variation between the very bright areas of highlights, right down to the darkest shadows, but at the same time, it was not too strong to look unreal or too weak making a bright image in daylight seem washed out.
Image Brightness
When you combine a 15x magnification with 70mm objective lenses, this produces an exit pupil that is usually about 4.7mm in diameter (70÷15). This is important as whilst not overly large, it is large enough to ensure that your eyes are presented with more than enough light during the day in all but the worst light conditions.
For extremely low light conditions, an exit pupil of about 7mm is usually considered ideal as this means you get enough light to your eyes when the pupils are fully dilated.
However, in order to achieve this with a powerful 15x magnification, you would need 100mm diameter lenses to make 6.6mm exit pupils or 110mm lenses to achieve 7.3mm exit-pupils, which in turn would make for a massive and undoubtedly much more expensive instrument.
Thus a compromise has to be made and so whilst it may seem strange that most powerful astronomy binoculars have smaller exit pupils than what is ideal, you should also consider that when you are viewing bright or shining objects in the night sky (like the planets, stars and especially the moon) thought your binoculars, that bright light point onto your eyes may mean that your pupils will not be fully dilated anyway.
Therefore in many cases, the less than ideal exit-pupil size only really comes into play in very poor light conditions when viewing non-shiny objects here on earth. Indeed this is what I found to be the case with these Bresser Astro Binoculars and others that I have used in the past:
Whilst it is very hard to compare the images of binoculars with very different magnifications, I did find that in twilight and even in very overcast conditions when drizzling, my 7x50 binoculars (fantastic low light performers with an exit pupil of more than 7mm) seemed to be slightly brighter than these Bresser 15x70 binoculars.
Note that whilst the 7x50 was certainly the best choice in these conditions, I did feel that these 15x70 Bresser Binoculars outperformed my benchmark 15x70 and were not dissimilar to the 8x42 and 10x42 that I also had with me. However, I would like to stress again that with such differing magnifications, it is difficult and I find your eyes/mind can play tricks on you as one moment you are sure of something, then when you check again... it is not so obvious!
In good light when comparing them all again a few days later, I found that these Bresser Spezial Astro binoculars were about equal to that of my 15x70 benchmark in terms of brightness which was no surprise.
At night and when used for astronomy I have to say that I do find it hard to differentiate between the brightness of different binoculars in the same size and magnification class and the Bresser Astro SF looked to be equal to that of my benchmark.
What I will say that is I purposely delayed my test for the night of the 9th of February (2020) as I knew that there would be a full moon and whilst this is not 100% ideal for stargazing, viewing the moon in detail is to me always worth going out into the cold for!
Here I found these Bresser 15x70 binoculars to be extremely impressive and it was instantly apparent just how much more detail I could see of the moon's surface when comparing them to my 7x50, 8x42, and 10x42 binoculars.
After the moon, Venus is the next brightest object in the night sky and whilst you obviously don't need binoculars to see it and 15x is not enough magnification to get any meaningful amount of detail, I got to enjoy some excellent views of it alongside the stars that make up Pisces and Pegasus not long after sunset before they dipped below the horizon.
Now much lower in the sky than when I last tested a pair of Astro binoculars a couple of months ago, I then turned my gaze towards the constellation of Cygnus and in particular, the star that represents the head called Deneb, also known as the "head" of the Northern Cross, it is the 19th brightest star in the night sky.
I like using this star as a reference point as it is not only fairly easy to locate but as before, I found that through these 15x70 Bresser binoculars it always impresses me just how many more stars you can see when compared to the naked eye and indeed lower-powered instruments.
I had a similar experience when looking at Polaris and whilst I'm no expert, it is now always interesting to look at the constellation of Orion and see what is happening with the dimming star of Betelgeuse.. who knows one day I may observe its destruction!
In terms of comparisons, I have to say that whilst it is easy to appreciate the greater amount of stars you can observe when compared to lower powered binoculars, I could not make out any sort of improvement or difference in brightness between these and my benchmarks. However, I would like to add that I was more than happy with both.
Color Fringing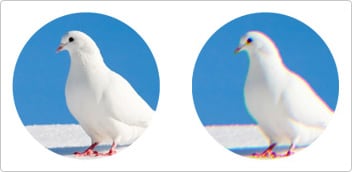 Known as color fringing and what is ultimately seen as a sort of halo around objects especially when they have a high contrast when compared with their background, it is usually more obvious on binoculars with higher magnifications.
Here the use of good quality optics can make a difference and I was pretty impressed with how well these Bresser binoculars performed especially as I found them to show less fringing than that of my 15x70 benchmarks, the difference was particularly noticeable when looking along the edges of branches lit up by a sky in the background.
At night time when viewing the moon, planets and the stars, color fringing can be an issue as these bright objects contrast with the black sky and so it is important. Here I once again found this Bresser to perform well and indeed once again thought that they were marginally better than the control instrument.
So whilst these are impressive, it would be interesting to try out and compare them to the higher-end Bresser Spezial-Astro 20x80 ED Binoculars as the ED glass in the lenses of this model is designed to reduce chromatic aberrations, which is the main cause of color fringing. Hopefully, I will get a chance soon and when I do I will update the review should I find anything worth noting.
Image Distortions & Blurring
A particularly pleasing aspect for me was just how little softening these binoculars show around the extreme periphery of the view, which is certainly a particular strength when compared to others.
Also just to clarify that I was never aware of any other unwanted image distortions like an inward or outward curvature or waviness that I have on a few occasions noticed in the past on mostly lower-cost instruments.
Image Quality Rating: 8/10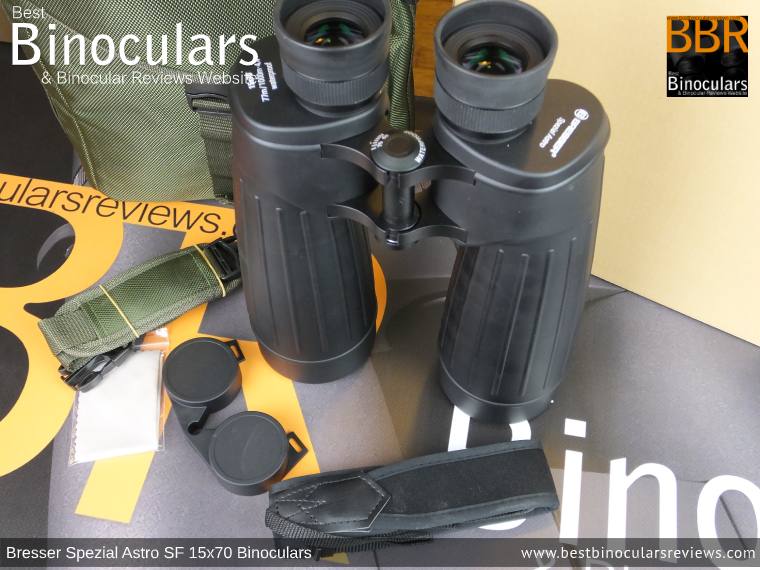 Included Accessories:
In my experience and in general, when it comes to the larger diameter binoculars like these, unless you are in the market for a very high-end model, the level of included accessories tends to be a little lacking when compared to most standard sized instruments at the mid-level price bracket.
I think this is probably down to the economy of scale. Many, many more 42mm binoculars are produced compared to 70mm and 80mm instruments.
Therefore it stands to reason that they also produce many more carry cases, neck-straps, and lens covers to fit them and thus rather than keeping the money saved by producing an item in bulk, the better ones choose rather make better accessories. Anyway, that's my theory and I am getting somewhat distracted here!
The point I was trying to make is when it comes to the accessories, I am usually very underwhelmed when it comes to Astro binoculars in the entry to mid-level tiers.
However, in this case, whilst far from being perfect I think Bresser has done a good job with the Spezial Astro SF and for the most part, the included accessories are as good as or better than any other at this level:
Carry Case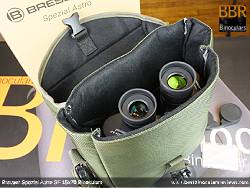 A good case in point is the carry case, which is most certainly an improvement on the majority of others that I come across.
The green woven nylon material that makes up the outer surface of the case feels much thicker and more robust than that used by many. For such a large bag, it also holds its shape far better, which is once again in stark contrast to the majority.
The flip-over lid is held closed with a large quick-release clip, as is the included carry strap which is a nice feature as they can sometimes be annoying, so it is nice to have the option to completely remove it.
On the rear face, Bresser has included a couple of belt loops, however, which I guess could be useful to some. Not that I have ever done it, but I imagine you could use it like this when standing out in a dark field and so would make the case easy to access. But as for carrying these relatively heavy and large binoculars on your belt for long distances, I don't imagine that this would work very well. But I could be wrong and so should give it a go .. one day!
Internally this bag once again is certainly an improvement on most I come across as the padding is more substantial, however, I still feel that it is not enough for this size and weight of device.
There is a large separate pocket inside and the binoculars have a good fit making them relatively easy to take out and return, but at the same time do not flop about.
Neck Strap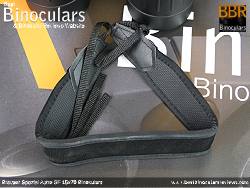 The neck strap is interesting in that for a standard-sized and weight bino, I would describe it as being very well padded, but for these, I do still feel they are a little lightweight and even though the width of the padding is decent (4.2cm), I do still feel that it should be wider to spread the weight over a larger surface area.
Having said all this, for most users who fix this to a tripod, this will, of course, be no issue at all.
The underside of the padded section is made from a grippy neoprene material which I really like as it helps prevent the strap from sliding about on your neck and shoulders, which for a heavier instrument like this is a small, but welcomed feature.
To attach the strap to the binocular, you thread the thinner sections through the two loops on the underside of the body in the usual way. The length of the strap can be adjusted with the sliders in the normal way.
One thing that I do feel is missing are quick-release clips, like those used on the carry case. This would make swapping between having the carry strap and then using the binocular on your tripod much less of a hassle.
The alternative of keeping the strap connected whilst mounted on a tripod is just asking for it to get tangled up, or for someone to walk past and hook onto it accidentally bringing everything crashing down to the ground.. (and yes this has happened to me!).
Objective Lens Covers
Once again and whilst a relatively simple part, the objective lens covers are certainly superior to those you get on most of the direct competition.
To start with these are actually part of the outer rubber armor housing and thus it all looks very neat and tidy and actually part of the binocular instead of being something of an afterthought.
In contrast, most binoculars use separate covers usually attached via a couple of rubber loops that go around the barrels. These do have the advantage of being able to be completely removed and taken away. But as they simply hang down under the binocular when not in use, I never really feel the need to do so.
Made from a thick, hard-wearing, but flexible rubber/plastic, the covers, and even the more vulnerable hinge section looks like it would take quite a bit of force for it to break or even perish over time.
Another aspect that I like is that the covers actually fit into the ends of the barrels, rather than over them which is usually the case. Once again this just looks so much tidier and an actual part of the binocular.
The covers clip into the ends of the barrels nice and easily, yet firm enough so that they don't come away by accident.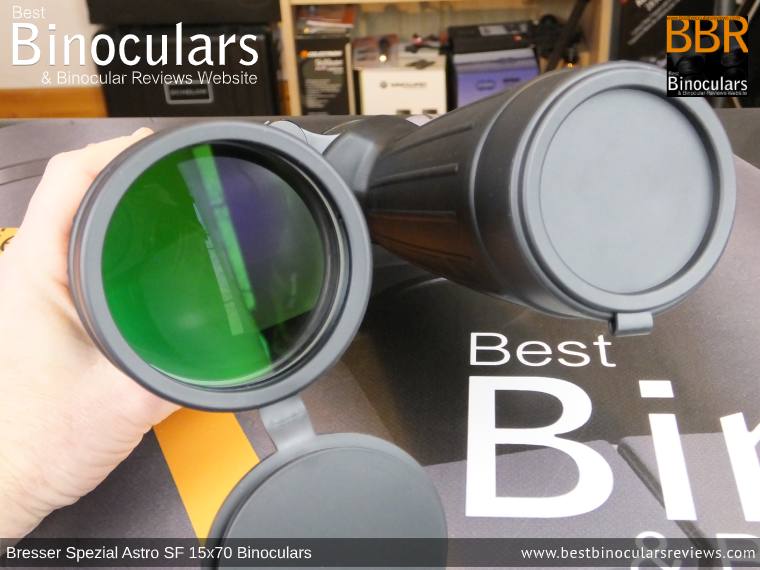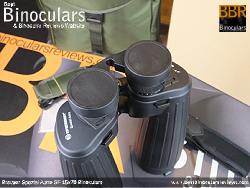 RainGuard
Standard Design, Made from Soft, Flexible Rubber
Flexible Bridge to accommodate different IPD settings
A Tight fit. This makes them a little finicky to replace over the soft eyecups
Loops to attach to Neckstrap
Cleaning Cloth
The cleaning cloth that comes with the Bresser Spezial Astro 15x70 binocular is very typical at this mid and lower price levels in that it is fairly basic and whilst fine for cleaning the body of the instrument and perhaps lightly dusting the lenses when out in the field. I would recommend you get yourself a lens cleaning kit for the thorough cleaning of the glass, these are fairly inexpensive and well worth it.
Warranty
Bresser offers a warranty of 5 years after you have registered your new binocular online. Instructions on how and where to do this are included.
Accessories Rating: 7/10
The Bresser Spezial Astro SF 15x70 binocular is a tough, extremely well built binocular with good quality optics that in turn deliver a quality of view and user experience that is well above average:
So for me and my particular needs, they are perfect in this regard, however, if you are only planning on having your instrument mounted on a tripod then you should most certainly consider opting for the higher-powered Bresser Spezial Astro 20x80 binoculars instead.
The optical system is fully multi-coated and not just multi-coated which certainly makes a big difference to both the image quality and brightness, which along with just how little color fringing and image softening there was also something that impressed me during testing and whilst comparing them to inferior products.
A small point, but I also really like the permanently tethered lens covers on these binoculars. They are robust, fit very well and so easy instantly replace as soon as you are finished observing, even in complete darkness.
The included soft carry case is also well above the level at which I often see included with most Astro binoculars and so whilst it will still not win any beauty contests and is not at the same level as the hard cases that you get with some very high-end binoculars for astronomy, at this price level, it is certainly up there with the best and does a good job of keeping these Bresser binoculars clean and well protected when not in use.
When mounting on a tripod this is of no consequence, however, if you did planning on carrying a large pair of 15x70 binoculars out in the field, then these are not the most lightweight option out there.
It also has to be said that for such a large, heavy instrument, the included neck strap is not at the level you would hope for. To be fair these binoculars are really not designed to be carried around the neck and so I look at it more as a safety feature to prevent them from hitting the floor should you loos your grip when holding them for whatever reason.
If you do need to carry these binoculars out in the field I highly recommend a good harness that is capable of carrying bigger, larger binoculars. Something like the Cotton Skout Binocular Harness is ideal.
When it comes to folding up/down rubber eyecups, the ones you get on the Bresser Spezial Astro 15x70 binocular are pretty good, are very comfortable and work well enough, so it is a very minor point, but for some users, twisting-up/down cups would have offered the added customization to ensure they achieve the perfect eye distance behind the ocular lenses.