Bushnell Permafocus Binoculars
This low cost range from optics giant Bushnell contains a wide range of focus free binoculars. Often mistakenly referred to as auto focus binoculars, this type of instrument with a fixed focal optical system like the Permafocus is deal wherever speed and ease of use is paramount.
Thus they make popular choices as binoculars to take to sporting events, marine use, some birdwatching, wildlife and even hunting applications, where the user may only have one hand free to use their optics, making focusing difficult.
Bushnell Permafocus 12x50 Binocular Review
At well under $100 the Bushnell Permafocus 12x50 looks to be a great option for those on a tight budget and who need a high powered device that is still going to deliver a bright image.
Whilst it is inevitable that the larger lenses on the Bushnell 12x50mm makes them more bulky than the more common 10x42 setup, you get the added bonus of a higher powered device (more image detail), but as they still have the same size exit pupil, there is no loss in image quality and brightness as you would get with a 12x42 for example.
What I Like
Porro Prism Design
When choosing a low cost binocular, it is often much better to go with a porro prism design (which these are) this is because they are far less costly and complicated to produce than roof prism models and thus you get the same level of optical performance as much more expensive roof prism binoculars.
Or to put it another way, at this low price level a 12x50 porro prism binocular will usually outperform a 12x50 roof prism model.
Focus Free System
Whilst not perfect for all situations, there are many situations where not having to change focus is a real advantage.
With the 12x50 version, I am specifically thinking of hunters or photographers who may also be carrying other gear and thus will often use their optics one handed. here the advantage is clear to imagine.
The speed at which you can be observing at close range and then switch to something far off in the distance is also a great advantage with these.
Tripod Adaptable
These are tripod adaptable and thus simple to fix a tripod adapter to them. For a high powered device this is in some cases an essential feature.
Field of View (FOV)
Advertised as being 265ft wide at 1000 yards, the FOV on the 12x50 Bushnell Permafocus binocular is excellent for a binocular with a 12x power. Combine this with the Permafocus system and you have an instrument that makes scanning wide open areas or following fast moving object (be that a bird, deer or F1 race car) really easy.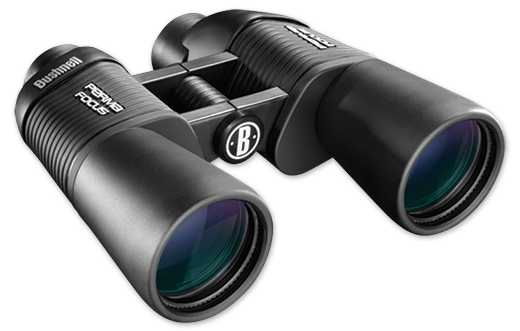 What I Don't Like
Eye Relief
With only 9mm of eye-relief these will not be a good option for those who need to wear their glasses whilst binning as even with the eyecups folded down you will most likely see dark rings around the edges of the view.
BK-7 Prism Glass
To produce a binocular at this low price point, a manufacturer obviously has to make some compromises.
In this case Bushnell have decided to use cheaper BK-7 glass on the prisms and not the higher quality BaK-4 glass which for binoculars is usually considered a better option.
However to be fair at this price this is not uncommon and because of the fact that a fixed focus binocular is not designed for close-up observation, some of the desirable properties that you get with BaK-4 glass is not needed. So whilst I would still prefer BaK-4 prisms, I don't consider this to be a deal breaker in this instance.
Other Bushnell 12x50 Binoculars
As well as this Permafocus model, Bushnell also produce a number of other 12x50 instruments:
Bushnell Legend 12x50 Porro and Roof prism bins
Bushnell Powerview 12x50 Binoculars
Bushnell Elite 12.5x50 Binoculars