High power, large aperture binoculars at a reasonably affordable price. That is the best way to describe the Bushnell 12x50 Trophy XLT binoculars in a few words.
A 12x50 is ideal for anyone who wants more image detail AND still maintain a reasonably bright image. This Bushnell 12x50 XLT is primarily aimed at hunters and general wildlife observers who are not concerned with carrying about a little more weight and bulk in exchange for the combination of these two attributes.
Bushnell Trophy XLT 12x50 Binocular Review
Having already read and gone through a number of Bushnell Trophy XLT 12x50 binoculars reviews online and done a ton of research for you, I will now take a closer look at this model and discuss their relative strengths and weaknesses and what I like and indeed don't like about them.
Highlights
Fully Multi-Coated Optics
To start with, this instrument is fully multi-coated, which is good and tells us that every exterior optical surface throughout the system has multiple layers of an ani-reflection material applied to them. this makes a big difference in both the image quality and brightness when compared to those that have less coatings on fewer surfaces.
Fully Sealed Chassis
The chassis on these has been fully O-ring sealed making them 100% water proof and can be fully submersed in water.
Remember in dry areas this is also important as it will make it impossible for dust to enter the system.
Added to that, they are also fog proof with as the air inside them was replaced with a dry gas (usually Nitrogen) when they were manufactured. This not only prevents the internal lenses from misting up, but will stop fungus from growing on the lenses which is something you quite often see on old instruments.
Tripod Adaptable
Good to confirm that you can easily attach a standard tripod adapter to these, which for long range observation over longer periods can be vitally important.
Lead Free Glass
As with just about every Bushnell binocular, these use use optical lenses and prisms that don't contain any lead in the glass.
Whilst this has no affect on performance, this environmentally friendly policy is one that anyone who enjoys nature should appreciate.
Field of View
The field of view on these is 241ft wide at 1000 yards away, which for a 12x binocular is good and makes scanning wide open areas looking for wildlife that much easier.
Eye Relief
The 18.2 mm of eye-relief you get is excellent and makes these Bushnell 12x50 binoculars a good option for eye-glass wearers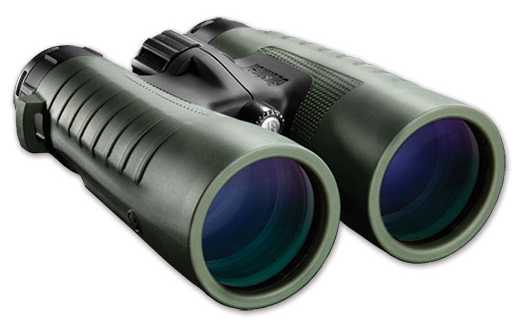 What I Don't Like
Close Focus
As you would expect with an long range, high powered binocular, the minimum focus distance on these is not great (13ft), so not the ideal choice should you like observing butterflies or even birds from close distances.
Bushnell Binoculars 12x50
As well as the Trophy XLT, Bushnell also produce a number of other models with the 12x50 configuration that may also be of interest to you, these include:
Bushnell Legend 12x50 Porro and Roof prism bins
Bushnell Powerview 12x50 Binoculars
Bushnell Elite 12.5x50 Binoculars - not strictly a 12x50, but near enough!