As long as the weather plays ball and you get clear skies, I always find that the December holiday period is for me a great time to indulge in my ever-growing interest in astronomy. This is especially true when I'm in the northern hemisphere as not only are the nights longer but I also generally have a little more free time on my hands.
Last year things were different as I "followed the sun" and went back home to visit family in Southern Africa, so I was pre-occupied with testing and indeed using binoculars ideal for travel and in particular safari holidays. But as I knew that this year we would be staying in Europe over winter, I decided to make sure that I had a number of binoculars for astronomy in for me to test.
Celestron SkyMaster Pro Binoculars
At the top of my wish list was to get a pair of Celestron SkyMaster Pro binoculars. This is because whilst I have used many of Celestron's 'standard', entry-level SkyMaster binoculars, like the Celestron SkyMaster 25x70 as well as their top-end, truly excellent, but rather expensive astronomy binocular, the Celestron Echelon 20x70, I had not yet tried out any of their mid-level SkyMaster Pro's.
Briefly looking at their main features, I also had a sneaking suspicion these would find that 'sweet spot' between price and quality and thus perhaps make the perfect Astro binocular for the average amateur night-sky observer wanting to get really good quality views of the night sky without having to spend a fortune to get it.
Which Configuration to Get?
Celestron currently offers the SkyMaster Pro in either a very large 20x80 configuration or these 15x70 that I eventually settled on.
So why did I choose this model and which model should you choose?
I wanted a binocular specifically designed for astronomy (so larger and more powerful than something like a more general use 10x50 for example), but at the same time, I still wanted it to work well alongside and complement my new telescope (more on this and a full review coming soon!) as well as being portable enough for me to fairly easily take on camping trips, etc later on on the year.
Thus as I knew that I would be able to get the more detailed views through the telescope, rather than opting for the higher-powered Celestron SkyMaster Pro 20x80 binoculars, I chose the 15x70 SkyMaster Pro as it delivers a wider field of view and thus would be ideal for orientating myself and taking in wider views with more of the surrounding stars before swapping over to the telescope to focus on a single star, distant galaxy or a more detailed view of our moon and the planets in our solar system.
Celestron SkyMaster Pro 15x70 Binoculars Review
Important Specs & Features: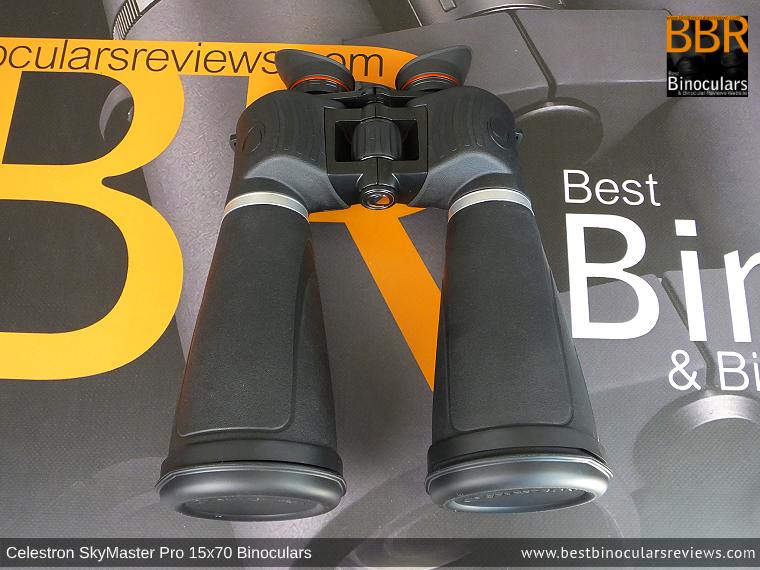 The Body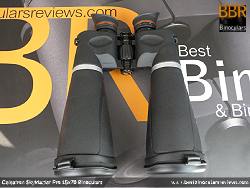 Design
Most Astro binoculars have Porro prisms inside them to rectify the image and not roof prisms as is the case with the majority of modern binoculars that are designed with terrestrial daytime uses in mind.
This is for a variety of reasons which I will get to later in the review, but chiefly the particular shape of a Porro prism and the way the light exits them parallel, but not inline to the point of entry enables the makers to position the eyepieces closer together than the objective lenses.
On something like a standard 8x42 binocular (42mm lenses) this specific feature is not that important as the centers of the objective lenses can be close enough together to line up fairly well with the average distance between most people's eyes and thus 'straight-through' roof prisms can be used.
However, when you use much larger objective lenses like those needed at nighttime to collect more light (70, 80 and especially 100mm), in order for you to be able to look through them, the eyepieces need to be positioned in such a way so as they are closer together than the distance between the centers of the large objective lenses.
Thus the use of Porro prisms in these circumstances is ideal and is why these Celestron SkyMaster Pro 15x70 binoculars and indeed most astronomy binoculars have the typical and quite traditional looking shape to them.
Whilst not as slim-lined as a roof prism, this shape and in particular the wider set objective lens does make them very comfortable to hold and indeed, which in turn means that I can find them easier to keep steady.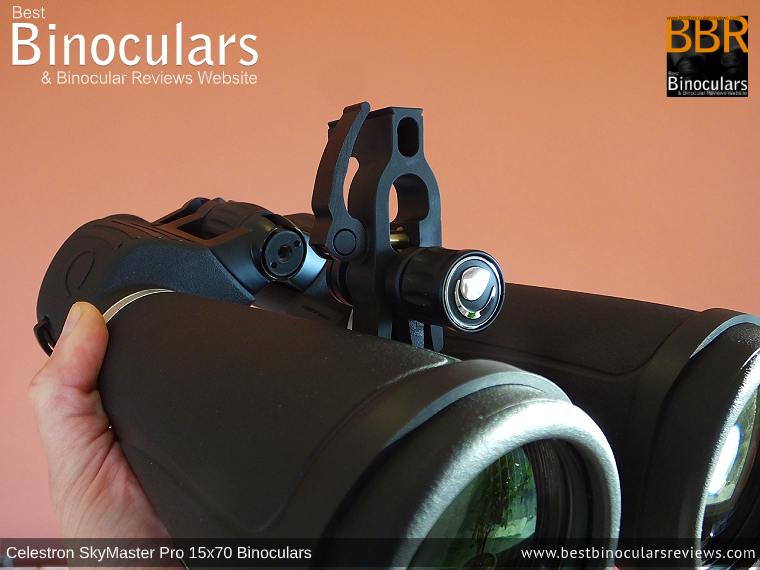 Tripod Adaptable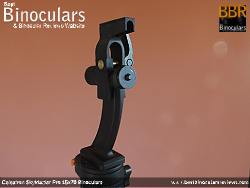 With steady hands is possible to handhold these Celestron 15x70 SkyMaster Pro binoculars for short periods time (especially when using them during the day) which is one of the reasons I chose them over the bigger, heavier and more powerful 20x80 version.
However, for the best views and a completely shake-free image which is especially important for stargazing, they really should be fixed to a tripod.
Here once again the particular 'Porro prism shape' helps as it ensures there is plenty of space in between the barrels for the tripod adapter.
Celestron includes an excellent quality and quite 'beefy' tripod adapter with this SkyMaster Pro. Made from metal it is steadier, stronger and generally a massive improvement on the rather flimsy plastic ones that come with the cheaper SkyMaster series, which I was very happy to see.
This adapter attaches in the usual way by unscrewing the dust cap located on the central pivot and then screwing in the adapter.
RSR (Reflex Sight Ready) Rail
Whilst just about any standard tripod adapter will also work, Celestron has also designed theirs in such a way so that the also included RSR (Reflex Sight Ready) rail attaches to the top of the adapter.
This rail is designed to accept a red-dot finder that can really help with aiming the binocular. Whilst not included, these are fairly inexpensive (under $15) and readily available on most optics sites and even Amazon. Click here for Where to Buy & Check Current Prices.
Note that the 20x80 SkyMaster Pro has a permanent tripod mounting bar fixed to it and the RSR (Reflex Sight Ready) rail and thus does not require this adapter.
Excellent Attention to Detail
I also really like the attention to detail in that once you have unscrewed the dust cap from the binoculars, it can then be screwed into the end of the adapter. Whilst this is a very minor point, I can't tell you how many times I have had to search for a misplaced dust cap after I have finished using a tripod adapter.
Tripod Setup
Whilst not relevant to this review, for those who are interested, I used my trusty Vanguard ABEO Pro tripod and Pistol Grip ball head, both of which I highly recommend if this is something you are also looking for.
Celestron SkyMaster Pro vs Celestron SkyMaster Binoculars
This is one area where we see a major difference between these two series as the standard SkyMaster's are only water-resistant and thus as they are not fully sealed are not filled with nitrogen.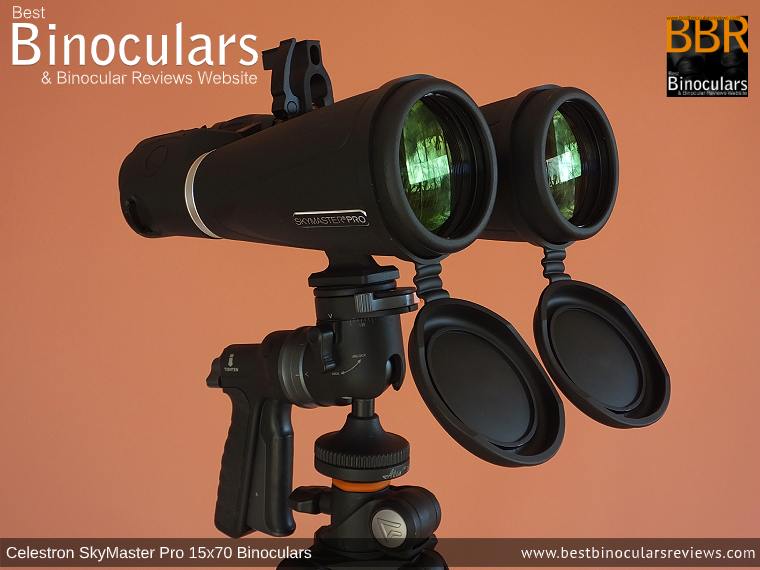 Body Materials
Celestron indicates that they use a combination of aluminum and polycarbonate plastic as the materials for the housing of the instrument.
Whilst almost entirely hidden under the rubber armor, it looks to me as though the main body of the binocular is made from aluminum, whilst the barrels are most likely polycarbonate which makes sense: added strength where you need it most and keeping the overall weight down using polycarbonate where appropriate.
Sealed Chassis
Another feature that may not seem important at first is the fact that these binoculars are advertised as being waterproof.
Now, I know what many of you maybe be thinking and that is astronomy is pretty much impossible in the rain so what is the point!
However, aside from the fact that these also make an excellent choice as a long-range, high powered terrestrial binocular which you may use in the rain, being fully sealed also prevents dust and other small particles from entering which can be far more damaging to your optics than water.
Anti-Fogging
Also, keep in mind that these water and airtight seals allow Celestron to replace the air inside the housing with Nitrogen gas. As it is completely moistureless, it prevents condensation from forming on the inner glass surfaces, which can easily occur in damp weather and especially when there is a rapid change in temperature. Like for example stepping outside from your warm and cozy house at 5 am to look at the stars on a very cold winter morning!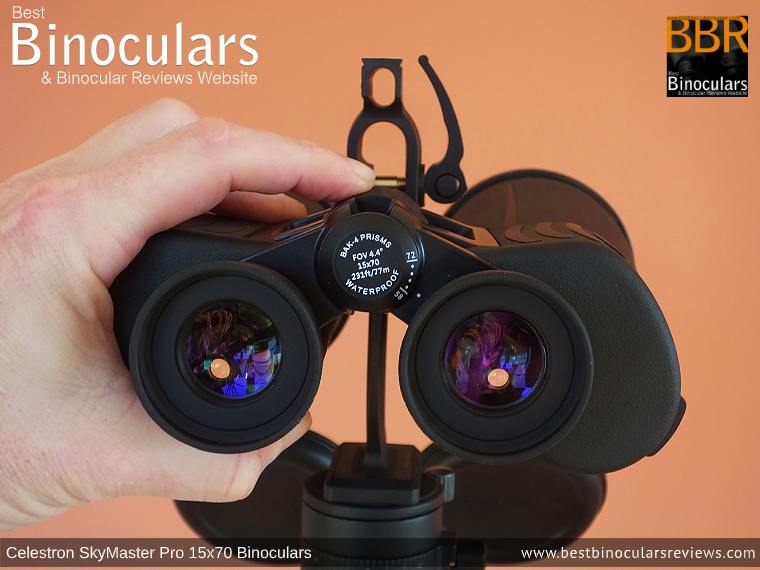 Focusing
Due to the fact that for the most part, you will essentially be focusing distances approaching "infinity", many, if not the majority of binoculars for astronomy us the individual eyepiece focusing system as this allows you to set the focus to your eyes and then from that moment, very little further focus adjustments are required.
However, there are quite a few downsides and they are not an ideal solution if you need to change the focus more often, like when using the binoculars for a more general, long-range use here on earth during the day.
Thus whilst counter to the norm, the single, I like the centrally located focus wheel on this Celestron SkyMaster Pro 15x70 binocular that adjusts the focus for both eyepieces simultaneously because as well as astronomy, I think these make a good option as a long-range binocular for uses during the day as well as the night.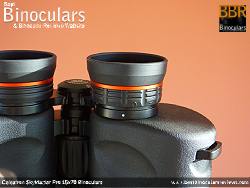 Diopter Adjustment
As the central focussing system adjusts both barrels at the same time, it is good to see that these Celestron binoculars also have a diopter adjuster.
Located on the right eyepiece the diopter enables you to manipulate the right side independently of the left and thus allows you to calibrate the binocular to allow for any differences in vision between your right and left eyes.
Note that the diopter adjustment range on this particular 15x70 Celestron SkyMaster Pro binocular is ±4, which is pretty standard.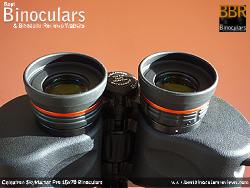 Eyecups
Celestron has opted for the simpler folding rubber eyecups on these SkyMaster Pros rather than the twisting eye-cups that I generally prefer as they usually offer more options when setting the level of eye-relief.
As it stands, with these, you either have the full amount of eye-relief (17mm) or by folding down the cups (or completely removing them - see below), you have none, which is what you would do when using the binoculars whilst wearing glasses (or digibinning).
For the vast majority of users, this will be fine, but as I say it is nice to have the added mid-level settings that good twisting eye-cups offer.
For more on this take a look at my article on How To Use Binoculars With Glasses: Eye-relief & Eye-cups Explained.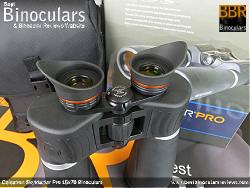 Side Shield Eyecups
One aspect that I do really like is that as well as the standard folding cups, Celestron also provides you with a pair of 'side shield' eyecups.
This side-shield design is similar to that used by Steiner Optics on most of their instruments and to this day I can't understand why more binoculars do not follow their lead.
To add these you simply pull off the standard ones and replace them with the ones with the side shield ones.
These really do an excellent job of blocking out light and any distractions from the periphery of your view.
To start with it provides you with a far more immersive experience, but it is at night when looking at the stars and you may have other light sources like flashlights or house lights next to you, where these side shields really come into their own by totally eliminating that distraction and the potential for that light to reflect off the eye-piece lenses and thus reduce the quality of the view.
Indeed I like them so much that I now use them all the time and I highly recommend taking a look at getting a pair of these EyeShields by Field Optics Research for binoculars that you may have that don't offer this small, but excellent feature that Celestron provides with these.
Hinges
Made from metal, the double bridge hinge design (with the focus wheen in the middle) is a fairly typical design on a full-sized Porro prism binocular.
Like the main chassis, they feel extremely robust, and I am certain will need a really large impact to knock the barrels out of alignment, which on an Astro binocular with long barrels like these is even more important than normal.
Whilst on the tighter end of the scale, the level of resistance to opening and closing the hinges is good and far preferred to binoculars that have looser hinges which results in you having to readjust your setting over and over again.
Interpupillary Distance Adjustment (IPD)
With the hinges fully opened, these Celestron SkyMaster Pro 15x70 binoculars have a maximum IPD distance of 7.2cm and then by fully closing the hinges, a minimum of 5.6cm.
This IPD range is pretty standard and therefore means they will accommodate most users, but as always may be something to check if you have particularly near or far set eyes.
For more: Interpupillary Distance on Binoculars.
Rating for Body Construction Quality: 8/10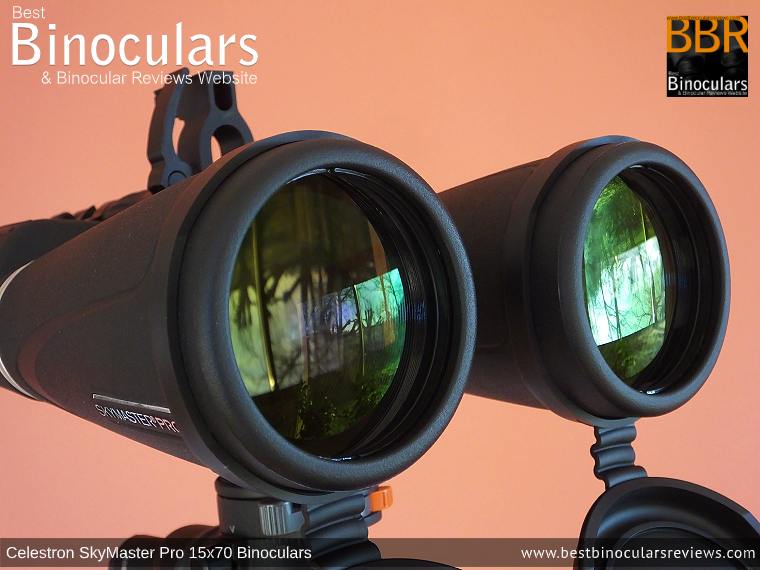 Optics
As is most usually the case and apart from a few keywords and marketing terms here and there in their product descriptions, Celestron does not go into major detail when it comes to describing the make-up of the optics and coatings used on the SkyMaster pro binoculars, but I will do my best and include what I have been able to dig-up:
15x70mm Configuration
The combination of the powerful 15x magnification with large 70mm objective lenses is a common configuration used on many binoculars for astronomy as well as general long-range terrestrial uses, so why is this?
Image Stability
For a binocular, the 15x power is very high when you consider that most general use ones use either an 8x or 10x magnification. However as high as it is, at 15x I find that for short periods I am still able to hold them steady enough to use them without the need for a tripod.
Here I stress short observation periods and hand-holding them does work better for daytime terrestrial uses and can be useful at times, but even so to get the best out of these binoculars and especially for astronomy, you really do need to mount them onto a tripod.
So whilst you do get more powerful options like the Celestron SkyMaster Pro 20x80 binoculars, these are at about the limit in terms of being able to operate them effectively from the hands.
Whilst you do get more image detail, just remember those higher-powered 20x and 25x binoculars and indeed the very high magnifications you will most probably use with most telescopes have their downsides:
Field of View
As well as reduced image stability higher powers reduce the field of view and unless you continuously increase the objective lens size, also reduced their image brightness and low light capabilities, which for an astronomy binocular is obviously vitally important.
So here I think the 15x70 set-up offers a good compromise as it still ensures a reasonably wide field of view, which I found to be incredibly useful for orientating myself when looking at the stars, but at the same time, you are presented with a reasonably good amount of image detail and are presented with far more stars in your view than you can ever observe with the naked eye.
Exit Pupil & Low Light Performance
15x70 binoculars produce a decently sized 4.7mm exit pupil (50÷7). This beats the 4mm exit pupil you get on the 20x80 configuration used on the Celestron SkyMaster Pro 20x80 binoculars, even though they use larger 80mm lenses and thus, in theory, these will show a brighter image in very low light when the pupils in your eyes are fully dilated.
For more on this, please read my complete guide to the exit-pupil.
Ocular Lenses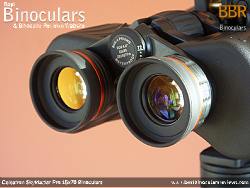 Something that I almost immediately noticed was just how large the ocular lenses were on these Celestron SkyMasterPro 15x70 binoculars looked.
This was confirmed when I measured them to be 24mm in diameter, which ranks them up there with some of the best in this area.
Large ocular lenses are beneficial in a number of ways, which I go through in detail in this article on ocular lens size in binoculars, so I won't go over them all here, but in general, make for a better view and a much easier instrument to use.
Objective Lenses
Whilst on the smaller end of the scale when it comes to astronomy binoculars, at 70mm in diameter, these still have plenty of surface area with which to capture any available light and I feel offers a good compromise between size and weight versus light gathering ability.
Prisms
As I have already mentioned in the body section of this review, the main reason for their distinctive and more traditional body shape is that they use Porro prisms inside of them to re-correct the inverted image produced as the light passes through the lenses.
For a large Astro binocular like these, these are ideal as it enables you to use very large objective lenses and still be able to keep the ocular lenses close enough together to fit your face.
However, Porro prisms also provide us with a number of other major benefits:
Firstly, because the objective lenses are a little further apart, you get a better stereoscopic effect when compared to the closer set lenses on a roof prism binocular.
As well as this, Porro prisms do not require any special coatings added to them to prevent the light going out of phase as it passes through them, nor do they require any highly reflective mirror coatings to increase the light transmission levels, both of which are needed on a Roof prism to get the best out of them.
Thus to perform at the same level as a very high-level roof prim, they are both easier and cheaper to make.
Further reading: Is a Roof or Porro Prism Best?
Also, well worth mentioning is the fact that Celestron state that they use prisms made from BaK-4 glass, which for the use in binoculars is far superior to BK-7 glass that is also widely used.
Optical Coatings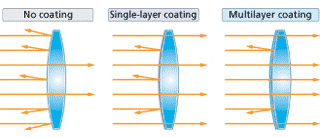 Anti-Reflection Coatings
To begin with, it is very important to stress that these Celestron 15x70 SkyMaster Pro binoculars are Fully Multi-Coated which is excellent as the level to which the optics on any binocular is treated with anti-reflection coatings play a huge roll in determining the overall quality and image brightness of the view and is one of the key features to look out for when buying binoculars.
Celestron also highlights that it these coatings are applied using their proprietary XLT coating technology, but as they don't elaborate on this, I cannot really add anything.
Celestron SkyMaster Pro vs Celestron SkyMaster Binoculars
Well worth mentioning here is the fact that the 'standard' Celestron SkyMaster binoculars are only Multi-Coated and not Fully Multi-Coated, meaning that only some (usually just the first and last lenses) in the optical pathway are treated.
If you are unsure as to what these are and the difference between coated, multi-coated and fully multi-coated optics I highly recommend reading my guide to Anti-Reflection Lens Coatings.
Optical Components Quality Rating: 7/10
Optical Stats
Field Of View (FOV)
These 15x70 Celestron Skymaster Pro binoculars have a view that is 77 meters wide at a distance of 1000 meters away (231 ft @1000 yards), or to put it another way which will probably be more understandable to the astronomer, the viewing angle is 4.4° and they have an apparent field of view: 66.0°.
This all basically means that they compare very well to their direct competition: i.e: 15x binoculars. Note that the FOV on this Pro series bino is exactly the same as the 'standard' 15x70 Celestron SkyMaster binoculars.
When compared to a standard and much lower powered binocular, like an 8x42 for example, this would be considered narrow, but remember, 8x42's are generally designed for use at a much closer range and when observing fast-moving objects (like birds) at close range, a wide view is extremely important.
That is not to say that a wide view is unimportant for long-range. Indeed one of the biggest advantages most binoculars have over higher-powered telescopes is their wider view that makes it much easier to scan the night sky and take in more stars at once.
Here there is no "right" option, it just depends on what your needs and preferences are. Ideally, you would have both or a variable magnification, but as you can read about in my article on zoom binoculars, these are generally not a good option.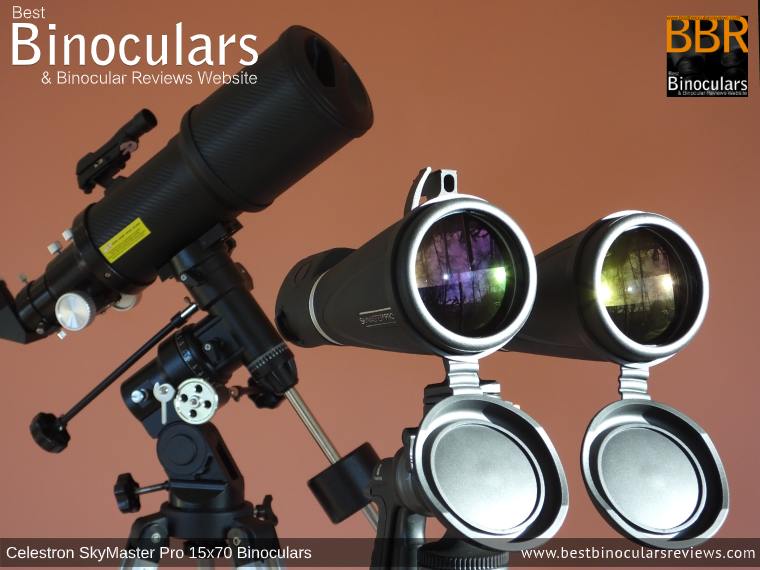 FOV: Telescope vs Binoculars
When it comes to astronomy and viewing the night sky, people ask me what the difference is between using and looking through a higher-powered telescope versus binoculars and which is best?
Well, here it all depends and in general I like to think that they mostly complement each other and if possible are great to have alongside each other when observing the night sky.
One of the major advantages the lower power binocular like this Celestron 15x70 SkyMaster Pro has over a telescope is that you get a MUCh wider field of view and thus you are presented with a far bigger picture of the sky.
I find that this really helps me to orientate myself as well as enjoy and appreciate the spectacle of viewing a number of stars at once in clusters or part of a constellation. Or viewing things like mars and venus at the same time when they approach each other in our night sky.
Close Focus
These Celestron Skymaster binoculars are obviously not designed for close-range observation and as such, there is no surprise in discovering that their minimum close focus distance is a very long 49.2ft.
Eye-Relief:
At 17mm. the level of eye-relief on these Celestron binoculars is very good and should be just about enough for those who need or want to wear glass whilst looking through their optics.
I tested this using my sunglasses and by folding down the cups (you can also completely remove them if you wish), I was able to take in about 95% of the view with only a minimal dark ring forming around the edge of the view. The exact amount you will see will vary depending on the shape of your face and your glasses. For example, the glasses that I tested them with are quite curved and sit quite far in front of my eyes and so I am sure there will be others where you are able to achieve the full image.
Note here that the standard SkyMaster 15x70 binocular actually has a slightly longer 18mm of eye-relief.
Optical Stats Rating (compared to 15x Bins): 7/10
Image Quality
As always, describing the image you see and comparing it to others is the hardest part of the review, it also happens to be the most important part!
To help, I compare the binocular under review against a benchmark that I have in the same or very similar size and magnification class.
Thankfully I now have a 15x70mm benchmark that is actually of a very similar level to these SkyMaster Pro's both in terms of the main optical features and the price and as such, I was expecting the view through them both to be likewise very similar.
Anyway, below are my thoughts after having used these Celestron SkyMaster Pro 15x70 binoculars many times and then comparing them to my benchmarks both during the day in good light and poor light conditions as a long-range terrestrial binocular and then also at night for astronomy:
Colors & Contrast
The image that you are presented with when looking through these Celestron 15x70 SkyMaster Pro binoculars to me it looks reasonably vibrant but natural and without any sort of artificial tinting.
This is good as I often find that mid to low-cost binoculars, especially those with high magnifications do have a slight, usually yellow tint to the view.
Likewise, I thought that the contrast in the view of this Celestron binocular was good but not too strong so as to make the image look artificial almost cartoon-like.
Image Brightness
The 15x70mm combination produces a 4.7mm exit pupil which is not massive but is of a reasonably good size. This along with the use of Porro prisms made from good quality BaK-4 glass and a fully multi-coated optical system meant that I was expecting these Celestron SkyMaster Pro binoculars to deliver a bright, good quality image.
Thankfully I was not to be disappointed. During the day and in good light these looked to be equal to that of my benchmark, but it was in low and especially very low light (just before sunset) that I noticed the improvement in terms of brightness that these showed over my benchmark, which to be honest did surprise me somewhat.
Indeed whilst it is hard to judge and compare image brightness with binoculars of such widely differing magnifications, I thought that these looked about as bright as that of my 8x42 benchmark and certainly better than an average 10x42.
For astronomy and when looking at bright objects in the night sky (like stars and the moon), these and my benchmark 15x70 binoculars looked to be about as bright as each other and I have to say, no matter how many times I do it, viewing the moon with these Celestron 15x70 binoculars was particularly impressive and is instantly noticeable just how much more detail you can see when comparing them to an 8x42 or 10x50 binocular.
To push them a little further I turned all my binoculars towards Deneb in the constellation of Cygnus, also known as the "head" of the Northern Cross, and according to the excellent and free SkyView app on my phone, is the 19th brightest star in the night sky.
Easy to spot and find, even with the naked eye. But through these 15x70 Celestron binoculars, it was impressive to see just how many other stars there are all around it that can't be viewed without them. Indeed it takes a little getting used to because at first, it is a little disorientating.
Once again, however, it was hard to differentiate any improvement or difference in brightness between these and my benchmarks, but both of which I was very happy with.
Color Fringing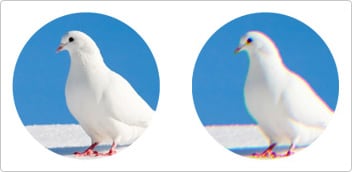 Caused by chromatic aberrations, the amount color fringing often that you can observe around the edges of objects that contrast greatly against their background is often far more noticeable on high powered binoculars. This is another area where these Celestron binoculars were fractionally better than my benchmarks and whilst they have a much higher magnification, I would say that the level of color fringing was no more than what I would expect to see through a good quality 10x42 when used during the day.
For astronomy, I first turned my gaze towards Venus, along with the moon, the brightest object in the evening sky for me in January. Here I thought I would be able to differentiate any differences in color fringing between different binoculars but, to be honest, they all looked about the same, with a little blue on the left and right towards the underside.
In fact, I am not 100% sure if this was the same as the color fringing that I see around objects during the day as it looks a little different. Perhaps someone can help me here but I feel it could be the reflected light coming back from the sun being split up before it gets to the binoculars?
Anyway, all the binoculars I compared, including a pair of 7x50's showed this and all looked about the same when I took into consideration the different magnifications.
When looking at the full moon, you can notice a slight blue/green halo around it, but once again the amount looked to be about the same on all my high powered binoculars 15x and 20x, whilst less on lower-powered instruments like an 8x42 and a 7x50 which is to be expected.
Either way, the level of color fringing that I did see (especially during the day) was very minimal and certainly less than what I would have expected to see.
Image Distortions & Blurring
The level fuzziness or softening of the image right at the edge of the view was very minimal, which once again was very impressive.
As for any other image distortions, like unwanted image curvature or waviness, at no time did I ever notice anything untoward.
Image Quality Rating: 8/10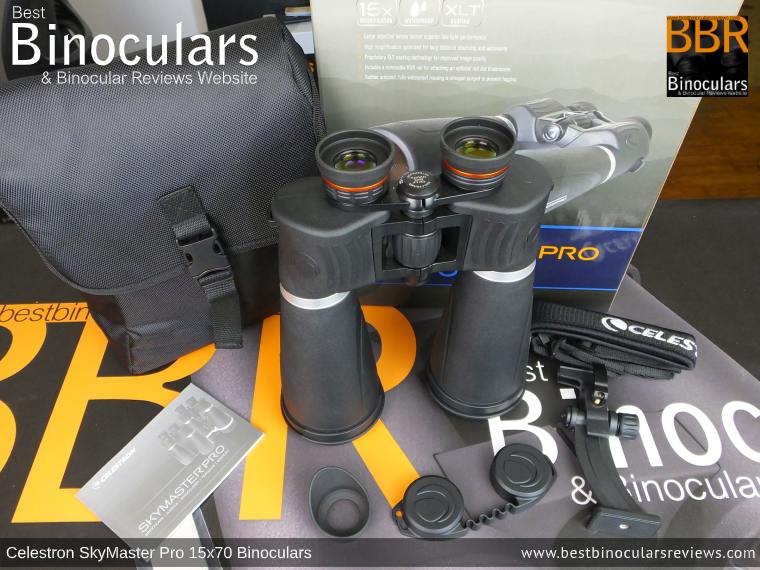 Included Accessories:
As well as the extra side shield eyecups and excellent tripod adapter and red dot finder rail that I have already mentioned, Celestron also includes a carry case, neck strap, lens covers, rain-guard, cleaning cloth and user instructions with this SkyMaster Pro: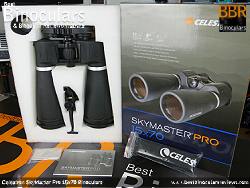 Packaging
Although nowhere near as elaborate or ornate as the display case level packaging that you get with some very expensive, high-end binoculars, I do think that the fact that these Celestron binoculars come in an extremely well padded box is worth mentioning.
For a relatively large and heavy instrument like this is important and will most certainly help prevent any damage that could occur during transit.
Carry Case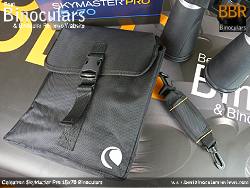 Whilst an improvement on the standard SkyMasters, like many at this price level the carry case is adequate, but for an instrument of this size and weight does not offer as much impact protection as you would wish for.
Higher-end, more expensive instruments like the excellent like the Celestron Echelon 20x70 binoculars come with a hard carry case, but obviously, these cost money and having one included would raise the overall cost, so I guess it is a compromise that you have to accept.
Still having said all that, the binoculars fit well inside, it comes with its own adjustable carry strap and will prevent the binoculars from getting dusty whilst in storage or wet in bad weather when out in the field.
Neck Strap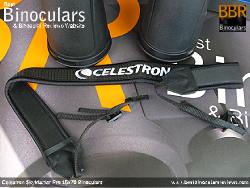 The neck strap is of a reasonably good standard at this price range and is pretty much what I would expect to find and whilst it gets the job done, there are a few areas where it could have been improved. Although if as me and you will mostly have this binocular attached to a tripod, this is not important.
Fairly comfortable: well-padded and fairly wide for a standard-sized instrument, for a large binocular like this, I feel that strap should be wider and a bit beefier.
The strap attaches to the binocular in the standard way through the loops on the sides of the body and then back on itself through the sliders that allow you to adjust the length.
Here it would have been nice if Celestron had added quick-release clips to the strap so that you could quickly remove the neck strap after using from the hands to attaching it onto a tripod where the neck strap is no longer necessary and indeed just gets in the way.
I do like the fact that the strap is Celestron branded and not generic like I often come across at this price level.
The padded section has a smooth underside, which is fine, but better ones have a grippy neoprene surface to prevent it from sliding about on your neck and shoulders. This is especially important for a heavier instrument like this.
Objective Lens Covers
Excellent quality, thick, hard-wearing, but flexible rubber/plastic
Celestron branded - Not generic
Excellent fit, don't fall off too easily or too hard to replace
Offer excellent protection
Tethered to the binocular- always handy and easy to replace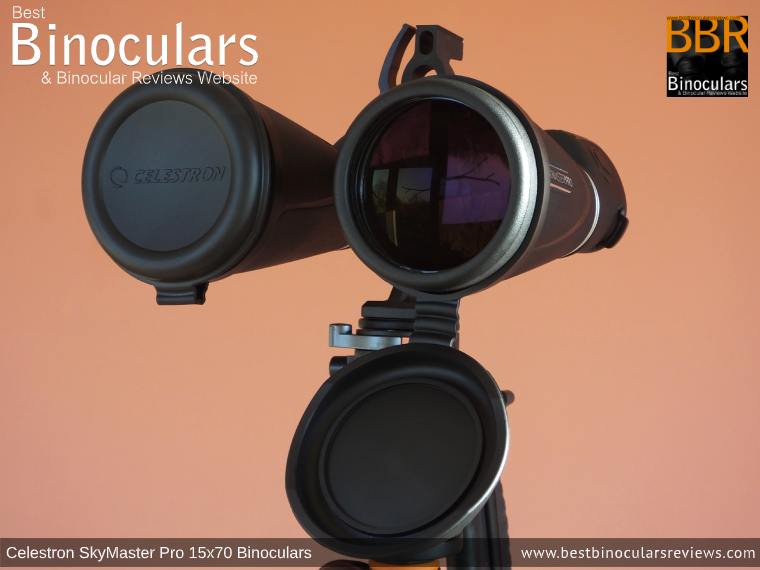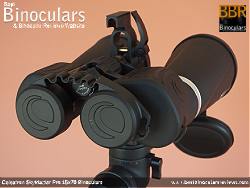 RainGuard
Standard Design
Flexible Bridge to accommodate different IPD settings
Good Fit
Loops to attach to Neckstrap
Note that the rain-guard cannot be attached with the side-shield eyecups on.
Cleaning Cloth
The supplied microfiber cleaning cloth that comes with the Celestron SkyMaster Pro 15x70 binocular is very typical at this and lower price levels in that it is fairly basic and whilst fine for cleaning the body of the instrument and lightly dusting the lenses when out in the field. I recommend purchasing a lens cleaning kit for the thorough cleaning of the glass.
Warranty
As always, Celestron Optics includes their impressive lifetime warranty on these and indeed all their binoculars.
Accessories Rating: 7/10
Thus I do believe that with the SkyMaster Pro series and in particular this 15x70 model, Celestron has indeed found that 'sweet spot' between price and quality and these are indeed a great Astro binocular as well as long-range daytime binocular for those wanting/needing great quality views without having to spend a fortune to get them.
The optics are fully multi-coated and not just multi-coated which certainly makes a big difference to both the image quality and brightness and is certainly something that I was really impressed with when using them and indeed comparing them against other similar binoculars.
Whilst not really necessary for astronomy, I find the central focus mechanism used on this instrument a better option for long-range terrestrial observation than those that have the individual eyepiece focusing system.
I really like the side-shield eyecups and the included tripod adapter is also excellent.
To keep costs down, obviously, compromises have to be made, and whilst it is an improvement on the standard SkyMaster binoculars, the soft carry case is still no match for the hard cases that you get with high-end Astro binoculars like the Celestron Echelon 20x70 but here it is important to keep in mind the difference in price.