It has been a long while since I last tested a pair of binoculars with a variable magnification. This is mostly down to the fact that I generally advise most people against getting a pair of "zoom binoculars" because whilst they may seem like a great idea, in reality it has been my experience that they often turn out to be disappointing and the downsides usually outweigh the advantage of being able to zoom into a view.
This is down to a number of reasons which I do go into detail in my article on zoom binoculars, but a lot of it has to do with the fact that each side of any binocular must be perfectly synchronised in order to get a crisp clear image and this gets far more complicated if you then try and add some sort of mechanism to enable the variable magnification and thus it often results in collimation issues and a fuzzy image.
Then on top of this, the makers of zoom binoculars also usually aim for a very high magnification at the maximum end of the scale, which in itself brings with it a number of additional issues including a reduced field of view, image shake and a dull image, especially in low light conditions. Once again I do go though all of these issues in detail on this page on High Powered, Long Distance Viewing Binoculars if you are interested.
However, having said all that, I do get a lot of questions about zoom binoculars and I do think that in some situations they can be both fun and useful and thus rather than being completely closed minded about them, I thought it would be worth while checking out a new pair of compact zoom binoculars and below are my thoughts:
Discovery Gator 8-20x25 Zoom Binoculars Review
Note: The Discovery optics series is produced by Levenhuk and endorsed by Discovery Channel.
Specs & Features at a Glance:
Low Cost Compacts: Approx: $60 / £55 / €60
Body

Reverse Porro Prism Shape
Central Focus Wheel
Thumb Operated Magnification Adjustment Slider
Right Eye Diopter
Fold-Down Eyecups

Optics

Fully Multi-Coated Optics
BK-7 Reverse Porro Prisms

Optical Stats

Field of View: 80-45 meters @ 1000m
Minimum Focus: 5m
Eye Relief: 12.5-9mm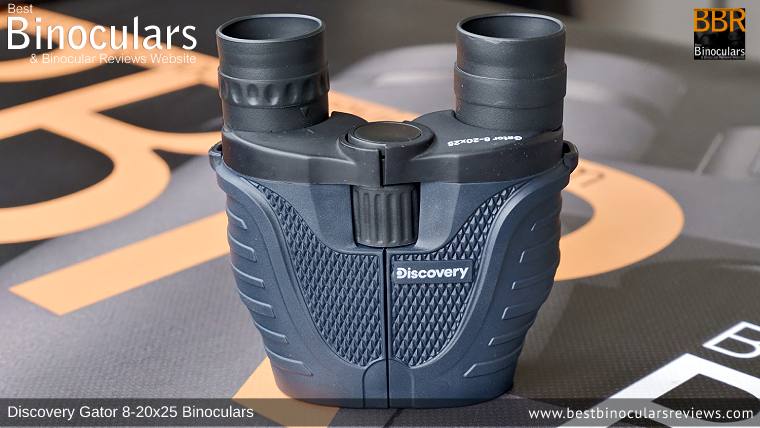 Body
Save a few minor details like the variable magnification adjustment slider near the right eyepiece, the overall body shape of this Discovery Gator is very typical to that of your typical compact porro prism binocular, which is mostly a good thing as I find this particular shape comfortable to hold in the hands when using the instrument.
However, do also keep in mind that if you are looking for the smallest compact possible, a better solution is double hinge roof prism design that can fold up into a much smaller shape. For more details on this, take a moment to read this article on the Best Compact Pocket Binoculars.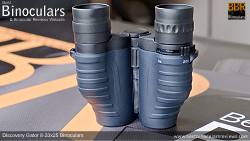 Chassis
Whilst there is no mention as the actual material used in the construction of the chassis, I think it is safe to assume that a polycarbonate plastic is used when you considering their price and just how lightweight they are. Whilst this may not be quite as luxurious or as strong as more expensive materials like magnesium or aluminium, these Discover binoculars don't feel particularly flimsy in any way.
Exterior Rubber Coating
Covering most of the exterior surface, including the underside is a fairly thick, hard rubber armouring. This offers a good level of protection and a reasonably good level of grip. Note that a softer, more finely textured rubber would have added to the grip level, but would probably not as long lasting.
Not Fully Waterproof
Note that are described as water-resistant binoculars and thus not completely 100% water proof.
The lack of airtight seals also means that they will not contain a dry nitrogen or argon gas interior and thus are not fog protected.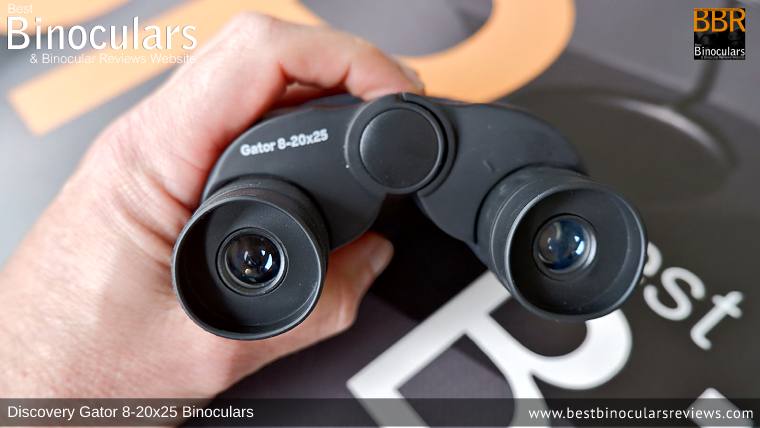 Focussing
The focus wheel on these Discovery Gator binoculars is fairly small even for a compact binocular. Also note that much of the wheel is encased within the main body housing and so is far less prominent than is ideal. As it is easy to reach, for the majority of the time this will not be an issue, however in winter with thick gloves on your hands, it is certainly harder to "feel' and thus less easy to make quick and accurate adjustments than a binocular with a larger, more prominent wheel.
It takes about 2½ turns of the wheel to go from maximum focus distance to the minimum. Thus I describe these as having a low geared focus mechanism. The advantage of this is that it makes fine focus adjustment easier, but on the flip side, it takes longer to make large focal adjustments than on those which take less turns.
At the higher magnifications, I think this fine focus mechanism is a good thing.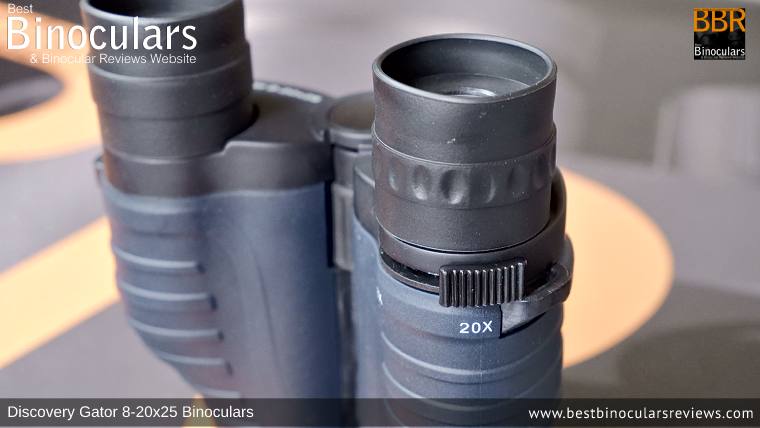 Magnification Adjustment
Located near the right eyepiece where you usually find the diopter adjuster is a slider which is used to alter the magnification. I found the placement to be excellent as it was very easy to change the magnification setting using my right thumb without having to move the binocular from my eyes or make a large change to my natural grip on the binoculars.
The slider is nice and smooth and is large enough to make even quite fine adjustments to the magnification straight forward.
Inter-Pupillary Distance (IPD) Adjustment
By opening and closing the central hinge, you can set the eyecups to match the distance between your eyes. On these, they go from a minimum of distance of 5.2cm apart, right up to 7.4cm.
This IPD (Inter-Pupillary Distance) range is very good and therefore they should be able to accommodate a wider range of faces than many, including those with closer set eyes like children and thus in this area and the fact that they are small and lightweight, it makes them a good choice of binocular for kids.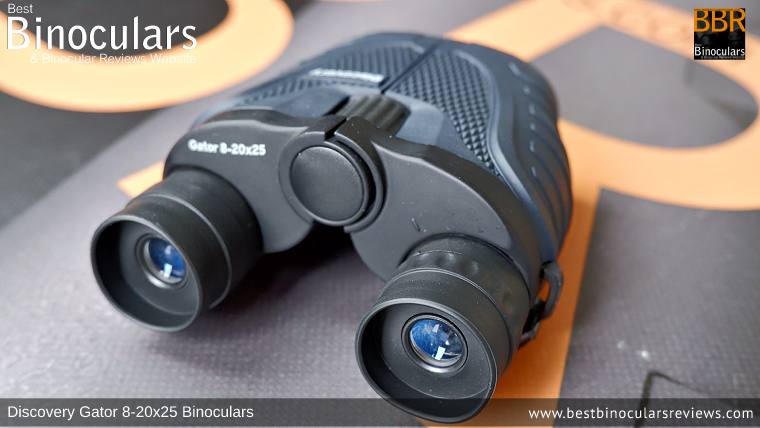 The Eye Cups
These Discovery Gator 8-20x25 binoculars come with fold up/down eyecups made from rubber. For a compact in this price range this is fairly typical and whilst they are comfortable enough, this design is not as a well made twist up/down eyecup in terms of being able to accurately set up the instrument to position your eyes at the ideal distance to the ocular lens to get a full view.
Note that the ideal eye-relief also changes depending on what magnification setting you are using and thus I do feel the more adjustable twist up/down cups would have been a better option.
Diopter Adjustment
Most binoculars have a diopter so that you can calibrate them to allow for any differences in the vision of your left and right eyes.
These Discovery binoculars do have this function, but it is accomplished by turning the right eyepiece, which is a little different to most that have a separate adjustment ring. Either way, I found the diopter to work well enough and the ±3 adjustment range is pretty good for an instrument in this class.
Not Tripod Adaptable
Image shake dramatically increases at the higher magnification, which makes it very hard to view fine details, which in many ways can negate any advantage you get from viewing an object at a high magnification.
This is why I would suggest trying to mount any high power binocular onto a steady base like a tripod/monopod if you are going to use a magnification above 12x to 15x. Thus for me it is a shame that these binoculars are not easily tripod mountable using a standard binocular tripod adapter and thus to do so you will have to think a little outside the box and come up with your own plan or at the very least try and rest your elbows onto a steady surface like a table to minimize image shake.
Body Quality Score: 6/10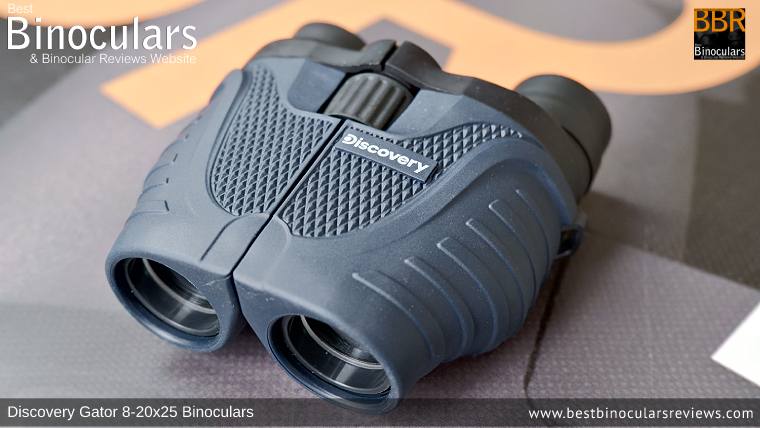 Size
I measured these to have a length of 10.4cm, a width of 10.2cm (with the hinge open) and a depth of 4.5cm (with the hinge open).
Folding the central hinge, the width reduces to 9cm, but the depth increases to about 6.5cm.
For a porro prism compact these dimensions are fairly typical, so not much to report here. However if size is really important to you and you are looking for the most compact instrument possible, the most compact, truly Pocket-Sized binoculars use roof prisms with a double hinge design. This enables them to fold up into a much smaller shape than the reverse porro prism design and thus potentially makes them even more convenient to carry about when not in use.
Do keep in mind that whilst the double hinge roof prism compacts are undoubtedly smaller when folded, they do have their downsides and unless you are prepared to spend a more you will likely not achieve an image quality as good as you get with these porro prism compacts and others like them.
This largely down to the fact that roof prisms require a number of special coatings in order to achieve the same level of reflectivity as a porro prism and on top of this they suffer from something known as phase shift, which can be corrected, but once again requires special coatings which drives up the cost. Therefore if you want a high performance compact without having to spend a lot of money, reverse porro prisms like this are usually the best way to go.
Weight
In terms of weight, these tipped my scales at 276g, which as you can see from the table above places them at the more lightweight end of the scale, thus even for a compact, they make a good option for anyone who specifically need to keep the weight down. So here I am thinking of activities like hiking and backpacking, but it would also be an advantage for users like children.
Body Stats Score (for a compact binocular): 8/10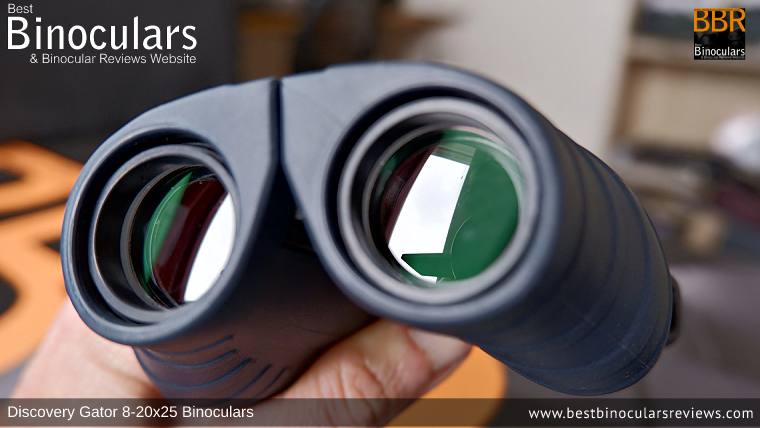 Optics

Lenses & Prisms
Other than to say that the objectives have a 25mm diameter and that the oculars are just over 12mm in diameter, I can't really expand as no information is given.
What I can say is that these use reverse porro prisms to turn the image upright. Whilst this design may not be the most compact design, it is both relatively cheap and simple to make as you do not need the same level of tolerances or the extra coatings to produce the same level of optical performance as that of a roof prism which is why it is a popular and usually the best choice for a cheap binocular.
They have used BK-7 glass as the prism material. At this price point, BK-7 prisms are quite common, but due to them having a lower refractive index, they have a lower transmittance level and thus the image tends to be less bright and not quite as sharp around the edges as those that are made from BaK-4 glass which is generally the preferred option.
Optical Coatings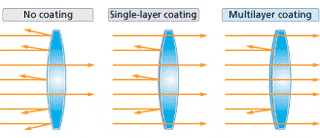 Anti-Reflection Coatings
By improving the level of light transmittance and reducing unwanted reflections that can cause negative effects like ghosting, the level of Anti-Reflection Lens Coatings is one of the most important things to look for when buying binoculars.
These binoculars are described as fully multi-coated which is good as it means that every single glass surface throughout the entire optical system has multiple layers of an anti-reflection coating.
Optical Components Score: 6/10
Optical Stats
For a zoom binocular the optical stats a more complicated than your typical fixed magnification instrument as the field of view, close focus distance and they eye-relief will all vary as you adjust the power and thus you need to consider they whole range and only compare them to other fixed binoculars when you have them set at the same magnification.
Field Of View (FOV)
At 20x power these are advertised as having an angle of view of 2.6° (45m @ 1000 meters / 135ft @ 1000 yards) which is very narrow and indeed it feels it when looking through them.
As you decrease the power, this widens to a maximum of 4.6° (80m @ 1000 meters / 240ft @ 1000 yards) at 8x power, which has to be said is pretty narrow if you compare them to an average 8x binocular.
A wide FOV can be important. So for example if you often view fast moving and difficult to follow objects at close range like birds.
Close Focus Distance
The minimum focus distance on these is advertised at 5 meters, which is not good. However, I measured it to just over 3 meters (10ft) on my set, which is a lot better, but still falls far short of the best and thus would not suggest these as the ideal choice if you were looking for a bino especially to view things like butterflies or other objects from closer distances. If this is the case this section on close focusing binoculars should help.
Eye-Relief:
The ideal eye-relief on these ranges from 9mm to 12.5mm depending on the magnification used.
As the simple eyecups are not really adjustable, there is not a lot you can do other than for them completely down or use them at the maximum setting.
At the low 8x zoom setting, I did find that there was just enough eye-relief to use them whilst wearing glasses and get the full field of view.
However at 20x power, it did look like I was looking down a straw, even with the eye-cups fully folded down and thus I would not recommend these should you need to wear your glasses whilst binning.
Optical Stats Score for a compact binocular: 6/10
Image Quality
An important point to be aware of when deciding if you want or need a zoom binocular is that the quality of the image definitely deteriorates as you increase the magnification. There are a number of reasons for this, but much of it has to do with how the size of the exit pupil reduces as you increase the power and thus it equates to less light getting to your eyes. For more on why this happens, be sure to check out my complete guide to the exit pupil as it is an important concept to grasp when choosing any binoculars, but especially a small compact binocular with a high magnification.
Image shake also dramatically increases at the higher powers, which makes it very hard to view fine details, which in many ways negates the advantage of having a high magnification.
This is why I would suggest trying to mount your binocular onto a steady base like a tripod if you are going to use any magnification above 12x to 15x. Thus I feel it is a shame that these binoculars are not easily tripod mountable using a standard binocular tripod adapter and thus to do so you will have to think a little outside the box and come up with your own plan or at the very least try and rest your elbows on a steady surface like a table.
Image Sharpness
One of the biggest gripes I have had with low cost zoom binoculars that I have tested in the past is that at the higher magnification settings the image appears a little hazy or fuzzy, not matter how much you adjust the focus wheel.
This is not the case with the Discovery Gator 8-20x25 binoculars and whilst the best image I could achieve after fine tuning the focus wheel was still not quite as sharp at 20x as that which I saw at 8x, it really was not bad at all, which for me is actually impressive for a compact zoom binocular at this price.
Colors & Contrast
Whilst not at the same level as which you get from a high or even mid-to-high level 42mm binocular for example, for a low costing 25mm compact binocular, I thought that the colors produced and the level of contrast you see in the image were pretty good. this is especially true at lower magnifications where I am happy to say they easily compare with the majority of other 8x or 10x compacts that I come across at this sort of price level.
Image Brightness & Low Light Performance
As to be expected, in good light conditions, there was no real noticeable difference in image brightness between these and a couple of other lower costing 8x and 10x compacts that I have with me that I compared them against when I had the magnification adjusted to the lower levels. Indeed good light, you only really notice the drop off in image brightness once you get close to the maximum magnification settings.
However, in low light conditions when the pupils in your eyes are more dilated, this drop off in perceived image brightness becomes far more evident as the small exit pupils make it impossible for the binocular to supply your eyes with enough light for you se perceive a bright image. This is completely understandable and to be expected and so having said this, on the whole and when comparing them at the equivalent magnification, these for me compare well to other 8x or 10x compacts at this level which is good.
Color Fringing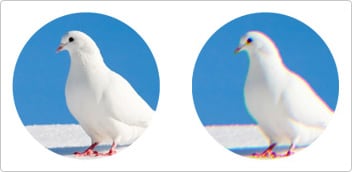 Caused by chromatic aberrations, the level of color fringing that is observable around the edges of contrasting objects becomes a little more evident at higher magnifications. Even so and especially at lower powers, I feel the amount is more than acceptable for a binocular in this price class and thus I would say these do a reasonably good job of keeping it to a minimum.
Image Flatness, Distortions & Blurring
At no time did I detect any other obvious deformities in the view and once correctly focused was reasonably sharp and looked perfectly flat even at high magnifications, which in my experience, especially for a low cost zoom binocular is certainly not always the case.
Image Quality Rating (for a compact binocular): 7/10
Included Accessories:
My sample Discovery Gator 8-20x25 Zoom binoculars came equipped with a protective carry case, wrist strap and cleaning cloth: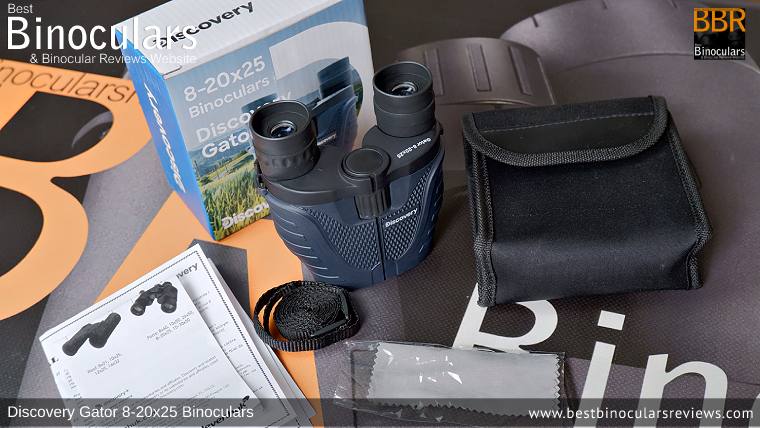 Carry Bag
Made from a very fine woven nylon type of fabric, the included soft case is pretty basic, but functional:
It is only very lightly padded and so whilst it will protect the instrument inside from scratching, dust etc, it will not help with heavier impacts.
The fold over lid is secured closed with a small Velcro tab making access very quick and easy, but is less secure than something like a zip for example.
The binoculars fit comfortably inside and are easy to take out and replace, but without being so loose that they flop about which is good.
The case does not come with its own strap, but there is a belt loop on the rear, making it easy to attach to your bag, or carry from the hip. If you have the neck strap attached to the binoculars and they are inside the case, you can also thread this out of the sides of the lid and carry it this way if you wish.
Neck Strap
The included strap is about as basic as it gets, just a simple nylon cord that you thread through the eyelets on the sides of the binocular and then back on itself through a couple of sliders.
Lens Covers
As is normally the case with a compact, especially a cheaper porro prism one like these, these lack any extra objective or eyepiece covers and you simply use the carry pouch for protection.
Cleaning Cloth
A cleaning cloth is included and whist it is not a very high end microfiber one, it is still useful for cleaning the body and if you are very careful, to lightly dust off the lenses. However you will still be best off with a lens cleaning kit for safely cleaning the lenses.
Instructions & Guarantee
Also included within the box is some basic and generic instructions that covers the entire Discovery Gator series. Also included is the international warranty card that covers these binoculars for 2 years and entitles you to free repair or replacement in any country where a Levenhuk office is located.
Accessories Score (for a Compact Binocular): 5/10
Review Conclusions:
Whilst there is still certainly room for improvement, for a low cost compact zoom binocular these are as good as any that I have come across in the past at this level and the image at high power was better than I expected.
I do still have some reservations as to combining a compact instrument with small 25mm lenses and a powerful 20x magnification as it really does reduce their optimal operating window and they are never going to be able to offer you the image quality or brightness of a high powered fixed magnification binocular with large lenses.
However, having said that, if ultimate image quality and brightness at a high magnification is not that important to you and you are only looking to be able to identify something at long distance and you need a small lightweight device these most certainly could work for you.
So here I am thinking of applications like hiking in the mountains or even as the instrument that a price conscious prepper would store in their survival / bug out bag as the Discovery Gator 8-20x25 binoculars could certainly be useful for scouting out terrain and looking for dangers or possible routes ahead of you.
I also really think the Gator is a fun little compact binocular to play around with and thus another definite use could be as a set of binoculars for older children to use. Now usually I recommend get a low powered binocular for kids as it makes them much easier to use. But with a zoom binocular like these, they can start off at the low 8x setting and then zoom into objects which I know for certain most if not all kids will love!
Alternatives
If you want a binocular that is going to offer you a brighter, better quality view at high power, then I would certainly suggest going for a larger instrument. For more, take a look at my section on High Powered, Long Distance Viewing Binoculars.
If you want the Zoom function (variable magnification) and a very high quality image at higher powers, then rather than a binocular, I would also highly suggest taking a look getting spotting scope. Whilst not quite as compact as these, you will be surprised how small some of the more travel friendly scopes are. For more take a look at my section on Spotting Scopes.