Many of you may know about the on-line Eagle Optics store that sold a huge range of binoculars and spotting scopes from a wide choice of manufacturers, but did you know that they also produce their own brand of binoculars? Especially amongst the birding community Eagle Optics have a dedicated following that is growing, along with the reputation of their optics and it was because of this that I decided to try out a pair for myself.
The "standard" Ranger series sits just under their flagship Ranger ED binoculars and consists of 7 different models. From their marketing material they promise to offer plenty in the way of quality and all at a very reasonable price which should appeal to a wide range of people and be suitable for a wide range of uses. Below is my review of the Eagle Optics Ranger 8x42 binoculars:
The Body
Weight
The first thing that I noticed when I took them out of the box was just how light they felt, a quick glance at their stats and my feelings were confirmed. At 21.8oz (618g) they are, for a full sized pair of binoculars, very light.
Dimensions
The dimensions of this 8x42 Ranger binocular is 5.8in (14.7cm) x 5.1in (13cm), which makes them slightly more compact than the average full sized binocular. In my hands, they felt very comfortable to hold and are like any good binocular, well balanced. When held up to your eyes, the focussing wheel is easy to get to as well as easy to adjust on the pair that I was testing.
Light, comfortable and well balanced - these are qualities that I feel are often under valued. They are even more important you are using your optics for longer periods of observation.
BBR Rating for Body Stats: 7/10
Build Quality
If you just look at the weight of a pair of binoculars, it can sometimes be misleading as you can get some very light pairs that are so light because cheap (often plastic) components have been used in their construction. This is not the case with these Eagle Optics Ranger binoculars. Whist I could not find any details on what the body is made of, it feels very solid and robust. They also look well made and have been covered with a tough rubber armoring which should protect them from scratches and small bumps and knocks.
The rubber armor on these and other binoculars also have a number of other benefits, that include helping with grip, especially when wet. It also makes the pair of optics less reflective than if the bare metal was exposed. This helps as bright sunlight reflecting off a metal object could frighten away wildlife.
Any sound made from an object striking against them that could frighten away birds or other timid animals is also dampened down by the rubber armour. An example of this would be your watch or something that often happens to me when I grab hold of the binoculars, my wedding ring hits the barrel!
Waterproof & Fogproof
These Ranger binoculars are sealed with O-rings making them 100% waterproof, which not only prevents moisture from getting into them, but also any other small debris and dust.
They have also been nitrogen purged, meaning the air inside of the binocular has been replaced with a dry nitrogen gas, protecting them against internal fogging. This can often occur when you get rapid temperature changes or in places that have a high humidity level. A secondary benefit of this that it protects the inner workings from corrosion.
The Eye Cups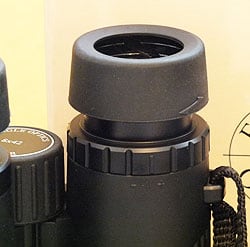 The twist-up eyecups seem to be made from metal or a very hard plastic and have a thin soft rubber coating on them making them feel fairly comfortable even when pushed quite firmly against your face.
The maximum of 20mm of eye-relief is one of the real highlights of these Eagle Optics binoculars, which should be more than enough for most people who wear glasses and they easily make it onto my list of long eye relief binoculars.
The twist-up mechanism on the eyecups works very well and they have two intermediate stops which will help people who wear glasses to get the right amount of eye relief so that they can see the full field of view even when looking through the optics with their glasses on. Non-eyeglass wearers will just use the eyecups in the fully extended position.
Focusing
Like the eye-cups, the focussing wheel on the 8x42 Ranger also has a hard rubber coating on it and on the pair that I tested turned smoothly.
The focusing mechanism is geared fairly lowly, taking a full 1 and a half turns to go from infinity to it's very impressive minimum focusing distance of 5.2 feet. What this means is that focusing from near to far (or vise versa) is not as quick as a binocular that takes less amount of turning (some take as little as half a turn), but this does have the advantage of making fine tuning your focus to get it exactly right, much easier.
Diopter Adjustment
Located on the right barrel, between the eyecup and the barrel is the diopter adjustment ring. It is used to correctly set up and focus the binoculars to your particular eyesight and only needs to be done once when you use your binoculars for the first time. The are markings on both the barrel and diopter ring so you can easily see where the middle point is. It was tight enough on the pair that I tested to prevent it from easily being moved accidentally, yet not so tight as to make adjusting it difficult.
Best Binoculars Rating for Body Construction Quality: 7/10
The Optics
Lens & Prism Coatings
Considering their price, these Ranger 8x42 binoculars come with an impressive line up of quality optical components and coatings:
As you would expect to find on any quality roof prism binocular, Eagle Optics use BaK-4 prisms as opposed to the cheaper and inferior BK-7 prisms. On these prisms they have used dielectric coatings that jump reflectivity to more than 99% across the full visible range. Cheaper optics often use an aluminum mirror coating that has a reflectivity of between 87% to 93%, more expensive binoculars often have a silver mirror coating and the reflectivity is increased to about 95% to 98%.
This dielectric coating causes the prism surfaces to act as a dielectric mirror and has the effect of increasing the reflectivity to more than 99% across the visible light spectrum. meaning that you get optimal light transmission (brighter images) and excellent color fidelity.
On top of this these Ranger's have phase correction coatings on the prism glass, which helps to keep the light in the correct color phases and produces images that have better contrast, a higher resolution and have a better color reproduction.
Fully multi-coated lenses are also used, which means all air-to-glass surfaces have received multiple layers of anti-reflective coatings which also increases light transmission, for a brighter image and therefore better low light performance.
Best Binoculars Rating for Optical Components Quality: 7/10
Optical Stats
Field Of View
The field of view for these Eagle Optics 8x42 binoculars is 114m at 100m / 341ft at 1000 yards (6.5°) - which is not bad, but does fall a little short of the very best. For example the top of the range and many peoples perfect birding binocular, the Swarovski 8.5x42 EL Binoculars has a field of view of 399ft at 1,000 yards. But you must remember that these Swarovski binoculars cost many, many times (over 7x) more than the Ranger!
Close Focusing Distance
The minimum distance that you can focus on an object is a very impressive 5.2 feet (1.58m) away, which is excellent. I consider anything under 6ft to be very good. So if you are looking for a full size binocular that is also good for viewing objects close up, things like butterflies for example then these Ranger's would make an excellent choice.
Best Binoculars Rating for Optical Stats: 8/10
Image Quality
As I do for all my reviews, I compared the view through these Eagle Optics 8x42 Ranger binoculars with that of my control binoculars:
Brightness
The brightness of the image produced by these is very good and on the dull overcast day I could easily see a difference between these and that of my benchmark 8x42's. So as far as the brightness of the image goes, I rate them as excellent and in my experience they are as good as many far more expensive 8x42 binoculars.
Focusing on a nearby flower that contrasts greatly with the wall behind it, I looked for any signs of color fringing (chromatic aberration) on the edges of the petals and leaves. On quality optics it can be very hard to tell if there is any, and these were no different, if there was any, it was barely visible. Contrast is also good and once you are correctly focussed on an objet the image is very sharp.
Another thing I look for is the amount of softening of the image on the periphery of the view, high quality optics have almost none and whilst there is some softening on these, it is very minimal and once again I rate them very highly in this area.
Best Binoculars Rating for Image Quality: 8/10
8x42 Eagle Optics Ranger Comparisons
Below is a table comparing this Eagle Optics Ranger with a selection of other full size roof prism binoculars with magnifications of around 8x. The very top of the range Swarovski 8.5x42 EL Binoculars the mid to high value Minox 8x43 HG Binoculars, Kowa 8x42 BD and the Vortex Viper HD 8x42.
| | | | | | |
| --- | --- | --- | --- | --- | --- |
| | Eagle Optics Ranger 8x42 | Vortex Viper 8x42 HD | Swarovski 8.5x42 EL | Minox 8x43 HG | Kowa 8x42 BD |
| Price (approx): | $300 | $450 | $2300 (£1600) | $1100 (£640) | $550 (£590) |
| Weight: | 21.8oz (618g) | 24.2oz (686g) | 28.9ozs (819g) | 22.9ozs (649g) | 25.7ozs (729g) |
| Length: | 5.8in (14.7cm) | 5.8in (14.7cm) | 6.5in (16.5cm) | 6.0in (15.2cm) | 5.7in (14.5cm) |
| Width: | 5.1in (13cm) | 5.3in (13.5cm) | 4.8in (12.2cm) | 5.1in (13cm) | 5.0in (12.7cm) |
| Eye Relief: | 19.5mm | 20mm | 18mm | 19.5mm | 18.3mm |
| Close Focusing Distance: | 5.2ft | 5.1ft | 8.0ft | 8.2ft | 6.5ft |
| Field of View at 1000yds: | 341ft | 347ft | 399ft | 379ft | 330ft |
| ED Glass | No | Yes | Yes | No | No |
| Phase Correction | Yes | Yes | Yes | Yes | Yes |
| Lens Coatings | Fully Multi-Coated | Fully Multi-Coated | Fully Multi-Coated | Fully Multi-Coated | Fully Multi-Coated |
| Waterproof | Yes | Yes | Yes | Yes | Yes |
| Fogproof | Yes | Yes | Yes | Yes | Yes |
Comparing a mid priced binocular like the Ranger other binoculars that are far more expensive may seem a little unfair at first, but as long as you keep in mind the price difference, it does throw up a few interesting points and can highlight a few of their relative strengths and weaknesses.
What the table above does highlight is the fact that they are very light weight for a full size porro prism binocular, they have an excellent minimum close focussing distance and their eye-relief is excellent. Their field of view is far from being bad, but does fall a little short of the very best.
Included Extras & Attention to Detail:
Neck Strap
The next strap is for the 8x42 Ranger looks to be well made and is of good quality. It has a good amount of padding and is comfortable enough although I personally would have preferred it, if it had been a touch wider at the point that hangs from your neck just to distribute the weight over a larger area. Although to be fair the binoculars are so light it is probably not necessary.
Carry Case
The soft nylon carry case also looks well made, it is functional and is well padded, but not as much as some of the very best. There is a netted pocket on the inside that can used to store a few small items and would be a good place to keep a lens cleaning cloth for example. It has a loops on the rear which you can thread your belt through. The carry case strap works well and has a nice sliding shoulder pad.
Lens Covers
The eye-piece covers seem to me made from a very flexible plastic or hard rubber and they fit very well to the eye-pieces and should not accidentally fall off. They have a flexible bridge between the two cups that allow for the different distances between the two eyepieces depending on your inter-pupillary adjustment. This is something that is often overlooked by manufacturers meaning that the eyepiece covers wont fit, unless you store your binoculars fully open, which can be a real pain as you have to adjust them every time you use your optics and every time you put them away.
Like the eye-piece covers, the soft rubber objective lens caps fit very well to the barrels of the binocular and should not accidentally fall off. A feature that I really like is that they have a rubber loop that attaches them to the barrels of the binocular which saves you from having to put them somewhere safe, so as to not loose them when you take them off the lens. Some people don't like to have their lens caps hanging down from their optics when they are using their binocular, if so, you can just take them off and put them away.
These Eagle Optics binoculars also come with a lens cleaning cloth as well as a comprehensive instruction booklet. It includes details on adjusting the eyecups, how to properly attach the neck strap, the inter-pupillary adjustment, how to properly focus your binoculars,, lens care and cleaning, and details on the very impressive Eagle Optics Platinum warranty:
Eagle Optics will repair or replace the Ranger SRT binoculars if they require service, even if it was your fault absolutely FREE, which I am sure you will agree is excellent.
Tripod Adaptable
There is a small cover or cap on the front of the central pivoting point that screws off. This allows you to then screw on a binocular tripod adapter (not included) that uses the standard ¼-inch threading, which you can then attach to your tripod.
Best Binoculars Rating for Extras & Attention to Detail: 7/10
Conclusion
Strong Points: Their very their low weight and close minimum focusing distance are real highlights. So is the price when you consider the quality of the optical components and their coatings.
Weak points? To make them even better, a slightly wider field of view would have been be nice.
Ideal Uses: Like most 8x42 binoculars, they make perfect birding binoculars as they strike a good balance between their field of view and magnification with lenses that are large enough to make them nice and bright even at dawn or dusk, yet not so large that they are too big and heavy to carry about with you. As well as birdwatching, these make great general wildlife observation optics, for hunting and are light and adaptable enough so as to be considered as ideal general use optics. Because of their really good close focus, I also highly recommend these to anyone looking for a full size binocular that can also be used to view things like flowers, butterflies, dragonflies and other insects really close up.
Whilst the Ranger would more than hold it's own as a binocular to take camping, taking on safari or to an outdoor sporting, but the ideal binocular for these purposes would be a little more compact: something like the Eagle Optics Ranger 8x32 would be ideal.
Overall, I think for the amount that you pay for the 8x42 Eagle Optics Ranger binoculars, you get plenty of binocular for your money and to get the same quality on many other brands, you usually have to pay a whole lot more.