Please note, I have kept this review on BBR for comparisons, but there is now a newer version of this binocular, which I have now also fully tested and reviewed: Eagle Optics NEW Ranger ED 8x42 Binoculars.
Not long ago I wrote a review on the "standard" 8x42 Eagle Optics Ranger, which I rated very highly, so when I was asked if I wanted to test the ED version of the Ranger, I jumped at the opportunity. The ED version should in theory be even better and as I still have the standard version with me, it makes for a very interesting comparison. Below is my full Eagle Optics Ranger 8x42 review:
Eagle Optics Binoculars?
If you are from the States, you may have heard about the excellent on-line Eagle Optics Store
that sells a huge range of binoculars and spotting scopes from a wide choice of manufacturers, but did you know they also produce their own brand of binoculars and Eagle Optics binoculars that have over time gained dedicated following especially amongst the birding community. The flagship range are these Ranger ED binoculars which consists of 2 different models: a 10x42 and these 8x42's).
The Chassis & Exterior
Apart from ED glass, the most obvious difference between this and the standard Ranger is the body shape. The Eagle Optics ED features what is known as an open-hinge body, which has a number of benefits over the standard roof prism shape.
Reduces a little weight: less body materials = less weight.
Improved ergonomics: more comfortable & a self-assured grasp.
Secure Grip
This is a little more important than you may first think. For instance, there are many occasions when just using your neck strap, where your optics can swing about is not ideal, like when climbing over boulders and rocks, they could easily get damaged. Or how about making your way through thick bushes where the strap can get snagged. In these circumstances, holding them securely in one hand so you don't drop them and being able to keep the other one free to balance or clear your path is really important.
Physical Measurements
The measurements of these 8x42 Ranger ED binoculars are 6.7in (17cm) x 5.0in (12.7cm), which is fairly regular, if a tiny bit larger than and average 42mm bin.
I like the well positioned thumb indents (for me) that do just enough to encourage to hold them the right way and in the right place ensuring that their weight is distributed evenly making them very well balanced and really comfortable to hold. These are especially important qualities when using binoculars over long periods.
My wife who does have pretty small hands did mention that for her, the indents were not 100% perfectly located, which may just be something for you to keep in mind.
However and somewhat more important than thumb indents, the focussing wheel was nice and easy for both of us to reach and adjust when holding them held up to your eyes.
Weight
Despite the open bridge design, these weigh in at 27.4 ounces (777g) and therefore cannot be described as being light full sized 42mm binoculars. Indeed they are a fair bit heavier than the standard Ranger (21.8ozs (618g), but if you take a look at a few other high end 8x42 binoculars below, you will see that whilst they are heavier, their weight is at least in the right ball park:
I should also just mention that quite a few of the very lightest bins also happen to be not nearly as good or as durable as heavier better quality bins as they incorporate poor quality components made from lighter but weaker materials.
BBR Body Stats Score: 7/10
Workmanship & Quality of Construction
The Eagle Optics Ranger ED binoculars have a polycarbonate body that feels very solid and robust. Over this they have applied a tough rubber armouring on the areas that you hold onto most often. This armouring should help you with a more grip and protect your bins from scratches and small bumps although the inner faces of each barrel and the two bridges between them are not covered in the armour.
I must also say that I really like the way that Eagle Optics have only covered certain parts of the binocular with the rubber coating and the way that it has raised ridges on the edges of it, really helps in the looks department and they have a nice quality finish to them.
Water and Fogproof
These Ranger ED binoculars are O-ring sealed making them completely waterproof. Remember that as well as stopping and moisture this also forms a barrier against dust particles which is important in dry and dusty locations.
They have also had all internal air removed and in its place had argon pumped into them which will protect the internal surfaces from fogging up. This moisture free environment also stops any corrosion from developing on the inner workings of the instrument.
Eye-Cups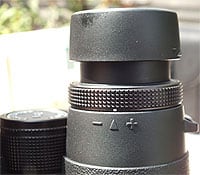 Looking closely at the twist-up cups, under the rubber, they seem to me to be made from metal or possibly a really hard plastic. For comfort, they then have had a soft rubber cover attached on top of them.
The helicoid mechanism as you extend the cups was smooth and works very well. Whilst they do have one fixed intermediate stop, two would have been more desirable to give those who use glasses as much flexibility as possible to enable you to get you eyes the optimal distance away from the lenses.
Those of us who don't wear glasses will in almost all cases just fully extend the cups to attain the correct amount of eye-relief.
What is excellent is the actual amount of eye-relief - 18mm will really please all eye glass wearers and as such I would describe them as having a long eye relief.
Adjusting the Focus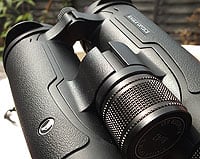 I really like the large focussing wheel on these 8x42 Ranger ED's, as mentioned earlier the wheel was nice and easy to get to without any grip changes and also turned very smoothly.
They look to produced from aluminium or something similar with a serrated exterior that makes an excellent non slip surface.
Taking a full 1 and ¾ revolutions of the wheel to change from close focus to far, these are a little slower to focus from one extreme to the other than many (I have tested some that require only half a revolution). The advantage though is that this gearing makes getting your focus exactly right just that bit more simple.
Diopter Settings
Like the focussing wheel, the ring for adjusting the diopter setting looks like it is made from aluminium or something similar which serrated to provide more grip. Positioned between the barrel and eyecup on the right side of the bin, you can turn it to adjust the focus of this lens separately from the other side and so allows you to compensate for any differences in you vision. For more take a look at my guide on how to How To Focus your Binoculars.
They have markings showing you where the neutral point is, however if the setting for you happens to be anything other than neutral, you may want to make a small mark on the barrel to help you should it move accidentally. Having said this, on the pair I was testing, it was just about tight enough to prevent it from easily moving accidentally.
BBR Score for Quality of Body Construction: 8/10
Optics
For me, the strongest part of these EO Ranger 8x42 ED binoculars is their use of the best optical components and their coatings:
Lenses & Lens Coatings
The ED part in these Rangers name points to the fact that they use an extra-low dispersion glass element in their lenses.
For those who are really interested, you can read all about it and its advantages in my complete guide to extra-low dispersion glass, but basically they are better able to concentrate the light wavelengths and thus should help to minimise chromatic aberrations which is observed as color fringing and so without the, you obviously get a better image.
Due to the extra cost involved as well as the expertise needed to make them, ED glass is only really found on better quality binoculars and other optical devices.

Fully multi-coated
All the lens surfaces that come into contact with air have also had many coatings of an anti-reflective material applied to them which increases the amount of light that gets through the system to your eyes, resulting in a lighter, more vivid image and improved performance in sub-optimal light.
On the exterior surfaces of the lenses Eagle Optics have applied what they call their SeeClear® coating which are oil repellent. A few other top of the range manufacturers have similar coatings, for example Swarovski use their Swaroclean coatings.
These coatings help ensure your lenses remain cleaner and in perfect condition for longer, because they are more difficult to mark, they require less frequent cleaning and when you do have to clean them, it is much easier to do so, reducing the chance of you damaging them.
Prisms & Prism Coatings
This Eagle Optics binocular uses the roof prism design, with the prisims glass being made using really good quality BaK-4 glass, which is far optically superior than the BK-7 glass prisms sometimes used.
Then they have added dielectric coatings onto the surface of the prism so that it works as a dielectric mirror which raises its reflectivity to more than 99% over the whole visible light spectrum. This improved light transmission results in brighter images & better color reproduction.
Rather than using expensive dielectric coatings, cheaper binoculars than these will only use aluminum mirror coatings with an 87% to 93% reflectivity, or sometimes silver mirror coatings that have a reflectivity of between 95% to 98%.
The prisms on these Ranger ED's have also had phase correction coatings added to them, which as their name suggests ensure the light waves stay in the right phases of color to deliver images that with superior color reproduction, contrast and resolution. Once again phase correction coatings are usually only added to the roof prisms of high end binoculars.
BBR Score for the Quality of the Optical Components: 10/10
Optical Statistics
Angle and Width Of the View
The width of the view (field of view) through these Eagle Optics 8x42 binoculars at 1000 meters is 142m, or 425 feet at a distance of 1000 yds or as an angle it is 8°.
This is VERY impressive and easily beats many of the finest and easily make it onto my list of wide angle binoculars.
To put this into perspective, the Swarovski EL 8.5x42 Binocular which is many peoples idea of the perfect birding binocular, has a FOV of 399ft @ 1000 yds.
Minimum Focusing Distance
At only 6 feet (1.83m) the close focussing distance on these is also highly notable. So compared to other 8x42mm bins they perform very well at near observation and so are ideal for taking a closer peek at the occasional butterfly as an example.
Eye-Relief:
Their maximum eye-relief of 18mm is very good and should be more than enough for most people who wear glasses.
BBR Score for Optical Statistics: 9/10
Quality of Image
I carefully compared the image produced by this Eagle Optics 8x42 Ranger ED binocular with my benchmark or control 8x42 binocular. As well as this and because I still had them with me, I also compared them to the standard 8x42 Rangers:
Brightness
I conducted these tests on a very dull and rainy day and again on another day at and just after sunset, when the available ambient light was pretty low.
It was quite easy to observe that the Ranger ED produced a brighter image than the benchmarks and so I am able to highly rate them in image brightness.
Any variance between these EDs and the standard Ranger was far more difficult to make out and would almost say that for me they were about the same.
Color Fringing
The ED glass should really make a difference in reducing any color fringing (chromatic aberration) and I was please to see that in this case, these really do;
To test, I focus on white and other light coloured objects sitting in front of a dark background and look for any signs of color fringing on the objects edges and even whilst trying my hardest, none was obviously noticeable on these.
The standard Ranger actually also performed very well in this area, even without ED lenses, but by comparing them both and looking at the same object, you can just see the difference. It is very minor but you can notice the improvement of the ED version. For example I looked at a white coffee mug sitting on a dark green garden table about 10 meters away. On the standard version there was a very faint red/orange glow on the top edge of the mug. This was almost non existent on this ED Ranger.
Softening
Looking very carefully all the way to the very outer limits of the view, to my eyes it remained sharp, without any noticeable amounts of softening. Once again, even though the standard Ranger was good in this area, these EDs improve on them. Both were also much better than my controls and so once again I rate them very highly in this area.
Contrast was good and the colors feel natural, which is in contrast to the artificial tints you sometimes find on lesser binoculars.
BBR Score for Image Quality: 9/10
Eagle Optics Ranger ED Comparisons
In the chart underneath, I have taken the important features and specs of the Eagle Optics Ranger 8x42 ED and compared them to a few other similar full size 8x roof prism binoculars:
| | | | | | |
| --- | --- | --- | --- | --- | --- |
| | Eagle Optics Ranger ED 8x42 | Eagle Optics Ranger 8x42 | Kowa 8x42 BD | Swarovski 8.5x42 EL | Vortex Viper 8x42 HD |
| Approx Price: | $440 | $300 | $550 (£590) | $2300 (£1600) | $450 |
| Weight: | 777g (27.4oz) | 618g (21.8oz) | 729g (25.7oz) | 819g (28.9ozs) | 686g (24.2oz) |
| Length: | 6.7in (17cm) | 5.8in (14.7cm) | 5.7in (14.5cm) | 6.5in (16.5cm) | 5.8in (14.7cm) |
| Width: | 5.0in (12.7cm) | 5.1in (13cm) | 5.0in (12.7cm) | 4.8in (12.2cm) | 5.3in (13.5cm) |
| Eye Relief: | 18mm | 19.5mm | 18.3mm | 18mm | 20mm |
| Min Focusing Distance: | 6ft | 5.2ft | 6.5ft | 8.0ft | 5.1ft |
| Field of View at 1000yds: | 425ft | 341ft | 330ft | 399ft | 347ft |
| ED Glass | Yes | No | No | Yes | Yes |
| Phase Correction | Yes | Yes | Yes | Yes | Yes |
| Fully Multi-Coated | Yes | Yes | Yes | Yes | Yes |
| Waterproof | Yes | Yes | Yes | Yes | Yes |
| Fogproof | Yes | Yes | Yes | Yes | Yes |
The table above does highlight is just how impressive their field of view is and that they more than hold their own in most other departments. Compared to the standard Ranger, you can immediately see how these have a much wider field of view, yet are quite a bit larger and heavier. So if size and weight are really important to you, I would save the extra $140 or so and go for the standard Ranger. If however you are really looking for the best possible view (see image quality above), combined with a very wide field of view, I think the extra $140 it is well worth it and would get these Ranger ED's.
Attention to Details & Extras:
Neck Strap
The next strap is for the 8x42 Ranger ED seems to be of high quality and well constructed and better than the standard Ranger, but is not quite as deluxe as the very best. It has a reasonable amount of padding and is comfortable enough. I like the attention to detail: The padded section that hangs over your shoulders and neck is curved to ensure that it fits more comfortably. There are also rings that allow movement between that padded part that goes around your neck and the straps that attach to the binoculars. This is just a small thing, but it does mean that when you lift the binoculars up to your eyes, the padded section does not move with the rest of the strap.
Carry Case
The soft nylon carry case is functional and is reasonably well padded, but not as much as some of the very best. On the inside there is a pocket made from a netting ideal for keeping objects like a lens cleaning cloth, money or keys.
You can use one of two sets of loops on the rear to thread your belt through or use the included carry case strap to carry it on your shoulder. It comes with a nice sliding shoulder pad, but is possibly not quite as well padded as some that I have used.
Covers for the Eye-Piece
Also sometimes referred to as the rain guard, the ones that comes with this bin are fabricated from a very flexible plastic and they fix nice and firmly onto the eye-pieces.
The join between the two eye-piece cups is nice and supple and so easily adjusts to fit no matter what your inter-pupillary distance setting is. Incredibly this is not always the case and thus the rain guard does not work except if you fully open your bins every time you want to stow them away.
Objective Lens Covers
The objective lens covers are also made from a soft rubber and also fix very well to the barrels of the binocular without being too tight.
A feature that I really like is the rubber loop that attaches the covers to the ends of the barrels, saves you from having to put them somewhere safe every time you use your binoculars. Of course, if you don't want them on the ends of your bins, you can still just remove them.
These Eagle Optics binoculars also come with a good cloth for lens cleaning and an instruction booklet which covers most of the basics very well.
Also included are the details to the very impressive Eagle Optics Platinum Protection warranty, which states that: Eagle Optics will repair or replace the Ranger ED binoculars if they require service, even if it was your fault absolutely FREE, which I am sure you will agree is excellent.
Tripod Mountable
Located on the front of the hinge nearest the objective lenses is a cover, which can be unscrewed and replaced with a tripod adapter designed for binoculars. This is not included, but can be purchased very cheaply and when attached to the binocular, it can then be locked into the head on your tripod.
BBR Score for Attention to Detail & Extras: 7/10
To Sum Up
Good Points: The quality of the optical parts used as well as their coatings are very impressive, which translated to a really high quality image.
Also impressive is their very wide field of view and excellent minimum distance of focus. I also really like the open bridge design and the overall look of the binocular that was well balanced and comfortable to hold.
Weaknesses? To make the actual binoculars at this price much better would be tough and only really small things like a lockable diopter ring is missing when you compare these to much more expensive brands. The extras like the neck strap and the carry bag are adequate, but possibly not quite as luxurious as some at the very top.
Perfect for: Taking into account many of their features, but especially their very wide width of view, these 8x42 binoculars make ideal birding binoculars.
This Ranger ED is also great for observing most larger wildlife too and because of their tough exterior would also be good for hunting as well.
Because of their very good close focus, I would also recommend them to anyone looking for a full size binocular that can also be used to view things like flowers, butterflies, dragonflies and other insects really close up.
For uses like camping or taking on a safari holiday or any other adventure, these Eagle Optics Ranger ED binoculars would work well, but if space and size are important to you, you may consider a mid or even compact sized device.
Their wide viewing angle will also make them superb at most outdoor sporting events, but once again if size or weight is an issue, you may better of with a smaller objective lens.
Overall the 8x42 Eagle Optics Ranger ED is a fantastic binocular and if you consider what you pay for them, it makes them even more impressive. In my opinion they should make it onto the shortlist of anyone looking to get a top quality pair of optics at a great price.
Lastly:
Many thanks to Eagle Optics
for shipping this binocular to me to review, I just like to point out that the opinions expressed of this binocular and indeed all others on this site are 100% my own and I am in no way compensated or pressurised or by manufacturers or their suppliers to write a favorable review.