Eagle Optics Denali 8x42 Binoculars
It has been too long since I last got the opportunity to test an instrument from the American brand Eagle Optics. So when they contacted me saying that they had a new versions of their popular Denali series on the market and would I like to test and review one of them, I jumped at the chance:
Eagle Optics NEW Denali 8x42 Binoculars Review
As this is a new version of an older model, in this review I will go over all the features of the new Eagle Optics 8x42 binoculars as normal, but where appropriate I will also refer back to the original model and see where they have made changes and just how this affects the product.
The reasons for this are partly for interest, but also because sometimes it can be confusing which version you are presented with when shopping online and so hopefully this will make it easier for you in this regard.
Main Details:
Mid Price Binoculars, approx: $220 / £180
Standard Single Hinge Body Design

Polycarbonate Chassis
Water & Fog Proof
Tripod Adaptable

Fully Multi-Coated Optics
BaK-4 Roof Prisms

Phase Correction Coatings

Field of View: 393ft at 1000 yards
Minimum Focus Distance: 6.5ft
21mm of Eye Relief
Body & External Components
Shape & Design
As you can see from the photos, these new Eagle Optics Denali 8x42 binoculars sport what is now considered a somewhat standard body shape for a modern roof prism binocular, but with one slight tweak that I feel is worth mentioning:
The single centrally located bridge on the Eagle Optics Denali 8x42 binocular is a little thinner than the average bin with a similar design which gives you just that little bit more space on the barrels to hold onto. This is something that I like as it is something that I find I often do whilst carrying them about as I don't always attach my neck strap to my instrument.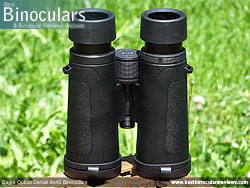 Exterior Coating
As with almost every modern bin, the Eagle Optics Denali binocular has an external rubber jacket that covers and protects almost the entire chassis underneath.
Coloured black, the fit of this rubber armour is excellent and very tight and so does not move or slip about, which is to be expected, but sadly not always the case.
The rubber itself is really hard and in comparison to most others I test, on the thicker side of the average. This thickness does provide more impact protection than ones with thinner rubbers, but I would also say that the hardness makes it less cushioned and thus negates this to some degree.
Whilst longer wearing and in my experience less likely to deteriorate, this harder, less tactile rubber is also less grippy than softer spongy ones and whilst Eagle Optics have imprinted a texture on the sides of the barrels to help with this, it is in my opinion too fine to make much of a difference to improve grip levels.
On the underside of the instrument, you will find a very shallow thumb indent on each of the barrels. Although not as deep and thus as obvious as I would personally like, they are placed well and I found my thumbs would gravitate towards them without thinking about it whilst glassing and as such they do a reasonably good job of subconsciously encouraging you to hold the instrument in the right way and place to get a good balance.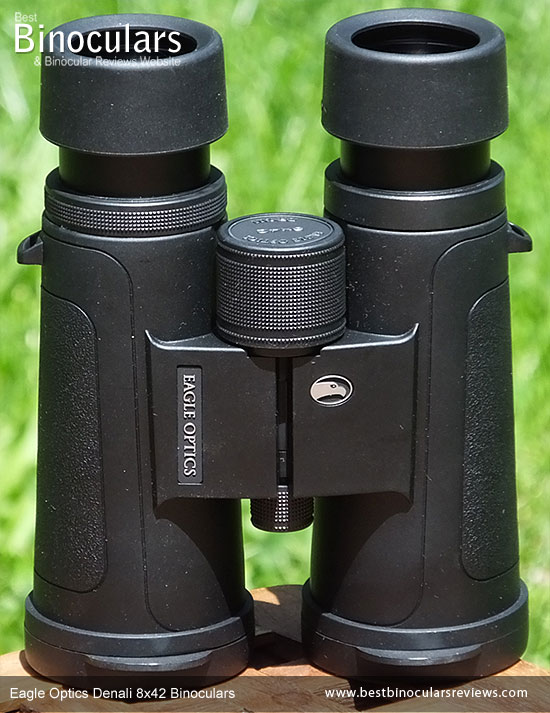 Chassis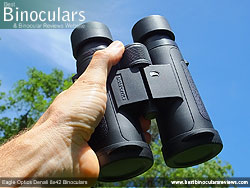 Like the older version, these new Eagle Optics Denali binoculars have body frame made from a polycarbonate plastic. Whilst this is not as deluxe or indeed as strong as the magnesium or aluminium frames, at this price level this is pretty much the norm these days as they are cheaper to manufacture.
However one advantage they do have over the metallic frames is that they tend to weight quite a lot less and thus help to keep the overall weight of the instrument down.
Weather Proofing
Whilst they do not provide an officially recognized standard or depth, Eagle Optics do advertise that their Denali is sealed with O-rings which will stop moisture, dust, and debris from getting inside the binocular.
So whilst I would not take them in the pool with me, I am sure they will be fine to use on even the wettest day. They also bring up a good point in mentioning that the seals also prevent dust from getting into the instrument, which in dry areas is vital and a point that many people don't think about.
The barrels have also been filled with nitrogen gas which inhibits internal fogging of the lenses.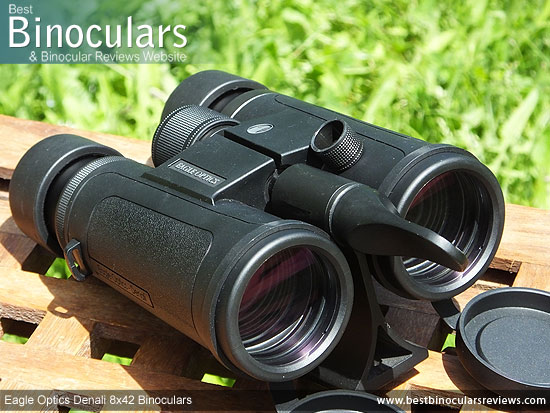 Tripod Adaptable
The 10x and 8x42 Eagle Optics Denali binoculars can very easily be fixed onto a tripod using a normal tripod adapter. All you need to do is unscrew the small cap on the front face of the bridge and then screw in the adapter which you can then fix to your tripod head.
Eye-Pieces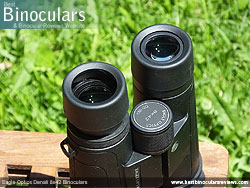 Not only does this bin have a massive 21mm of eye-relief, but I was also impressed with the eye-cups and the eye-piece housings:
The housing on the new Eagle Optics Denali looks to be made from metal and not polycarbonate like the rest of the chassis. This is great as many low cost and even some mid range binos will incorporate plastic eye-piece housings because they are cheaper. However as this is a very vulnerable area of the instrument, it is important for it to be as sturdy as possible.
The rubber coating makes it hard to be sure, but it looks to me like the eye-cups are also metallic. Either way, they have a nice smooth action as you twist them up and down. The amount of free play or unwanted movement between the cup and the housing is very minimal and nothing to be concerned about.
I was a little disappointed to find that you only get one fixed stop midway between having each cup fully extended and retracted. Considering the huge amount of eye-relief, I would have expected more to give you that little bit more of customizability to ensure they fit your exact requirements so that you can get the full field of view no matter your face shape or indeed if you wear glasses or not.
However having said that the action and quality of the mechanism is such that there is just enough friction which enables you to position the cup at any point and it will remain there, but obviously not quite as securely as the fixed stop position.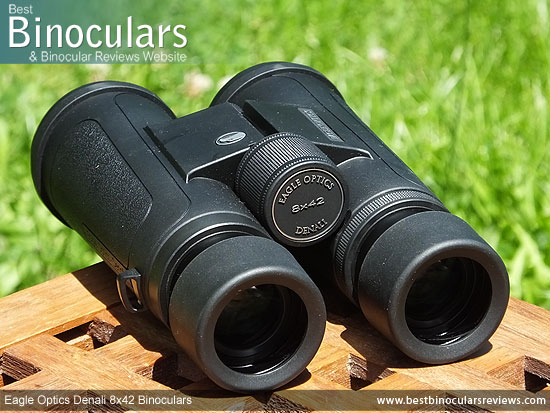 Focus Wheel
Whilst not made from metal, I do really like the focus wheel on these Eagle Optics binoculars for the following reasons:
The thin, but soft rubber exterior with it's tiny diamond shaped texture offers a suburb non-slip surface: Good for normal use, but great when wearing gloves
At 30mm in diameter it is reasonably large, well positioned and easy to reach and turn even with just one finger
It turns with just the right level of resistance, so not too hard, but at the same time is not easy to accidentally move
The mechanism is perfectly smooth with zero free play
The face plate, whilst not quite as opulent as some, looks great and in my opinion much more classy than many out there
The gearing of the focal mechanism is such that in order for you to move from one extreme of the focus plane to the other, you have to turn the wheel through 240° (1½ times around). This is about average, meaning that it takes a little longer (more turning of the wheel) to make large focal adjustments than those that take less turns, but the advantage is that finer adjustments are that fraction easier to make.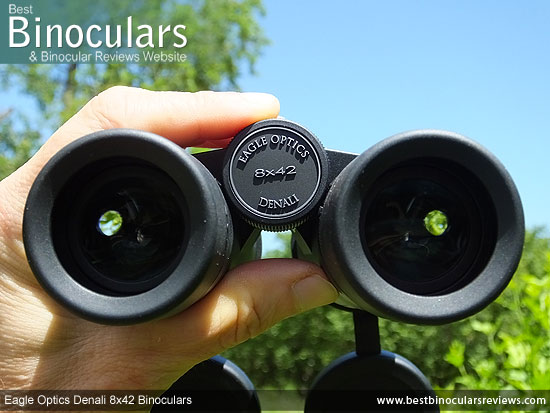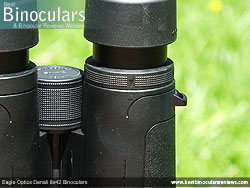 Diopter Adjustment
For those who don't know, most central focus binoculars have some sort of way of allowing you to make small changes to the focus on one side independently of the other. In this way you can make up for any differences in vision between your left and right eyes. Thus this Dioptric Correction is important as it plays an important part in calibrate the bins to your particular vision.
Like the majority of binoculars the diopter adjuster on these Eagle Optics Denali 8x42 binoculars takes the form of a ring located on the right eye-piece and sits just under the eyecup.
I like that it is easy enough to adjust, but not too loose or protrude out too much so as to make it too easy to move by accident. However it is a shame that it does not have a locking mechanism or a ratchet like some of the better ones do that make your setting just that little more secure.
Also missing is a scale or a series of markings that allow you to more easily return it to your particular setting should it move or you need to move it when sharing your binoculars. As a tip you can of course make a small mark with a pen or an etch with a knife, but it is just a shame that you need to and I wish more manufacturers would think about this small detail.
Body Quality Score: 7/10
Physical Statistics
Weight
The new Eagle Optics 8x42 Denali binoculars tips the scales at 24.6oz / 697g, which is a fair bit heavier than the 21.9oz / 621g of the very lightweight original version.
However as you can see from their mid table position below, overall these are by no means a heavy 8x42 binocular, but they are one of the heavier ones with a polycarbonate body:
Dimensions
In terms of the physical size, they look and feel pretty standard for a 42mm binocular, which is confirmed by their official dimensions.
For interest the length of 5.7in / 14.5cm is taken with the eyecups retracted and lens covers removed, whilst the width (5.1in / 13cm) and height (2.2in / 5.7cm) is with the hinge fully open.
Length with eye-cups extended: 15.4cm (16cm including lens covers)
Width, Hinge closed (IPD at minimum): 11cm
Height with hinge closed: 6.9cm
Body Stats Score: 7/10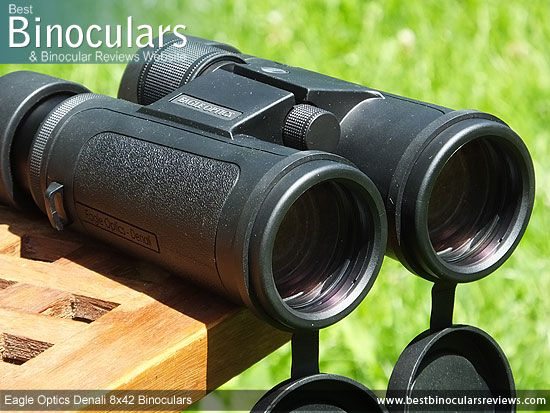 Optics
Eye-Piece Lenses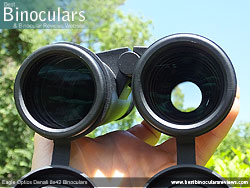 Eagle Optics do not supply any details regarding the make-up of any of the lenses on their 8x42 Denali binoculars, so all I can really say about the eye-pieces is that I measured the diameter of the external lens to be 24mm, which for a 42mm binocular is large, which is a good sign because in general larger ocular lenses:
Make it easier to correctly line up your eyes and thus reduce the blackout that can occur
Increased resolution with a larger lens for clearer, more sharp image
Helps make it possible to have a wider field of view
Can help with longer eye relief which helps eye glass wearers obtain the full view
Objective Lenses
As with the Eye-pieces, I could not gain any information as to how the objective lenses are made up. What I can say is that I measured the depth that the 42mm diameter objectives are set back inside the ends of the barrels to be 6mm. Whilst this offers them some level of protection, it is not quite as deep as some out there.
No ED Glass
I am also pretty certain that these bins contain lens elements with low dispersion qualities, but what they don't have are extra-low dispersion glass (ED) elements as surely EO would shout about it in their marketing. Potentially this means that they may not be quite as good at reducing chromatic aberration (color fringing) as binoculars that do use ED glass. But (and it is a BIG BUT), I have often seen well made non ED glass binoculars perform better than poor or even average ED glass bins.
Indeed if you take a look at the Image Quality section below, you will see that these Eagle Optics Denali's do perform reasonably well in this area and even though they don't match the very best, the amount of color fringing is minimal and no more than what I would call normal and often observe through most mid ranging ED bins.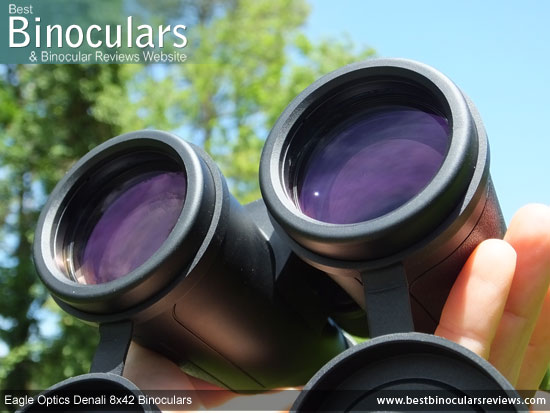 Prisms
The Eagle Optics Denali binoculars use roof prisms to correct the inverted image which are fashioned from BaK-4 glass.
What is not mentioned however is if they have used the Chinese or the better Schott BaK-4 glass.
My suspicion is like the majority of mid level bins produced these days, these probably use the former, but even so they are certainly considered to be a better option than BK7 glass for the use in a binocular.
Optical Coatings
In terms of Image brightness and quality when it comes to how a binocular performs, the level and quality of Anti-Reflection Lens Coatings used is significant, makes a real and observable difference and is thus something that you need to pay particular attention to.
Here the exact wording manufacturers use is key as marketing hype can make something sound good when in fact it is far from ideal: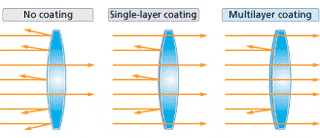 For example many bins will be marketed as being "multi-coated" or "fully-coated", which does sound like a good thing, but it is far from ideal as it means that only some optical elements have received either single or multiple layers of an anti-reflection coating. These instruments will without question not perform anywhere near as well as products like these Eagle Optics Denali's that have been Fully Multi-Coated.
This means that every single outer glass element throughout the entire optical system has had this process applied to them and as such they will not only let through more light, but also reduce unwanted reflections that can cause issues.
Phase Correction Coatings
As well as these anti-reflection coatings, the prisms on the Denali have also had coatings of a material added to them that corrects the issue of "phase shift" that occurs with the roof prism design. These phase correction coatings are an important detail to look out for as they are a good indicator of an instruments overall quality.
Prism Reflection Coatings
Eagle Optics do not advertise, nor could I find out which type of highly reflective coating is used on the prism surface that does not reflect all the light that hits it. As they don't highlight it and considering the price range, I would be surprised if they were dielectrically coated.
My guess would be the more economical Silver mirror coatings, which with a reflectivity index of 98% is very good, but not quite at the level of dielectric mirror coatings that transmit more than 99%. If anyone has any further information regarding this or any other detail, please feel free to contact me or leave a comment at the foot of the page.
Coating Comparisons
Optical Components Score: 7/10
Optical Stats
Field Of View
The field of view (FOV) on the new 8x42 Eagle Optics Denali binocular is described as being 393ft wide (high) at a distance of 1000 yards. Whilst not super wide and a little less than the 408ft you got on the older Denali, for an 8x42 binocular this is still more than decent and beats many other quality 8x42 bins out there:
Long Eye-Relief:
An improvement Eagle Optics have achieved on this newer version is to take the eye-relief from an excellent 18mm on the original to a very long 21mm.
This increased level of eye-relief will be of particular interest to those that wear glasses because as you can see from the table above this now places them amongst the very best in this category and they sit right up near the top of my list of Long Eye-Relief binoculars.
Close Focus
Another area in which Eagle Optics have improved the new Denali is to decrease the minimum close focusing distance from 7ft to 6.5ft which is good for a full sized bin with an 8x magnification.
Optical Stats Score: 8/10
Image Quality
My thoughts and opinions in this section were gained whilst using these Eagle Optics 8x42 Denali binoculars in the field and whilst comparing the view against my mid and high end benchmark 8x42 binoculars. I conducted these tests twice: firstly in good light during the day and then again at and just after sunset.
Colors & Contrast
I thought that my sample Eagle Optics Denali binocular delivered an image that was reasonably bright but at the same time, was in no way washed out and thus still maintained a good amount of contrast between dark and light.
In the same way, I thought that the colors were mostly realistic and true to life, although I did observe that there was a very slight yellowish tint to the image. This is not something to be too concerned with as it was very slight and I only really noticed it when comparing the view against my high end benchmark.
Image Brightness
As I mentioned earlier, in general and for an 8x42mm binocular the image brightness on the Denali is good and easily at around the level that I would expect at this price range. However having said that, my high end 'alpha' 8x42 benchmark did deliver what I observed as a brighter view that was more noticeable in poor ambient light.
Color Fringing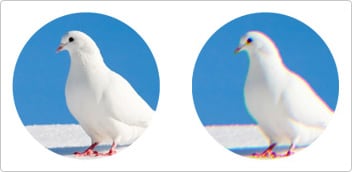 Even though these do not have extra low dispersion (ED) glass lenses that can help further correct chromatic aberrations, I thought that the level of color fringing on the Denali was very minor and as good as many mid rage bins that do use ED glass and equal to my mid range benchmark.
Both were not quite at the level of my alpha 8x42 benchmark, but once again you need to keep in mind that the difference is very slight, bit the cost between the two is huge.
Image Distortions & Blurring
I like that the image on the 8x42 Eagle Optics Denali binocular remained sharp from the center, to right near the edges and the amount of fuzziness right at the edge of the view was very minor.
I also never observed or became aware of any other types of distortions that you can sometimes see and which can make the view look like it is wrapped over a ball, or the opposite with it curving inwards.
Score for Image Quality: 7/10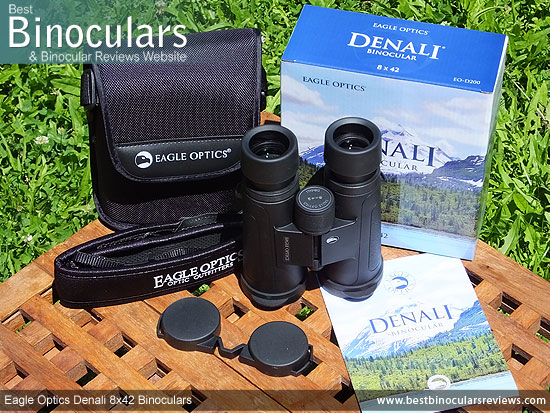 Included Accessories:
These Eagle Optics Denali Binoculars come with the usual array of accessories and whilst mostly not vital to the performance of the instrument, can and do make a difference both the enjoyment and indeed the longevity of your purchase.
Carry Case
Taking everything into account, I would describe the Eagle Optics carry case as being of good quality, but just lacking a few minor details that would elevate it above the crowd:
The soft case is for my liking a little too lightly padded and so whilst it makes for a more lightweight case and will protect the instrument inside from minor knocks, if you were to drop it onto a hard floor, depending on how it lands, I would not be totally confident that the bins inside would survive unscathed.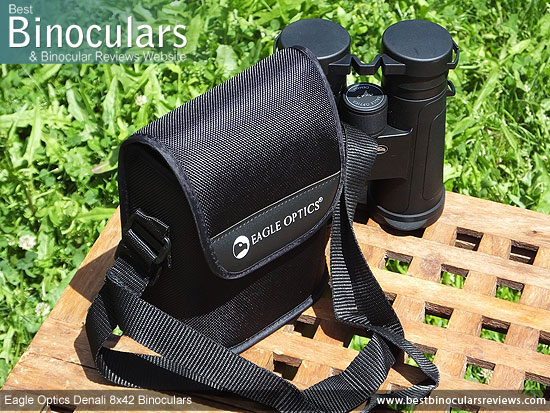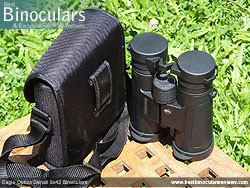 The flip over lid system works well, which combined with the strip of Velcro makes for quick and easy access to your bins when you need them in a hurry. However Velcro is not quite as secure as a clip or buckle and you do need to be a little careful to keep the noise down when opening it if you need to remain stealthy.
The bins have a good fit inside and I like that you can easily replace them with the eye-cups extended, lens covers in place and with the neck strap and still close the lid. This sadly is not always the case and a detail that is often overlooked by manufacturers.
The case comes with a belt loop on the rear and it's own carry strap that is length adjustable which is great, but for me an oversight is the fact that you cannot remove the strap and thus if you thread the case through your belt and carry it on your hip, you still have it flapping about and getting in the way.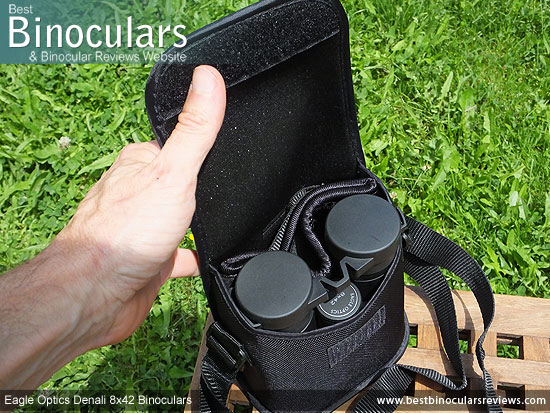 Lens Covers
Both the objective lens and the eyepiece covers are very typical and work well without any sort of issues, but once again just miss a few details or refinements that the best display.
For example, I really like that the objective covers are tethered to the barrels making them always available to return once you have done looking through your bins and whilst the fit of the cover over the end of the barrel is good and I have no complaints there. The just look very generic and a little like an after though. Of course I am being very critical here, but the very best ones fit into the ends of the barrels and thus offer a much cleaner streamlined look and more like a part of the instrument.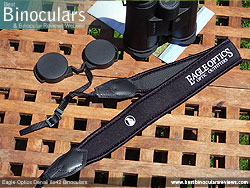 Neck Strap
The neck strap is of good quality and the level and thickness of padding is excellent. I like that it has a neoprene underside with a texture that provides a high level of grip and thus helps prevent the strap from sliding about over your neck and shoulders.
It connects to the binocular in the standard way by threading the thinner nylon cords through the eyelets on each of the barrels and then back through a slider which enables you to adjust the length to suit. It is a slight shame that it does not have quick release clips on the strap that I am seeing more often these days as this makes it much easier to quickly remove the strap should you wish.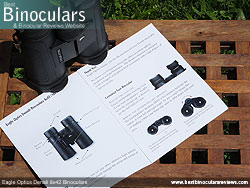 Instructions
The instruction booklet that comes with the Eagle Optics Denali is far superior to most others that are usually nothing more than a few lines on a sheet of paper, so this is nice to see.
Warranty
The Eagle Optics Denali 8x42 Roof Prism Binocular is covered by the Eagle Optics Platinum Protection unlimited, unconditional lifetime warranty which is really great to see.
Cleaning Cloth
Last but by no means least, you also get a cleaning cloth. The quality of which is fairly typical, which means better than some, but a little off that which I would recommend as the only and best way of cleaning your lenses.
So as with the vast majority of my binocular reviews, I would still suggest that you get a cleaning kit for the proper maintenance of your lenses.
Extras Score: 7/10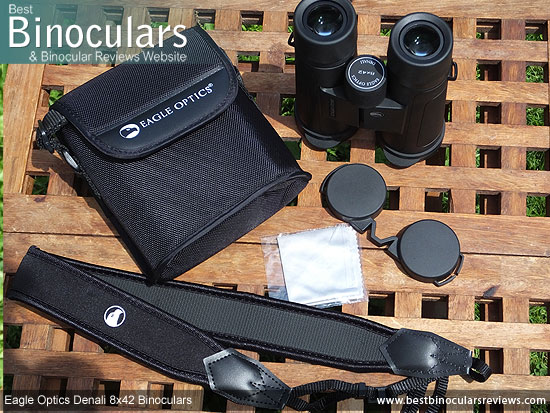 Eagle Optics Denali 8x42 Binocular Comparisons
Review Conclusions:
Overall the new Eagle Optics Denali 8x42 Binoculars looks and feels to be well made and for the most part uses components that are as good as or better than pretty much any other within this price range.
It comes with a closer minimum focus and even more eye-relief than the original, making them an ideal all-round, general use instrument and perfect for the eye-glass wearer:
Strengths:
Below are what I would consider to be the main strengths or features that really stand out on the Eagle Optics Denali 8x42 binoculars especially when compared to others in this size, magnification and price range:
Super large ocular lenses, offer many potential advantages over smaller ones
Very long eye relief - Ideal for those who wear glasses
Good field of view & minimum focus distance, makes them a great all round binocular as you can be scanning the fields one moment, following a bird in a nearby bush the next and then change to examine a nearby dragonfly perched on a lily the very next
Image remains sharp right to the edges and with a low level of color fringing
Quality feel and look to the body. For example the use of metal eye-piece housings is not a given at this price range, so great to see
Excellent smooth focus wheel action
Weaknesses:
Whilst more than adequate and no different to many of it's direct competitors, I just feel that the carry case just lacks a few details that would raise it above most others at this level and bring it more in-line with the actual quality of the instrument.
Ideal Uses
Also more than capable for