Not long ago I wrote a review on what was then Eden Quality's flagship model, the Eden Quality 8x42 ED Binoculars, which I rated very highly. So when I was asked if I wanted to test their new flagship model, the Eden Quality XP 8x42 binoculars, I jumped at the opportunity. The XP has what they say are better coatings, is a little lighter and has a whole host of other improvements, but does not come with ED glass and so should make for a very interesting comparison. Below is my full review of the binocular:
Selected Highlights
Light Weight Carbon fibre reinforced PPS Body
100% water & Fog Proof
Dielectric Phase Correction Coatings on the prisms
BAK-4 Prisms
Eye relief: 18mm
Close focus: 1.2 m (3.9ft)
Wide Field of View: 129m/1000m (387 ft @1000 Yards = 7,4°)
The Body
These 8x42 binoculars feel light when you first pick them up, this is confirmed by the fact that they weigh 23.3ozs (660g), which for a full size binocular is good.
To help achieve this low weight, Eden Quality have used "carbon fibre reinforced PPS" in the construction of the body on the XP. What this means is that the body has been made from Carbon-fibre-reinforced Polyphenylene Sulphide (PPS), which has a low specific weight coupled with high mechanical strength and stiffness. This is an upgrade from the already good magnesium body on the ED Eden Quality binoculars and results in them being 20 grams lighter.
Polyphenylene Sulphide (PPS) - Properties include: Rigid, opaque non-burning continuous use at 250'C, good chemical resistance, good electrical insulator, moisture resistant, rarely used unfilled. Good tensile strength and flexural modulus together with good electrical properties. Glass fibre filled PPS gives good heat distortion whereas carbon fibre filled PPS does this even better with dimensional stability and rigidity as well as a low specific weight.
Apart from this, these roof prism eden binoculars feel well balanced, are comfortable to hold and the focussing wheel was easy to adjust and within easy reach without having to adjust your grip with the binoculars held up to your eyes and I also really like their overall look and feel to them.
The body of the 8x42 Eden Quality XP binoculars is covered in hard, but nicely tactile rubber armoring, which will help to protect the optics from small bumps and knocks and will reduce the sound made from objects, especially metal ones striking against them that could frighten away timid birds or other wildlife.
Their dimensions of 5.7in (14.5cm) x 4.7in (12cm) is about what you would expect for a full sized binocular.
Best Binoculars Rating for Body Stats: 9/10
The Eye Cups
As with most binoculars, the twist-up eyecups seem to be made from metal or a very hard plastic and have fairly thick soft rubber coating on top of them that makes them fairly comfortable even when pushed quite firmly against your face.
The maximum of 18mm of eye-relief is excellent and they easily make it onto my list of long eye relief binoculars and so this should be more than enough for most people who wear glasses to be able use these without having to remove their glasses and still get the full field of view without any without any vignetting.
The twist-up mechanism on the eyecups works well and whilst there are not any fixed intermediate stops (or if there are they are some, they are so feint that it is hard to locate them), you can stop them at almost any point in-between fully extended and fully retracted. This will help people who do wear glasses to get the right amount of eye relief for them, although you have to be careful so as not to move your setting by mistake. Non-eyeglass wearers will just use the eyecups in the fully extended position.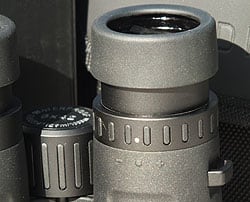 Focusing
The central focussing wheel on the 8x42 Eden Quality XP looks to be made from a hard plastic and has a number of hard rubber ridges on it to help with grip. It turns very smoothly, is easy to reach without changing your grip and takes only 1 turn to go from infinity to it's closest focusing distance of 1.2 m (3.9ft).
This means that focusing from near to far (or vise versa) is very quick, but it can make fine tuning your focus a little trickier than binoculars that have a less aggressive mechanism.
Diopter Adjustment
Unlike the ED version that has the diopter adjustment on the focusing wheel, these XP binoculars have them on the right barrel near the eyepiece, where they are found on must binoculars. For those who don't know, it allows you to adjust the lenses separately to allow for differences in each of your eyes and plays an important part in correctly setting up & focusing your binoculars.
On the pair that I was testing, the diopter adjustment ring was just tight enough to prevent it from easily being moved accidentally and there are markings on both the barrel and diopter ring so you can easily see where the neutral point is. If the setting for your eyesight is not exactly neutral, you may want to make a small mark on the barrel to help you should it move accidentally or if you need to share your binoculars with someone else.
Waterproof & Fogproof
These 8x42 Eden Quality XP binoculars are 100% waterproof which not only protects them from moisture, but also prevents any dust and other small debris from entering them that could lead to your view being spoilt.
The air inside of the binocular has also been replaced with nitrogen gas during the manufacturing process which makes it possible to use the binoculars in places where there are very low temperatures, high humidity levels or rapid temperature changes without the risk of any condensation forming on the inside the binocular. A side benefit of this is that it will protect their inner workings from corrosion.
Best Binoculars Rating for Body Construction Quality: 7/10
Eden Quality XP Optics
As you would expect to find on any good quality roof prism binocular, Eden Optics use higher spec BaK-4 prisms on these XP's as opposed to the cheaper and inferior BK-7 prisms. As well as this these prisms also have a number of coatings that help to increase their transmittance.
Lens & Prism Coatings
Eden Quality say that they have managed to produce a sharper and clearer image (10% more light transmission) than what you get from their 8x42 ED Binoculars. This is mostly down to the addition of special dielectric as well as phase-correction coatings on the roof prisms.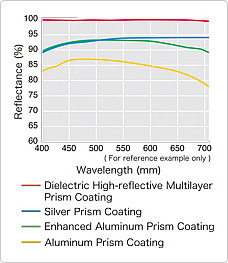 Dielectric coatings
Whilst the roof prism design has many advantages over the porro prism design, it does have one major problem in that one surface of the prism does not have total internal reflection. Therefore to get the best optical performance it is very important for to raise the reflectivity of this surface and to do this, a mirror coating is used on those surfaces. On most lower quality optics, an aluminum mirror coating is used that has a reflectivity of 87% to 93%. Better quality optics will use a silver mirror coating (reflectivity of 95% to 98%). But the best optics use a dielectric coating rather than a metallic mirror coating. This causes the prism surfaces to act as a dielectric mirror which increases reflectivity from the prism surfaces by acting as a distributed Bragg reflector. A well-designed dielectric coating can provide a reflectivity of more than 99% across the visible light spectrum. This reflectivity is much improved compared to either an aluminum or silver mirror coating and this technique provides almost the same brightness as that perceived by the naked eye, and clear, high-contrast images that display accurate color reproduction.
The Phase Correction Coatings on the prism glass help to keep the light in correct color phases and produces images that have better contrast, a higher resolution and have a better color reproduction.
What these binoculars don't have are lenses that use extra-low dispersion glass (ED). This should in theory mean that they are not quite as good at reducing chromatic aberration (color fringing) as binoculars that use ED glass. Does this play out in reality? Take a look at the section below on Image Quality where I compare them to my control binocular as well as the Eden Quality ED binoculars, which of course do contain ED glass.
Best Binoculars Rating for Optical Components Quality: 8/10
Optical Stats
Field Of View
At 129 metres wide at a distance of 1,000 metres (=387 feet at 1,000 yards, = 7,4°), the field of view for these Eden Quality XP 8x42 binoculars is pretty good, but does fall a little short of some of the very best, for example the Eagle Optics 8x42 Ranger ED Binoculars have a FOV of 425 feet@1000 yards (142m @ 1000m) or 8°. Having said that they do compare very well to other top quality optics, for example the excellent Leica 8x42 Ultravid HD's are only a just wider at 389ft at 1,000 yards.
Close Focusing Distance
The minimum close focusing distance is where these binoculars really excel. At an impressive 3.9 feet (1.2m) their close focus is excellent. So if you are looking for a full size binocular that is also good for viewing objects close up, things like butterflies for example, these Eden Quality XP 8x42 binoculars would make an excellent choice.
Eye-Relief:
Their maximum eye-relief of 18mm is very good and they easily make it onto my list of long eye relief binoculars and so this should be more than enough for most people who wear glasses.
Best Binoculars Rating for Optical Stats: 9/10
Image Quality
As I do for all my reviews, I compared the view through these Eden Quality 8x42 XP binoculars with that of my control binoculars and as I still had them with me, I also compared them to the Eden Quality 8x42 ED binoculars that I still had with me.
Brightness
I conducted these tests on a bright sunny day: Comparing them to my benchmark's, I was able to notice a slight improvement in terms of brightness of the image produced and I therefore describe their image brightness as being very good. Comparing these to the Eden ED's in sunny conditions, I think there was a slight improvement in brightness, but it was really close and difficult to be totally sure.
Colour Fringing
The amount of color fringing (chromatic aberration) around the edges of objects is noticeable, but only if you are really looking for it by looking closely at the edges of light or white coloured objects sitting in front of a dark background. I have seen a lot worse, but this is where the ED glass makes a difference and you could notice the improvement on the Eden Quality 8x42 ED Binoculars.
Softening
Like the ED binocular from Eden Quality, this is another area where these XP binoculars excel as the amount of softening of the image on the periphery of the view is almost none and was far less than my control binocular.
Contrast & Colour Reproduction
The colour reproduction looks and feels natural, unlike the tints you sometimes find on cheaper binoculars. I also thought that contrast of the image was also good and once you have correctly focussed on an object the image is very sharp.
So to sum up, I would say that the overall image produced on these 8x42 XP's is very good, and whilst they do have a little more colour fringing than the ED binocular, they were possibly a little brighter and so would rate them about equal overall.
More about Image Brightness and the 8x42 Configuration
Binoculars with an 8x magnification and 42mm objective lenses are a common choice for most types of bird watching, wildlife observation and make good general use binoculars. This is because they strike a good balance between magnification and field of view, light gathering potential and size.
Good light gathering ability is important because quite often you will find yourself in situations where the lighting is sub-optimal, especially when birding or observing larger wildlife - like thickly wooded or forested areas, early in the morning just before or at sunrise or late afternoon when most birds and other animals are at their most active.
42mm objective lenses are big enough to let in plenty of light, but not so big that they make the binoculars difficult to easily carry about in the field. To explain how this configuration works, all 8x42 binoculars, these have an Exit Pupil of 5.25 and a Twilight Factor of 18.3, which if you compare them to an 8x32 setup for example, which has an exit pupil of 4 and a twilight factor of 16, it shows that the increased objective lens diameter will gather more light and make it possible for the binoculars to transmit more light.
For most uses, but especially birding, a wide field of view is also important, or at the very least is "desired". This is because it really helps you to quickly locate small, erratic and fast moving objects like birds and keep them within your "field of view".
If we compare them to a 10x42 binocular, that has a smaller exit pupil of 4.2mm, but do have a better twilight factor of 20.5 and therefore should show better detail in dim light. They will however most probably have a narrower field of view than an 8x42 and that is why, especially for birding an 8x magnification is often (not always) preferred to a 10x. There is also the point to remember that to make more powerful magnifications, thicker glass is needed and the thicker the glass, the less light that is transmitted through it.
These potential of a binocular is always good to look at, but it is also important to remember though that these figures do not take into account the transmittance or quality of the optical system, which is as important, if not even more so. The performance of a pair of optics in poor light also depends a lot on the quality of the glass and optical coatings and not just the exit pupil and twilight factor formula. Good coatings on the lenses and the prisms can double the amount of light that gets through the binocular, when compared to those that have none or poor quality coatings and as we have already discovered these Eden Quality binoculars use pretty good quality glass as well as coatings.
Best Binoculars Rating for Image Quality: 8/10
8x42 Eden Quality XP Comparisons
Whilst it may not be completely fair to compare a mid-priced binocular like these Eden ED's with ones that are far more expensive, it can sometimes highlight their strengths and weaknesses. Below is a table comparing it with a range of other full size binoculars with magnifications of 8x. The Vortex Viper 8x42 HD, the Minox 8x43 HG Binoculars, the Kowa 8x42 BD , the Eagle Optics Ranger 8x42 ED and the Eden Optics 8x42 ED.
| | | | | | | |
| --- | --- | --- | --- | --- | --- | --- |
| | Eden 8x42 XP | Eden 8x42 ED | Eagle Optics Ranger 8x42 ED | Vortex Viper 8x42 HD | Minox 8x43 HG | Kowa 8x42 BD |
| Price (approx): | £250 | £250 | $440 | $450 | $1100 (£640) | $550 (£590) |
| Weight: | 23.3ozs (660g) | 24.0ozs (680g) | 27.4oz (777g) | 24.2oz (686g) | 22.9ozs (649g) | 25.7ozs (729g) |
| Length: | 5.7in (14.5cm) | 5.5in (14cm) | 6.7in (17cm) | 5.8in (14.7cm) | 6.0in (15.2cm) | 5.7in (14.5cm) |
| Width: | 4.7in (12cm) | 4.3in (10.9cm) | 5.0in (12.7cm) | 5.3in (13.5cm) | 5.1in (13cm) | 5.0in (12.7cm) |
| Eye Relief: | 18mm | 17.2mm | 18mm | 20mm | 19.5mm | 18.3mm |
| Close Focusing Distance: | 3.9ft | 11.5ft | 6.0ft | 5.1ft | 8.2ft | 6.5ft |
| Field of View at 1000yds: | 387ft | 426ft | 425ft | 347ft | 379ft | 330ft |
| ED Glass | No | Yes | Yes | Yes | No | No |
| Phase Correction | Yes | Yes | Yes | Yes | Yes | Yes |
| Lens Coatings | Fully Multi-Coated | Fully Multi-Coated | Fully Multi-Coated | Fully Multi-Coated | Fully Multi-Coated | Fully Multi-Coated |
| Waterproof | Yes | Yes | Yes | Yes | Yes | Yes |
| Fogproof | Yes | Yes | Yes | Yes | Yes | Yes |
What this does show is that even though these Eden Quality binoculars are a lot cheaper than some on this list, they can compete and even beat them in some areas. As you can see strong points for are it's very close minimum focusing distance, pretty low weight and even though it's field of view is not as wide as the Eden ED version, it still compares very well to the others on the table.
Main Differences between the Eden Quality XP and the ED 8x42 binoculars
Sharper and clearer image (10% more light transmission) thanks to the addition of special dielectric and phase-correction coatings on the prisms (The Eden Quality ED binocular uses silver coatings).
Despite no ED glass on the XP, it has a really clear, bright image, but there is slightly more colour fringing along the edges of the image than the ED 8x42 binoculars
XP is 20 grams lighter which is mainly down to the high-quality PPS body
Accessories are better quality on the XP (carry case and carry strap)
Better close focus distance on the XP (1.2 metres instead of 3.5 metres)
Slightly narrower field of view (129 metres as opposed to 142 metres at 1,000 metres on the ED version)
Included Extras & Attention to Detail:
Carry Case
The black soft nylon carry case is indeed an improvement on the case that comes with the ED version. It looks to be pretty well made and whilst it is still pretty lightly padded, it should be enough for most normal uses. On the back there is a loop that enables you to attach the case to a belt and I liked the extra front pocket that is useful for storing thinks like lens cleaning cloths, some money or even your car keys. Whilst the binoculars fit very snugly into the case, if the eye-cups are fully extended with the eye-piece covers on them, you cannot close the lid of the case. This is small thing, but does get a little annoying as you have to remember to retract the eyecups every time you want to store the binoculars in the case.
Neck Strap
The black neck strap is well padded and slightly curved which helps it to sit better on your neck and therefore is very comfortable. It is more than adequate, better than the Eden Quality ED 8x42, but is not quite as deluxe as the very best.
Lens Covers
The eye-piece covers are made from a flexible plastic and they fit very well to the eye-pieces and should not accidentally fall off. I like the fact that they have a flexible bridge between the two cups that allow for the different distances between the two eyepieces depending on your inter-pupillary adjustment. This is something that is often overlooked by manufacturers meaning that the eyepiece covers wont fit, unless you store your binoculars fully open, which can be a real pain as you have to adjust them every time you use and replace your binoculars.
The objective lens covers are also made from a soft rubber and also fit very well to the barrels of the binocular and should not accidentally fall off. A feature that I really like is that they have a rubber loop that attaches them to the barrels of the binocular which saves you from having to put them somewhere safe every time you use your binoculars. If like some people, you don't like to have the lens caps hanging down from your binos when you are using them, you can just take them off and put them away.
A lens cleaning cloth is also supplied as well and they come with a 25 year warranty on material and construction defects.
Tripod Adaptable
There is a small cover or cap on the front of the central pivoting point that screws off. This allows you to then screw on a binocular tripod adapter (not included) that uses the standard ¼-inch threading, which you can then attach to your tripod.
Best Binoculars Rating for Extras & Attention to Detail: 7/10
Conclusion
Strong Points: The features that really stand out with these binoculars are their very close minimum focussing distance and their use of some good quality optical components that equate to a very good quality image. Which is even more remarkable when you consider their price.
Weak points? These binoculars don't have any real bad points to them, it is just a pity their field of view is not as wide as the ED version.
Ideal Uses: Like most 8x42 binoculars, they are ideal birding binoculars and because of their very close minimum focussing distance, they will also appeal to those who are looking for a full sized binocular to view things like flowers, butterflies, dragonflies and other insects really close up. They will also be great for general wildlife observation, hunting and because they don't have any really weak points they would also make a good all-round general use binocular.
Whilst you could take these Eden Quality XP binoculars on a camping trip, on safari or to an outdoor sporting event, if one of these are going to be your main use for them, I would suggest perhaps getting some compact or mid-sized pair of binoculars that will be easier to put in your bag or luggage.
Price & where to buy
Because Eden Quality products is the store brand of KATO Group, you can only buy this brand at the the KATO Group webshops. Because they only sell directly to their customers, their binoculars can be offered at very competitive prices, with this model available for around £250. For UK customers, the Webshop can be reached using the following link: http://www.edenwebshops.co.uk/en/ct/binoculars.htm