Rather like the full size Farlux Selector D 8.5x45 binoculars that I recently reviewed, these compact Eschenbach Farlux F 10x28 B binoculars also come in a great looking display box and whilst this may not mean much to many, it does show that Eschenbach have not overlooked any details on the flagship Farlux range.
Eschenbach Farlux Optics
For a compact binocular, the view through this 10x28 Eschenbach is very impressive. I could not see any colour fringing and there was only a small hint of softening of the image on the periphery of the view, but no more than any binocular in this class. As a result the image was very sharp as well as really bright.
Carefully comparing the view through them to my "control" pair of Steiner 10x26 Wildlife binoculars and one of my favorite compact's, I could notice that the Eschenbach Farlux F 10x28 B Binoculars are brighter, which is impressive even though the Steiner's have slightly smaller objective lenses.
There are many factors that combine to produce the final image brightness and clarity in a pair of optics. These include the size of the objective lens, quality of glass, their coatings and the physical assembly and quality of the prisms. So let's take a look a what these Eschenbach farlux binoculars have that help to produce such an excellent quality image:
First there are the 28mm diameter objective lenses, which I really like. These binoculars are still very compact and holding them in your hands you can't really feel the difference between a more "standard" 26mm compact and these. But due to their larger size, they will let more light into the system, they have an Exit Pupil of 2.8, which for a 10x compact is pretty good.
Lens & Prism Coatings
The 10x28 Farlux's use BaK-4 roof prisms which means that not only are they are made of superior optical glass that produce clearer images. As well as this the prisms have a Phase-correction coating that basically helps to reduce the phase shift of light that is caused by phase differences arising from total light reflection on a roof surface. This Phase-correction coating therefore reduces the loss of image resolution maintaining high-contrast images and is found only in high end roof prism binoculars. Eschenbach also use a high reflection coating on the roof prism that further reduces the amount of light lost within the system.
Eschenbach use their own special "naturebright" coating on their lenses that they say deliver "an exceptional true-to-life, colour-accurate and bright image" and going by my experience with them, I cannot argue against it.
The Main Body
Weighing just 9.2 oz (260g) and apart from the excellent Leica 10x25 Trinovid Binoculars, they are the lightest binoculars I have ever reviewed, which considering that these Eschenbach Farlux's have larger 28mm objective lenses is very impressive.
The dimensions (4.3x4.1x1.3in / 109x105x32mm) of the Farlux 10x28 makes them as small as most compacts, but with their double hinges, their width goes from 105mm (4.1in) when fully extended to a tiny 70mm (2.8in) when folded. This makes them easily small enough to slip into your pocket and therefore ideal for taking with you wherever you go and perfect on something like a walking safari when want to keep your hands free for carrying something like a camera as well.
I really like the way the Eschenbach Farlux 10x28 B Silver Binoculars feel in your hands and despite that they are very lightweight, they have a really solid feel to them that reminds you that these are quality binoculars. As far as compacts go, they really well balanced and I love the tactile rubber armour that surrounds the barrels that will not only make them more secure to hold in all weather conditions, but helps to protect the binocular from any bumps and scratches that come with day to day usage as well as dampening down any noise from something bumping against them. To many this may not seem important, but sometimes any metallic sound could easily frighten away skittish birds and other wildlife and is something that I often accidentally do with my wedding ring!
Focusing
To focus the binocular, you use the small central focusing wheel that is both smooth and accurate and takes one and a quarter turns to go from infinity to it's closest focusing distance of 4m (13.1ft). The diopter adjustment that allows you to adjust the lenses separately to allow for differences each of your eyes and plays an important part in correctly focusing your binoculars is on the right barrel. The ring is notched and clicks into each setting, which will help prevent it from being accidentally being moved.
Waterproof
The nitrogen-filled body of the Eschenbach Farlux F 10x28 B binocular means that they are fully waterproof as well as fogproof as the nitrogen prevents the interior optical surfaces from fogging up due to rapid temperature changes or in areas that have high humidity.
The Eye Cups
The 10x28 Farlux has twist out eyecups, that can be stopped at a number of points from being flush against the eyepiece, to fully extended. So for non-eyeglass wearers, you just use the eyecups in the extended position, whilst eyeglass wearers can either use them fully retracted or at any of the other points depending on your glasses. The manufacturers do not state the official amount of eye-relief, but compared to other compacts that I have reviewed, there should be more than enough for most people who wear glasses.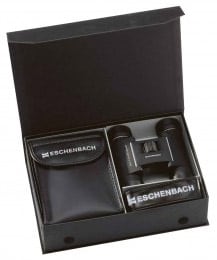 Also Included
I do like the black display case and the soft leather carry case is of good quality as is the comfortable neck strap. The lens caps fit well and should not accidentally fall off which is good as the objective lens ones cannot be tethered in anyway to the binoculars or straps.
Stats
Their Field of view at 1000m is 86m, which for a 10x compact binocular is not bad, but does fall short of the best binoculars like the Swarovski Pocket 10x25 B Binoculars
(95m at 1000m).
Close focusing distance is 4 meters (13.1ft), which is a little on the far side, the very best have a near focusing distance of between 6 and 9 feet.
They have an Exit Pupil of 2.8 and a Twilight Factor of 16.7, both of which point to the fact that if you compare them to full size binoculars they are not ideal for poor light conditions, but remember they will be much better than no binoculars at all and that is what compacts are about - taking them with you where ever you go.
Conclusion
Make no mistake these are quality compact binoculars with most of the features you look for in high end optics. Priced at around $350-$400 (£270) they are about half the price of the ultimate binoculars like the Swarovski Pocket 10x25 B Binoculars and cheaper than the high end Leica 10x25 Trinovid Binoculars. So if you can't afford the budget breaking Swarovski's, perhaps the next step down is just what you are looking for.
Overall they are highly recommended, the larger objective lenses and 10x magnification makes them ideal for wildlife observation and as they are tough, waterproof and very compact I highly recommend them as a safari binocular, one to take camping, or indeed anywhere you go.