A very high-end, top specification binocular made in Japan from a company that for most will need no introduction due to their long history in producing cameras and lenses: When Fujinon asked if I would like to try out a pair from their flagship hyper-clarity series, I of course jumped at the opportunity.
Fujinon HC Binoculars
Available in either an 8x42 or 10x42 configuration, I decided to go with the 8x42 model as they generally tend to be a little more versatile and are often very good all-rounders, but which are especially good for uses like mid-to-close range wildlife observation and birdwatching. This is for a number of reasons, but mainly because the 8x magnification and 42mm objective lenses combine well to produce a relatively small and easy to carry instrument that provided a decent level of image detail, wide field of view and so long as the optics are up to it, a good image quality, and low light performance.
At the time of writing this, I have now spent a few weeks with them testing and using them in my office, out in the garden, and then out on longer walks and below are my full thoughts and opinions:
Fujinon HC 8x42 Binocular Review
Contents:
ED (Extra Low Dispersion) Glass Elements
Phase Corrected Schmidt-Pechan Roof Prisms
Dielectric Reflection Coatings
Fujinon Super ECB Multi-Coatings
Water Repellent Exterior Coatings
The Body
Design
Whilst the underlying shape of this instrument is that of a modern roof prism binocular, the Fujinon HC binocular most certainly has its own unique design and look to it which is something that I really appreciate as it is an element that I see less and less of in this modern world.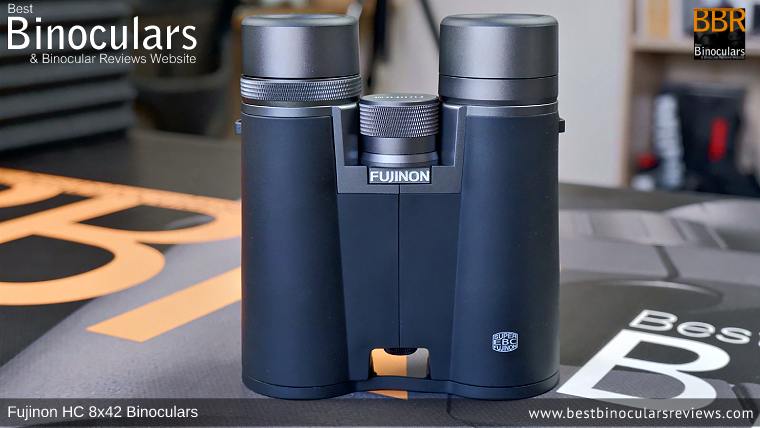 Whilst the overarching design is very sleek and to a degree modern looking, I also feel that there is an element of a quality, classic camera feel to them, which from a company like Fujinon I suppose is to be somewhat expected and I would not be at all surprised to lean that the designer(s) are the same as those who also work on their cameras and camera lenses.
Rubber Armouring
Very much a part of this sleek look is down to the way that the smooth black rubber armor that covers the majority of the chassis compliments the brushed aluminum areas around the eyepieces and focus wheel.
On the scale of what I see being used, the rubber on the Fujinon HC binoculars is certainly on the hard and thin end of the scale. This gives them a nice look, but at the same time probably does not offer as much impact protection as a thicker softer rubber jacket.
The fact that it also has a very smooth finish to also certainly adds to the good looks, but once again, on the flip side, it also results in there being a little less grip than which you find on softer rubbers with a more textured finish.
Chassis
According to the information I received from Fujinon when I asked, the chassis is primarily made from polycarbonate and not something like magnesium of aluminium, which considering how relatively heavy the HC is, is somewhat surprising to me. Update: Strike that, I have just discovered some more information on the HC series and as suspected it confirms that they have a magnesium-alloy body, which to me makes far more sense when you consider the weight of the instrument.
As you would expect at this level, the both the 8x42 and 10x42 Fujinon HC binoculars are fully sealed making them waterproof. The internal air has also been replaced with moistureless nitrogen gas to prevent the internal glass surfaces from misting up.
Bridge, Hinge & Interpupillary Distance Adjustment (IPD)
The Fujinon HC has a single bridge/hinge connecting the two barrels. It is relatively wide, spans much of the length of the two barrels and feels very robust and therefore as a result I imagine it would take a considerable force to knock them out of alignment.
Opening and closing the hinge is as you would expect nice and smooth and there is a good level of resistance, meaning that it is not too loose, which can be very annoying as it results on the eyepiece never staying at the distance apart that you want (see IPD setting below). It is also not so tight so as to make adjusting the IPD setting difficult.
By opening and closing the hinge you obviously adjust the distance between the two eye-pieces so that it matches the distance between your eyes. These Fujinon HC 8x42 binoculars have a IPD range of 5.7cm up to 7.6cm, which is fairly typical for a full sized roof prism binocular and thus should be able to accommodate most users.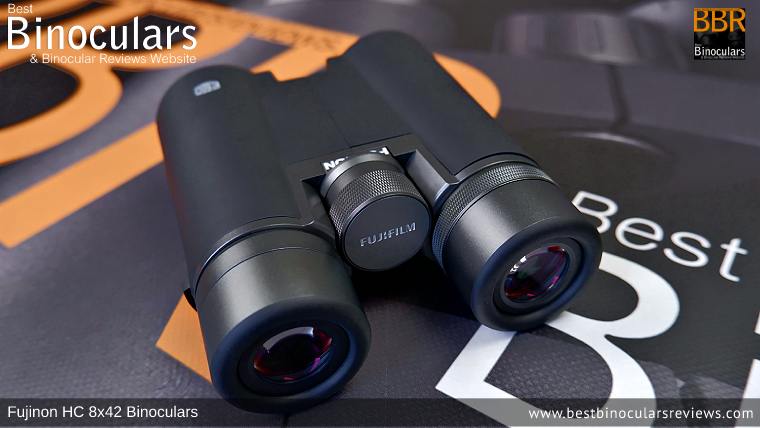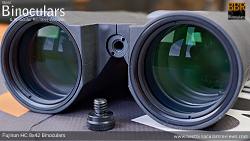 Tripod Adaptable
As is most often the case, the dust-cap on the front of the hinge can be unscrewed and will then accept a standard tripod adapter.
What is more, because this thread is so near the front of the Fujinon HC and not nestled in between the barrels, it means you need not worry about the width of the tripod adapter and it not fitting in between the barrels as is sometimes the case.
Eyepiece Housings & Eyecups
The twist-up/down eye-cups on my sample 8x42 Fujinon HC binoculars were excellent and for those who are interested, like much/all of the rest of the body and its parts, I am sure Fuji use exactly the same on the 10x42 version.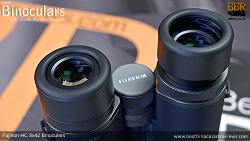 The eyepiece housings look to me to me made from metal and not plastic, which apart from looking better and feeling superior, this is very often the part of a binocular that gets damaged when dropped and thus having this area be as tough as possible is important.
The twist-up and down mechanism the eyecups is also excellent, being nice and smooth and with a very limited amount of free play or wobbling at the click stop positions.
Speaking of which, there is one intermediate click-stop which is good as it offers a good level of customization. However with the long 18mm of eye-relief, I feel they could have added another intermediate click stop, to give the user more options to get the perfect distance behind the oculars to take in the full field of view, with or without glasses.
Having said that, I personally did not need any more micro-adjustments as they worked perfectly for me at the maximum setting (fully twisted out) without glasses and then the minimum setting (fully twisted in) with glasses.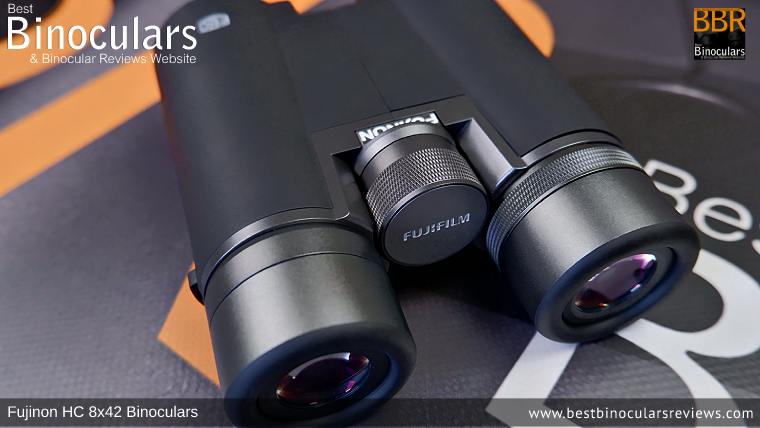 Focus Wheel
I am going to say this straight off the bat: I love the focus wheel on these Fujinon HC 8x42 binoculars!
Firstly unlike the majority of instruments Fujinon has used metal and not plastic in much of their construction. In terms of strength this is not necessary, but it just looks, feels and in many cases works much better than a plastic wheel.
I really like the minimalist and very classy Fujifilm logo on the silver colored faceplate on the focus wheel, but here I just wish that they had used a metal rather than plastic and whist I know it wouldn't improve performance, would have added a little more weight to the instrument and it really does not need to be stronger, but this would then really have made the focus wheel stand out from the crowd.
The diamond etched track provides an excellent level of grip, which during normal use, is not of massive importance, but in winter when wearing thick gloves it becomes far more than just simply a nice feature to have.
At 3cm in diameter, it is a relatively large wheel, but it's depth is only 1.7cm and even then, the track is just 1.2cm wide, which is one area where I think style has taken a slight precedent over function as a wider track would just give you a little more surface are to work with when wearing gloves. But this me being extremely picky here and really nothing to be overly concerned with unless you live in the Arctic or something and are going to be using them with thick gloves most of the time.
Focusing
The wheel on my sample was extremely smooth to turn throughout the whole range and there were no tight or loose sections as it can be extremely annoying to have a sloppy and inaccurate focus mechanism.
For me it also had exactly the right balance in terms of resistance to movement which enabled me to make turning the wheel easy enough just with the tip of my finger, but at the same time would not move out of focus if you were to accidentally touch it.
The gearing on the focus mechanism on these Fujinon HC 8x42 binoculars is very interesting: It takes a full 3 ¼ turns (1125°) to take the focus from one extreme to the other, which is far more than the majority of binos I have tested (usually between 1 and 2 turns). Indeed unless my memory is failing (which is possible!), this is the lowest geared focus mechanism I have ever come across on a binocular and is similar to what you get on a spotting scope.
So how does this affect things?
Well, on the negative side, because there is more turning to be made, it takes longer to make large focal adjustments and thus if you are viewing an eagle perched on a distance tree want to observe a nearby dragonfly sitting on a lily pad, there is a greater possibility of it flying off before you can get the image in focus than if it had more aggressive gearing.
However, on the positive side, the combination of this very low gearing and the silky smooth mechanism enable you to make extremely fine adjustments on the HC with ease and so if that dragonfly does remain on the leaf, you can really dial in the focus and get it 100% sharp for an incredible view.
Which is best obviously depends on the circumstances at that moment in time, but I have to say, I really do like the control that you get on this binocular and for me the extra time it takes is far, far preferable to having an overly aggressive focus wheel that is sloppy and thus can at certain distance be impossible to get the image 100% sharp, which I have had in the past.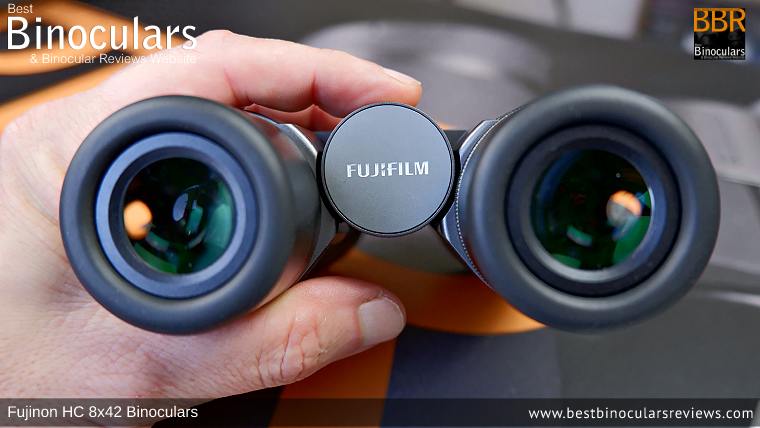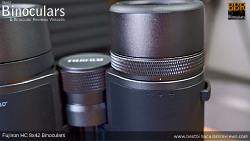 Diopter Adjustment
Matching the diamond etching on the focus wheel, the diopter adjustment ring is made from metal and once again, this just feels and looks better than the majority that use plastic.
Used to calibrate your binoculars to your vision by off-setting the focus on just one eye, to set the Dioptre, which in theory only needs to be done very infrequently, the diopter ring is relatively thin and has a tight mechanism, both of which help prevent unintentional movement.
This works well enough, but it would have been even better if Fiji had made the diopter lockable a feature you sometimes see on high-end binoculars like these.
Note: the diopter correction range (dpt) on these is +/- 4 which is very good.
Rating for Body Construction Quality: 8/10
Weight
Weighing in at 27.7 oz / 786g, you can see from the comparison table below that these Fujinon binoculars are amongst the heavier 42mm binoculars that I have used, tested or reviewed.
What makes this more interesting and somewhat perplexing is that Fujinon told me that the chassis was made out of Polycarbonate and not Magnesium or Aluminium when I asked. Usually this makes a binocular more lightweight. So either they were incorrect in telling me this, or perhaps Fuji uses more metal in the auxiliary parts than others, which could actually be a good thing. Glass is also heavy and this perhaps the makeup of their lenses uses more elements than some others or perhaps it is a combination of all of the above.
Update: I have just discovered some additional information on the HC series and as suspected it confirms that they use a magnesium-alloy body, which to me makes far more sense when you consider the weight of the instrument.
Either way, unless you specifically require your full-sized binocular to be as lightweight as possible, I wouldn't make too much of this as the actual difference is actually not that massive and I found I only really noticed it when comparing them to much more lightweight alternatives.
I also often find that a little extra weight can give a pair of binoculars a little more substance to them, making them more stable to hold as well as making you feel like you have a high-quality set in your hands, which is exactly what I found using these Fuji HC 8x42 binoculars, so for me this was a non issue, but it may be something to keep in mind if you are very concerned with weight.
Dimensions
In terms of their outer dimensions, as you can see from the table above, these Pentax HC binoculars are pretty typical for a 42mm roof prism binocular, so there is not too much extra for me to add here.
BBR Body Stats Score (compared to Standard Sized Bins): 8/10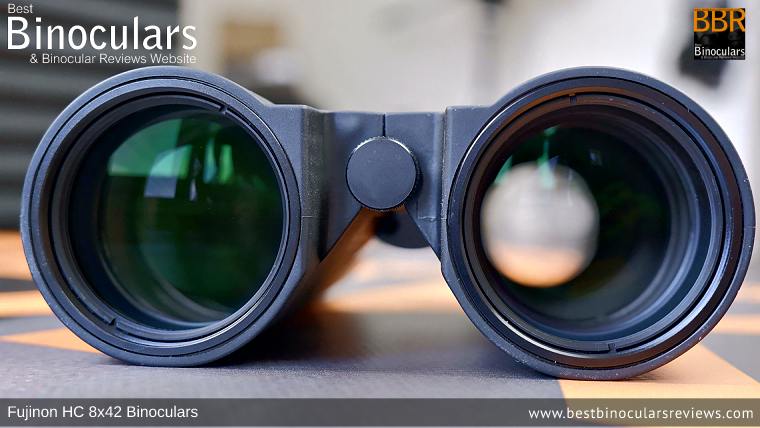 Optics
Fujinon have an excellent diagram depicting the optical components and the coatings used on their HC series binoculars which perfectly illustrates what I am going to go over in this section and so I really hope they don't mind be using it:.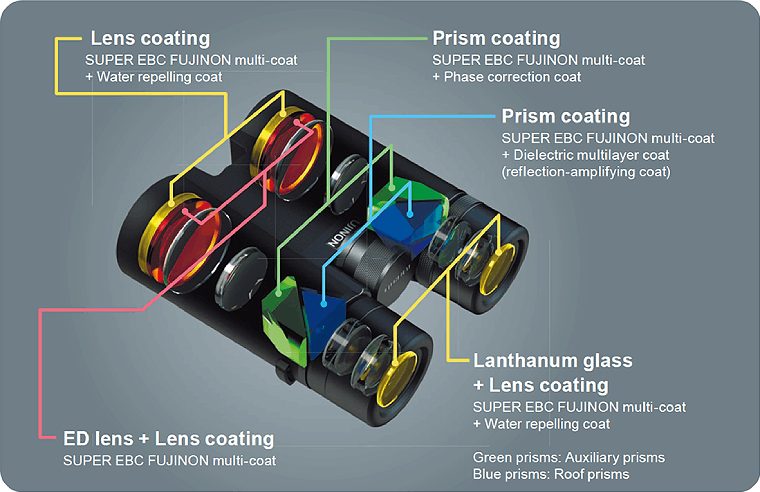 Objective Lenses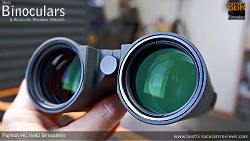 Each objective lens consists of four separate lens elements arranged into three groups. At 42mm in diameter, the exterior lens is the most commonly used size for a standard, full-sized binocular as this is often seen as the sweet spot between having enough surface area in order to "collect" light, but at the same time not being so large as to make the instrument to large and unwieldy, although I have to say, in recent times I have seen a trend developing towards the use of larger lenses (45mm and even 50mm) for this size class.
Optical Filters
Also note that like many camera lenses, the inside ends of the barrels on these 8x42 and the 10x42 Fujinon HC binoculars are threaded (M46x0.75) and thus will accept optical filters such as PL filters and nebula filters.
ED Glass Elements
By incorporating elements within the objective lenses that have extra-low dispersion properties, there is the potential for a reduction in chromatic aberrations and thus the binoculars that utilize could offer up an image that exhibits less color fringing around the edges of highly contrasting objects.

Now, I have said this many times, but by just simply using ED (extra-low dispersion) glass in the lenses does not guarantee that there will be less color fringing as there are many other factors to take into account and thus not only is the quality of the ED glass and other elements important, but the whole optical pathway needs to be designed with this in mind, and so as a result, I have reviewed many well designed non-ED glass binoculars, that perform as well as less well made ED glass instruments.
But the important point to mention here is that the potential is there and you can read just how well I thought these actually performed in this area in the Image Quality section below.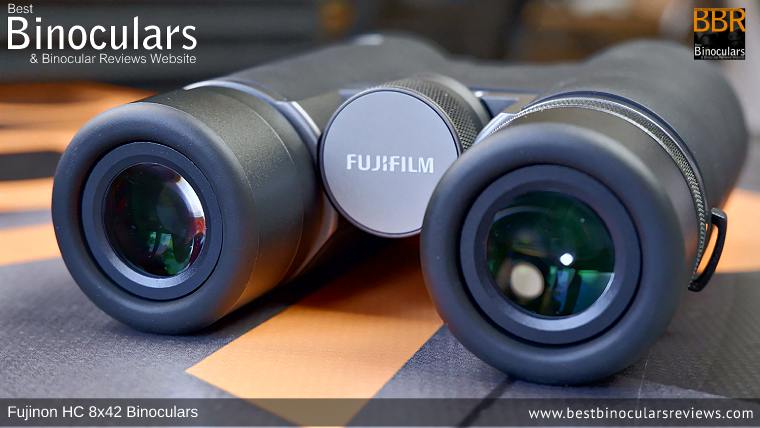 Ocular Lenses
As you can see from the illustration, like the objective lenses, each ocular lens system is made up of a number of elements, but as usual Fujinon do not go into specifics in this area. However, and for those who are interested, I did manage to find out from them that they are constituted of five lenses in four groups.
I also measured the outer element on these lenses at 22mm in diameter, which for is a good, but typical size for a full-sized instrument. As well as the potential of a better image resolution, larger ocular lenses make it easier to line your eyes up with and can potentially offer several other benefits. For more see: Ocular lens size in binoculars.
Also interesting is the fact that Fujinon labels the outer elements of the oculars as being made from Lanthanum glass which is something I have seen crop up a few times on other higher end instruments. Now, I must confess to not knowing too much about it and what specific advantages it brings to the table, but I have read that Lanthanum has the opposite effect to ED glass in that it increases the dispersion properties of glass.
This means that the lens does not need to be as curved (less grinding needed) to achieve the same focal length, this is not advantageous in an objective lens, but it is in eyepieces where the focal lengths are short. I have also read that this means that it could have the advantage of producing a wider FOV with improved sharpness at the edges and perhaps less spherical aberrations.
However, if Lanthanum glass does increase dispersion, the lens designers would also need to allow for and make corrections for the additional dispersion of each of the wavelengths of color as they pass through this glass.
Anyway, that is what I have managed to unearth so far and you will read later on I pay particular attention to these areas in the Image Quality section of the review below. Also if anyone has any more to add or correct me, I would love to hear from you.
Prisms
Fujinon HC binoculars use roof prisms and more specifically, the Schmidt-Pechan design of roof prism to correct the inverted image produced as the light passes through the lenses. This is the currently the most common design of prism found in binoculars, so not much more to add here, other than to say that I managed to find out that the Daha prism uses BaK-4 glass (blue prism in the illustration above) whilst the Auxiliary prism uses E-FD5 glass (green).
Optical Coatings
The list and composition of optical coatings used on these Fujinon binoculars is impressive and for me, these are amongst the most important features of what to look for when buying binoculars: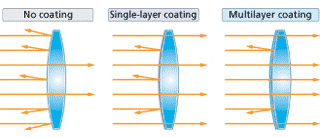 Anti-Reflection Coatings
Fujinon's EBC coatings are essentially their version of anti-reflection coatings and so what is first and most important to highlight here is that they have added multiple layers of this material to all light-transmitting surfaces including the lens elements and prisms, meaning that the HC series is Fully Multi-Coated.
Some binoculars are described as being "Multi-Coated", which even though it looks similar, it means that only some of the lens surfaces (usually first and last) are treated with anti-reflection coatings which costs a lot less to produce. Now for most of the top optics manufacturers, exactly what they use is their "secret sauce" and thus it stands to reason not all anti-reflection coatings are equal, but even so in my experience the difference between being multi-coated and full multi-coated makes a huge difference to the brightness and quality of the view.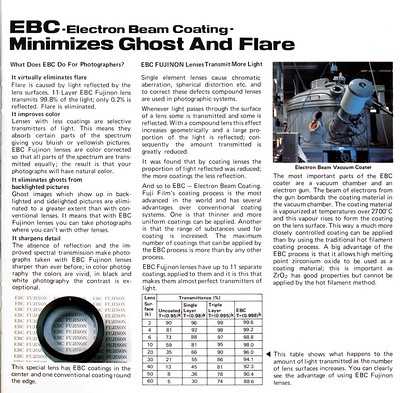 Super EBC Fujinon multi-coatings
As I mentioned earlier, exactly what a company uses and how it is added is usually kept secret, indeed when I visited the Steiner facility in Germany a few years back, this was one area of the factory where I was not permitted to take as many photos as I wished and not all of my questions could be answered!
However, as Fujinon have been using their EBC coatings on their camera lenses for many years (see the article on the right taken from a 1970's EBC Fujinon Lenses brochure), there is much more information floating about, although do keep in mind and as Fujinon pointed out to me whilst the application and materials are basically the same, their technologies and results have been improved year by year.
Either way, I think the article is interesting to read and the important points to keep in mind is that these coatings reduce unwanted light reflections and thus eliminates ghosting, reduces lens flare, sharpens the image and enables the lenses to transmit more light for a brighter image.
Phase Correction Coatings
As well s the EBC coatings, the prisms used in this Fujinon 8x42 HC binocular and indeed the 10x42 version have also been coated with a material that corrects something known as phase shift which affects the individual wavelengths of light as they pass through a roof prism.
The result is compared to untreated roof prism binoculars, these should deliver higher-definition images with improved contrast when compared to instruments that don't have these phase-corrected roof prisms, which at this price range is sometimes the case.
Mirror Coatings
Then in addition to all of this, and in order to improve the amount of light that the roof prism transmits, most good quality binoculars will have some sort of highly reflective mirror coating added to the surface that does not transmit 100% of the incident light.
Here the least expensive and least effective option (but still better than nothing) is an aluminum mirror that raises the reflectivity to around 93%. Better still, but costing more are silver mirror coated prisms that can get the transmittance levels to between 95% and 98%.
However the best high-end instruments like these go further and use special dielectric coatings that are able to raise the reflectance to more than 99% of the incident light.
Exterior Lens Coatings
The outer lens surfaces also have extra coatings added to them that have water repellent properties to it. This allows raindrops to just roll off them and thus help to maintain a better view even in really bad weather. As well as this, these coatings also help reduce water stains on the lenses and thus helps keep them cleaner for longer, which means less frequent cleaning is required. Finally, it also results in having to use less force, when you do need to clean them, which in turn reduces the chance of scratching the glass or its coatings.
Optics Comparisons
Optical Components Quality Rating: 9/10
Optical Stats
Whilst the size and weight are the most obvious differences between the 8x56 and these Fujinon HC 8x42 Binoculars, for me, it is the difference in their optical stats and how it relates to the final image you see that is the most interesting:
Field Of View (FOV)
A real highlight on these binoculars and something that is sure to please most birders, wildlife observers and indeed anyone wanting to be able to quickly locate and then follow fast or erratic moving objects is the very wide field of view you get when looking through the Fujinon HC 8x42 binoculars:
Measuring 136 meters wide at a distance of 1000 meters (408ft at 1,000 yards), these are what I would describe as wide-angle binoculars and as you can see from the comparison table this ranks them up there with some of the best full-sized 8x instruments out there:
Eye-Relief:
The 18mm of eye-relief on these Fuji binoculars gives you a good amount of room to play with, which combined with the twist-up eye-cups means there is plenty of flexibility to enable you to get your eyes at the perfect distance behind the ocular lenses so as to be able to view the full image without any sort of tunneling effect on the sides.
18mm is also usually more than enough for eye-glass wearers, which I checked and by fully twisting-down the cups it was indeed fine for me and my particular shape of face and glasses. For more see my complete guide on how to use binoculars with glasses.
Minimum Focus Distance
I was not able to find an official close focus distance published anywhere, but during testing I found that I was able to focus on objects from around 1.7 meters (5.6ft) which as you can see in the table above is excellent and places them up there with the better full sized binoculars in this area, which in combination with the wide view makes them a really good option should you also like viewing things like insects or flowers from very close range.
Optical Stats Rating (compared to 8x Bins): 9/10
Image Quality
As well as testing them out in the field and using them in general, for this review, I vary carefully compared the view back-and-forth between these Fujinon HC 8x42 binoculars against my two benchmark 8x42 binoculars (one very high-end and one mid-level) in good light conditions and then once again in poor light at the end of the day as and just after the sun had set and below are my thoughts:
Colors
As to be expected at this high level, I thought that the general color reproduction was excellent on this instrument with the colors being both vibrant, but not so much so as to make the image look artificial. I also never noticed any artificial tinting of the image that I occasionally see where poorer quality glass and coatings have been used.
Contrast
As with the colors, the contrast was excellent, meaning that to my eyes it felt natural with there being a good balance between the light and dark areas of an image, which gives it a good feeling of depth and really makes highlighted, bright areas pop out at you.
Image Brightness
Image brightness or I think in this case it is better described as perceived image brightness has a lot to do with how your pupils react depending on the ambient light conditions (and remember everyone is different), this is especially true in very low light when it gets to the point where the binoculars are no longer physically able to deliver as much light to your eyes as they need to make to perceive a bright image.
All 8x42 bins have pretty much the same size 5.25mm exit pupil (diameter of the shaft of light exiting the ocular lens) and are therefore passing the same volume of light into your eyes, thus to my mind, it stands to reason that any difference in the brightness that I or you observe between two different pairs of 8x42s (or indeed any two binoculars with the same configuration) should in theory be just down to the quality of the optics, their coatings and the resulting light transmission differences between instruments.
So pretty much as I expected, in good light I was unable to notice any notable difference in brightness between all three pairs of 8x42 binoculars that I had in my hands.
But it was when the ambient light conditions became a limiting factor at and just after sunset, that the quality of the optics and I presume the level of expertise in putting the optical system together did make an observable difference and it became increasingly obvious that the mid-level 8x42 was no match for both my alpha level benchmark and these Fujinon HC 8x42 binoculars.
Indeed, to my eyes, these were easily a match for my very high end 'alpha' binoculars even then when the available light was very bad and swapping back and forth between the bins many times I was really not able to observe any difference.
Color Fringing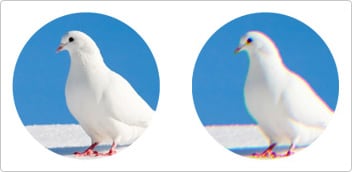 As I discussed in the optical components section above, Fujinon HC binoculars incorporate lenses with ED glass elements within them that when used cleverly can limit or reduce the level of chromatic aberrations with the end result being that there is the potential for less observable color fringing in the view.
However, at the same time Fujinon indicates that they use Lanthanum glass in the eyepieces, which I have read has the opposite effect to ED glass in that it increases the dispersion properties, and whilst I am not 100% certain if this is true, I was nevertheless very interested to see if they had countered this (if it is true) and just how much, or how little color fringing I could observe.
To test this I followed the same method I used for almost all my my reviews and carefully looked along the edges of objects that have a high contrast to their background and in particular looked very carefully at a black telephone line against a bright sky.
Here I have to say that once again I was very impressed and they were no different to my alpha benchmark, with both being observable better than the mid level instrument which by the way also has ED glass. So in my experience these Fujinon HCs are on a par with the very best in this regard.
Image Flatness & Softening
During my general use as well as in my comparison tests, at no time did I observe any sort of abnormal curvature of the image and once you have focused right in on an object, it remains sharp and in focus from the center of the view, right out to the periphery.
As well as this, the level of image softening, or vignetting right at the edges of the view was extremely minimal on my sample and would add that in this area it is just about as good as it gets.
Image Quality Rating: 9/10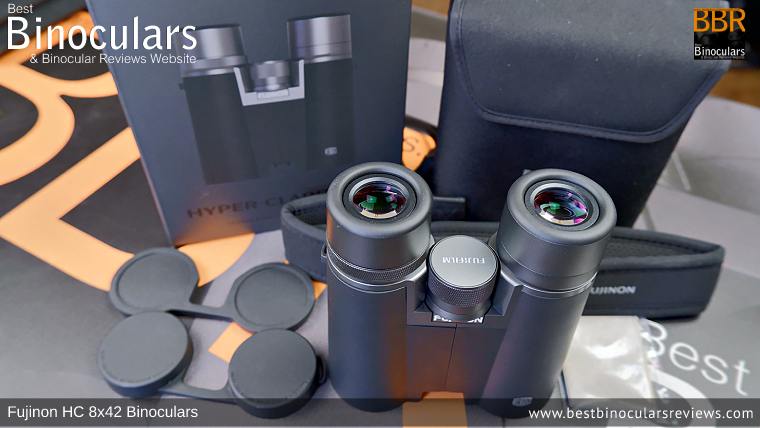 Included Accessories:
I have found that it is often the case with manufacturers like Canon, Fujinon, Nikon and Pentax that come from a very strong camera background tend to offer far fewer and less extravagant or polished accessories with their binoculars than that of the binocular specific brands at the same level.
I think this is largely because in "camera culture", if you want high quality accessories like a plush camera case, padded neck straps or even cleaning cloths, it is generally accepted that you would buy these separately, with the camera either coming with no accessories at all or only very basic ones included.
The good news is that with the HC range, Fujinon have bucked this trend a little because when you open up the box, as well as the instrument, you will also find a carry case, neck strap, cleaning cloth, objective lens covers and a rain guard, that apart from a few details which I discuss below are all there or there abouts at the level I would expect to find at this price range:
Carry Case
Sleek, modern and minimalist, in a nutshell that is how I would describe the carry case that comes with the Fujinon HC binoculars which I personally really like the look of and feel it compliments the design of the binoculars, but which I guess may not be everyone's cup of tea. If it is not, do keep in mind that one thing that is for certain is that this is most certainly not one of the millions of mass produced and very generic carry cases that many binoculars come supplied with and it has obviously been specifically designed for this instrument, which for me counts for a lot.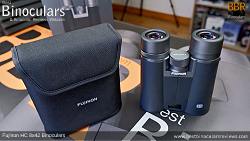 Whilst not as secure as most of the other systems (Velcro, clips or zips), I do like the magnetic clip closure on the flip-over lid. Not only is it very easy and quick to gain access to the interior of the bag, but opening and closing it is almost silent and thus if you are near timid birds or other wildlife, these is less chance of spooking them.
The binoculars slide very easily in and out of the bag which is often not the case with generic options, and I feel this is an important detail because if you are anything like me, you are probably more likely to replace them more often, keeping them clean and protected if it is super easy to do so.
However, one aspect related to this and perhaps a very small detail that Fujinon may have overlooked is that the magnetic clip will snap closed when closing the lid if you either return the eye-cups on the binocular to their fully twisted-in setting or, to have them maxed out, you need to store the binocular in the bag without the ocular lens cover (rain-guard) attached otherwise it is just a fraction too tall to secure the lid.
If you wear glasses or for what ever other reason use the binoculars with a minimum eye-cup setting, this will be of no consequence, but for the majority of us, it either means having to twist-in the eye-cups every time you replace the instrument in the bag and then twist them out again when you remove it. Or you could do what I did and leave the rain-guard (ocular lens cover) at home, which I think is actually the better option as not only do you then not have to constantly adjust the eye-cups, but it means not having to replace the rain-guard every time you store the binos. Also you do not need to worry too much about the lenses whist the binocular is in the case as they are well protected from both scratching and dust.
Another couple of other details to mention here in relation to the sleek minimalist design is that there is no belt loop on the rear of the case which for some may be a slight issue, although I have to say that for me a 42mm binocular is just too big and heavy for me to carry on my belt. Also missing is a separate pocket which can make for a secure/better place to store something like your cleaning cloth.
The bag also does not have it's own carry strap. Rather you simply use the neck strap of the binoculars when it is in the case and thread it out of the sides of the lid. I quite like this system as it is less bulky and fewer strap to get tangled up in, but there is always the issue of what to do with the bad when you have taken the binoculars out of it.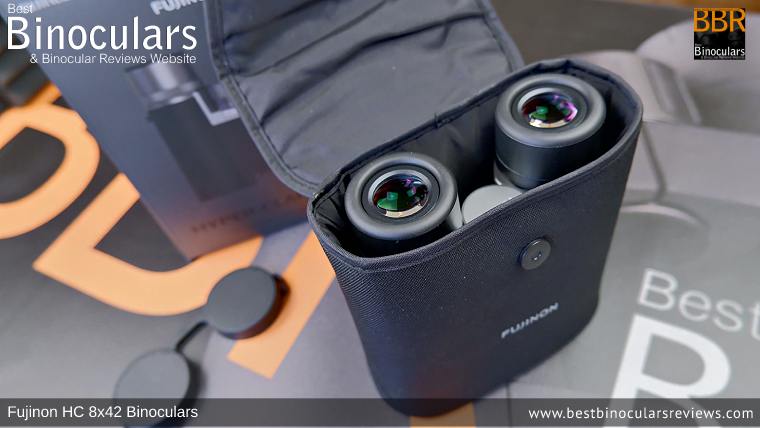 Neck Strap
In regards to comfort and build quality, in most ways the Fujinon branded neck strap is certainly amongst the better ones I come across but misses a few minor details that would elevate it to the level of the very best:
Made from what looks like a Neoprene type of rubber, the padded section is fairly wide (4.7cm) and thick (7mm). Thus does a good job of spreading out the load and also offers plenty of padding. Many straps that come with 42mm instruments are less thickly padded and thinner so this is good, but then again, there are a few that are both wider and thicker, but even so this strap sits far nearer the good end of the scale than the bad.
I like it that the underside is left uncovered and thus the exposed neoprene rubber provides plenty of grip, which helps prevent the strap from sliding about on your neck and shoulders.
Attaching the strap to the binoculars is achieved in the usual way using a slider and threading it through the eyelets on the instrument. This tried and tested method works well enough and means you can easily adjust the strap for length. I just wish they had used some sort of quick-release clip to make this task quicker and easier, especially for those who often like to alternate between using a neck strap and a binocular harness for example.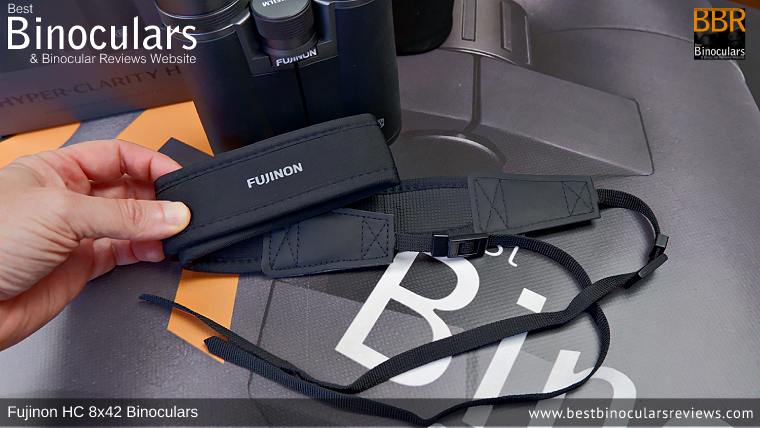 Objective Lens Cover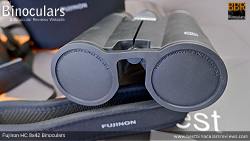 Rather like the carry case and neck strap, there is a lot to like about the cover that protects the objective lenses and it works perfectly well, but at the same time, there are just a minor detail that I feel is missing:
Firstly, I really like the way they are designed to fit into the ends of the barrels and not over the ends of them which is often the case on many other instruments. This makes for a far sleeker, more integrated look and thus they feel like they are apart of the overall package rather than just being an afterthought just thrown on at the end.
Also important to mention here is that the cover fits very well and as a result should not come away by accident. It also compliments the sleek modern look of the instrument extremely well and has obviously been designed for this particular binocular, unlike many brands that will simply use generic lens covers that not only don't match the overall look but are often either too tight or too loose fitting and end up falling off all the time.
The only slight shame is that it is not tethered to the body of the binocular in some way which would negate the need to store it somewhere when glassing and make it always at hand and easier to replace once you have finished glassing.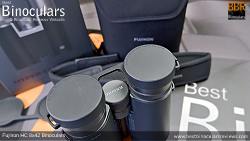 Rain-Guard
The ocular lens cover (rain-guard) is of a very typical design and so there is not to much to add here other than to say it fits well over the eye-cups, meaning that it is not so tight so as to make it difficult to replace, but at the same time not too loose so that it falls off too easily.
Also worth mentioning here is once again like all the other accessories, whilst the overall design is typical, it is obvious that it has been made for this particular instrument and is not a generic afterthought bought in bulk.
Cleaning Cloth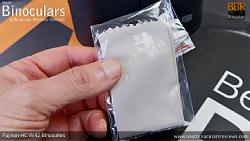 The good news is that Fuji includes a cleaning cloth with this instrument, which as I mentioned at the start of this section is not always the case, especially when it comes to the "camera" brands.
However, whilst it is made from a microfiber material, it is generic and unbranded and as a result does fall a little short when compared to the best at this price level. Anyway, this is a very minor point and even if the cloth was excellent, I would still advise you to get yourself a dedicated lens cleaning kit in order to properly look after and clean the lenses.
User Manual
Note that no user maual or instructions were included with my sample which is somewhat surprising. For experienced users this whill not really be an issue, but if this is your first pair of binocular, it is not idea. Just make sure you check out my articles on how to properly clean your lenses (see link above), and how to adjust the diopter and calibrate your binoculars.
Extras Rating: 7/10
Pentax HC 8x42 Binocular Comparisons
You can compare some of the details of this binocular against a small selection of other High-End (Price between $500-$1200 / £ / €) 8x42 binoculars in the BBR database.
Open table in full screen mode to view the full results.
Review Conclusions:
Without doubt, the Fujinon HC 8x42 binocular is outstanding and dare I say it, beautiful pair of optics that certainly stands out from the crowd. I especially like the very wide field of view, which when combined with the excellent quality optics and resulting superb image quality means that you are presented with a view that is just about as good as it gets in both good and low light conditions.
Strengths:
The build quality on this binocular is very impressive and I do like the fact that the HC has it's own unique styling which sets it apart from the many, many other very generic looking instruments currently flooding the market.
The metal focus wheel and the silky smooth mechanism with its very low gearing were real highlights for me on these Fujinon HC 8x42 binoculars and whilst it may seem like a little thing to some, for me it was a joy to use.
The quality of optics used and the resulting overall view quality are both truly excellent and to my eyes the HC delivers a bright image with accurate, but still vibrant colors with a nice range of contrast, very minimal color fringing, image softening and no other visible distortions.
Just by itself, the very wide field of view is excellent and places them amongst the best in this area, but when it is combined with the bright, excellent quality image, it takes the pleasure of looking through these to a whole new level.
At 18mm the amount of eye-relief, is excellent, which when combined with the also excellent function of the twist-up eye-cups make this a comfortable and highly adjustable instrument for all users, but particularly important for eyeglass wearers.
Weaknesses:
In my opinion, the Fujinon HC 8x42 binoculars certainly don't come close to having any deal-breaking weakness, but as always and as with every binocular that I have ever tested, they are not perfect because with optics there are always some sort of compromises to be made and thus if you make them strong in one area, they will inevitability suffer a little in the opposing direction. So whilst I sometimes feel bit nit picky or harsh, I do feel there it is important to point out the weaker areas on any instrument I review:
For a 42mm binocular these are up there with the heavier ones that I have come across. As I mentioned earlier on in the review, what this interesting is that the guys at Fujinon told me that the chassis was made out of Polycarbonate and not Magnesium or Aluminium when I asked. Usually this makes a binocular more lightweight, but not in this case, so either they were incorrect, or Fuji uses more metal parts than others, which can be a good thing. Glass is also heavy and this perhaps the makeup of their lenses use more elements than some others, I am not sure as many manufactures can't or often don't want to pass this information onto me.
Update: I have just discovered some additional information on the HC series and as I suspected, it confirms that they use a magnesium-alloy body, which to me makes far more sense when you consider their weight.
The objective lens cover looks great and compliments the sleek modern look of the instrument extremely well, but for me it is just a slight shame that it is not in some way tethered to the body of the binocular so it cant be misplaced and always close at hand in order to replace once you have finished glassing.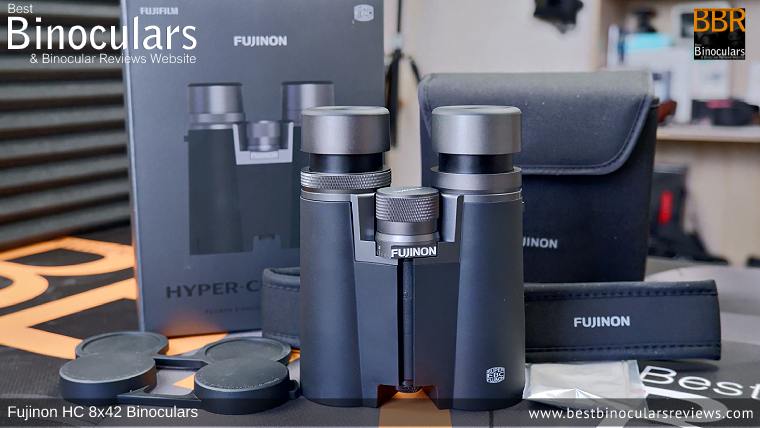 Genuine, Honest Binocular Review
As with all the other full, in-depth reviews that you will find here on BBR, the thoughts and opinions expressed on this page are 100% my own. I am not being paid by Fujinon or indeed any other optics or binocular manufacturer, distributor or supplier and whilst I do sometimes get to keep the samples sent into me for testing, this in no way affects my opinion or motivates me to write about the product in any sort of way or with any sort of bias.