When I first saw the press release regarding the new range of roof prism based Marine binoculars from Hawke Sport Optics, I was intrigued for a number of reasons:
Firstly, I believe this is the first time that Hawke has ventured into the marine optics niche and thus it is always interesting to me to see what innovations, changes or just refinements that any new player brings to the table. For example most Marine binoculars use porro prisms and thus have that distinctive, more traditional looking binocular shape to them, whilst Hawke have decided to use roof prisms instead, for a more sleek, modern looking design.
Then once I'd taken an even closer look at the design, features and stats of these new Hawke Marine binoculars, I immediately thought that they could be far more than just a binocular to take out on a boat, yacht or ship. Rather, to me they looked like they could actually offer a great crossover for the general outdoor enthusiast, birder and stargazer who also sometimes goes out on the water (I get into the reasons for this in the review below).
This multi-use type of bino user actually quite closely describes myself and many of my own interests and thus I suppose being a little self serving, I reached out to Hawke to see if they could send me a sample to test and review as I wanted to see not only if they would be a good marine specific binocular to keep onboard, but also one which could be used in a variety of other areas. Indeed I wondered if there would be the case for some users (like a birder & stargazer) who has no plan on taking their instrument out on the water to get a pair.
As their name suggests, the Hawke Endurance ED Marine binoculars are based around the standard Endurance ED series and are available (at the time of writing) in either a 7x32 or a 7x50 configuration (which also includes a model with a built in compass and rangefinding reticle), Hawke were kind enough to send me one of each. Also note that they also make monocular versions (with and without the compass & reticle) with a 7x42 setup.
So after a bunch of research, side-by-side comparisons, testing and use out in the field below is my full Hawke Endurance ED 7x32 Marine binocular review. Also note that I have also just passed this set onto an experienced yacht owner who is currently spending the summer sailing around the Mediterranean (last seen off one of the Greek islands! - tough life!) who is further testing these under the type of conditions that they were designed to excel in. Once he has finished, I will be adding his feedback and hopefully a few photos to this review.
Hawke Endurance ED 7x32 Marine Binoculars Review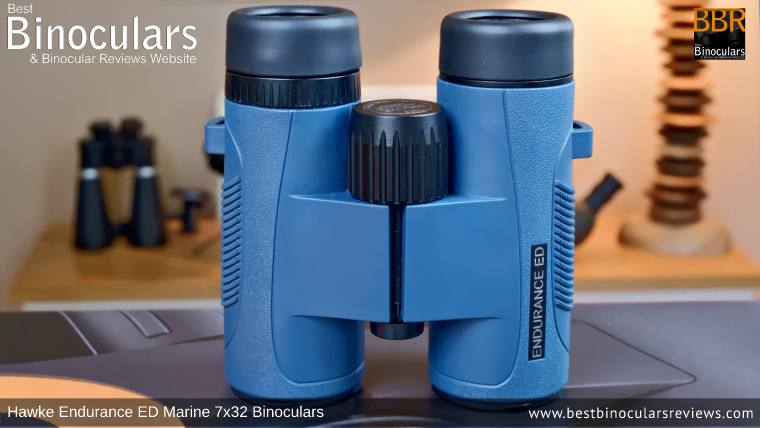 Main Features & Specifications:
Mid Level - approx $299 / £230
Body

Mid Sized, Single Hinge Body
Rubber Armored Chassis
Multi-Position, Twist-up Eye-cups
Central Focus Wheel
Water (IP67) & Fog Proof (Nitrogen Filled)
Tripod Adaptable


Hawke's System H5 Optics

32mm Objective Lenses with ED elements
Phase Corrected BaK-4 Roof Prisms

Optical Stats

7x Magnification for more stable images & wider views
Very Wide Field of View: 145m @ 1000m / 435ft @ 1,000 yards
Min Focus Distance: 6.6ft
Eye Relief: 17mm


Included Accessories

Floating & Standard Neck Straps, Carry Case, Carry Pouch, Lens Covers & Cleaning Cloth
The Body
Shape & Design
Theses Hawke Endurance ED's are not your typical marine binocular and undoubtedly the biggest, most obvious departure from the norm is with their overall body design: The vast majority of marine specific binoculars (Like the Steiner Navigator Pro 7x30 Binoculars pictured with these below) have that distinctive, more traditional looking binocular shape to them (with the eyepieces set closer together than the objective lenses), whilst these Hawke binoculars have them set in-line with each other, for a more sleek, modern looking design.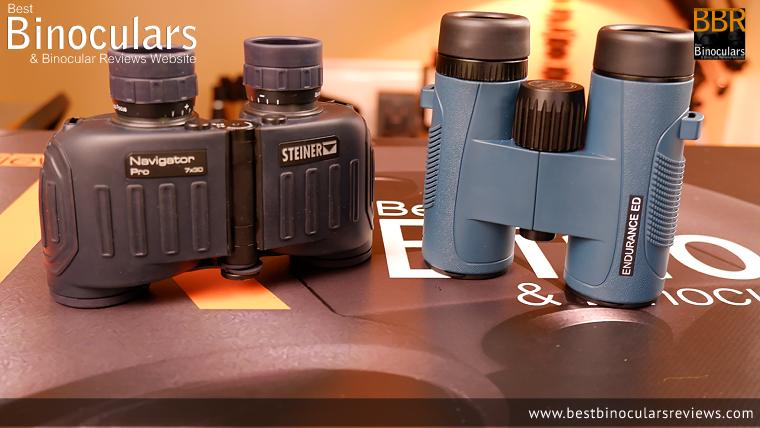 This reason for this is because rather than using porro prisms inside to correct the inverted image, Hawke have decided to stick with the roof prisms that they use with their standard "land" Endurance ED instruments. Take a look at the optics section later on in the review for what this means in terms of the image quality, but in terms of their overall shape, it is obvious to see the difference it makes.
The advantage of this design is you end up with a more compact shape compared to an equivalent mid-sized porro bino, which depending on your exact needs may or may not be that important. However, as this is a mid-sized instrument, I will assume that size does matter, otherwise you unless you are also needing to keep the weight down, you may as well opt for the 7x50 version which will offer improved light gathering capabilities at the expense of size and weight.
In terms of feel and ergonomics, I found the 7x32mm Hawke Endurance ED Marine to be comfortable to hold onto and well balanced, although with small and mid-sized binoculars like these, this aspect is not that noticeable between them.
Exterior Rubber Armor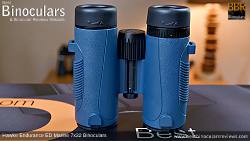 As with most modern binoculars, the chassis is almost completely covered in a rubberized armor.
The rubber that Hawk have used is fairly typical for them in that it is comparatively hard, which does have the effect of offering less protection from impacts (like dropping) and less grip than softer, more spongy rubber coatings, but in my experience they are also longer lasting.
So because Hawke have moulded a rough texture on the sides of the barrels, I wouldn't say that these will be overly slippery when wet (Bon Jovi?!) and as they may well be exposed more to the elements and especially the salt water and sunlight combination which is notoriously bad for rubber, I think this harder rubber they have used is good decision. But here only a very long term test will tell, so I can't be 100% sure.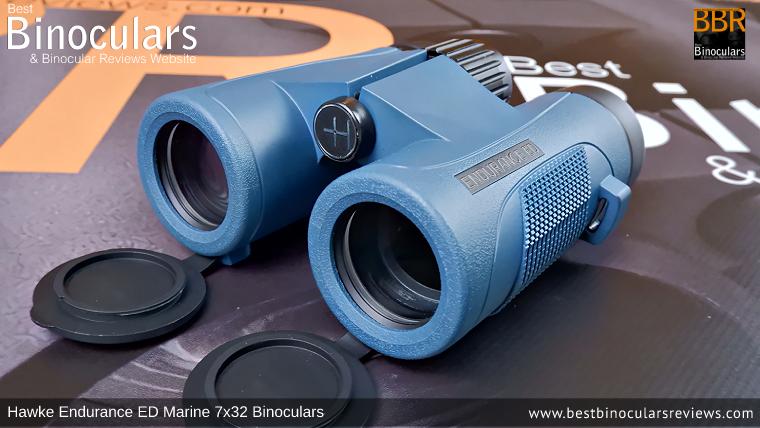 Main Chassis
Hawke do not mention what material they use for the chassis, so I can't be certain, but what is interesting is this marine version is quite a bit more lightweight compared to the standard 32mm Endurance ED binoculars: 545g / 19.2oz versus 635g 22.4oz.
Now to me it looks like most of the other components are similar and whilst yes I am sure the optics are a little different, for a start these have a 7x magnification and not 8x or 10x on the land versions, but my gut feeling here is that most of this weight difference may be down to these using a polycarbonate chassis and not a magnesium one.
For a marine binocular that comes with a floating strap, I would not call this a bad choice, as this may be the difference in keeping it that bit more buoyant and thus visible in rough water whilst you turn your vessel back around to rescue them!
In terms of structural strength, yes these may be not as good, but to me they feel more than adequate and the fact that I can't tell for sure if they have a plastic or metal chassis is also a good thing.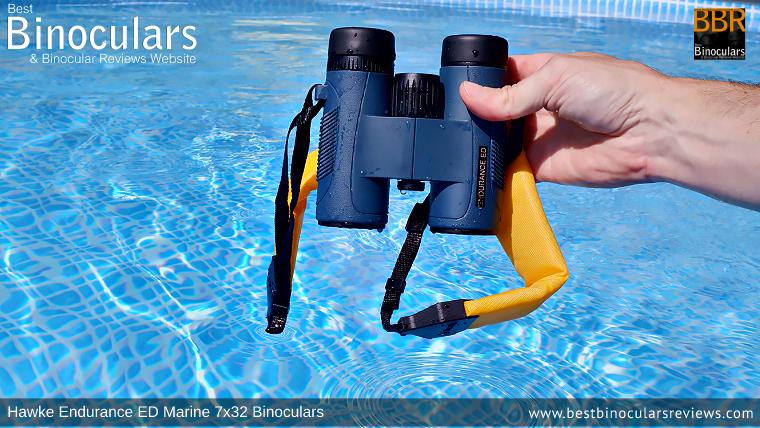 Waterproof
As you would expect from any marine binocular these are fully sealed and thus waterproof and come with an Ingress Protection (IP) rating of 67.
An IP67 rating means that these Hawke Endurance ED 7x32 Marine binoculars are 100% protected against solid objects like dust and sand (which is also important), and that samples of them have also been tested to work for at least 30 minutes while under 15cm to 1m of water.
This means you probably shouldn't take them scuba diving with you, (is there such a thing as binoculars for scuba diving and snorkeling? If not... maybe they should or could be?) but in combination with the included floating neck strap these should survive if you accidentally drop them overboard.
I actually tested this by dropping them into a pool. First thing to note is that even though this instrument is relatively heavy and the floating neck strap is not the biggest, most buoyant one I have ever seen, it had not problems in floating and this is largely because the interior space is fully sealed from the outside and filled with a gas (nitrogen) that is lighter than water and thus even though the binocular will not float by themselves, they don't sink quite as fast as a rock.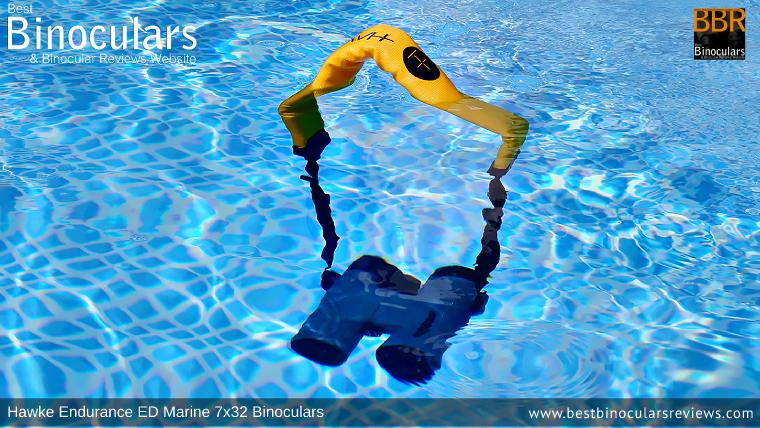 Fog Proof
As the interior has been fully sealed it also means that it has allowed the manufacturers to purge the interior air out of the system and replace it with a completely moistureless gas (in this case they have gone with the commonly used nitrogen) this prevents any condensation or fogging up of the internal glass surfaces, which can easily happen to binoculars that are not protected.
Hinges and Inter-Pupillary Distance (IPD) Adjustment
The single bridge hinge on my sample felt very solid and opened and closed with a good level of resistance. However, and being a tad nit picky here, I could say that it was a fraction on the stiff side, but having said that, I would much rather it this way round than having a hinge that was too loose resulting in you constantly having to adjust them.
The IPD (Inter-Pupillary Distance) is very typical, with the minimum setting between the eyecups being 5.5 cm apart (center to center), whilst the maximum (fully opened hinge) is 7.5cm.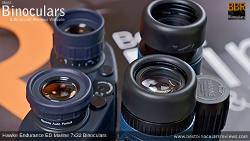 Eyecups& Eyepiece Housings
Most marine binoculars I know of incorporate simple rubber eyecups that you fold down in order to reduce the eye-relief, whilst like most modern roof prism binos, these have twist-up & down eyecups, which for me are usually the preferred choice.
Sure, I think good, supple rubber eyecups like those used on the Steiner Navigator Pro's (pictured on the right) can be effective, are very comfortable and probably offer a slightly better seal against your face which is good for eliminating peripheral light and perhaps sea spray. But in terms of their adjustability and thus the range of users that they can accommodate, they are no match for a good set of twist up/down cups, which the ones on this Hawke most certainly are:
With a rubber cup, you only get the maximum setting or by fording them down, the minimum one. Whereas with these Hawke Endurance ED Marine 7x32 binoculars, you also get two click-stop settings in-between these extremes. This can be very useful should you find that the maximum or minimum settings don't quite get it right for you. This along with a full 17mm of eye relief make the 7x32 Hawke Endurance ED a good mid-sized option for the eyeglass wearer. More Info: How To Use Binoculars With Glasses: Eye-relief & Eye-cups Explained.
Also well worth noting here is the actual eye-piece housings and the cups under the rubber coating look to me to be made from metal and not plastic, which will often be the case at this and lower price points.
This is important for a number of reasons, firstly plastic housings are far mor vulnerable should you drop your instrument and on top of this the helicoidal mechanism is almost never as tight on plastic eyecups than a metal ones like these, resulting in more unwanted play or looseness, which is obviously not desirable.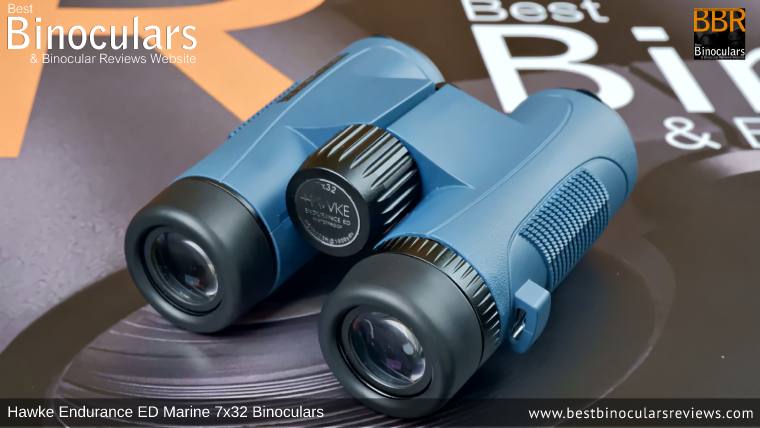 Focus Wheel & Focussing
At 29mm in diameter, the focus wheel is just about the same size as that used on most full-sized 42mm instruments, making it easy to locate even when wearing gloves, which on a wet day or in winter whilst wearing gloves can be very important.
I found this reasonably large diameter along with an extremely smooth focus mechanism made it very easy to adjust the focus, even with just one finger.
In terms of gearing, the focus wheel takes just over two full turns (about 730°) to move from one extreme to the other. This is a slightly lower gear than average, meaning it takes a little more turns to make large adjustments, but on the positive side, it is just that bit easier to make fine adjustments, which is exactly what I found to be the case during testing.
A highlight at this price point and something I feel well worth highlighting as it is a definite indication of quality is that the wheel itself is made from metal and not plastic. One slight point here is I would have like to have seen a rubber track along the top of the wheel (so something like Hawke use on their Frontier ED X binoculars) which would have added to the grip levels. This is not normally something I'd say and the deep grooves in the metal do a decent job, but as a marine binocular which should really excel in wet conditions, this would be an improvement.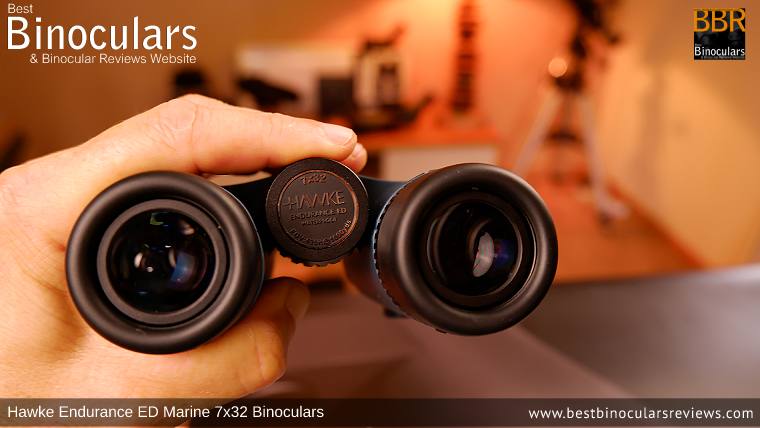 Central Focus vs Fixed Focus
Also note that the fact that these have a centrally located focus wheel is another area where these Hawke Endurance ED Marine's differ considerably from your typical marine binocular.
You see, most porro prism marine binoculars don't actually have a focus wheel at all, rather they incorporate a separate diopter adjuster on each of the eyepieces.
Often somewhat confusingly and to my mind incorrectly described as an "Auto Focus" system they are probably better thought of as focus free binoculars as once you have adjusted each of the diopters to match your particular eyesight, the image you then see remains sharp and in focus from usually about 20 meters away right to infinity and no further adjustments are ever required.
This can be an advantage as there is less to do and it makes the binocular easier to use with just one hand (something that you may need to often do when steering a yacht for example).
The downside to this type of optical system is that they have a long minimum focus distance. Out on the open water when you are looking at objects in the distance, this is not an issue and which is why for a marine only type of instrument this works fine.
However, if like me you want to view things like birds that land on the boat or a dragon fly that lands on the end of your fishing rod, or you are canoeing next to the bank and want to observe waterbirds at close range, then is not ideal and this is where the central focus wheel and the very near minimum focus distance (6.6ft) on these Hawk's come into their own.
This for me also is another aspect that makes these Hawke Endurance ED's far more than just a marine binocular as it is often the case when you may wish to observe things like birds, butterflies or just flowers at close range when using them around the home or when out in the field.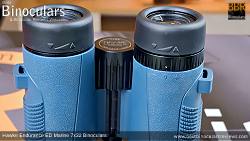 Diopter Adjustment
Like most standard roof prism binos, these have a ring located on the right eyepiece that is used to adjust the relative focus between the two barrels and thus you are able to compensate for any difference in vision between your left and right eyes.
Hawke indicates what range you can adjust, so I can't comment, but can say that the ring had a good level of friction to it and is not too obvious, and thus even though it is not lockable (the best ones are), once you have calibrated your binocular, it should not move too easily by accident.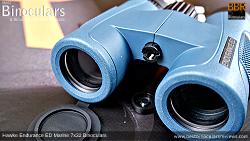 Tripod Adaptable
For most uses and users it will probably not be necessary to mount these onto a tripod (especially on a boat!), however, should you need or want to, it is good to know that these Hawke marine binoculars are tripod adaptable.
For me this is another small nod to the fact that this instrument can be used effectively outside of the marine world as most marine specific instruments are not as easy to fix onto a tripod. By this I mean they have a tripod adapter socket that will accept most standard tripod adapters which is revealed by unscrewing the dust cap from the center of the hinge.
Rating for Body Construction Quality: 8/10
Weight
As you can see in the table below, these Hawke Endurance Marine 7x32 binoculars are relatively heavy when compared to a selection of mid-sized binoculars that I have reviewed.
The fact that they have a polycarbonate chassis, makes this a little surprising, but then again, just remember that they also utilize a host of metal components like the focus wheel, eye piece housing and diopter ring which would make them heavier than those that have plastic parts.
Dimensions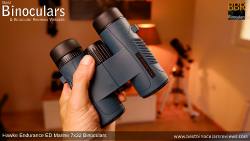 Owing to the fact that they use roof prisms and not porro prisms, this Hawke is far more compact than your typical marine binocular and as you can see they compare very well in terms of their outer dimensions against most other mid sized binos.
For keeping on a large boat or yacht this size difference is probably not that important, but if you need to pack lightly for a holiday for example, this could be a factor to keep in mind and is why I feel that as well as for those with small boats, these are ideal for uses like canoeing, Kayaking or indeed binoculars for a cruise ship holiday as the small shape makes them a little easier to pack away in your suitcase.
For uses not on the water: their small size and 7x magnification makes them ideal for a birding holiday, especially if you are going to a forest, woodland or even jungle location and thus viewing distance will be less and available light likely to be sub-optimal.
BBR Rating for Body Stats compared to Mid Sized Bins: 8/10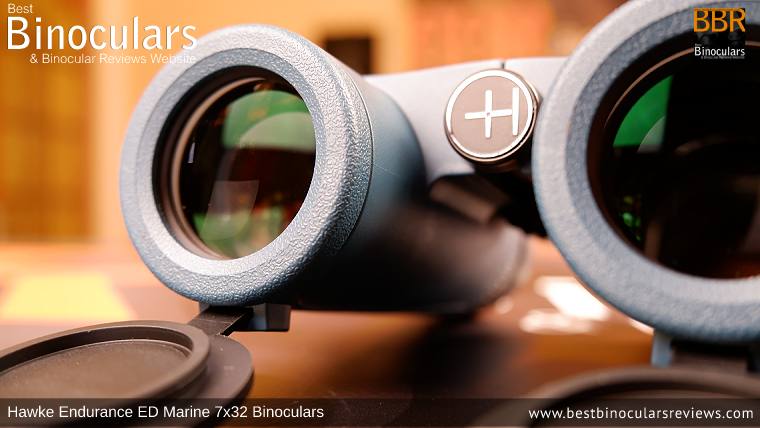 Optics
Objective Lenses
Measuring 32mm in diameter, the objective lenses on these Hawke binoculars are very typical in terms size for a mid-size binocular as this seems to be the sweet spot between size and weight versus light gathering ability.
ED Glass Elements
Each of the objective lenses is made up from a number of lens elements and at least one of these is made from ED glass which has extra-low dispersion properties. This element enables to lens designer to better manipulate the individual wavelengths of light and thus there is the potential for them to reduce chromatic aberrations with the result being an image that shows less color fringing around the edges of highly contrasting objects.

The key word here is potential as by just simply using ED glass, it does not guarantee that the binocular will show less color fringing than those that don't have it as there are many other factors to take into account and the lenses have to be designed with the rest of the optical system in mind. It is because of this that I have often observed that a very well designed non-ED glass binocular can perform as well as less well made ED glass instrument in this area. But the potential is there. You can read how these actually performed in the Image Quality section below.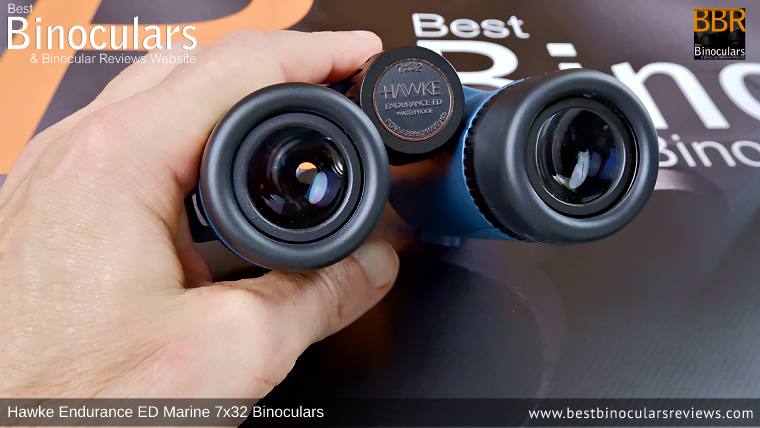 Ocular Lenses
Hawke does not offer up any detail in regards to the make-up of the ocular lenses, so I cant comment other than to say is I measured the outer element on these lenses to have a diameter of 21mm.
For a mid-sized binocular, this is a good size and indeed it matches that of many good full-sized instruments. Larger ocular lenses on a binocular can potentially offer several benefits including the possibility of a better image resolution, see Ocular lens size in binoculars for more details.
Prisms
All Hawke Endurance ED binoculars all use roof prisms made from BaK-4 glass, which is exactly what we want to read as some binoculars (usually at the lower price points) will use glass, like BK7 for the prisms, which for binoculars is generally not considered as good.
Prism Coatings
The prisms on these and indeed all Hawke Endurance ED binoculars are silver mirror coated which means that they probably have a reflectivity level of between 95% to 98%, which is good, but has to be said, not as reflective as those with dielectric coatings which has a reflectivity of more than 99%.
At this price range, you do get dielectrically coated binoculars (see the comparison table below), so this is somewhat disappointing, although during testing and in the real world, I felt these compared very well to other high-end 8x32 binoculars in terms of image brightness (see the image quality section for more details). This is probably down to the larger exit pupil created by the lower 7x power which makes up for this and thus in reality, unless you specifically need it, I would not call this a deal breaker.
Phase Corrected
The roof prisms used in these 7x32 Hawke Endurance ED binoculars have special coatings that corrects something known as phase shift which affects the individual wavelengths of light as they pass through the prism and thus these are likely to deliver higher-definition images with improved contrast when compared to untreated roof prisms.
Other Optical Coatings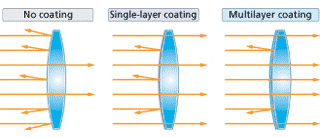 Anti-Reflection Coatings
The optical system of these Hawke Endurance ED Marine 7x32 Binoculars is described as being Fully Multi-Coated.
This is good because as you will occasionally come across binos that are just "Multi-Coated" or "Fully Coated", which even though it looks similar, it means that only some of the lens surfaces (usually first and last) are treated with anti-reflection coatings as opposed to all of them on fully multi-coated binoculars.
The difference this makes to the image quality and brightness is notable and for me is one of the most important things to look for when choosing binoculars.
Optics Comparisons
Optical Components Quality Rating: 8/10
Optical Stats
Field Of View (FOV)
Measuring 145 meters wide at a distance of 1000m, or 435ft wide @ 1000yds the field of view on these 7x32 Hawke Marine binoculars is exceptionally wide. Indeed it ranks right up there with the widest wide angle binoculars I have ever used.
A wide viewing angle is important in many areas, but especially for uses where you want to be able to more easily locate and then follow fast-moving objects (so birds or small wildlife for example). Another example is at activities like outdoor sporting events, where a wide view enables you to take in more of the on field action without having to pan the view about.
Close Focus
The minimum close focus distance on these is 6.6ft / 2 meters, which falls just short of what I describe as excellent (anything under 6ft), but it still very good and a whole lot better than most standard marine binoculars that can often have a minimum focus distance of more than 20ft.
Out on the open water when looking at distant objects, this obviously is not important. But on a small boat or canoe when you are near the waters edge, I often found I wanted to look at wading birds from close range, which as good as they are (as a marine binocular), was not possible when I tested the Steiner Navigator Pro 7x30. I also find when fishing on a boat, you often get birds like pied wagtails landing on the bow rail or the anchor rope and with a good minimum focus distance you can get some great views.
It also once again opens these Hawke Endurance ED "marine" binoculars up to a whole host of other land based uses, like viewing birds on a nearby feeder or even insects or butterflies.
Eye-Relief:
At 17mm, they eye-relief is once again like the close focus, very good, but just short of the 18mm for me to describe them as having very long eye relief here on BBR, but even so I found that by fully twisting down the eyecups I was comfortably able to take in the full view without any dark rings on the edges whilst wearing my glasses and thus would certainly recommend them as a good option for those using some sort of eyewear.
For a marine binocular where you may often find yourself in situations with a lot of glare and thus may often be wearing sunglasses, I think this is very important as you don't want to have to remove them every time you use your binos. For more check out my article on How To Use Binoculars With Glasses: Eye-relief & Eye-cups Explained.
Optical Stats Rating: 9/10
Image Quality
During testing I compared the view through these Hawke Endurance ED Marine 7x32 binoculars against my 8x32 benchmark that I use for many of my mid-size binocular reviews and below are my thoughts:
Image Brightness
With their good level of optics and in particular the slightly lower 7x magnification that produces a larger exit pupil (4.6mm vs 4mm on an 8x32), I was fully expecting these to show a bright view and perform well in low light compared to most mid-sized binoculars and I was not to be disappointed:
In good light, the image looked to be equally as bright as my high-end benchmark and for interest as good as my 8x42 benchmark. Then as expected, in very low light it was obvious to me that the image I saw though these Hawke binoculars was brighter than that of my 8x32 benchmark, but not quite as bright as that on the 8x42 (5.25mm exit pupil). Thus as a mid-sized binocular, if you are wanting a good low light performance that is almost as good as a good 8x42, these, with their lower 7x magnification are a good option.
Contrast & Color Reproduction
With this level of optical components, I once again was not expecting to have any issues in regards to the colors or level of contrast, and once again this turned out to be the case.
For me the colors are vibrant, but at the same time not overly so, so as to make the image look unrealistic. There is also no artificial tinting to the image which is sometimes the case, especially with instruments that use lower quality glass than these.
Likewise, I found there to be a very good range of contrast between light and dark areas in the view. This was the case even in very bright and very low light conditions and this range certainly helps give the image more depth, which is especially noticeable when looking into a thick bush or tree.
Color Fringing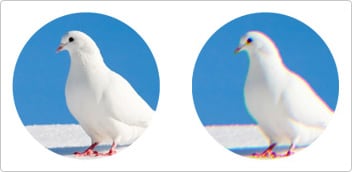 As I went through in the optics section above, because these Hawke Endurance ED Marine 7x32 binoculars have used ED glass elements in their lenses, they have the potential to decrease chromatic aberrations and thus reduce the amount of color fringing you see in the image.
Well, the good news is, in this case it has as I found the amount of visible color fringing that I could observe to be extremely minimal. This was true even when taking it to the extreme by looking very carefully along the edges of a leaf and branch on a tree lit up by a bright blue sky.
Distortions, Image Flatness & Softening
Also to point out that I was never aware of any other types of distortions or undesired curvature of the image and once focused on an object in the middle of the view, the view through my sample Endurance ED looked perfectly flat and remained in focus from edge to edge.
As is almost always the case, right at the edges of the view there is a certain level of image softening (vignetting), the level on these was extremely minimal and so once again I rate these as excellent in this area, especially when you consider their price bracket.
Conclusion
Overall I would say that image you are presented with when looking through these Hawke 7x32 Endurance ED binoculars is excellent for a mid-sized binocular and certainly better than what I would expect at this price level.
Image Quality Rating for a mid-size, 8x binocular: 8/10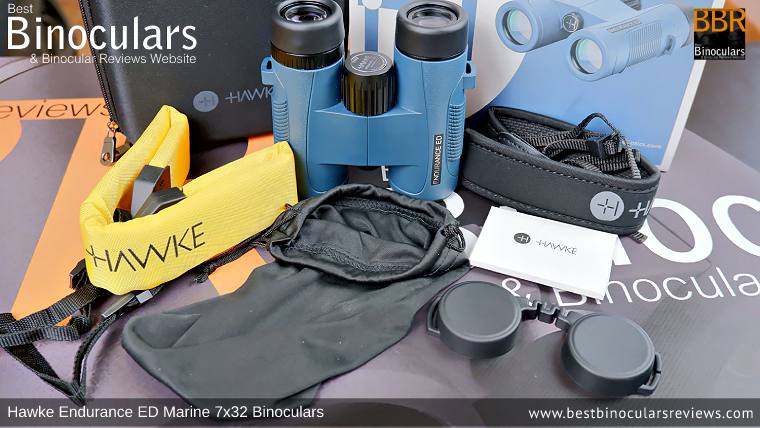 Included Accessories:
These Hawke Endurance Marine 7x32 binoculars come supplied with an excellent range of accessories which goes beyond what I normally find: This includes a semi-rigid carry case, a soft carry bag that can also be used as a cleaning cloth, a padded neck strap, a separate floating neck strap, objective lens covers, rain-guard, cleaning cloth, guarantee/warranty card and user instructions!
Carry Case - Main Points
Very good quality semirigid case
Zipped closure, not as quick to access as something like Velcro, but more secure.
Well thought out, has extra space for whichever neck strap you decide to use. E
Comes with its own carry strap with length adjustment - it is not padded, but has swivels and can be removed if you wish
Extra netted pocket. Good for storing cleaning cloth and a few other small items
Hawke branding better than the many generic cases I often now see at this price level.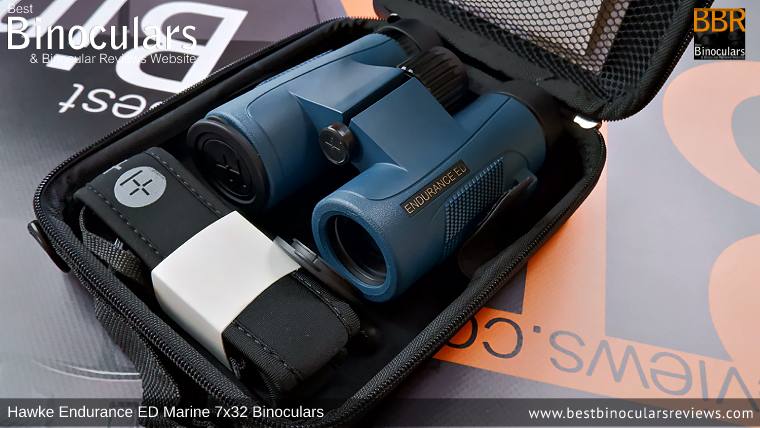 Material Carry Pouch
Somewhat like the Maven binoculars I've tested, Hawke also includes a soft drawstring carry bag. Made from a fine material that to me looks similar to that used on most cleaning cloths and thus can be used for cleaning the instrument as well as carrying it. The fact that you also get a carry case and a separate cleaning cloth makes this all the more impressive.
For users like me who usually don't take the case out into the field or those who use a binocular harness, this actually works very well. As a marine binocular I also like the idea as you can easily put it into the bag during the day to give the instrument a little added protection from see spray and the sun.
Floating Neck Strap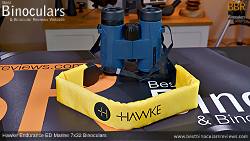 Whilst smaller and less thick that some, you can see by the photos at the top of this review, the included floating neck strap is easily buoyant enough to ensure that your binoculars don't sink to the bottom of the sea should you accidentally drop them overboard.
Colored bright yellow to make them easier to spot out in the water, they attach to the binocular in the usual way and can be adjusted for length. like the standard strap (see below), I just wish they had used quick release clips which would have made it easier for us to swap between them both.
Standard Neck Strap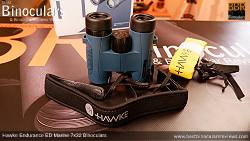 Firstly, I think the fact that Hawke include a standard neck strap is excellent and goes way beyond most. I think it also shows us that they like me also believe that these binoculars are far more than just a marine binocular and that they can be used in a whole range of other uses.
Even though it is quite narrow, the level of padding and overall comfort is very good, which for a relatively small and lightweight instrument, it is more than sufficient.
The strap attaches to the binocular in the standard way with a slider so it can be adjust for length which is good. Unfortunately it does not come with quick release clips which would have been nice, especially as you also get a floating neck strap and thus it would have made it easier to swap between the two.
So overall I would describe this neck strap as very good, but not not quite excellent as it is missing a minor detail, but is still at the higher end of the spectrum in this price range in terms of the overall quality and function.
Objective Lens Covers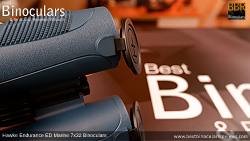 The tethered objective lens covers are in most ways excellent, but at the same time can be a little annoying:
Main Points
Hawke branding on the ends - not generic like many, many others
They fit into the ends of the barrels and not over them and thus look more a part of the whole instrument rather than just an afterthought
Tethered - for easy access and less chance of misplacing, but also can be completely removed should you wish
Made from a relatively thick plastic/rubber and the tethers feel more robust than most I come across, so I would say has less chance of snapping
The fit is a little to tight and whilst they are easy to remove, they are quite hard to replace. This is good in terms of the seal it creates, but just gets a little annoying if like me, you take them off and replace them often.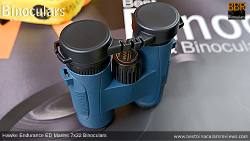 Rain-Guard
The rain-guard / ocular lens cover is pretty standard, but what is important to mention here is that it has a good fit over the eye-cups and thus does not come away to easily by accident nor is it too difficult to replace.
Cleaning Cloth
Like many other Hawke binoculars that I have reviewed in the past, the included cleaning cloth is one of the best, especially at this price range. Made from a very high-quality microfiber material, it comes with its own pouch and instructions on cleaning. This is especially impressive considering that you also get a carry pouch that can double as a cloth for cleaning!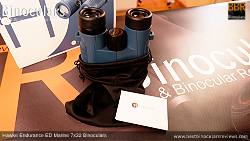 As good as this all is, I would still recommend that you get yourself a lens cleaning kit for thoroughly cleaning the lenses without the risk of damaging the lenses and their coatings.
Instruction Manual
Hawke includes a set of instructions that goes over all the most important aspects of the instrument including focusing, setting the diopter, IPD settings, and adjusting the eye-cups.
Warranty / Guarantee
Hawke offers their No Fault Lifetime Warranty with the Endurance ED which is excellent and shows they believe in their own products and are willing to back it up.
Extras Rating: 8/10
Hawke Endurance ED Marine 7x32 Binocular Comparisons
The comparison table below displays a selection of other mid-sized binoculars with a 7x magnification that I have reviewed. To view the full results:
open the table in full screen mode.
Review Conclusions:
With a current retail price of around $299 / £230, this mid-priced, mid-sized instrument breaks the mold from the usual marine binocular by using roof prisms. This has the effect of making them far more than just binoculars for boats & yachts and when combined with their 7x magnification, wide views & small size, it meant I found them to also be a great option in a wide range of land based scenarios as well and it is this adaptability which I feel makes them an excellent value for money instrument:
Strong Points:
Very Wide Field of View
All of their main specs on these Hawke Endurance ED Marine 7x32 binoculars are very good, but it is the field of view, in particular, that is truly excellent. If you are looking for a wide-angle binocular, you'll struggle to do much better than these.


Image Quality & Brightness
Once again the moderate 7x power helps maintain a good size exit pupil, which in combination with good quality glass and coatings results in an image brightness in low light that competes with many larger 8x42 binoculars at this price range.


Accessories
Once again, Hawke Sport Optics go above and beyond with the accessories that they supply you with. As well as the normal carry case, lens covers and cleaning cloth, you also get two neck straps (one floating one for use on the water), as well as a carry pouch that can double as a second cleaning cloth. On top of this and in particular, the quality and thought that has gone into the semi-rigid carry case is excellent.
Room for Improvement:
Water Repellent Lens Coatings
Whilst I guess for most users this wont be critical, but I think for a binocular that is designed to be used in a marine environment, having a coating on the outer lens surfaces that repels water and makes them easier to clean would be nice to have, especially for conditions where you could get a lot of sea spray. However, to be fair, at this price range, this type of feature is not often seen.


Difficult to Replace Lens Covers
Like the rest of the accessories, the objective lens covers are generally excellent and I like how they are tethered to the body, but I do have one small grip in that they fit so tightly, they are actually quite hard to replace. This is good in terms of the seal it creates, but just gets a little annoying if like me, you take them off and replace them often.


Ideal Uses & Users
As well as most marine specific uses, I truly believe these also make a really good option for a number of other uses:
Boating & Yachting
For most owners or users of a small boat or yacht and in most types of conditions, I think these would make a great addition to the gear that you stow onboard.



Canoeing & Kayaking
Their reasonably small size, waterproofing and steadier 7x view means that I would most certainly consider packing them and taking them with me on a canoe or kayak.


General Birdwatching & Wildlife Observation
The very wide and bright (for a mid-size bino) views that you are presented with makes them perfect for activities like backyard birding, or any bird watching / wildlife observation at closer ranges, like in a forest or woods and you are likely to be going out early morning, or late afternoon where they are most active, but light conditions are not optimal.


Travel, especially Birding Holidays
Their low weight, reasonably small size, combined with their very wide view are amongst the many reasons why this 7x32 Hawke Endurance binocular is a good option for holidays in general, but particularly birding vacations


Sports
Whilst not quite as convenient to carry as a full compact binocular, if you have a reasonably sized day-bag, their wide view makes them an excellent option to take along to a whole host of outdoor sporting events.