Hawke Sport Optics have steadily been expanding their range over the last few years and they now offer a wide selection of binoculars to accommodate most peoples needs and tastes. Their Frontier ED models, were up until fairly recently their flagship model and so whilst they don't occupy that lofty position anymore, they still look to be a more than decent pair of optics at a seemingly very competitive price.
So to find out just how good or indeed bad they are, I got the chance to spend a lot of time with the green version of the Hawke Frontier ED 8x43 Binoculars (Model: HA3787), which is also available in black (Model: HA3785). You can find my full review and findings below:
Selected Features
Magnesium Open Hinge Alloy Body
Fully Waterproof and Nitrogen Purged
ED (Extra-Low Dispersion) glass
Fully Multi-Coated Lenses
Phase Corrected Roof Prisms
Very Wide Field of View - 426ft @ 1000yds
18mm of eye relief
Close minimum focus distance of 6.6ft
The Body
Body Design
All the models in the Frontier ED range use roof prisms with an open hinge "cut - away" body design. This in theory can help to reduce the weight of the body but will depend on what the weight of the 2 hinges compared to a singe one and the extra body material.
Another benefit of this shape is that it fees up a lot of space on the barrels and makes for the perfect area to hold onto them with one hand for a really secure grip.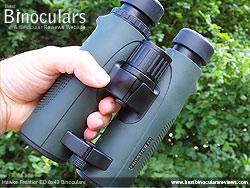 I find this one -handed grip really useful when I don't want to have the binoculars swinging around my neck from the strap where they could get damaged when I am climbing up or down steep gradients or over large boulders for example. In these situations it is great to have a really secure way to hold them with one hand whilst using the other to support yourself.
Chassis
The main skeleton of theses Hawke Frontier ED binoculars is created from a magnesium alloy which is more expensive to produce but has the advantage of being much stronger than the commonly found Polycarbonate bodies and both lighter and stronger than the Aluminium ones.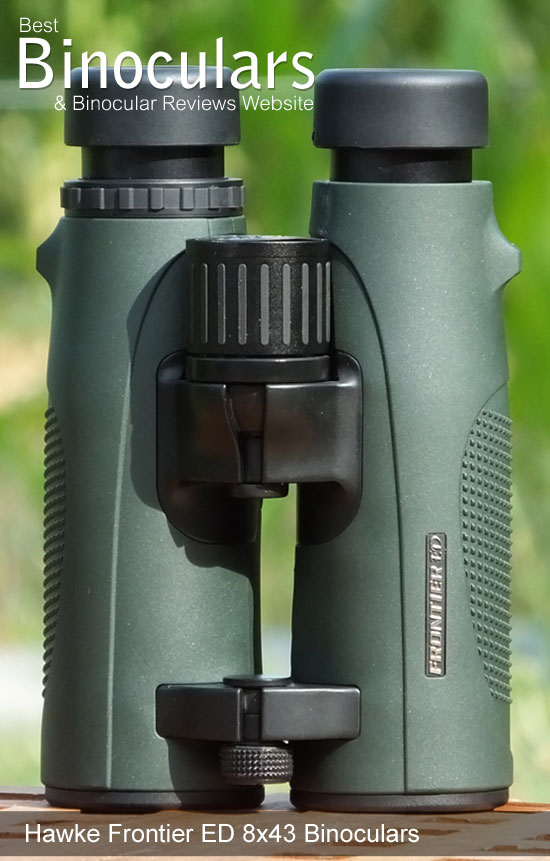 External Covering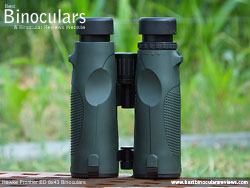 As with the vast majority of binos found these days, the entire body, apart from the two central hinges and small areas around them has been covered with a rubber armor. On the model I was testing it is colored green, but you can also get a black colored version.
This rubber is relatively thick and so should provide a little more protection to the internal optics of the device than on many I have tested. The rubber itself is very hard and thus is a little less "tacky" than some and so does mean that it is a less grippy surface to hold onto. However Hawke Sport Optics have created large textured areas on the outer sides of each barrel where the palm of your hands go when holding them which really helps in this regard.
On the underside of each barrel is a thumb indent, they are well placed and are designed to help you to hold them in the correct way and place to make them perfectly balanced. This in turn makes it easier to keep them more stable and thus keep the image as shake free as possible.
The non shiny finish to the armor and the hinges makes the whole device less reflective, reducing the chance of you giving your position away. The rubber also makes a lot less noise than exposed metal when you knock it, for example with a wedding ring which could also give away your location and possibly frighten away timid wildlife.
The objective lenses are set about 16mm within the ends of the barrels. Of all the binoculars I have reviewed, these are one of the deepest, which will help protect the lenses from dust, light rain or even scratching. It will also help stop reflections coming off from the lenses which may be important if you want or need to keep your location a secret and I have also have read that it can prevent lens flair as it acts in a similar way to a lens hood often seen on SLR cameras.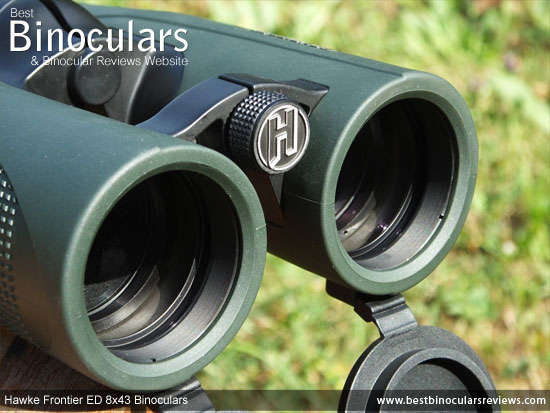 Tripod Adaptable
The circular cap with the Hawke Sport Optics logo located on the front central hinge can be unscrewed and removed. You can then attach a tripod adapter (not included) to the binocular that uses a fairly standard ¼-inch thread. This adapter and your bins can then be connected to your tripod.
Fog & Waterproof
The 8x43 Hawke Frontier ED has been fully sealed and is thus fully waterproof, however they don't state the precise rating or standard. As well as water these seals will stop any small dust particles form getting inside your instrument.
All the air inside the body has also been replaced with a dry nitrogen gas, which prevents the internal optics from fogging up. This environment which is now free from any moisture also helps to stop any corrosion.
The Eyecups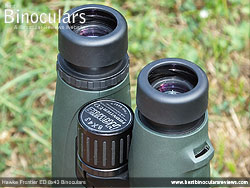 The eye-cup housing looks to be constructed from plastic, it has a standard twist-up mechanism that turns nice and smoothly.
With this 8x43 Frontier, you get a very good 18mm of eye-relief, which should be enough distance for most who use glasses to be able to keep them on whilst glassing. However they only have one intermediate click stop in between fully extended and fully retracted, which gives you a little less flexibility to get the distance completely right for your own needs than those that have more. You can stop it at any point if you need to as there is just enough resistance to movement for it to stay there, but more fixed stops would have been better.
I found the eyecups on these to be about as comfortable as it gets, even when pushed against my face quite firmly and over long periods. This is because each cup reasonably large (external diameter of 42mm) and they have then covered in a thick rubber covering which is almost 6mm wide on the top surface which comes into contact with your face and so spreads the contact points over a wider area.
Inter-Pupillary Distances
The distance between the centers of the ocular lenses can be adjusted to match the distance between your eyes by opening and closing the central hinges. This inter-pupillary distance adjustment ranges from a minimum of 6cm, to a maximum of 7.5cm which should be enough for the majority of people.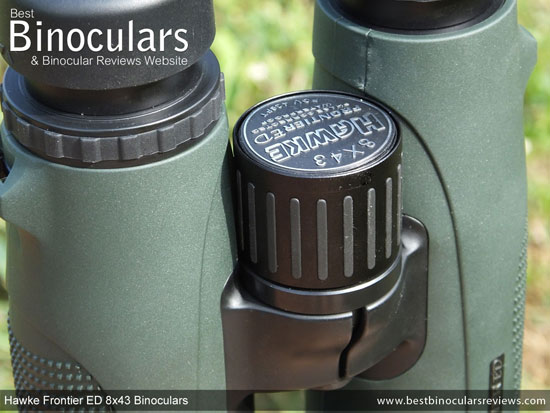 Focusing
With a diameter of 35mm, the focussing wheel on the Hawke Sapphire 8x43 ED is one of the largest that I have ever seen on a full sized binocular. This combined with the fact that it turns really smoothly makes adjusting the focus really simple and accurate.
As well as this, it takes about 1½ full rotations (540°) to adjust the focus from close focus to infinity. This gearing is about average and thus the speed of focusing from one extreme to the other versus the fine focus adjustments are well balanced.
The housing of the wheel looks to be made from plastic and it has a number of raised rubber tracks on it to aid grip. This along with the large size of the wheel mean that I found it really simple to reach and turn even when testing it with my thick winter gloves on.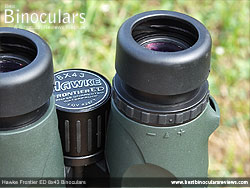 Diopter Adjustment
To allow for any differences between your left and right eyes, all good binoculars enable you to calibrate them to suit your particular vision by being able to focus one barrel independently of the other.
This diopter adjustment ring is located on the right barrel on the Hawke Frontier ED binoculars.
Whilst it does not lock like some do, it does have a ratchet with a number of very fine click stops, which will help prevent it for accidentally moving.
I thought that it worked as well as most, but it also lacked and sort of scale or markings other than the + and - signs and the neutral arrow. This means is that if your setting does not line up with these and it were to move by mistake or because you share your bins with someone who had a different setting, you have to go through the process of re-calibrating them. To get around this I would suggest making your own mark with a pen or a small etch with a knife
Rating for Body Construction Quality: 8/10
Weight
At 26.2oz (743g) the Hawke Frontier is on the heavier side when compared to many other full sized bins, but keep in mind that they have slightly larger than normal 43mm objective lenses. However having said that, the Minox HG 8x43 is a whole 94 grams lighter:
Whilst almost nobody wants their binos to weigh a ton, it is important to put the differences in the weights above into perspective and as long as it is reasonable, a good balance is more important.
Also keep in mind the quality of the materials used in their construction as there are some very lightweight optics out there that only weigh so little because they have used cheap and inferior materials in their construction that happen to weigh less than the better quality and far more durable materials. For example just remember that the body of the Frontier ED is made from a magnesium alloy, which weighs less and is stronger than aluminium, but is heavier than the cheaper polycarbonate bodies used on many cheaper bins.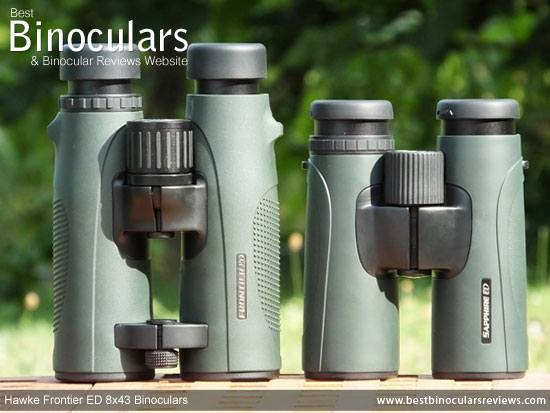 Dimensions
With the eye-cups fully twisted in and with their lens covers removed, the 8x43 Frontier is 16.7cm (6.6in) long. This is the way that most manufacturers advertise as the length of their device and comparing these measurements puts these up there with the longer full sized bins out there that I have tested. To illustrate this difference in size, the photo above compares these Hawke Frontiers, with the Hawke 8x42 Sapphire ED, which you can see is a fair bit shorter.
Fully twisting out the eye-cups their length extends to 17.4cm (6.8in) and with both the objective covers and the rainguard fitted their maximum length is 18.1cm (7.1in).
I measured their width as being 13.2cm (5.2in) and their height (depth) as 6.5cm (2.6in) when the central hinge was fully open, which are the dimensions that we use for comparisons. But by folding up the binoculars, it decreases their width to 11.4cm (4.5in) and increases their height to 8cm (3.1in) because the focus wheel protrudes up above the body more.
As you can see from the table above, the 43mm Hawk Frontier's dimensions are slightly on the large side when compared to a bunch of other full sized bins, but in my hands they were comfortable, had a really nice balance to them and the large focus wheel made it very easy to reach and turn.
BBR Rating for Body Stats: 7/10
The Optics
Eyepiece Lenses
Hawke Sport Optics do not go into detail as to the precise design of the ocular lenses so I cannot comment other than to say that I measured their diameter to be 23mm which is relatively large for full sized binoculars in my experience.
Objective Lenses
As you may have already deduced from their name, these Hawke Frontier ED binoculars have an ED (extra-low dispersion ) glass element in their lenses.
This ED glass, with it's very low dispersion properties gives the designer of the optical system more freedom and control to better direct the wavelengths of light as they split up going through the lens. This means that with a good design, ED glass can improve image quality by reducing or even completely eradicating chromatic aberrations, which in turn reduces the amount of color fringing that you see around the edges of objects when looking through the bins.

Lens Coatings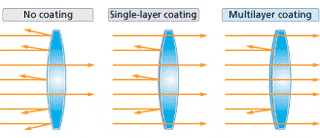 As light hits any surface, including that of a lens, some of it gets reflected away. These reflections can negatively affect the image causing unwanted flairs and shadows and it also results in less light passing through the lenses, so less gets to your eyes.
One of the ways optical manufacturers counter this is to add coatings of a special anti-reflection material to the surfaces of the lenses.
The lenses on all Hawke Frontier binoculars have been "Fully Multi-Coated", which means is all the air-to-glass surfaces on the lenses have more than one layer of an anti-reflective coating added to them.
This is great as some only use a single layer on all or even just some of the lens surfaces, which can make a real difference to the brightness and quality of image.
Prisms & Prism Coatings
Hawke don't go into any detail as to what type of glass they use to make the roof prisms on the Frontier ED, or indeed what highly reflective coating they use to boost the reflectivity on the prism, but the do say that they have been phase corrected:.
As light reflects off the glass surfaces on a roof prism, it splits up into two slightly out-of-phase beams of light. If this "phase shift" is left uncorrected the result is an image being produced with a lower resolution and less contrast.
So to counter this phase shift, Hawke have added phase correction coatings to the surface of the prism on the Frontier ED and thus improve their contrast and resolution.
Optical Components Quality Rating: 7/10
Optical Stats
8x43 Configuration
Unlike the majority of full size bins with their 42mm objectives, these Hawke Frontier ED binoculars have ever so slightly larger 43mm objectives which is an interesting choice and so I thought I would discuss it a little more in depth to see what potential advantages and disadvantages these may have.
All 8x42mm binoculars have an exit pupil of 5.25mm (42 ÷ 8 = 5.25), whilst these 8x43mm Frontiers exit pupil is ever so slightly bigger at 5.38mm. This means that in poor light when your exit pupils dilate to be larger than these exit pupils, you should perceive the 8x43mm Hawke Frontier ED as having an ever so slightly brighter image (assuming all else is equal).
Even when the light is good and both bins are providing your eyes with more light than they are taking in, the larger exit pupil on the 43mm bins will have a slight benefit as it will make it just that bit easier for you to line up your eyes correctly to get the full view without any dark rings around the edges.
On the down side, the larger lenses will be a little heavier and potentially more expensive to make, although I am not sure how much 1mm will make in this case.
The Field Of View (FOV)
The Hawke Frontier ED 8x43 has an incredibly wide field of view which is 142m wide at 1000m away (426ft @ 1000 yards). This can also be expressed as an 8.1° viewing angle and means they sit comfortably with all the other wide angle binoculars that I have reviewed.
To give you an idea of just how wide it is, I have included a range of other similar sized binoculars with magnifications of around 8x that I have tested:
Interestingly and as you can see above their FOV is exactly the same as the slightly higher spec'd Sapphire ED 8x42 from Hawke Sport Optics.
Close Focus
Hawke Optics describe the minimum close focus of the 8x43 Frontier ED as being as 6.6ft (2m), but I measured it to be even closer at only 5.2ft (1.58m) on the pair that was sent to me to review. This is excellent and whilst I would not recommend these as dedicated butterfly binoculars, they more than hold their own against other full sized 8x bins and are great for getting a much better view of things like insects, flowers or even birds from closer ranges.
Eye-Relief:
Like the FOV and the near focus, their eye-relief at 18mm is excellent making them a great choice for those who want to keep their glasses on whilst using their bins. This also means they make it onto my list of long eye-relief binoculars.
Optical Stats Rating: 9/10
Image Quality
To try an be as impartial and as constant as possible in an area that is very dependent on each individual's perception, I compare the binocular I am reviewing with that of a number of similar sized "control" binoculars. I use these same binoculars for every review and in so doing I am able to judge the binocular I am testing against them and thus with experience and over time I can rate them in relation to where I place these controls in the overall scheme of things.
As I don't have an 8x43 control, I compared these Hawke Frontier ED's against my mid and high level 8x42mm controls. These comparison tests were conducted twice, once in good light and again in poor light at and just after sunset:
Color Fringing
The main reason for using ED glass in a binocular is to improve the image quality by reducing or even eliminating the amount of chromatic aberrations which causes you to see colored lines right on the edges of objects that contrast a lot with their background.
I thought that in this area the Frontier ED performed exceptionally well and I really struggled to spot any color fringing at all. I did manage to see the slightest hint of a very thin blue line along the edge of a dark wooden window shutter when I was looking towards a very bright sunlit sky in the background.
my method is to focus on very light coloured and white objects directly in front of dark backgrounds, or to look at dark image edges, like that of walls directly in front of a bright sky behind them.
Whilst I was able to notice a very small amount of colour fringing, it was very minimal and only just noticeable when you are looking for it and so rate these as being very good, almost excellent.
Image Softening
Whilst it is present and I have seen better, the amount that the image softens right at the edges of the view is fairly small and is no more than most binoculars in this price range.
Image Brightness & Low Light Performance
As I was expecting the brightness between these 8x43's and that of both my 8x42mm controls looked the same to me in good light and I was not able to spot any major differences.
It was in very poor light that they really excelled as it was obvious to me that they were brighter than my mid level 8x42 controls and every bit as bright as my top of the range alpha 8x42 controls that use the very best coatings on the lenses and prisms to increase transmittance levels and make sure as much light gets to your eyes as possible. So for these to match them is very impressive and goes to show that the slightly larger objective combined with some good quality glass and coatings can make a difference.
Colour Reproduction & Image Contrast
As you would expect from a good quality bin like these, the colors are bright but not too much so as to make the image appear unnatural. There are also no artificial tints that you sometimes find on cheaper bins that use lesser quality glass and prisms. I also thought that the contrast is good making lighter objects stand out and gives you a nice feeling of depth.
In good light I really could not see any obvious differences between these and my very top of the range controls which to me was very impressive.
Depth of Field
Focusing on an abject about 5 meters away, I then move my view back without adjusting the focus to se how far I can get before the image moves out of focus. Compared to my 8x42mm controls these had about the same depth of field and so rank them as very good in this area.
Image Quality - Overall
On the whole, these Hawk Frontier ED's produce a great quality and very bright image that is up there with the best within this price range.
Image Quality Rating: 8/10
Hawke 8x43 Frontier ED Comparisons
I have included the main features and specifications of a number of other similar sized bins for a quick comparison:
| | | | | | | | |
| --- | --- | --- | --- | --- | --- | --- | --- |
| | Hawke Frontier 8x43 ED | Celestron Granite 8x42 | Hawke 8x42 Sapphire ED | Eagle Optics ED Ranger 8x42 | Kowa BD 8x42 | Minox HG 8x43 | Vortex Viper 8x42 HD |
| Approx Price: | $480 (£290) | $345 (£398) | $450 (£340) | $440 | $550 (£590) | $1100 (£640) | $450 |
| Weight: | 26.2oz (743g) | 24oz (680g) | 25.7oz (730g) | 27.4oz (777g) | 25.7oz (729g) | 22.9oz (649g) | 24.2oz (686g) |
| Length: | 6.6in (16.7cm) | 5.8in (14.7cm) | 5.5in (14cm) | 6.7in (17cm) | 5.7in (14.5cm) | 6.0in (15.2cm) | 5.8in (14.7cm) |
| Width: | 5.2in (13.2cm) | 4.0in (10.3cm) | 5.1in (13cm) | 5.0in (12.7cm) | 5.0in (12.7cm) | 5.1in (13cm) | 5.3in (13.5cm) |
| Eye Relief: | 18mm | 17mm | 18mm | 18mm | 18.3mm | 19.5mm | 20mm |
| Min Focusing Dist: | 6.6ft | 6.5ft | 6.6ft | 6.0ft | 6.5ft | 8.2ft | 5.1ft |
| FOV at 1000yds: | 426ft | 426ft | 426ft | 425ft | 330ft | 379ft | 347ft |
| ED Glass | Yes | Yes | Yes | Yes | No | No | Yes |
| Phase Correction | Yes | Yes | Yes | Yes | Yes | Yes | Yes |
| High Reflective Prism Coatings | ? | Dielectric or Silver | Dielectric | Dielectric | C3 Coating | Silver | ? |
| Lens Coatings | Fully Multi-Coated | Fully Multi-Coated | Fully Multi-Coated | Fully Multi-Coated | Fully Multi-Coated | Fully Multi-Coated | Fully Multi-Coated |
| Waterproof | Yes | Yes | Yes | Yes | Yes | Yes | Yes |
| Fogproof | Yes | Yes | Yes | Yes | Yes | Yes | Yes |
What is immediately obvious from the table above is that their field of view is excellent and is as wide as any. What also jumps out is that you are getting a really good quality binocular, with plenty of high end features and components for the money. Where these differ to the Hawke Sapphire is in the design of their body and the fact that the Sapphire uses the very best Dielectric coatings on the prisms. As Hawke don't highlight what is used with the Frontier, my guess is that at the very best they use silver coatings which is still very good but is slightly less reflective and cheaper than a dielectric one.
Accessories & Attention to Detail:
Carry Case
Made from an artificial leather, the front and rear faces are semirigid, with soft sides and so when the binoculars have been removed, it can be collapsed almost flat. The padding is very light and so would not offer too much protection should you accidentally drop it with your bins inside.
The lid is held closed with a magnetic clip that I think should be a little more powerful as it can open a little too easily and it can be hard to line it up to close it especially when the binoculars have been removed. The 8x43 Hawke Frontier fits very snugly into it and you can only just close the lid with the eye-cups fully twisted out and your lens covers on.
The case does not come with it's own carry strap, but rather has a couple of openings on each side at the top that you can pass the binoculars strap through. There are no extra pockets either internally or externally but on the rear of the bag there is a loop that you can thread your belt through to attach the bag to your hip.
Overall this carry case is reasonably basic, not quite matching the quality of the binocular and whilst I have seen much better in this price range, I have also seen worse.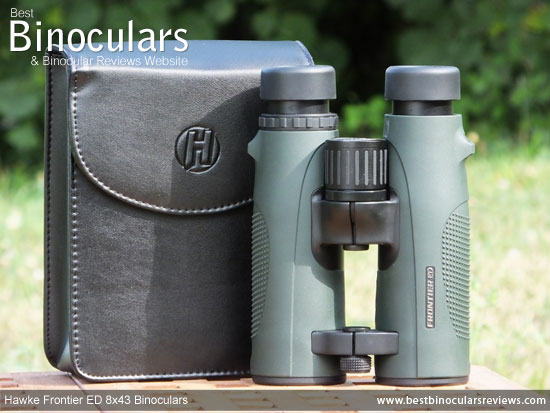 Neck Strap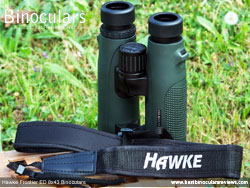 The neck strap is of a reasonable quality looks to be well made and very strong. The padded section is not curved as the best ones are to fit around your neck and shoulders better, but is just thick enough at around 4mm deep and is 40mm wide to offer enough comfort for this weight and size of bin.
The thin nylon part of the strap is sewn to the padded section with some faux leather straps for support and strength which works well enough, but the best straps have a looped connection that allow for more freedom of movement so that the padded section does not move when when lifting and lowering your binos to and from your eyes.
As with the majority of straps, it connects to your binoculars by threading the cord though a couple of loops on the body of the bin and is held in place using the standard buckle slider that you can use to adjust the length.
As with the case, the neck strap is adequate and does the job it is designed for well enough, but just lacks a few minor details that would take it to the next level.
Objective Lens Covers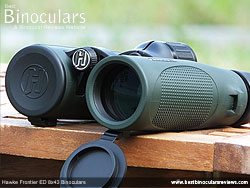 Just like the higher spec Hawk Sapphire ED's the objective lens covers on the Frontier ED's are tethered to the body of the binocular using a clip that locks into a small socket under each barrel. This system works really well and looks a lot cleaner than a rubber loop wrapping around the ends of the barrels that is used on most other bins that have tethered covers.
The covers are made from soft rubber and another thing I like is that they fit into the ends of the barrels as opposed to fitting over the ends as is the case with the majority of other bins. This adds to the very clean, uncluttered look that I really like.
The fit is good, perhaps a little too good as there were occasions when it took me a second try to replace them, but this was nothing major and it does mean that they should not fall off by accident leaving your precious lenses exposed when you don't need them to be.
Ocular Lens Covers
Also made from a soft rubber the ocular lens cover or rain-guard as it is sometimes called, fits well over the ends of the eyecups.
Unlike the separate objective lens covers, the two cups on the rain guard are joined together with a bridge to form one piece. This bridge is very flexible and so can easily adjust to whatever your setting for the inter-pupillary distance is.
It also has a loop on the side of each cup, which you can thread the neck strap though, should you wish to keep the guard handy at all times.
Lens Cloth
The reasonably good quality lens cleaning cloth that comes included will be fine for basic cleaning, but I would suggest that you should eventually get a specialised Lens Cleaning Kit when you need to conduct a more thorough clean as this will make sure that you don't scratch the lens or the more delicate coatings.
User Manual & Warranty Information
The user manual that comes with these Hawke binoculars is rather basic and generic with advice on things like how to look after your bins and to adjust the focus and diopter settings. At the end of the manual for each language is also the details of the good Hawke Worldwide Warranty that is valid for 10 years.
Extras & Attention to Detail Rating: 7/10
Conclusions:
Strong Points: The stand out feature for me is the really wide view, that also remains sharp over most of the image. The overall quality of the image is very good thanks in part to some quality components like Fully multi-coated optics, ED glass elements in their lenses and the phase corrected prisms.
The quality of construction looks very good and at least as good as or better than most in this class. I like the very large focus wheel that was easy to reach and turned very smoothly making focusing accurate and fast.
The way the objective lens caps are attached to the body is also great and makes for a nice clean look compared to most others that just use a rubber loop around the barrels.
Weak points? Some people may prefer a slightly smaller and lighter body although the great balance and added benefits of the larger 43mm objectives do go sa long way in countering this added bulk.
Whilst still perfectly adequate and as good as most in this price category, I thought that the quality of the neck strap and carry case do not quite live up to the quality of the actual binocular. However if improving these meant raising the price, I would probably stay with what they have as it is the quality and performance of the actual binocular that is far more important.
Ideal Uses: With such a wide field of view and a bright, high quality image these binoculars are going to be perfect in a wide range of applications, but what springs to mind first is general bird watching and wildlife observation binoculars.
The tough body with plenty of protection combined with the attributes above means they also make ideal hunting binoculars especially those who use a hide. Whilst the open bridge body makes for a great surface to hold onto, they may be a little bulky for those who cover a lot of ground when hunting. However if you don't want to sacrifice brightness and image quality by getting a smaller bin, you could always carry your bins using a good quality harness.
As a outdoor sports, travel or safari binocular, they are fine unless size and weight are important to you and you would probably be better off opting for a smaller lighter full sized bin like the Hawke 8x42 Sapphire ED or even a high end mid-sized bin.
Thanks...
Many thanks to everyone at Deben, the UK distributors of Hawk Sport Optics for sending me this sample to test and review.
Genuine & Honest Review
As with all the other reviews on BBR, this one is completely my opinion of the binocular and I have not been influenced in any way to write about the product in a certain style or way. I think it is also important that unlike some binocular review websites out there that make up a review based on the manufacturers marketing jargon, I have actually used and tested the binocular in question, both in the office and out in the field.