Helios Lightwing HR Binoculars
The Lightwing HR series of roof prism bins is (at the time of writing this review), the newest offering from from British brand Helios Optics and is aimed at the mid to higher end of the market with a good selection of higher end features and components.
Available in either 32mm or 42mm versions with either 8x or 10x magnifications and with some models using ED glass in the lenses, they should suit and cater for the needs of most mainstream uses.
With this release, I recently got the opportunity to spend a good amount of time testing and using the 8x42 ED version and below are my detailed findings:
Helios Lightwing HR 8x42 ED Binoculars Review
Important Points:
Mid Price Binoculars, retial price around: $250 / £199
Single Hinge Body Design

Magnesium Shell
Water & Fog Proof
Tripod Adaptable

Fully Multi-Coated with premium high-transmission coatings
BaK-4 Roof Prisms

Phase Corrected
Dielectric Coated

Wide Field of View: 423ft @ 1000yds
Minimum Focus Distance: 6.6ft
Over 17mm of Eye Relief
The Body
Shape
The Helios Lightwing HR binoculars have a fairly typical shape and design for a 42mm roof prism binocular, although the bridge connecting the two barrels is perhaps a little narrower than what you typically find.
Potentially this could make it weaker and more likely for the barrels to become misaligned, however to me it feels really robust and would take a really large force or impact to do so.
The advantage is that it leaves quite a lot of the barrels free to grab onto when carrying them about and when simply holding them up to your eyes.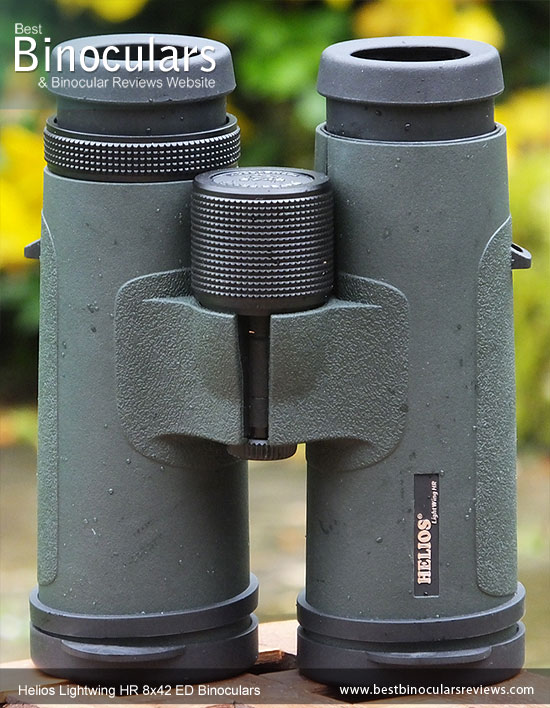 Chassis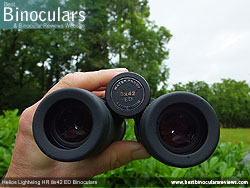 Helios rightly make a point of highlighting that the main chassis is made from a magnesium alloy in their marketing of the product.
Whilst more expensive to produce than the frequently used polycarbonate chassis, it is still comparatively lightweight, but far stronger and durable.
Fully Sealed
As with any quality binocular, these have been fully sealed and are rated as being waterproof to a depth of 1 meter for 30 minutes.
Also remember that being sealed also prevents dust from entering which is just as important.
The interior air is also replaced with nitrogen gas during the manufacturing process, which ensures the internal lenses remain fog-free in all conditions.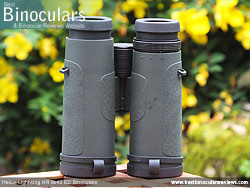 Exterior
The hard rubber jacket on the exterior looks to be durable and long lasting. As I say, it is very hard and quite thin, which will mean that it does not provide as much protection from impacts as softer, thicker rubbers.
Grip levels are good due to the fine textured surface on the rubber, however it must be pointed out that softer rubbers do offer even more grip, but on the down side do have a habit of perishing or breaking apart more easily.
Tripod Adaptable
This Helios binocular will easily accept almost all standard tripod adapters, by unscrewing the small cover on the bridge in the normal way.
Eye-cups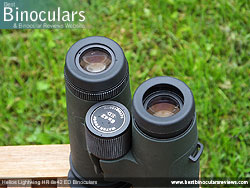 The eye-cups look like they take their design inspiration from most Swarovski bins, which I think in terms of style is a good thing and whilst the hard exterior coating is not as soft or padded as that which you find on most other bins, I found them to be just comfortable enough unless you were to really push the bins hard against your face.
The helicoidal twisting mechanism of the cups that allow you to change the distance of the cup to the ocular lenses and thus adjust how far your eyes sit back from the lenses worked really well on my sample without any free play or looseness that you sometimes find which is good.
In terms of eye-relief, these Helios Lightwing binoculars do not offer as much as some out there, but at 17.2mm there should still be enough for most of you who wear glasses. You also get one fixed stop about mid-way which adds a certain amount of flexibility. However, there is also enough resistance that you can quite easily position the cups at any point between completely extended and retracted and they will remain at that point.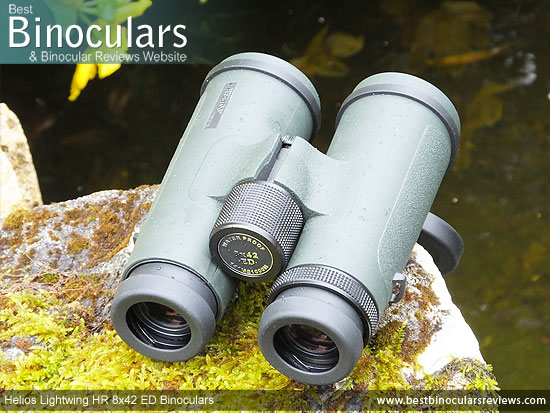 Adjusting the Focus
The focus wheel is one of the real highlights for me. Nice and large (33mm diameter), it looks to be made from metal, has a nice etched surface for added grip and turns very smoothly without any loose or sticking points anywhere along the track when you take it from minimum to far focus.
The wheel takes 1.5 turns (540°) to go from these extremes, which for me is a nice medium and makes fine focusing easy, but does not take too long (with too many turns) to make large adjustments.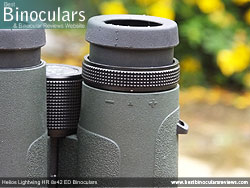 Diopter
The diopter ring is located in the standard position under the right ocular. For those who don't know this place an important part in setting up your binoculars so that they compensate for any differences between the vision in your eyes..
As this adjustment only needs to be made occasionally, the best ones are lockable to prevent your setting from being moved by accident.
The diopter on these is not lockable, but these is a good amount of resistance to movement so your setting wont be lost too easily. I also wish that they would print a scale on it, which would make it easier to remember and return it to your setting if it is not neutral.
To get around this you can of course make a small make with a permanent marker on an etch with a knife, but I really feel that you shouldn't need to.
Body Quality Score: 8/10
Weight
The published weight of these Helios 8x42 Lightwing HR binoculars is 710g (25oz), which in terms of your average 42mm bin, it places them around mid table (as you can see below). However if you were to compare them only against ones that have magnesium bodies, these are amongst the lightest:
Dimensions
For some reason Helios Optics do not specify their dimensions, so whilst unofficial, I measured them to be as follows:
Length, with eye-cups retracted: 14.2cm
Length with eye-cups extended: 15cm
Width with IPD set to maximum (hinge open): 13cm
Width with IPD at minimum (hinge closed): 11cm
Height with hinge open: 5.5cm
Height with hinge closed: 7.4cm
Body Stats Score: 7/10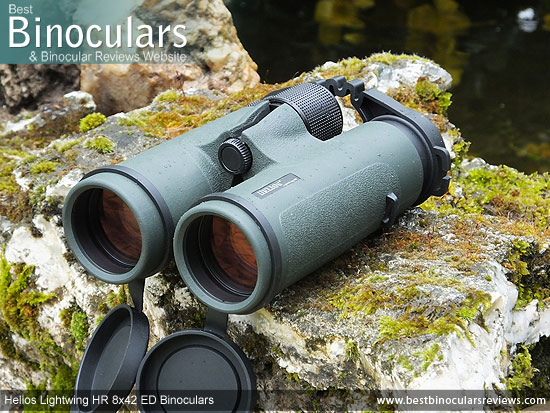 Optics
Lenses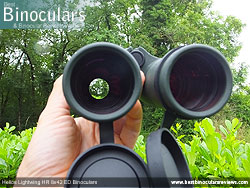 I measured the ocular lenses to have a diameter of 22mm which is about average for a this size of binocular, so nothing out of the ordinary to report here. However other than this, I have not been able to find out any further information as to their exact makeup so cant comment further.
The 42mm diameter objective lenses set back 10mm from the ends of the barrels, which is nice and deep and so the overhang offers them plenty of shelter.
ED Glass
It is important to note that Helios offer their 42mm Lightwing bins with either standard or ED glass versions. The 'standard' or non-ED versions will have low dispersion glass elements in the lenses, whilst the ED model that I had for testing has extra-low dispersion glass that if used correctly can improve image quality even more by reducing the levels of chromatic aberrations that cause color fringing that you can sometimes see when looking around the edges of objects in your view.
If you go down to the Image Quality section below, I go into more detail as to how they actually perform in this area, but just to say now that I was impressed by how little color fringing there was on these.
Prisms
As is deductible by their straight through shape, these Helios binoculars use roof prisms within them. These prisms have been fashioned from BaK-4 glass, which by all accounts is deemed to preferable than BK-7 glass that you also find.
Optical Coatings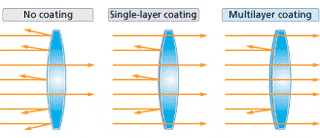 Anti-Reflection Coatings
All Helios Lightwing HR binoculars, including these 8x42 ED versions have been Fully Multi-Coated which is exactly what we want to hear.
What is more, Helios rightly emphasise that they use premium high-transmission coatings to ensure a higher level of light transmission than standard multi-coatings used on many bins. This special coating process carries a significant cost over standard multi-coatings, but offers a higher transmission level (approx 2-3% extra according to Helios), which and along with the prism coatings (see below) contributes to a brighter image.
For more details, please take time to read my article on Anti-Reflection Lens Coatings on Binoculars.
Phase Correction Coatings
Also important to point out is the fact that the roof prisms have been phase corrected, which most certainly improves image quality compared to those roof prism bins that don't have these coatings.
Prism Reflection Coatings
I was also really pleased to discover that the prisms have also been dielectrically coated. This level of coating adds about 5% extra light transmission to the system than lower grade sliver coatings used on many bins in this price level. This ensures that the maximum amount of light possible gets reflected and thus transmitted and so in turn helps deliver a brighter and better quality view than those that have cheaper, but lesser quality treatments like aluminium mirror coatings on the prisms.
Coating Comparisons
Optical Components Score: 9/10
Optical Stats
Field Of View (FOV)
The 8x42 version of the Helios Lightwing HR has a view that is advertised as being 141 meters wide at a distance of 1000 meters away, or 423ft wide at 1,000 yards, which equates to a 8.1 ° angle of view.
As is clearly illustrated in the table below this is excellent and up there with some of the widest FOV's for 8x42 binoculars out there and they easily make it onto my list of wide angle binoculars:
Eye-Relief:
With 17.2mm of eye-relief the Helios Lightwing HR 8x42 ED Binoculars don't quite make it onto my list of long eye-relief binoculars, but this should still be enough room to accommodate most users, even those who wear spectacles.
Close Focus
Here on BBR we consider any full sized binocular with a close focus of 6ft or under to be excellent in this area. So at 6.6ft, these Helios binoculars can't quite be classed as excellent in this area, but are very good and so will still be a more than decent choice for the occasional observation of very nearby objects. However if you intend this as your primary function for the bins then I would still suggest a more specialist close focus binocular like the excellent Pentax Papilio.
Optical Stats Score: 9/10
Image Quality
You can have all the best optical components and coatings in the world, but if they are not combined correctly in a well designed optical system, you will still get an image that's no better and sometimes even worse than a very well designed system using moderate components.
I compared the view through these Helios Lightwing HR 8x42 ED binoculars against my mid range 8x42 benchmark binoculars as well as my very high end 8x42's and came to the following conclusions regarding their image quality:
Image Brightness
In terms of image brightness, the fact that they are fully-multi coated and use dielectric coatings on the prisms that have the highest level of reflectivity meant that I had high expectations for these when compared to other 8x42 binoculars and on the whole I was not to be disappointed:
In good light, I was not able to detect any observable difference in this area between any of the three 8x42's that I was using. This is to be expected as 8x42 binoculars, with their wide 5.25mm (42÷8) Exit Pupil's provide your eyes with more than enough light in all but the poorest circumstances and so you perceive them all to be equally as bright.
Then I compared all three again in very poor light during and just after sunset:
My observations were that these Helios Lightwing HR ED binoculars were pretty equal in terms of brightness to my mid level 8x42 benchmarks and both were fractionally less bright than my very high end 8x42's.
But I have to stress that the difference is minor and really not something to be overly concerned with unless this is of major importance to you. If sit is, then I would suggest the only way you can be sure of achieving the brightest image possible is by spending more and looking at very high end binos.
Colors & Contrast
Whilst perhaps not quite as vivid as when comparing them to my high end bins, both the contrast levels and the colors I observed through the Helios Lightwing ED looked pretty normal to me, which is a good thing:
Sometimes bins can show and overly contrasting or on the other end of the spectrum a washed out image, which not the case here.
Or they can have an artificial tint to the image that unless you need a filter for a specific use (some hunting binoculars have purposely tinted lenses that can help 'show' animals up against the background foliage better) it is unwanted.
Color Fringing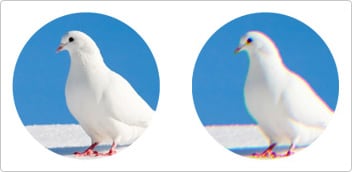 The extra low dispersion (ED) glass used in the lenses of this version of the Helios Lightwing HR ED binoculars that I went over in the optical components section of this review is there largely to reduce the chromatic aberrations that cause color fringing.
So as expected, these do perform well in this area and I thought that the level of observable color fringing, even in extreme circumstances, like looking along the edges of a black telephone wire against a bright sky was more than acceptable.
Image Distortions & Blurring
As well as chromatic, there are other common distortions that are occasionally observable like "pin-cushioning" or "barreling", of the image that make it look as though it is either caving in on itself or wrapping around a ball. Thankfully I was not able to detect either of these on the sample of the Helios Lightwing ED 8x42 binoculars that I had with me.
Also good was how far the image remained sharp on getting closer to the edges of the view, with only a small level of blurring, the level of which is perfectly acceptable at this level.
Score for Image Quality: 8/10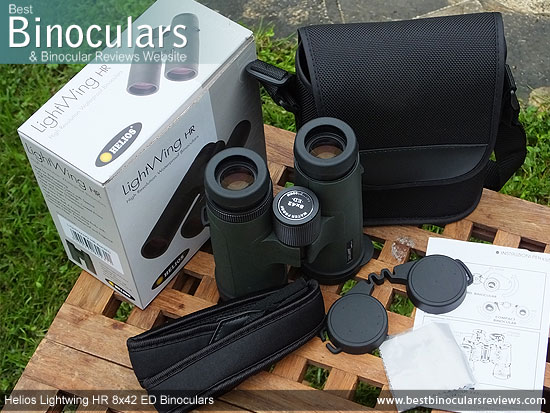 Included Accessories:
As well as the actual binos, you will also find a carry case, neck strap, cleaning cloth lens covers and instructions included in the box:
Carry Case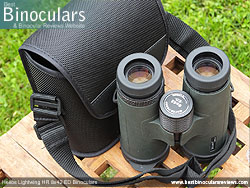 Whist the carry case functions (in that it holds the binoculars in a soft case enabling you to carry them about), it does lack in a number of areas compared to some of the better ones out there:
Firstly it's simple design and lack of branding does make it look rather generic and very similar (if not identical) to the ones that I see supplied with a number of cheaper optics on the market.
In terms of function, the padding is very lightweight and so will only protect the optics from the lightest of impacts.
It does have it's own strap and whilst it can be length adjusted, it cannot be removed. This is fine except if you use the belt loop on the rear to fix the bag to your waist, you will still have the strap dangling about which for some can be a little annoying and for me just shows a little lack of thought.
The flip over lid is held reasonably securely in place using a strip of Velcro. This is great for quick access, but not the securest of fasteners and in some instances, you will need to be careful that the ripping sound as you open it does not alert or frighten away the wildlife you came to see.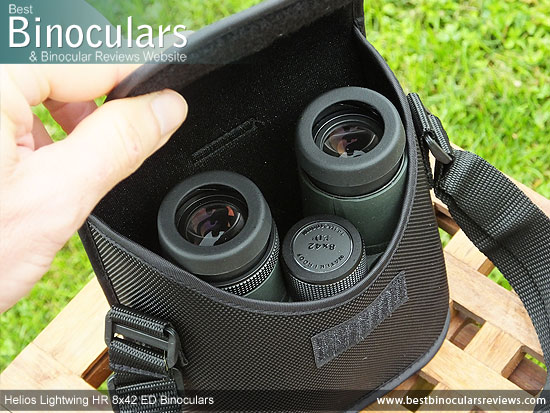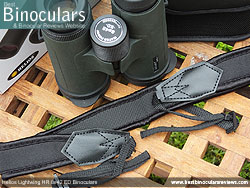 Neck Strap
The neck strap is in many ways very similar to the case in that it basically functions as it should, but looks very generic and lacks some of the finer details.
First the good points: The amount of padding is good and I like the rubberized material that is used on the underside which grips around your shoulders and lessens the amount that the strap swings about when compared to those with a smooth surface.
The stitching looks good and secure, but for me the plastic connectors between the thick part of the strap and the nylon cords look cheap and in no way reflect the level of quality displayed by the instrument itself.
The strap connects to the bins using the normal method of looping it through the two eyelets on the sides of the barrels and then back and through the sliders that enable you to adjust the length.
Lens Covers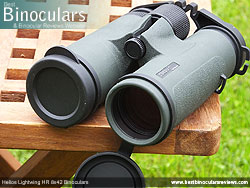 Once again the objective lens covers are functional, but very simple and generic looking.
Main Points:
Remain attached to the bin via a second loop
Made from a soft plastic/rubber and don't feel to be the strongest out there. I have quite often had very similar loops and connectors break on me in the past.
Fit over the ends of the barrels as oppose to into the ends, which is not as integrated or as clean looking as the better ones
Loose fitting, come away a little too easily for my liking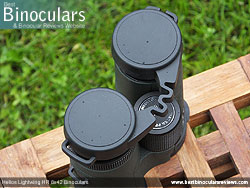 Rain-Guard
The rain-guard is in keeping with the theme as the rest of the accessories, so not too much to add here except to say that I do like the fact that there is a flexible bridge between the two cups that enable you to put them on no matter what your (inter-pupillary distance) is set at which a far better design than some that force you to open the hinge on the bin before replacing the cover for the lenses.
Cleaning Cloth
Whilst it is good that one is supplied, it is no different in quality than that which you get with a cheaper pair of bins and thus in my opinion only should be used for cleaning the body and perhaps very carefully cleaning the lenses in an emergency.
For worry free and thorough cleaning of the lenses I would highly recommend investing in a specialist lens cleaning kit.
Manual
These bins come supplied with the simplest, most basic of instructions that are very generic and which are exactly the same as those you get with most cheap binoculars. Apparently everything you need to know about your optics can be explained on a corner of a sheet of paper with illustrations of old porro prism and compact binoculars! Poor effort in this area.
Warranty
These and indeed all instruments in the Helios Lightwing HR range are covered by their 5-Year Limited Warranty.
Extras Score: 6/10
Helios Lightwing HR ED Comparisons
The table below includes most of the main details of these Helios Lightwing HR ED binoculars as well as that of a number of other 8x42 binoculars and I have also included the non ED version, which as you can see apart from the price and the lack of ED glass is pretty much identical:
Review Conclusions:
Strong Points: With features like a magnesium chassis, you can see and feel that the overall quality of this Helios binocular is very good and externally I do like the great looking and well functioning eye-cups and focus wheel which are both amongst the better ones that you see at this level.
The optical components used and the coatings applied to them are also excellent, which thankfully also translates to a really good quality as well as bright image that in my experience is a match for any at this price level.
When you combine all this with a really wide field of view, good close focus and more than acceptable amount of eye-relief, you have a great all round, general use 8x42 binocular that will excel in almost all conditions and uses but especially for uses like bird watching, hunting or wildlife observation.
Weak points? Whilst none are terrible (except for the instruction 'manual'!), the level of all the accessories really are no match or do any justice to the binocular itself which for me is a shame.
For example the unbranded and generic looking carry case and neck strap both just perform their intended function, but both lack the finer details and finesse that the better ones display. This for me also shows a slight lack in the attention to detail and it is as if they were an afterthought and not part of or any way integrated into the unit as a whole.
However to be fair to Helios, if by doing this they were able to make a substantial cost saving which meant that they could include features like the dielectric coatings rather than the normal silver coatings on the prisms for example, I would make the trade any day as the accessories are the least important part of the product.