Kite Optics Lynx HD+ Binoculars
Stepping up from the already excellent Lynx HD series, Kite Optics have added the Lynx HD+ series to their lineup.
Kite Lynx HD+ binoculars, like the "standard" Lynx HD, are available in 10x30 and 8x30 configurations, but they have now expanded it to also included the more traditional 8x42 and 10x42 configurations as well as this 10x50 model into the mix, which is an interesting combination and ultimately the one that I decided to opt for and here is why:
For the most part, "normal" full-sized 42mm binoculars are so prevalent and popular because they offer a really good balance between light gathering ability and the size and weight of the instrument. Thus you get a good optical performance from a binocular that is also reasonably easy to carry about and take with you pretty much everywhere you go.
For this reason, an 8x42 binocular makes the perfect all-rounder and will perform well enough in most situations. However, if you want a little more reach or image detail, the 10x42 option is the most common choice, but it does mean that you are sacrificing a fair amount of low light performance in order to achieve this and still maintain the same size and weight.
So what if in some way you could achieve the best of both worlds and increase the power, but also maintain the low light performance of an 8x42, but at the same time also make sure that the weight and dimensions of the instrument don't increase by an excessive amount?
10x50 Configuration
Well, the 10x50 configuration used on this instrument has the potential to achieve this as you not only get the larger lenses that with their greater surface area are able to capture more light, but instead of the relatively small 4.2mm exit pupils generated by the 10x42 combination, you now have 5mm shafts of light exiting the ocular lenses. This comes close to matching the 5.25mm ones on an 8x42mm binocular and thus should have a not too dissimilar low light performance.
That's the theory anyway! I was interested to see how this would all pan out in real-world conditions and below are my in-depth thoughts and opinions on this as well as all aspects of this instrument:
Kite Lynx HD+ 10x50 Binocular Review
Contents & Important Specs:
High-End Binoculars: Approx: $1000 / £800 / €800
Body

Single Top Hinge Body Design
Water & Fogproof (Nitrogen Filled)
Central Focus Wheel
Right Eye Diopter Adjuster
Aluminium Twist-up Eyecups
Tripod Adaptable
Weight: 28.7oz / 814g
Dimensions: 6.4in x 5.2in / 16.3cm x 13.2cm

Optics

HD Optics
KITE MHR Advance + Coatings
Schmidt/Pechan Roof Prisms
Phase Corrected
Scratch Resistant & Water-dirt Repelling Exterior Lens Coatings

Optical Stats

17.8mm of Eye Relief
Very Wide FOV: 120m @ 1000m
Close Focus Distance: 2.6m / 8.5ft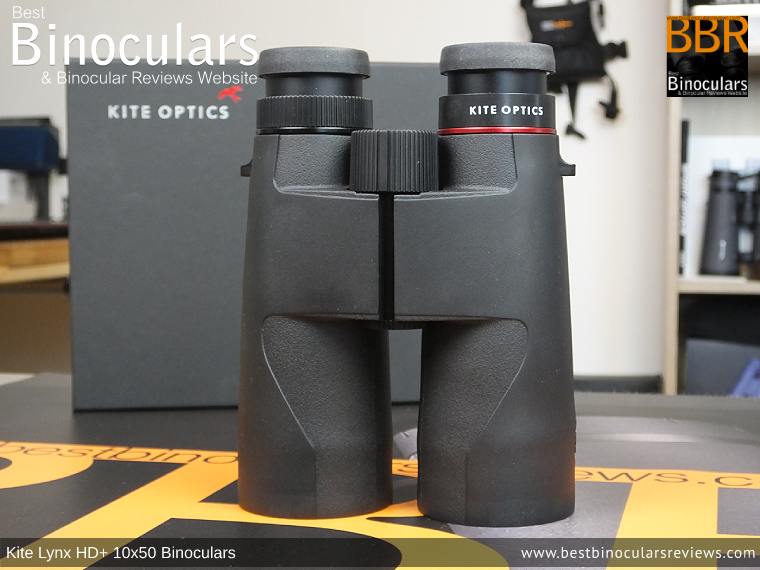 The Body
Single Top Hinge
These Kite Lynx HD+ 10x50 binoculars having a single top hinge design, that is becoming ever more popular on the modern roof prism binocular.
This design works well because it allows for a larger area of the lower part of the barrels for you to hold onto, which is important when you carry your binoculars one-handed without the use of the neck strap or harness.
Both the bridge and the hinge on my sample felt very robust and thus I wouldn't be worried about the barrels becoming misaligned anymore than any other well made binocular that I have tested.
Inter-Pupillary Distance (IPD) Adjustment
The central hinge opens and closes with a nice level of resistance and thus is easy to do, yet will remain at your chosen setting.
Speaking of which, this Kite Lynx HD+ 10x50 binocular has a minimum IPD (Inter-Pupillary Distance) of 5.5cm and a maximum of 7.3cm with the hinge fully open. This is in the range of what I consider to be normal for a full-sized, roof prism binocular.
Rubber Armor
The black rubber armor used on these new Kite Lynx HD+ binoculars is on the hard side and relatively thin when compared to the range that I see and test.
Whilst this offers a very nice looking finish to the instrument, the combination of these characteristics results in less padding to buffer heavy impacts as well as less grip than that which you can expect from a thicker, softer rubber.
Kite Optics have however imprinted a fine texture into the armor which certainly increases the grip level a little as well as makes the surface less reflective than if it had been left smooth, which in a small way adds to the camouflaging that for some uses like hunting and security is important.
Apart from aesthetics, one advantage of harder rubbers like this is that in my experience they tend to be a longer-lasting with less chance of perishing or becoming sticky.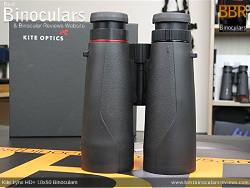 Also important to mention is that the rubber coat on my Kite Lynx binocular fitted snugly onto the chassis underneath and thus there was no slipping or moving about, which I do sometimes find, especially with soft, thick rubber armors.
Environmental Protection
Whilst no specific details are offered by the manufacturers, these Kite 10x50 Lynx HD+ binoculars are advertised as being "fully waterproof".
Note: Even if you don't go out when it is raining, this is important as these seals also prevent dust and other small particles from entering the system.
As well as simply sealing the interior, the internal cavity has been filled with Nitrogen gas. As this is completely moistureless it prevents the internal lens surfaces from fogging up when often occurs with non protected instruments when you get a rapid temperature change (like when you first step out of a warm house on a cold winter morning).
More Info here: All About Fogproof and Waterproof Binoculars.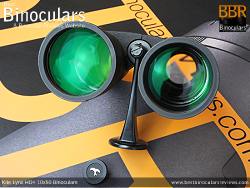 Tripod Adaptable
This Kite 10x50 Lynx HD+ binocular and indeed all the other models in this HD+ series are described as being 'tripod adaptable'. What this means is that the protective dust cap located on the front of the hinge can be unscrewed and then in its place you can screw in a tripod adapter. This is a very easy way to attach your binoculars onto a tripod in order to achieve a completely steady view which can also be useful if you want to train your binoculars onto a specific area for long periods or share a view with someone else.
Just note, that whilst there is a little more room than many 50mm roof prism binoculars that I have tested, because of the larger barrels needed, there is still less space in between them than what you get on your typical 42mm alternative. Therefore I recommend you make sure that if you purchase a tripod adapter for this or indeed any similar model, you look for one that has a thin leg and a small screw head (like the Snypex one I use, shown in the photo on the right). This is to make certain that it is able to get in between the barrels.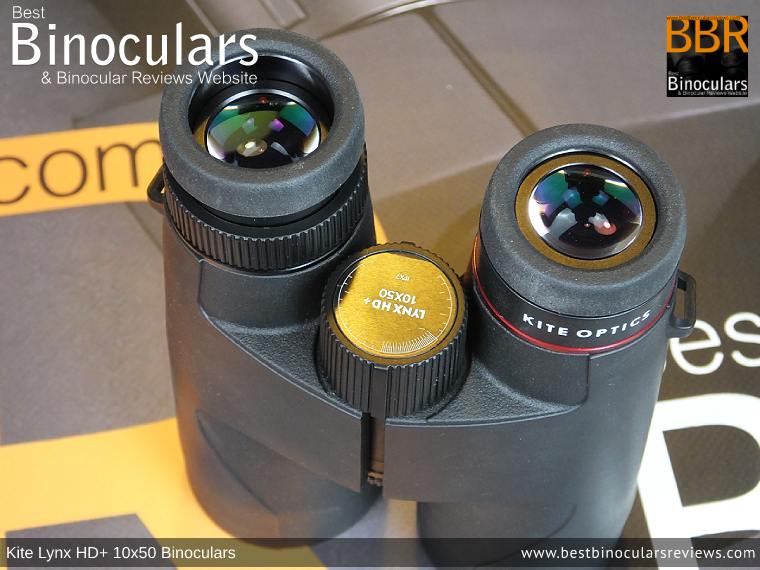 Eye-Cups
I really like the twist-up/down eye-cups on these Kite Lynx HD+ binoculars and in my opinion, they certainly rank up there with the very best:
To start off, the housings are made from aluminum and not plastic, which is important as for whatever the reason, this is often an area that takes the brunt of the force when a binocular gets dropped and is thus one of the most common parts that get damaged.
Another nice aspect and something that you only tend to find on more expensive, higher quality instruments like this is that the eyecups can be unscrewed and completely removed. This not only means that they can more easily be replaced should they ever get damaged, but it also makes cleaning them, the ocular lenses and the eyepieces underneath far easier and you can be more thorough.
I also find that the twisting up and down action on aluminum eyecups is generally superior to that of plastic ones and this once again turned out to be the case on these Kite binoculars as on my sample it was really nice and smooth.
Whilst there is only a very light resistance to movement and thus they turn very easily, these eyecups do have 4 click stops (fully twisted out, fully twisted in and 2 intermediate) and thus in combination with the excellent 17.8mm of eye-relief, you should be able to find the ideal position with or without glasses on and achieve the full image without any black rings on the edges of the view.
For eyeglass users, I did test this by wearing my sunglasses and sure enough, by fully twisting the eye-cups in, I was able to achieve the full field of view with out any problems.
The rubber cover on the eyecups is relatively thin, however, for me this was never an issue and I never felt any discomfort whilst using this instrument.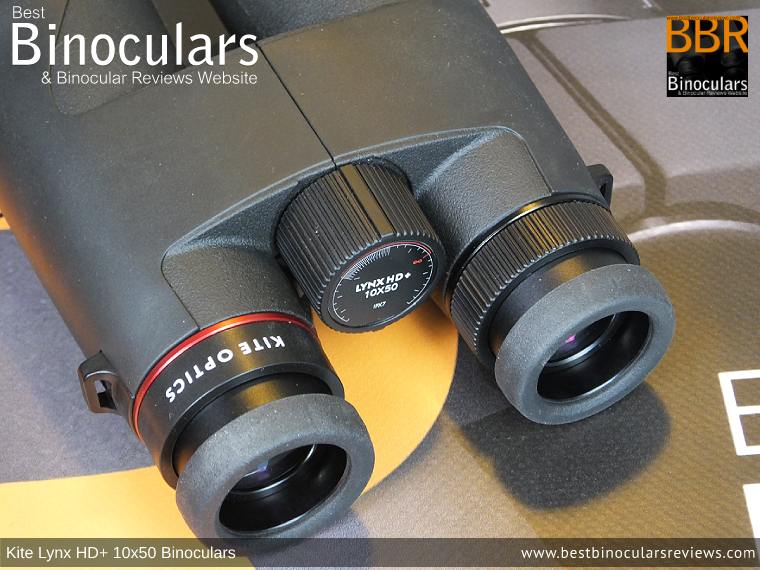 Focus Wheel & Focussing
Whilst the focusing mechanism and thus the experience of adjusting the focus is on the whole excellent, I would sum up the actual focus wheel on these Kite Lynx HD+ 10x50 binoculars as being good, but it does miss a few minor points that would also elevate it to the level of excellent: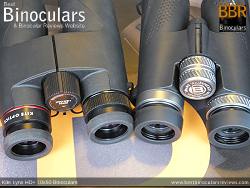 At this price level, many instruments will upgrade the focus wheel from having a plastic body to a metal one as is the case with the Bresser Condor 10x42 Binoculars pictured with these on the right. They will also often have an engraved or embossed metal faceplate. With these Kite binoculars, you instead get a plastic wheel and a simple printed faceplate that looks to have been glued onto the wheel.
Now if you think about it, you don't really need a metal focus wheel as this is a component that is unlikely to need the extra strength it provides and there is no doubt that by having a plastic one, it helps keep the final weight and cost of the instrument down. However, in terms of the look and especially the feel of quality, it falls short in my opinion.
Another very minor point is the lack of a rubberized track on the outer surface. Here again, in most normal day to day use, a high grip rubber surface is perhaps overkill and the grooves that Kite Optics have added to the wheel do help with grip, but I just feel that a rubber track may have improved the look and perhaps provide a more tactile surface for more "feel" when adjusting the focus with thick winter gloves on.
Having said all this, when came to adjusting the focus on my sample Kite Lynx binocular I was really very impressed with just how smooth and how light the action was. There was also no looseness or stiff sections at any point along the whole focal range which is great.
Adjusting the focus from one extreme to the other takes just under 1½ turns (approx 460°), which is in my experience about average and a nice compromise between being able to make large focal changes quickly and accurately make fine adjustments.
In terms of its size, the focus wheel on this 10x50 Kite Lynx HD+ binocular is fairly typical in that it is 30mm in diameter and 21mm long.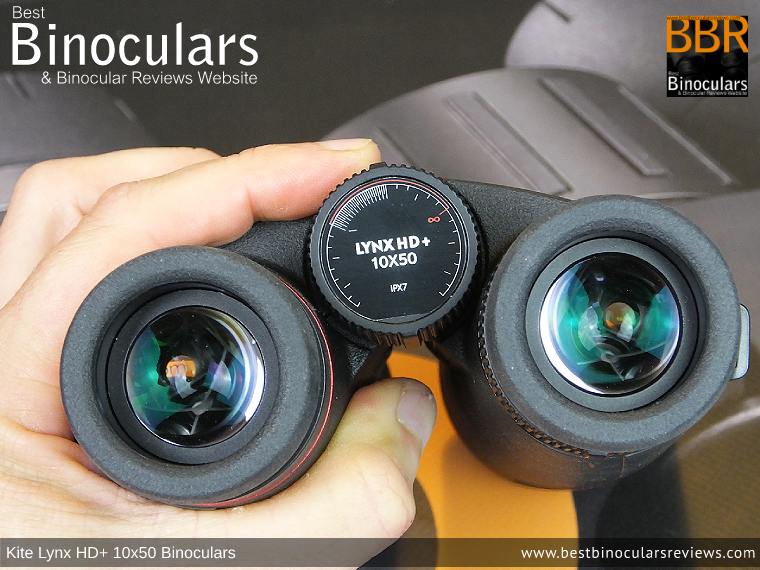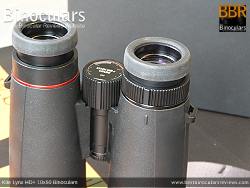 Diopter Adjustment
Many users don't know it, but the diopter ring is used to calibrate the binocular to your particular eyesight.
On these Kite Lynx HD binoculars, the diopter is positioned in the standard location on the right eyepiece and like the focus wheel, it functions very well, but just lacks a little in terms of refinement when compared to the best at this level.
The good points are that there is a reasonably high level of resistance to movement and whilst the ridges on the ring ensure an excellent non-slip surface, they are not too prominent and thus there is less chance of any accidental movement once you have set it up to your desired setting.
Where I think they could have improved is to have made the diopter lockable, which is a feature that you do sometimes get on premium level instruments and whilst I know that like the focus wheel, this part does not need to me metal and that plastic is lighter (and cheaper) in terms of aesthetics, it for me does not match the premium level of the rest of the instrument and especially the optics.
Body Quality Score: 8/10
Weight
A real highlight for me on this instrument is just how lightweight it is and as I mentioned in the introduction to this review is certainly one of the important aspects when deciding if you should choose this 10x50mm configuration over the more traditional 10x42 binocular.
As you can see in the comparison table below, tipping the scales at 28.7ozs (814g), this Kite 10x50 Lynx HD+ binocular is very lightweight for a 50mm binocular and even beats many high-end 42mm instruments in this area.
As we have seen in the body section above, a large contributor to this low weight is that instead of metal, Kite Optics have chosen to use a number of plastic components instead. For the most part, they have chosen to use plastic on parts where the extra strength of metal is not critical, but in terms of luxuriousness, this is one of the compromises you have to accept in order to achieve such a low weight.
Dimensions
Another highlight and certainly another reason why for many users these 10x50mm Kite Lynx HD+ binoculars would make a preferable choice over the 10x42mm version is just how similar they are in size.
Thus if you are able or willing to accept a small increase in size and a little extra weight, you get the improved light gathering ability and superior low light performance that a 50mm binocular offers.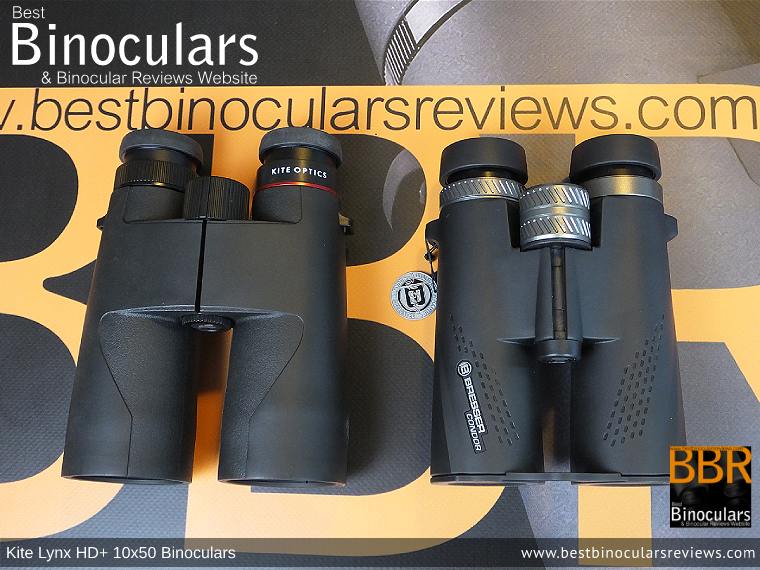 Body Stats Score (for a full sized binocular): 9/10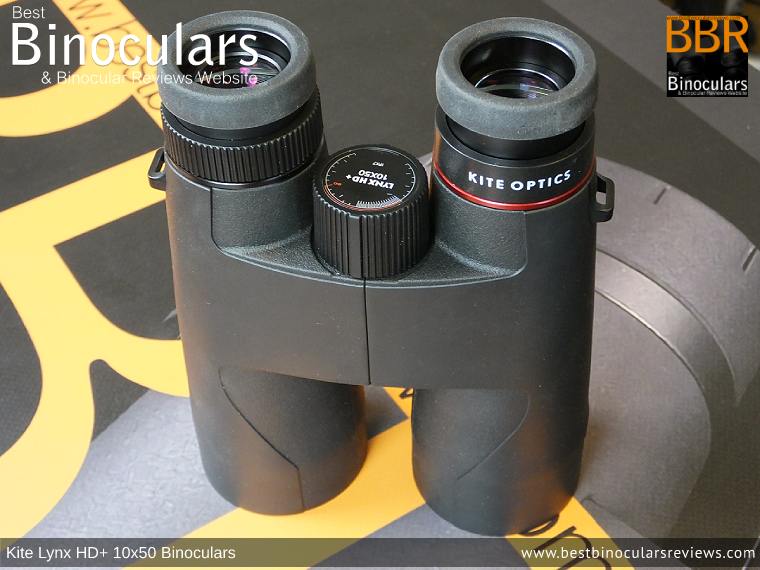 Optics
Kite Optics makes a point of highlighting that as the name suggests, this instrument uses their "HD optical system" and that it uses the "Kite MHR Advance + coatings", but apart from that, they are very sparse on the details. I have reached out to them to supply with more information, and I will update this if I get it, but until then I will expand as much as I can:
Eyepiece Lenses
Measuring 23mm in diameter, this Kit Lynx has relatively large ocular lenses.
I go through all the potential benefits in this article on ocular lens sizes, but probably of most interest is that it definitely makes it quicker and easier to line up your eyes with them and thus less chance of having of dark rings on the edges of the view.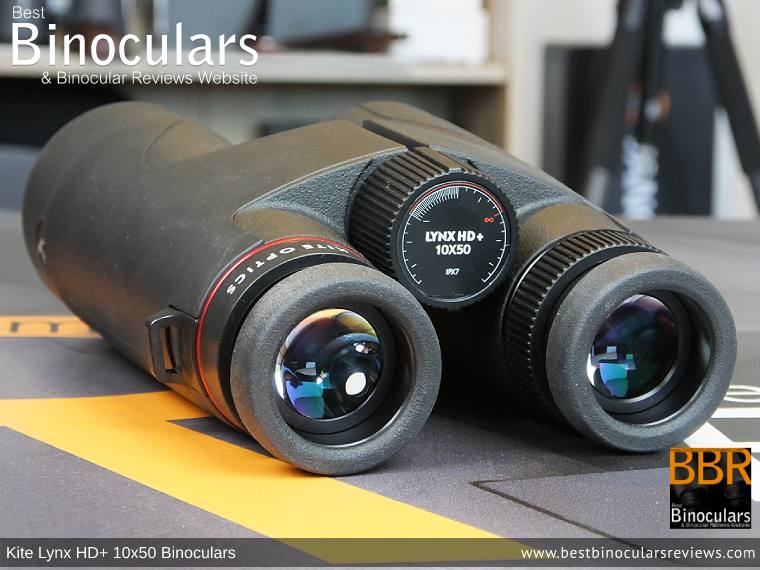 Objective Lenses
Set back at about 8mm from the outer edge of the barrels, the 50mm objective lenses are reasonably well protected, although you do get many instruments with deeper set lenses.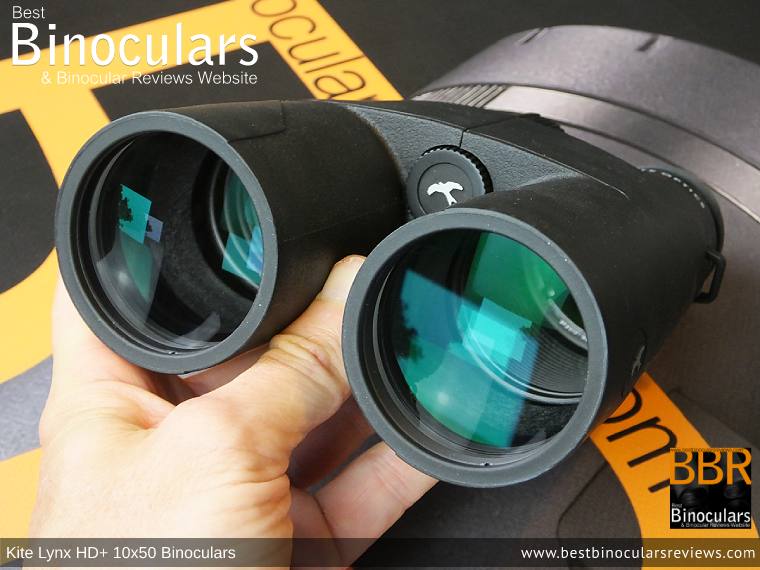 Prisms
These Kite Lynx HD+ 10x50 binoculars use the Schmidt/Pechan design of Roof Prism to correct the inverted image, which is most common. Kite does not specify what glass is used, but I will assume that at this level it is BaK-4 glass.
Optical Coatings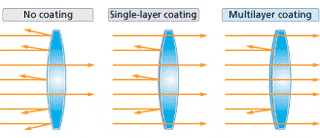 Anti-Reflection Coatings
All Kite Lynx HD+ binoculars have a fully multi-coated optical pathway, meaning that every exterior glass surface both in and outside the instrument has multiple layers of anti-reflection coatings added to them.
This is important and certainly something to look for when buying binoculars as they make a big difference to the light transmittance levels and thus are able to deliver better quality and brighter image than those with only single layer coatings on all or even in some case just some of the glass surfaces.
For more: What To Look For When Buying Binoculars & Anti-Reflection Lens Coatings.
Protective Coatings
Kite Optics has also added a couple of extra coatings to the outer lens surfaces:
Firstly there is one that has both water and dirt repelling properties, Kite calls this their "Permavision" coatings and it not only helps maintain a better view in poor weather but ensures that the lenses require less frequent cleaning and when you do need to clean them, less force is required.
On top of this, you also get the "Kite Permaresist" coatings. This supertough, scratch-resistant material protects the lenses even further.
Prism Coatings
The Lynx HD+ also uses the very best dielectric coatings on the surface on the roof prism that is not 100% reflective. This is a high-end coating process and once again outperforms lesser instruments that use cheaper silver or aluminum.
The prisms have also been phase corrected. These special coatings correct the phase shift that occurs on one surface of a roof prism and so will once again produce a better quality image than those that have not had this treatment.
Coating Comparisons
Optical Components Score: 8/10
Optical Stats
Field Of View (FOV)
This Kite Lynx HD 10x50 binocular produces a view that according to the manufacturers is 120 meters wide at a distance of 1000 meters (or approximately 360ft wide @ 1000 yards) which is exceptional and indeed certainly something I really appreciated when comparing them against the views of other 10x binoculars in my possession:
Minimum Focus
I consider a minimum close focus distance of 1.82 meters (6ft) or less to be excellent on a full-sized binocular. Thus coming in at 2.6m (8.5ft), the Kite Lynx HD+ binoculars these are good, but not the ideal choice of instrument if you often like observing things like insects at very close range.
Eye-Relief:
These Kite binoculars offer a full 17.8mm of eye-relief, which is excellent and thus by completely twisting the eyecups down, there was plenty of room for me to be able to enjoy the entire field of view without any black rings forming on the edges of the view whilst wearing my sunglasses. (for more: How To Use Binoculars With Glasses: Eye-relief & Eye-cups Explained)
Therefore these Kite Lynx HD binoculars make an ideal choice for users of eyeglasses or those who wear eye protection as is often the case at shooting ranges.
Optical Stats Score for a 10x binocular: 9/10
Image Quality
As soon as I had unpacked and lifted them to my eyes, I was immediately impressed with both the quality and brightness of the view through these Kite Lynx HD+ 10x50 binoculars.
However, it is always very easy to get carried away when testing an instrument that you know comes with higher quality optics, especially ones like these that have the extra light gathering ability that the larger than normal 50mm lenses provide you with and thus as I do with all my binocular reviews, before making any final judgment calls, I spent a lot of time using them in varying conditions out in the field.
I also very carefully made side-by-side comparisons of the view between these and a selection of my relevant benchmark binoculars at different times of the day and in different light conditions. In this case, it was my mid and very high-level benchmark 10x42 binoculars and for interest, I also used my 8x42 benchmarks in low light conditions and below are my thoughts:
Image Brightness
My initial reaction was well-founded as even after a lot of toing and froing between instruments, I found the image delivered by the Kite Lynx HD+ 10x50 binoculars to be equally as bright as my alpha level 10x42 benchmark binoculars in both good and fairly poor light conditions.
In very low light when the sun had just dropped below the horizon, they were most certainly a step up from my mid-range 10x42 and I would say to my eyes, about equal to that of the 8x42 benchmark which is impressive and indeed backs up my suspicion that like for like these are a better option in low light than a 10x42 and about on a par with a similar quality 8x42 binocular which is great news for the longer distance birder or wildlife observer going out early morning or as the sunsets.
Colors & Contrast
Another aspect that I really like about the view through this Kite binocular is that whilst the image is comparatively bright, it still manages to produce vibrant colors with an excellent variation between dark and light areas that gives the image a lovely sense of depth.
This is certainly another area where this instrument as well as my alpha level 10x42 benchmark were noticeably better than the mid-level benchmarks.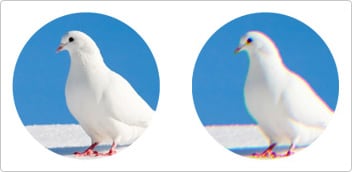 Color Fringing
Amongst other things, for this test, I very closely looked right along the edge of a black telephone wire lit up by a bright blue sky background and compared this with my benchmarks.
My conclusion is that the amount of color fringing that is visible through these 10x42 Kite Lynx HD+ binoculars is extremely minimal and I would say is as little as or even less than that I observed through my alpha 10x42 benchmark. This certainly ranks them up there with the very, very best that I have ever used in this area.
Image Definition, Distortions & Blurring
The level of image softening around the periphery of the view through these Kite binoculars is once again extremely minimal and certainly far less than the vast majority of binoculars that I test.
The image also looks to my eyes to be without any sort of distortions and remains flat and in focus from the center, all the way to the edge of the view.
Conclusion
I have no hesitation in rating the view through these Kite Lynx HD+ binoculars as superb and certainly amongst the very best 10x binoculars that I have ever tested.
Score for Image Quality: 9/10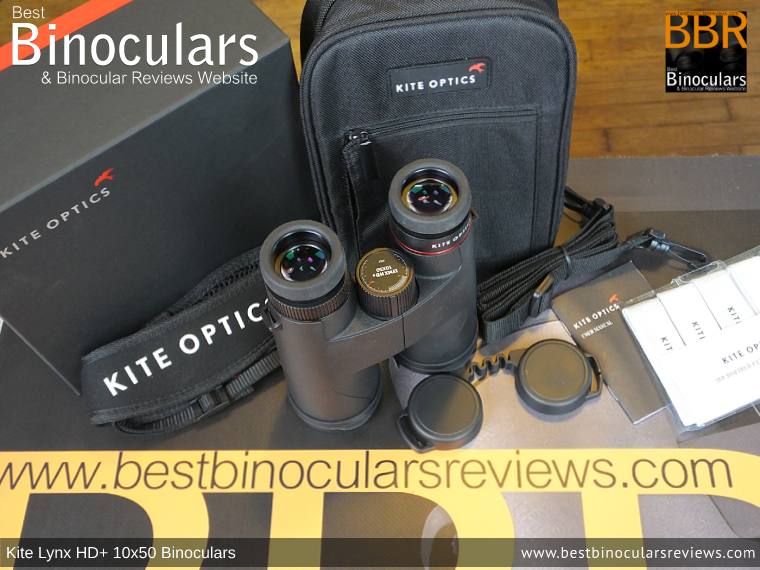 Included Accessories:
These Kite Lynx HD+ binoculars are offered with the usual assortment of accessories that includes a carry case, lens covers, a rain-guard, neck strap, and lens cleaning cloths: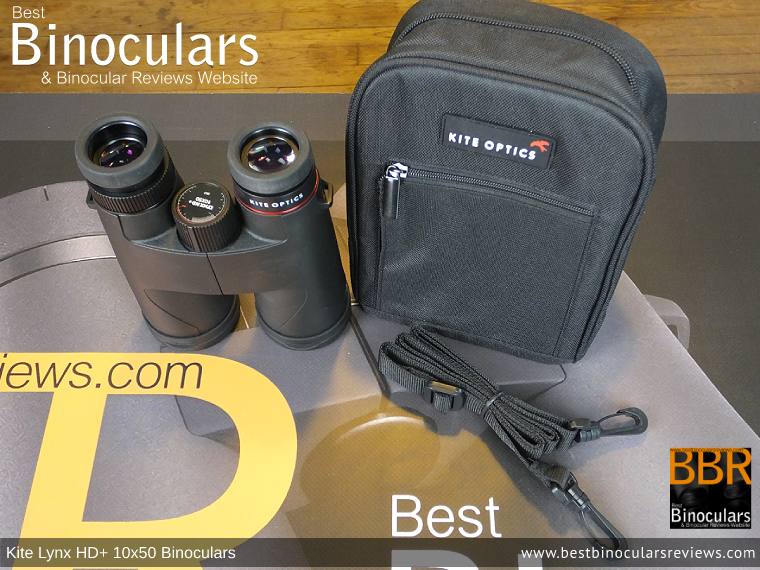 Carry Case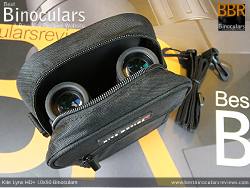 Whilst a fraction less luxurious than some of the very best, the Kite Optics branded carry case looks well made and the stitching and general finishing on it are excellent:
The large zip opening makes it quick and easy to both gain access and then return the instrument to the bag and it is certainly a secure method of closure.
Even with the neck strap, the eye-cups twisted-up and lens covers on, the binoculars fit very easily inside the bag and there is plenty of room (if a fraction too much).
The padding is adequate, but perhaps a fraction on the light side.
The case comes with its own un-padded carry strap that can be removed using the swiveled quick-release clips.
On the rear is a belt loop and the front face contains an extra pocket that has a zip closure.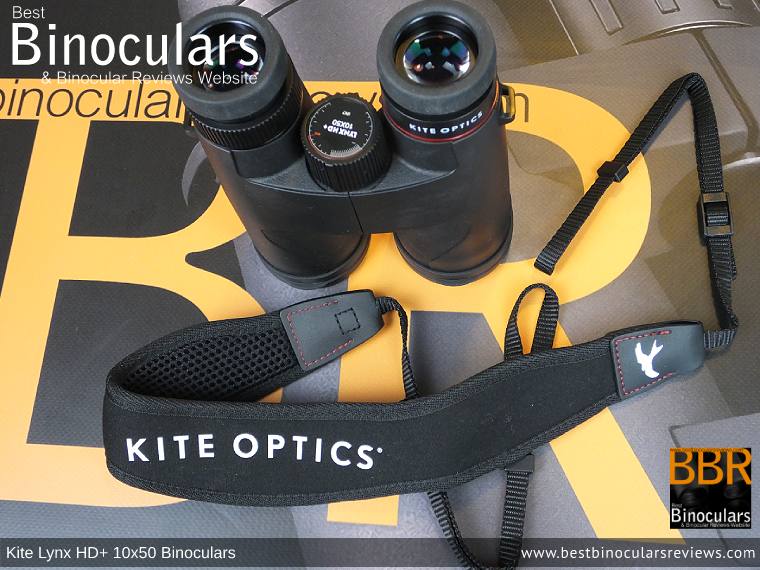 Neck Strap
The Kite neck strap is generally excellent, but for me just lacks a couple of minor details that would have elevated it up to the very best:
Firstly, and like the case it looks very well made with excellent quality materials and stitching. It is also very well padded and slightly curved to fit more naturally around your neck and shoulders making it very comfortable to use.
The thinner un-padded sections look to me to be made from a nylon material and without testing to destruction, they look to me to be connected very securely to the padded section. Here some of the best use a ring that allows for a little more free movement of the thin straps as you move the binocular up to your eyes and thus the padded section remains undisturbed. Admittedly it is a very minor detail, but thought it was worth mentioning.
Lastly, the strap attaches to the binocular in the normal way by looping it through the eyelets on the sides of the instrument and back on itself via a slider that enables you to adjust the length.
This tried and trusted method works perfectly fine, but I do appreciate straps that come with extra quick release clips that enable you to quickly remove the strap and/or attach it to a binocular harness if you wish.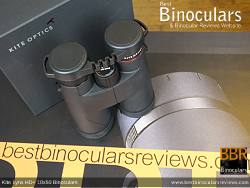 Lens Covers
Whilst they perform their intended function well and look to me to be well made out of reasonably tough-looking and hard-wearing rubber/plastic, both the objective lens covers and the rain-guard are very generic looking and exactly like most of those used with mid and low-cost instruments, which at this level is a little disappointing.
For me this is by no means a deal-breaker as they work fine, but it would have been nicer had they had Kite Optics branding on them and perhaps the objective lens covers could fit into the ends of the barrels instead of over them which would just make them look like they are part of the instrument rather than an afterthought.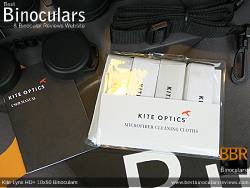 Cleaning Cloth
In complete contrast to the generic and very ordinary lens covers, the cleaning cloth, or should I more correctly say the whole set of cleaning cloths that you are supplied with are truly excellent and certainly a welcomed and very useful addition.
Instead of the normal token and usually reasonably low-quality cleaning cloth, the Kite Lynx HD+ binoculars come with a set of five Kite Optics branded, very high-quality microfiber cleaning cloths that are specifically designed to remove greasy fingerprints, oil, dust and dirt from the lens surfaces.
Whilst I would still suggest you invest in an optical lens cleaning kit for a thorough cleaning, these cleaning cloths will be more than adequate for general day-to-day use.
Instruction Booklet
The included user manual that comes in the form of a small booklet that you get with these Kite Lynx HD+ binoculars looks substantial, but it is written in 11 languages and thus only contains extremely basic information regarding the care and maintenance of the binocular. there are also no instructions on how to use the binocular, set up the eyecups, diopter, focusing or indeed how to attach the neck strap.
Whilst to many there may be no need for instructions, but there will be those who have never had a binocular before and as such I do feel that this information should be offered to ensure that the user gets the best out of their purchase.
Warranty
Kite Optics does include details of the 30-year warranty within the user manual.
Accessories Score: 7/10
Kite Lynx HD+ 10x50 Binocular Comparisons
Below is a small selection of other 45mm to 55mm roof prism binoculars that I have fully reviewed on BBR. To view the full results, open the table in full-screen mode.
Review Conclusions:
Whilst not perfect (but what is?), I like these Kite Lynx HD+ 10x50 binoculars very much and think that the slightly larger 50mm lenses really do make sense when combining them with a 10x power for many users where the light gathering is a little more important than size and weight.
Incredibly, the size and weight of the binocular are only marginally more than most 10x42s, indeed most users probably wouldn't even notice the difference, yet in return, you get a much improved low light performance and image brightness that is almost on a par with a high-quality 8x42.
Strengths
Image Quality & Brightness
The most important feature on just about any optical device is the quality of the view and there is no doubting that with this instrument, Kite Optics have nailed it. The view is certainly superior to the vast majority of binoculars that land on my desk. In my opinion, they are equal to any binocular at their price level and match many more expensive alpha level instruments.
For "standard-sized" 10x binocular, the image brightness and low light performance is also very impressive and certainly better performing than most 10x42 binoculars.
Field of View
For a 10x binocular, the field of view on this Kite Lynx HD+ 10x50 Binocular is incredibly wide and indeed matches many 8x binoculars. This opens this instrument up to a whole host of uses and certainly makes it a more interesting option to the birder and general wildlife observer.
Eye-Relief
Once again this is excellent and thus in combination with the excellent quality eyecups (see below) makes this instrument a great option should you need to wear glasses or protective eyewear.
Eye-Cups
The aluminum eyecups not only look great but are a dream to use as they have a very smooth action as well as four click stops that allow for a lot of customizing.
Weaknesses
When producing binoculars there is always an element of having to make compromises and thus often a particular strength of a binocular often has the effect of causing a weakness in another area.
In this case, there is no denying that for a 50mm binocular the Kite Lynx HD + is both lightweight and compact, but in part, the reason for this is down to a number of plastic parts that are used, like the focus wheel and diopter ring for example. In the modern world using plastic in these and other components is quite common, and in these "non" critical areas swapping metal for plastic is not that important in terms of the function, but there is no denying that you do lose a little in terms of the overall feeling of quality.
However, I would like to add that Kite Optics have been smart and used aluminum for the eyecups and eye-piece housings which is important as this is one area on a binocular that often gets damaged when dropped and having a more robust material in this area does make sense.
In a similar way, the included accessories (not including the cleaning cloths) are perfectly fine in terms of their function, but they just lack a little finesse and a few minor details that differentiate the very good from the best.
Ideal Uses
Wildlife Observation & certainly Hunting
Mid to Long Range Birdwatching - like from a hide overlooking a lake or at the coast