For a manufacturer, getting a premium grade 8x42 binocular right can be very difficult. I say it because in many ways those buying high spec 8x42 binoculars will be some of the most discerning users, including serious birders and wildlife observers, many of whom will have used a number of different binoculars before and will expect very high standards in most, if not all areas.
So to satisfy these customers, not only do you have to have a bin with a very high overall build quality using top spec materials, but it needs to feel great in your hands, be reasonably lightweight, tough, waterproof, use the best glass and coatings and of course produce a very high quality image and have a nice wide field of view... Phew!
So keeping all this in mind, I was recently given the chance to use and test a pair of high end Kite Optics 8x42 Ibis ED binoculars over an extended period. To see if I think they successfully managed to juggle all the balls and produce a premium 8x42 binocular to please even the most discerning of users, take a look at my full Kite Optics Ibis ED 8x42 binoculars review below:
Whilst Kite Optics may not be a brand that first comes to mind to many when considering a premium bin, this small family run company in Belgium have been involved in high end optics for many years. Made in Japan, their flagship 8x42 binocular is the impressive looking Ibis ED, which from it's main specs and features looks to have all the bases covered:
Key Specs & Features
Manufactured in Japan
ED, or Extra Low Dispersion Glass Lens Elements
Fully Multi-Coated Optics
Waterproof and Fogproof
Phase Corrected Bak-4 Roof Prisms
Dielectric Coatings on the reflective prism surface
Field of View of 378ft @ 1000yds
Close Focus: 4.6ft
17mm of Eye-relief
Weight: 746g (26.3oz)
The Body
Shape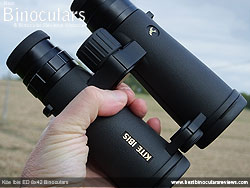 The overall shape of the body is that of a typical roof prism binocular, with the ocular lenses lining up with the objective lenses. However these new Kite Ibis ED binoculars have recently been completely redesigned and they now exhibit an "open bridge" body design, meaning that rather than one large hinge spanning the two barrels, these have two thin ones at each end.
This design can help by reducing weight and because it reveals more of the barrels, it gives you more to hold onto and thus potentially a better grip.
that is also sometimes called an "open bridge", which means rather than the more traditional single large bridge spanning the two barrels, this cut out shape can help to reduce weight as well as expose a little more surface area of the barrels that can and does in this case make for a better grip, especially when holding them one handed.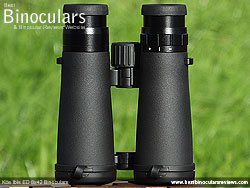 Underside
Unlike many these do not have any thumb indents on the underside of the barrels and whilst this is no big issue, the can make the bin a little more comfortable and ergonomic to hold onto and well positioned, can be quite good at helping you more quickly locate the balancing point on the bin.
External Covering
Other than the eyepieces, the thin bridges and a few other small parts, almost all of the external body is covered in a rubber armouring.
Compared to many this coating is fairly thick and thus offers plenty of protection. It is also quite hard meaning it should more be more durable than a softer rubber, however this means that it would also potentially provide a less tactile surface to hold onto, however the fine texture on it's surface more than makes up for this.
This textured matt finish also has another benefit in that it is less reflective than had it been smooth and much less reflective than exposed metal, which if you are trying to remain hidden from people or indeed wildlife can be important.
Speaking of remaining undetected, this external rubber covering found on these and most other bins can also keep the noise levels down if you strike something like your watch strap or wedding ring against them.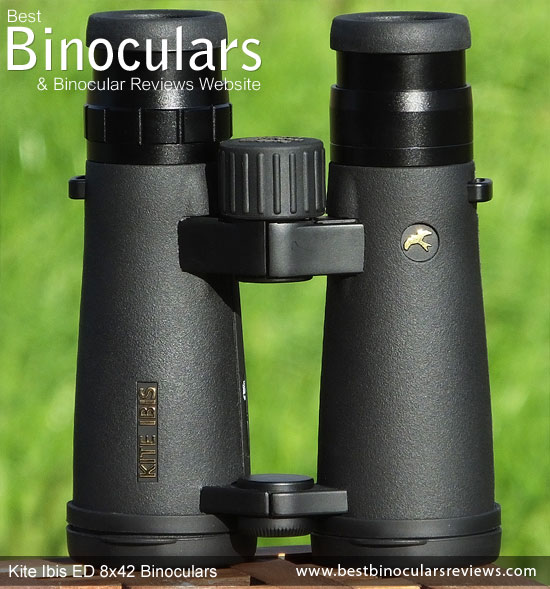 Tripod Adaptable
The dust cap (see below) on the front bridge can be unscrewed, this reveals a standard ¼-inch thread that allows you to attach most standard tripod adapters to the binocular.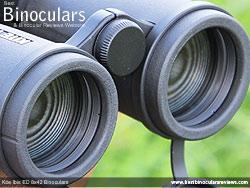 At a depth of around 11mm the 42mm objective lenses are set reasonably deep into the ends of the chassis.
This not only provides some protection from light rain, accidental marking with your fingers and scratching, but I have read that it also can also assist in eliminating or at least minimizing lens flair as it performs almost the same function as the lens hood on a top end SLR camera.
Chassis
As with the Lynx HD 8x30's, Kite Optics use fiberglass reinforced polycarbonate as the material to make the chassis from. This maybe is not quite as luxurious as the magnesium bodies found on some in this class, but it is still comparatively strong and lightweight.
Waterproof
The Kite Ibis ED body is fully sealed which not only makes them waterproof, but prevents small dust particles from entering the system.
Fogproof
As well as being waterproof, during manufacturing all the internal air is replaced with nitrogen gas, which prevents the internal glass surfaces from fogging or steaming up.
Eyecups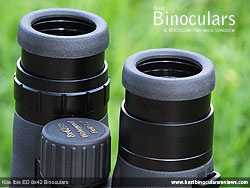 The eyecups are one of the most common areas on a binocular to get damaged. So like some other top end bins including the best Swarovski ones, the eyecups can be screwed on and screw off. This allows to easily change a broken eyecup, which according to Kite Optics, new eyecups are always available and delivered free of charge to their customers.
I have to say that this pretty impressive as many brands will charge you to replace a broken eyecup - if indeed they can be replaced.
The Kite Ibis ED uses a twist-up design for the eyecups and the housing is made from metal, as it is on all their optical instruments according to Kite Optics. This not only provides extra strength, but the twist-up and down mechanism just works that much better and is smoother than that of most cheaper plastic ones.
The ends of the eyecups have a thin, but reasonably soft rubber covering, which has an external diameter of 40mm. Whilst not the most padded cups in the world, I found them to be comfortable enough even when pushing them fairly firmly against my face and over longer observation periods.
You get a reasonably generous 17mm of eye-relief on the 8x42 Ibis ED which means that most eyeglass wearers should have enough distance to play with in order to achieve the correct distance between your eyes and the ocular lenses whilst keeping your glasses on and so still get to see the full image without any blurring or dark rings forming on the edges of the view.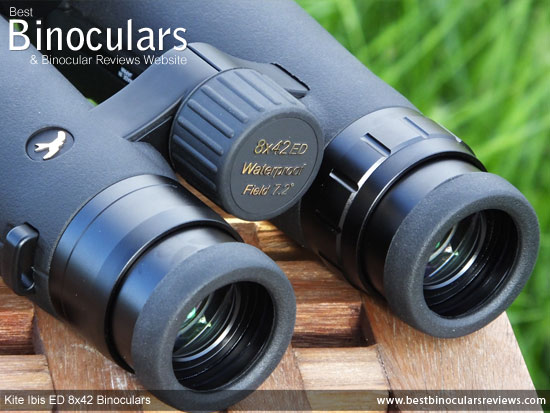 Focusing
Unlike the metal eyecups, the focussing wheel is made from plastic which is a little bit of a shame, but on the pair I was testing, it worked well enough, turning smoothly with just the right amount of friction to prevent unwanted movement.
Covered in a soft rubber and with ridges and with an external diameter of 30mm, I found that the wheel was easy to reach and turn. I also tried this with my winter gloves and had no problems in being able to accurately adjust the focus.
To adjust the focus from near to far takes one and a half turns of the wheel (approx 540°), this for me is a nicely geared mechanism and a good compromise between speed and being able to make fine adjustments to the focus accurately.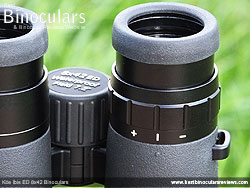 Diopter Adjustment
Located on the right eyepiece and made from metal, the diopter on the Kite Ibis ED 8x42 binoculars is used to calibrate your binoculars to your particular vision as it enables you to compensate for any differences between your left and right eyes.
On the pair that I was testing, it worked well enough although was perhaps a little too tight. This is good in that it should not move from your desired setting accidentally, but I would have preferred to have it easier to move and a lockable ring as is found on some other high end bins.
Rating for Body Construction Quality: 8/10
Weight
As you can see in the table below, at 746g (26.3oz) these Kite Ibis ED binoculars sit around mid table in terms of weight when compared to other good quality full sized 42mm binoculars.
I have highlighted the words "good quality" because you often find very cheap binoculars are very lightweight, but this is only because they are made from substandard materials. Whilst these have used a reasonably good quality chassis material and have many metal parts like the diopter ring and eyepieces.
Dimensions
Compared to other full sized 42mm roof bins their dimensions are fairly standard as you can see i the table above.
Note:
The stated height of 5.6cm (2.2in) is taken with the hinges fully open, this increase to 7.2cm (2.8in) when it is closed.
Likewise the width of 12.7cm (5in) is the measurement when they are open, this reduces to 10.7cm (4.2in) if you close the bins.
Kite Optics advertise their length as 14.8cm, whilst I measured it as 15.1cm (5.9in) with the eyecups twisted in and 16.2cm (6.4in) with them out.
Inter-Pupillary Distance (IPD)
As with most, the Inter-Pupillary Distance on these Kite binoculars can be altered by opening and closing the hinges which allows you to adjust them to match the distance between your eyes. These should accommodate most people as you can adjust them from a maximum of 7.5cm to a minimum of 5.6cm.
BBR Rating for Body Stats: 8/10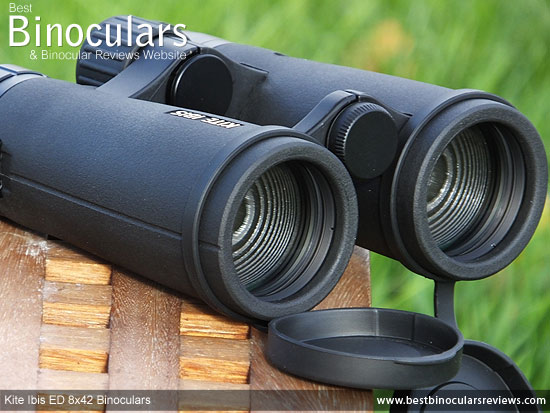 The Optics
Lenses
I have not been able to find out too much information on the exact makeup of the ocular lenses on the Kite Ibis ED binoculars, but can say they have a diameter of 23mm, which based on my experience is about the same as most other 42mm binoculars I have reviewed.
Kite Optics have used special extra low dispersion glass in one of the elements in each of the compound objective lenses. This ED glass enables the lens designer to manipulate and better control the directions of the wavelengths of light as they split up when passing through the lens and thus they have the potential to be able to combine back together better and thus form an image that has little or even no color fringing at all.

Prisms
All the models in the Kite Ibis ED series, including this 8x42 model use roof prisms made from BaK-4 glass. This glass is generally considered more desirable than the cheaper BK7 glass.
Optical Coatings
The optics on these Kite Ibis ED binoculars are advertised as being "Fully Multi-Coated" - this explains to us that all glass surfaces that come into contact with air throughout the whole binocular have had multiple layers of anti-reflective coatings added to them.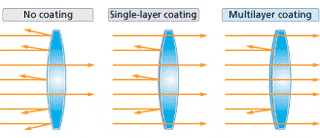 This is really important to take note of as lesser bins will only coat some of the surfaces with multiple or even only single coatings to save costs.
Most FMC bins like these tend to have a transmittance level of around 90% to 95%, whilst those that are only "Coated" or "Multi-Coated" may only transmit between 66% and 86% of the available light.
This difference does make a really big difference to the brightness and overall quality of the image that you see.
The roof prisms on the 8x42 Ibis ED have had phase correction coatings added to them which correct the phase shift that occurs on one surface of a roof prism and thus enables them to deliver a superior quality image than those that are not corrected.
As well as this they also have the very best dielectric coatings on the reflective prism surface, which transmits more light than lesser bins that only use silver or aluminium coatings on this surface.
Optical Components Quality Rating: 9/10
Optical Stats
The Field Of View (FOV)
With a view that is 378ft wide at a distance of 1000 yards away (126m wide at 1000m), the FOV of these is very good, but not excellent. To put this into perspective I have created a table below that compares the FOV as well as the near focus and eye-relief between a number of 8x42 binoculars I have reviewed on BBR:
Near Focus
Kite advertise their minimum close focus distance as 1.4m (4.6ft), which on BBR is rated as excellent and means these are ideal for those who also like taking a better look at nearby objects including flowers, butterflies and other insects etc.
Eye-Relief:
Whilst they just miss out on making it onto my list of long eye-relief binoculars, the 17mm that you do get is still very good and thus I would suggest that the Kite Ibis ED 8x42 should still make it onto the shortlist of those want a premium bin that they can use with their glasses on.
Optical Stats Rating: 8/10
Quality of Image
As I do with all my reviews, I compared the image produced on the Kite Ibis ED 8x42 binoculars with that of my control pairs, both in good light and once again in poor light.
Image Brightness
Perceived image brightness has a lot to do with the quality of the optics and the coatings, but also a lot to do with how much light or the diameter of the shaft of light being delivered to your eyes, for more on this please take time to read my guide to the exit pupil and image brightness.
As to be expected in bright light conditions and because both sets were delivering more than enough light to my eyes, there was no discernible difference in the brightness of the image between these and my controls.
In poor and bad lighting, features like the fully multi-coated optics and the far superior highly reflective dielectric coatings on the prisms of the Kite Ibis ED do make a difference and I was able to notice an improvement of the brightness of the image when compared to my mid ranging 8x42 control bins.
Compared to my high end 8x42 controls where they both have similar quality glass and coatings, I personally could not notice any difference.
This overall, I would describe the brightness excellent and up there with some of the best.
Colour Reproduction & Image Contrast
The amount of contrast and the colors produced are what I describe as being neutral. So the image looks bright and colorful, but without any unnatural hues or tints that you sometimes see, especially on cheap binoculars.
Depth of Field
I compared the depth of field of these and that of my control 8x42's and would say that they were no better or worse and thus perform well in this area.
Color Fringing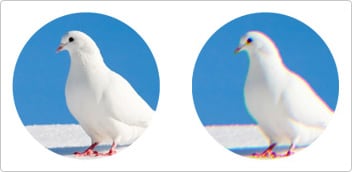 Caused by chromatic aberrations, color fringing can often be seen as the colored halo around objects, especially when viewing something that has a high contrast against it's background.
By carefully controlling the separate wavelengths of light as they pass through the lenses and then combining them back together again at exactly the same point, it can be reduced or even eliminated. However this is technically difficult and often requires special glass elements within the lenses.
As we have already discussed the Kite Ibis ED uses extra low dispersion glass in it's lenses that if used correctly can help reduce the aberrations and thus the color fringing.
Well I can say that Kite Optics have done an excellent job, as I had to look very, very hard to notice any color fringing at all and I really had to make a point of looking at high contrasting optics and into the direction of the sun before it was at all noticeable. In this area and to my eyes, these are about as good as it gets.
Image Softening
This for me was another area where these Kite binoculars really excelled as the softening of the image right at the edges of the view was almost non existent and thus match or better any bin that I have had the pleasure of looking through.
Image Quality Rating: 9/10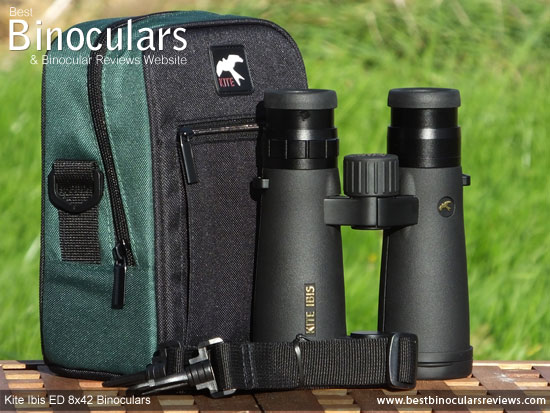 Accessories:
Carry Case
In general I like the carry case that you get with the Kite 8x42 Ibis ED, it looks great and seems to be made to a high standard using good quality material.
Technically I call it a soft case, but it does have somewhat stiff side walls that will prevent it form being easily crushed, however this is not to say you can but it under very heavy objects in your bag.
To get inside the case there is a zip that runs from near the base of the bag, over the top and to the other side. This once unzipped, you get a large opening that makes taking your bins in and out very simple.
Personally I also prefer a zip to Velcro as it make it easier to be quiet when opening the bag, which is good if you don't want to frighten away nearby birds for example. A buckle or clip can be quieter than a zip, but not always the best way of keeping the bag completely closed to prevent small items like lens covers from falling out.
Inside the case you get more than enough padding to protect the Ibis ED and the bins fit into it very easily even with them fully open and your eyecups twisted out. In terms of ease this is good, but the amount of room in the bag does mean that they can move about a bit once inside.
Inside there are no extra pockets, but you do get one on the exterior which can be fully zipped closed, so is a good place to store a few small personal items and your lens cleaning cloth.
The carry case has it's own simple and un-padded carry strap that connects via a couple of swivel quick release connectors and on the back of the bag is a belt loop.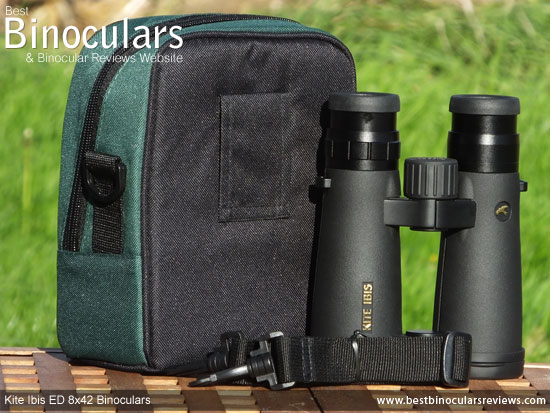 Neck Strap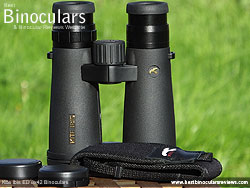 Overall I would describe the included neck strap as being functional and adequate, but nowhere near as luxurious as some you get within this class.
The strap itself attaches to the bin in the traditional way by threading the ends of it through a couple of eyelets located on each side the Ibis ED and then back on itself and through a slider.
The padded section of the strap is 4cm wide and you get about 5mm of soft padding that is more than enough to make carrying the bins around your neck over long periods no problem at all.
Objective Lens Covers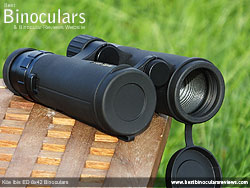 The objective lens covers are made from what looks like a soft plastic and on the pair I tested, fitted very well over the ends of the barrels. This works well enough, but is perhaps is not as good looking as some that fit into the end of each barrel.
Each of these objective covers has a loop that wraps around the barrel and thus secures the lens cover to the bin even when you have removed it from protecting the lens as it simply hangs down below the bin.
I really like this system as it means that they are always handy and you don't have to go rummaging around in your bag to look for them, this means I replace them more often, which in turn means my lenses remain protected much more.
Rain-Guard/Ocular Lens Cover
Also made from what I think is a soft plastic, it fits very well over the eye-cups and should not come away accidentally.
The guard also has a loop on each side that you can use to connect it to the neck strap.
Lens Cloth
For a quality bin like these Kite Ibis ED's, it is rather strange that you do not get even a basic lens cleaning included. To be honest this in a way may be a blessing as unless you get a very good cleaning cloth, you are usually better off getting a specialist lens cleaning kit that will ensure your lenses don't get damaged during cleaning.
Warranty Information
Kite Optics offer a 30 year warranty on the Lynx Ibis ED.
Extras & Attention to Detail Rating: 7/10
Kite 8x42 Ibis ED Comparisons
For a quick comparison, the table below contains the main features and specifications of this Kite binocular as well as a number of other similar binoculars:
| | | | | | | | |
| --- | --- | --- | --- | --- | --- | --- | --- |
| | Kite Ibis 8x42 ED | Celestron Granite 8x42 | Eagle Optics ED Ranger 8x42 | Hawke 8x42 Sapphire ED | Minox HG 8x43 | Pentax 8x43 DCF ED | Vortex Razor 8x42 HD |
| Approx Price: | £800 | $345 / £398 | $440 | $450 / £340 | $1100 / £640 | $850 / £770 | $1180 £760 |
| Weight: | 26.3ozs (746g) | 24oz (680g) | 27.4oz (777g) | 25.7oz (730g) | 22.9oz (649g) | 25.2oz (715g) | 24.2ozs (686g) |
| Length: | 5.8in (14.7cm) | 5.8in (14.7cm) | 6.7in (17cm) | 5.5in (14cm) | 6.0in (15.2cm) | 5.7in (14.6cm) | 5.9in (15cm) |
| Width: | 5in (12.7cm) | 4.0in (10.3cm) | 5.0in (12.7cm) | 5.1in (13cm) | 5.1in (13cm) | 5.0in (12.6cm) | 5.1in (13cm) |
| Eye Relief: | 17mm | 17mm | 18mm | 18mm | 19.5mm | 22mm | 17.5mm |
| Min Focusing Dist: | 4.6ft | 6.5ft | 6.0ft | 6.6ft | 8.2ft | 6.6ft | 6.0ft |
| FOV at 1000yds: | 378ft | 426ft | 425ft | 426ft | 379ft | 330ft | 388ft |
| Chassis | Polycarbonate | Magnesium | Polycarbonate | Magnesium | Magnesium | Magnesium | Magnesium |
| ED Glass | Yes | Yes | Yes | Yes | No | Yes | Yes |
| Phase Correction | Yes | Yes | Yes | Yes | Yes | Yes | Yes |
| High Reflective Prism Coatings | Dielectric | Dielectric or Silver | Dielectric | Dielectric | Silver | Full reflection coating? | Dielectric |
| Lens Coatings | Fully Multi-Coated | Fully Multi-Coated | Fully Multi-Coated | Fully Multi-Coated | Fully Multi-Coated | Fully Multi-Coated | Fully Multi-Coated |
| Waterproof | Yes | Yes | Yes | Yes | Yes | Yes | Yes |
| Fogproof | Yes | Yes | Yes | Yes | Yes | Yes | Yes |
Review Conclusions:
Strong Points: By and large the build quality very good to excellent and Kite Optics have used very high quality glass with all the best coatings that all work together to produce the very high quality and bright image that you see when looking through the Kite Ibis ED 8x42 binoculars.
Features like the high quality metal eyepieces that can be replace free of charge should they get damages is also superb and matches the very best.
Their near focus distance of only 4.6ft is better than just about any 8x42 binocular that I have used and you get a good amount of eye-relief and field of view that should satisfy most.
Weak points? For me the were no major weak areas that would prevent me from recommending them, but there are a few small things like the neck strap, which for a bin in this class should be a little more luxurious in my opinion.
The exclusion of a lens cleaning cloth is also surprising. On the actual binocular, a lockable diopter ring and possibly a metal focus wheel would have been nice and would have been in keeping with many in this class.
Whilst the "fiberglass reinforced polycarbonate" chassis is light and strong, it also perhaps does not match the quality of the optics it is protecting. Many in this class have a magnesium chassis that just gives you that little bit more of a feeling of quality.
Overall - I begun this review by stating that producing a high end 8x42 binocular was not easy and that you have to tick a lot of boxes to please most people in the target market.
I would say that for the most part, Kite Optics have succeeded with the 8x42 Ibis ED and whilst they may not match the very best Zeiss, Swarovski or Leica binoculars in all departments, they come very close and it has to be said they cost quite a lot less.
Ideal Uses: Their good field of view, excellent quality image and low light performance make them ideal for general use, bird watching and most other wildlife applications.
The very close focus distance on the 8x42 Ibis ED also means these may be ideal bins for those who like to observe objects from closer ranges like flowers, insects and especially butterflies.
Available Downloads
Thanks...
I would like to thank Kite Optics and Alpha Optical Distribution, the UK distributors of Kite binoculars for arranging these Ibis ED's to get me to test and review.
100% Genuine & Honest Review
I would like to point out that this Kite Ibis ED 8x42 binocular review as indeed all the other reviews on BBR is completely my own and honest opinion of the product.
For each review, I spend a lot of time researching as well as testing the binocular, both in the office and out in the field in true world conditions, which cannot be said for many others out on the web that are simply made up and copied from the manufacturers details.
I also take time to ensure that all details are correct, but I have been known to make the occasional omission or mistake. So if you spot any, please feel free to let me know by contacting me.