Being able to really see in the dark using a good quality night vision device used to come at a very high price. But with increased competition, improved manufacturing techniques and with the advancements in technology (especially in the area of digital night vision), the cost has really come down and now more than ever it is available to almost anyone who needs to, or just simply just wants to see what is going on around them after the sun has set.
Digital Night Vision
The more "traditional" and still the most commonly used way to amplify what little light there is at night and then produce an image for us to look at through night vision binoculars, monoculars or goggles is to take the light (photons) that come through the objective lens and then convert it into electrons using a photocathode, amplify it and then blast this onto a phosphor screen that creates an image that we can see.
But whilst this technology works really well, there are a few downsides. This includes that they can be damaged by exposing them to too much light during the day and the cost (especially of the Gen 2 and Gen 3 devices) is still relatively high.
However devices like this Luna Optics LN-DM5 night vision monocular are digital and differ in that instead of using expensive and delicate photocathodes and intensifier tubes, they convert the light into an electric signal using a highly sensitive CCD image sensor, which can then be displayed on a screen like the micro display in the eyepiece. For more take a moment to read this section on How Digital Night Vision Works.
The major advantage of this is the lower cost and although they are not designed for it, you can use them in the day without fear of damaging the instrument.
Luna Optics LN-DM5 Review
Main Features & Specifications:
Magnification: 5x
50mm Objective Lens
Built in Infrared illuminator
Tripod Mountable
Visual Range: 250m (273yds)
Effective IR Range: 100m (109yds)
Manually adjustable brightness/exposure
Low Cost - Approx $180 / £150
The Chassis
Before discussing the performance and image quality, I first wanted to go over the makeup and design of the body and discuss the different parts and what goes where:
Design & Shape
As you can see from the images, the body shape is very similar to that of most "normal" night vision monoculars, which in turn feels very much like a digital camcorder in that you hold and operate most of the functions using only one hand.
Most of the main external surface, especially the dark green parts of the LN-DM5 has a hard and very thin rubberized coating applied to it for a little added grip. Whilst this coating is too thin to offer much impact protection, the matte finish on both the green and black sections will reflect less and thus help you to remain hidden should you want or even need to.
Luna Optics do not mention it, but I think that considering the battery compartment is made from a metal that to me looks like aluminium, I assume that the main chassis or at least parts of it are also made from it.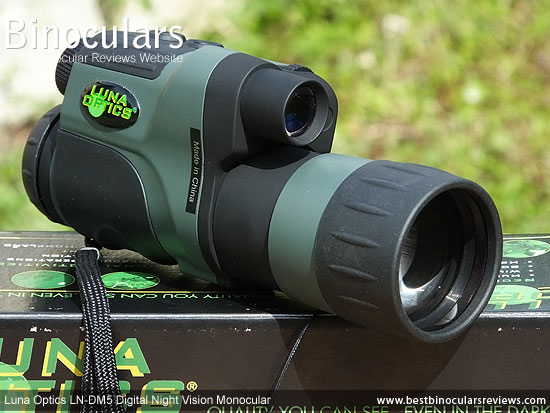 Like the rest of the exterior the lens housing is covered in a rubber, but the black section at the end is slightly thicker and has a number of raised sections running across it that help to add a little grip when you are turning it to adjust the focusing.
The 50mm is objective lens is positioned about 9mm within the end of the barrel, this is fairly deep and so will offer a good amount of protection against dust and light rain once the lens cap has been removed.
Unlike some of Luna Optic's older devices and some other night vision monoculars that I have tested in the past that position the controls and buttons on one side, the ones on the LN-DM5 run mostly along the top which is better as it means that you can operate equally as easily with either hand
There are two main buttons on the top that are easily reached with your index and middle fingers in the hand you are holding the instrument with, one turns the device on and off, whilst the other one that is closer to the objective lens activates IR illuminator.
One the rear face, above and to the left of the ocular lens there are two tiny LED indicators, the top goes green when the device is on and the lower one goes red when the IR is on. There are a couple of reasons for them being so small, one is to ensure it does not disturb your view and the other is to ensure that they are not so obvious that they reveal your position, which in some situations is very important. The fact that they are positioned at the rear of the device also helps with this and whilst it is a small point, it does show a good attention to detail.
Next to the LED indicators is a screw on cap that gives you access to the battery compartment.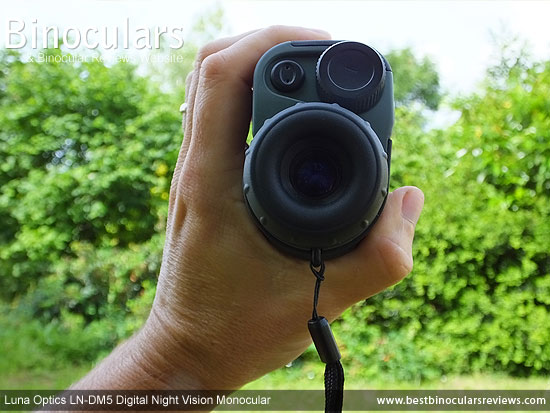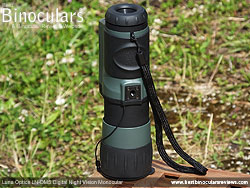 Luna Optics have moulded a thumb indent into the body on the underside, which apart from aesthetics, I guess also do a little to ensure you hold them in the right place and in the correct way.
Also on the underside and just in front of the thumb indent is screw thread that enables you to easily attach a tripod to the LN-DM5. It is a metal thread which is great as it is far stronger and there is far less chance of it being damaged or stripped by cross threading.
Weight
The Luna Optics LN-DM5 night vision monocular weighs 480g (17oz), which if you compare it to a number of other similar devices I have reviewed (see below) places them around mid table:
Dimensions
The advertised dimensions are 18cm (7.1") long x 5.8cm (2.3") wide x 8.3cm (3.3") high, which after measuring I found to be correct. Note, if you fully adjust the eyepiece and objective lens so that they are fully screwed out, then length extends to a maximum of 19.3cm.
Waterproofing
Luna Optics do not mention any sort of waterproofing in their marketing and specifications, so I will assume they are not waterproof. However judging by the quality of the exterior rubber coating, the screw on battery compartment and the deeply inset lenses, I would say that you could use them for short amounts of time in light rain, but probably not too much more than this.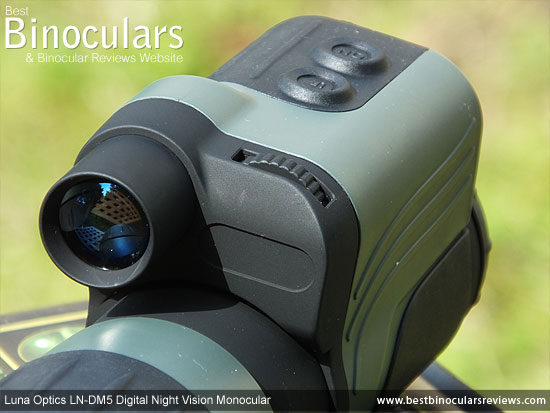 Built-in IR illuminator
As with most modern night vision monoculars and binoculars, these have a built in IR (Infrared) illuminator that enables the device to work in very dark conditions or even when there is no ambient light and it is completely dark.
When you turn it on, it acts like a torch, but instead of visible light it projects an infrared beam of light (805nm LED). This is invisible to us and most animals, but the monocular is very sensitive to it and so uses the light to create an image of whatever you are pointing it at, even in complete darkness.
Luna Optics advertise that the effective range of the IR is about 100m (109yds), which after testing it, I would say is about accurate and really does not make a difference to the brightness of the image if you look at anything much beyond that distance with it turned on.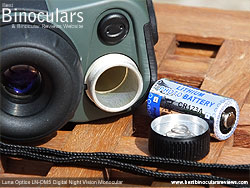 Battery Compartment
The plastic covered, but metal screw on cap that gives you access to the battery compartment is located on the rear, just above the eyepiece and next to the LED indicators. The cap is spring loaded and the threads on the cap and the body are metal which if far better than the plastic ones I have seen on some devices.
The LN-DM5 accepts a single 3v Lithium Cell type CR123A battery, this size may not be that familiar, but one comes included and replacements can be quite easily purchased, especially if you look on the web.
Luna Optics advertise that the battery will last about 6 hours, which drops to about 4 hours with the IR turned on. Whilst this is not bad, it is significantly less (about 10x less) than the time you get with the same battery on NV devices that use a Intensifier Tube as they use much less energy to operate with the IR off. This for some uses maybe something to keep in mind.
Focusing
Remember with a digital NV device like this one, you are not actually looking through the lens, instead you are looking at an image on a screen. So the first step is to focus the ocular lens onto the screen so that it is perfect for your particular eyesight. This is simply done by turning the eyepiece housing until you get as sharp image an image as possible. This setting only needs to be adjusted once, unless you move it, or share the device with someone else who has different vision than yours.
The eyecup has an external diameter of about 42mm and has a thin rubber cover, but is more softly padded at the point it comes in contact with your face for comfort. The ocular lens has a diameter of 13mm.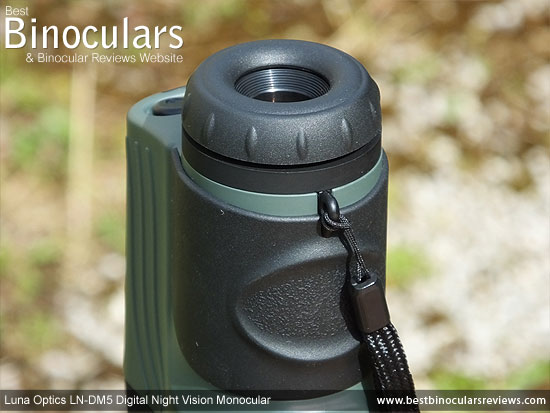 Once the eyepiece is correctly focussed onto the screen for your eyesight, all you need to do to focus the LN-DM5 on objects at different distances away is to turn the objective lens barrel at the end of the unit.
This is simple enough, but has some resistance to prevent unwanted turning and because it is large with a grooved rubber coating, I found it was easy to do even with my thick winter gloves on.
To adjust the focus from the extremes of near to far takes exactly one complete turn of the barrel (360°). Whilst this does make it quite a bit quicker to change from near to far than on some that I have tested because they require more turns, it in theory also means that it is harder to fine tune the focus, but I never really had a problem getting the image pin sharp.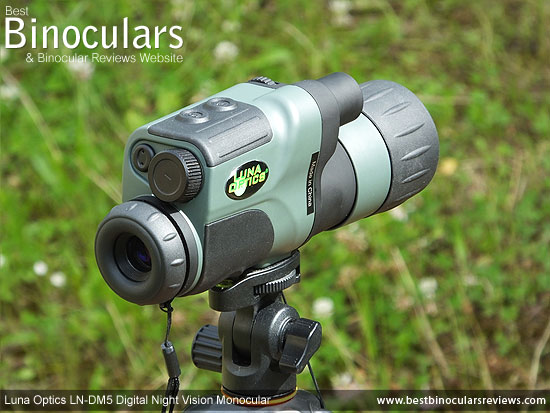 Mounting on a Tripod
As I have already mentioned in the review, on the underside of the body is a ¼inch thread that enables you to easily attach the NV monoculars to a tripod to get a really steady view or keep the the view trained onto a specific object or area over long periods of time.
To fix it to a tripod all you have to do is screw the tripod head or quick-release plate into the thread on the body. As you can see from the photos, I was using my lightweight Vanguard Nivelo tripod that I often use for camping, travelling or on hikes where the need to keep the weight and size of my gear to a minimum is important.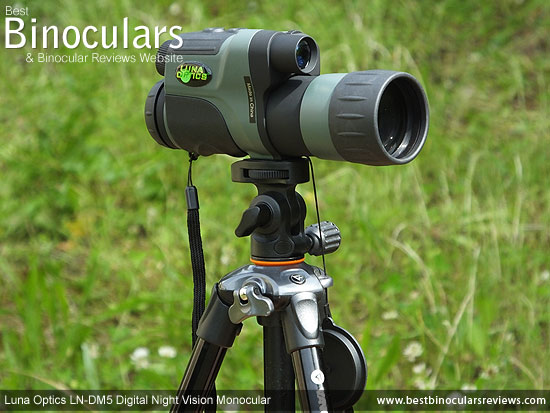 The Optics
50mm Objective Lens
In general, the larger the objective lens, the more light an optical instrument can capture. So as you will appreciate at night where the available light is very small, this is very important and it is the reason why most astronomy telescopes and indeed specifically designed binoculars for astronomy are so large.
But that is one of the down sides to increasing the size of the lens, it also increase the size as well as the weight and indeed the cost. Size and weight are not too much of an issue if you are always going to have the device fixed to a tripod and located at a stationary point as is the case with a telescope. But for something that you need to carry about with you, you have to get the right balance.
The 50mm objectives on these Luna Optics night vision monoculars are bigger than that of many on their direct competitors and as we have already seen, they are not so big as to make the unit overly heavy or large, so I think they have got the balance just about right in this case.
Unfortunately Luna Optics do not state what, or indeed if they use any anti-reflection or other similar coatings on the lenses of the LN-DM5 monocular, so I cannot comment on this.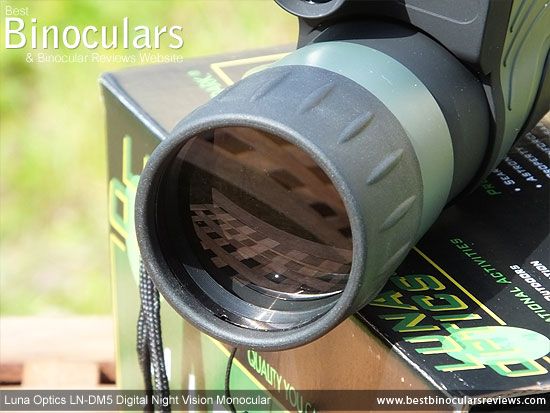 Optical Stats
Magnification
The 5x power on the LN-DM5 is actually pretty high for a night vision product. Unlike normal daytime monoculars and binoculars that often have magnifications of 8x, 10x or sometimes more, the extremely low levels of light at night means that night vision products don't gather enough light to produce an acceptable image using the thicker glass required for higher magnifications.
Field Of View (FOV)
A reasonably wide FOV at night can be important as it allows you to see more of what is going on at once without having to search for it. This monocular has a FOV of 9° which is pretty good considering the high 5x magnification, but does fall short of the best like their Luna Optics LN-NVM5-HR that offer a full 15°.
If a wide view is really important to you then, you may prefer the device I mentioned above, or you could consider choosing one with a lower magnification.
Minimum Focal Distance
Whilst Luna Optics don't state the close focus on these, I measure it to an astonishingly close 30cm (1ft), which is excellent and whilst I had never thought of it may be of interest to those who wish to study things like insects or moths at night?
Max Effective Viewing Distance:
In their specifications sheet, Luna Optics state that these have a "visual range" of 250m (273yds). During testing, I could definitely clearly see the detail objects up to 100m away. Much further than that, the conditions had to be perfect and the detail tends to drop off, but I would say that at 250m you would still be able to see make out large objects.
As you can see from the table below, this distance is fairly good and matches most other similar traditional NV products.
The effective range of the included IR is 100m (109yds) according to Luna Optics, which I would agree with. I would also like to state that I found it was more powerful and made more of a difference than on some others that I was also using at the same time whilst testing.
| | | | | |
| --- | --- | --- | --- | --- |
| | | | | |
| | Luna Optics LN-DM5 | Luna Optics LN-NVM5-HR | Luna Optics LN-SM50 | Night Owl iGen Digital NV |
| Price (approx): | $180 / £150 | $230 / £250 | $270 / £280 | $160 |
| Device Type: | Monoculars | Monoculars | Monoculars | Monoculars |
| Generation: | N.A - Digital | 1 | 1 | N.A - Digital |
| Max Light Amplification | | Min 500x | 500 - 700x | 300 - 10000x |
| Sensitivity (microamperes per lumen) | | 250 | 240 | 400-900 |
| Sensitivity (lux) | 0.003 | | | |
| Max Image Resolution: | | 32 - 34lp/mm | 26-28 lp/mm | |
| Magnification: | 5x | 5x | 5x | 2.6x |
| Objective Lens: | 50mm | 50mm | 80mm | 39mm |
| Weight: | 17oz (480g) | 23.9 oz (680g) | 23.6oz (670g) | 21 oz (595g) |
| Length: | 7.1in (18cm) | 7.7in (19.6cm) | 7.1in (18.2cm) | 8.8in (22.4cm) |
| Width: | 3.3in (8.3cm) | 3.3in (8.4cm) | 2.1in (5.5cm) | 3.9in (9.9cm) |
| Height | 2.2in (5.8cm) | 2.2in (5.6cm) | 2.5in (6.5cm) | 2.6in (6.6cm) |
| Field of View (degrees) | 9° | 15° | 9° | 12° |
| Max Viewing Distance: | 250m (820ft) | 250m (820ft) | 300m (978ft) | ? |
| Close Focusing Distance: | approx 1ft | < 3ft | 6.6ft | 16ft |
Image Quality
During the testing of this device, I compared the view through these with a Generation 1 monocular that I had with me that also had a 50mm objective lens, but with a lower 3x magnification.
Like the other digital night vision equipment that I have used, the image that you see is in black and white and not in color, or green as you get with "standard" NV. The reason for this is the black & white CCD is far more sensitive than a color one and so at night they perform much better.
Contrast
The amount of contrast and shades of grey that you get on the image produced by the LN-DM5 depends largely on the amount of available light. When there is a good amount of ambient light available, you get a far more detailed image but as the available light decreases, so the contrast increases until at times it almost looks like there is only black or white, without any shades of grey.
Brightness & Light Amplification
You can adjust the brightness of the image you see by turning the small wheel on top of the body, which I think basically works like adjusting the exposure on a camera. So to increase brightness, you are effectively reducing the frame rate, so there is more time to collect light to produce the image, but I could be wrong here. But by increasing the brightness, you also increase the contrast and thus at times also reduce the image detail.
Compared to the standard NV device, I thought I was able to produce an image that was about equal in brightness in all but the very poorest light. Here I thought that the high contrasting image produced by these did not offer quite as much detail as you get with standard NV.
Image Quality
If you have ever used a night vision device that use intensifier tubes and phosphorous screens, you will have noticed that the image you get is somewhat speckled and may also contain larger dark spots or blemishes. However whilst I did notice some speckling in very low light, you do not get any blemishes, which is one of the real advantages with digital NV.
So when there is a good amount of ambient light, like on a clear night with a full moon or when there are man made sources like street lights etc, I would describe the quality of the image you get through the LN-DM5 as excellent and better than that of an equivalent Gen1 device. However in very bad light and without using the IR, the opposite becomes true.
Infrared Illuminator (IR)
Designed to be used in very dark conditions or when it is completely dark, the included IR illuminator performs as torch would by shining a beam of light onto whatever you wish to illuminate and see. The difference to a standard torch is that the infrared spectrum emitted by the IR is invisible to human eyes, but the CCD is very sensitive to it and so we don't see the beam, but it becomes very clear when looking through the night vision monoculars
Compared to the IR on my other "benchmark" NV device, I found the one on these to be more effective and so could light up objects at a further distance away.
I tested this by looking through my benchmark monocular, first using it's IR, but then also used the IR on the Luna Optics LN-DM5 by turning it on and keeping it trained on an area by mounting it on a tripod. The improvement using the LN-DM5 IR was instantly noticeable and quite a bit better than that of the one on my benchmark.
Luna Optics state that the IR has a range of about 100m, which I thought seemed to be about right, however it is at closer distances (under 50m) where the IR is at it's most effective.
Included Extras & Attention to Detail: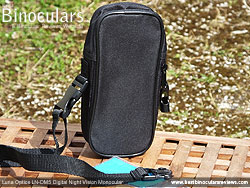 Carry Bag
I would describe the carry bag that you get with the Luna Optics LN-DM5 monocular as functional but fairly basic:
It is only lightly padded and so will not offer too much protection from heavy impacts and as it is not rigid,will not protect the contents from crushing, so be careful when you pack it away in your suitcase!
The canvas type material it is made from will offer some weather proofing, but is not fully waterproof, something you may need to keep in mind on very wet nights.
There is a long Zipper that runs around most of the bag, which when fully opened makes it really simple to take out or put back the monocular. However because of the noise a Zip makes, you need to be careful so sa not to give your position away in some situations.
On the rear face of the bag is a belt loop, making it simple to fix to your hip, or you can use the included should strap that fixes very quickly to the bag with some good quality quick release lips that I really like.
Lens Cover
The soft rubber objective lens cover fits nicely into the end of the barrel. When it is dark it is easy to misplace small objects like this and so I really like the fact that the cover on these has a cord tethering it to the device making it almost impossible to loose.
Like almost all other NV devices I have used, the lens cover has a pinhole in the end of it and whilst it is possible to use this digital device in the day, keeping the cap on lowers the amount of light enabling you to simulate night time conditions during the day.
Lens Cleaning Cloth
Also included is a lens cleaning cloth, which is common to find when purchasing binoculars, but not something I have often found with NV products and so is a welcomed addition and shows a good amount of attention to detail from Luna Optics.
Instructions & Warranty Information
Within the box you will also find the instruction manual that briefly explains how digital night vision works as well as points out the functions of the buttons, how to install the battery as well as how to operate and focus the device.
Separate pieces of paper include the 1 year warranty information and registration card and what to do and who to contact should you experience any problems.
Conclusion
Strong Points: As with all the other Luna Optics devices I have tested and used in the past, they look and feel well made and I was impressed by the overall build quality, especially if you consider their low price tag.
Image quality and brightness on all but the very darkest nights is good especially if you keep in mind the high powered 5x magnification and I would say it is easily a match from most standard Gen1 night vision devices that I have used ans which often cost a fair amount more than these.
The power and effectiveness of the built in IR is impressive and in my experience is as good as or better than any others I have used in this class.
With the tethered lens cover and included wrist strap and tripod mounting thread,Luna Optics show a good attention to detail.
Weak points: At this price level, it is hard to be too critical as any major improvements like having a fully waterproof body or the ability to record would also raise the cost of the unit and thus completely turn them into something else.
However a few small improvements could include an ocular lens cover to protect it when not in use and perhaps a eyepiece with a flap (eye-shield) on it. I have used devices with this in the past that work really well by preventing light entering your view from the sides.
But these are only very minor points and overall if you are after a low cost option for seeing in the dark then these Luna Optics LN-DM5 Digital Night vision monoculars are a match for anything in this category and should easily make it onto your shortlist.
Ideal Uses: The Luna Optics LN-DM5 Night Vision Monocular with it's powerful 5x magnification will suit those looking for a cheap night vision device for personal security needs and wildlife observation especially where the distances are a little greater.
Their relatively small size and low weight makes them the ideal NV device to take camping on a hunting trip or especially on a safari holiday where you will be open up a whole new world of wildlife observation at night.