For the most part and unless they have very large objective lenses and are designed to be only used mounted on a tripod (usually for astronomy), I usually try and steer people away from "normal-sized" binoculars with very high magnifications.
But this is often because the person enquiring is also looking to spend as little money as possible and in my experience, this is one of the biggest mistakes newbies can make: combining a very high magnification with low-quality optics and small lenses.
However, what if you do have a healthy budget and looking to get yourself a good quality high powered long distance viewing binocular to use for an activity like long range hunting, wildlife observation, security surveillance, border or fenceline patrols, plane spotting or even just observing boats or ships out at sea. What are your options and does my advice of avoiding them still ring true if you spend a little more and make sure that the binocular that you do get is of a high standard and uses very high-quality optics?
Maven B.5 Binoculars
The good news is that I got the chance to test all this and indeed a whole lot more as the guys at Maven recently contacted me asking if I would like to test one of their brand new B.5 Series of Binoculars and which one would I like.
Available with large (but not excessive) 56mm lenses, with a choice of either a very powerful 15x or a jaw-droppingly powerful 18x magnification, my initial and the almost subconscious reaction was to reply saying that I would like to review the 15x56 Maven B.5, being the more common option.
But just before I pressed the send button on the email, I decided to change my request and ask for the 18x56 Maven B.5 as I thought that wouldn't it be more interesting to push the boat out and explore the boundaries a little with a more niche, specialized instrument:
Maven B.5 18x56 Binocular Review
So, after thorough testing and use over many weeks both in the office and out in the field, below are my thoughts, experiences and indeed the full review of the Maven B5 18x56 binoculars:
Contents: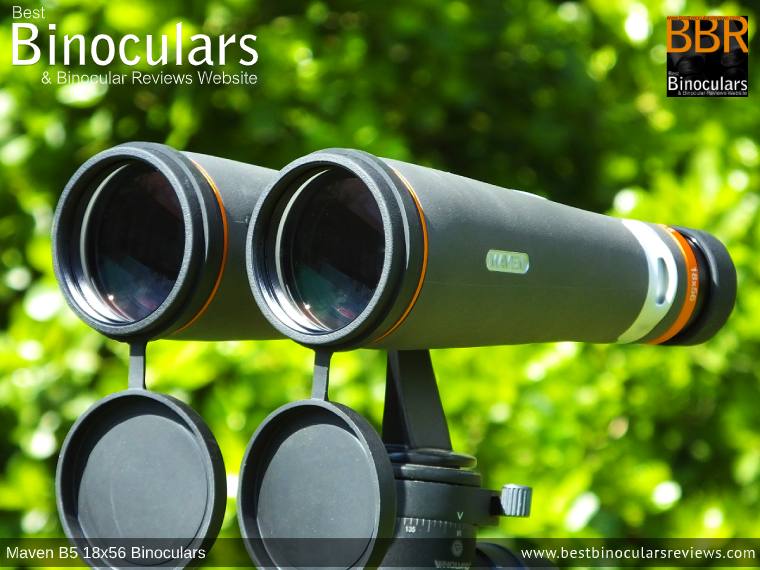 The Optics
Whilst I usually begin my reviews by going over the outer parts and main physical characteristics first, I feel that in this case I should address the elephant in the room as it were and begin with the optics and in particular the combining 56mm lenses with an 18x power and the resulting consequences it has:
18x56 Configuration
A more powerful magnification can present you with more detail at further distances, but there are also potentially many downsides, allowances and hurdles to get over as well.
Image Quality & Brightness
In order to make greater magnifications you require thicker glass lens elements within the eyepieces. Thicker glass generally has a lower transmission level than a thinner glass of an equal quality resulting in less light passing through it (you can see this effect when comparing the light let through standard windows vs thick double glazed windows). The result is a less bright image.
This is one of the major problems with low-cost binoculars because to keep the price down they also use cheap quality optical glass with fewer and less effective anti-reflection coatings on them.
At standard magnifications, this is not ideal, but with thicker glass lenses, you get a double whammy effect that results in a huge drop off in image brightness and quality.
Thus by using very high-quality optical glass and more effective coatings, this Maven 18x56 B5 should be able to reduce this issue to an absolute minimum.
Low Light Performance
The next issue with a high magnification is that unless you increase the size of the objective lenses, you end up with a very small exit pupil.
These smaller shafts of light exiting the eyepieces make it harder for you to line your eyes with more chance of having black rings around the edges of your view and it means that in low light when your pupils are enlarged, your eyes are not being supplied with enough light and thus you perceive an image that is less bright than that of a binocular with larger exit pupils.
So in this instance, the 18x56 combination produces a 3.1mm exit pupil (Objective lens size (56mm) divided by the magnification (18x)).
In low light, your pupils can grow to about 7mm, so 3.1mm is far from ideal.
The Steiner Nighthunter 8x56 is specifically designed to excel in low light and has the same size 56mm lenses, but because of the lower 8x magnification, produces a very large 7mm exit pupil (56÷8) and thus assuming the optics are at the same level, will look to have a brighter image in low light.
Here once again, higher quality glass and coatings can counter this problem to some degree and improve the brightness when compared to a low quality binos, but no matter how good the optics, an 18x56 binocular will never make a great low light performer. More: complete guide to the exit pupil.
Field of View
I address this issue in more detail in the optical stats section just below, but in general, a highly zoomed-in image created by a large magnification means you view less of the big picture, which can be undesirable in some situations.
Image Shake
Any movement you make whilst looking through your binoculars is amplified by the magnification. Thus with a high powered instrument, even though you are presented with greater image detail, if there is too much image shake caused by the tiny movements of your arms and hands, you cannot observe it properly.
For short periods you can pay extra attention and keep yourself steady, but this is difficult, certainly not relaxing and in my experience for long durations, you should have something like a tripod or monopod with anything over 12x to appreciate the greater detail you get from the higher power.
When out testing these Maven B5 18x56 binoculars, I was actually very pleasantly surprised how still and shake-free I was able to keep the view, but when comparing them side-by-side against an 8x56, the difference in stability is obvious.
Thus for short periods, or where studying fine details is not critical, I was perfectly fine with using these Maven binoculars from my hands. But for long durations and especially when at awkward angles (like astronomy) and/or when you want to observe fine details, you need some sort of stabilization: mounting onto a tripod, monopod or even resting your elbows onto a table-top helps.
When you do attach them onto a tripod, the high power and the increase in image detail really is something to be enjoyed. Once again comparing them side by side with an 8x56 and even a 10x42 and whilst viewing crows out in the fields in the distance, it was incredible just how much more detail I could observe through these Maven 18x56 B5 binoculars.
With the 8x56 and at a distance of about 400m - 500m, the crows were not much more than moving black blobs out on the fields. But with the Maven 18x56 binoculars mounted onto my tripod, I could really observe their behavior as they waddled and hopped over the rough plowed-up surface searching for morcels to eat.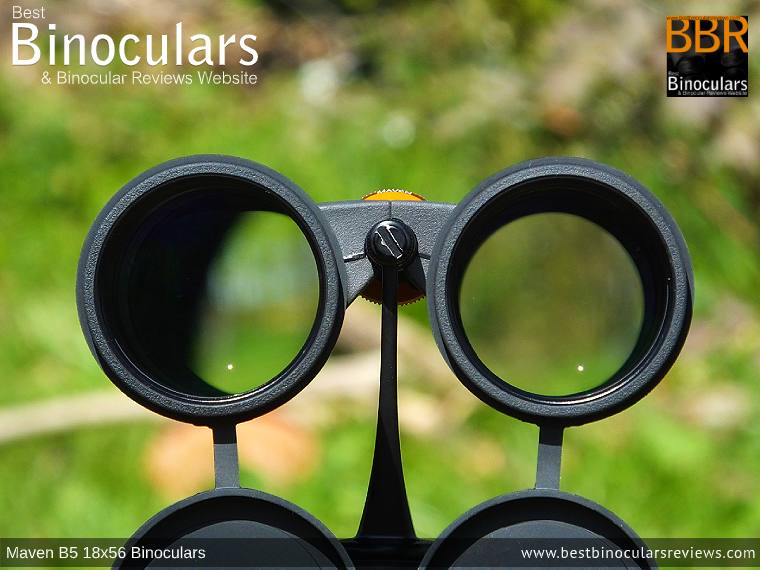 Objective Lenses
Arranged into 3 groups with 4 individual lens elements and measuring 56mm in diameter, the objective lenses are notably larger than the commonly found 42mm on "standard-sized" binoculars, but at the same time is not excessive and thus these look and indeed feel like you can carry them about fairly easily.
This larger surface area provides greater light gathering than those with smaller diameters: So 25% more than 50mm objectives and a whopping 78% more than 42mm ones.
As we have already mentioned larger lenses are extremely important for higher powered binoculars like these 18x56 Maven B5's to ensure that a reasonably bright image is produced.
However, large lenses are not all created equal and the quality of the glass and coatings also play a very large role in determining both the brightness and quality of the view. Importantly, the Maven B5 binocular truly excels in this area:
Fluorite ED Glass (FL)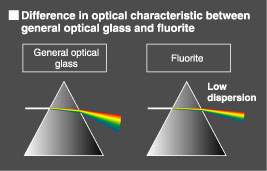 Better quality optical instruments will often use some sort of ED (extra-low dispersion glass) elements within their lenses that have the potential to better direct the individual wavelengths of light and thus reduce the chromatic aberration that causes color fringing that you see around the edges of objects.
However, not all ED glass is the same and you still need to combine the elements well with the rest of the lens and indeed the whole optical pathway to achieve the desired result.
The very important point to note here is that Maven B5 binoculars have ED lens elements made from Fluorite which is considered to be as good as it gets in this area and can correct the color error to essentially zero. It is however expensive and thus only found on some very top tier "alpha-level" instruments.
The higher the magnification the more obvious color fringing often becomes, so the fact that Maven has recognized this and used the very best FL glass in their lenses is a big deal and I feel well worth keeping in mind - See below in the Image Quality section for how they actually perform in real life.
Ocular Lenses and Eyepiece Design
Each eyepiece is arranged into 4 groups and consists of 6 separate lens elements, but apart from this fact, the Maven Outdoor Equipment Company does not go into any further detail which is a shame.
But considering the overall quality of the Maven B.5 18x56 binocular and the number of optical elements used, I would guess that field-flattening lenses have been used especially because of how sharp the image produced is, right across the entire view. (see Image Quality below).
I also measured the external ocular lens element to be 24mm in diameter which is very large, making the binocular easier to use, indicative of a wide field of view within their magnification class and a number of other advantages: See ocular lens size in binoculars.
Abbe-Koenig Roof Prisms
Next up in this rather special optical system and just as with the Maven B2 11x45 Binoculars that I tested a while back, is that Maven B5 binoculars use Abbe-Koenig prisms to erect the image.
This is a type of roof-prism, but different from the much more commonly used Schmidt-Pechan design found in most modern roof-prism binoculars, including Maven's own B1 and B3 Series.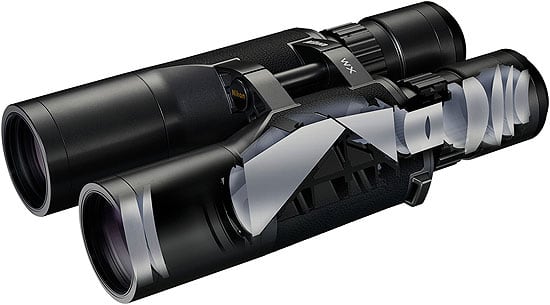 Total Internal Reflection
Whilst longer and heavier than Schmidt-Pechan prisms, the Abbe-Koenig design offers a number of important advantages over them, not least that they have a total internal reflection, meaning 100% of the light entering the prism also exits it and thus no mirror coatings are needed.
With the Schmidt-Pechan design, you do get some loss and thus even with the very best roof prism binoculars that use special dielectric mirror coatings, you still get a tiny percentage of light that is not transmitted (usually less than 0.5%).
Finally, unlike the Schmidt Pechan design where the light exits exactly in-line with the entry path, with an Abbe-Koenig roof prism is it is possible to have the light exit slightly offset to the path of entry.
For an instrument with larger objective lenses like this Maven 18x56 binocular, there is an advantage to this as it allows you to keep the eyepieces at a normal distance apart for comfortable use, whilst at the same time, because the objectives are further apart, you also get an improved stereoscopic leading to improved depth perception.
Optical Coatings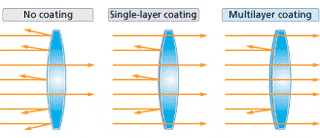 Anti-Reflection Coatings
Whilst at this alpha level, I would have been completely shocked to learn differently, it is important to confirm that these Maven B.5 18x56 binoculars are Fully Multi-Coated.
For those who don't know, this means that all lens surfaces throughout the entire optical pathway have multiple layers of a special anti-reflection material added to them which greatly increases both image quality and brightness.
Lesser quality instruments will only be multi-coated or fully coated, meaning only some air-to-glass surfaces will be coated and some with only a single layer.
More: What To Look For When Buying Binoculars & Anti-Reflection Lens Coatings.
Protected Exterior Lens Surfaces
Lastly, but by no means least, Maven has added coatings of a material to the exterior lens surfaces that are both scratch and oil resistant.
On top of this, the outer lenses are well protected by the fact that they are set back very deeply (about 9mm) from the ends of the barrels.
Maven could have made this B5 a little shorter by reducing this overhang, but then the lenses would be more exposed.
This cover and the protective coatings not only protect the glass from being scratched (like when you place your bins down on the ends without replacing the lens covers) but also means less cleaning is needed and then when you do need to clean them, less force is required.
Prism Coatings
Since both the 15x56 and 18x56 Maven B5 binoculars use Abbe Koenig prisms, it means that not only do they not need any mirror coatings, but they also achieve a 100% level of light transmission.
Optical Components Quality Rating: 10/10
Optical Stats
Field Of View (FOV)
As you increase the magnification you are more "zoomed into" the image and thus it is perfectly understandable that your field of view will be reduced when compared to lower-powered (or more zoomed out) binoculars.
Thus with an 18x magnification, you can never expect these Maven B5's or indeed any 18x56 binoculars to compete against low powered instruments, which is exactly what you can see on the comparison table below.
What is also very clearly demonstrated though is that these do compare very well against their direct competition:
Close Focus
The minimum focus distance is certainly not the priority nor indeed the strength of just any high powered binocular designed for long-distance viewing and that's the case here.
But at just 9.8ft, the close focus distance of the Maven B5 18x56 binocular is not at all bad and even compares very well against many lower-powered devices (see table above).
Eye-Relief:
Having a long eye-relief is of most importance to anyone who wants or needs to keep their glasses on while using binoculars.
Here it is important then that the eye-relief is long enough to allow the user to see the whole field of view with their glasses on, without dark rings forming on the edges.
Typically this requires about 15mm - 16mm of eye-relief (preferably more to be safe). Other factors are also important including the design of the eye-cups which I go through in the body section below.
Testing them using my sunglasses, the 18 mm eye-relief of the Maven 18x56 was enough for me to comfortably see the entire field of view and once again these compare very well against the competition.
Optical Stats Score (18x-20x Bins): 9/10
Image Quality
At the time of writing, I have now had almost four weeks of using and testing these Maven B.5 18x56 binoculars under my belt and have used and directly compared them side-by-side against a host of other instruments of varying configurations and quality in a variety of light conditions ranging from darkness (for astronomy) to cloudless bright sunny days and just about everything in-between. Below are my thoughts and observations:
Color Reproduction & Contrast
I generally find that just how vibrant the colors seem is usually also closely related to just how much available light there is. So on a dull and gloomy day, it is natural that the colors will not seem as vibrant as if you were to look at the same view on a bright sunny day.
The paragraph above should hold true no matter if I am using binoculars or not and that is the point I am trying to make: When looking at the colors produced and indeed the level of contrast, I am looking to see if it deviates from what I naturally see without using the optics.
Some binoculars have purposely tinted views to enhance certain colors and thus make them stand out (some Steiner binoculars designed for hunting come to mind), and then others have a tinted view which is undesired (usually those that use low quality glass and coatings and especially where high magnifications are involved).
So in general, I am looking for an image that looks vibrant, but at the same time, natural and true to life.
Thankfully, this is for the most part, exactly what I found with these Maven B.5 binoculars and considering the higher power, is a testament to the level of optics that they have used.
Barely noticeable and it may just be that I was comparing these against other very high-end binos that had a lower-power, but in low light, I would say that I did think that the vibrance and contrast were a fraction off, but this could also be down to them just being a little less bright since they have a smaller exit pupil.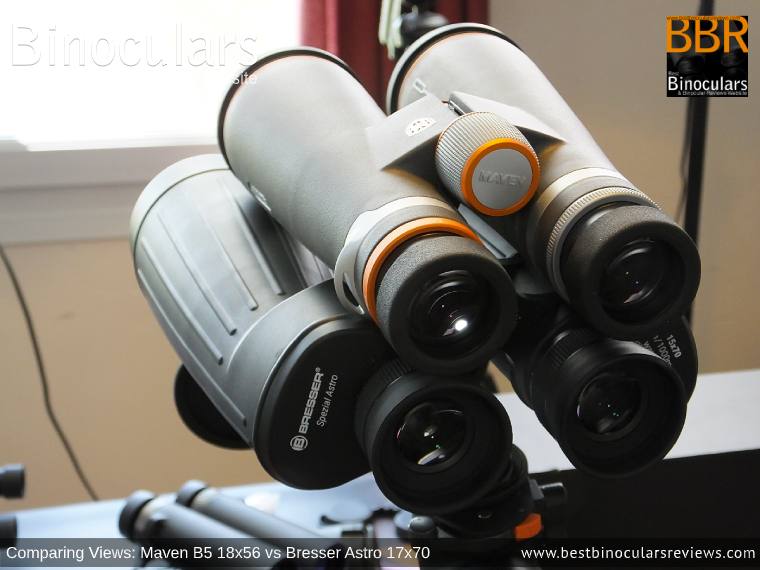 Either way, it is not something that I would be too concerned with as in good light conditions this difference was not noticeable.
Image Brightness
Before testing and using the 18x56 Maven B5, this is certainly one area that I was most interested in and indeed most concerned about.
One the one hand, Maven has used an extremely high level of optics and coatings that ensures as much of the collected light as possible gets transmitted through the instrument and onto your eyes.
Then on the other, there is the issue of combining large (but not super large) 56mm objectives with a very high 18x magnification. As we have discussed this produces a relatively small 3.1mm exit pupil.
In good and even average light, when my pupils were smaller or as small as the exit pupil, I was hoping that the B5 would seem to be as bright as just about any other high-end bino and thankfully I was not to be disappointed:
With such a large difference in magnification, it is hard to be 100% sure, but I felt that the brightness was at the same level as my alpha level 10x42 and then comparing them to a 15x70, once again the image brightness seemed to be the same under good and overcast conditions.
In low light, like at the end of the say just after the sun had set, here you can begin to notice a difference. This is completely understandable as it goes back to the relationship between the exit-pupil and the size of the pupils in your eyes.
However, I do have to add that whilst the ambient image brightness whilst scouting the view in the distance was diminished versus binoculars like my 8x42 and certainly more noticeable against my 8x56, what you can also notice is that at closer ranges, even though the image is not as bright, you can still make out a good level of detail in the image and thus the binocular is still very usable.
For Astronomy, things get a little more complicated as instead of looking at a dull object in low light (at the end of the day), you are now looking at a bright shiny object, but in the dark:
So here the high power is good as it enables more image detail and the reasonably large objectives are able to collect a good amount of light. But once again the small exit-pupil is a hindrance. However, I have found that because you are looking at bright shiny objects like the stars or the moon, for the most part, this seems to have less of an effect than for terrestrial use.
So whilst these couldn't quite match the performance of my 15x70 or the 20x80 I had in for testing at the time, they did not perform badly at all and whilst I would not suggest buying the Maven 18x56 B5 if astronomy is your primary interest, if you do get a pair, I would highly recommend staying up late and pointing them towards the heavens and in particular a full moon as the detail that you can see on its surface will blow you away.
Color Fringing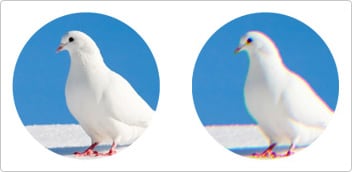 This was another area where I was particularly worried about these 18x56 Maven binoculars: Caused by chromatic aberrations, color fringing often becomes far more noticeable on instruments with higher magnifications.
However once again, the clever use of very high-end optics has come to the rescue of the Maven B5. In this instance, it is the very best Fluorite ED Glass (FL) elements in the objective lenses that can radically reduce the level of chromatic aberrations by better directing the wavelengths of light.
So even though the image that you see when looking through this instrument is much more highly magnified, I really could not see any difference in the amount of color fringing than when comparing them to my alpha level 10x42's, which I find to be seriously impressive.
And trust me, I tried hard: Using my usual tests of looking along the edges of dark tree branches or a black telephone cable lit up against a bright blue sky, the thin line that I could see was very minimal and about as good as it gets.
Image Flatness & Softening
Another point to mention and one which is especially important on an instrument that has a relatively narrow view is that once focused on an object, the image on my sample remained sharp from the center, right to the edges and thus has a flat field of view and means that you don't have to continuously move subjects into the center of the view to study the details.
On top of this, the level of softening right at the edges of the view was very minimal.
Some binoculars, usually at the cheaper end of the scale can have an image that looks curved and with large areas of vignetting (or softening) at the edges, which was not the case with these.
Image Quality Rating: 9/10
The Body
Single Top Hinge
Measuring 4cm across the bridge is about the same width as that found on most 42mm binos, but the added length of the barrels makes it look a fair bit thinner than normal, which I feel gives the binocular a sleek, modern appearance.
However, one concern would be that with such long barrels, perhaps a more beefy bridge would ensure that they don't go out of alignment. This probably would indeed be the case and whilst I can't test them to destruction, the bridge does feel more than strong enough.
A wider bridge would also increase the weight of the instrument and would take up more space on the barrels, which I liked holding onto when using them as it was not only comfortable but make for a stable anchor point with which it was easier to keep everything steady and as still as possible.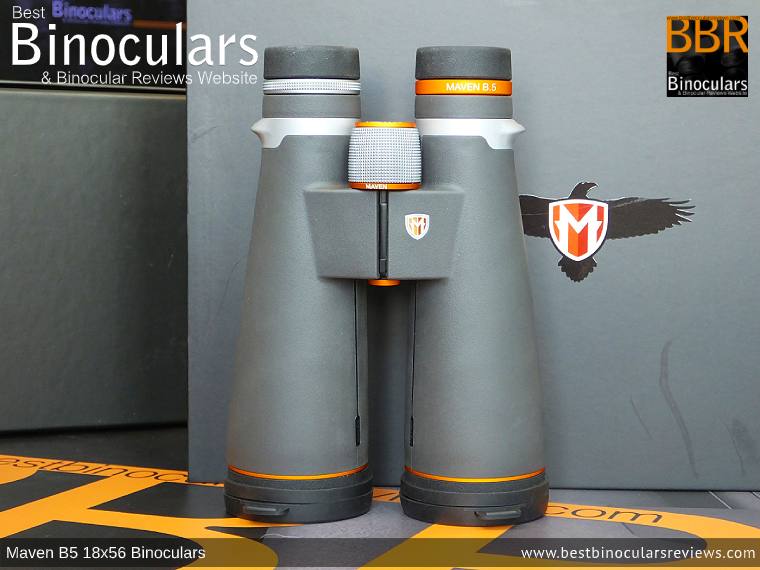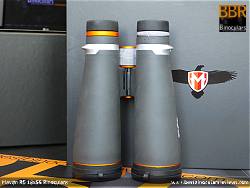 Inter-Pupillary Distance (IPD) Adjustment
As per normal, you can adjust the distance between the two eye-pieces to match the distance between your eyes (interpupillary distance/IPD). On these Maven's this inter-ocular distance ranges from 5.6cm up to 7.6cm which is pretty standard.
I found the tightness of the hinge on my sample to be good, meaning that it is not too difficult to alter the IPD, but at the same time, once set it remains in position which is a minor, but important point as a hinge that is too loose can become annoying!
Designs
Also available in black version, I like the grey rubber armor with the orange and silver accents that you get with the standard Maven binoculars. If neither of these "out of the box" color options is to your liking, Maven Built does offer a custom design service where you can change the body armor, neck strap rings, focus wheel, ocular and objective lens rings, and even add engraving, but this does increase the cost and delivery time.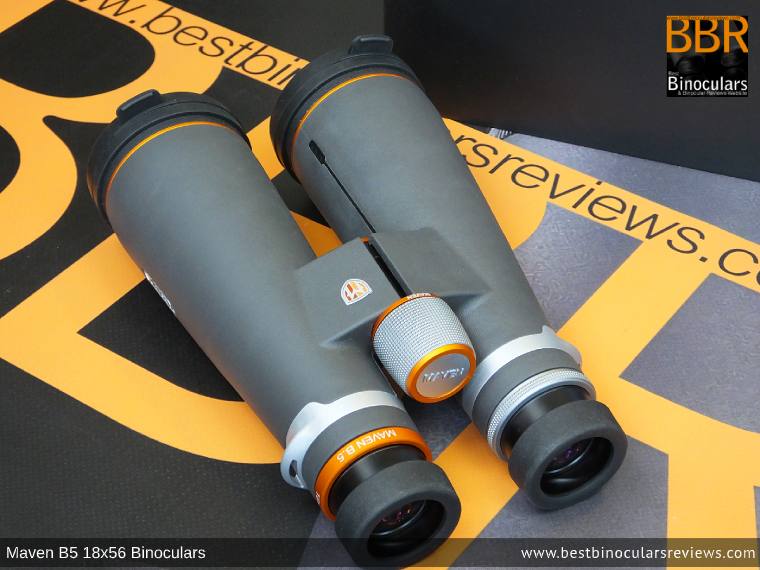 Rubber Armor
The thin, hard rubber feels very tight fitting to the chassis underneath and with its fine texture, I found that it provided me with a reasonably good amount of grip. However, it must be said that whilst it may not look as nice (debatable) and is usually less longer-lasting, a thicker, softer rubber would provide more grip and certainly more impact protection to the instrument.
Waterproof
These Maven B5 18x56 binoculars have an IPX7 waterproof rating meaning that they are tested to a depth of 1meter for 30 minutes and remain watertight, which is more than enough protection for even the wettest weather conditions.
Also, keep in mind that these water and indeed air-tight seals provide an effective barrier against the ingress of fine dust particles.
Fogproof
Maven fills the inside of the B5 with nitrogen gas which is completely moistureless and thus no condensation can occur on internal elements and obscure the view by the way of fogging or misting up.
Eye-Cups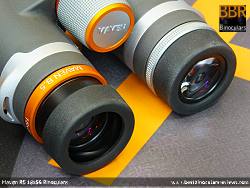 The screw-up/down eye-cups on these Maven B5 18x56 binoculars are generally excellent:
Firstly, it is important to point out that both the eye-piece housings and the eye-cups look to be made from metal (probably aluminum), unlike lesser quality devices that use plastic.
This does increase the overall weight, but as this is the one area of binocular that is most often damaged if they are dropped, this is important.
As well as this, each eyecup can be unscrewed and completely removed, a feature that I only sometimes see on higher-end instruments.
This makes cleaning them, the ocular lenses and the eyepieces underneath far easier and you can be more thorough and should they ever get damaged, are far easier to replace.
Lastly and in general, the twisting action, how they work and just the whole mechanism of metal eyecups tends to be far superior to that of plastic ones. Once again this is mostly the case on this Maven, except for the fact that I did get a tiny bit of free play at the intermediate click stops.
As they still remain firmly in place at your desired setting and you only feel the free play if you are moving them outwards, this is really of no major consequence (if any) and is not uncommon, but thought I would just mention it to be thorough.
Long Eye-Relief
When fully twisted down, the eyecups sit nice and low, almost level with the outer ocular lens meaning that whilst wearing glasses, I could make use of the full and very generous 18mm of eye-relief, which I tested with my sunglasses and enabled me to view the full field of view without black rings forming on the edges and thus have no hesitation in recommending these Maven B5's as a good option for eyeglass wearers.
The cups are covered in a thin rubber. A thicker rubber may be a little more comfortable, but I personally never felt any sort of discomfort whilst testing.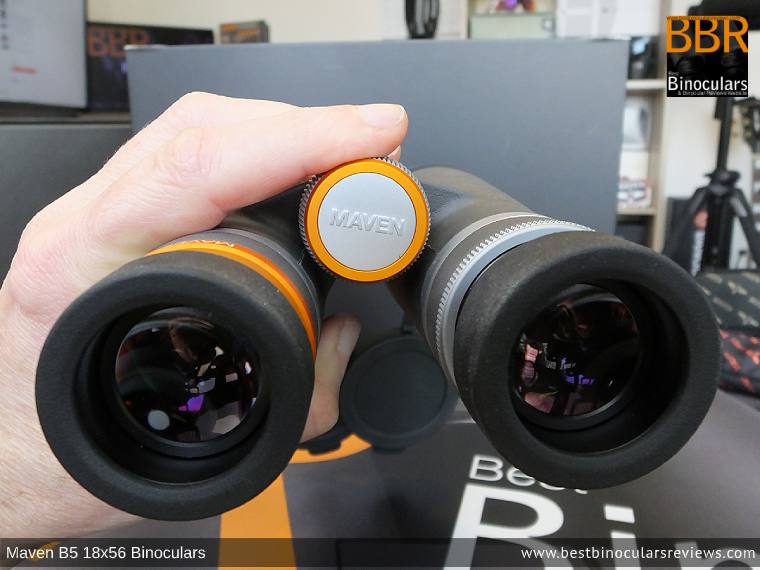 Focus Wheel & Focusing
The focus wheel is one of the real highlights, not only on this B.5 model but on just about any Maven binocular you use:
Firstly unlike many instruments, including some "alpha" level ones (Swarovski comes to mind), Maven uses metal and not plastic in their construction.
In terms of structural integrity, using metal is probably an overkill, but it just looks, feels and in many cases works much better than plastic.
The deeply etched surface on the track provides a level of grip that is unmatched. The wheel is also relatively large (over 3cm in diameter and 2.5cm long) and sits in a proud easy to reach position.
During normal use, this may seem of little importance, but in winter when wearing thick gloves it becomes far more than just a nice feature.
The focus mechanism on my sample was extremely smooth throughout the whole range and whilst a fraction on the tight side, the high grip surface makes it easy enough to turn and way better than a loose, sloppy and inaccurate focus mechanism.
It takes just 1 ¼ turns (450°) to go from the closest focus to infinity. This fairly aggressive mechanism is great for making rapid changes between near and far, but in theory, it also makes fine adjustments a little more difficult. However, due to the silky smooth mechanism, I never had an issue with this.
Lastly, I also like the Maven stamped faceplate on the rear of the wheel and the fact that it does not turn with the wheel is just cool: This wheel is about as far from being a generic afterthought as you can get.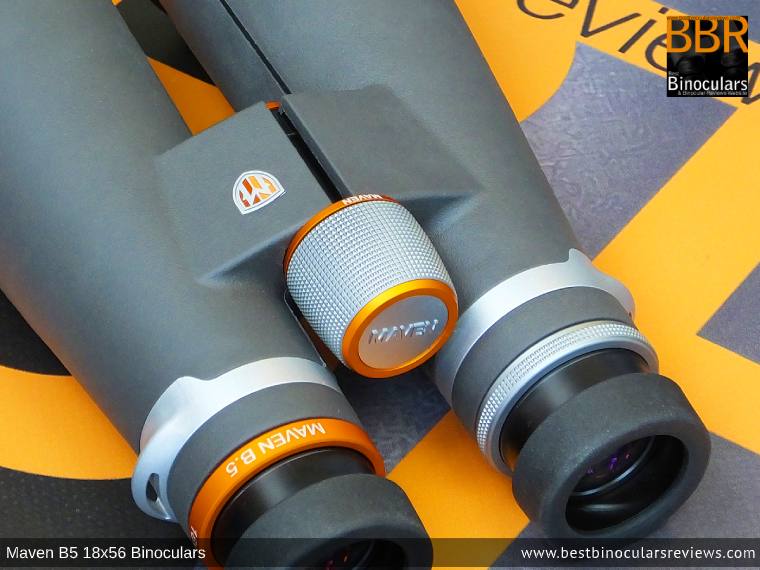 Diopter Adjuster & Adjustment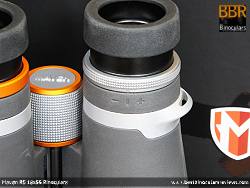 Like the focus wheel, the diopter adjustment ring is made from metal and once again, this just feels and looks better than the hoards that use plastic.
Used to calibrate your binoculars to your vision by off-setting the focus on just one eye, to set the Dioptre, which in theory only needs to be done very infrequently, the diopter ring on the Maven B5 is relatively thin and has a tight mechanism, both of which help prevent unintentional movement.
This works well enough, but it would have been even better if Maven had made the diopter lockable a feature you sometimes see on high-end binoculars like these.
Note: the diopter correction range (dpt) on these is "more than +/- 2", which is not the biggest range and something to keep in mind if you have one eye far more dominant than the other.
Tripod Adaptable.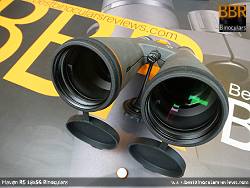 With very powerful magnifications, one of the most important aspects has to be that the binocular is very easy to fix onto a sturdy base like a tripod or monopod to get the most out of them and thankfully the Maven 18x56 B.5 is just that:
These have a standard ¼ inch screw thread hidden under dust cap with the maven logo on it on the front face of the hinge that will accept just about any standard tripod adapter.
Maven does not supply this B5 with a tripod adapter. Considering that you are most likely going to need one is a little disappointing. Thankfully these are generally inexpensive, but I would recommend avoiding very cheap plastic ones at all costs. See my recommendations here: tripod adapters.
One design aspect I also like about this Maven is that because of the particular shape of the Abbe-Koenig prisms and the resultant tapering of the barrels, there is plenty of room in-between them that enables you to more easily attach just about any adapter.
This can be a particular problem with binoculars that use larger diameter objectives and Schmidt-Pechan prisms as they often have very little space between the barrels making it more difficult and sometimes even impossible to fit any sort of adapter, even ones with a very thin stem.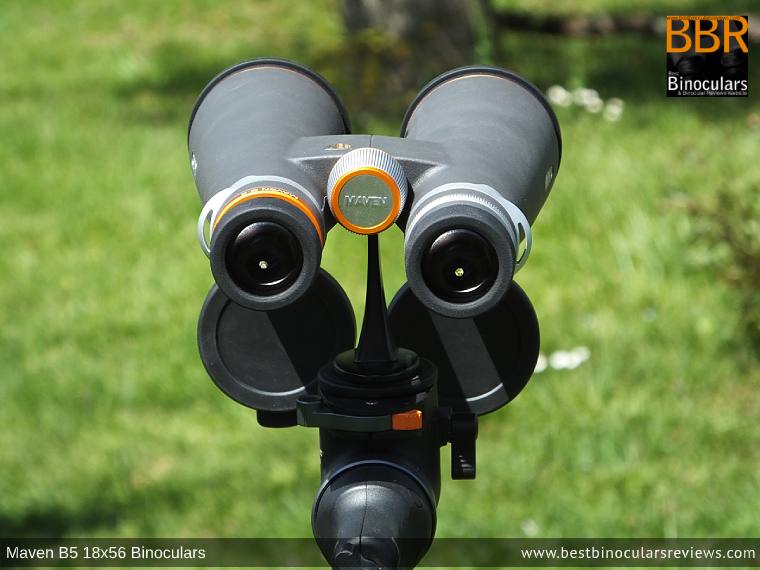 Image Stability the 18x Magnification
There is no doubt the USP of these Maven binoculars is the monster 18x magnification, which as we have already gone over has both good and bad aspects to it.
At this level, you are now approaching the lower powers of many spotting scopes which is one of their selling points for those who prefer carrying a bino over a scope and the more immersive experience you get from using two eyes rather than just one.
I find that not only is it more comfortable and natural to use two eyes instead of one, but my ability to pick out detail and scan areas for longer with more immersion is certainly an advantage that stereoscopic vision provides over a monocular or scope.
However, whilst I found that it was just about possible to use these Maven b5 18x56 binoculars from the hands, it was tiring both on the arms and eyes and even the slightest movements are very amplified making it more difficult to make out detail.
So to really get the most out of any high powered binoculars (from about 12x), some sort of stabilization is the way to go. There are a number of options, with the most common being either a tripod, a bi, or even a monopod.
Mounted onto a steady, good quality base like a tripod (I use a Vanguard ABEO Pro tripod and Pistol Grip ball head), the viewing experience is transformed.
All vibrations disappear. This brings out the main advantage of the high power as you can now study even the tiniest details and whilst you do have to carry both about from place to place, the weight of the binos is now completely out of your hands when observing.
Hunters are probably more familiar with the benefits of mounting binoculars onto tripods/monopods and it's definitely something that more nature watchers and especially long-range birders should give it a go.
There are downsides yes, but at long-range, the amount of detail you can see is incredible when comparing them to a typical 8x or 10x binocular.
For astronomy uses, a tripod is pretty much essential, otherwise, you find that you are just looking at a bunch of blurry spots in the night sky.
Body Construction Quality: 9/10
Weight
Tipping the scales at 45ozs (1276g), when compared to your average 42mm binocular these are considerably heavier and whilst they are also on the heavier side when compared to other 56mm instruments, you do need to keep in mind that it has a chassis made from magnesium and the number of metal components it uses is well above most mid-range instruments that use many plastic parts and often have a plastic chassis.
As a further point of interest, you will notice in the table below that the Vortex Razor UHD 10x42. Like this Maven B5 it also uses Abbe-Koenig prisms and like these are also on the heavy side when compared to other instruments in its size class (42mm).
Dimensions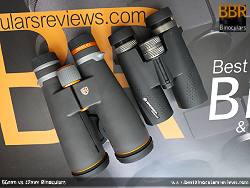 As we spoke about in the optics section, the Abbe-Koenig prisms that Maven uses in the B5 have a number of advantages, but one of the main reasons they are not more widely used is that they are longer than the alternative Schmidt-Pechan roof prism, which results in a longer instrument.
Looking at the table above, this is confirmed and you can see that they are about 1 to 2 inches longer than most 42mm instruments (see image on the right of the size comparison between these and the Bresser Condor 10x42), but they are about what you would expect from a large 56mm binocular.
One advantage of these long barrels that taper towards the eyepieces is that I personally found them very comfortable and secure to hold onto and whilst heavier than "normal" I found the Maven B5 18x56 binocular to be a well balanced and really nice instrument to use, which also helps a little in keeping the body as till as possible when using them.
The image below compares the sized of three different 56mm binoculars. These Maven B5's, the Bresser Pirsch ED 8x56 on the left and the roof prism Steiner Nighthunter 8x56 on the right.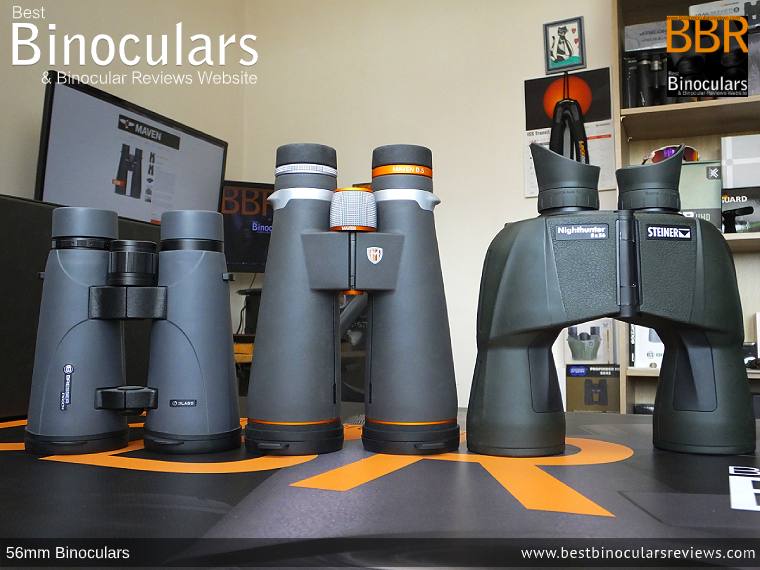 Size & Weight - Carrying Solutions
As you will read in the accessories section below, like the B2, these Maven B5 binoculars come supplied with an extremely comfortable neck strap which is great, however, if the weight is still an issue for you and you don't plan on using a tripod, I would certainly recommend getting a compatible bino harness.
There is a wide variety of options and designs available, but of those I have used with larger sized binoculars, the Cotton Carrier Skout Harness is one I'd recommend.
Body Stats Score (56mm Bins): 8/10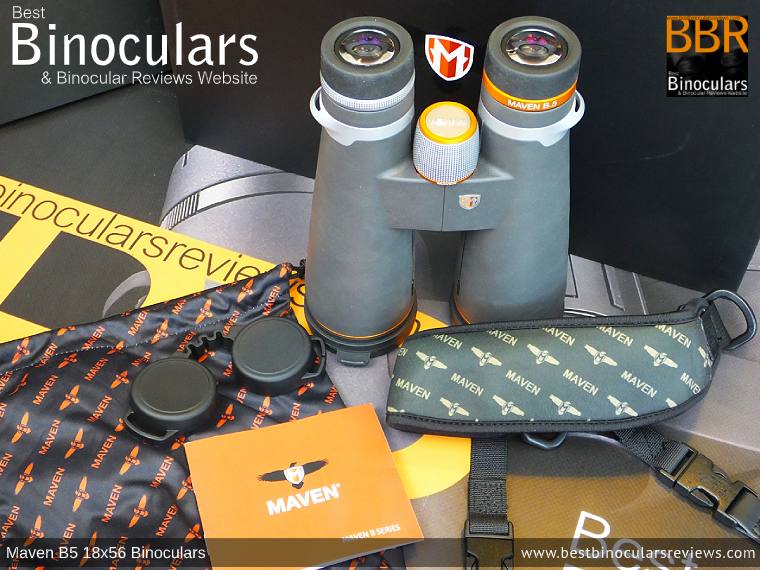 Included Accessories:
Packaging
I try to be as thorough with all my binocular reviews, but even so, it is not that often that I will take the time to reflect on the packaging, but I in this instance, I feel that it is at least worth stating that the packaging is excellent and certainly adds to the experience when you open it up to reveal you new Maven binoculars for the first time.
Carry Bag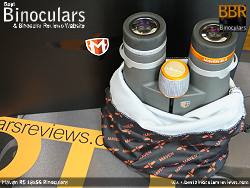 As was the case when I reviewed the Maven B2 11x45 binoculars, I was a little surprised to discover that this instrument is not supplied with a carry case which we have all come to expect, although in this instance and with a larger instrument, I do feel that it now makes some sense:
Instead of a traditional case, the Maven Outdoor Equipment Company includes a soft drawstring carry bag made from a fine material that is double-layered and comes with a microfiber interior similar to that used on most cleaning cloths.
In combination with the excellent quality box, this solution actually works very well for storage, but for those of you who usually take the carry case with you when you go out in the field, you may be disappointed.
I generally never take the carry case with me, and rather opt to just carry the device, hang it around my neck via the neck strap or attach it to a bino harness and thus for me and many others out there, a carry case can be a luxury that you can quite easily do without.
Back home, you still need a place to keep your binoculars safe and away from dust and this is where the drawstring carry bag and if needed the box work perfectly well together.
For me, the times where I can see where I may miss having a case is for the extra protection they provide when traveling.
So for many, a case is not necessary and I would much rather the money was spent on making sure the optics and the body were as good as possible than using some of the budget on a case.
Having said that, perhaps it may have been nice if they supplied the B5 with a suitable bino harness like that which comes with the Vortex Razor UHD binoculars, but then again this maybe not what you want or need, so instead you may wish for a tripod adapter to be included... we could go on.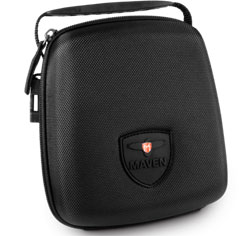 Note that in terms of the accessories score, I have had to mark Maven down here because my scores are relative and thus in comparison to most other bins, the bag they supply is excellent but is still inferior to most cases.
Optional Maven Binocular Case:
If you do need or want a carry case for your binos, then you can buy the Maven one as an optional extra. The one for the B5 currently costs around $30, which from the photos looks to have a semi-rigid design and looks to be reasonably good value.
Other than that I can't comment further as I have not seen or used it myself.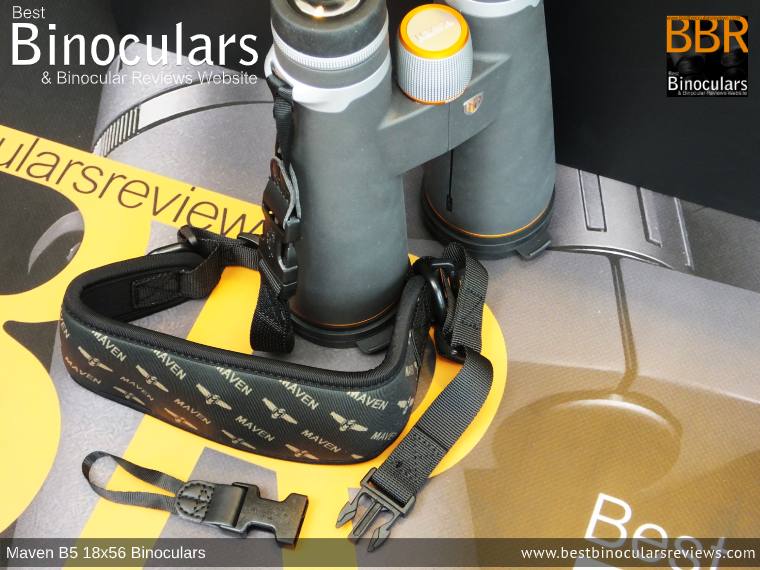 Neck Strap
For such a large and relatively heavy instrument, you need a good neck-strap and here Maven have certainly not let us down, indeed I would go as far as to sat that the included Maven neckstrap is truly excellent and one of the best that I have ever come across.
To begin with, I very much appreciate the way it attaches to the instrument: After un-clicking it from the rest of the strap with the quick release clips, you simply and very quickly loop the thin cord back through itself after you have passed it through the eyelet located on the side of the binocular's body.
For someone who has to attach many straps to many binoculars, I do appreciate how much easier and less time consuming this is than the normal method of using sliders.
Whilst this is quick and easy, things only get better because there are also quick-release clips, so removing or replacing your neck strap literally only takes a couple of seconds, it also makes it possible to easily attach them to a bino harness and swap between the two very easy as well.
The length of the strap can also be adjusted as there is a slider on each side, near the padded section.
The padded part of the strap is also truly excellent: It looks to be extremely well made with good stitching, is wide (6.3cm) and very thickly padded (7mm deep) that both help with comfort.
I also like that it has a curved shape, helping to fit more naturally around your neck and shoulders. For me, the only thing missing is a high-grip undersurface that some straps employ and which can help prevent the strap from sliding about.
Lens Covers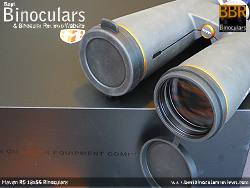 In sharp contrast to things like the focus wheel or the neck strap, the lens covers do lack a little in terms of finesse, look a little generic and certainly do not add to the binocular in terms of their looks.
Protecting the eyecups and oculars, these Maven B2 binoculars come with what is a very typically designed rain-guard. Likewise for the objective lens covers.
They both perform their intended function and fit over the ends of the barrels and eyepieces well and thus ensure the lenses remain clean and out of harm's way when not in use.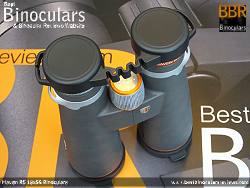 For the objective lens covers, better would have been if they had used a slightly thicker, tougher rubber, especially at the crease where the cover connects to the loop that goes around the barrel as this is somewhat flimsy looking.
Also, what looks much cleaner and more a part of the instrument is when the objective covers fit into the ends of the barrels and not over them.
Some kind of branding would also prevent them from looking so generic... which they could be?
Having said this, they work perfectly fine and if by making these changes it meant raising the overall cost or maintaining the price, but removing something from the body (like the metal focus wheel and replacing it with a plastic one), then I am totally fine with it.
Cleaning Cloth
Maven does not include a cleaning cloth, well not in the traditional sense anyway. The whole interior lining of their carry bag is made from what is actually a very good quality microfiber material and every bit as good as most cleaning cloths that come supplied with other instruments.
As good as it is, to ensure you keep the lenses and coatings perfectly clean and scratch-free, I would still encourage you to obtain a Lens Cleaning Kit.
Manual
Whilst not fully comprehensive, the included user manual is more substantial than most, is specific to the B5 series and provides you will all the most important details including naming the parts, setting up the IPD, diopter adjustment, attaching the neck strap and cleaning the optics.
Lifetime Warranty
As with all Maven binoculars, the B5 comes with an unconditional lifetime warranty which is not only reassuring, but truly demonstrates the faith they have in their products.
Extras Rating: 8/10
Review Conclusions:
No doubt, this not the right instrument for general use, but these Maven B5 18x56 binoculars do have their place and are certainly a very good option for many long-range uses (see below).
I was pretty skeptical before receiving them, but after testing, I was surprised as to how well they performed. By using top-end optics, coatings, a good attention to detail and an obvious high build quality, Maven has produced a high-performance, very high powered binocular that they can justifiably be proud of and one which I highly recommend in the right situations:
Strengths:
Excellent build quality using high-quality materials and components
High level of components used, like the metal focus wheel and all-metal eyepiece housings and removable eye-cups
Alpha level optical components made in Japan directly results in a much higher than average quality of view, far less color fringing and greater image brightness than what I would have expected with such a high power
When you consider the build quality & components and a price that is far lower than much of their direct competition it makes the Maven B5 18x56 binocular great value for money
Long Eye-relief with excellent quality metal eye-cups, Ideal glass wearers
One of the best focus wheels and focus mechanisms in the business: looks great and works even better!
Excellent image detail by use of the large magnification and high-quality optics
I love the ability that Maven offers of being able to customize and choose your own style should you so wish
Weaknesses:
Narrow field of view, but this is inherent with high magnifications and to be expected
No protective carry case, for some this will be an issue, for others, the included carry bag that doubles as a cleaning cloth is excellent and all you need
A lockable diopter would have been a nice touch, but having said that the ring is fairly inconspicuous and tight enough to prevent most unwanted movement
The lens covers work well, but in terms of looks don't match the very high standard set by the rest of the binocular and it's accessories
Ideal Uses:
Most would agree that the 8x42 configuration is probably the best "all-rounder" and so the more you move away from this "center", the more specialized the instrument becomes. Thus being so extreme, these Maven B5 18x56 binoculars will perform excellently in some areas, but also very poorly in others.
So, for example, with their high power, relatively narrow field of view and somewhat distant minimum focus distance, they are certainly not an ideal thick forest birding binocular where the light is often poor and you are trying to view small, fast and erratic moving birds from a very close range.
However, on the flip side, for most long-range uses and activities, these really come into their own and blow much of the competition out of the water:
Ideal Uses Include:
Target Shooting & Archery
Security Surveillance, Border Patrol, etc..
Also Good for: