Following hot on the heels of my review of the Maven B1.2 10x42 Binoculars and just how much they impressed me, it only made sense to me that I should also test at least one of Maven Optic's new B.6 binoculars as not only do they also form part of Maven's elite line of optics, but they are actually based on the B1 series and therefore share many of the same very high-level features and components.
However, whilst most of the components and features are either the same or at the same level, the fact that these B6 12x50's incorporate larger 50mm lenses and a higher magnification (in this case), you end up with an instrument with quite different characteristics, strengths and weaknesses, which in-turn changes the ideal uses, conditions and type of users that they are more suited toward and thus I think it makes for a really interesting comparison between the two.
So for this review, I will highlight the differences between these and the B1.2 and in order not to repeat myself where they are the same, I will often simply refer back to the B1.2 for my thoughts.
Maven B.6 Binoculars
Using 50mm lenses, the B.6's with come with either a 10x or 12x magnification and like all elite level Maven binoculars, they incorporate Japanese made components that are assembled and quality checked in the US.
Maven B6 12x50 Binocular Review
Below are my 100% unbiased, unfiltered thoughts and opinions on the Maven 12x50 B6 binoculars after having tested, compared and used them over a period of more than four weeks:
Specs & Features at a Glance:
High-End Binoculars: Approx: $1000 / £1000
Japanese Components Assembled in the US
Lifetime Warranty
Body

Single Top-Hinge Body Design
Magnesium Chassis
Fog & Waterproof (IPX7)
Metal focus wheel
Twist-up metal eyecups
Tripod Adaptable

Optics

Fully Multi-Coated Optical System
ED Glass Lens Elements
Scratch and Oil Resistant Lens Coatings
Schmidt-Pechan Prisms
Dielectric Mirror Coatings

Optical Stats

Eye Relief: 17.5mm
Field of View: 289ft @ 1000 yards (5.5°)
Close Focal Distance: 7.5ft (2.3m)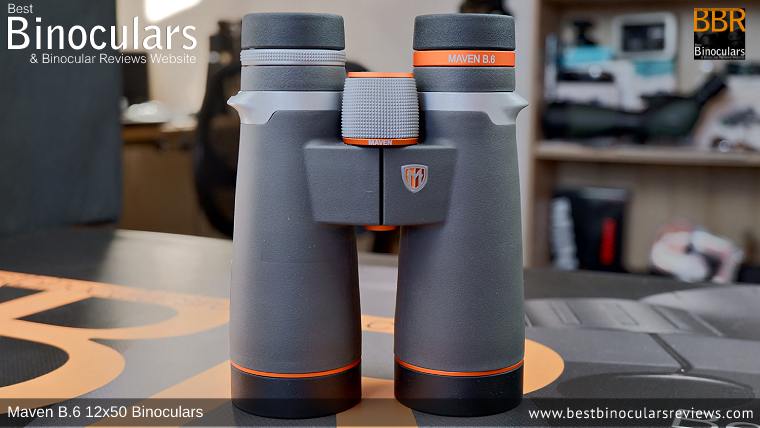 The Body
Shape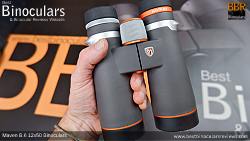 In order to accommodate the larger 50mm lenses, Maven B.6 binoculars use a slightly different chassis to the Maven B1.2 binoculars, but they both share the same basic design in that they are both roof prism instruments with a single bridge design.
At 3.1cm wide, the bridge is actually the same width as that on the 42mm B1.2 models, but because of the longer barrels, it looks to be narrower and have a more obvious top-hinge feel to it.
This is a design feature that I personally really like as it frees up more space on the barrels to hold onto, which if you are like me and often use your binoculars without a neck strap is important.
IPD (Inter-Pupillary Distance) Adjustment
As normal you simply open or close the central hinge to adjust the distance between the eye pieces to match that of your eyes. As with the B1.2, the hinge feels robust and I there is what I would describe as a good level of resistance to movement, meaning that they will remain at your desired setting, but at the same time it is not too difficult to make adjustments.
The IPD (Inter-Pupillary Distance) range on these 50mm Maven B6 binoculars goes from a minimum of 5.8cm up to 7.4cm which is pretty typical, but note that because of the wider barrels they do have a very slightly narrower range compared to the B1.2 which is of 5.6 to 7.4cm, which may just be something to keep in mind if you have particularly narrow set eyes.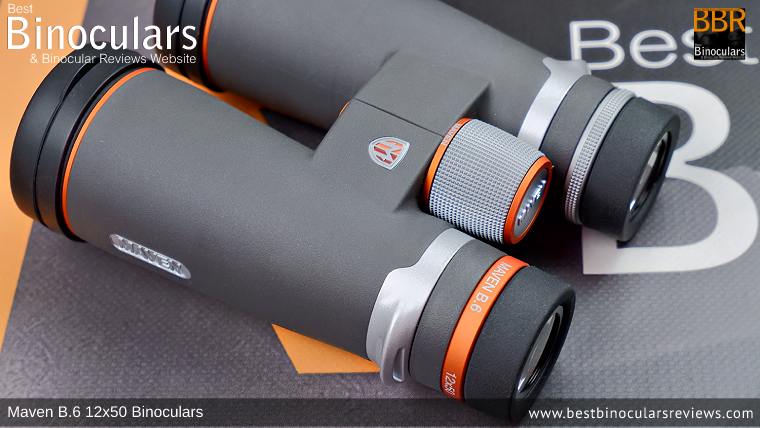 Exterior Rubber Coating
The exterior rubber coating on these Maven B.6 12x50 binoculars is as far as I can see (and feel!) identical to that used on the Maven B1.2 10x42 binoculars which for the most part is a good thing, so if you want to read all the details with the relevant advantages and disadvantages, please refer back to that review.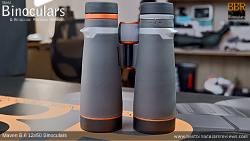 Chassis Material
All higher-specification Maven binoculars have a chassis made from magnesium and these are no different. Whilst not as lightweight as the cheaper to make polycarbonate shells, they are generally considered to be more robust and to my understanding less susceptible than aluminium to temperature related expansion and contraction, which for holding sensitive optics in place is as I am sure you can appreciate very important.
Fully Sealed
As with the B1.2, these Maven B.6 12x50 Binoculars have a IPX7 rating meaning they have seals that are designed to remain watertight at a depth of 1 meter for at least 30 minutes, which should cover most "normal" uses and easily be sufficient to prevent water entering in even the wettest conditions.
Also keep in mind that a fully sealed instrument prevents dust and other small particles from entering the system.
Fog Proofing
Maven replaces the air inside the system with nitrogen gas which prevents fogging on the internal lens surfaces which can easily occur on an unprotected instrument when there is a rapid temperature change (like when you first leave the house on a cold winter morning).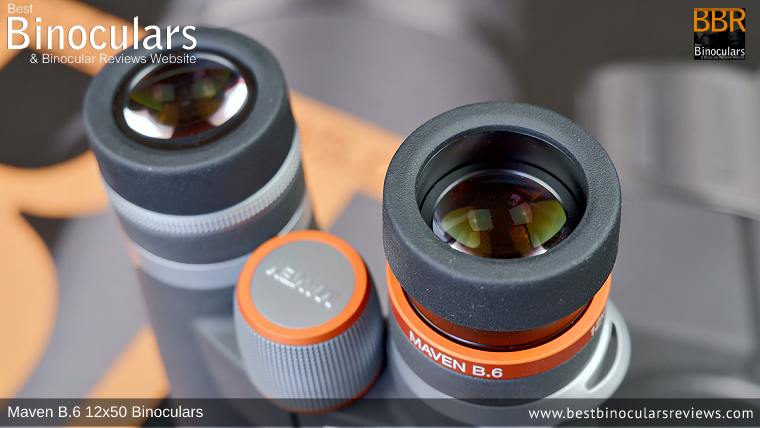 Eye-Cups & Eyepieces
These have twist-up eyecups which allow you to comfortably position your eyes the correct distance behind the ocular lenses so as to ensure you are able to view the entire image without any dark rings forming on the edges of the view.
Here, both the eye-cup housings and the eyepiece housings are made from metal, which when compared to the many plastic ones I see, not only improves on the strength of them at a place that often gets damaged when binoculars are dropped, but also generally results in a much better, more solid twist-up / down mechanism, which in the case of these is certainly true.
I really like how the cups click very positively into each of the pre-defined click stops, of which there is a total of four: Maximum, Minimum and two intermediate settings, which is the same as that on the B1.2. However what is different is that instead of 17.8mm of eye-relief, this 12x50 model provides you with 17.5mm. Either way, the difference is minimal and both are excellent. This long eye-relief along with the 4-click stop positions give you more options and more room to work with, which in turn enables you to get the perfect setting for you and your shape of face even when wearing glasses.
Note I tested these without glasses and at the fully extended eye-cup setting, got the full field of view, then with glasses, I had no problems with the eye-cups fully retracted and thus would certainly recommend these to eye-glass users.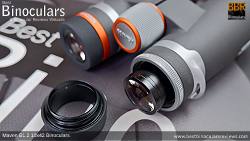 Another sure sign of quality I see on all these elite level Maven instruments is that the eyecups can be unscrewed and and removed. This not only allows you to replace them if needed, but also really helps when cleaning both the lenses and the housings.
The rubber padding on each eyecup is once again exactly the same as that found on the B1.2, which on the whole I find to be excellent and whilst not the softest out there, they are in no ways uncomfortable and look to me to be long lasting.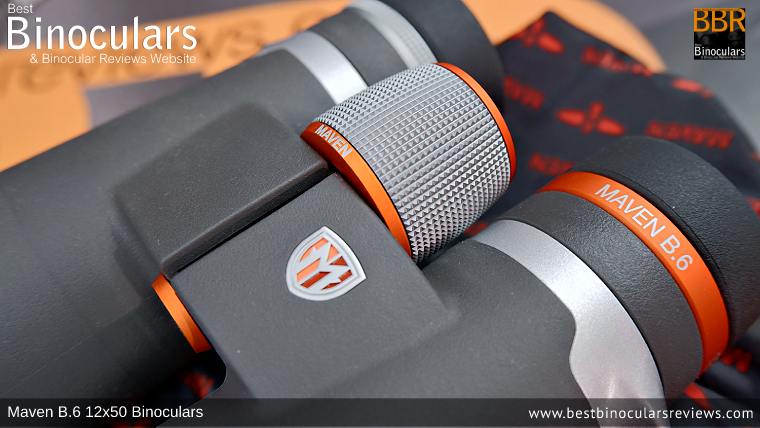 Focus Wheel & Focussing
At 31mm diameter & 28mm long, it looks and indeed feels like these Maven B.6 12x50 binoculars use exactly the same focus wheel as that on the B1.2, which is great news as it is certainly up there with my all time favorites.
Firstly unlike many binoculars (including some "alpha" level ones - Swarovski comes to mind!), Maven uses metal and not plastic and whilst I will concede that in terms of the strength required, this is not necessary, but in terms of looks and how it feels to use, it is far superior.
The reasonably large size, good positioning and a very smooth focus action all combine to make for a wheel that is both comfortable and easy to use.
I also really like the deeply etched outer surface which offers more than enough grip. This may not seem important and for the most part you may be right. But in winter and whilst wearing gloves, it does help make it easier to locate and then perform quick accurate focal adjustments.
One area where these do differ from the Maven B1.2 10x42 binoculars is in the gearing of the focus mechanism:
On the B1.2 10x42 it takes 2 complete turns (720°) to go from one extreme to the other, whilst with this model, the gearing is a little more aggressive as it only takes 1¾ turns (630°).
The advantage of this is that you need less turning and thus perhaps quicker to make large focal adjustments with the B.6. However, on the negative side, it in theory makes it a little more difficult to make fine adjustments.
In reality it was hard to notice any difference between the two, especially with the different magnifications as a higher power binocular (and scope) generally makes fine tuning the focus a little more difficult anyway and thus I think it may if anything have been better if this model was slightly geared lower and not higher than the 10 B1.2.
But to counter this thought, I have to say that I never experienced any difficulty in being able to quickly achieve a perfectly sharp focus with either instrument, which I am sure is in no small part down to the excellent, and very smooth mechanism, so this is perhaps just splitting hairs in this instance. However, with lesser quality binoculars that have sloppy/tight focus mechanisms, I have certainly found this to be a very important factor.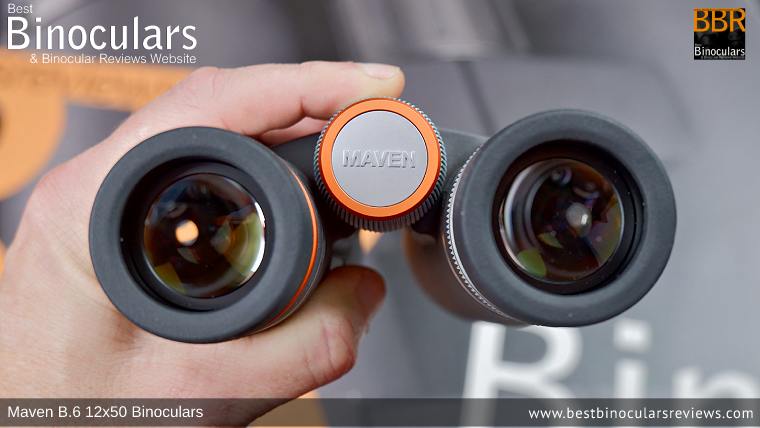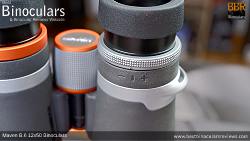 Diopter Adjustment
Made from metal, once again the diopter adjustment ring is I am pretty certain exactly the same as that used on the B1.2, which once again is great news.
Used for calibrating the binocular to your particular vision by enabling you to offset the focus on the right side independently and thus compensate for any differences between your left and right eyes.
The diopter correction range (dpt) on the 12x50 Maven B6 is +/-5 degrees which is truly excellent and equals the largest range I have come across (often it is just +/-2) and thus these along with the B1.2's make an excellent choice should you have one eye that is far more dominant over the other. A point to mention here is that the 10x50 B.6 has a reduced range of +/-3.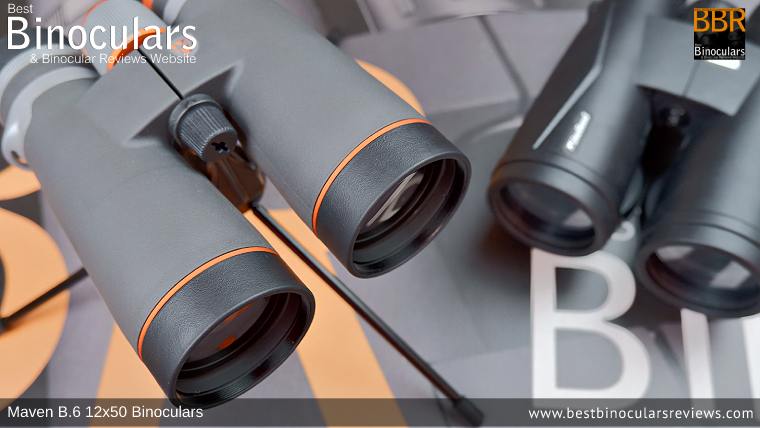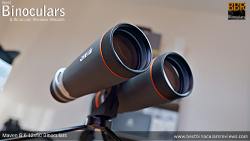 Tripod Adaptable
These like all other Maven binoculars I have tested are what I would describe as tripod adjustable and make it easy to fix a standard tripod adapter onto by unscrewing the dust cap on the front face of the hinge. This then reveals a thread that will accept the adapter which can then be fixed onto a tripod.
Note that I have also now just recently started using a new type of clamp to fix my binoculars onto a tripod which wraps around one of the barrels (see image below). I have swapped for a number of reasons, which you can read about in my full AZIAK Bino Clamp Review and if you are interested, just to let you know that the size 2 clamp worked perfectly on both these Maven 10x50's and the 10x42 B1.2's.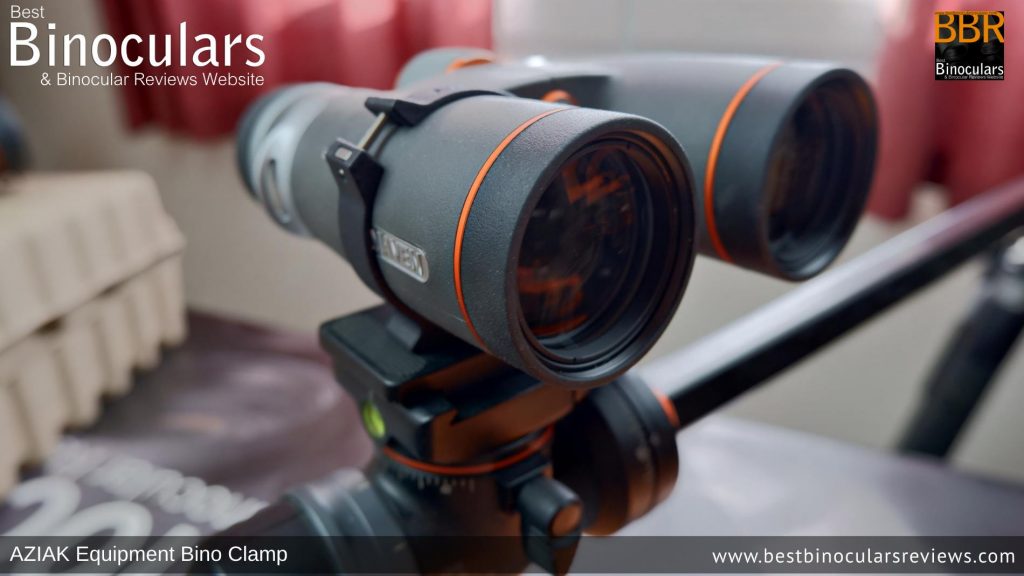 Body Quality Score: 9/10
Weight
These Maven 12x50 binoculars tip the scales at just under 30.7oz / 870g, which is by no means lightweight, but at the same time is far from what I would describe as being a heavy full-sized binocular.
Indeed they are on the more lightweight end of the scale when compared to other 50mm binoculars that I have tested (see table below) and whilst they are a little heavier than the 10x42 Maven B1.2, they do compare and even come in under the weight of some 10x42 binoculars on the market. This is especially impressive when you consider that they have a magnesium chassis and mostly metal components.
Dimensions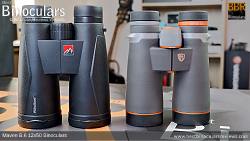 Both this 12x an the 10x50 Maven B6 binoculars use the same chassis and thus have the same out dimensions which as you can see are fairly typical for a 50mm instrument.
What I also think is interesting is if you look at the specifications of a typical 42mm binocular, they really are not that much larger and thus unless you specifically need to keep the size down, you probably will not notice that much of a difference between the two different sizes, you you gain the added light gathering benefits of the larger 50mm lenses.
Image on the right shows how these compare in size to some other 12x50 binocular that I had with me at the time of testing.
Body Stats Score (for a 42mm binocular): 9/10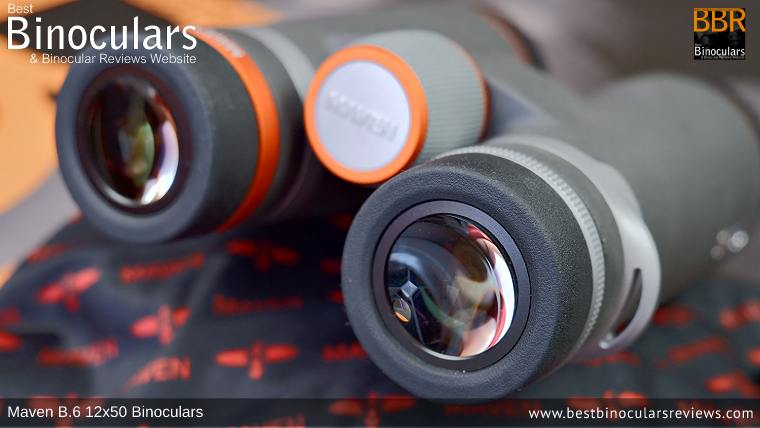 Optics
Apart from the different size objective lenses, the level of optics used on the B.6 series is the same as that used on the new B1.2 range which is once again excellent news, but before going into details, I just wanted to go over the 12x50 configuration as a whole and what we can expect, especially when comparing it to a more typical 10x42 setup for example:
12x50 vs 10x42 Configurations
Advantages of the Higher 12x Magnification
Greater Reach
More Image detail
Disadvantages of Higher 12x Magnification
Reduced Field of View
Reduced Low Light Performance (Smaller Exit Pupil)
Less Bright Image (Thicker Lenses Required)
More Image Shake
Advantages of Larger 50mm Objective Lenses
More Light Gathering Ability
Brighter, Higher Quality Views
Disadvantages of Larger 50mm Objective Lenses
Larger & Heavier Instrument
More Expensive to Make
Combining a 12x magnification with 50mm lenses results in a binocular that has the potential to "gather" more light, but at the same time the higher power reduces the size of the exit pupil (size of the shaft of light exiting the ocular lenses).
On top of this, in order to achieve the higher magnifications, thicker lenses are needed, which adds weight and reduces the amount of light passing through them and so combined leads to a less bright image with a reduced low light capability.
In this specific case, the 12x50 combination produces a 4.16mm exit pupil (50 ÷12). This is very similar to the more standard 10x42 with it's 4.2mm exit pupil (42 ÷10). This means that like a 10x42, these will offer a perfectly bright view in good, normal and reasonably poor light conditions.
In low light they are not bad, but at the same time not ideal, whilst in very low light they certainly don't not make the ideal choice and will look to be less bright than an equal quality 8x42 with a larger 5.25mm exit pupil for example. This if you do need a very good low light capability, it may be worth dialing the magnification down a bit and opting for the 10x50 version of the Maven B.6 which has a more generous 5mm exit pupil.
For more details on all of this check out my guide to low light performance and the exit pupil size.
Image Shake
Another important aspect to keep in mind is that you do get a little more image shake than what you would with a 10x instrument when binning from the hands, but as you can read in the Image Quality section below, the amount was minimal to me and thus when used in the right situations where a higher power is needed, I feel this level is acceptable.
However, for long observation periods and in situations like when operating from a hide or your balcony, I would certainly consider mounting these onto a tripod as this will not only allow you to achieve a completely shake free view and thus help you take in more detail, but it also makes it less tiresome on your eyes and hands.
For uses like airplane spotting where you need to be able to identify small details like aircraft numbers from a distance, but the object is moving, using a tripod may not always be practical. Here it will all depend on how steady you can keep your hands, or you should really consider getting a viewing stick/monopod. Basically a one legged tripod, it enables you to anchor the instrument in one direction, but still allows you the freedom of movement that you need.
Being far more lightweight and smaller than a full tripod, I feel a monopod could also be of interest to hunters, wildlife observers and even hikers who want a high powered binocular but also a more steady, shake free view.
Ocular Lenses
A really impressive on these Maven B.6 12x50 Binoculars is the ocular lenses. Made up of 6 elements arranged into 4 groups, I measured the outermost element to have a usable diameter of 25mm which is extremely large.
Large ocular lenses can provide us with a number of advantages, including improving image resolution and making it more easy to line your eyes up to them correctly (so less black rings forming on the edges of the view). For more, take a look at my article on Binocular ocular lens size.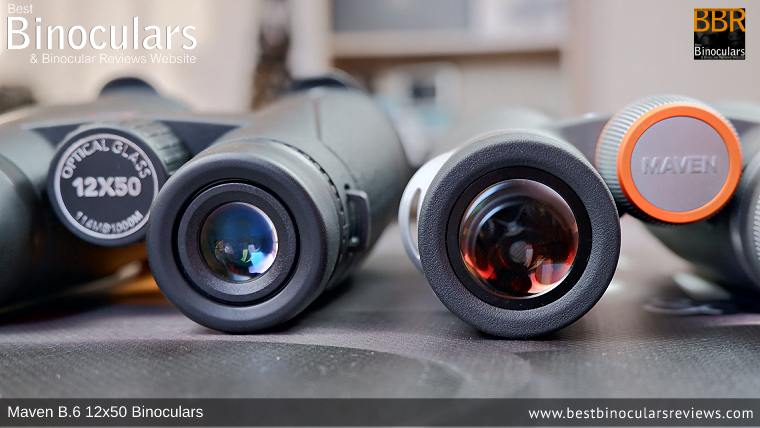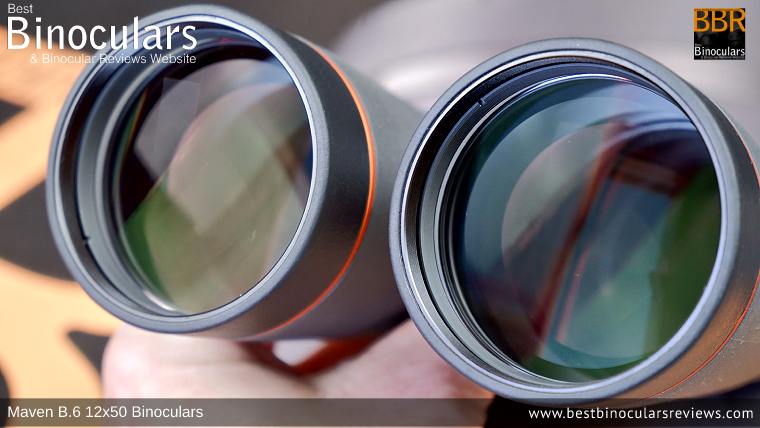 Objective Lenses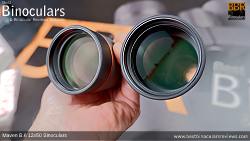 Each of the 50mm lenses is set back around 11mm in from the ends of the barrels which is a little deeper than the 9mm you get on the B1.2 which provides the lenses with a little more protection against things like being scratched as well as light rain and even collecting dust.
ED Glass
Each objective lens is arranged into 3 groups 4 elements, some of which are made from ED (extra-low dispersion ) glass.
By using ED glass in the lenses, the designer of the optical system has more options when it comes to controlling the wavelengths of light as they split up when going through the lens and thus they have the potential to further reduce chromatic aberrations compared to those that don't. The desired result being a higher definition image showing less color fringing around the edges of objects.
Here it is important to note that not all ED glass is equal and that just adding ED glass elements into a lens, does not guarantee the view will be improved. You still need the expertise to design it in such a way that it takes the whole optical pathway into account.
Take a look at the Image Quality section below to see just how well I thought these performed in this specific area.

Prisms
Like the Maven B1.2 binoculars, the B6's use the Schmidt Pechan design of roof prisms to correct the inverted image that occurs when the light passes through the lenses.
Maven also adds that the B.6 series, like the new B1.2 also uses "Wide Angle" Schmidt-Pechan prisms, which is not the case on the older B1. I am not 100% sure of the physical differences, but in terms of the fields of view, these and especially Maven B1.2's do produce impressively wide views - for more see the Optical Stats section below.
Optical Coatings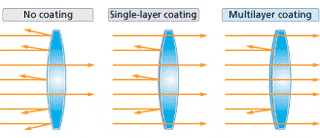 Anti-Reflection Coatings
As you would expect from a high-end instrument like these, the optical system is Fully Multi-Coated.
When comparing binoculars, the exact wording is important to take note of: Fully Multi-Coated confirms that there are multi-coatings of an anti-reflection material added on all air-to-glass surfaces throughout the entire optical system.
Fully Coated or Multi-Coated, optics sound good, but in reality it means only some lenses are coated and then these only contain a single layer coating which makes a huge difference to both the quality and brightness of the view.
For more: What To Look For When Buying Binoculars & Anti-Reflection Lens Coatings.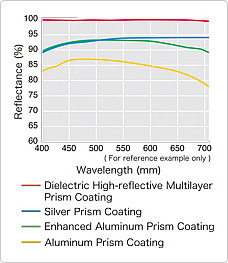 Prism Coatings
Maven highlights that the roof prisms have dielectric mirror coatings added to them, which is well worth shouting about as it ensures that more than 99% of the light gets transmitted.
Lesser quality binoculars will use silver or aluminum, which are both better than nothing at all, but certainly don't transmit anywhere near as much light as a good quality dielectrically coated roof prism.
Protective Lens Coatings
As I have already mentioned, the to objective lenses are set back nice and deeply within the ends of the barrels, which offers a good level of protection. In addition to this, the outer lens surfaces on the 10x50 and 12x50 Maven B.6 binoculars are further protected in that they have a coating added to them that is both scratch and oil resistant.
Whilst the scratch resistance has an obvious benefit, the oil resistant coating may not seem important. However what it does is help ensure that the lenses remain cleaner for longer (especially from finger prints if you accidently touch the lenses). They are also easier to clean when you eventually have to. This means you apply less force whilst cleaning, which in turn reduces the likelihood of you damaging or scratching the lens.
Coating Comparisons
Optical Components Score: 9/10
Optical Stats
The Field Of View (FOV)
These Maven binoculars produce a more than acceptable width of view measuring 289ft wide when measured at a distance of 1000 yards (approx 96m at 1,000 meters) away. This equates to an angle of view of 5.5 °, which when you consider they have a high magnification of 12x, it is relatively very good compared to other 12x binoculars and even compares to some 10x42 binoculars I have tested in the past (see table below).
However, as you can also see, it is quite a bit narrower than the Maven B1.2 10x42, which at 362ft @ 1000 yards are truly excellent. Not that whilst not quite as wide as this, the 10x50 B.6 is also impressive with a FOV of 341ft @ 100 yards. Thus if you specifically require a very wide view, you may might consider dropping the magnification down a little and selecting one of these models instead.
Close Focus
A minimum focusing distance of 6ft (1.8 meters) or less is regarded excellent here on BBR, which these do fall a little short of, but at 7.5ft, they are still pretty good and up there with the best 12x50 binoculars that I have come across.
Once again if you specifically need a very short focal distance, at only 4.9ft, the 10x42 B1.2 is truly excellent and certainly amongst the best in terms of closest minimum focus distances of any full sized binocular.
For interest sake, the Maven B.6 10x50 binoculars also have a minimum focus distance of 7.5ft.
Eye-Relief:
I consider 18mm or more to be very long eye-relief, so at 17.5mm, these Maven B6's just fall short of that, but even so I still consider this to be a Long Eye-Relief instrument, which in combination with the excellent eyecups with their four click stops makes these a very good option if you are looking for a binocular that you can use both with and without eye glasses / eye protection.
As always I did test them with glasses on and by fully twisting down the eyecups, I was easily able to take in the full image without any tunneling effect / black rings forming on the edges. For more on this, be sure to check out my guide on How To Use Binoculars With Glasses.
Optical Stats Score for a 12x50 binocular: 9/10
Optical Performance
As they have the same level of optics and share many of the same optical components and coatings, much of what you see, especially in terms of image quality and brightness when looking through these Maven B6 12x50 binoculars looks equal to that of the 10x42 Maven B1.2.
Obviously the difference in magnification and field of view is obvious and I could also notice that the image on the 12x50 had a fraction more image shake in my hands when compared to the 10x42. This is all down to the different configurations which I have already gone through at the start of the optics section above, so I wont repeat it all here, but I do feel that it is worth keeping in mind as it certainly helps when deciding which option is best for your specific needs.
Image Brightness
During testing, as well as the 10x42 B1.2, I also happened to have a very cheap pair of 12x50 binoculars in for review at the same time and so naturally I compared the views between the two and I have to say that I can't think of another instance where I noticed such a large difference in image brightness and quality between two binoculars with the same configuration.
Usually this can be quite difficult to notice, but even in good light conditions, I could instantly see that these Maven binoculars produced an image far brighter than the UsoGood 12x50. Now admittedly the Maven is more than 10x the cost of these, but even so, I have to say I was somewhat taken aback and to me it is definitely a strong indication as to just how good in terms of brightness these are for a 12x50 instrument.
In good light conditions on a sunny day, there was not notable difference in image brightness between the 12x50 B6 and the 10x42 B1.2 binoculars, which is totally what I had expected.
In poor light conditions, it was still very close between the two, but if I has to pick one as being the brightest, I would probably go with the 10x42 Maven B1.2. As I have already mentioned, this is somewhat to be expected due to the different size of exit pupils (4.16mm on the 12x50 vs 4.2mm on the 10x42) and so perhaps this did sway me somewhat, because with the different magnifications, I found it very difficult to be 100% sure of myself.
Whatever the case, I do believe that both Maven binoculars are truly excellent in their respective classes in this regard.
Colors & Contrast
I felt that both the colors and level of contrast of the image looked to me to be extremely similar, if not identical between both instruments. Both of which were also pretty much equal to that of my alpha level 10x42 binoculars that I also compared them against.
Here once again I could also easily see that the level of contrast between the light and dark areas of a view was far more prominent and obvious when looking through the Maven when compared to the cheap UsoGood 12x50 binoculars. What I also noticed is that this improved contrast gave the image through the Maven a far greater sense of depth to it.
Likewise the colors on these Maven binoculars were noticeably richer than the somewhat muted colors I could see when looking through the cheap 12x50 binoculars. Considering the large price difference between the two, this is to be expected and I am in not ways having a dig at the cheap binocular, rather it I am mentioning it as I find it somewhat reassuring to know that the extra amount you spend on higher quality binoculars like these Maven's does produce a notable effect.
Color Fringing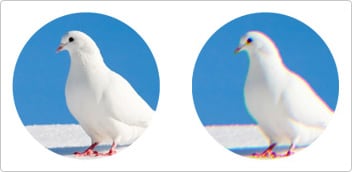 Be it on a photograph or through a pair of binoculars, that halo that you often see around the edges of an object in a magnified image is known as color fringing and is as a result of something known as chromatic aberration.
Color fringing generally becomes more obvious the higher the image/view is magnified and as such I was half expecting to notice that these 12x50's would not be quite as good as the 10x42 B1.2 which are truly excellent in this area.
To compare, I performed my usual test of looking along the edges of a black telephone line against a bright sunlit sky in the background as a highly contrasting image also tends to make color fringing more obvious.
The result: I really could not spot a notable difference between the two, which when you consider that the 12x image is a fair bit "bigger" or more "zoomed in" than a 10x one, this was a little surprising and thus considering just how well both of these compare to others, including my alpha level benchmarks that I also compared them against, I rate these very highly in this area and easily amongst the best I have come across.
Image Distortions & Blurring
I was also impressed with the very small amount of vignetting / softness right at the edges of the view (almost non existent), which in my experience is also about as good as it gets.
Then lastly, I would like to confirm that at no time was I ever aware of any other undesired image distortions (like image curvature).
Score for Image Quality: 9/10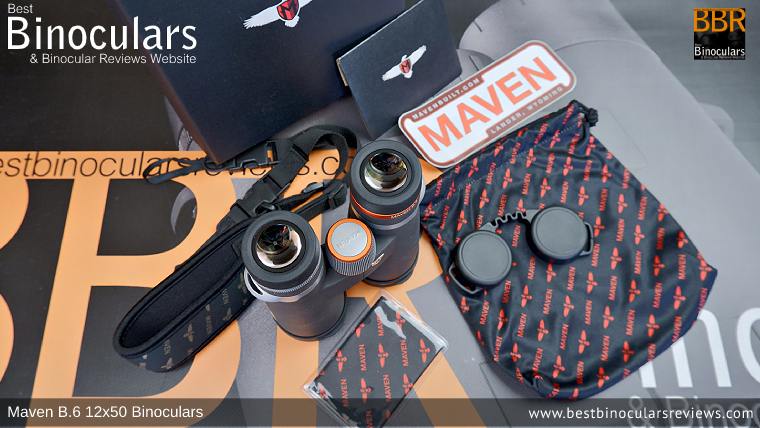 Included Accessories: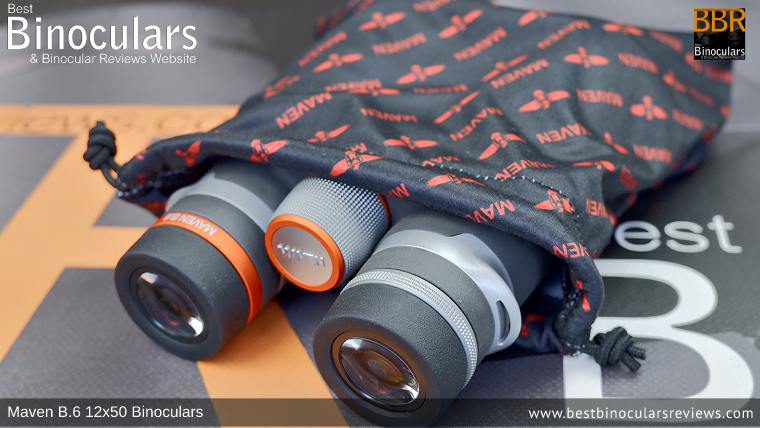 Carry Bag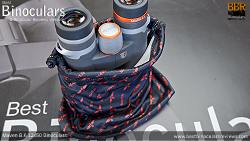 As is the norm with Maven, these binoculars don't come with a typical carry case included:
Instead Maven Optics supplies a soft drawstring carry bag made from a fine material that is double-layered and comes with a microfiber interior similar to that used on most cleaning cloths.
For users like me who usually don't take the case out into the field or those who use a binocular harness, this solution actually works very well, but there will be some that may be disappointed by this.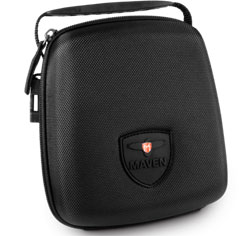 Optional Maven Binocular Case:
Note that if you do need or want a carry case for your binos, then you can buy the Maven one as an optional extra. They currently cost around $20, which from the photos, do look to have a semi-rigid design and seem to be well made.
However other than that I can't comment much more as I have not seen or used it myself.
Neck Strap
The neckstrap looks to me to be exactly the same one that you get with the B1.2 and indeed many others that i have tested, which is mostly excellent news: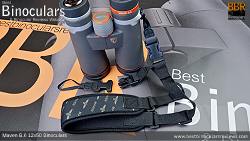 Made from a slightly elasticated material (probably Neoprene) and then covered in a fine material, the padded section is quite wide (5.2cm) as well as thick (6mm) and thus not only spreads out the load, but also offers plenty of padding which I feel is more than enough for these fairly lightweight 42mm binos.
I also like that this padded section is slightly curved and thus fits around your neck and shoulders more naturally.
The only slight issue I have with this section is that the underside is smoother and thus offers less grip some, meaning that it could be more susceptible to sliding about as you walk.
I do really like the non-typical way the strap attaches to the instrument: After un-clicking it from the rest of the strap with the quick release clips (which are excellent), you simply and very quickly loop the thin cord back through itself after you have passed it through the eyelet located on the side of the binocular's body.
For someone like me who has to attach many straps to many binoculars, I do appreciate how much easier and less time consuming this is than the normal method of using sliders.
Whilst this is quick and easy, things only get better because the quick-release clips mean that removing or replacing your neck strap literally only takes a couple of seconds. These clips also makes it possible to easily attach the bino onto a bino harness and swap between the two very easy as well.
Lens Covers
Both the objective and ocular lens covers (rain guard) fit onto the binocular well and function as intended, but to me they don't quite match the very high standard set by the neck strap and the instrument itself.
So example I feel that the objective lens covers in particular could easily be improved and feel like they are more a part of the instrument if Maven had designed them to fit into the ends of the barrels instead of simply over them. It would also make them look a little less generic if they were to add their logo onto them.
Having said that, a positive aspect that also deserves to be pointed out is that the rubber used is somewhat thicker and certainly feels more robust than most. This is especially important on the objective covers at the crease where the cap connects to the loop that goes around the barrel as this is a point on them that I find will often fail.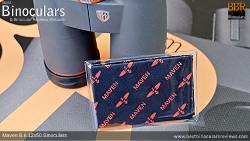 Cleaning Cloth
In the past Maven would only supply you with the carry bag to use as a cleaning cloth, which works fine as long as the bag remains very clean. However, in what I think is a good move, Maven now also includes a separate, excellent quality micro-fiber cleaning cloth that is as good as any you will find included.
This is great for light use and when out in the field, but as always, for more thorough, safe cleaning of the lenses, I suggest you invest in a dedicated lens cleaning kit which does not have to be expensive, but will ensure the longevity of your expensive optics.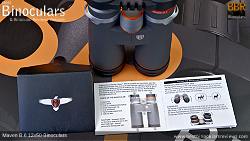 Instruction Booklet
With most instruments, you get a single sheet of info in your language with only the very basic, very generic instructions. With these Maven binoculars, the included booklet comes in its own protective envelope and inside you get far more comprehensive instructions and warranty details that are particular to the B series.
Lifetime Warranty
As with all Maven binoculars, the 12x50 and 10x50 B6's are protected by Maven's impressive unconditional lifetime warranty, which to me shows that the truly believe in their products.
Accessories Score: 8/10
Maven B.6 12x50 Binocular Comparisons
In the table below, you can compare some of the details of these 12x50 Maven B6 binoculars against a small selection of other High-End ($500-$1200 / £500-£1200) 50mm - 56mm binoculars that I have reviewed.
To see a more comprehensive list, open table in full-screen mode using this link
Review Conclusions:
As it stands, this is now the fourth Maven binocular that I have fully tested and reviewed and I have to say they continue to surprise and impress me. Like all the others I have used, the build quality is about as good as it gets, which when combined with the excellent quality materials, Japanese made components and optics results in an instrument that I feel truly surpasses my performance expectations at this price level.
Strengths
Components Used & Build Quality
As with the B1.2 series, the materials, level of components and the overall build quality on the Maven B.6 binoculars is as good as it gets at this price range and indeed matches that of many alpha level binoculars. Particular highlights include the magnesium chassis, all metal eye-piece housings with removable metal eye-cups and the all metal focus wheel, which in my experience is as good as it gets.
Optical Components, Image Quality & Brightness
Fully coated optical system with phase corrected dielectrically coated prisms and those super large ocular lenses, just like the body components, the optics and the coatings used on them are all out of the top drawer, which along with the obvious expertise in putting the system all together results in a very bright, ultra-high quality views in almost any conditions.
Focus Wheel & Focusing
I think I have said it in every one of my Maven binocular reviews, but I think Maven has the best focus wheel you will find on a binocular and I am glad to see that they have not changed it on the B6. It not only looks great, but is extremely well made with a silky smooth focus mechanism that makes fast and accurate focal adjustments as easy as it gets.
Eye Cups & Relief
For a 12x binocular, the 17.5mm of eye-relief is excellent, which along with the excellent 4 position all-metal eye-cups makes the Maven B6 12x650 Binoculars a really good option should you want or need to use glasses or some sort of eye protection whilst binning.
Size & Weight
The Maven B.6 is really not that much larger or heavier than your typical high-end 42mm binocular, yet you gain all the added light gathering advantages of the larger 50mm lenses.
Room For Improvement
Diopter
A lockable diopter would have been a nice touch, but having said that the metal ring that Maven uses is fairly inconspicuous and tight enough to prevent most unwanted movement from occurring
Carry Bag
Whilst it is possible to buy one separately, for some users the lack of an included carry case may be an issue, so I have to add it as a weakness as most other manufacturers will include one. However, for many the included carry bag that can also double as a cleaning cloth will be sufficient, especially if you plan on using a bino harness and thus they will be happy that Maven has decided to spend that money saved elsewhere on the instrument.
Lens Covers
Whilst the objective lens covers work as well as you would like and I like that they are made from a thick rubber and thus will probably be longer lasting than most, the look of them just does not quite match the very high standard set by the rest of the binocular and it's accessories and I just wish Maven would make something that looked less generic and possibly fitted into the ends of the barrels and not over them. Once again and as with the case, if you plan on using a bino harness, you may end up completely removing the covers and so this won't matter to you at all.
Ideal Uses
Wildlife Observation & Hunting
Longer range Birdwatching - like from a hide overlooking a lake or at the coast