No matter whether it matters to you or not or indeed if it is good or bad, the fact is that more binoculars are being manufactured in China than ever before and increasingly you can now only find a relatively small number of the very finest and most expensive instruments being fully designed and manufactured in places like the US, Japan and the traditional European countries like Germany and Austria.
Minox are proud of the fact that their BL Line (as well as most others) are fully designed and manufactured in Germany and that they are hand finished and undergo a rigorous quality control inspection before leaving the Wetzlar factory.
This level of detail and care is becoming increasingly rare, but what makes it even more unique is that they have been able to produce what they say is a premium quality binocular at what is a very competitive price, that is way below many similar products no matter where they are made.
So to see just how well they are made and indeed how they perform, I spent a couple of weeks using and testing the latest version of the Minox BL 8x44 HD binoculars (No. 62048) and you can read my full review below:
Main Features & Highlights
Designed & Made in Germany
Hand finished & with meticulous quality control inspections
Fully Waterproof and Nitrogen Purged
HD Extra-Low Dispersion glass
Fully Multi-Coated Optics
Phase Coated Roof Prisms
Field of view is 136m wide at 1000 meters
19.5mm of Eye-Relief
Minimum focus distance of 8.2ft
30 Year Warranty
The Body
Body Design
From the moment I opened the box and removed them from their carry case, I was impressed. Just by looking and then holding them you can almost immediately tell that this is a very well made and beautifully designed precision optical instrument.
The Minox BL HD binoculars use roof prisms and thus have that general and typical straight through body shape, but where they differ a little from the norm is that they have an open bridge design with two thin hinges connecting the barrels (one at each end), as opposed to the single large one that is more commonly used.
Because of the slightly less amount of materials used in this open design, it can (depending on what materials are used and how strong the hinges are) make for a lighter body, but the biggest benefit of this body shape is that it leaves more of the barrels exposed, which in turn gives you more to hold onto. Whilst this does not really make much of a difference when you are actually looking through the bins, you can get a much more secure grip on them whilst walking, especially when holing the bin one handed.
Body Materials
Whilst Minox do not mention it in their specifications and marketing material, I do believe that the main chassis is mostly made from Polycarbonate, which is lighter, but perhaps not quite as strong as the more luxurious (and expensive) aluminium or magnesium alloy bodies that are sometimes used in higher end products.
To keep the costs down, but still make what is essentially a premium product, Minox have had to make a few more compromises than if they were making a "money no object" bin. One of these areas where I think they have done this is the chassis material, which I think is a really smart move as it really does not take anything away from the optical or indeed much (if anything) from their physical performance. Besides because the exterior is so well made and indeed beautiful, you really would never know anyway.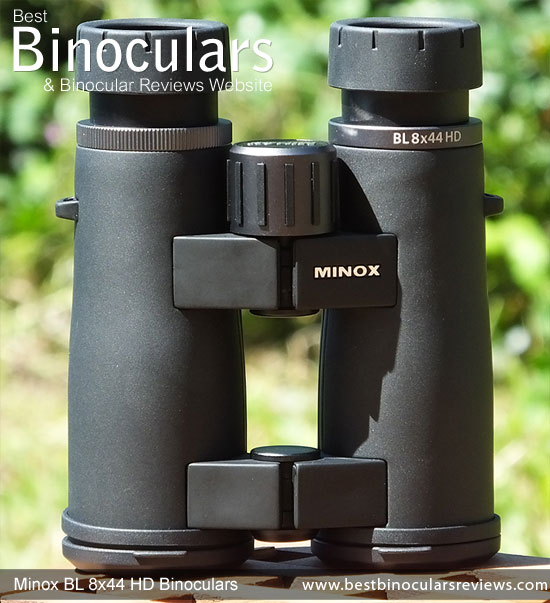 100% Waterproof
The body on these Minox binoculars has been completely sealed and they are rated as being waterproof down to a depth of 5m (16.40ft.). This is excellent as many manufacturers will state that their product is waterproof, but never quantify or back it up with a rating and even if they do, unless they are specifically designed as marine binoculars, they don't usually rate them to this depth.
Remember a fully sealed instrument like these is not only protected from the damp and wet, but will prevent small particles like dust entering them, which can be very important in dry and dusty locations.
Anti-Fogging
During manufacturing and as they seal the body, all the internal air is removed and replaced with Nitrogen gas. This stops the internal glass surfaces from fogging up, which can often happen when there is a rapid temperature fluctuation, like when taking them outside from your warm house on a cold winters day.
Another advantage of this is that because there is no moisture inside, corrosion of the internal parts is is prevented and it stops mould from growing on the inner glass surfaces as you can often se on vintage bins.
If you would like to know more about this, take a moment to read this section on Fog & waterproof binoculars.
External Covering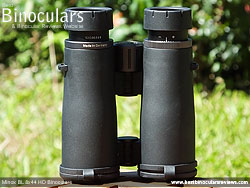 Apart from some small sections and details, almost all of the exterior has a black rubber armour covering. The main covering on the barrels is relatively thick, but also very hard and quite smooth.
This hard and somewhat smooth exterior looks great and will help to protect the bins, but it does not offer quite as much grip as on many that I review.
It is also produces a slightly more shiny surface than on some and whilst it is nowhere near as reflective as exposed metal would be, it does reflect a little more than those with softer more textured rubber exteriors. This may be something just to keep in mind if remaining hidden is an absolute priority.
The underside is also completely smooth and they lack thumb indents that you often find on similar products. This is not a huge deal and indeed makes for some lovely smooth lines, but there may be some out there that like the indents not only for comfort, but in that they can make locating the balancing point a fraction of a second quicker.
On the side of each barrel there is a metal ring that is used to thread the neck strap or binocular harness through and fix it to the body. It is well placed and very strong and so should easily break.
The objective lenses are set to a depth of about 9mm in from the ends of the barrel. This is reasonably deep and thus will offer the lenses a good amount of protection from scratching as well as sheltering them from sunlight, helping to prevent lens flare and from light rain and dust.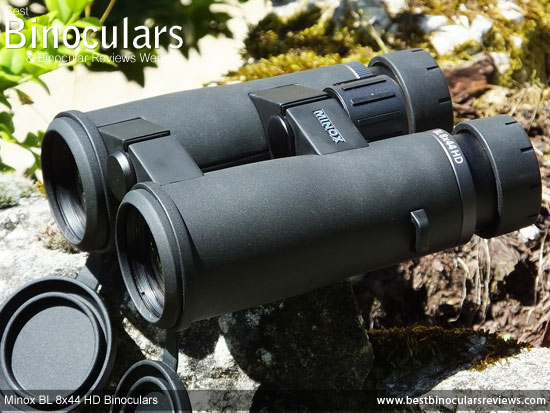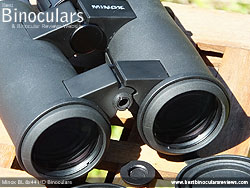 Tripod Adaptable
The circular dust cap located on the front hinge (which unlike most is made from metal and not plastic) can be unscrewed. This exposes a standard ¼-inch thread making it very simple for you to screw in a tripod adapter (not included).
Also a point to mention is because the position of this thread is so near the front of the bin and not squashed in between the two barrels as on some, it should accept most adapters that I have seen. To view a demo of me removing this take a look at the walk-around video I made below.
The Eyecups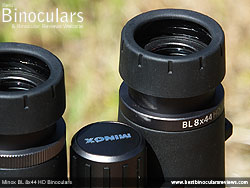 The ocular lens housing and the actual eyecups are made from metal and is another area where you can really appreciate the quality on these Minox BL 8x44 HD binoculars.
Even though this is the part of a binocular that most often gets damaged, many bins within this price range have eyepieces and eyecups made from plastic. Whilst these work well enough, they are nowhere near as tough or as durable as the metal ones found on bins like these.
Apart from the added strength, the actual twist-up mechanism works so much better: It is lovely and smooth, there is no unwanted play or movement and it clicks into each setting with a satisfying metallic sound.
Each eyecup has also got a thick rubber covering over it, which when you combine this with their really large diameter (44mm), it makes for a really comfortable fit against your face.
Long Eye-Relief
The 19.5mm of eye-relief on these Minox BL HD binoculars is good and they make it onto my selection of best long eye-relief binoculars meaning they are a good choice for people who wear glasses whilst glassing.
As you twist up the eyecups, there are also two click-stops between fully extended and retracted. This is great as it also gives you more flexibility enabling you to get the distance between your eyes and the ocular lens set perfectly, ensuring the viewed image is complete and without any dark rings forming around the edges.
Inter-Pupillary Distances (IPD)
As with almost all binoculars you can change the distance between the two ocular lenses (IPD) in order for them to match the distance between your eyes. This is achieved by opening and closing the main hinges.
These Minox BL 8x44 HD binoculars have a maximum IPD of 8.0cm which is very wide making them ideal for those with larger faces and wide set eyes. By closing the hinges, you can set their minimum IPD to 5.7cm which is about standard for a full sized bin and thus should be close enough for most people.
For more on this and to see how they compare to others, take a look at this page on Interpupillary Distance & Binoculars.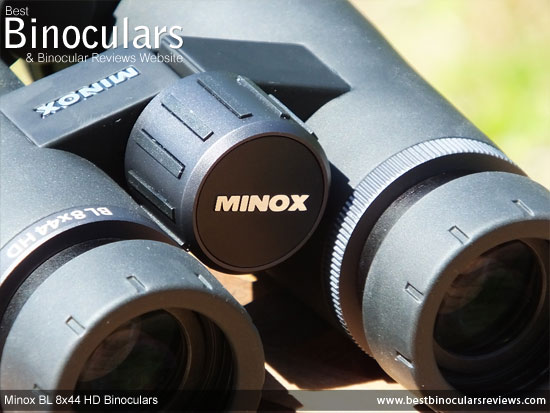 Focus Wheel & Focusing
At 32mm in diameter the central focus wheel is reasonably large when compared to other full sized 42mm binoculars. The rear face contains a raised Minox logo is made from metal and does not turn with the rest of the wheel. Whilst this does not add anything in terms of performance, it makes for a really classy finish and is another small indication of the level of detail ad quality shown by Minox on these.
The wheel itself did not have any slack or unwanted play and it rotated very smoothly on my test pair. This combined with it's size and the prominent tracks that run across it make it very simple to reach and turn even when I tested it whilst wearing my thickly padded winter gloves on.
To adjust the focus from the extremes of near to far takes 1½ rotations of the wheel (540°). This gearing is fairly neutral meaning that changing the focus over large distances is not the quickest, but also not the slowest It also means that it is nice and simple to accurately adjust and fine tune your focus to get it 100% perfect.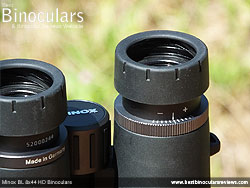 Diopter Adjustment
The ridged metal ring on the right barrel near the eyepiece is the diopter adjustment wheel and is used to calibrate the binoculars, so that they can account for any differences in vision between your left and right eyes.
Whilst it is not lockable, there is more than enough friction to prevent most unwanted turning of the diopter ring.
What is more and this is something that many manufacturers forget, Minox have added a decent set of markings that means it makes it really simple to remember and return it to your desired setting should it be moved either accidentally or when you share your bins with someone who has different eyesight.
Rating for Body Construction Quality: 8/10
Weight
As you can see in the table below, their weight of 26.1ozs (740g) places them around mid table when compared to other full sized binos. However keep in mind that these do come with slightly larger 44mm objectives.
Also keep in mind that these Minox BL binoculars have very good quality and well made mostly metal parts, whilst cheap binoculars will often have completely plastic focus wheels, diopter adjustment rings and worst of all plastic eye-piece housings.
Dimensions
Minox advertise the length of these as being 5.9in (15cm), which is achieved by twisting in the eyecups and removing the lens covers. By fully twisting out the eyecups their length extends to 6.3in (16cm) and with the objective lens covers and rainguard on it's maximum length is 6.5in (16.5cm)
The listed width of 5.1in (13cm) and height of 2.1in (5.3cm) is achieved with the binoculars fully open (Max IPD), but is only achieved with the lens covers removed as the folds on the objective covers increase the height to 6.4cm and the loops on the sides of the rain guard increases the width to 13.7cm.
After closing the central hinges (Min IPD), their width drops to 11.5cm, but their height/depth increases to 7.5cm as the bridges and focus wheel protrude up over the rest of the body a little more.
BBR Rating for Body Stats: 8/10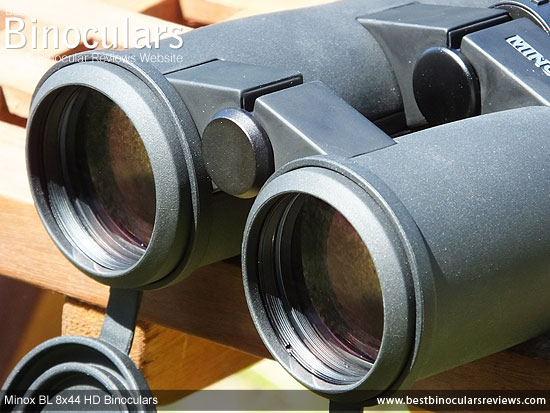 The Optics
Lenses
Ocular Lenses
Minox do not describe or indeed give any information regarding the makeup of their I measured the lenses in the eyepiece, so I cannot really comment. However their diameter of 25mm is large and bigger than most full sized binoculars that I have reviewed.
Objective Lenses
Likewise, they are a little shy when it comes to divulging much information on the objective lenses other than to proudly announce that they use "HD optics".
HD Optics
The objective lenses bend or refract the light waves that passes through them and focuses them onto a single point behind the lens. This is important as the better it is done, the better the quality of the image, however it is very complicated and quite difficult to achieve because each wavelength has particular and different characteristics and so each bends at a slightly different angle and thus left unchecked will focus at different points, which in turn causes chromatic aberrations with low color fidelity and thus leads to a less sharp image being produced and color fringing being seen on the edges.
High end binoculars like these Minox BL HD's use extra-low dispersion glass within the lens elements, which enables them to have more control when directing the individual light waves and thus focus them more accurately at the same point, producing a much better quality image with lower or even no visible color fringing.

Prisms
As mentioned earlier on in the review, these Minox BL HD 8x44 binoculars use roof prisms to put right the inverted images created by the objective lenses. The straight through shape of this design of prism means that a much more compact shape of binocular can be produced as you can have the objective lenses line up with the eye-pieces. This is in comparison to the porro prism.
But as with so many things in optics there are also a couple of trade-offs and to get the same quality of image as a porro, a roof prism needs to be specially treated with a number of coatings:
Optical Coatings
Phase Correction Coatings
One downside to the roof prism is a phenomenon known as "phase shift" and is where the different wavelengths of light move out of phase as they reflect off the different prism surfaces. Left unchecked, the view you see will be lower in contrast as well as resolution.
The good news is that on these higher spec bins, Minox have added phase correction coatings to the prism that corrects this problem.
Mirror Coatings
The other downside to a roof prism in comparison to the porro is that not all of the surfaces of the prism reflect all of the light that hits them. To help correct this, some manufacturers add a highly reflective coating to this surface. The three main ones used are aluminium, silver and dielectric mirror coatings. Each varies in performance and greatly in cost, but all are much better than leaving the prism untreated.
Unfortunately as of yet, I have been unable to find out exactly which one Minox use with these BL HD's, but my suspicion is that it is either silver or dielectric, both of which have a much higher reflectivity than the aluminium coatings sometimes used. If anyone has any further information, I would love to hear from you.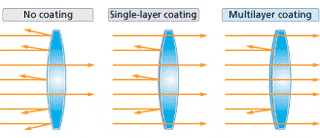 Fully Multi-Coated
The optics on these BL HD binoculars have been fully multi-coated which is what you want to hear.
What this means is that every glass surface within the optical system has had multiple layers of anti-reflection coatings applied to them.
This reduces any unwanted reflections that can affect image quality and because less light is reflected away from each surface, they will produce a far brighter image than untreated optics, or those with just single coatings applied to some of the glass surfaces (fully coated or multi coated).
Optical Components Quality Rating: 8/10
Optical Stats
8x44 Configuration
The most commonly used size (diameter) of objective lens on a "full size" bin is 42mm, however on these Minox have decided to increase them to 44mm and so I thought we should take a quick look at what potential benefits and indeed disadvantages this brings.
Because they use more glass, they are obviously a little heavier and expensive to produce. The larger diameter also means that you need a slightly larger barrel on the body of the bin to accommodate them. However as the difference is quite small, you really do not notice the difference.
The exit pupil produced by an 8x42 binocular is 5.25mm wide (42 ÷ 8 = 5.25), whereas by increasing the objective lens diameter by 2mm, you how get a binocular that produces larger a 5.5mm exit pupil.
There are a couple of advantages to this:
Firstly the wider beams of light that exit the eyepiece make it a little easier for you to perfectly line up your pupils with them and so makes it easier to prevent the dark rings forming on the edges of the view that you sometimes get when looking through an optical device.
Secondly and assuming that transmittance levels are equal, an 8x44 with it's larger exit pupil will seem to produce a brighter image than that of an 8x42 when your pupils are larger than 5.25mm which for most people will occur in poor and very bad light conditions. For more on why this happens take time to read my complete guide to the exit pupil.
Field Of View (FOV)
With a massive 7.8° viewing angle, which works out to mean that the view through these Minox binoculars is a whopping 136 meters wide at a distance of 1000 meters away (409ft @ 1000 yards). This very wide FOV ranks them up there with some of the very best and makes them a very attractive proposition for many birders, hunters and indeed wildlife observes where being able to quickly locate and track an object or scan over large areas of terrain is important.
To emphasise just how wide their field of view is, take a look at the comparisons below, or check out this section on Wide Angle Binoculars, which these are now definitely a part of!
Close Focus
Minox advertise that the closest distance away that you can focus on an object on is 8.2ft (2.5m), which is not bad, but does fall a little short of the 6ft required for me to call them excellent. What this means that for occasionally looking at near objects like flowers or insects, these are more than fine, but I would not recommend them if this is one of you main intended uses for them.
Also note that I measured the minimum focus distance on the test pair as being 6.2ft (1.9m) which is quite a bit less than the advertised distance, which is great news.
Eye-Relief:
At 19.5mm you get plenty of eye-relief and whilst this may be a bit less than on some very long eye-relief binoculars, it should still be more than enough should you wear glasses and want to keep them on whilst looking through your bins.
What I also like is that Minox have ensured that the twist-up mechanism has two fixed intermediate stops between fully extended and retracted. This gives eyeglass wearers plenty of flexibility when adjusting the eye-relief to perfectly suite their need.
Optical Stats Rating: 9/10
Image Quality
For me judging and describing the quality of the image is always the hardest part of the review as it is so subjective and can be largely based on or influenced by many personal feelings. So to try and be as objective as well as consistent as I can, I compare the image I see against a number of similar control binoculars that I have and rate what I see in a number of different areas against them.
For this review these Minox 8x44 binoculars were compared to my mid and high range 8x42 binoculars and the tests were carried out twice. Once in good light during the day and again in very poor light as and after the sun had set behind the horizon.
Image Brightness & Low Light Performance
Having larger then "standard" 44mm objectives and having great quality, fully multi-coated optics, I was expecting great things from these Minox BL HD binoculars as in theory they should produce a brighter image in poor light and I was not let down during real world testing:
In good light, when my pupils were smaller than the 5.5mm diameter (44 ÷ 8 = 5.5) exit pupil on these 8x44's and the 5.25 exit pupil on the 8x42 controls, all three bins looked to me to have an image that was equally as bright. This is mostly down to all three providing my eyes with more than enough light and because all three have good to very good quality optical components and coatings.
Once the sun had set and so in poor light was where things got interesting as it was noticeable that the image was brighter on these than when compared to my mid level 8x42's. This is impressive as they both use similar quality glass and coatings and so the difference is really just down to the larger objective lenses and therefore larger exit pupil on the Minox.
However compared to my alpha class 8x42 controls that have all the VERY best optics and coatings including very highly reflective dielectric prism coatings etc, to my eyes there was really no obvious difference.
So whilst the Minox has some great quality optics and coatings, you can understand at about a quarter of the price as my alpha controls, they don't match them in all departments. So what this tells me is that in some areas (like low light performance), the larger objectives on the Minox probably go a long way towards countering the slightly better optics on premier bins.
So to sum up, I was very impressed by the brightness of the image and give them a rating as excellent, meaning they are as good as or better than any I have seen in this price range.
Colour Reproduction & Image Contrast
The colors of the image to me looked vivid but not too much, so as to make the scene look unnatural. It also lacked any sort of artificial tinting that I sometimes notice, especially when looking through bins that use lower quality glass.
Contrast between dark and light is also very good and in no way was the image washed out, which considering their brightness is excellent and really does help to make the image look wonderfully 3 dimensional and make objects jump out at you.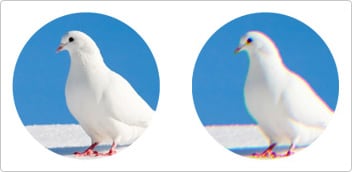 Color Fringing
The HD optical system that uses extra low dispersion glass in the lenses has obviously been implemented pretty well as the levels of color fringing that I could observe caused by chromatic aberrations was negligible.
In extreme conditions like looking along the edges of a dark object with a bright sunlit sky as the background, I could see a small amount of fringing and probably a little more than on my alpha controls, but the difference was small and remember it is only really evident if you are actively looking for it.
This once again leads me to rate them as excellent when compared to others in this class for this section.
Image Softening
This is also excellent because once you are focused on an object, the image is nice and sharp from the center of the view, right to the edges, with only a tiny amount of softening right on the periphery.
Depth of Field
By perfectly focusing on an abject just over 5 meters away, I then took the view back without touching the focus wheel until the image became blurry. I compared this distance to that ofx42 controls and they were about the same meaning that their depth of focus is fairly typical for an 8x42 binocular.
Image Quality Rating: 8/10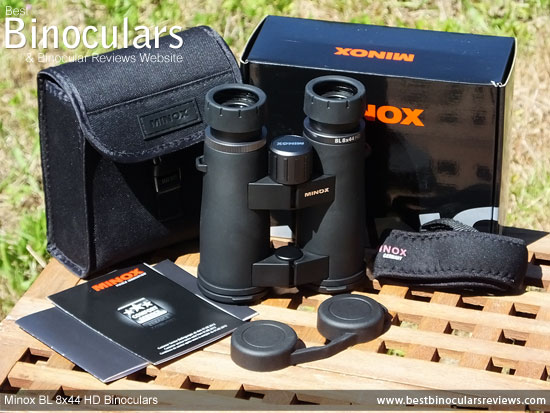 Accessories & Attention to Detail:
Carry Case
The soft Minox carry case is well made and reasonably well padded so offers a good amount of protection to the optics inside, but obviously not as much as hard cases.
The flip top lid is held closed with a quick release clip which may not be as secure as a full length Zip, but I really like it as it makes for quick and easy access and it is much easier than both a Zipper and Velcro to keep the noise levels down, which in some situations is very important.
There are no extra interior or exterior pockets, which is a slight shame as these can be useful for storing items like lens cleaning cloths etc.
For my liking the bins fit a little too snugly into the bag, making it a little more difficult to take them in and out than it needs to be. Also you cannot close the lid with the eyecups fully extended, which for is a bit of a pain as you have to remember to twist them down every time when replacing them into the case.
The case does not come with it's own strap, rather you thread the bins neck strap through the sides and then close the lid. I quite like this as it just means there is less clutter and the system works really well. On the rear of the bag is a well positioned and secure belt strap, perfect for those who like to carry their bins on their hip.
So all in all this is a well made and reasonably functional case, however I must also add that compared to some other premium binoculars, it does lack a little in terms of luxuriousness.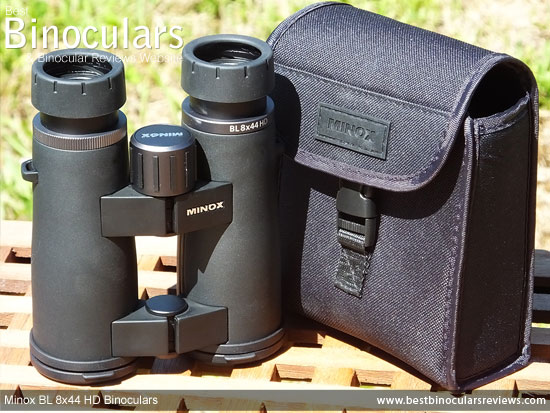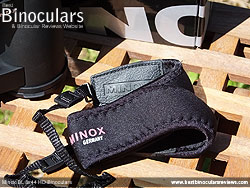 Neck Strap
Like the case and indeed the actual bins, the neck strap looks very well made, but once again lack a little in terms of luxuriousness.
The stretchy and quite thickly padded section (4mm) is very comfortable, although at 4cm, it could have perhaps been a little wider and more curved to make it even more comfortable.
The connectors that join the thin straps the main padded part are great, initially they look like leather, but they are actually made from what seems to be a very flexible rubber. To me it looks very unlikely that the sewing on them will ever come apart.
Rain-Guard
The rainguard is like most others in that it is made from flexible rubber/plastic. The cups fit nicely over the eyecups on the bin and wont easily fall off.
It has a single loop on the right side that you can thread the neck strap through to prevent you from misplacing it and keep it handy at all times.
and is designed to be threaded through the neck strap and work best used when the bin is hanging from your neck.
The bridge that connects the two cups together is also nice and flexible which enables you to easily fit them onto the eyecups no matter what your inter-pupillary distance settings it at.
Objective Lens Covers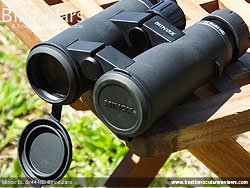 I really like the soft rubber objective lens covers for these Minox binoculars.
Their design means that they fit very well over and into the ends of the barrels and thus will not easily fall off, yet they are also really easy to replace.
They also have a separate ring that goes around the barrel, which connects them to the binocular and so they just hang down under the bin when you are glassing. In this way you are unlikely to ever misplace them and they are always handy, which will mean you replace them more often when not using your bins, which in turn will ensure the precious lenses stay cleaner and protected for longer.
Lens Cloth
Interestingly there was no lens cloth included with these, which most manufacturers do provide. However for me this is not a huge deal as I would recommend that you get yourself a decent lens cleaning kit anyway even if it did come with a cloth as they work much better than just a cloth and will ensure that you keep your lenses and the rest of the bin clean without damaging or scratching the lenses and their often quite fragile coatings.
Extras & Attention to Detail Rating: 7/10
Minox BL 8x44 HD Comparisons
To help put the main specs and features of this Minox binocular into context, I have added them into the table below, along with a selection of similar roof prism bins that I have also reviewed:
| | | | | | | | |
| --- | --- | --- | --- | --- | --- | --- | --- |
| | Minox BL 8x44 HD | Celestron Granite 8x42 | Hawke Frontier 8x43 ED | Hawke 8x42 Sapphire ED | Minox HG 8x43 | Pentax 8x43 DCF ED | Vortex Viper 8x42 HD |
| Approx Price: | $490 / £399 | $345 / £398 | $480 / £290 | $450 / £340 | $1100 / £640 | $850 / £770 | $450 |
| Weight: | 26.1ozs (740g) | 24oz (680g) | 26.2oz (743g) | 25.7oz (730g) | 22.9oz (649g) | 25.2oz (715g) | 24.2oz (686g) |
| Length: | 5.9in (15cm) | 5.8in (14.7cm) | 6.6in (16.7cm) | 5.5in (14cm) | 6.0in (15.2cm) | 5.7in (14.6cm) | 5.8in (14.7cm) |
| Width: | 5.1in (13cm) | 4.0in (10.3cm) | 5.2in (13.2cm) | 5.1in (13cm) | 5.1in (13cm) | 5.0in (12.6cm) | 5.3in (13.5cm) |
| Eye Relief: | 19.5mm | 17mm | 18mm | 18mm | 19.5mm | 22mm | 20mm |
| Min Focusing Dist: | 8.2ft | 6.5ft | 6.6ft | 6.6ft | 8.2ft | 6.6ft | 5.1ft |
| FOV at 1000yds: | 409ft | 426ft | 426ft | 426ft | 379ft | 330ft | 347ft |
| ED Glass | Yes | Yes | Yes | Yes | No | Yes | Yes |
| Phase Correction | Yes | Yes | Yes | Yes | Yes | Yes | Yes |
| High Reflective Prism Coatings | ? | Dielectric or Silver | ? | Dielectric | Silver | Full reflection coating? | ? |
| Lens Coatings | Fully Multi-Coated | Fully Multi-Coated | Fully Multi-Coated | Fully Multi-Coated | Fully Multi-Coated | Fully Multi-Coated | Fully Multi-Coated |
| Waterproof | Yes | Yes | Yes | Yes | Yes | Yes | Yes |
| Fogproof | Yes | Yes | Yes | Yes | Yes | Yes | Yes |
| Tripod Adaptable | Yes | Yes | Yes | Yes | Yes | Yes | Yes |
Conclusions:
Strong Points: As I have now come to expect from this manufacturer, these Minox BL 8x44 HD binoculars are very well made and in general the workmanship and the attention to detail is excellent. Important moving parts like the focus wheel, diopter adjustment wheel and especially the eyepiece are robust and work really smoothly without any unwanted movement or play.
The image they produce is excellent, very bright, with great colours, good contrast and is sharp right to the edges. This is where the extra light collected by the larger 44mm objectives, the higher transmission levels achieved through the use of the best coatings and the high quality glass all combine to make a perceptible difference to the view.
Their extra wide field of view is also up there with the very best 8x binoculars. This extra width you get is really observable compared to most "normal" bins and not only adds to the immersive experience you get when looking through them, but really does make it easier to scan over large areas to spot something or quickly locate and follow things like small birds hopping about in a nearby tree.
The 19.5mm of eye-relief is excellent making them ideal for eyeglass wearers as is the 30 year warranty, which is as good as or better than any of it's direct competitors.
Weak points? A closer "official" minimum focus would be desirable for some uses, however and as I measured, their "actual" close focus on my test pair was far better than advertised and so if they are all are like this, it really is not an issue at all anyway.
Whilst the carry case and the neck strap are both really well made and indeed functional, they do lack a little in terms of the luxury that you expect to find with a premium product. The lack of an included cleaning cloth is also a very minor point, but is something that most of their rivals do provide.
The still as yet unconfirmed use as polycarbonate for the chassis is in my opinion not really a weak point as such as it does come with some advantages (lightness & reduced cost), but it is perhaps not quite as good as the metal or magnesium ones used on similar high end bins.
Overall: Essentially the aim of Minox was to produce a premium quality binocular made in Germany at a sub-premium price level. On the whole and most certainly if you just take into account the finish, materials used, workmanship and performance of the Minox BL 8x44 HD binocular, they have succeeded. However something had to give and Minox had to make some cost cutting measures, however where they have been clever is to make them all in non essential areas that really do not negatively impact their performance or indeed your enjoyment of using them.
Ideal Uses: The 8x magnification, slightly larger 44mm objectives producing a very bright high quality image and the exceptionally wide field of view, these Minox 8x44 BL HD binoculars are simply perfect for most general uses and will really appeal to most bird watchers, but especially those who need to be able to quickly lock onto and follow faster moving or erratic birds.
BBR - Genuine & Honest Reviews
One of the main reasons I decided to start the BBR website was because I found it almost impossible to find honest and down to earth reviews when I was looking for binoculars for myself. Many so called reviews are little more than sales adverts and are often written by people who know very little about the product and in many instances have never even used it.
This review, as with all the others on BBR is my open and honest opinion on the binocular and I believe all the details on the page to be correct to the best of my knowledge. Before writing and forming my opinions on the bin, I spend a lot of time researching it on the web, using it out in real world conditions and then comparing it with a number of my benchmark binos.