Night Owl Optics recently sent me one of their newest products to review, the NOXM42-AL Night Vision monocular and after over a month of testing you can read my full findings and opinions below:
Main Features & Highlights
High Quality Generation-1 Intensifier Tube
3x Magnification
Angular Field of View: 19°
42mm Objective Lens
Compact and lightweight design
Built-in IR illuminator
All-glass optics
Resolution: 35 lp/mm on center
Minimum close Focus: 4.9ft (1.5m)
This first generation device is obviously aimed at the the more affordable end of the NV market and is roughly based on Night Owls popular NOXM50 and NONM3X-G monoculars.
The new NOXM42-AL monocular uses a 42mm objective lens, has a 3x magnification and an on-board infrared illuminator for use in complete darkness.
The Body
Design
The overall shape and design of the NOXM42-AL is very similar to the other monoculars in the Night Owl stable and indeed if you have ever used a gen1 night vision monocular before, you should feel fairly at home with this unit.
You hold it in one hand, in a very similar way to that of most camcorders and just like most of them it has a strap that wraps around the back of your hand to keep it in place when pressing a button or when you loosen your grip.
You can use either your left or right hand. If held in your right hand, you will use your index and middle fingers to press the Infrared or Power buttons which will be on top of the device. If however you prefer to hold it in your left hand you will now access these switches with your thumb as they will now be under the unit.
I found either way worked equally as well once I had got used to it. The hand strap can be adjusted in length for a secure fit as with handycams, works really well.
There are two buttons on the device, the one nearest the eyepiece is the main on/off switch, whilst the other activates the IR illuminator.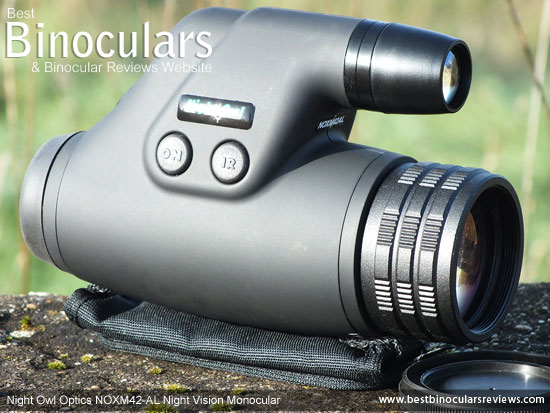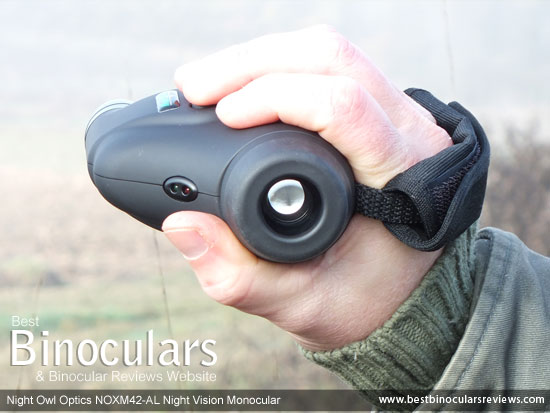 Chassis Construction
The exterior housing is constructed from a hard plastic type material which has then had a super thin rubberized coating applied to the top of it. Whilst this coating is way too thin to be described as armour designed for protection, it definitely improves grip and makes the surface very unreflective, which for those wishing to remain hidden is an important feature.
The lens housing is made from a metal which I think is machined aluminum. The objective lens is set about 5mm within the end of it, which helps to protect the lens when the cap is removed.
Dimensions
With dimensions (l x h x w) of 6.5 x 3.79 x 2.33 inches or 16.5 x 9.6 x 5.9 centimeters this device can easily be held with one hand, which is made even easier and more secure with the included strap.
These dimensions also makes them just small enough to fit into your jacket pocket or any bag and so makes them an ideal "take anywhere" night vision device.
Weight
Not only can you easily hold the Night Owl Optics NOXM42-AL in the palm of your hand, it only weighs 380g (13.4 oz) without the battery.
To help put this into some sort of context, I have listed the weights of some other NV monoculars that I have also reviewed below:
Waterproofing
Night Owl Optics do not mention anything to do with weather or waterproofing and as there are no seals on things like the battery compartment, I will assume that it is not waterproof.
The monocular does however look as though it would withstand light rain and a little moisture, however this is just my opinion and I did not try it out. So if it does rain, I would personally put it away or at least make some sort of a cover if you intend to keep using it.
If you require a fully waterproof night vision monocular, take a look at their NONM4X-MR that is designed for marine use.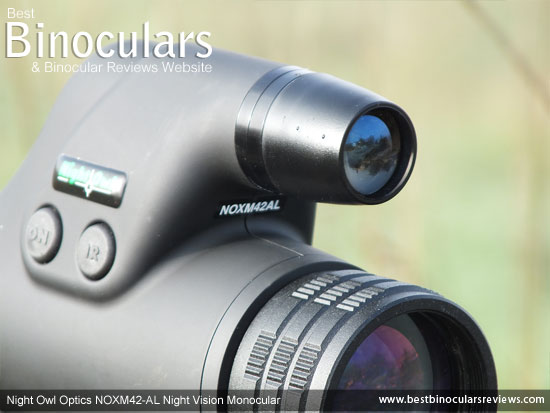 Built-in IR illuminator
Sticking out of the top of the body (or side, depending on how you are holding it!) is the built in Infrared (IR) illuminator, which when turned on, enables you to see when there are no exterior light sources (moon, stars, street lights etc).
The way this one and indeed all the ones that I have used work is by sending out a beam of infrared light which is invisible to us, but which is detectable by the monocular and so the device uses that light just like we would use a torch, taking the IR light that is reflected back from what you are looking at and amplifying it as it would with normal light to create an image on the phosphorus screen.
Night Owl say that it has a maximum effective range of between 75 and 100 yards (69 and 91 meters) depending on what you are looking at and the atmospheric conditions. From my experience this quoted range is about right - it works exceptionally well, lighting up your target as if you have a powerful torch trained on it right up to distances of around 50 meters and then as you get further back the intensity slowly starts to drop off.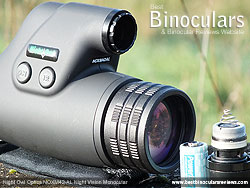 Battery Compartment
The single CR-123 battery is located within the infrared illuminator (IR) housing and is simply accessed by unscrewing and removing the spring loaded IR lens from the body.
Night Owl mention that the battery life is between 45 and 100 hours and whilst I have not logged the hours, I have been using it frequently for fairly extended periods for more than a month now and have not yet had to change the battery.
Other similar devices advertise that you should get around 80 hours of use with one battery, but this will vary depending on how often and for how long you use the IR.
Focusing
Once you have set up the device for your eyesight (see ocular focussing below), focusing the NOXM42-AL onto objects at different distances simply involves rotating the objective lens housing.
As mentioned earlier, it looks to be made from aluminium and has large indents and grooves machined into it to help with grip. It has an exterior diameter of 50mm and the actual diameter of the objective lens is 42mm.
On my test model, it turned really smoothly, but with a little resistance preventing it from easily moving accidentally. I found that the easiest way for me to adjust the focus was to use the index or middle finger and my thumb on the opposite hand to which I was holding the monocular, although you have to be careful not to cover the IR illuminator whilst doing this.
Being as large as it is and having plenty of serrations, adjusting the focus with thick winter gloves on was as simple as it gets, which on a cold night is an important feature.
To go from the nearest focusing distance of 1.5m (4.9ft) to infinity, takes about one and a quarter turns of the lens making locking onto an object a fairly quick process.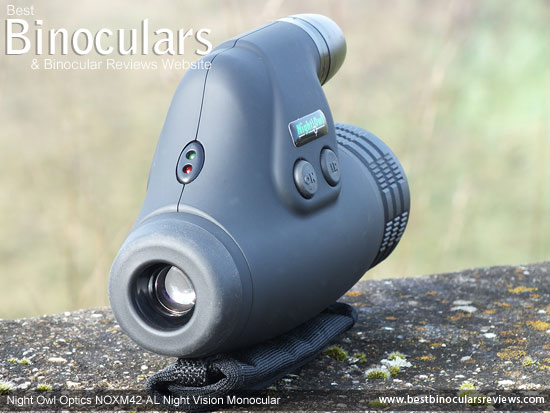 Eyepiece & Ocular Focussing
The main eyepiece housing looks to be made from the same plastic as the rest of the body, whilst the eyecup has a thicker rubber coating on it to improve comfort. The eyecup has an external diameter of 3.8cm with a 2.1cm opening. The ocular lens looks to have a diameter of about 1.6cm, although it was difficult to measure accurately.
It is important to understand that when you look through the eyepiece on this and indeed all other similar night vision devices, you are not looking through the monocular, you are actually looking at the phosphor screen inside the device and at the back of the intensifier tube.
So for you to get a sharp image you need to focus the eyepiece lens onto the screen for your particular eyesight. To do this you simply turn the eyecup, this diopter adjustment has a range of +4 to -4. This process only really needs to be done once when you first set up the monocular for your vision.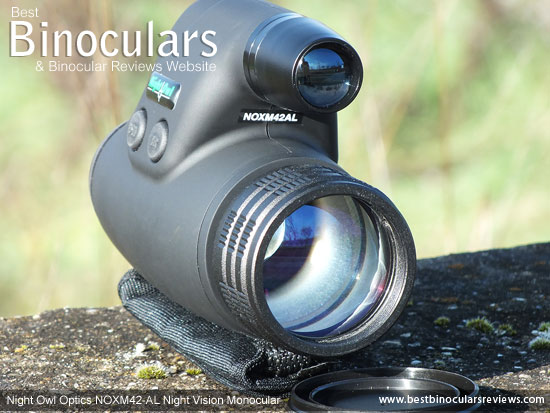 The Optics
42mm Objective Lens
A larger objective lens has the ability to collect more light than a smaller one, but the larger the lens, the bigger, heavier and more expensive the device becomes. So it is all about finding the right balance for the intended use and the price point you want to achieve.
So with this Night Owl NOXM42AL night vision monocular, the emphasis is on producing a reasonably priced, compact handheld device and I think they have got this balance about right. The lens is large enough to collect a reasonable amount of light to help the intensifier tube produce a good quality and bright image, yet the monocular is still small enough to be considered compact and can easily be held with one hand and fit into your jacket pocket.
Transmittance
Once you have gathered the light it is important that as much of it is transmitted to the photo cathode screen located on the front of the Electronic Intensifier Tube inside the monocular as possible. Likewise, once it is amplified and reproduced on the phosphorus screen, it is important that as much of that light gets to your eyes as possible.
Unfortunately, other than the fact that both the objective and ocular lenses are made from "all-glass", I have not been able to find out any other details or if any anti-reflection coatings are used, so can't comment on the quality of the optics any further.
Optical Stats
Field Of View
The angular field of view on these is advertised as 19° and Night Owl Optics also express as being which can also be expressed as being 67 feet wide at a distance of 200 feet, which is pretty good and compares well to other similar devices with a 3x magnification:
Minimum Focal Distance
The closest you can correctly focus on an object is at a distance of 1.5m (4.9ft), which is excellent and is a lot closer than other similar devices I have tested. For more see the comparison table below.
Max Effective Viewing Distance:
Night Owl advertise the furthest you can effectively view objects at is about 213m (700ft), however this is dependant on the environment as conditions like fog or rain will obviously shorten this range. This advertised range is pretty good and compares well with others in this class.
Whilst testing, I could make out a tree line about 250 meters away, but without much detail. Clear details could easily be observed at around 100 to 150 meters under what I would call normal conditions.
The Infrared Illuminator has a maximum effective range of between 75 and 100 yards (69 and 91 meters) depending on what you are looking at and the atmospheric conditions.
Night Owl NOXM42-AL Comparisons
Below is a table that compares some of the main features and specifications of these Night Owl monoculars with that of some other night vision monoculars that I have recently reviewed:
| | | | | |
| --- | --- | --- | --- | --- |
| | | | | |
| | Night Owl NOXM42-AL | Luna Optics LN-SM50 | Luna Optics LN-SX3 | Luna Optics LN-EM1-MS |
| Price (approx): | $160 | $270 (£285) | $200 (£200) | $1600 (£1900) |
| Device Type: | Monoculars | Monoculars | Monoculars | Monoculars |
| Generation: | 1 | 1 | 1 | 2+ |
| Max Light Amplification | Not Sure | 500 - 700x | 250 - 500x | 22000x |
| Sensitivity (microamperes per lumen) | 400-900 | 240 | 240 | 310-340 |
| Max Image Resolution: | 35 lp/mm | 26-28 lp/mm | 24 lp/mm | 40 lp/mm |
| Magnification: | 3x | 5x | 3x | 1x |
| Objective Lens: | 42mm | 80mm | 50mm | 26mm |
| Weight: | 13.4 oz (380g) | 23.6oz (670g) | 15.9oz (450g) | 12oz (340g) |
| Length: | 6.5in (16.5cm) | 7.1in (18.2cm) | 6.8in (17.5cm) | 5.1in (12.9cm) |
| Width: | 2.33in (5.9cm) | 2.1in (5.5cm) | 2.2in (5.8cm) | 2.7in (6.8cm) |
| Height | 3.79in (9.6cm) | 2.5in (6.5cm) | 2.9in (7.5cm) | 2.2in (5.5cm) |
| Max Viewing Distance: | 213m (700ft) | 300m (978ft) | 200m (650ft) | 150m (492ft) |
| Close Focusing Distance: | 4.9ft | 6.6ft | 9.8ft | 0.8ft |
| Field of View (degrees) | 19° | 9° | 12° | 40° |
Gen. 1 & Image Quality
Other than to mention that they have used a "better-quality generation-1 image intensifier tube", Night Owl Optics don't say too much about the inner workings of the NOXM42-AL.
I can only assume by this that in the past, lesser quality ones were used and indeed it is important to realize that not all intensifier tubes are created equal. and within Generation-1 devices, you can get a big variation in performance. This is because when they are first manufactured, the tubes get graded depending on their performance (light amplification) and quality (image clarity). They are then sold to the makers of NV products at vastly different prices depending on their grading.
Whatever grade is used in this monocular I was hugely impressed, firstly with just how few blemishes there were on the screen and secondly with the overall performance:
Screen Blemishes
I have tested and used quite a few Gen1 night vision devices and over time have got used to seeing a certain amount of speckling or blemishes in the field of view. These spots are not actually defects in the electronic intensifier tube itself, but are caused by it as they send the electrons speeding onto the phosphorous screen.
What is so impressive on these and indeed the other Night Owl devices that I have also recently been using is just how few there are. On the model I was testing these were no major spots and only a few very small ones which is a huge improvement on almost all other Gen1 monoculars that I have ever used before.
Light Amplification
Considering that the 42mm objectives are slightly smaller than a lot of similar monoculars that I have used in the past, I was pleasantly surprised at the brightness of the image they produced without the IR switched on, even on moonless and overcast nights with minimal amounts of other ambient light sources.
However, it is important to have realistic expectations and with that in mind, I just want to point out that you don't get the same level of performance with this or indeed any other compact monocular when compared to larger Gen1 devices like the excellent Night Owl NOB5X Binoculars. This is because devices like this have have larger 50mm objective lenses, but they have two of them that collect far more of the available light. The trade off for this improved performance however is a larger, heavier and more expensive device.
Image Detail & Sharpness
If you have never used night vision before, another important aspect to understand is that the sharpness of the image does not remain constant right across the field of view as you find on a normal daytime binocular for example. The highest resolution and therefor the sharpest image is at the center and this becomes progressively more distorted the closer you get to the edge of the view.
The resolution of these is advertised as 35 lp/mm at the center which compares well with other similar devices and once correctly focussed looked very sharp to me.
Night Owl Optics also mention that they use "sophisticated corrective optics" to help minimize this distortion, but it is still visible and to me was about the same as on other top end monoculars that I have used.
Infrared Illuminator
Night Owl say that the IR Illuminator has a maximum effective range of between 75 and 100 yards (69 and 91 meters) depending on what you are looking at and the atmospheric conditions.
From my experience this quoted distance is about right and it works particularly well, lighting up your target as if you have a powerful torch trained on it right up to distances of around 50 meters and then as you get further back the intensity slowly starts to drop off.
Included Extras & Attention to Detail:
Carry Bag
The monocular fits very easily into the included soft carry bag, but is not padded at all which is a shame. You gain access to the inside of the bag via a large flap, which is held closed with a strip of Velcro.
The bag does not have any extra internal or external pockets, nor does it come with a carry strap, but it does have a loop on the rear of it which you can use to thread you belt through.
Lens Cover
The objective lens cap looks to be made from a hard plastic. It is threaded and screws onto the end of the objective lens. Once unscrewed you will need to make sure you put it somewhere safe and easy to find in the dark as it is not tethered to the device.
It also has a very small pin hole in it so you can use the monoculars during the day or under light, to set up the device and for demonstration purposes.
Within the box, you will also find a lens cleaning cloth and a reasonably all-inclusive owners manual, which covers topics like focussing, image quality, how to care for the monocular, it's main specifications and a short explanation on how night vision works.
Warranty Information
On the back of the owners manual you will find the details of the fairly standard NOXM42-AL limited one year warranty offered by Night Owl Optics, which basically states that they will repair or replace defective parts under warranty free of charge and at their discretion.
Conclusion
With the NOXM42-AL, Night Owl set out to produce an inexpensive and compact monocular that still performed to a good level and I think that in this regard they have really succeeded.
Compared to all other monoculars with similar size objectives and within this sort of price range, these are in my opinion as good or better than any I have used. I therefore highly recommend them if you are looking for a compact, take anywhere as well as comparatively cheap night vision monocular.
Strong Points: Low price, lightweight and compact design that is very comfortable to hold.
Despite the low price, they look to be very well made and in my experience produce an image with as much detail and as bright as any monocular in this class.
Another really big highlight for me was just how few blemishes you see on the screen which once again is a big improvement to what I have experienced in the past.
Weak points: Whilst I know that most NV devices are not waterproof, it is a slight shame as this would make them even more useful in all weather conditions.
The carry bag is very basic and it would have been nice to have one that was padded, which would offer much more protection to the unit when not in use.
Ideal Uses: The Night Owl NOXM42-AL Night Vision Monoculars perfect for those looking for a low-priced device for night time security surveillance, hunting, camping, general wildlife viewing and is great for looking at the stars wth.
Because of it's small size, low weight and it's robust construction they are not only really easy to carry about in your hand, but are also very easy to pack away in you bag and take wherever you are going. Thus I would also highly recommend them to anyone going on a safari or any other wildlife related holiday.