I guess it is kind of ironic that most people use their binoculars to observe the beauty of nature, whilst the binoculars that you are looking through have done their bit to damage the very thing that you are looking at.
With climate change it is becoming more and more important for everyone to do their bit to protect the environment and cut down on green house gas emissions. Manufacturing companies have now also started to realise that they too can can help and whilst doing so, earn some brownie points with the environmentally aware consumer.
Nikon is one of the first optical companies to realise this and so have produced their Ecobins Binocular. They say that they are committed to supporting the environment whilst still maintaining their high optical standards and improvement of technology. The innovative compact 10x25 Ecobins binocular is still constructed using premium optics, but uses eco-friendly lead free glass, non-chloride rubber and no harmful inks or dyes and each binocular comes with a 100% natural Lenzing fiber case and Fiberstone tree-free packaging, meaning that no trees were harmed in the production of the box that they send it to you in.
The Ecobins Binocular
Nikon 10x25 Ecobins Binoculars (Product Number 7523)
Ok so we have heard how great they are for the environment, but how well do these feel good binoculars actually perform?
Compact Design
As a compact binocular, these Porro prism binoculars fit the bill nicely, weighing only 9.5oz, which is much lighter than the Steiner 10.5x28 Wildlife Pro binoculars and Steiner 10x26 Predator Pro Compact binoculars and only a little more than the class leading Leica 10x25 Trinovid binoculars which weigh in at 9oz.
Long Eye Relief
On Nikon's advertising of these they mention "Long eye relief for eyeglass wearers" and whilst the actual eye relief of 13mm is pretty good, especially for a compact binocular and should be fine for most people who need to wear glasses, I would not go as far as to call them long eye relief binoculars. The eyecups are constructed of rubber and use a turn & slide mechanism with multi-click adjustments to adjust them.
Waterproof Binoculars
What I do like about these Nikon 10x25 Ecobins binoculars is that they are fully waterproof and fogproof and have been Nitrogen filled and O-Ring sealed, something that you only usually find on much more expensive binoculars. The body of the Ecobins binocular is covered in what looks like a very durable rubber armored coating, that should protect your binoculars from the inevitable day to day knocks and bumps and also gives a good non-slip grip, in the wet.
Focusing
The focusing was quick and simple using the large central focus knob as you would expect.
The Ecobins Optics
Ok so we know that the lenses and prisms are constructed using lead free Eco-glass, but what else? Well the marketing jargon mentions "Aspherical eyepiece lenses" so what does that mean?
I did a little research and found the US Patent No. 5568319 for an Aspherical eyepiece, issued on October 22, 1996 by what looks like two employees of the Nikon Corporation. The aspherical eyepiece is for and I quote "enlarging and observing a real image formed by an objective lens having positive refractive power, said eyepiece having positive refractive power as a whole and including from an eye side toward said objective lens: a positive lens group; and a correction plate for correcting pupil aberration of the positive lens group, the correction plate being disposed between the positive lens group and a front side focal plane of the positive lens group, and having an aspherically shaped surface."
Phew! I think what the aspherical eyepiece lenses do in plain English is decrease distortion when compared to normal eyepieces, which is a good thing!
BAK-4
The Prisms are constructed using BAK-4 high index prisms, BAK-4 prisms are made of superior optical glass that produces clearer images. These are what you want in your binoculars as cheaper binoculars will often use lower grade BK-7 prisms.
The lenses are just Multicoated, not "Fully Multicoated" meaning that at least some surfaces (usually the first and the last) have multiple layers of antireflection coatings, the others presumably have single layer coatings.
Overall the view through the binoculars were bright, crisp and free from distortion.
Field of View (FOV)
At 1000 yards the width of the image that you can see through the binoculars (field of view) is 262ft, which is not bad, but I do feel could have been better. Take for example the class leading Leica 10x25 Trinovid binoculars which have a FOV of 273ft at 1000 yards and the more powerful Steiner 10.5x28 Wildlife Pro binoculars that still manage to to get in 264ft.
Highlights:
Fully waterproof and fogproof
Eco-glass lenses and prisms
Nitrogen filled and O-Ring sealed
Tough rubber armored, polycarbonate body
Aspherical eyepiece lenses for crisp, distortion-free viewing
BaK4 high index prisms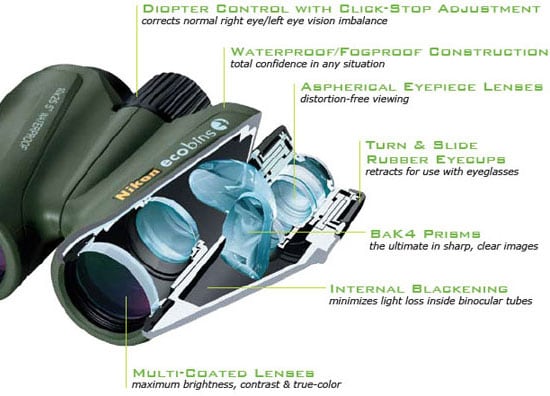 What else is included:
100% natural Lenzing fiber travel case, adjustable binocular strap and lens covers.
Conclusion
Overall a great little set of compact binoculars at a decent price that you can feel good about owning. Optics were good, just fully missing out on great because the lenses are not fully multi coated and the body is light and tough as well as waterproof and so should take most of what you throw at it. The case and strap that they come with are not only enviromentally friendly, but look great as well.