Women's Binoculars?
Nikon Sport Optics and SHE Outdoor Apparel have come together and designed binoculars specially for a woman. The mid-sized 10x36 Safari binoculars offer women the best of both worlds: Nikon's optical performance and attractive SHE styling. So technically there is no difference between "normal" binoculars and womens binoculars, the difference is all in the styling. The Nikon SHE Safari Monarch 10x36's are not the only binocular designed for women, for more take a look at my article on Womens Binoculars.
Nikon Monarch 10x36 ATB Binoculars
Under the safari styling of the SHE binocular lies a pair of the excellent Nikon Monarch 10x36 DCF binoculars, which means that there is far more to these optics than just good looks. Known as Monarch ATB binoculars in the US or Monarch DCF's in Europe, the Monarch series of binoculars from Nikon is their most popular and judging by their features, it is easy to see why: A binocular that is fully waterproof with fully multi-coated lenses, phase corrected BaK-4 roof prisms all housed in a good looking, tough yet lightweight exterior and all available at a very reasonable price!
The Main Body
Weight & Dimensions
I travel abroad a lot and almost always taking a pair of binoculars with me. In the field I also often carry a bird book, camera or something else along with my binoculars, so I do like a binocular to be fairly compact, yet are not so compact as to loose all of the light gathering qualities of the larger binoculars.
Even though they have slightly larger objective lenses than most mid-size roof prism binoculars that I have reviewed, the dimensions (122x129mm /4.8x5.0in) of the Nikon SHE 10x36 Safari binocular compares pretty well with most others. For comparison, the top of the range Swarovski 10x32 EL Binoculars have dimensions of (137x114mm/5.4x4.5in) and the top of the range Nikon 10x32 EDG is (137x140mm/5.4x5.5in)
At 19.9 ounces (575g), they are also fairly lightweight, compare this to the top of the range Swarovski 10x32 EL Binoculars that weigh 21.5ozs (610g).
The "safari brown" rubber armor that covers the Nikon SHE Safari Binoculars looks great and feels good in the hands, but has a number of benefits: It gives you a comfortable gripping surface, it's easy to wipe clean and it dampens down any noise from bumping them that could frighten away skittish birds and other wildlife as I often do with my wedding ring! It also obviously helps protect the binocular from the bumps and scratches that come with day-to-day use.
Waterproof & Fogproof
The 10x36 Nikon SHE Safari Monarch Binoculars are O-ring Sealed and therefore fully waterproof. They have also been "nitrogen purged", which means that the air inside the binocular has been replaced with nitrogen gas, this prevents the interior optical surfaces from fogging up due to rapid temperature changes or in areas that have high humidity.
Focusing
As with many binoculars these days the Monarch range, including this SHE version feature a large central focus knob, which works well, was quick and accurate fine focusing was no problem. The diopter adjustment is located on the right eyepiece and is used to correctly set up the binoculars for your own eyesight by adjusting for differences in your eyes.
The close focusing distance is an excellent 2.5m (8.2 feet) beating many of the most expensive mid-size binoculars on the market.
The apparent field of view for the Nikon SHE 10x36 ATB Safari Binocular is a decent 105m at 1000m / 314 feet/1000 yards which is good, but does fall a little short of the very best like the Swarovski EL 10x32 Binoculars (360ft at 1000 yards) and the Nikon 10x32 EDG (341ft at 1000 yards)
The Eye Cups
These optics have good quality multi-position twist-up eyecups. Non-eyeglass wearers will use the eyecups in the fully extended position. For those that wear glasses, there is a good 15mm of eye relief which should be enough for the average eyeglass wearer to be comfortable.
Uses
So who these binoculars are aimed at? Obviously the styling and included accessories mean that they have been designed as binoculars for women, but their mid-size, fairly compact body with their 36mm objective lenses mean that these Nikon Monarch SHE's are easier to travel with as well as easier to carry in the field than a full size version like the Nikon 8x42 Monarch ATB. Combine this with their 10x magnification, they immediately jump out as great looking binoculars ideal for taking with you almost anywhere, be that on that once in a life time safari, a birding holiday or just out on a walk in the countryside. Other uses like hunting or taking to sporting events where once again a more compact binocular with a powerful magnification is ideal.
36mm Diameter Objective Lenses
In many ways mid-size binoculars like these with 36mm objective lenses are ideal safari binoculars. Small enough to easily fit in with your luggage, yet they still have large enough objective lenses to gather enough light to work in poorer light conditions. Which is what you find in the early mornings and late afternoons when you will mostly going out on safari as this is the time when the game is most active. The advantage of a compact binocular over a full-size version is that they are easier to carry and travel with.
On the down side, the biggest compromise of a compact versus a full size binocular is in the brightness of the image produced which is more noticeable in poor light conditions. This is where a mid-size binocular like the SHE come into their own, easier to carry and travel with than a full-size binocular and with better poor light performance than a full compact binocular.
All 10x36 binoculars, including these Nikon SHE Safari Monarch's have an Exit Pupil of 3.6mm and a Twilight Factor of 19, both of which suggest that whilst they may not be the best binoculars in the world for poor light conditions, they are also far from the worst, which is what you would expect on a mid-size pair of optics. Whilst all 10x36 binoculars will have the same exit pupil and twilight factor, it is important to remember is that they do not take into account the quality of the prisms, lenses and their coatings. Binoculars with better quality prisms, lenses and coatings will far outperform binoculars that have the same configuration, but with cheaper optical components.
The "norm" for mid-size binoculars is to use 32mm objective lenses and it is interesting that Nikon have chosen to use larger 36mm ones on these binoculars. If we compare the numbers a 10x32 binocular will have an exit pupil of 3.2mm and a twilight factor of 17.9, so all being equal the Nikon SHE Safari 10x36 will outperform them in terms of image brightness. The down side is that these binoculars should in theory be heavier and larger than most binoculars with smaller objectives lenses, but that is what is really impressive about these as they are as light and as compact as most other top spec mid-sized roof prism binoculars on the market.
The Optics
Lens & Prism Coatings
The 10x36 SHE Safari has fully Multi-coated Lenses which is what you want on you binoculars because this means that all the air to glass surfaces on the lenses and prisms are multilayer-coated with anti-reflective coatings. This helps increase light transmission across the entire field of view.
The Bak-4 prisms on these also have a Phase-correction coating that basically helps to reduce the phase shift of light that is caused by phase differences arising from total light reflection on a roof surface. This Phase-correction coating thus reduces the loss of image resolution maintaining high-contrast images and is only found on high end roof prism binoculars.
Accessories
The binocular comes with a great looking and excellent quality embossed leather binocular strap in a chocolate brown colour as well as a leather and canvas shoulder bag in khaki with chocolate brown trim, that has multifunctional pockets and a built-in optics case with plenty of room to store your binoculars as well as a few other goodies making it perfect for travel or day trips. As a point of interest, when sold separately the bag retails for around $80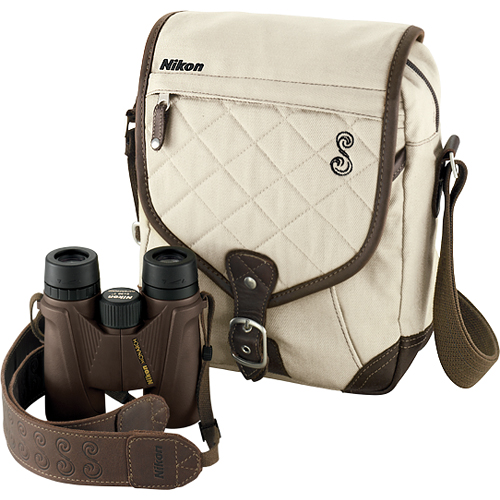 Nikon EDG 10x32 Vs Nikon SHE Safari 10x36 Binoculars

What I thought may be interesting is to compare some of the numbers between, what I believe to be one of the best Mid-Size binoculars, the Nikon 10x32 EDG's with these much cheaper Nikon SHE's.
| | | |
| --- | --- | --- |
| | Nikon EDG 10x32 | Nikon SHE Safari 10x36 |
| Price (approx): | $1400 | $300 (£200) |
| Weight: | 650g | 675g |
| Length: | 138mm | 122mm |
| Width: | 139mm | 129mm |
| Eye Relief: | 17.3mm | 15mm |
| Close Focusing Distance: | 2.5m | 2.5m |
| Field of View at 1000m: | 114m | 105m |
| Actual Field of View (degrees): | 6.5 | 6.0 |
| Apparent Field of View (degrees): | 59.2 | 55.3 |
So as you can see, based on the figures alone they are pretty evenly matched and the biggest difference between the EDG and the SHE Safari is the Price! The EDG has more eye relief and they a wider field of view, and even though the Monarch is slightly more compact they are a little heavier. This is not to say that the EDG binoculars are not worth the extra money, far from it. They are some of the best binoculars available, but it does go to show that for far less money you can get a binocular that still performs really well.
Conclusion
In the Nikon 10x32 SHE Safari Monarch, you not only have a great looking women's binocular that comes with some well designed and good looking accessories, but you have a binocular with high spec quality optics that produce an excellent quality image for a mid-sized binocular. This combined with a robust body that is comfortable, well balanced and makes them one of the best performing binoculars in their class.
At their original list price of $480.95, I think they were slightly on the expensive side, but even so still pretty competitive and reasonable value for money, but now you can find them listed at far lower prices (I have seen them for $317), and whilst this may be a bit more than the standard Nikon 10x36 Monarch, you do get the great quality bag and neck strap included. At this price, the Nikon 10x36 SHE Safari Monarch ATB Binoculars excellent value for money and are highly recommended especially as a safari, wildlife observation and travel binocular for women.