With high quality features like the dielectric high-reflective multilayer prism coating that was only previously available on Nikon's top of the range EDG binoculars, combined with the larger than 'standard' 45mm objective lenses, the Nikon Monarch X 8.5x45 should in theory offer an very bright and high quality view at what seems to be a very competitive price. I was lucky enough to be given the opportunity to test them for a few weeks and below is my full review of the Nikon Monarch X 8.5x45 DCF binoculars:
Main Body
Open Bridge Design
The Nikon Monarch X 8.5x45DCF feature an open bridge design, similar to that of the Vanguard Endeavor ED 8.5x45 and the Swarovski El binoculars, except that Nikon keeps a thin central bar that runs down the length of the binoculars. I really like this design because they are really comfortable to hold and the open bridge makes it easy to grab hold of one barrel, wrapping your fingers right round them without a bridge being in the way, this ensures a more secure grip, which helps when traversing difficult terrain. This design also helps reduce the weight of the optics. Overall they feel very comfortable to hold and are nicely balanced when you hold them up to your eyes.
45mm - Too Large?
I had a slight fear before reviewing these, that because of the larger 45mm diameter objective lenses, they would feel much larger and possibly heavier than the more common 42mm versions.
To keep their weight to a minimum and without sacrificing their durability, Nikon have made the body from a polycarbonate resin reinforced with fiberglass and carbon fiber. These full size binoculars weigh 25.4oz (720g) which considering that they use large 45mm objective lenses is very good. Their dimensions of 15.6 x 13.9cm makes them fairly large full size binoculars, but I think that unless you are really looking for a compact design, where you are better off choosing a mid-sized or even compact binocular, the slightly larger size of these Nikon binoculars is a small price to pay for the very bright image that they produce.
Best Binoculars Rating for Body Stats: 8/10
Rubber Armour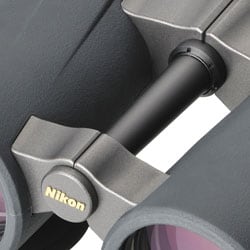 The body is then covered in a rubber armour, that is very tactile, feels great in the hands and will ensure a secure grip in all weather conditions.
As well as helping with the grip, this armor helps to protect the binoculars from most "normal" knocks and bumps and it has the additional benefit of dampening down any sounds from objects striking them. I am thinking of things like watches or a wedding ring, this is something that often happens to me when I grab hold of a pair of binoculars. This sound on exposed metal binoculars can easily frighten away timid birds and other wildlife.
Water & Fogproof
The O-ring seals ensure these Nikon Monarch X binoculars is fully waterproof (up to 1 m/3.3 ft. for 10 minutes). During their manufacture, all the air inside them was also replaced with nitrogen gas, this ensures that here will be no internal fogging in areas that have very low temperatures, high humidity or rapid temperature changes.
Because they are fully sealed, they are also protected against dust and other small debris from entering the system in dry environments that could easily ruin your view through them. Another benefit is that the mechanism inside the stable and dry interior of the binocular is also protected from any corrosion.
Long Eye Relief
These 8.5x Monarch X's use twist up eyecups and you get a massive maximum 20.6mm of eye-relief making them one of the longest that I have ever tested, which is great news for those of you who wear glasses as they provide you with plenty of room for adjustment (with two fixed intermediate stops) to ensure that you view the complete image without having to remove your glasses: More on Long Eye Relief Binoculars.
The twist-up mechanism on the eyecups works well and they have what looks and feels like a tough rubber coating that makes them fairly comfortable, even when pressed firmly against your face.
Focusing
Focusing is achieved via the very large center focus knob that turns very smoothly. In my hands it also felt very well positioned, meaning that I could change focus without having to change my grip on the optics.
To go from infinity to it's closest focusing distance of 9.8 feet (3 meters) takes about 1 and 1/4 turns of the dial. This means that focusing from near to far (or vise versa) is fairly quick, but can make fine tuning your focus a little trickier than binoculars that have a less aggressive gearing as a small movement of the wheel moves the focusing plane a bigger distance. I have reviewed some binoculars that take less than a full turn and many that take up to two full turns or more and I feel that Nikon have got the balance about right with these, but this is a personal preference.
The diopter adjustment is located on the right barrel near the eyepiece and consists of a ring on the right barrel, near the eyecup. To adjust the setting you just need to twist the ring. It is tight enough so that it shouldn't easily be moved accidentally, but a lockable one would have been preferable. This adjustment allows you to adjust the lenses separately to allow for any differences that you may have in each of your eyes and plays an important part in correctly focusing your binoculars to your own eyesight.
Best Binoculars Rating for Body Construction Quality: 9/10
Monarch X Optics
42mm diameter objective lenses are the most common size used on full sized binoculars, but Nikon have decided to use larger 45mm ones on their Monarch X's. The advantage of this is that they will capture more light and all other things being equal (quality of glass, coatings, prisms etc) they should transmit more light to your eyes, producing a brighter image which is especially important in poor light conditions. But have Nikon also ensured that as much of this captured light actually gets to your eyes? Let's take a look:
Lens Coatings
All lenses on the 8.5x45 Nikon Monarch X are fully multi-coated with anti-reflection coatings. These coatings are very important as part of the light that passes through any lens is reflected by the front (incident light) and rear (exiting light) surfaces. This reduces the amount of light passing through the lens, if it is very bad the image you see will be darker than on binoculars that transmit more light. Also, the reflected light may cause ghosting and flaring, affecting image contrast. To minimize reflection on the lens surfaces and ensure clear, sharp images, anti-reflective coatings are applied.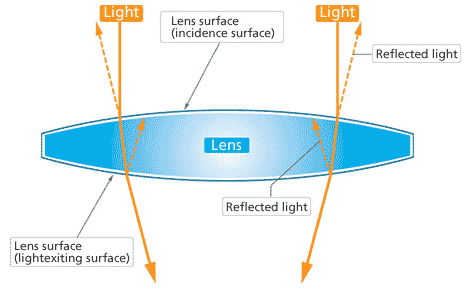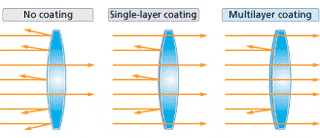 Cheaper optics often only have coatings on one surface of the lens or sometimes they only apply a single layer to all the surfaces.
These Nikon Monarch X binoculars are fully multi-coated meaning that all lens surfaces have received multiple layers (usually 3-5 layers) of anti reflection coatings. A multilayer coating effectively reduces reflected light that cannot be eliminated with a single-layer coating, and increases the transmittance of light.
Prisms & Prism Coatings
Apart from the lenses, the light has to obviously travel through the prisms before getting to your eyes and so here again the quality and design of the prisms and their coatings are very important to ensure that you get the best possible image.
Nikon highlight the fact that their Monarch X binoculars use dielectric high-reflective multilayer coatings on their roof prisms, it sounds impressive, but what does it all mean:
Roof prisms have the advantage being aligned (as opposed to the off-set in Porro prisms) this enables you to make thinner more compact binoculars. But the problem with this design is that the prisms have one surface that does not have total internal reflection. It is therefore very important for the binoculars optical performance to raise the reflectivity of this surface. Many lower quality binoculars will use an aluminum mirror coating that has a reflectivity of 87% to 93% or a silver mirror coating (reflectivity of 95% to 98%).
The Dielectric high-reflective multilayer prism coatings used on the Nikon Monarch X 8.5x45 binoculars are composed of multiple thin layers of transparent dielectric material instead of aluminum, or other metallic layers and this assures a uniform and ultra-high reflectivity. A well-designed dielectric coating can provide a reflectivity of more than 99% across the visible light spectrum and as a result, this technique provides almost the same brightness as that perceived by the naked eye, and clear, high-contrast images that display accurate color reproduction.
On top of this, Nikon have gone even further and added phase correction coatings on the prism glass that keeps light in correct color phases with the result of producing high-contrasting, clearer images and better color reproduction.
Best Binoculars Rating for Optical Components Quality: 8/10
Image Quality
So the next question to answer is do all these high quality optical elements and their coatings make a difference? Well as I do with all my reviews, I compared the view through these with my benchmark binoculars.
As expected and what I have to attribute to the larger objective lenses and the anti-reflection coatings on them as well as the prisms, the brightness of the image produced was excellent and I could see a noticeable difference between these Monarch 8.5x45's and my benchmark 8x42's. I therefore rate them very highly in this department.
In my opinion, the colour reproduction is also excellent. The image produced looks natural and I could not see any artificial tinting that you can sometimes notice on cheaper optics (especially those with ruby coatings that often have an unnatural greenish tint).
When looking very, very carefully at the edges of a light coloured object positioned right in front of a dark background I could only just notice the faintest amount of color fringing (chromatic aberration). I have to stress that it is in no ways bad and unless you are really looking for it, you would never notice it. The addition of ED Glass (Extra Low dispersion glass) like Nikon use in their flagship EDG Binoculars would eliminate this - but that would also obviously increase their price!
The amount of softening of the image on the periphery of the view is also very minimal, far better than my standard benchmark binoculars, but not quite as good as the very best.
Overall I would say that in terms of image quality and compared to other binoculars in their price range I would rate these as being very good, and their strong point is image brightness.
Best Binoculars Rating for Image Quality: 8/10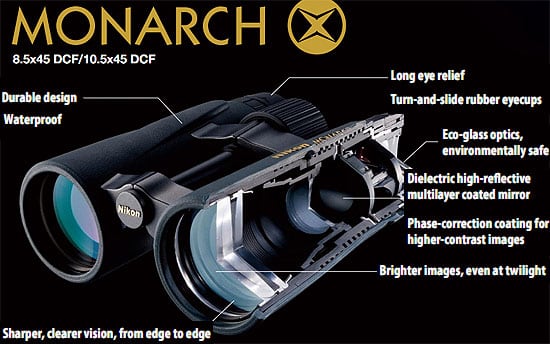 Optical Stats
The field of view is 330ft at 1000 yards (110m at 1000m), which is less than the very top of the range Swarovski 8.5x42 EL's (399ft at 1000 yards) but is comparable to the those with a similar price and magnification -Vanguard 8.5x45 Endeavor ED's (340ft at 1000 yards) and the Swift 8.5x44 Audubon's (336ft at 1000 yards)
The close focus distance of 9.8ft (3m) is not bad, but it does mean that they would not be ideal for those looking to use their binoculars for activities like viewing butterflies. For a full size binocular, I class anything under 6ft as being excellent.
8.5x45 Monarch X Comparisons
To see where these Nikon binoculars sit in relation to other similar binoculars, I have compared some of their main stats with the excellent Vanguard 8.5x45 Endeavor ED's which won my award for the best value for money binocular in 2010. The Vanguard also has the same configuration, with an 8.5x magnification and larger than 'standard' 45mm objective lenses. Whilst another excellent binocular, the Swift 8.5x44 Audubon also has an 8.5x magnification and larger than 'standard' 44mm objective lenses. The Swarovski 8.5x42 EL's which would probably be right near the top of most peoples wish list also has a similar magnification. Therefore I will be using these as points of reference in this review.
| | | | | |
| --- | --- | --- | --- | --- |
| | Nikon 8.5x45 Monarch X | Vanguard 8.5x45 Endeavor ED | Swift 8.5x44 Audubon | Swarovski 8.5x42 EL |
| Price (approx): | $500 (£350) | $400 (£330) | $360 (£400) | $2350 (£1650) |
| Weight: | 25.4oz (720g) | 27.2ozs (771g) | 23.4ozs (663g) | 28.9ozs (819g) |
| Length: | 6.1in (15.6cm) | 5.1in (13cm) | - | 6.5in (16.5cm) |
| Width: | 5.5in (13.9cm) | 6.3in (16cm) | - | 4.8in (12.2cm) |
| Eye Relief: | 20.6mm | 20mm | 19mm | 18mm |
| Close Focusing Distance: | 9.8ft (3m) | 8.2ft | 9ft | 8ft |
| Field of View at 1000yds: | 330ft | 340ft | 336ft | 399ft |
| ED Glass | No | Yes | No | Yes |
| Phase Correction | Yes | Yes | No | Yes |
| Lens Coatings | Fully Multi-Coated | Fully Multi-Coated | Fully Multi-Coated | Fully Multi-Coated |
| Waterproof | Yes | Yes | Yes | Yes |
| Fogproof | Yes | Yes | Yes | Yes |
Best Binoculars Rating for Optical Stats: 6/10
Included Extras & Attention to Detail:
The Nikon 8.5x45 Monarch X comes with a good quality soft carry case, that does not have straps. To carry it you use the neck strap on the binoculars which thread through holes on the side of the bag when you put the optics in side of them. I really like this design as it saves on space and make putting your binoculars into the case easier than many where you have to also stuff the neck strap in as well.
The plastic objective lens caps fit well and should not accidentally come out, they can also be attached to the barrels of the binocular by clipping them into a hole. This is a feature that I really like as I find that I often misplace ones that are not connected. Some people don't like this and if you don't it is not a problem as they can also easily be removed and put away in your bag.
The eye-piece covers are made from a soft plastic and have loops on them so that they can be threaded through the neck strap if you want. There is a flexible bridge between the two cups that allow for the different distances between the two eyepieces depending on your inter-pupillary adjustment. This is something that is often overlooked by manufacturers meaning that the eyepiece covers wont fit, unless you store your binoculars fully open, which can be a real pain as you have to adjust them every time you use your optics and every time you put them away. What was a little annoying on the pair that I tested was that the eye-piece covers did not fit tightly enough and easily fell off.
Best Binoculars Rating for Extras & Attention to Detail: 7/10
Conclusion
Strong Points: Their large objective lenses combined with good quality optical components and anti-reflective coatings means that the view through these Nikon Monarch X 8.5x45 binoculars is extremely bright. I also love the feel, security and comfort that you get from open-bridge design and the very tactile rubber armour that covers them. Their very long eye-relief is also something that is worth mentioning and something to keep in mind if you wear glasses. Small things like the tethered objective lens covers are a nice touch.
Weak points? On the pair I was testing, the eye-piece covers did not fit tightly enough and sometimes came away from the binocular accidentally which can get a little annoying. A slightly wider field of view would also have been welcomed, this is not so much a weak point, but something that would have made them even better.
Price
The recommended retail price for these Nikon Monarch X 8.5x45 DCF Binoculars in the UK is £687.99 and $836.95 in the US, which at that price does make them a little pricey. But you can now get them for almost half that price in some places in the US and in the UK, for example, check out their price at Warehouse Express as at the time of writing they were listed for an excellent £329.00! Click here to check current prices on Warehouse Express.
Their current price now puts them at a level where they are similar and in some cases cheaper than their main competitors, optics like the Swift 8.5x44 Audubon and the Vanguard 8.5x45 Endeavor ED and other (Mid-High Value Binoculars ($300 - $500 / £300 - £500). It also means that they are far, far cheaper (a 5th of the price) than the very top of the range binoculars like the Swarovski 8.5x42 EL's and whilst they may not quite match the lofty height's of the Swarovski's, they are still in my opinion a great pair of binoculars and make good value for money at this price.
Ideal Uses: Like most 8x42 binoculars, these 8.5x45's are perfect for bird watching as they strike a good balance between their field of view, magnification and have lenses that are large enough to make them nice and bright even at dawn or dusk, yet they are not so large that they are too big and heavy to carry about with you. As well as birding, these are ideal for general wildlife observation, hunting and I consider them as ideal general use optics. Their very long eye-relief also makes them perfect for anyone who wears glasses and wants to use their optics without having to remove them.
For activities like camping, taking on safari or to an outdoor sporting they would work very well on location, but to be ideal and to make them a little easier to carry with you, I would probably want a more compact binocular - this is where something like the Nikon 8x32 EDG Binoculars would be ideal.
So to sum up, if you are looking for a binocular with a tough comfortable outer and good quality optics that produce an extremely bright image, ideal for use in poor light, but don't fancy spending the huge sums of money that some "luxury" brand names sell for, then I highly recommend these 8.5x45 Nikon Monarch X Binoculars.
More Information
Acknowledgements

I would like to thank Warehouse Express for organising the binocular to be sent to me to review. At this point, I would also like to point out that all the reviews on this site, including this one, are my opinion of the binocular and are not influenced in any way by manufacturers, distributors or suppliers. I do however think that it is worth noting that at the time of writing Warehouse Express have the Nikon Monarch X 8.5x45 listed on their site at £329, which is a real bargain (the price on Amazon.co.uk around £600) Click here to check current prices.