Mid-sized binoculars are mainly designed for people who want the portability of a compact, but the performance of a full sized binocular and so as you can imagine, to make a really great mid sized binocular is not easy. Many get the formula wrong as some are either too bulky to satisfy those looking for something to fit in their pocket or their optical performance (especially brightness) falls well short of even an average full sized binocular.
With this in mind I eagerly awaited the arrival of the Opticron Traveller BGA Mg 10x32 binocular, which I had high hopes for. Below is my full review:
Selected Highlights
Light Weight Magnesium Body
100% water & Fog Proof
Hinge lock system to maintain IPD while in use
Fully multi-coated
Phase Correction Coatings on the prisms
BAK-4 Prisms
Eye relief: 16mm
Close focus: 1.5 m (4.9ft)
The Body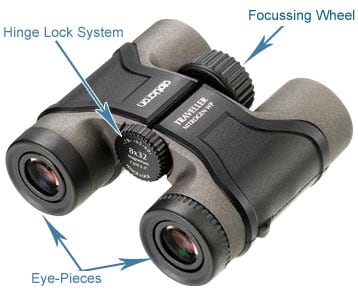 Unlike most binoculars that you find these days, these don't have a rubber coating that covers the whole body. Rather there is only a little rubber armouring on the central section of the body where you hold them and then the rest of the body just has the magnesium chassis exposed. I actually really like this as I am sure it helps to keep the weight down and the exposed part of the body has a rough texture to it that almost feels almost like fine sandpaper and is super grippy. This does however mean that the internal optics are probably a little less protected than if they were fully armored.
A unique feature of these Opticron Traveller BGA binoculars is that the central focussing wheel is located on the far side of the bridge that connects the two barrels together - so it is nearer to the objective lens than the eyepieces. For a second when I took them out of their case, it was slightly confusing as I was not sure which way to hold them up to my face, but once you get your head around it, it works really well. This is because with such a short binocular, it is very cramped to have the focussing wheel in it's normal location and is a trick that many other mid-sized and compact binoculars could learn from.
IPD lock system
Another unique feature is where you usually find the focusing wheel, there is now a dial that enables you to lock the hinge to maintain the Interpupillary Distance (IPD) that best works for you. This once again is something that I really like, is not found on many binoculars and shows some real thought and attention to detail has gone into making these.
Weight
These 10x32 binoculars weigh just 370g (13oz). This is very impressive as most mid-sized binoculars with objective lenses of around 32mm tend to weigh around 600g, for example the excellent Minox 8x33 BL Binoculars weigh 22.9ozs (649g) and the top of the range Swarovski 10x32 EL Binoculars weigh 21.5ozs (610g).
Sometimes featherweight binoculars are only light because they have been constructed from cheap and poor quality materials and components that also happen to be light. I can happily report that this is not the case with these Opticron Traveller binoculars as the chassis is made from Magnesium that is not only light (it weighs just 70g) but tough as well. Good quality components have been used throughout, which we will get to later.
Dimensions
These are not only lightweight, but their dimensions of 9.8x11.8cm (3.9x 4.3in) makes them one of the smallest mid-sized binoculars that I have ever reviewed and they should easily fit into most jacket pockets.
Best Binoculars Rating for Body Stats: 9/10
The Eye Cups
Once again these Opticron Traveller's don't follow the norm as instead of having the usual twist-up eyecups they have push/pull retractable eyecups that seem to be made from a very hard plastic and have soft rubber coating on top of them that makes them fairly comfortable even when pushed quite firmly against your face.
The maximum of 16mm of eye-relief is really good and they easily make it onto my list of long eye relief binoculars and so this should be enough for most people who wear glasses to be able use these without having to remove their glasses and still get the full field of view without any without any vignetting.
This push/pull mechanism on the eyecups works well and they have an impressive three intermediate stops which will help people who do wear glasses to get exactly the right amount of eye relief for them. Non-eyeglass wearers will just use the eyecups in the fully extended position.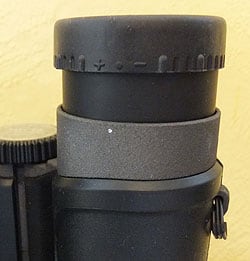 Focusing
As I have already mentioned the central focussing wheel on the 10x32 Opticron Traveller is located on the far side of the bridge that connects the two barrels together - so it is nearer to the objective lens than the eyepieces. This setup works really well with such a short binocular, as it would be very cramped to have the focussing wheel in it's normal location, so they have moved it a bit further from your face to make reaching it with your fingers just that bit more comfortable. This is a trick that many other mid-sized and compact binoculars could learn from.
The wheel itself looks to be made from plastic with a ridged rubberized coating on it to help with grip. It turns very smoothly, is easy to reach in this unique position without having to change your grip and takes just over 1 turn to go from infinity to it's closest focusing distance of 1.5m (4.9ft).
This means that focusing from near to far (or vise versa) is very quick, but it can make fine tuning your focus a little trickier than binoculars that have a less aggressive mechanism.
Diopter Adjustment
The diopter adjustment is located on the actual eye-piece on the right barrel. For those who don't know, this allows you to adjust the lenses separately to allow for differences in each of your eyes and plays an important part in correctly setting up & focusing your binoculars.
I very much like the fact that this diopter adjustment has click stops that will help prevent it from being moved accidentally. There are markings on both the barrel and diopter adjustment so you can easily see where the neutral point is as well as if the setting for your eyesight is not exactly neutral, you can easily keep a note of where your "spot" is - just incase it moves accidentally or gets changed by someone else.
Waterproof & Fogproof
These Opticron Traveller BGA Mg 10x32 binoculars are 100% waterproof to a depth of 3 metres (although I did not test this fact!) - nevertheless this will not only protect them from moisture, but will also prevent any dust and other small debris from entering them that could lead to your view being spoilt.
The air inside of the binocular has also been replaced with nitrogen gas during the manufacturing process which makes it possible to use the binoculars in places where there are very low temperatures, high humidity levels or rapid temperature changes without the risk of any condensation forming on the inside the binocular. A side benefit of this is that because there is no internal moisture, it will also protect their inner workings from corrosion.
Best Binoculars Rating for Body Construction Quality: 8/10
Opticron Traveller BGA Mg Optics
As you would expect to find on any good quality roof prism binocular, Opticron use higher spec BaK-4 prisms on these Traveller's as opposed to the cheaper and inferior BK-7 prisms. As well as this these prisms also have a number of coatings that help to increase their transmittance.
Lens & Prism Coatings
Fully multi-coated lenses are used, this means that all air-to-glass surfaces have received multiple layers of anti-reflective coatings which will increase the light transmission compared to cheaper optics that only use multi-coated or just coated lenses and results in a brighter image that will perform better in low light.
They have also used phase-correction coatings on the roof prism glass. Roof prism binoculars like these have many advantages over porro prisms, but when light waves are reflected at the opposite faces of a roof prism, phase shift occurs resulting in marginal deterioration in sharpness. These phase correction coatings keep the light in the correct color phases and therefore produce images that have better contrast, a higher resolution and have a better color reproduction than roof prism binoculars that don't have these coatings. These coatings are only really found on high end optics.
Opticron also use what call their Oasis coatings on the prisms. I have been able to find out that this is actually a 64 layer coating process that is applied to the reflective surface of each roof prism. Opticron say that this process improves light emission to 99% over a broader spectrum at the reflective face, a big improvement when compared to the silver coating traditionally used on many high quality roof prism binoculars. This is said to result in a measurable increase in light transmission and overall image clarity. I have not been able to find out any more information on the Oasis coatings as they like to keep a few trade secrets from their competition, but my guess is that they are the same or very similar to the dielectric coatings found on high end binoculars.
Whatever the case, the fact that these Oasis binoculars have in theory a reflectivity of 99% is impressive. Compare this to cheaper binoculars that often use an aluminum mirror coating that has a reflectivity of between 87% to 93%, whilst more expensive binoculars often have a silver mirror coating and the reflectivity is increased to about 95% to 98%.
What these binoculars don't have, that some of the very best (and far more expensive) do have are lenses that use extra-low dispersion glass (ED). This should in theory mean that they are not quite as good at reducing chromatic aberration (color fringing) as binoculars that use ED glass. Does this play out in reality? Take a look at the section below on Image Quality where I compare them to my control binoculars.
Best Binoculars Rating for Optical Components Quality: 8/10
Optical Stats
Field Of View
At only 90 metres wide at a distance of 1,000 metres (=270 feet at 1,000 yards = 5,14°), it must be said that the field of view for these Opticron Traveller 10x32 binoculars does fall short of some of the very best, for example the Kowa Genesis 10x33 XD has a FOV of 119m at 1,000 meters (357ft at 1000 yards) and the Swarovski 10x32 EL is 120m at 1,000 meters (360ft at 1000 yards).
Close Focusing Distance
The minimum close focusing distance is an impressive 4.9 feet (1.5m). I regard anything under 6ft as being very good, so if you are looking for a mid size binocular that is also good for viewing objects close up, things like butterflies for example, these Opticron 10x32 Traveller binoculars would make an excellent choice.
Eye-Relief:
Their maximum eye-relief of 16mm is also very good and they just make it onto my list of long eye relief binoculars and so this should be enough for most people who wear glasses.
Best Binoculars Rating for Optical Stats: 7/10
Image Quality
As I do for all my reviews, I compared the view through these Opticron Traveller BGA Mg 10x32 binoculars with that of my control binoculars.
Brightness
I conducted these tests on an overcast morning: Comparing them to my benchmark's, I was not able to notice any difference in the image brightness of the image produced and I therefore describe their image brightness as being very good.
Colour Fringing
The amount of color fringing (chromatic aberration) around the edges of objects is very minimal and only really noticeable if you are actually looking for it by closely observing the edges of light or white coloured objects sitting in front of a dark background. I have seen a lot worse, but this is where the use of ED glass (extra low dispersion) would make a difference to these binoculars, but then again this would also increase their cost and as I said the amount of colour fringing is only really noticeable if you are looking for it.
Softening
Like the colour fringing, the amount of softening of the image on the periphery of the view is there, but is very minimal - I have seen better, but have also see a lot worse so overall I rate these pretty well in this area.
Contrast & Colour Reproduction
The colour reproduction looks and feels natural, unlike the artificial tints that you sometimes find on cheaper binoculars. I also thought that contrast of the image was also good and once you have correctly focussed on an object the image is very sharp.
So to sum up, I would say that the overall image produced on these 10x32 traveller's is very good.
More about Image Brightness and the 8x42 Configuration
Binoculars with 32mm objective lenses are a common choice for mid-sized binoculars. This is because they strike a good balance between light gathering potential and size of the device.
Good light gathering ability is important because quite often you will find yourself in situations where the lighting is sub-optimal, especially in thickly wooded or forested areas, early in the morning just before or at sunrise or late afternoon when most birds and other animals are at their most active. Full sized binoculars with larger 42mm objective lenses will let in more light, but will obviously also be bigger and heavier and so harder to carry about in the field and put in with your luggage. To explain how this configuration works, all 10x42 binoculars have an Exit Pupil of 4.2 and a Twilight Factor of 20.5, which if you compare them to this 10x32 binocular, which has an exit pupil of 3.2 and a twilight factor of 18, it shows that the increased objective lens diameter of a larger binocular will gather more light and make it possible for the binoculars to transmit more light and thus should in theory work better in low light conditions. More compact binoculars with smaller lenses will of course let in even less light, but will be even more compact - so it is all about compromises and that is why a mid-sized binocular like this is a great choice for most uses and make great general use and travel binoculars.
I would also like to add that these exit pupil and twilight figures do not take into account the transmittance or quality of the optical system, which is as important, if not even more so in producing a bright image. This is because the performance of a pair of optics in poor light also depends a lot on the quality of the glass and optical coatings and not just the exit pupil and twilight factor formula. Good coatings on the lenses and the prisms can double the amount of light that gets through the binocular, when compared to those that have none or poor quality coatings and as we have already discovered these Opticron binoculars use pretty good quality glass as well as coatings.
Best Binoculars Rating for Image Quality: 7/10
10x32 Opticron Traveller BGA Mg Comparisons
In the table below I have compared some of the main stats and features of these Traveller BGA Mg binoculars from Opticron with that of some similar sized binoculars that I have reviewed in the past:
| | | | | | |
| --- | --- | --- | --- | --- | --- |
| | Opticron Traveller 10x32 | Kowa Genesis 10x33 XD | Nikon EDG 10x32 | Swarovski 10x32 EL | Minox 8x33 BL Binoculars |
| Price (approx): | £289 | $1200 (£900) | $1600 | $1900 (£1400) | $470 (£370) |
| Weight: | 13oz (370g) | 20.8ozs (590g) | 22.9ozs (649g) | 21.5ozs (610g) | 650g |
| Length: | 3.9in (9.8cm) | 5.2in (13.3cm) | 5.4in (13.7cm) | 5.4in (13.7cm) | 5.4in (13.7cm) |
| Width: | 4.3in (11.8cm) | 4.1in (10.3cm) | 5.5in (14cm) | 4.5in (11.4cm) | 5.1in (13cm) |
| Eye Relief: | 16mm | 15mm | 17.3mm | 13mm | 17.5mm |
| Close Focusing Distance: | 1.5m (4.9ft) | 1.5m (4.9ft) | 8.2ft | 6.6ft | 8.2ft |
| Field of View at 1000yds: | 270ft | 357ft | 341ft | 360ft | 421ft |
| Exit Pupil | 3.2 | 3.3 | 3.2 | 3.2 | 4.1 |
| Twilight Factor | 17.9 | 18.2 | 17.9 | 17.9 | 16.2 |
| ED Glass | No | Yes | Yes | Yes | No |
| Phase Correction | Yes | Yes | Yes | Yes | Yes |
| Lens Coatings | Fully Multi-Coated | Fully Multi-Coated | Fully Multi-Coated | Fully Multi-Coated | Fully Multi-Coated |
| Waterproof | Yes | Yes | Yes | Yes | Yes |
| Fogproof | Yes | Yes | Yes | Yes | Yes |
This table really highlights just how lightweight and compact these Traveller binoculars are in comparison to other mid-sized binoculars with similar sized objective lenses. It also shows that in most areas these compete very well apart from their fairly narrow field of view. I would recommend that if a really wide field of view is important to you and you really like this Opticron, then you should consider the 8x32 version (333ft @ 1000yards) or even the 6x32 Traveller that has a really wide field of view of 423ft at 1000 yards.
Included Extras & Attention to Detail:
Carry Case
The black soft leather carry case looks to be pretty well made and whilst it is pretty lightly padded, it should be more than enough to protect these light binoculars in most normal situations. The flap to close the case is fastened with a small strip of Velcro and on the back there is a loop that enables you to attach the case to a belt. Unfortunately this case does not have any other pockets that can be useful for storing things like lens cleaning cloths, money or even your car keys. The binoculars fit snugly into the case, even with the eye-cups fully extended and with the eye-piece covers on them. This may seem like a small thing, but I have sometimes had cases where you cannot close the lid of the case if the eye-cups are not retracted which does get very annoying.
Neck Strap
As you would expect with a small and light binocular like this 10x32 Traveller, the neck strap is a lot thinner than what you find with most full sized binocular. eve so it is still very well padded and looks to be pretty well made. I have seen more luxurious neck straps and also ones that are a lot more basic and so would say that these were about average.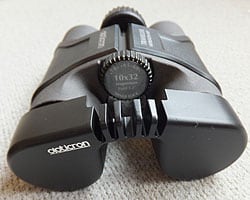 Lens Covers
The eye-piece and objective lens covers are basic, they are made from a flexible plastic. They do fit very well to the lenses and should not accidentally fall off. None them have any way of attaching them to the binoculars and so you will have to just store them in the case when using the binoculars. However what is nice is that these Traveller binoculars also come with a rainguard (eye-piece cover) that fits well and can also be attached to the neck strap. I like the fact that they have a flexible bridge between the two cups that allow for the different distances between the two eyepieces depending on your inter-pupillary adjustment. This is something that is often overlooked by manufacturers meaning that the eyepiece covers wont fit, unless you store your binoculars fully open, which can be a real pain as you have to adjust them every time you use and replace your binoculars.
User Guide & 30 Year Guarantee
An instruction card is also included, which contains some basic user instructions with things like how to adjust the eyecups, the inter-pupillary adjustment, how to properly focus your binoculars, lens care and cleaning. It also contains details on the very impressive 30 year Opticron Traveller BGA Mg 10x32 binocular warranty.
Best Binoculars Rating for Extras & Attention to Detail: 6/10
Conclusion
Strong Points: The features that really stand out on these binoculars are just how compact and light they are, as they are almost as small as some full compact binoculars with much smaller objective lenses. Their very close minimum focussing distance is also impressive and they have some good quality optical components and coatings that equate to a good quality image, which is even more remarkable when you consider their price.
Weak points? I would have really liked to have seen a wider field of view on these. But having said that if a really wide field of view is important to you, perhaps you should consider the 8x32 version (333ft @ 1000yards) or even the 6x32 Traveller that has a really wide field of view of 423ft at 1000 yards.
Overall, I think for the amount that you pay for these Opticron Traveller BGA Mg 10x32 binoculars, you get a good binocular for your money and their quality and optical performance to price ratio is pretty good.
Ideal Uses: As their name suggests and like most mid-sized binoculars, they are ideal binoculars to go travelling or camping with. The 10x magnification and relatively bright image also means that for me they are ideal safari binoculars.
Their close minimum focussing distance means they will also appeal to those who are looking for a binocular to view things like flowers, butterflies, dragonflies and other insects really close up. They will also be good for general wildlife observation and even some types of hunting where size and weight are important. Like most mid-sized binoculars make a good all-round general use binocular.
Their fairly narrow field of view means that I would not recommend them for most birders, unless you are going to be using them in wide open areas like around lakes or even at the coast. For the same reason and even though they are very compact they will probably not make ideal optics to take to most sporting events where a wide field of view will allow you to see more of the action at once.
Acknowledgements
I would like to thank Opticron for sending this binocular to me to review. I would also like to point out that all the reviews on this site, including this one are my opinion of the binocular and are not influenced in any way by manufacturers, distributors or suppliers.