With prime examples like the Traveller BGA MG 10x32, it seems to me that Opticron make a habit of or at least relish producing mid-sized binoculars that are really small and lightweight, especially when compared to the vast majority within this size class and from the looks of it these Discovery WP PC 8x32's are no different:
Opticron Discovery Binoculars
Indeed by using a really condensed optical design, the whole series of Discovery binoculars that also includes 42mm and 50mm models are designed specifically to be compact in overall body shape within their specific size class.
All bins within the Opticron Discovery series sit comfortably within the mid level price range ($130 - $300 / £130 - £300 / €130 - €300) and with what looks like a good selection of features and components have the potential to compete with the very best within this price range.
So to see just how well they actually perform in the real world, I got the chance to use and test the 8x32 version and below you can read my full report:
Opticron Discovery WP PC 8x32 Binocular Review
Important Details:
Mid Priced Bins - approx $230 / £160 / €220
Ultra Compact Shape

Dimensions: 4.3in x 4.6in (10.8cm x 11.7cm)

Lightweight ABS Plastic Chassis
Fog & Waterproof
Fully Multi-Coated
Phase Corrected Roof Prisms
Field of View: 393 @ 1000yds (131 @ 1000m)
Ultra Close Focus: 3.9ft
17mm of Eye-relief
IPD Range: 5.2cm - 7.5cm
The Body
Shape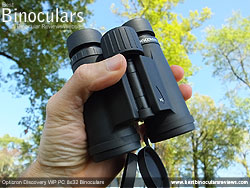 With their 32mm objective lenses and a single, a fairly wide bridge that is nearly centrally positioned along the barrels, the Opticron Discovery 8x32 WP PC binocular sports a very traditional shape for a mod-sized roof prism a roof prism... with one major exception:
By using what Opticron describe as an "ultra-compact optical design" they have managed to make the barrels noticeably shorter than that which you typically see. For more on this take a look at the dimensions section later in the review.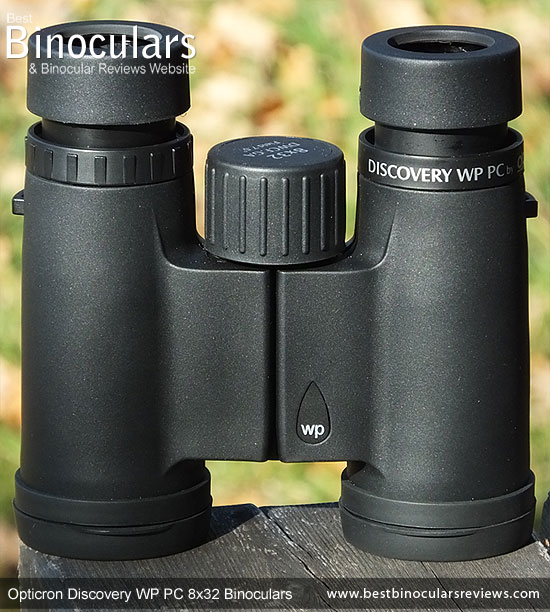 These barrels and thus the final length of the instrument could have actually been made even shorter as the objective lenses sit about 8mm in from the ends of them.
However rather than saving a few more millimeters, I think Opticron have done the right thing here as this overhang protects the lenses from being scratched (especially when you forget to replace the lens covers and put them down on the barrel ends) and it helps to keep them clean by shielding them from light rain and falling dust.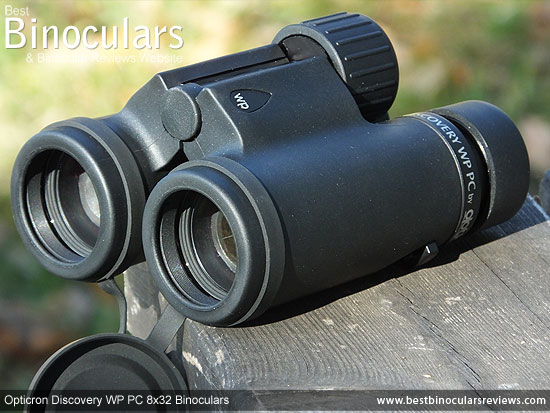 Not Tripod Adaptable
Something to keep in mind is that unlike the 42mm Opticron Discovery bins, you cannot remove the front dust cap from this version and so it will not accept a tripod adapter.
Body Materials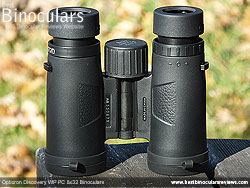 Apart from a few really small details, almost the entire exterior (including the central bridge) is covered in a rubber armour.
Being quite hard as well as smooth, this rubber really gives it nice classy looking finish. However there is not quite as much grip on offer as softer more textured rubber exteriors. Although keep in mind that this harder covering is sure to last longer with less chance of perishing than the really soft, high grip rubbers sometimes used.
Whilst the larger models in the Discovery range (8x42, 10x42, 8x50 & 10x50) have Magnesium alloy bodies, this mid sized version is made from ABS plastic.
This is quite interesting as I have never seen this term being advertised in regards to bins before, so I am not sure if this is a common material and manufacturers don't bother highlighting it or if this is quite unique to the 8x32 Discovery?
What I do know is that many bins within this price range are described as having Polycarbonate bodies, which is a different plastic to ABS. They both have many similar qualities, but Polycarbonate is considered a fairly expensive plastic and as much as double the price of ABS.
Whatever the case, according to my research ABS plastic is a common thermoplastic polymer produced from acrylonitrile, butadiene and styrene. It's most relevant properties are lightness, impact resistance and toughness and because of it's ability to be injection molded is widely used in the manufacture of many products.
Inter-Pupillary Distance (IPD)
To adjust the distance of the eye-cups to match the space between your eyes, you either open or close the central hinge as you do on almost all other bins.
This 8x32 Discovery has and IPD range of 5.2cm to a maximum of 7.5cm, which as you can see on my guide to the Inter-Pupillary Distance, is a good spread (especially for a mid sized instrument) and thus it should be able to accommodate a wide range of faces.
The minimum IPD setting of only 5.2cm along with the light weight, small size, reasonable cost and conservative magnification also makes these Opticron Discover 8x32 binoculars a good choice as a serious binocular for older children in my opinion.
Eyecups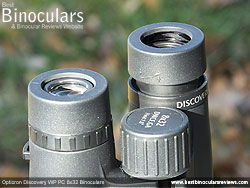 As with all the full sized Opticron Discovery binoculars, the 8x32 version also feature twist-down/up eyecups, but unlike the rest of the chassis, the housing looks to me to be made from metal.
One of them most commonly damaged areas on a bin, it is great to see that Opticron have not skimped in this area where many others at this price range do.
The cups have a pleasant and very smooth twist down and up action with only the slightest hint of free play, which was really nothing to be concerned about.
Whilst some have two or even three, the single fixed stop at the mid point does offer a little more flexibility when it comes to setting up the perfect amount of eye-relief for your particular needs (if wearing glasses etc) and whilst it does not click into position quite as obviously as some, you can still press your face very firmly against the cups without it moving.
Each cup has a thick rubber cover and even though their external diameter of 35mm is a little less than some, I never had any issues with comfort.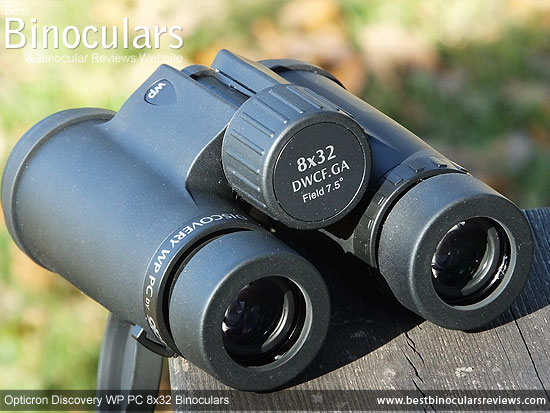 Focus Wheel & Focusing
One of the most striking features on the 8x32 Discovery is the large focus wheel that really sits up rather proudly between the barrels.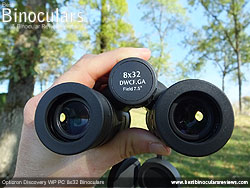 At 30mm in diameter it is about the same size as that which you would expect to see on a full sized instrument This combined with a really smooth action makes it a dream to use and I had no problem making quick and accurate adjustments even whilst wearing my winter gloves.
To adjust the focus from one end to the other takes a full 1¾ turns (630°), which is a little more than most. This makes fine adjustments easier, but obviously take a little longer (more turning) to make big focus changes.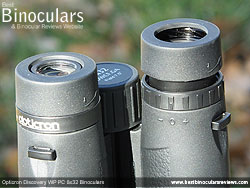 Diopter Adjustment
These Opticron's have a ring near the right eyepiece that you can adjust to calibrate the binoculars so that they compensate for any differences in vision between each of your eyes.
Whilst this ring is not lockable as it is on some of the best, it does have a very fine rachet that helps to stop it being moved out of position too easily by accident, which most at this level won't have.
Rating for Body Construction Quality: 7/10
Weight & Dimensions
As is clearly demonstrated in the table below the Opticron Discovery 8x32 WP PC binocular is not only one of the shortest mid-sized optics out there, but is also one of the lightest.
For a visual idea of the size difference, take a look of the photo below which compares this 32mm Opticron to the 32mm Pentax A-Series binocular, which I consider to be an average mid-sized bin (in terms of size).
Indeed they are as small and light as many compacts out there, but you still have the advantage of having reasonably large objectives that can capture far more light.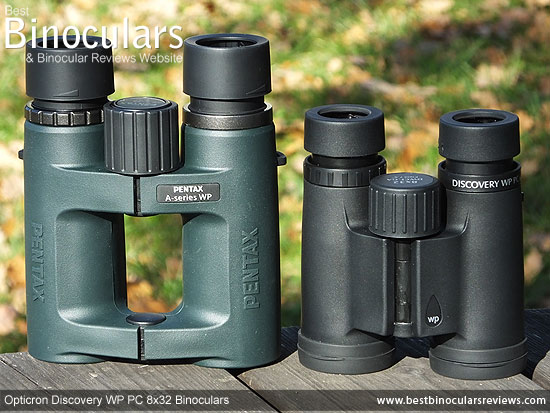 Size comparison between the 32mm Pentax A-Series and Opticron Discovery Binoculars
BBR Rating for Body Stats compared to Mid Sized Bins: 10/10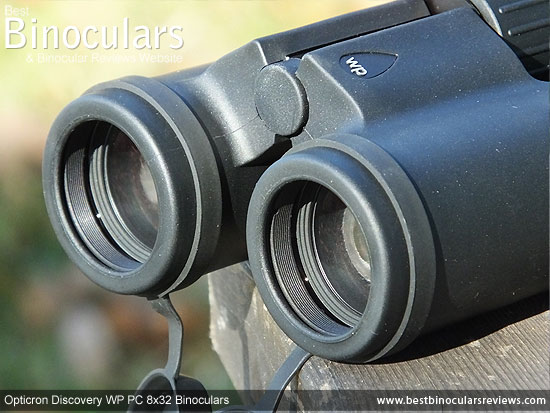 The Optics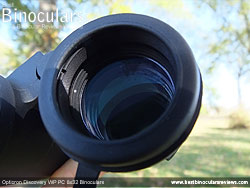 Other than to mention that these have an "ultra-compact optical design", Opticron do not go into specifics regarding the exact make-up of the optics, which is a shame as I am sure on these it would have been really interesting.
Why I can say is that the objectives each have a diameter of 32mm, which is commonly used size for a mid-size binocular, however the ocular lenses are 16mm across, which is a little less than what I commonly see.
Optical Coatings
All Opticron Discovery binoculars, including this 8x32 version are fully multi-coated. The exact wording of this phrase is important as it tells us that all optical surfaces throughout the whole binocular have numerous anti-reflection coatings applied to them.
This ensures that as little light as possible is reflected away or in an undesired way and thus they perform far better than lesser instruments with fewer coatings on only a few surfaces.
The roof prisms in these have also been phase corrected which is what we want to hear. What this means is that a special coating has been applied to a surface on the prism that if left unchecked, the wavelengths of light that reflect off of it become out of phase with each other and thus phase shift occurs, which results in a lesser quality image being produced.
Optical Components Quality Rating: 7/10
Optical Stats
Whilst they won't match an equal quality 8x42 for low light performance, the 32mm objectives combined with the 8x magnification gives this Opticron Discovery an exit pupil of 4mm (32÷8), which is enough for these to potentially provide your eyes with enough light for you to perceive a reasonably bright image in all but the very worst light conditions.
Field Of View (FOV)
When you look through the Opticron Discovery 8x32 WP PC binoculars, the view that you see is 393 feet wide/high at a distance of 1000 yards.
In metric notation this converts to a FOV of 131 meters wide.
As you can see from the comparison table below, whilst it is not quite the widest, I still consider it to be nice and wide and beats some of the very best mid sized 8x binoculars on the market.
A wide FOV really helps in a number of situations. This includes making it easier to find your intended subject and then follow it. In the case of a small fast moving bird for example this can be critical. Wide FOV's also make it easier to view the whole picture without having to pan about, which for uses like outdoor sporting events is also useful.
Also worth noting from the table below is that the lower power helps with this wide view and is one of the main reasons why higher powered devices are not always the ideal option.
Close Focus
One of the real highlights to this Opticron Discovery is it's extremely close minimum focusing distance of only 3.9ft.
This is fantastic and beats almost every other binocular I have ever used. For this reason these will also make an ideal choice for viewing things like flowers, insects and butterflies. This along with their small size also makes them the ideal bin to pop in your bag and take to the museum or gallery, something which you just have to try one day.
Eye-Relief:
Most people who wear glasses whilst binning require at least 14mm to 15mm of eye-relief in order for them to still see the full view.
So whilst their 17mm means they just miss out on being described as having long eye-relief , it should still be enough for most.
Optical Stats Rating: 9/10
Image Quality
For this part of the review, I compared the view through these Opticron binoculars against my mid sized 8x benchmarks and for interest also against my compacts and full sized optics. I conducted the comparison tests twice, in overcast conditions during the day and then again as the sun was setting. Sorry it is winter here at the moment... not much sun about!
Image Brightness
No matter the conditions, I was never able to establish or easily notice a difference in the brightness between these and my mid level, mid sized control bins. Thus in this area I am able to rate these as very good. Not the best I have ever seen, but still very good and easily as bright as any in this size and price range.
Just for interest I also compared them to my control compacts and full sized bins. Because of their larger exit pupil, there was most certainly a brighter image through these when compared to my compacts. I was just surprised as to how easy it was to notice in average overcast conditions. Also somewhat surprising was how difficult it was to spot any difference in brightness between these and my full-sized bins. It was only in very bad light after sunset, that the 8x42 looked to me to perform better.
Contrast & Color Reproduction
Colors as well as the level of contrast to me were normal, which is good as there were no obvious signs of tinting, be that intentional or down to sub-standard glass or coatings.
Color Fringing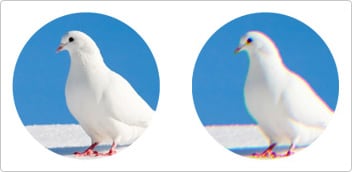 Whilst evident when actively looking for it, I thought that the levels of color fringing caused by chromatic aberrations to be perfectly acceptable and easily on a par with the better quality instruments within this class.
Image Flatness & Softening
I was never aware or spotted any distortions like "pin cushioning" or "barreling" which can make the image look like it is either falling in on itself or wrapped around a ball. To me it was perfectly flat at all times.
A really impressive aspect of the view on my sample set was just how little softening there was at the edges of the view. It was 100% sharp and in focus almost right to the edges of the view. Really Impressive.
Overall
At this size and price level, I would describe the view through the Opticron Discovery WP PC 8x32 binoculars as excellent.
Image Quality Rating: 8/10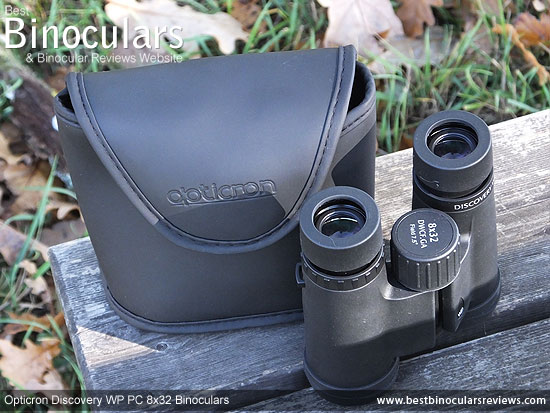 Included Accessories: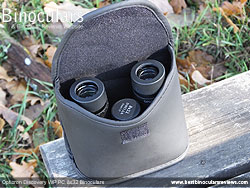 Carry Case
The soft, almost velvet feeling soft carry case is simple but for the most part functional.
The flip over lid is held closed using a small strip of Velcro. This works, but is obviously not as secure as a Zip and should you be near birds or wildlife when removing your bins, you will need to be careful not to make a loud ripping noise when opening it.
Inside there is actually a decent amount of padding for a bin of this size and weight. The bins fit well inside and I could just close the lid with the eyecups extended and the lens covers and rain-guard in place which is good.
Whilst there is no separate carry strap, you can use the neck strap on the bins by threading them through the sides of the lid when the optics are inside. On the rear there is also a belt loop, which for a small instrument like these is a great way to carry them about if you need to keep your hands free when not using your bins.
There are also no extra pockets for storage which is perhaps a shame. However taking everything into account, I do like the case for being small and lightweight, which perfectly compliments the binos.
Neck Strap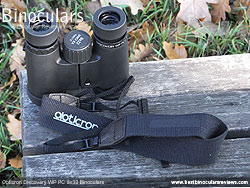 Whilst I understand that for such a small and lightweight bin, the need for padding on the neck strap is not big. However in terms of adding to the general feel and class of the instrument, it would have been nice to have.
Still as it, the simple un-padded strap is perfectly adequate in terms of function and more than enough in terms of it's strength.
The strap fixes to the bin using the standard method and you can adjust the length to suit your preferences with the sliders.
The embroidered Opticron logos are a nice touch and whilst the connectors between the thin sections and the neck sections are not real leather, they look better than most and the stitching on my sample was of a high standard and more than strong enough.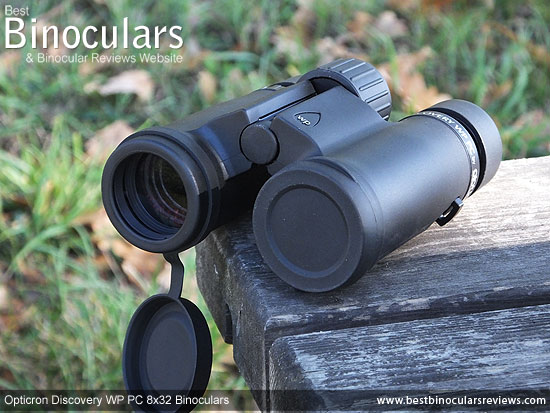 Objective Lens Covers
Simple but effective is a good way to sum up these important accessories. Made from what seems to be a soft plastic, they fit nicely over the ends of the barrels.
Like many, each cover is tethered to the bin via a second loop around each barrel. This works well as you can remove them completely if you want, but for most, they ensure the cover is always there ready to be replace when you need it. One word to mention is the connector between the cover and the lop looks quite fragile on thee and I am sure with a firm tug it would break, which is obviously not ideal.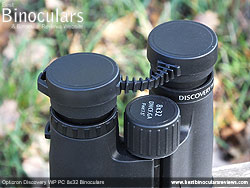 Rain Guard
Made from the same material as the lens covers, the rain guard (objective lens covers) works as it should without any fuss:
The fit is good so won't come away too easily, the flexible bridge between the cups makes it easy to replace no matter your IPD setting and there are a couple of loops so that it can be attached to the neck strap should you wish.
Simple... it works, no issues.
Cleaning Cloth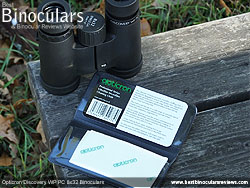 I really like the cleaning cloths that come supplied with every Opticron binocular that I have tested.
They are of a far higher in quality than the majority that I see and with care I would feel fairly comfortable using them on my lenses when out in the field.
Also nice is the wallet that it comes in, with some further instructions on how to clean your lenses.
As always I still encourage you to invest in a lens cleaning kit for the proper maintenance of your lenses and their coatings.
Instructions & Warranty Information
The user instructions come in the form of a small folded card and as with most are really basic, but the do cover the most important areas like diopter adjustment, focussing, as well as care and maintenance.
On the back cover of the card you also find the warranty card. In the UK, these come with Opticron's 5 year guarantee, whilst in North America you get the Opticron Limited Lifetime Warranty.
Extras & Attention to Detail Rating: 6/10
Opticron Discovery 8x32 WP PC Comparisons
The table below lists the most important features of these 8x32 Opticron Discovery binoculars as well as a number of similar sized instruments that I have reviewed:
Review Conclusions:
If the whole point of a mid-sized binocular is to be smaller and easier to carry about than a full-sized instrument, but not be so small that it sacrifices too much in terms of the optical performance, then I have to say that the Opticron Discovery WP PC 8x32 is just about perfect:
Strong Points: Size and weight wise, for a bin with objectives of around 32mm, these have set a benchmark that is pretty hard to match, yet alone beat.
In my experience I would say that altogether, the image quality is excellent compared to others in their size and price level, with a particular strength being just how little softening there is at the edges of the view.
The wide FOV is impressive, but the fact that they also have such an extremely close focus is awesome. This means that you can at one moment be birding and the very next observing a beautiful butterfly in all it's glory hopping about on some nearby flowers without ever having to change optics. I like!
Whilst the hard and smooth black rubber exterior may not offer the most grip I have ever come across, it does give off a really nice, somewhat understated, but classy finish to these bins.
The limited lifetime warranty that you get with these in North America is really impressive for a bin in this price range and does go to show the faith that Opticron have in their product.
Weak points? Whilst it is not a major weakness unless you are extremely tough on your bins, it is a slight shame that they don't have the magnesium chassis of their larger siblings, although this may also be one of the reasons as to why the weight has been kept to an absolute minimum.
Whilst I love the large focus wheel for it's ease of use, another really small shame for me is that it does not quite live up to the class as that of the rest of the body. Wouldn't it have been nice if it was metallic with a simple etched Opticron logo on it's rear face?
Similarly, the neck strap, whilst perfectly functional, just lacks a little in terms of it's finish and luxuriousness. Also worth mentioning is the connector between the objective lens cover and the loop that keeps it fixed to the bin looks to me to be quite fragile and would probably snap if you pulled down on it with any force.
Still I have to say that if by improving on these minor details, Opticron were to increase the final cost to cover them, I would prefer them to stay as is.
Ideal Uses: Whilst larger than a true compact binocular, the Opticron Discovery WP PC 8x32 binoculars is still small but they have larger objectives than full compacts so perform better than most, especially in sub-optimal light. They are also substantially more compact than your average mid-sized binocular with similar sized objectives and thus this relatively small size and low weight obviously makes them ideal in any situation where these attributes are important, but especially if you do not want to compromise as much in terms of optical performance as you would with a compact.
Thus I can se these being the ideal partner on all sorts of travel adventures like camping, hiking and especially on safaris. I say this because most game drives occur either in the early morning or late afternoons and just before sunset where how a bin performs in low light is important.
Add to this their impressive FOV and you have a great carry anywhere birding binocular, general wildlife bin and even a ideal partner for hunters who also carry about a load of other gear like rifles etc and so small size and low weight are important.
This smaller size, god low light performance and wide FOV also make them a good choice for most sporting events, be that indoors or out.
Take into account the very close focus, then this also makes them a superb choice as a flower, insect and butterfly binocular. Once again if you consider their larger objectives, but small size and this close focus, then I can also see them being effective at museums and galleries.