Opticron produce a large selection of binos, ranging from the very high end of the spectrum with their DBA Oasis S-Coats, to the low costing Adventurer series and in my experience having already tested and reviewed many of their products the theme of quality, but at good value runs right through their line-up.
Opticron Verano BGA HD Binoculars
To really test this "high quality at good value philosophy", I decided to take a very close look at the Verano BGA HD series that sits comfortably within their tier of higher end products (3rd in line) and currently consists of three roof prism models, an 8x32, 10x42 and the 8x42.
The mid to high value Verano range is positioned at a tricky level as they are most certainly aimed at some of the hardest to please customers: those often experienced and discerning users that demand a high performance level and are willing to spend some good money to achieve it, but who also don't have an unlimited budget to simply go for an "alpha" bin.
Below is my full Opticron Verano BGA HD 8x42 binocular review:
Summary:
Made in Japan
Open Hinge Polycarbonate Body
Water & Fog Proof
Fully Multi-Coated Optics
BaK-4 Roof Prisms with Phase Correction
Water Repellent Lens Coatings
FOV: 366ft @ 1000yds
Close Focus: 6.6ft
Twist-up Eyecups with 4 click stops
Very Long Eye Relief: 22mm
Tripod Adaptable
Lifetime Warranty (North America) 30 Year Guarantee (Europe)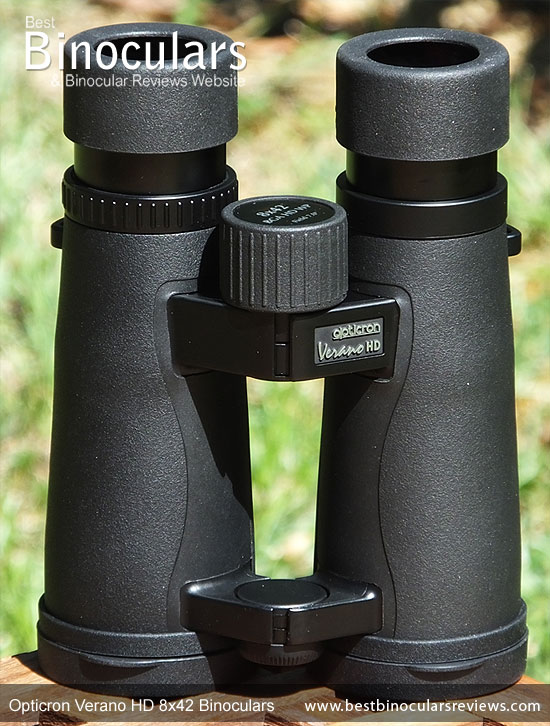 The Body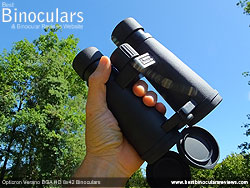 Shape
These straight through roof prism Opticron binoculars sport a double hinge with an open bridge design that has become really popular in recent times. This popularity is not just down to the visual appearance, but there are a number of practical reasons as well.
Firstly and probably the most beneficial is that this body shape offers an area where you can wrap your whole hand(s) around the barrel(s) for a better grip. This can be important if like me you often carry your bins rather than having them hanging around you neck.
Secondly this can sometimes help to reduce the body weight, but I have often seen that the need to have two robust hinges negates the use of less body material.
Chassis
Opticron do not stipulate what materials are used to fashion the main housing from, but I have managed to find out that they use a mix of both polycarbonate and a magnesium alloy on the Verano.
I am not sure exactly which is used where but both materials have their own unique properties and advantages. Polycarbonate is a common chassis material on cheap to mid level bins because it offers a good price to performance ratio and by that I mean it is a lightweight and fairly strong material.
Magnesium alloy is usually the body material reserved for mid to high level optics because whilst it costs more, it is stronger and usually gives the instrument a more refined and quality feel to them.
In a way the fact that they use both materials for the chassis is indicative of the whole binocular in that it bridges between lower costing and expensive optics.
Sealed & Nitrogen Filled
The chassis on the Opticron Verano binoculars is completely sealed and they are rated as being waterproof to a depth of 3 meters.
This is good, even if you don't plan to use them in rain or take them near water as this seal also acts as a barrier against dust etc.
As well as this, during the sealing process at the factory they extract all the air inside of the housing and replace it with nitrogen gas, which because it is a moistureless gas, it prevents the glass inside the device from fogging up. The secondary advantages of this airless and dry environment is that it stops corrosion and halts the growth of a lens fungus that you sometimes find on unprotected instruments.
Rubber Coating
Black in color, the exterior rubberized coating on the Verano is moderately thick, but also very hard. Softer more spongy coatings provide more grip and I suppose a marginally higher level of impact protection, but are not as tough or durable and you often find that after sometime, these softer rubbers will begin to perish.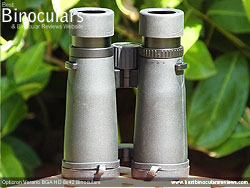 So as with almost everything there are always positives and negatives, it just depends on what your preferences and needs are. What I do like is that the fit of this armour is very tight, I have seen on occasions that some tend to slip around over the chassis which is obviously undesired.
This tight fit and hard coating also gives the Opticron Verano BGA HD 8x42 binocular a robust and high quality look and feel to the exterior that is easily on a par with top tier instruments.
The underside of the Verano is very clean and simple, lacking any detailing or thumb indents that you often see.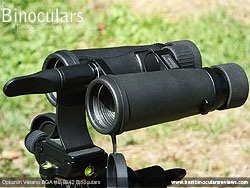 Tripod Adaptable
The good news for those interested in digibinning or who need the steadiest view possible is that these are tripod adaptable.
By this I mean the Opticron branded dust cap positioned on the front hinge can be unscrewed. This threaded recess can them accept most tripod adapters, which in turn will fit onto your tripod.
Eyepieces & Cups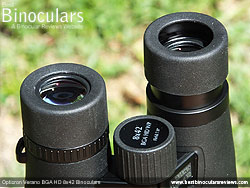 The area around the eyepieces is the most commonly damaged part on a binocular and so it is good to see that Opticron have opted for the higher specification eyepiece housing made from metal.
Not only is this more durable than the commonly used plastic housings, but the feel you get as you twist up and down the eyecups is far superior and these give off a very satisfying metallic clunk as they reach each of the fixed stops.
I feel that this excellent twisting mechanism and the massive 22mm of eye-relief on the Verano is well worth highlighting and dwelling over for a moment as it is that good.
With zero free play or undesired looseness in any direction and a total of four click stops (two in between extended and retracted), you get plenty of flexibility and pretty much everyone, including glass wearers should be able to find the perfect individual setting to enable a full view without any dark rings on the edges. The long eye-relief also helps in terms of comfort, for example it ensures that your eye-lashes will not come into contact with the lenses when blinking.
Like the body, each eyecup has a rubber coating and like the body, this is fairly thick, but also quite hard. Whilst it is true that softer rubbers can be a little more comfortable against your face, they also tend to be less hard wearing and will perish more easily. For my money, I think Opticron have got it about right as I did not have any issues with comfort whilst using them, this could also partly be down to the large diameter of the eyecups (43mm).
Inter-Pupillary Distance (IPD)
By opening and closing the hinges you can alter the distance between the eye-cups so that they line up with your eyes. This Inter-Pupillary Distance adjustment range on the Opticron Verano HD binocular is excellent as the maximum is 7.4cm and the minimum is only 5.6cm meaning that these will be able to adjust to most people, including older children.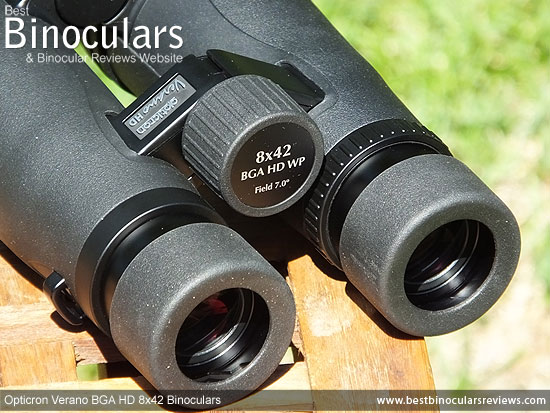 Focus Wheel
The large 31mm diameter (22mm depth) focus wheel is well positioned and thus easy to reach. I also like that as well as having a grooved rubber track, it is also situated quite high above the eyecups. This prominent location and a very smooth action meant that I had no problem making fine focus adjustments whilst wearing really thick gloves.
As well as a smooth action, it is also worth noting is that there were no sticking points or any free play on the wheel or the mechanism right from one end of the focus plane to the other.
Speaking of which it takes 1½ turns (540°) to go form the minimum near to the maximum far focus, which is what I would describe as being moderately geared and offers a nice balance between ease of fine focus adjustments and speed between large changes.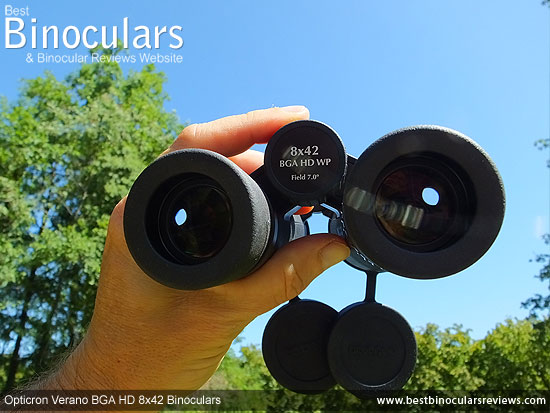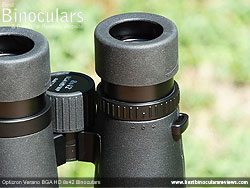 Diopter
In order to correctly set up your binoculars so that it makes allowance for any difference in vision between your eyes, these Opticron binoculars have a diopter which when moved changes the focus on one eyepiece independently of the other.
Located in the traditional position on the right eye-piece, you simply adjust it by turning the ring. Whilst the ring on these bins is tight enough so should not move too easily by accident, it lacks any sort of locking mechanism that the best diopters feature.
Also absent is any sort of a scale or different markings which makes it easier to identify your personal setting and return it to that position should it get moved which is a shame, but a common oversight. Tip: An easy way to rectify this is to make a mark with a knife or permanent marker.
Body Quality Score: 7/10
Weight
I measured the weight of my sample Opticron Verano being 747g with the objective lens covers attached and 721g without them, whilst Opticron advertise their weight as 739g (26oz). Whatever the case, the difference is very small and as you can see below places them around mid table and on a par with many other open bridge 42mm bins with a magnesium chassis:
Dimensions
In terms of their actual dimensions they are perhaps a fraction on the large size when compared to the majority of other 42mm bins. However the differences are areally small and not something that you really notice by simply looking at or holding them.
Body Stats Score: 7/10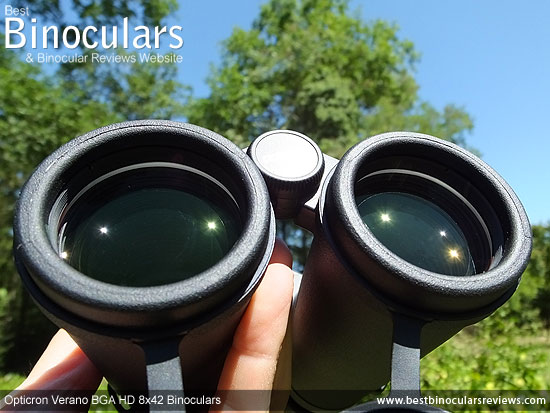 Optics
Lenses
Somewhat interesting is the fact that these Opticron Verano 8x42 HD binoculars have ocular lenses with a 24mm diameter, which is on average about 3mm wider than the majority used on full sized bins that I review, with only the Minox BL 8x44 HD Binoculars having ones that ate 1mm wider.
As for their design, Opticron like most manufacturers, do not offer any information.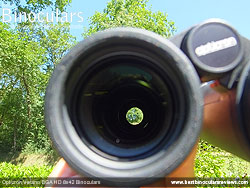 As their name suggests, these have objective lenses that have a diameter of 42mm, which for a full sized binocular is the most common size.
The lenses are set at a depth of 11mm inside the ends of each barrel. This is nice and deep and provides them with plenty of shelter and protection.
I have read that having deep set lenses like this is like having a lens hood used on higher end cameras and spotting scopes and which helps prevent effects like lens flare from occurring.
Once again Opticron do not go into any detail as to the specific makeup of the components of these lenses so I can't comment.
No ED Glass
What I can say is due to it not being highlighted, the Opticron Verano HD almost certainly does not have an extra-low dispersion glass (ED) element contained within their lenses.
Used correctly in a well designed optical system, ED glass can reduce some types of aberrations and thus help produce an image that has a higher resolution and less color fringing. However this does not mean that those without ED glass will automatically have a lower performance in this area. Indeed I have often observed a view though a non ED glass bin that I thought was as good or even better than many average or even good ED glass and many display the same levels of color fringing.
For more on exactly how these perform, take a look below at the section on Image Quality.
Prisms
Rather annoyingly Opticron proudly announce that the Verano uses 'PGK' glass prisms, but then do not add any explanation as to what PGK actually stands for or means and as of yet, I have not been able to find out. My guess is that it is a company or trade name that makes the prisms for them, rather than being a type of glass.
What is for certain is that they use the roof prism design to upturn the image inside them, which is most probably made from BaK-4 glass.
Optical Coatings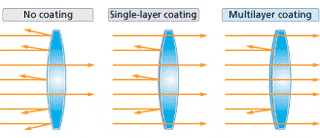 Anti-Reflection Coatings
As you would expect at this level, Opticron Verano binoculars are all Fully Multi-Coated which implies that every optical surface throughout the entire optical pathway has a treatment of multiple coatings of anti-reflection material.
As is demonstrated by the illustration on the right, this makes a big difference to the transmittance levels when compared to lower quality optics that are either Multi-Coated (multiple coatings on some surfaces) or Fully-Coated (single coating on all surfaces).
Prism Reflection Coatings
One surface on a roof prism does not reflect all of the light that hits it, this lowers the transmission levels which negatively affects image brightness, color reproduction as well as clarity. To improve this layers of a highly reflective material can be added to these prism surfaces.
Due to it's lower cost, Aluminium is often used on cheaper bins, whilst may higher end optics will have Silver mirror coatings and the very top end you get dielectric coatings that have the highest level of reflectivity, but also cost the most.
Opticron are keen to highlight in their marketing that these Verano's contain their very best proprietary prism coatings which they call "Oasis" and which they use on their top end products. Consisting of 64 separate layers, essentially Oasis is their own recipe of dielectric mirror coatings and which as they say has a reflectivity of more than 99% that puts them up there with the very best.
Phase Correction Coatings
Whilst it has numerous advantages, one of the downsides to using a roof prism in a binocular is that as the light reflects off the surfaces, the individual waves of light move slightly out of phase with each other. If left unchecked the result is a view that is less sharp.
The good news is that Opticron Verano BGA HD 8x42 binoculars are phase corrected which is achieved by adding a number of special coatings to the prism surfaces and thus will produce a higher definition image than those that are not corrected.
Glass & Coating Comparisons
Optical Components Score: 7/10
Optical Stats
Field Of View (FOV)
As you can see via the table below, with a FOV of 366ft at 1000 yards (122m @ 1000m), the view through these is reasonably wide for bin of this size with an 8x magnification and whilst it may not equal the widest, it is more than adequate for all other than those who are specifically after a very wide view.
Eye-Relief:
With a massive 22mm of eye-relief, these are up there with the longest eye-relief binoculars. Add to this their great quality eyecups with 4 click stops and you have a class leading bin in this area and an ideal choice for those eyeglass wearers.
Close Focus
Here at BBR we rate any bin with a close focusing distance of 6ft or less as being excellent in this area. So at 6.6ft the official minimum focus is very good, making these a good choice should you also like to occasionally use your bins for the close observation of things like butterflies, flowers etc.
I'd also like to highlight that whilst Opticron give a figure of 6.6ft as the minimum close focus distance, I feel that if the sample that I was using is the norm, they are really doing themselves an injustice in this area as I measured their actual close focus as being a much nearer 1.5 meters / 4.9ft, but have had to score them on their official measurement!
Optical Stats Score: 8/10
Image Quality
For this test, I compared the view through these 8x42 Opticron Verano BGA HD binoculars with that of my benchmark 8x42 binoculars both in good as well as poor light:
Colors & Contrast
I have no issues with either the colors or the contrast of the image that the Verano produces as in both areas they look and feel completely normal, which is a good thing. Whilst there are some bins that may produce what looks like more vibrant colors, this can seem a little artificial and you often pay for it with a slight loss in the graduation between dark and light areas.
Image Brightness
With bright ambient conditions, I could not notice any difference in brightness between these or the mid and high end benchmarks. This is a good thing as it demonstrates that with the large 5.25mm exit pupil supplying your eyes with more than enough light, the quality of the optics and it's coatings is not a limiting factor.
At and just after sunset, these Opticron Verano binoculars were once again to my eyes, a match for my high end 8x42's which is excellent and thus I rate them highly in this area.
Color Fringing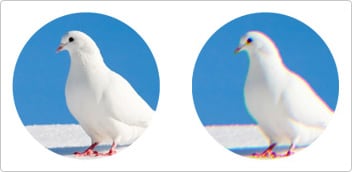 As with most bins I test, under extreme conditions, like looking at the edges of a dark tree branch against a bright sky, a small amount of color fringing was evident.
However this level is perfectly acceptable and indeed no more than many binos that use extra low dispersion (ED) glass elements in the lenses that are specifically designed to reduce chromatic aberrations which cause this fringing.
Image Distortions & Blurring
Even whilst actively searching for them, at no time did I become aware of any abnormal distortions or anomalies of the view and to me it looked nice and flat.
In my experience the level of blurring at the image periphery is also very low and in this area they are well above average.
Score for Image Quality: 8/10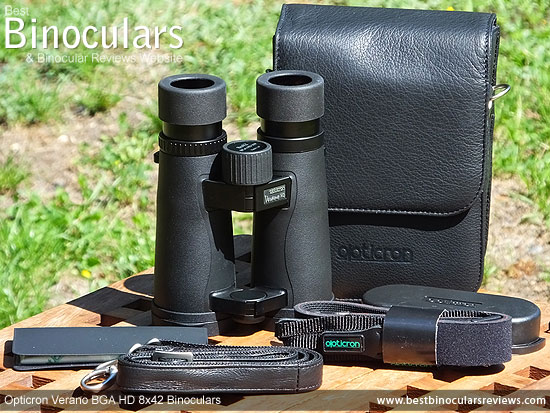 Included Accessories:
Opticron include the usual accessories with the Verano: A carry case, neck strap, rain guard, lens covers, user manual and warranty card:
Carry Case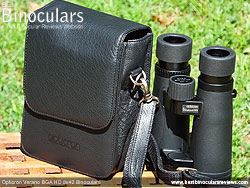 Whilst the somewhat old fashioned and I would say less sporty styling may not be everyone's cup of tea, there is no denying that the genuine leather Opticron carry case is extremely well made from high quality materials.
The leather feels nice and supple, the stitching is excellent and the metal strap connectors are far better than the plastic ones that you usually see.
Likewise the leather and nylon backed carry strap is equally well made, is adjustable in length and the metal quick release clips and slider are definitely an upgrade to the majority that use plastic.
The padding inside for me is a little on the light side, but the bins fits nicely without being too loose or tight and you can easily close the flip over lid with the rainguard on and without having to twist down the eye-cups on your bins which is good. This lid is held closed via a magnetic clip. The advantage of this over ones that use either Zips or Velcro is ease of opening and closing and that it makes almost no noise when you do so which can be important. On the down side the closure is not quite as secure as the other methods.
There are no separate pockets either on the inside or outside.
The bag does not have a belt loop on the rear, but does have secondary connector loops who's position indicates that you can use the carry strap around your waist, although I did not try this out.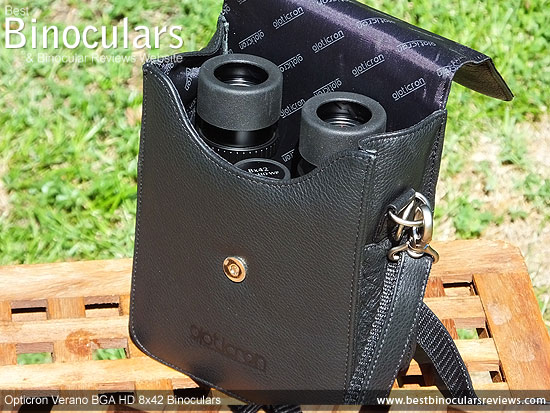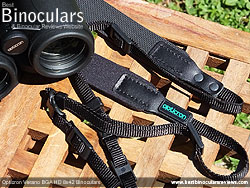 Neck Strap
Whilst perhaps not the most sophisticated or refined looking neck strap I have used, I really do like the one that is included with the Verano.
Made from neoprene, the padded section is only 2.7cm wide, but is 5mm deep and very spongy making it extremely comfortable.
I also like the fact that it is slightly elasticated as this has a slight dampening effect, reducing the jarring when for example you are walking with the bins around your neck but not holding onto them.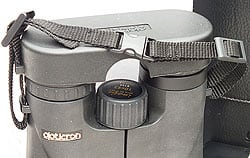 The strap fixes to the body of the binocular in the standard way by threading the thinner nylon section through the eyelets on the sides of the instrument and then back on themselves and through a slider so that you can adjust the length.
What is different is that this section has a couple of quick release clips on it. This means that you can easily remove the padded section of the neck strap and then either click the two shorter cords together to form a hand strap, or attach it to a different accessory, like a binocular harness for example.
For me it is also useful when I want to fix the binocular to my tripod and do some digibinning as I can quickly and easily remove the neck strap so that it does not get in the way.
Lens Covers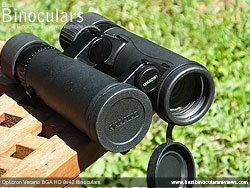 With a reasonably tight fit and loops that enable them to remain attached and hang down completely out of the way under the optics when binning, the Verano lens covers perform well enough and indeed are equal to many out there.
So perhaps I am being a little harsh here, but for me they don't quite match the high standard set by the instrument itself and are just lacking a little in the finesse department when compared to the very best.
For instance these fit over the barrels, whereas ones that fit into the ends of the barrels almost always just look a little cleaner and more expensive, even if the performance is no different.
Then there are the rubber connector loops that just look and indeed feel a little flimsy and I doubt it would take that much effort to break.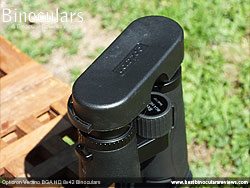 Rain-Guard
This one piece design of rain-guard works well enough when fitted correctly, but in my opinion the design is somewhat flawed.
For it to "fit correctly" and thus have a secure grip onto the eye-cups so that it does not fall off, you need to fully open the hinges of the binocular. Apart from being a small inconvenience, this is not a major issue when you are looking to store your bins for longer period of times. However if like me, you like to have your binoculars ready and waiting at all times, it makes no sense and wastes time having to re-adjust your IPD (inter-pupillary distance) setting every time you want to use them.
On top of this, this one from Opticron is fashioned from a rather cheap looking plastic, which for me really detracts from the very high quality displayed by the bin itself, which is a shame.
Far better designed rain-guards have well fitting cups for each eye-piece that are then connected together via a flexible bridge so that you do not have to open the hinges to replace it.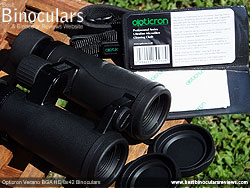 Cleaning Cloth
The majority of bins, including many of those within this higher bracket come with cleaning cloths that look to me to be a little more than an afterthought and whilst all are adequate for cleaning the body, I don't usually recommend that you use them for thorough lens cleaning.
The "Opticron Professional series microfiber cleaning cloth" is different and much better than most in that it is in no ways an afterthought. Indeed it has been designed specifically to be used on the coated lenses of your bins, cameras and scope etc.
However, as good as it is, I would still suggest that you invest in a specialist lens cleaning kit as this will also include things like a blower and cleaning fluid for the best results without fear of damage.
Manual & Warranty Info
In North America, these Verano's come with their Lifetime Warranty and here in Europe, they are supplied with Opticron's 30 Year Guarantee. Details of which and the card are included within the User Instructions.
The User instruction card is basic and somewhat generic in that it covers all of their binoculars and monoculars and is directed at the novice. However it does contain all of the most important info, with topics like adjusting the IPD to get a "single" picture, changing the focus for "maximum sharpness" and how to "set the binoculars correctly" with the diopter. Also covered is care and cleaning, which is also covered in more detail on a card that comes with the cleaning cloth.
Extras Score: 8/10
Opticron Verano HD 8x42 Comparisons
As a quick reference point to help to establish some of their relative strengths and weaknesses all in one place, I have included a table below that lists all the main features and specifications of these and a number of other similar sized 8x binoculars that I have reviewed in the past:
Review Conclusions:
For a pair of binoculars in this price level you will justifiably be expecting a really high quality instrument that offers something more than those located in the mid level and for the most part I think that these Opticron Verano HD 8x42 binoculars do deliver on these expectations:
Strengths: Overall they look and feel extremely well made and you really do get that satisfying feeling that you are holding a precision instrument in your hands when using them.
Image quality and brightness is excellent and in my opinion as good as any in this size and price level.
The very long 22mm of eye-relief, metal eyepiece housing and excellent quality twist-up eyecups with 4 click stops is superb and will especially please those who wear glasses when binning and is an area where these really do stand out from most of their peers.
Sure there are some 8x bins with a wider field of view, but these will be compromised in other areas. I think with the 8x42 Verano HD you get a well balanced pair of optics in that they have a good FOV, excellent close focus, depth of view and long eye-relief.
Whilst only subtly different to most neck straps that I come across, I really do like the small details of the super padded, slightly elasticated padded section, this combined with the quick release clips that allow you to quickly detach it and covert it into a hand strap should you wish, is another sign of the attention to detail that runs throughout the instrument.
Sticking with this theme of attention to detail, the included micro-fiber cleaning cloth is of an excellent quality and superior to most supplied cloths.
Weaknesses? In terms of their main specifications and their overall design and build, I really do think that these do not have any major deal breaking weaknesses, but there are a few small points to mention:
For me both the objective and eyepiece covers do not match the quality of the actual instrument. The objective covers work well enough, it is just that they look a little cheap and the tethering loop looks to be somewhat fragile. As for the rainguard, this design is for me flawed in that unless you store the bins with the hinge open, it comes away too easily and whilst it is not a major thing to do it every time, you should not have to.
From a marketing point of view these may suffer in that they don't posses ED glass elements, but remember that whilst they don't have EXTRA low dispersion elements in the lenses, they will still have low dispersion glass and in my opinion displayed the same level of color fringing as many mid to high level bins with ED glass. It must be said however that whilst not bad, this level is still a little more than the almost zero amount of color fringing that you get on the very best binoculars.