A compact binocular that splits into a pair of monoculars, that you can then convert into a 16x spotting scope! The Pentax VD 4x20 WP is a set of optics that the Transformers would be proud of, and in this review I test them to see just how good they really are:
Binocular vs Monocular
A few months ago I put together an article and accompanying video where I compared a compact binocular to a small monocular to see if we could discover which was the better option for different uses, users, and in different situations.
I highly recommend you take a look at that as well as I will be leaning on much of that information in this review, but in a nutshell, I would say that we drive upon the conclusion that neither instrument was simply better or superior to the other, rather it was more about selecting the right option depending on the intended use.
This is all well and good if your intended use and the overall conditions remain the same, but in my experience, this is rarely the case.
Well, what if you could have your cake and eat it and by this I mean you didn't have to choose between them?
Pentax VD 4x20 Binocular & Monocular Review
Part of the V-Series of innovative and rather ingenious optical products from Pentax, this instrument promises just that and indeed more as not only does this binocular split in half to form two monoculars, but they can then be mounted end-on-end to form a mini 16x spotting scope! So in this review, I will take a look at each aspect to see just how well they deliver on this promise.
Specs & Features at a Glance:
Mid-High End Compacts: Approx: $249 / £244 / €245
Body

True Pocket Sized Design
Detachable Single Hinge Body with Metal Bridge
Converts from a Binocular into two Monoculars or a Spotting Scope
Fully Waterproof (JIS Class 7)
Individual Focus Adjustment
Twist-Up Eyecups

Optics

Fully Multi-Coated Optics
Roof Prisms incorporating both Bak4 and BK7 Glass
Phase-Coated
Super-high-reflection Dielectric multi-layer coatings

Optical Stats

Ultra Wide FOV: 1525ft @ 1,000 yards / 175m @ 1,000 meters
Ultra Close Minimum Focus: 0.5m /1.6ft
Eye Relief: 19mm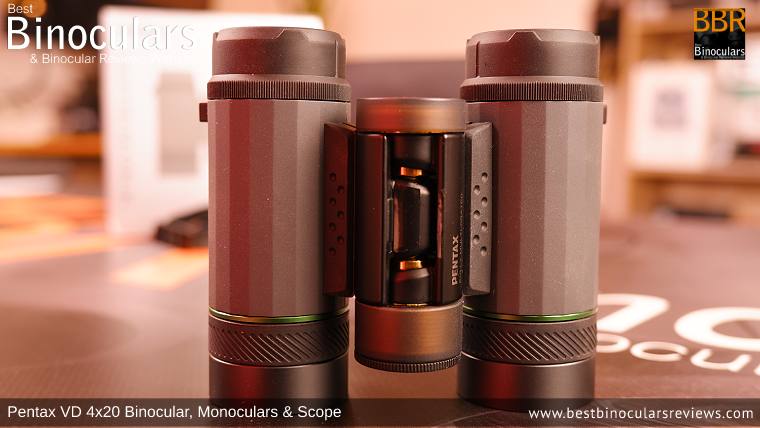 Body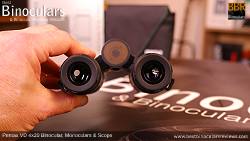 The main selling point of just about any compact device and this includes binoculars and monoculars is that they are small and usually lightweight, thus making them easier to handle and take about wherever you want to go and so this is where I will begin:
The beauty of these is if by any chance, you deem the binocular (which is tiny anyway) to be too big for your needs, you can just break it in half and simply carry about one of the monoculars.
Size as a Binocular
As you can see in the table below and included comparison images, as a binocular and comparing them against others in this compact size class, they are to date one of the most compact, compacts that I have ever come across!
Note that, I measured those dimensions that you see in the table in what I would class as their most natural state, so with the central hinge fully open.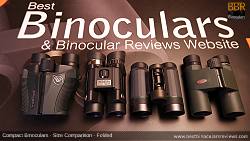 If you fold them up by closing the hinge as you would when carrying them, this increases the depth/height to about 6cm / 2.36 inches, but the width reduces to just 9cm / 3.54 inches.
Also note that by fully twist out the eye-cups, the overall length of these Pentax VD 4x20 WP Binoculars increases to 10.2cm
Either way, the very small 20mm objective lenses and a very short body mean that even though they have a single hinge and not a double hinge design, they are still easily able to fit into most jacket pockets making them in my eyes a true pocket-sized binocular.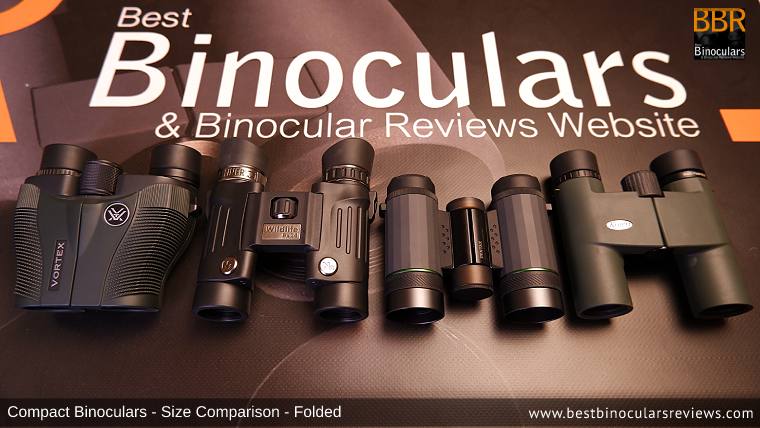 Size as a Monocular & Spotting Scope
I don't want to over-egg the point here, so will make this brief: As a monocular and indeed a spotting scope, they are once again extremely small in comparison to most of the direct competition, and thus no matter what state you are referring to them as, if compactness is important, then these will be tough to beat.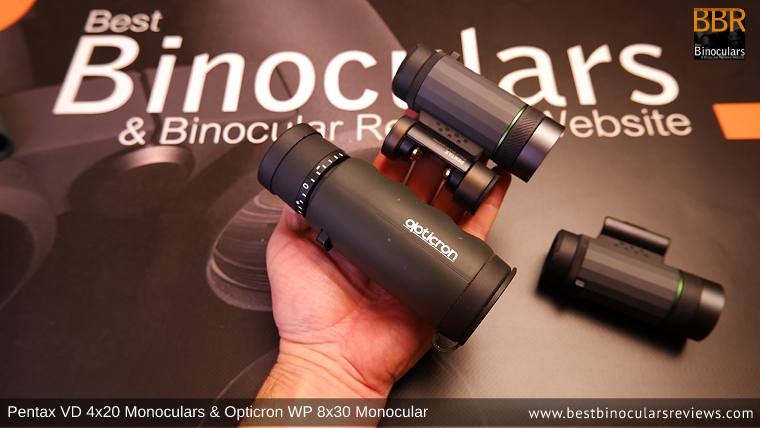 Weight
Interestingly, as small as they are, you can also see in the table above, in comparison to other compact binoculars, they are actually amongst the heavier instruments out there.
This is not excessively so and unless you are into something like ultra-lightweight backpacking or bikepacking, I doubt it would be of too much concern to most users, indeed I found that this gave them a nice solid, robust feeling which is often lacking in a very lightweight and often very cheap plastic binocular.
In fact, much of their weight comes from the fact that whilst some of the body is made from resin materials, Pentax has used two types of metal (Aluminium and Brass) for the center of the body (connecting part ).
They tell me that using two different metals, has the effect of absorbing the impact when they are connected back together and it is indeed crucial that this area of the instrument is very robust.
Body Stats Score (for a compact binocular): 9/10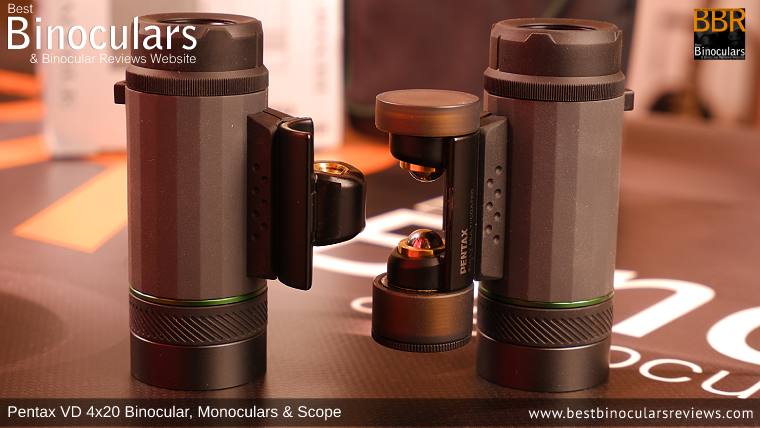 Central Hinge & Splitting Mechanism
I have to say that before receiving them, this is the one area of the Pentax VD 4x20 WP Binocular / Monoculars that worried me as no matter how good the optics were, had Pentax not got this part right, it would have been an instant deal-breaker.
Well, the good news is not only did they get it right, but the way that they have achieved it is genuinely excellent as not only is it very simple and quick (once you know how) to separate and put the barrels back together, but to me, it looks like a very robust system that I feel should last.
The first time I pulled them apart (which I did live on camera in the unboxing video), I have to say it was for me a strange experience to purposely try and pull a binocular apart, and so I was overly timid and worried that if I did something wrong they would be damaged forever.
However, once you know how it works, it becomes clear just how ingenious the spring-loaded bearing system is and indeed just how robust it is and so to damage them by accident would probably be quite difficult.
Inter-Pupillary Distance (IPD) Adjustment
I also really like how this system results in the central hinge working and feeling exactly like a standard pair of binoculars and thus adjusting the IPD to match the distance between your eyes is no different than normal.
Speaking of which, with the hinge fully open, the Pentax VD 4x20 WP Binocular has a maximum IPD setting of 7.4cm, which with it fully closed, the minimum is about 5.5cm, which is a pretty standard range and means they should accommodate most users.
Focussing
One area of these binoculars and indeed the monoculars that is somewhat different from the norm is when it comes to focusing.
As the Pentax VD 4x20 WP splits apart, they obviously could not have a single centrally located focus wheel as you would find on most binoculars.
Instead, they incorporate a focus adjuster on each barrel. Many binoculars actually do have a similar system and are often referred to as Individual Focus Binoculars and are often used for marine and astronomy binoculars amongst others, however, these are basically just double diopter adjusters located on both eye-pieces.
The difference with this Pentax is that the ring you use to adjust the focus is at the end of the barrel and turning them pushes what I will call the objective lens backward and forwards and not the eyepieces.
However, once I got used to where they were located, adjusting the focus was not really any different than on a "normal" individual eyepiece focusing binocular.
One point I would mention however is that the focusing rings are quite narrow and whilst they do have a rubber track, their profile is the same as that of the barrels. This looks great but does make them a little hard to locate and then adjust with gloves on, which is something to keep in mind should you often use binoculars in winter or looking for an instrument for activities like skiing.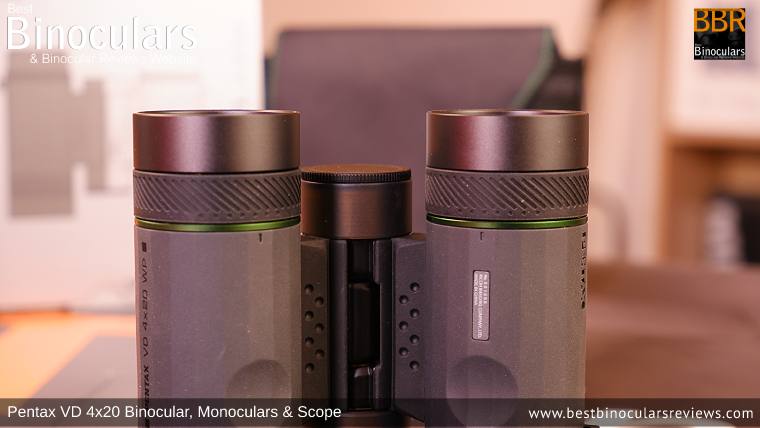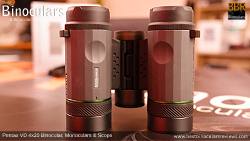 Rubber Armor Coating
The barrels on the Pentax VD 4x20 WP Binoculars have a very thin rubber coating and so will only offer a very minimal amount of impact protection, however, its velvet-like texture certainly improves the grip levels, and for this reason, is a welcome addition.
Whilst a very minor point, the two thumb indents on the underside of the body show good attention to detail from Pentax as they just add to the comfort when holding them as well as just encourage you to hold them in the right way and in the right place.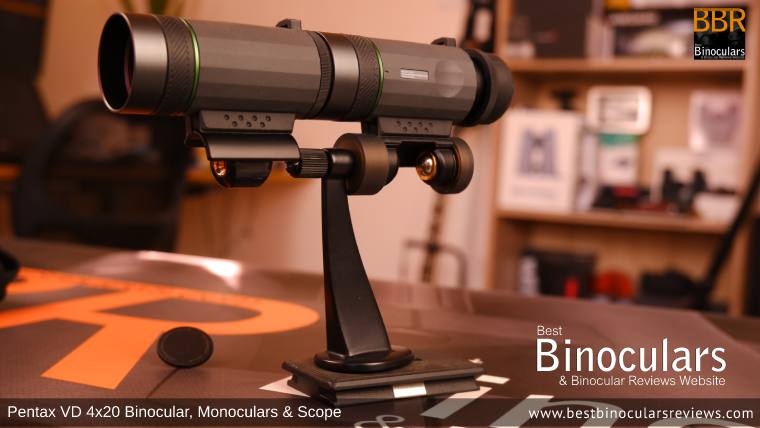 Tripod Adaptable
As a 4x binocular and the resulting very stable view you get with such a low magnification, unless you were using it for digiscoping, it would be unlikely that you would want to mount the binocular or indeed the monocular onto a tripod. However, even though it is quite possible to use it from the hands, when converted into the 16x Spotting Scope it certainly helps make it a worthwhile thing to do if you want to eliminate image shake and thus be able to better study the detail of a highly magnified image.
The good news is attaching the Pentax VD Binocular, Scope or indeed one of the monoculars to a tripod adapter is very easy and is done in the usual way by removing the dust cap from the central hinge and then screwing in a tripod adapter using the standard thread.
Environmental Protection
The Pentax VD 4x20 WP binoculars and thus by default, each of the monoculars and the spotting scope have a waterproof construction, which is rated at JIS Class 7 meaning that they protected against immersion of water at a depth of one meter.
This is great because whilst this is a common feature on most modern full-sized and mid-sized binoculars, for whatever reason, it is less so on compacts.
If you don't go out in the rain or are not planning to use them whilst kayaking, you may think that this is not an important feature for you however, just keep in mind that these seals also prevent tiny particles like dust from getting into the chassis with the potential of ruining the view.
No Fog-proofing
So whilst fully sealed, I did get confirmation from Pentax that they are not filled with a moistureless gas like nitrogen or argon, and thus the internal optical surfaces maybe a little more susceptible to fogging up, however at the time of writing, I have yet to have any issue with this. I will of course update this should this change.
Eye-Cups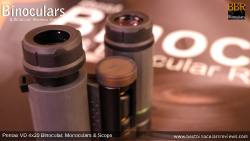 Many compact binoculars use the far simpler fold-down design of eye-cup, which is probably because they are less complicated and cheaper to make, but in return, you get far less flexibility in how you are able to adjust the eye-relief to your specific requirements.
In contrast, the Pentax VD 4x20 WP incorporates twist-up eye-cups, and not only that, the ones on this tiny instrument are great:
The mechanism is excellent and there is almost no undesired free play of the cup that I quite often find.
You also get three click-stops (1 intermediate), which when combined with an impressive 19mm of eye-relief means you should be able to find the right level of eye-relief for your particular face shape, with or without glasses on.
However, one point I would like to mention here is that for me and my face shape, I found that the eyecups did not extend out quite far enough and so for me to get the best view, I found myself hovering just behind the cups instead of pressing my eyes up against them.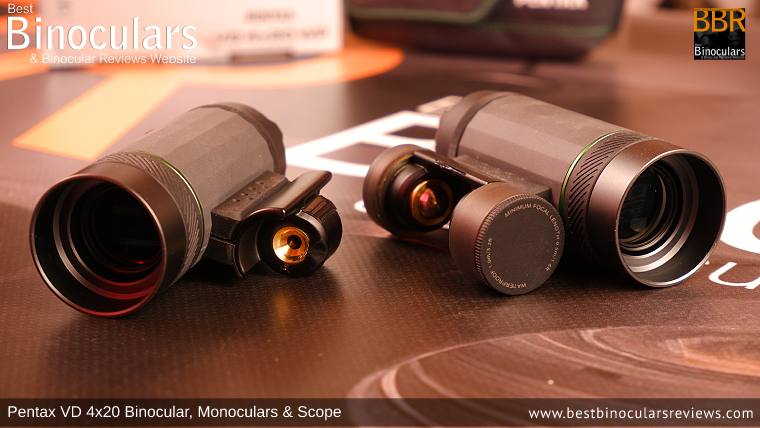 Body Quality Score: 8/10
Optics
As a binocular, or when split in two as a pair of monoculars and as the name suggests, the 4x20 Pentax VD magnifies the view by 4x.
When you then convert the two monoculars into the spotting scope and look through it, you are now looking through both the 4x eyepieces, and thus the image it produces gets magnified by 16x (4x4).
These two vastly different magnifications greatly affect the view and overall experience and thus I will separate them in the review of the optics and the image that they produce below:
4x Binoculars & Monoculars
Contrary to what most people assume, when it comes to the magnification on binoculars and monoculars for the majority of uses, more is very often not better.
So unless you specifically need a device for viewing extremely long distances, then something like an 8x or perhaps 10x binocular is often regarded as a good compromise between achieving enough image detail, but at the same time being able to deliver a wide view that is bright even in low light and is also easy enough to keep steady and shake free from the hands.
At just 4x (as a binocular or monocular), there is no denying that even when compared to the average, the magnification on this Pentax VD Binocular/monocular is very low and quite extreme.
So let's take a look at how this affects the instrument, the view, and what type of uses and users this will be good and bad for:
Image Detail
First off and just to point out the completely obvious, if you are looking for an instrument that can provide you with a high level of image detail at long-range, then these are not for you. However, for what I would describe as most "normal" or day-to-day types of uses, where you are generally observing objects at closer distances, like viewing birds and wildlife in the backyard, on country walks, or in woodlands and forests, then I have found that in many cases a 4x power is perfectly sufficient and the added benefits it brings in these situations certainly outweigh the slight loss in image detail when compared to an 8x or 10x compact binocular for example:
Image Steadiness
Firstly, any movement you make when looking through a binocular or monocular gets magnified by the magnification and this is one of the biggest problems with high powered binoculars, because whilst in theory, the highly magnified view can give you a very detailed image at distance, any tiny movement you make with your hands causes a relatively large amount of image shake and thus you cannot actually get to see that detail unless you mount the binocular onto a tripod or get a binocular with an onboard image stabilizer.
In sharp contrast, the view you get through these is incredibly stable, even when comparing them to a 10x or fairly moderate 8x binocular, the difference is instantly noticeable.
So yes, the image you see through these Pentax binoculars is not as large, but because there is almost no shakiness to it, I have found that in some instances at shorter distances, I can actually see some details better due to the lack of movement.
Extremely Wide Field of View
A lower magnification or less "zoomed in" image means that you will also naturally get a wider view of the world when looking through them. Once again, this offers up several benefits. Firstly when scanning the horizon, a wide view makes it easier to find a point of interest, just so long as what you are looking for is not too small.
At closer ranges, a wide view makes it much easier and often quicker to locate your subject. Then in the case of small fast, erratic moving subjects (like birds, butterflies, and other small wildlife), a wide view makes it much easier to keep them in your field of view even when they are moving about.
This is why for locations like forests or woodlands, where viewing distances are usually relatively low, a binocular or monocular with a reduced magnification is an advantage.
Low Light Performance
The small objective lenses that capture less light than binoculars with larger ones mean that any sort of compact binocular is never going to be considered the ideal device to use in low light conditions.
However, the combination of excellent quality optics, optical coatings, and the low 4x magnification results in these potentially producing a much brighter image in low light than other instruments in this compact size class and this is exactly what I observed when testing and comparing them.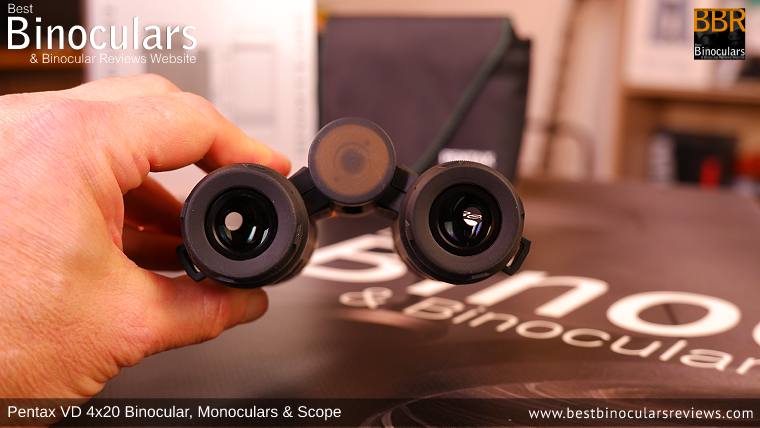 Exit Pupil Size
Much of this can be explained by the relationship between the size of the shafts of light exiting the ocular lenses known as the exit pupils and the size of the pupils in your eyes.
I have an in-depth article on everything you need to know about this relationship between your pupil size, the exit pupils, and prevailing light conditions that I highly recommend you look at, but in brief, the exit pupil size comes as a result of dividing the aperture or in this case the objective lens size by the magnification.
Therefore a 4x20 binocular (or monocular) produces exit pupils that are 5mm which is relatively large, especially for a compact binocular. For example, an 8x26 produces 3.25mm exit pupils, an 8x25 has 3.125mm and a 10x26 has only 2.6mm exit pupils.
In good or even average light conditions, your pupils will be quite small and thus all three configurations will be capable of supplying your eyes with enough light for you to perceive a bright image.
However, in low light like when the sun had dropped towards the horizon and the pupils in my eyes had now become dilated, this was where the larger exit pupil began to make a difference and to me, the Pentax VD 4x20 WP binocular had a noticeably brighter image than both the 10x26 and 8x25mm binoculars that I was comparing them against.
So for low light uses, be that early in the morning, late afternoon, or in thick forests, this is certainly an advantage and well worth keeping in mind if you think you'll be using your compacts in these situations.
Ease of Use
This incredibly steady image, ultra-wide view combined with a large exit pupil that is easy to line your eyes up with all add up to make for a binocular or monocular that is extremely easy to use and enjoy. These aspects also make them ideal for the younger or less experienced user or perhaps even an elderly person or indeed anyone with unsteady hands.
Another ideal use for these and their low power would be on any sort of unsteady platform, so for example a boat or kayak. However this I imagine would be more useful on small rivers or dams as opposed to the open water at sea where viewing distances are likely to be greater.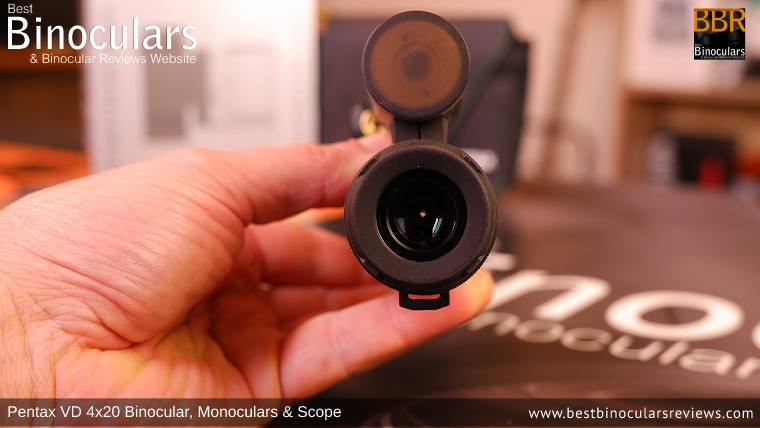 16x Spotting Scope
When you convert the Pentax VD into a spotting scope, it is not just the body shape that changes, but because the magnification goes from 4x to 16x, the characteristics of view are altered in many ways:
Image Stability
Whilst it is still usable from the hands, the much higher 16x magnification makes it noticeably harder to keep the image still and shake free, however, the scope is very easy to fit onto a tripod using a standard tripod adapter and is something that I would recommend doing if you plan on using it in the state often or for long periods.
Exit Pupil
The exit pupil also goes from a large 5mm right down to a very small 1.25mm in size. This has the effect of greatly reducing the image brightness in low light conditions as this shaft of light exiting the eyepiece is far smaller than what the pupils in your eyes will be dilated to.
Due to these main reasons, I personally would not consider them as a primary use spotting scope and would only use it in this way for short periods or if I was going on a very lightweight backpacking trip or something like that.
If it is a compact scope you are after as the primary use, then I would suggest that to be truly effective and allow you to fully enjoy the view, you will need something a little larger - so something like the Hawke Endurance 12-36x50 is a good example of a compact spotting scope.
As well as these main points above, because you are far more "zoomed-in" are presented with more image detail for sure, but also a far reduced field of view with brings with it a number of downsides.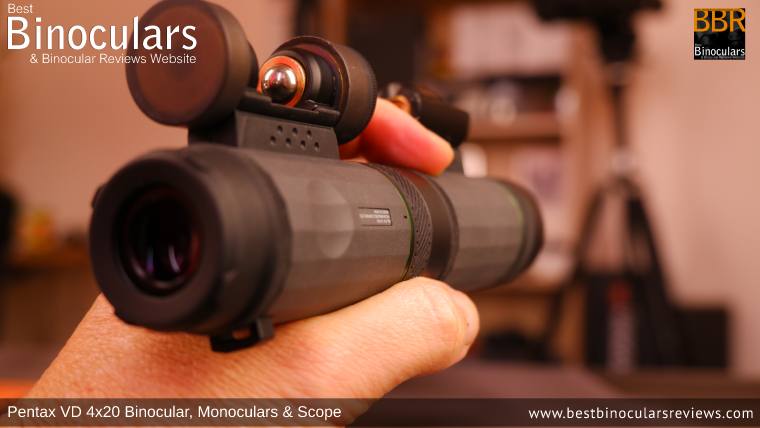 Optical Coatings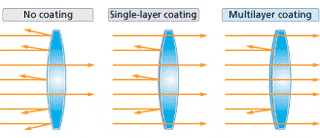 Anti-Reflection Coatings
The level of Anti-Reflection Lens Coatings is in my opinion one of, if not the most important things to look for when buying binoculars and so it is important to note that the Pentax VD is Fully Multi-Coated:
This is great and exactly what we want to see as here the exact wording is important because the makers of lesser quality instruments will highlight that they are Fully Coated or Multi-Coated, which is not the same and the image will be noticeably inferior to an equivalent Fully Multi-Coated instrument.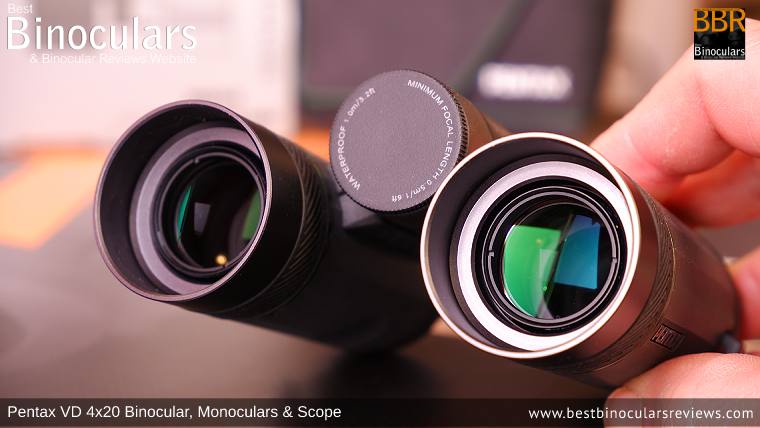 Prism Glass & Coatings
Pentax uses both Bak4 and BK7 glass for the roof prisms which have also been phase-coated to prevent the problem of phase shift where the individual wavelengths stepping out of phase with each other as they pass through the prism. The result is a better image resolution and contrast.
Even more impressive for a compact and especially at this price is the fact that the auxiliary prism has a dielectric multi-layer mirror coating applied to it this super-high-reflection surface has the effect on improving the level of light transmission for brighter images as well as improving image quality by reducing flare and ghosting.
Optical Components Score: 8/10
Optical Stats
The Field Of View (FOV)
525ft at 1,000 yards or 175m at 1,000 meters, I have already spoken about just how expansive the view you get when looking through the Pentax VD 4x20 WP Binocular or Monocular, but let's now put this into some sort of context by comparing them some other compact binoculars:
16x Spotting Scope
As a spotting scope with a 16x magnification, this field of view is obviously greatly reduced, but Pentax does not state what it is, so I can't comment too much other than to say it does not feel excessively narrow.
Close Focus
At just half a meter or 1.6ft, another major highlight of this binocular is just how close you can get to an object and focus on it.
In this regard, these perform as well as the Pentax Papilio, which happens to be one of my all-time favorite binoculars, and thus makes them one of the best choices available should you like to view things like butterflies and insects from a very close range.
Tip: An extremely close minimum focus like this will make them very handy at places like an art gallery or museum if you want to get a better view of an object from behind a barrier.
Eye-Relief:
At a full 19mm, when it comes to the amount of eye-relief on a compact binocular, this is about as good as it gets, making them an excellent choice should you need or want to wear glasses whilst viewing.
Optical Stats Score for a compact binocular: 10/10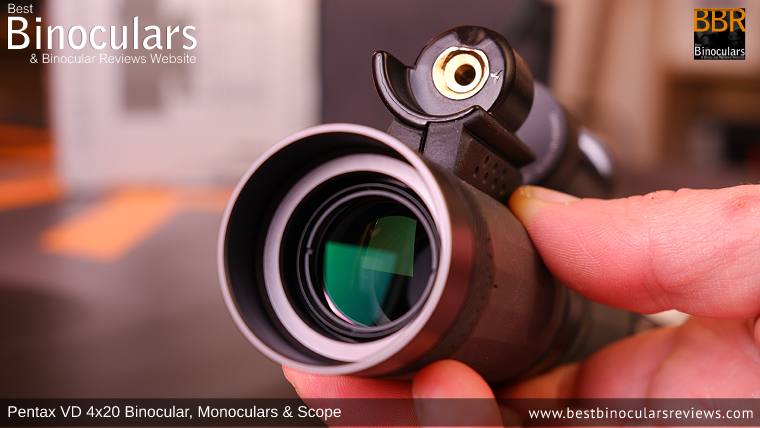 Image Quality
As I have already gone over some of the aspects of the view like the image brightness and low light performance, and my experiences and thoughts whilst using and comparing them to other binoculars, monoculars, and scopes, I will not repeat all of them here, rather I will just focus on the others:
Color
To my eyes, the color reproduction is excellent, with the view being vibrant, but still natural-looking and I could see no hint of artificial tinting to the image.
Contrast
Likewise, I feel that the contrast levels are good in that you get a good differentiation between the lightest and darkest areas of a view. In good light, the image is bright, but not washed out and in dull conditions, you still get a good variance between lighter and darker areas giving the image a good sense of depth.
Color Fringing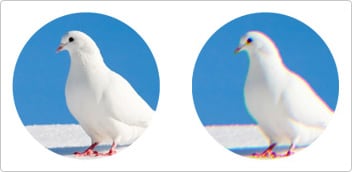 As a binocular or monocular, with such a low magnification to the view and the use of good quality optics, I was never expecting there to be much color fringing visible and indeed this turned out to be the case.
Even when looking along the edge of a black telephone wire against a bright blue sky background it was very minimal and only really noticeable if you are looking for it.
More impressive was the fact that when I converted it into the 16x Spotting Scope, whilst a little more obvious, color fringing was no more than what I would expect to see on something like a 10x binocular.
Image Flatness, Distortions & Blurring
As well as very minimal color fringing, I never noticed any other sorts of image distortions, and once correctly focused the image remains sharp from the center, right out to the edges with only an extremely minimal amount of softening right at the edge of the view which is really impressive.
Image Quality Conclusion
For an instrument with such small objective lenses, I have to say the overall quality and brightness of the view you get through them are seriously impressive.
Yes, by keeping the magnification down to just 4x certainly helps, but Pentax also obviously uses very good quality glass and coatings as well as their renowned high level of optical expertise and precision on these and it really does show.
As binoculars or a monocular, at this size level, these are very tough to beat, as a spotting scope, the Pentax VD 4x20 WP is a little less impressive, but even so, with realistic expectations it will certainly have its uses.
Image Quality (for a compact binocular / monocular): 8/10
Image Quality (for a spotting scope): 6/10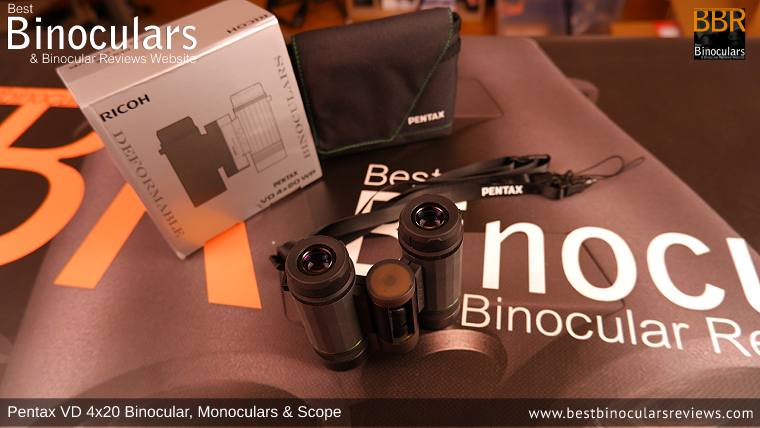 Included Accessories:
When you open the box, other than the Pentax VD 4x20 WP itself, all you will find is a carry case, neck strap, and the instruction manual.
So, no lens covers and no cleaning cloth, and whilst it is quite common for compact binoculars to come with a smaller array of accessories than full-size instruments, I do feel that it is a shame that Pentax (a predominantly camera and lens company) don supply these simple, but useful additions to help ensure you are better able to protect the optics.
Having said all that, I will also add that what you do get is well thought out and of good quality: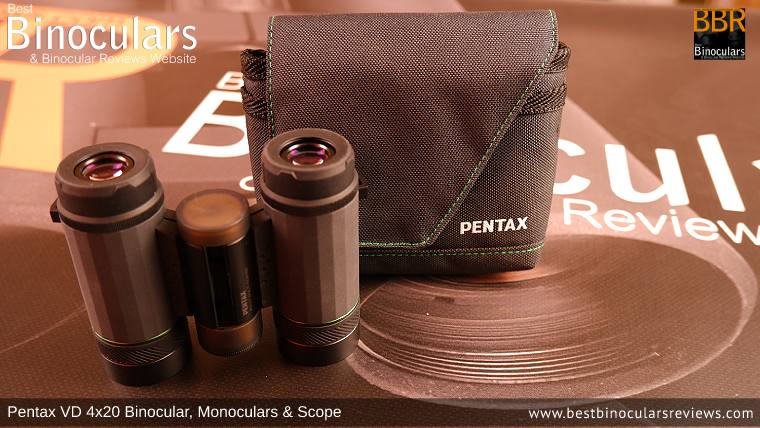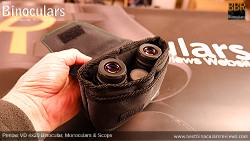 Carry Case
The lack of lens covers is not ideal, but like many compacts, I think the idea is that when not in use, even when out in the field, you should try and keep the instrument in the included case, which as it is reasonably well padded does a good job of protecting both the lenses and the rest of the instrument.
For a compact, lightweight instrument, I really like the design and with the included loop on the rear, it is perfect for fixing to your belt and carrying on your hip. Here the flip-over lid and Velcro closure make it very quick and easy to gain access to the binocular inside.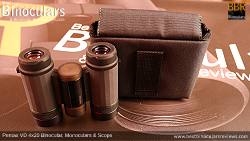 Just one point about the Velcro is that if you are sneaking up to timid birds or other wildlife, you need to be careful when opening so as to not make too much noise. With what is a predominantly a close-range instrument, perhaps a more silent (but less secure) magnetic closure would be better.
The case also includes a separate pocket on the inside, which is a good place to keep a few small personal items and perhaps the cleaning cloth from your lens cleaning kit that I suggest spending the relatively small amount to get.
Neck Strap / Wrist Straps
Like the carry case, the neck strap is well thought out and works well.
Sure it is thin and un-padded, but on such a small binocular/monocular this is really unnecessary and would only add unwanted bulkiness and clutter to the system.
I really like the attachment system and with all the quick release clips can very be removed and then converted from a neck strap for your binoculars into two wrist straps for each of the monoculars and once again is another example of the very good attention to detail from Pentax.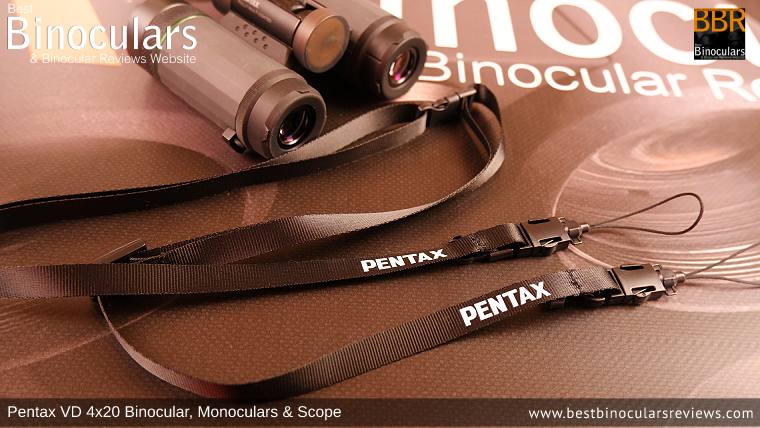 Instruction Pamphlet
Written in a wide range of languages, the included sheets of instructions are reasonably comprehensive and provide you with all the basic information that you need to use the binoculars, split them into monoculars, and then convert it all into a spotting scope.
Accessories Score (for a Compact Binocular): 6/10
Review Conclusions:
What a truly excellent, ingenious, useful as well as fun instrument. The overall build quality is outstanding and they feel both comfortable to hold and robust as is the mechanism in which they split apart and come back together, which for me is one of, if not the most important aspects to them.
The level of optics is also very good for a compact in this price range, and whilst it is quite difficult to directly compare them against others due to their much lower magnification, there is no denying that the view is both extremely bright and of very high quality for an instrument in this size class.
As well as image quality and brightness, another two major highlights for me were the incredibly wide field of view and ultra-close minimum focus distances, which is good as the Pentax Papillio, one of my all-time favorites and a binocular that is specifically designed for close-range observation.
Personally, I very much like having a low-powered instrument like these at hand as there are just so many benefits to it and these will no doubt become one of my most used binoculars and monoculars.
As a spotting scope they are perhaps not as impressive as the binocular or monocular, but even so, they are fine for the occasional use, and I would certainly use them just to gather some information in the distance when needed.
So will the Pentax VD 4x20 WP Binocular / Monoculars / Spotting Scope be the ideal solution for everyone and everything, no absolutely not, but what I will say is that they are extremely versatile and I can see them being of great use in a wide variety of applications:
Ideal Uses & Users
Very small, lightweight, shareable, tough, waterproof, with an excellent quality, bright view, and a good low light performance for a compact. This Pentax VD 4x20 WP Binoculars also has an extremely wide field of view and extremely close minimum focus distance, that is easy to use (large exit pupil) with minimal image shake (low power).
This all adds up to make for an incredibly useful and versatile instrument, that I can see being a good option in the following areas:
Forest Birding / Wildlife Observation
Hiking
Backpacking / Bike Packing
Watching Sporting Events - tennis, cricket, horse racing, motorsports, golf...
Concerts / Opera - Both outdoors & indoors
Art Gallery or Museum - small, close focus, sharable, good low light with an excellent quality view.
Kayaking & Canoeing - waterproof and low power for image stability on the water
A Binocular for older Children / Teenagers
People with unsteady/shaky hands
Butterfly, Dragonflies and other Insects flowers from very close range
Preppers - Survival binoculars that are easy to store in your Bug Out or Get Home Bag and you can use the spotting scope at longer distances if needed

Not Good For
Any sort of Long Distance Observation
Deep Space Astronomy - even the 16x telescope is not great for this with the small lens and tiny exit pupil - but is pretty good for wide views of the night sky, which I can imagine doing when out camping and looking up at the moon, constellations & the milky way