Judging by the sheer number of review requests I receive, I would most certainly have to say that the "old fashioned" shape of binocular (ones that use porro prisms) are making a comeback.
Apart from simply being a fashion trend, I actually think it is more of a case of people not being "out of love" with them anymore and also realizing that there are certain features to the typical porro prism designed binocular that for certain uses and at some price points become real advantages when compared to your average and more "modern" looking roof prism bin.
Pentax 10x30 PCF CW Binocular Review
In this review, I take a very close look at the new mid-sized, low cost, porro prism offering from Ricoh: The Pentax 10x30 PCF CW binoculars. In the process I will also highlight the particular strong areas as well as weaknesses that this design of bin has over a similar roof prism bins in their class.
Pentax PCF CW Binoculars
Consisting of only two models (this 10x30 version and an 8x30 one that uses exactly the same body and prisms), Ricoh have obviously spotted the increase in interest of mid sized/compact porro prism bins and thus are now catering for it with the Pentax PCF CW series. Aimed at users who are after a relatively cheap but smaller binocular, but one that is still able to deliver a level of optical performance that even experienced and serious observers can appreciate.
Important Elements:
Water & Fogproof Chassis
30mm Objective Lenses
10x Magnification
Fully Multi-Coated Optics
BaK-4 Porro Prisms
Tripod Adaptable
Diopter Adjustment
Field of View: 288.1ft @ 1000yds
Minimum Focus Distance: 9.8ft
Long Eye-Relief: 18.8mm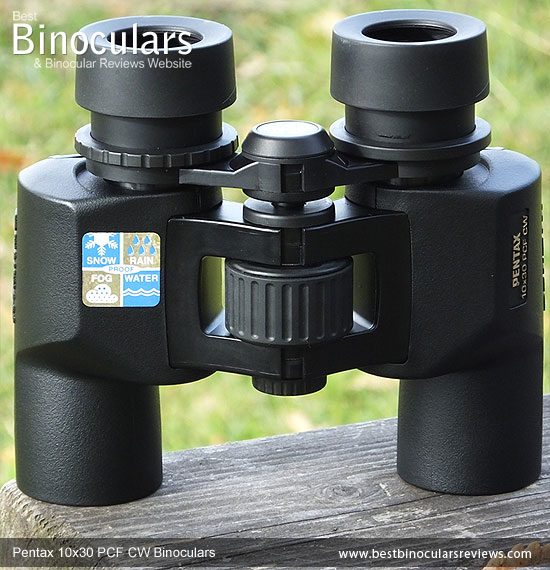 The Body
Shape
The main exterior shape, where their eyepieces are closer together than the objective lenses is largely a result of these Pentax binoculars using porro prisms within them, as opposed to many modern bins that use a roof prism which enables them to place the eyepieces in-line with the objectives. I think the images below make the reason why far clearer that if I try to explain it any further: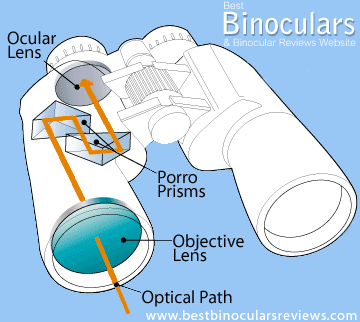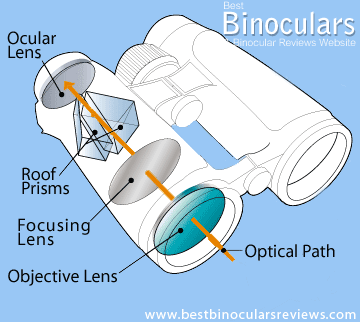 An advantage of this shape is that it often makes for an extremely comfortable bin to hold in your hands, this in turn provides the platform for you to more easily keep them still for a shake free image and thus more relaxed viewing, even over long periods. I can happily report that these potential qualities really shine through with this smaller bodied 10x30 Pentax PCF CW and whilst it is a very a small point and probably quite subjective, I can honest say that they are one of the most comfortable and ergonomic bins I have ever used.
Another plus side to the classic bin shape is that because the objectives are set a little further apart, in theory you get a better stereoscopic effect for an image that has an improved sense of depth. Whilst the science behind this is solid, I very rarely notice the difference in the real world.
On the negative, this design is less streamlined than the straight through one and thus makes for a less compact instrument than a well designed roof prism bin with the same size objective lenses. For more on this take a look at the section on dimensions & weight below.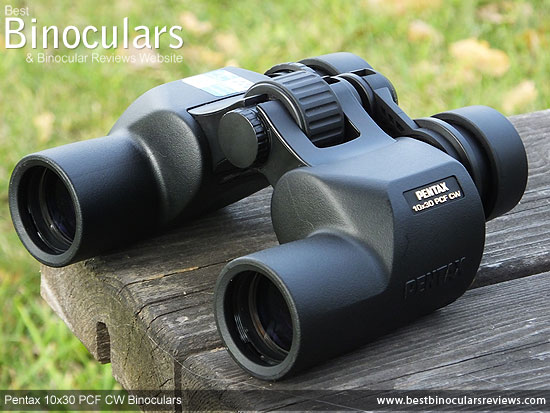 Exterior
An area where these differ from the old fashioned and helps bring them bang right up-to-date is the use of a rubberized body armour that covers the vast majority of the exterior.
Black in color, it is very hard. This most certainly makes it tougher and less likely to perish than the softer more spongy rubber armors that I sometimes see. However on the flip side, even though it is quite thick, it no doubt also offers less impact protection and less grip than a softer rubber coating.
Underside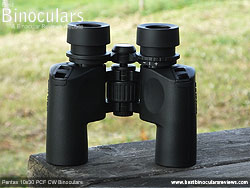 Adding to the overall comfort and great feeling that you get when you hold this instrument up to your eyes are the thumb intents on the underside.
Whilst I agree this is an extremely minor point, they are perfectly placed to coax you to hold the bin in the correct way and at the right place to get a perfect balance and all without you really being consciously aware of it.
Fully Sealed & Fog Protection
Whilst Pentax highlight the fact that these bins are not designed for underwater viewing (!), they are fully sealed and have a JIS Class 6 standard, which means that they have been tested to a depth of one meter and remain watertight.
Pentax also highlight the fact that they can be rinsed clean with confidence and the interior cavity is filled with nitrogen s as to protect the inner glass from misting up with temperature changes.
Also important to remember that this water and airtight seal will prevent small dust particles from being able to enter in dry areas.
Interpupillary Distance (IPD)
Pentax state that these bins have an "Eye width (ocular distance) adjustable range" of only 6cm to 7cm, which does not sound fantastic, however either I have misunderstood the meaning of the phrase or I think that they are doing themselves a slight injustice here:
By opening and closing the hinge, I measured the minimum interpupillary distance (IPD) at a closer 5.4cm and then taking it to it's maximum, it will accommodate those with eyes set at 7.4cm apart, which is a much wider range.
Indeed because of their relatively close IPD setting and taking their smallish, lightweight body that is easy to handle, these binos make a great choice for older children, young adults and many women who have smaller faces.
Likewise their maximum IPD will be more than fine for most adults as well.
Tripod Adaptable
Simply unscrew the cap on the front hinge to reveal a threaded recess that will take almost any standard tripod adapter, which you can then fix to either your tripod or your tripod head depending on your setup.
Something worth noting here is that whilst I would say that the majority of mid sized bins that I test are tripod adaptable, few compacts are. So if being able to fix your bins to a tripod for the steadiest views is important, this is a big advantage of these Pentax 10x30 PCF CW binoculars over many other compacts.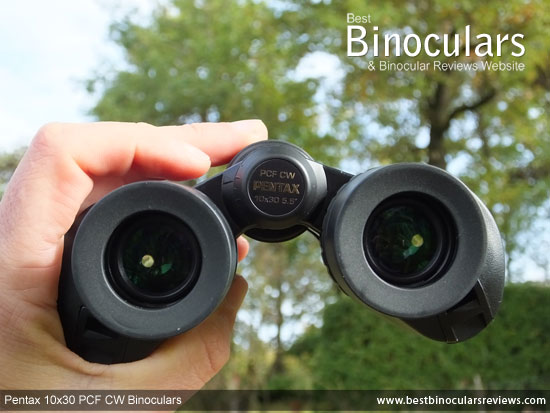 Focusing
Centrally located, the focus wheel is reasonably large (especially when compared to other mid sized/compacts), has a soft rubber track and protrudes quite high up from the top of the body. All these attributes are good and make it easy to adjust, even whilst wearing winter gloves.
However it is also positioned a little further forward on the body than on most, especially when compared to the average roof prism bin where the focus wheel often almost sits in between the eyepieces. This further forward location and the teardrop shape that fits into your thumb-forefinger arch so comfortably does convert into a slightly longer reach than normal. In fact I actually found it easier to reach and adjust the wheel with my middle, rather than my index finger as normal (see photo above).
This is absolutely fine and I would describe myself as having averagely sized hands. But for those with really small hands this may be just something to consider.
As for the focus mechanism, on my sample there weren't any rough points or areas of free play, but I thought that there was just a little too much friction and so made turning it just a little harder than what I would have ideally liked.
The gearing on the mechanism is also very aggressive. By this I mean it only takes half a turn of the wheel to take the focus from the extremes of near to far, which is far less than most.
The advantage is that it is quicker to make big changes, but in theory is also harder to make fine adjustments as you have to be far more precise. I never had an issue obtaining a completely sharp image and so personally have no issues here.
Diopter Adjustments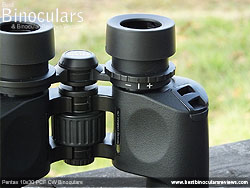 I have reviewed a number of similarly priced porro prism binos where to make dioptric corrections you turn the whole eyepiece, rather than just having a small ring under the eyecup as is the case with these Pentax PCF CW binoculars.
Whilst both technically work and whilst the one on these is not lockable, I much prefer this solution as you are far less likely to make accidental changes to your setting and then have to re-calibrate them.
For those interested, these have an official diopter adjustment range of ±3m-1.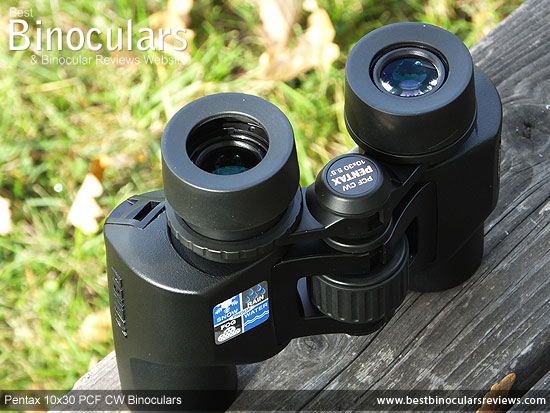 Eyecups
Like the diopter adjustment ring, in this price range it is common for a bin, especially a porro prism one to have simple rubber eyecups that you fold up/down to make any adjustments.
These however come with fairly good quality twist up/down cups that offer you far more in terms of adjustability. Not only do they have two intermediate click stops, but there is enough friction that you can actually position them anywhere between fully extend and retracted.
If you combine this flexibility with their really long 18.8mm of eye-relief then you are almost certain to have a binocular that can be adjusted so as to allow almost anyone see the full and interrupted view without any dark rings on the edges, be that if you wear glasses whilst binning or not.
Body Quality Score: 7/10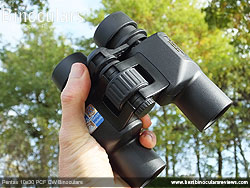 Dimensions
If you refer to the table below where I have selected a number of compact, mid sized and full sized binoculars with either roof or porro prisms, you can see that with their 30mm objective lenses and the typical porro prism body shape, these Pentax PCF CW binoculars are basically on a par with they only other bin (Kowa YF 8x30) that I have used with this same configuration.
However for you to decide if they are tight for you and your needs, it is far more interesting to compare them to the other classes out there.
For instance they are about the same length and height as most mid sized roof prism bins, but they are also quite a lot wider, which is what you would expect from the porro prism design:
| | | | | |
| --- | --- | --- | --- | --- |
| | Length | Width | Height | Weight |
| Mid Sized Porro Prism Bins | | | | |
| Pentax 10x30 PCF CW | 4.7in / 11.9cm | 6.2in / 15.7cm | 2.24in / 5.7cm | 16.3oz / 462g |
| Kowa YF 8x30 Binoculars | 4.6in / 11.7cm | 6.3in / 16cm | 1.9in / 4.8cm | 16.7oz / 473g |
| | | | | |
| Mid Sized Roof Prism Bins | | | | |
| Kite Lynx HD 8x30 | 4.7in / 11.9cm | 4.7in / 11.9cm | 1.9in / 4.8cm | 16.3oz / 462g |
| Pentax DCF BC 9x32 | 5.0in / 12.7cm | 5.4in / 13.7cm | 2.4in / 6.1cm | 17.6oz / 499g |
| Swarovski EL 10x32 | 5.3in / 13.5cm | 4.3in / 10.9cm | 2.4in / 6.1cm | 20.5oz / 581g |
| | | | | |
| Full Sized Porro Prism Bins | | | | |
| Levenhuk Atom 10x50 | 7.8in / 19.8cm | 7.1in / 18cm | 2.6in / 6.6cm | 27.94oz / 792g |
| Celestron LandScout 10x50 | 6.69in / 17cm | 7.75in / 19.7cm | 2.44in / 6.2cm | 33.3oz / 944g |
| | | | | |
| Compact Porro Prism Bins | | | | |
| Pentax Papilio 8.5x21 | 4.6in / 11.7cm | 4.3in / 10.9cm | 2.2in / 5.6cm | 10.2oz / 289g |
| Opticron Taiga 8x25 | 4.4in / 11.2cm | 3.9in / 9.9cm | | 10.7oz / 303g |
| | | | | |
| Compact Roof Prism Bins | | | | |
| Pentax 9x28 DCF LV | 4.6in / 11.7cm | 4.5in / 11.4cm | 1.7in / 4.3cm | 12.9oz / 366g |
| Vanguard Orros 10x25 | 4.1in / 10.4cm | 4.5in / 11.4cm | 1.9in / 4.8cm | 9.88oz / 280g |
Weight
Weighing in at only 16.3oz / 462g, these are far lighter than your average full sized binocular. On top of this, as you can see from the table above they weigh less than most mid-sized bins that I have come across. However if weight is a major priority, then as you can also see, you may be better off with a full compact binocular.
Body Stats Rating: 7/10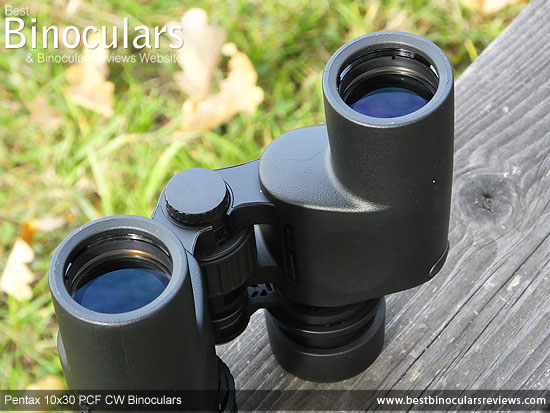 The Optics
30mm Objective Lenses & 10x Magnification
In theory all 10x30 binoculars will have a 3mm (30 ÷ 10) exit-pupil or to put it another way, the shaft of light that exits the ocular lens and goes into your eyes is 3mm in diameter. Compare this to a 10x26 compact with it's 2.6mm exit pupil and you can understand that your eyes are receiving more light from the 10x30 and thus have the potential to look brighter.
But not always as there will be times like in good light when the pupils in your eyes are very small that both are supplying you with more than enough light and so you will probably perceive both as being equally bright. Thus it is only in bad light when your pupils are expanded that the difference may become more obvious. However it is also important to keep in mind that here will also be other factors at play like glass quality and coatings etc:
Prisms
We have already established that to correct the inverted image, these Pentax's use porro prisms, which are made from BaK-4 glass.
This is good news as many bins at this price range will have cheaper BK-7 glass prisms, which because of it's lower refractive index and higher bubble count, more light is lost and a lower quality image results.
Optical Coatings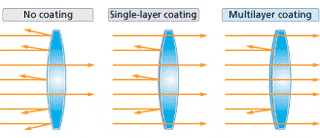 The Pentax PCF CW binocular is advertised as being Fully Multi-Coated. This is great as it implies that every optical surface throughout the system has multiple coatings of an anti-reflection material applied to it.
To save costs, many bins at this price level will either only be Fully-Coated (single layer coating on all surfaces), or Multi-Coated (Multiple layers on some surfaces) and not Fully Multi-Coated like these.
The result is far less light is lost or reflected in an undesirable way and so you get an image that is both brighter and of a higher quality.
Prism Coatings
One of the real advantages of the porro prism is that it transmits 100% of the light that enters, unlike a roof prism that requires a number of very specialized coatings to perform to the same level. It is because of this that they are cheaper to produce and will most usually perform better than most cheaper roof prisms that use lower quality coatings.
Optical Components Quality Rating: 7/10
Optical Stats
As you can clearly see from the comparison table below, the field of view (FOV) on these binoculars does fall short when compared to most other binoculars in their size and magnification class.
Thus if a wide FOV is important to you, I would suggest you either opt for the 8x30 version of this Pentax that has a much wider FOV (366.9ft) or possibly make another choice.
Their minimum focus distance is ok, but not brilliant and as such I would not recommend these to anyone who often views objects like insects or flowers at close range.
Optics is all about compromises and a real highlight of these is their very long eye-relief. At 18.8mm they rank up there with the other Long Eye-Relief binoculars that I have tested. Combine this with their good twist-up eyecups and these make an ideal choice for eyeglass wearers.
Optical Stats Rating compared to other 10x Binoculars: 6/10
Image Quality
This is always the hardest section of my reviews for me to write about as the view that I, or you see when looking through a pair of bins is not only affected by many factors, but is also very subjective as well.
In an effort to be as consistent with my opinions as possible, I compare the image I see through the instrument under review against a benchmark in the same size and magnification category. In this way I am able to rank the part of the view I am observing against a "constant" at the same time and place and thus score it accordingly.
For this Pentax PCF CW 10x30 binocular review, I carried out these comparisons twice against my 10x26 compacts and my 10x42 full sized bins. Once during the day in overcast conditions and then again later on the same day at and just after the sun had set.
Colors & Contrast
I was never aware of any sort of image tinting, be that intentional through the use of coatings or due to lower quality optical components that can sometimes make an image have a brown or yellowish tinge to it.
Too my eyes, the colors and the level of contrast was what I would describe as neutral and very natural looking.
Color Fringing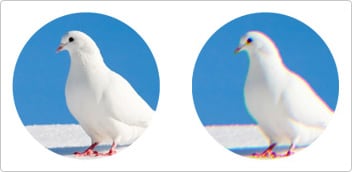 Whilst evident, especially under extreme conditions (along the edges of a black telephone wire lit up against a bright sky), the level of color fringing was in my experience be described as minimal.
For a binocular at this level, I would say that this is excellent and would even be perfectly acceptable for a bin in the mid to high level categories.
Image Brightness & Low Light Performance
I have already gone over above how the perceived image brightness and just how well a bin performs in low light is largely affected by the instruments configuration and the quality of the glass and coatings used, but how does this all play out in the real world?
In terms of how bright I thought the image that this Pentax produced was, rather predictably I did notice that these seemed brighter than my 10x26's and a fraction less bright than my 10x42's.
This difference in brightness was most obvious late in the day in bad light, but what did surprise me a little was that I was able to notice the difference during the day, although to be fair it was overcast at the time. So just to be sure I compared them all again the next day during a sunny spell. Under these conditions and again rather predictably, the Pentax 10x30 seemed to me to be as bright as the 10x42, but I still thought they were brighter than my 10x26's which is impressive as these only have slightly larger lenses.
So to sum up where I think these stand: Whilst these don't offer the low light performance of a good quality full sized binocular, compared to most 10x compacts, I would say they offer a better low light performance than all but probably the very best. Against mid sized binos, these will outperform most at their price level and equal many mid priced models.
Softening & Image Flatness
Although there is some "fuzziness" right along the periphery of the view, the amount is very small and no worse that what I observe through the majority of mid level or even higher end bins that I look through and was far less than what I would have expected to see at this price level.
Through my sample, the image as a whole looked to be flat and I was never aware of any distortions that sometimes occur where the view looks to either curve in or outwards.
Image Quality Rating: 8/10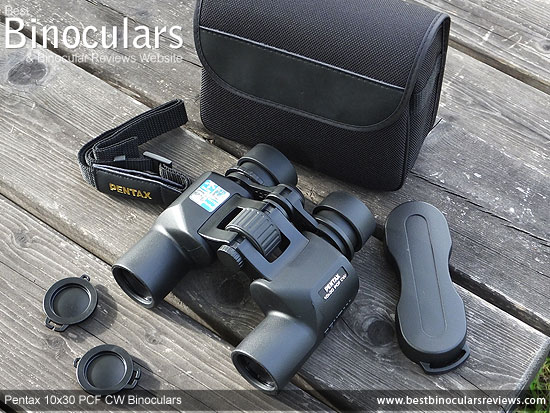 Supplied Accessories: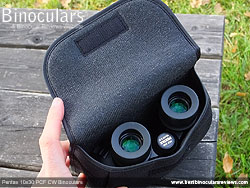 Case
The included soft case that you get with these Pentax 10x30 PCF CW binoculars is simple and lacks some of the finer details and sophistication of the better ones, but it is functional.
The exterior is made from what looks like a woven nylon that looks both tough and should offer a good amount of weather protection to the product inside.
The flip over the top lid is held fast with a rectangular strip of Velcro, which is not the most secure fastening system, but in most cases it should be adequate. A point to mention about Velcro is that it can make quite a lot of noise when ripping it open, which if you are not careful could startle birds/wildlife or give your location away.
Inside these is some padding, but it is fairly thin and so does not offer as much impact protection as the best.
The fit of the bins inside is good and it is simple enough to take them out and replace and whilst it is tight, I like the fact that you can close and fasten the lid with the eye-cups extended and the lens covers in place.
The case does not have it's own strap, but you can use the binocular strap when they are inside the case by threading it out through the sides of the lid. This is fine, except for when you are using your binoculars, when you will have to find another place to carry or store the case.
Surprisingly there are no separate pockets or a belt loop that would have provided another way for the case and the bins to be transported.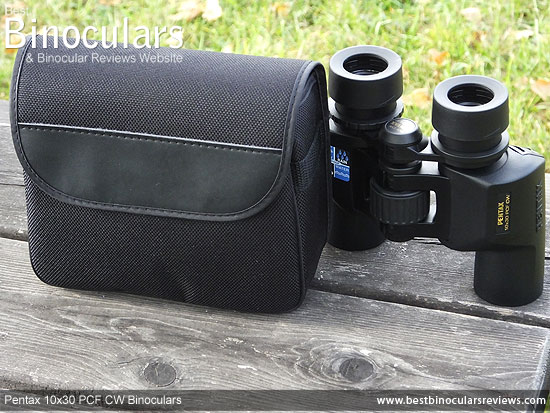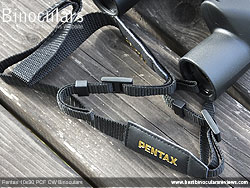 Carry Strap
The included neck strap attaches to the bin in the usual way by threading it through the loops on the body and then back on itself through a slider so that the length can be adjusted.
Whilst I would describe it as being simple, it also looks to me to be well made.
Compare it to most compacts at this price level and I would easily rank it alongside the better ones out there. For a mid sized bin, it is about average:
Whilst a luxurious padded neck strap is always nice to have, for a small, lightweight binocular like this, it is not really a necessity. In fact one advantage of it not being padded is that it does away with what is quite often unnecessary bulk.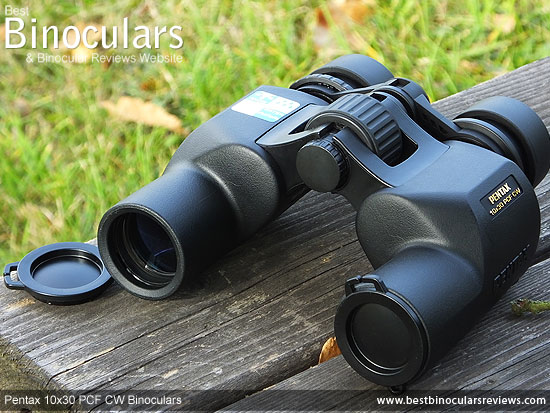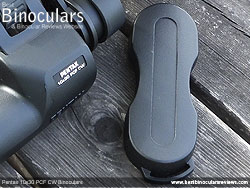 Lens Covers
Made from a hard black plastic, the objective lens covers clip into the barrel ends. This looks nice and tidy, but for me they come away just a little too easily and unless you thread them through the neck strap are easily misplaced or lost.
Likewise the rainguard consists of a large plastic cover that is supposed to protect the eyepieces and their lenses. However the fit is far too loose and simply falls off in any position other than sitting onto of the eyecups.
Cleaning Cloth
As with every other Pentax binocular review that I have written, these came without a cleaning cloth.
Most bins are supplied with a cloth, although the vast majority, especially within this price range are not of the best quality. It is for this reason I usually only recommend that you use them for cleaning the bodies and that you should invest in a decent optics cleaning kit for cleaning the lenses.
So whilst it is a little surprising that a company like Ricoh (Pentax) that has such a strong photographic background offers their bins without a cleaning cloth, it maybe because they also feel you are better off with nothing than using something that could mark the lenses?
Warranty & Manual
The included "owners manual" is typical to that you get with most electronic goods and is certainly a clue to Pentax's photographic heritage. I say that because it comes in the form of a a large folded sheet of paper, covers just about every language under the sun and only covers the very basics.
Pentax also include a warranty card and details of the 35 year European warranty and what to do should you have a problem. I am not sure of what the warranty is in North America and other parts of the world, but am sure that it will be similarly comprehensive.
Extras: 6/10
Pentax 10x30 PCF CW Comparisons
Final Thoughts:
As with almost all optics within the lower price categories, sacrifices have to be made in order for them to keep the manufacturing costs down, we can all understand that.
However I think that in general Ricoh have been really smart, in that the weakest areas on the Pentax 10x30 PCF CW binoculars don't impact on it's optical or physical performance. So whilst they may not compete with a full sized high end instrument, at this price level and within this size category, these are excellent especially optically:
Strong Points: I thought that the general build quality of the Pentax PCF CW binocular is very good and it has all the most important bases covered. So whilst this bin may lack some of the finer details like locking diopter rings, metal focus wheel and eyepieces, the body and build quality is about as good as you could hope to find in this price bracket.
It is very comfortable in the hands, is well balanced and has a great feel to it and whilst this will sound a little strange to some, but to me it just asks to be held and used.
For a mid sized/compact binocular the quality of the view is excellent and in low light the image brightness is not at all bad. So whilst understandably it cannot compare to a decent full sized bin, it will outperform or at least equal most in its size and price class.
The very long eye-relief and the good quality twist-up eye-cups make these a great choice should you want or need to wear glasses whilst binning.
For some the fact that these mid sized/compact bins are tripod adaptable will also be a major selling point as you don not always find this feature on smaller optics.
Weak points? The objective lens covers and especially the eyepiece cover comes away from the device way too easily and thus unless you thread them through your neck strap can easily be lost or misplaced. Even then the fact that there will be times when the lenses are left unprotected when they should be covered is not good.
For me the focus wheel was just a little too stiff and thus more difficult to move than it should ideally be. For most people this will be nothing more than a very slight inconvenience, but I do wonder if when combined with the fact that the wheel is slightly further to reach, that this may be a more meaningful issue for children for example.
The field of view on these Pentax 10x30 PCF CW binoculars also falls a little short to what I would have hoped for. To be fair when looking through them, I did not really feel that it was overly narrow, but then the figures do not lie. Thus if you require or desire a wider FOV, I would suggest sacrificing a little image detail and opt for the 8x30 version of this bin that has a much wider view.