Pentax UP 8x25 WP Binoculars ReviewMini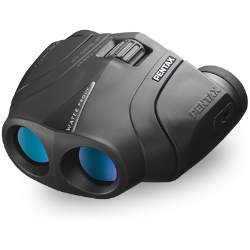 Price Range:
(0/6)

Ideal Uses:

General Use
Birdwatching
Outdoor Sports
Safari & Travel

General Wildlife

Hunting
Marine Use
Astronomy
Opera/Theatre
Please Note: This is a "BBR ReviewMini" of the Pentax UP WP 8x25 Binoculars. About BBR Mini Reviews
Compare Prices & Where to Buy the Pentax Binoculars

Price & Where to Buy

Price & Where to Buy
Main Specifications & Features:
BinoWizard BinoWars:
Compare the main specifictions & features above versus all other:
---
More Information:

About Pentax
|
View all Pentax products I have written reviews on
View All:
Compact Binoculars
|
Porro Prism Binoculars
|
General Use Binoculars
---
---
Binocular Price Comparison
Where to buy the Pentax UP 8x25 WP Binoculars

General Price Range: (0/6)
Below is a link that will take you to a page with online retailers in both the US and UK that sell Pentax 8x25 UP WP Binoculars this page makes it easy to compare prices and then to buy from your preferred option:
---
BBRMini Reviews?
What this means is that this Pentax UP WP 8x25 Binoculars review is al little shorter and not the usual super in-depth hands-on type of review that you may be used to seeing here on BBR.
This is because I have not had any hands-on time with the product and thus I have not been able to comment on aspects like the build quality or that of the view quality where it would require me to actually handle and use them.
Instead, I have used my experience to form some basic and logical opinions based on research as well as the stated specifications and features supplied my the manufacturers.
Why Are you Making Them?
The main reason for me providing this mini listing is to get these Binoculars added into my database so that we can then compare their stats and features against all the other binoculars on the BBR website that I have fully hands-on tested and reviewed.
Helpful?
Despite this not being a 100% review, I hope that you still find it both interesting and the information and my opinions useful in your search. As always any comments and feedback is always welcomed.
---