Please note that these Pentax DCF 8x43 ED binoculars have now been replaced with the Pentax ZD 8x43 ED Binoculars. I have decided to keep the main details of this review as it is still relevant to those interested in the older model which is still excellent and every bit as relevant to day as when I tested it in 2013. For this reason, where available you may be able to save quite a lot of money by purchasing an older model like this, which in reality is very similar to the new version.
However to avoid repeating myself, this review has been updated and will now refer you to the newer version wherever they are identical.
Whilst they manufacture many other optical products and accessories and have been making binoculars for many years, I think that most people on the street will associate the Pentax brand with cameras and camera lenses, especially high end SLR's So for me it is always interesting to see what technologies and innovations companies like Pentax who have a vast amount of expertise in other areas of optics can bring to the table when producing a pair of binos and what better place to showcase these than on your flagship model.
It is for this and many other reasons that I really looked forward to taking a much closer look at their top end model and below you can read my full review and findings on the the Pentax 8x43 DCF ED binoculars after spending a lot of time using and field testing them:
Selected Features
Magnesium Alloy Body
Fully Waterproof and Nitrogen Purged
Lockable Diopter Adjustment Ring
Extra-Low Dispersion (ED) glass
Fully Multi-Coated Optics
Phase Coated Roof Prisms
FOV is 330ft wide at 1000 yards
22mm of Eye-Relief
Minimum focus distance of 6.6ft
The Body
The entire body of the Pentax 8x43 DCF ED looks to be identical to that of the newer version, so for the full details with all my thoughts, please refer to the Body Section of the Pentax ZD 8x43 ED Review. Below are the main bullet points:
Body Design & Materials
Thin single bridge design leaves a reasonably large section of the barrels free to hold onto
Magnesium alloy shell, is very strong and lightweight as well as "classier" than polycarbonate
Waterproof to a depth of one meter with a JIS Class 6 certificate
Nitrogen filled prevents lenses fogging up inside the device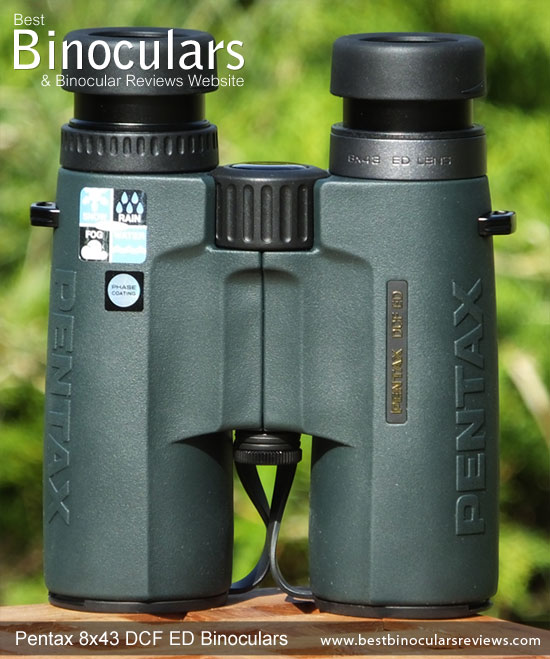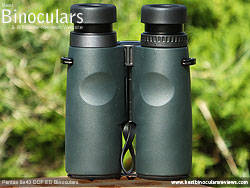 External Covering
The hard rubber is longer lasting, but possibly delivers less impact protection than some
Fine texture ensures a good grip level and reduces reflectivity
Well placed thumb indents
Other Points:
Very sturdy strap eyelets
Objectives set back at a depth of 9mm to offer an acceptable level of cover
Tripod adaptable - for more take a look at the walk-around video at the foot of this page.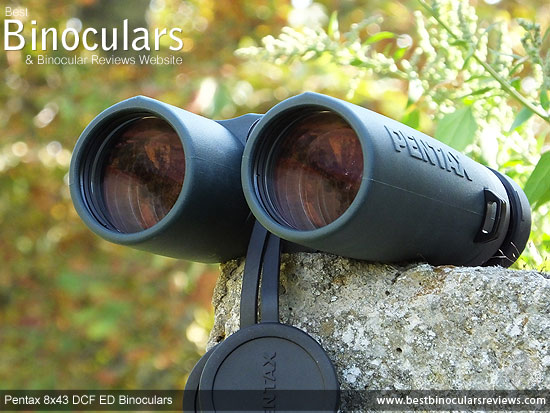 Twist-up eyecups
Metal eyecup housing - far more robust than plastic
Comfortable rubberized coating
Excellent 22mm of eye-relief ranks with the best long eye-relief binoculars and so perfect for eyeglasses.
Inter-Pupillary Distances (IPD)
Have a good IPD range to suit most needs:
Maximum IPD: 7.4cm
Minimum IPD: 5.8cm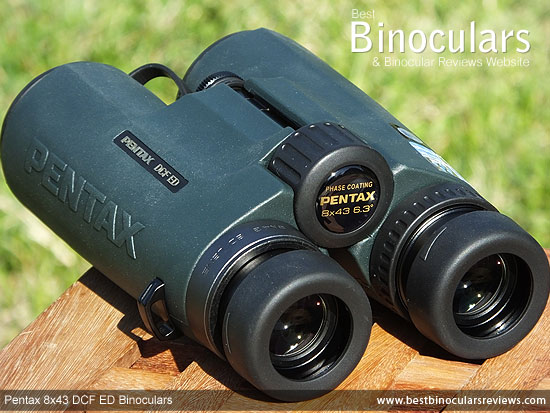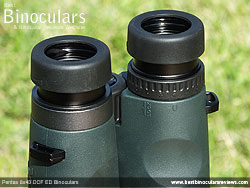 Focus Wheel & Focusing
Large 33mm diameter focus wheel
Turns smoothly, with right amount of resistance and no loose or rough sections
Balance gearing: 540° / 1½ turns of wheel to take focus from one end to other
Wheel is well protected by body, looks great, but is a little harder to feel with heavy gloves
Diopter Adjustment
Allows you to calibrate the bins to your particular vision
Lockable ring - guards against accidental movement
More markings than most makes it easier to remember your setting
Rating for Body Construction Quality: 9/10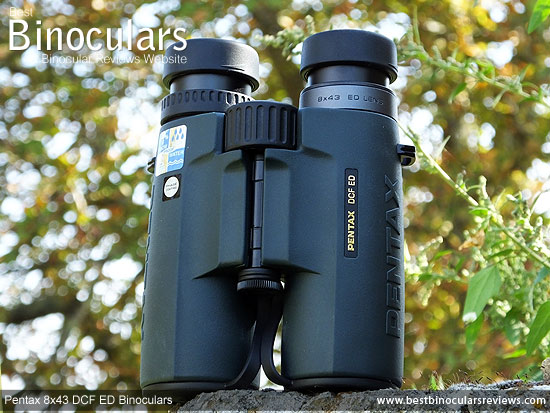 Dimensions & Weight
Once again these are exactly the same as the newer version and as you can see below are pretty normal for a bin of this size and quality:
BBR Rating for Body Stats: 7/10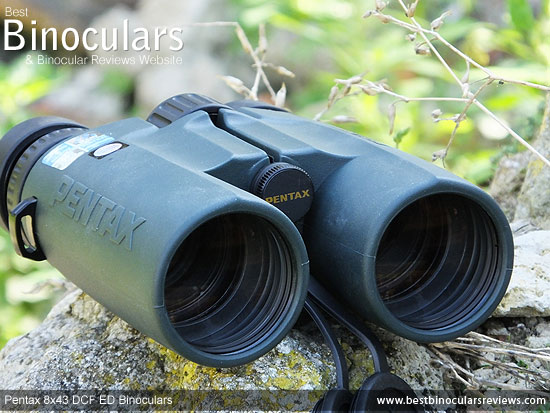 The Optics
This is one area where the newer Pentax ZD 8x43 ED Binoculars, differ slightly to this version. I have highlighted the difference below:
Lenses
Eyepiece Lenses
3 elements in 2 groups
Ocular is 22mm in diameter
Objective Lenses
Prisms
DCF = Dach Roof prisms
BaK4 Glass
Optical Coatings
Fully-Multi-Coated Optics
Dielectric Prism coatings - 60 individual layers with 98.7% light transmission level
Phase correction coatings on the prisms
Anti-Scratch Coating added to exterior lens surfaces - the Pentax ZD 8x43 ED Binoculars have an improved protective coating that uses nano technology to repel water and deflect oil, dust and dirt
As well as this, the ZD ED version is now said to use New Enhanced Light Transmission Coatings - I'm not exactly sure what they are but Pentax state that it increases transmission levels to improve brightness and colors of the image.
Optical Components Quality Rating: 9/10
Optical Stats
The Field Of View (FOV) - 110 meters wide at 1000 meters / 330ft @ 1000 yards equates to an angle of view of 6.3, which as you can see falls short of the best:
Close Focus
Official Distance: 6.6ft (2m) away
Test model measured to 4.9ft (1.5m)
Ideal for occasional close observation of flowers, butterflies or other insects
Eye-Relief:
Optical Stats Rating: 7/10
Image Quality
As I did not have this model with me when I reviewed the newer Pentax ZD 8x43 ED Binoculars, I have kept my description and appraisal of the image as I saw it when I tested them:
My method to judge and thus score the quality of the view of the binoculars that I review is to compare a number of aspects of the view with that of my control binoculars in the same size and magnification category. This I hope enables me to be as impartial and consistent as possible with my scoring. In this case I used my mid ranging 8x42's and my very high end 8x42 controls, and I conducted the comparisons twice, once in good light and again when the light was fading at and after sunset.
Color Fringing
The amount of color fringing that I could see along the edges of objects was extremely minimal and I was only really able to spot a very fine blue line when looking at very dark edges against a bright sky in the background.
This is excellent, matching some of the best out there, which considering the quality of the optics and the use of aspherical lenses with ED glass elements which are designed to counter chromatic aberrations that causes color fringing is as you would expect.
Image Softening
The whole image looks nice and flat and there is only an extremely minimal amount of softening of the image, right at the edge of the view. Once again this is excellent and matches the very best.
Image Brightness & Low Light Performance
In good light the brightness between these and all my 8x42 controls was undetectable to my eyes. This is as to be expected as in these conditions, my pupils will have been smaller than the exit pupils and so the bins would be providing my eyes with more light than they need.
In very poor light, I could not detect any difference in the brightness between these and my best quality 8x42 controls, but could notice the slightest improvement against my mid level 8x42's which means that I rate them as excellent in this department.
Colour Reproduction & Image Contrast
I thought that whilst the image was nice and bright, it does not wash out the colors and they look crisp and beautifully vivid, without any unnatural tints that you sometimes see, especially on cheaper bins.
The amount of contrast between dark and light is also very good, helping objects look nice and three dimensional. This along with the sharp image and brilliant colors also helps objects like some birds really stand out from their backgrounds.
Comparing them to my top end controls by swapping to and fro quickly and often, I really could not spot any difference between them both in the colors or their amount of contrast in the images they produce.
Depth of Field
Focusing on an abject about 5 meters away, I then move my view back without adjusting the focus to see how far I can get before the image moves out of focus. Compared to my 8x42mm controls these had about the same depth of field and so rank them as very good in this area.
Image Quality Rating: 9/10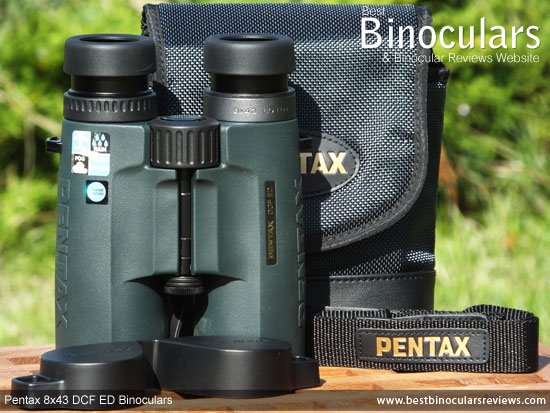 Accessories & Attention to Detail:
Carry Case
Well made with good stitching etc
Lightly padded
Lightweight and compact
Lacks a carry strap, can use the binoculars strap when bins are inside
No extra pockets or belt loop
Velcro fastener - can be noisy to open
Overall a little on the basic side compared to most in this price bracket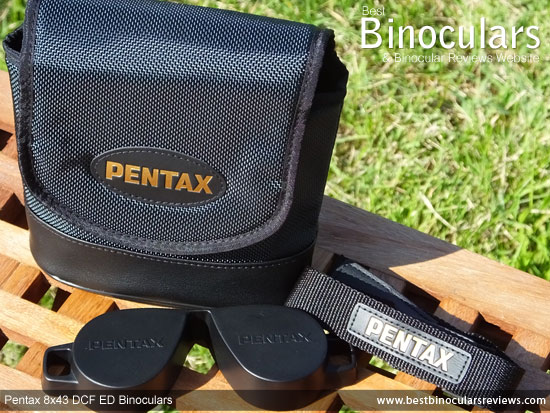 Neck Strap
Well made, but very basic for a bin of this size and price
No padding
Attaches to the bin in the usual way with a slider for length adjustment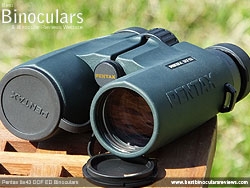 Objective Lens Covers
Overall excellent design and quality
Fit into the ends of the barrels - looks better and less chance of accidentally dislodging than those that fit over the barrels.
Attached to the bin with cords running from the central hinge, hang down under the bins well out of the way when glassing
Rain-Guard
Other
No lens cloth
Overly simple instruction manual
Comprehensive 30 year warranty
Extras & Attention to Detail Rating: 6/10
Pentax 8x43 DCF ED Comparisons
| | | | | | | | |
| --- | --- | --- | --- | --- | --- | --- | --- |
| | Pentax 8x43 DCF ED | Celestron Granite 8x42 | Eagle Optics ED Ranger 8x42 | Hawke Frontier 8x43 ED | Hawke 8x42 Sapphire ED | Minox HG 8x43 | Vortex Viper 8x42 HD |
| Approx Price: | $850 / £770 | $345 / £398 | $440 | $480 / £290 | $450 / £340 | $1100 / £640 | $450 |
| Weight: | 25.2oz (715g) | 24oz (680g) | 27.4oz (777g) | 26.2oz (743g) | 25.7oz (730g) | 22.9oz (649g) | 24.2oz (686g) |
| Length: | 5.7in (14.6cm) | 5.8in (14.7cm) | 6.7in (17cm) | 6.6in (16.7cm) | 5.5in (14cm) | 6.0in (15.2cm) | 5.8in (14.7cm) |
| Width: | 5.0in (12.6cm) | 4.0in (10.3cm) | 5.0in (12.7cm) | 5.2in (13.2cm) | 5.1in (13cm) | 5.1in (13cm) | 5.3in (13.5cm) |
| Eye Relief: | 22mm | 17mm | 18mm | 18mm | 18mm | 19.5mm | 20mm |
| Min Focusing Dist: | 6.6ft | 6.5ft | 6.0ft | 6.6ft | 6.6ft | 8.2ft | 5.1ft |
| FOV at 1000yds: | 330ft | 426ft | 425ft | 426ft | 426ft | 379ft | 347ft |
| ED Glass | Yes | Yes | Yes | Yes | Yes | No | Yes |
| Phase Correction | Yes | Yes | Yes | Yes | Yes | Yes | Yes |
| High Reflective Prism Coatings | Full reflection coating? | Dielectric or Silver | Dielectric | ? | Dielectric | Silver | ? |
| Lens Coatings | Fully Multi-Coated | Fully Multi-Coated | Fully Multi-Coated | Fully Multi-Coated | Fully Multi-Coated | Fully Multi-Coated | Fully Multi-Coated |
| Waterproof | Yes | Yes | Yes | Yes | Yes | Yes | Yes |
| Fogproof | Yes | Yes | Yes | Yes | Yes | Yes | Yes |
Conclusions:
The Pentax DCF ED 8x43 binocular was and indeed still is on the whole an excellent quality instrument that optically performs to the highest levels and are still in this area a match for any at this price point.
The differences between this and their new Pentax ZD 8x43 ED Binoculars are extremely small. As such if you own this pair, I don't suggest upgrading. Also if you are looking to save some money and if you can find it, you will probably get this now discontinued model at a substantially reduced price.
Strong Points:
Extremely High Quality Materials & Finish
Great Attention to Detail
Excellent Image Quality & Brightness
Massive Eye-Relief
Weak points?
Average Field of View
Quality of Extras like the Neck Strap & Carry Case do not match the high standards set by the bino itself
Ideal Uses: