Pentax A Series Binoculars
Pentax have recently reorganized as well as updated much of their range and whilst some of these changes are fairly substantial, many seem to be little more than name and small design changes which unfortunately can get a little confusing especially as many of the older models are still out on the open market.
The new A Series from Pentax is a diverse one as it consists of both roof and porro prism bins and whilst there are a couple of compacts within this range, most are mid-sized and all have objective lenses that are less than 36mm in diameter.
In terms of their quality, they are mid-high end products with what look to be good to very good quality components and optics and thus are aimed at those wanting the convenience of a more lightweight and portable device, but without having to sacrifice too much on the instruments optical capabilities. For more on all the models within this series, take a look at this section on my guide to Pentax binoculars here.
Pentax AD 9x32 WP Binocular Review
For me one of the most interesting models within the Pentax A-Series is the 9x32 version as not only do they utilize a 9x magnification that bridges between the more common 8x and 10x powers, but the 32mm objectives makes them far smaller than a full sized 42mm bino, but with more light gathering potential than a true compact.
From it's very similar appearance and the fact that most of the specifications are identical, the Pentax AD 9x32 WP looks to me to be an evolution of the excellent Pentax 9x32 DCF BC Binoculars that I reviewed some time ago and which went on to win the award as the Best Lower Cost Safari & Travel Binocular for 2012. So because of this, throughout this review I will be referring back to the older version to highlight both the similarities as well as any differences.
Main Features:
Mid-High End Bins - approx $250 / £300 / €399
Ergonomic Open Bridge Design

Weight: 17.6oz (500g)
Dimensions: 5.4 x 5 x 2in (13.8 x 12.8 x 5.2cm)

Waterproof (JIS Class 6) and contains Nitrogen for fog proofing
Fully Multi-Coated Optics
Roof Prisms with:

Super Reflective Prism coating
Phase Correction Coatings

Field of View: 351 @ 1000yds (117 @ 1000m)
Minimum Focus Range: 8.2ft (2.5m)
5 Stage Twist-up Eyecups with 16mm of Eye-relief
IPD Range: 5.5cm - 7.5cm
The Body
Shape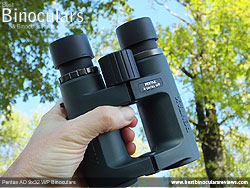 Unlike all the other roof prism models within the A-Series that have a more traditional single bridge body shape, these 9x32 Pentax AD binoculars sport an double hinge/open bridge body, which to me looks to be exactly the same as the one used on the 9x32 DCF BC version.
Potentially (depending on what materials are used for the two hinges) this cut-out design can make the body a little more lightweight. But I think the biggest advantage of this shape is that it offers up more of the barrels to grip onto. When glassing this is unimportant, but if like me you often carry your bins about single handed, then this more secure grip is a definite bonus.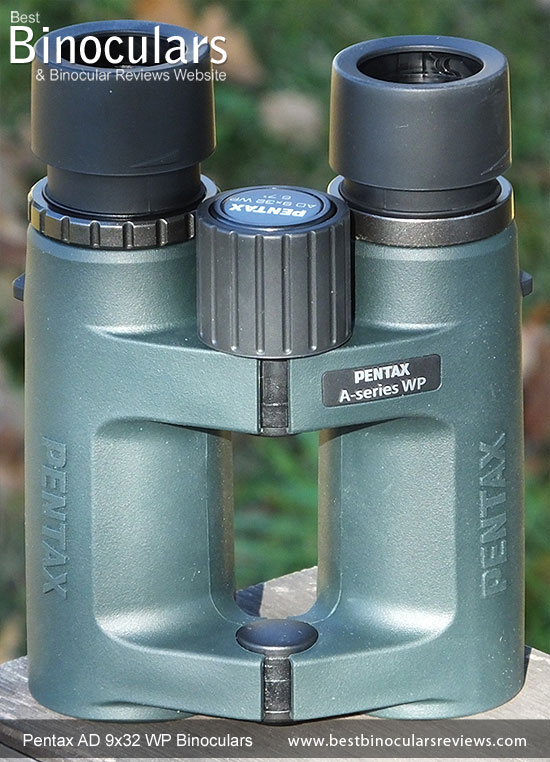 Not Tripod Adaptable
Please note that you cannot unscrew the dust cap located at the pivot point on the front or rear bridges and thus these cannot be attached to a tripod by using a standard tripod adapter. Once again this was exactly the same for the DCF BC version.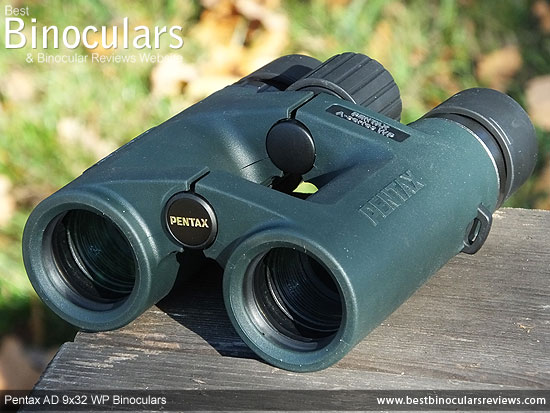 Body Materials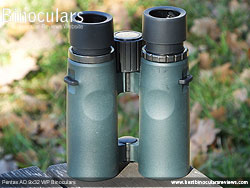 The dark green rubber armor that covers almost all of the exterior certainly makes for a good looking, high quality finish. It is also a comfortable surface to hold onto, however as it is both smooth and hard, it has less grip than some softer rubbers or those with a more textured finish to them.
This hardness also means that the cover probably provides less cushioning than a soft rubber coating and thus less impact protection, however on the up-side I am sure that it will be longer lasting and far less prone to perishing.
There is no mention as to what material is used to make the chassis on the Pentax AD 9x32 WP binoculars and thus because they do not highlight it as a feature, makes me to say that it is most probably a polycarbonate plastic.
If true, this is not a major concern as many, if not most bins in this sort of price range will also use plastic and unless you plan to be really brutal on your optics it should be more than strong enough. The one advantage of this over more expensive options like magnesium or aluminium is that it is a more lightweight material.
Inter-Pupillary Distance (IPD)
The Pentax AD 9x32 WP binocular has a wide IPD scope (especially for a mid-sized bin):
By fully closing the hinges, the centers for the ocular lenses are just 5.5cm apart which means even children should be able to adjust them to use effectively and thus like many mid sized bins, these could make a good choice as a binocular for older teenagers.
Their maximum IPD is 7.5cm, which for a mid-sized bin is also good as it matches most full-sized instruments and as you can see in my Inter-Pupillary Distance Guide, should mean they will also be fine for all but those with the widest set eyes.
Eyecups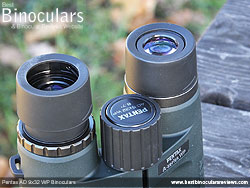 One of the real high points of these Pentax binoculars for me is most certainly their fantastic twist up/down eye-cups. Whilst to many these may seem like a fairly insignificant part of the instrument, just remember that this is the main contact point between you and your view.
Even though to me the housing looks to be made from plastic, Pentax have managed to create one of the smoothest mechanisms that I have ever used.
The 16mm of eye-relief is good and combined with the "fantastic" five fixed stops (3 intermediate), you have plenty of options that should be more than enough to enable you to get your eyes at exactly the right distance behind the ocular lenses to get the full view, be that with or without glasses on. I would like to dwell on this a little as most bins come with only 1 or possibly 2 intermediate stops, so this to me is well worth emphasizing.
On top of this, there was no free play or looseness on my sample and the thin but soft rubber coating along with a diameter of 37mm made them as comfortable as any.
Note: Once again, these eyecups and the 5 stage mechanism look to me be exactly the same as the ones used on the Pentax 9x32 DCF BC bins.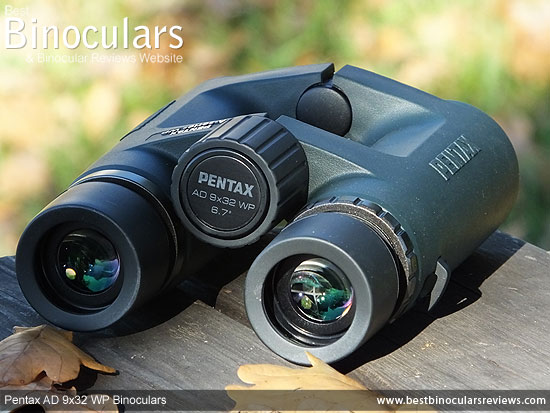 Focus Wheel & Focusing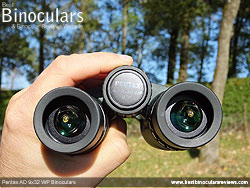 Whilst it does not look to be out of proportion, at 33mm in diameter the focus wheel is quite large for a mid-sized bin. The advantage of this is that it is easier to find and adjust, attributes which become more important and thus you will appreciate if you are wearing thickly padded gloves during winter.
As with the eyecups, the action on the focus wheel is extremely smooth and once again there was absolutely zero free play or undesired sticking points at any point along the focus range.
I also really like the way it is only the exterior track that rotates around the main wheel. This makes for lighter action for easy one finger adjustments as well as a more classy and expensive looking finish to the product.
The gearing of the focus mechanism is such that it requires about 1¼ turns (450°) to go from one end of the focus to the other. This is reasonably aggressive and thus makes large adjustments relatively quick, but in theory is also makes it a little harder to fine tune the focus than those with lower gear ratios. However I never experienced any issues during testing and using these in regards to being able to quickly and easily obtain a pin sharp focus on these. Indeed if anything the opposite was true, the ultra smooth and light action made it extremely easy to find a pin sharp focus every time.
Note: This focus wheel and the gearing are the same as that used on the now discontinued 9x32 DCF BC bins.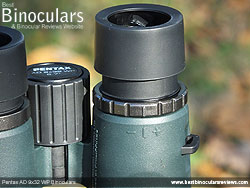 Diopter Adjustment
As with almost all bins, these Pentax 9x32 AD's have a ring near the right eye-piece that you can adjust and thus calibrate them to allow for differences in vision between your two eyes.
As this adjustment only needs to be carried out once (for each user), the best ones are lockable to stop unwanted movement. Sadly these are not lockable, but there is enough friction to stop it from turning to easily.
Also it would have been better if there were more markings or even better a scale on the body that would make it easier to remember your setting and those of others. If you regularly share your bins with others and your setting (or theirs) is not neutral, I would suggest making a mark or etch on the body to make it easier to return it to your spot without having to re-calibrate.
Rating for Body Construction Quality: 8/10
Weight & Dimensions
Whilst not the lightest or the smallest mid-sized bino out there, they do very well in both these areas when compared to most others in this class.
Also note that once again these Pentax AD 9x32 binoculars have exactly the same specifications as the older 9x32 DCF BC version.
BBR Rating for Body Stats compared to Mid Sized Bins: 8/10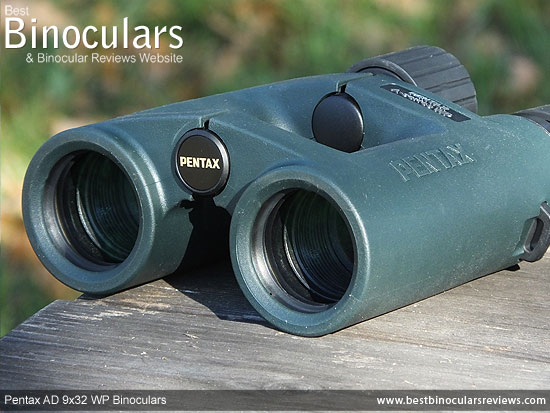 The Optics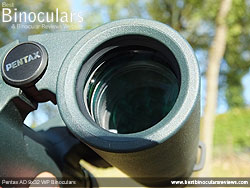 The ocular lenses are reasonably large (for a mid sized bin) of 18mm and as we know the objectives are 32mm in diameter.
Optical Coatings
Note: This is one area where this newer version of these Pentax 9x32 binoculars potentially and slightly differs from the older one:
Firstly they highlight the fact that they use a new "optimized film-deposition technology" when applying coatings onto their lenses and prisms which they say has the effect of increasing their transmittance which in turn enables them to produce "bright images with accurate color rendition".
Secondly and just like the older version, the optics on these bins are fully multi-coated, but Pentax also advertise the make-up of these as being New. However they do not say exactly what is new about them and if they improve on the older coatings, so I can't really comment.
Also like the older version these have roof prisms made from BaK-4 glass which have also been specially treated to correct phase shift. All of which are very important and contribute to them being able to deliver a higher quality as well as brighter image than optics that use lesser quality glass and coatings.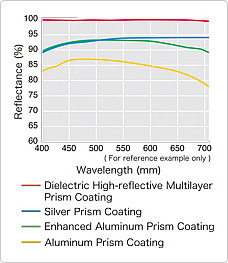 On the older version, I was able to establish that the prisms also had silver mirror coatings added to the surface that does not naturally reflect all of the light that hits it. These coatings are really important as they increase the reflectivity of this surface and thus have the potential to increase the quality and brightness even further compared to those with the lesser quality aluminium coatings.
It is important to note that there is an even better dielectric mirror coating available which can almost increase the reflectivity of this prism surface to 100% across all wavelengths, however this process is not cheap and thus is usually only found on the very best and usually most expensive bins, like their flagship Pentax ZD 8x43 ED Binoculars that I reviewed not so long ago.
For these new 9x32 AD WP binoculars, Pentax highlight that they have used and I quote: "new enhanced light transmission coatings", but unlike their flagship ZD series, they do not highlight the fact that they have used Dielectric coatings, so I will have to assume that this omission means that they are still mirror coated. Which to be fair is what I would expect to see at this price point anyway.
Optical Components Quality Rating: 7/10
Optical Stats
Exit Pupil & Low Light Capabilities
This size objective lens combined with their 9x magnification give these Pentax binoculars a 3.6mm exit pupil (32÷9), which is some way off the 5.25mm exit pupil on an 8x42 and a little less than the 4.2mm you get on a 10x42 bin.
But is also significantly larger than the 2.6mm exit pupil you get on a 10x26 and slightly better than the 3.25mm for a 8x26 which are common ratios for compact binos.
Thus by using this somewhat unique combination of the 9x magnification with mid-sized 32mm lenses these may not be able to quite match the low light capabilities of a full sized bin, but you gain by having a smaller easier to carry device. But you do get an improved low light performance compared to most compacts and with a good level of image detail (magnification).
Field Of View (FOV)
The FOV on these Pentax 9x32 AD WP binoculars is stated as being 117m wide at 1,000 meters away or 351ft wide at 1,000 yards. This once more is the exact same measurement as on the older version and translates to an angle of view that is 6.7°
If you take a look at the table below that lists a selection of other mid-sized bins that I have also reviewed, you can see that by adding a little more power, you are always going to reduce the width of the view:
So as you can see they are quite far off when compared to the widest 8x bins and indeed a little narrower than the best 10x bins in this class, but I would not describe the view as being overly narrow and you most certainly don't think or feel it is narrow when looking through them.
Close Focus
Whilst far from bad, if one of your main areas of interest is observing objects like insects and flowers from closer distances, then the minimum focus distance of 8.2ft is not ideal and you may wish to consider other options.
Eye-Relief:
You usually only need around 14mm to 15mm of eye-relief in order to still see the full view with your glasses on with the eyecups fully twisted in, so the 16mm you get with this Pentax should be sufficient for most in this regard.
Optical Stats Rating: 8/10
Image Quality
As I do not have a mid-sized benchmark bin with a 9x magnification, for this section of the Pentax AD 9x32 review, I evaluated the view against my mid range 8x32 and 10x26 benchmark bins as well as my high end 8x42 benchmark bins.
Magnification
Whilst it is quite easy to see the difference between an 8x and 10x binocular, it is interesting comparing the 9x on these and either an 8x and 10x binocular. If you are not paying attention when swapping between the two, you really do not notice much of a change and thus I would like to reassure those who are worried about dropping or raising 1x power, really not to worry about it, as for me it was really a non issue.
Image Brightness
More important is the difference in image brightness:
In all light conditions, these looked equally as bright as my 8x32 benchmarks, which is excellent, especially if you consider that with their slightly higher 9x magnification, these Pentax's have a smaller exit pupil.
Against my 10x26 binoculars, I could easily observe that the Pentax was brighter in poor light at sunset and indeed there was even a slight improvement in normal good light conditions during the day.
Against my very high end 8x42's, I could see that the Pentax 9x42 AD binoculars were not quite as bright in poor lighting, but the difference was not massive and unless you really need excellent low light capabilities then I would not be overly troubled by this.
Contrast & Color Reproduction
I know this is section is very subjective, but in terms of the colors and the levels of contrast, I really like the image that these bins serve up:
Perhaps partly due to the fact that I conducted these tests on a beautiful autumn day, so was swayed a little by all the lovely yellows, oranges and browns around me, but I just felt that the image was both warm, vibrant and because of the contrast between light and dark has a great sense of depth.
Important to point out that I was also never aware of any unnatural tinge or tinting that can sometimes be seen, especially with bins that use lower quality glass and coatings.
Color Fringing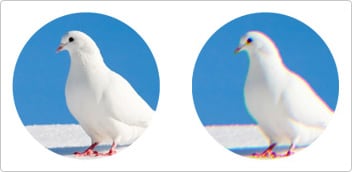 I had no issue at all with the level of color fringing.
It is no better or worse than I see on most high end optics and unless you happen to be looking along the edges of an object in bright light, you only really notice it when actually looking for it.
Image Flatness & Softening
The exceedingly low levels of image softening along the edge of the view on this Pentax binocular is superb and in my judgement is clearly as good as any in the mid to high end levels.
I was also never alerted by any sort of curvature of the view caused by distortions.
Overall
As with the old version, I though that the overall image quality through these Pentax AD 9x32 WP binoculars to be first-class. As to if either is better or worse than the other, it is impossible to say unless you were to compare them side-by-side. However having said that, I really would be surprised if the difference (if any) was instantly obvious.
Image Quality Rating: 8/10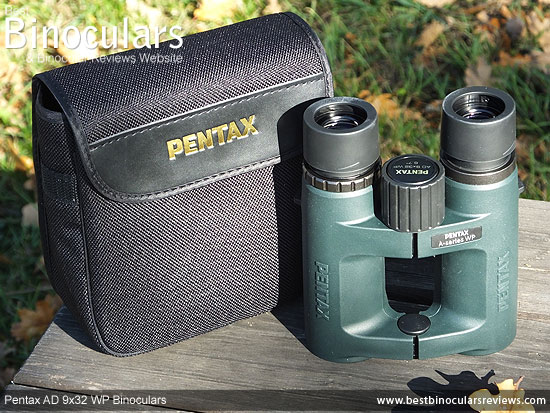 Included Accessories:
The included accessories are exactly the same as that which were supplied with the older version: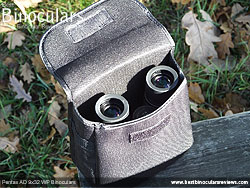 Carry Case
I think the best way to describe the Pentax A-Series carry case is functional, but simple and to be honest for me it is just a little too basic for a binocular of such good quality.
Sure the bins fit nicely inside and it is a small, lightweight case so is easy to carry.
But the padding is also fairly lightweight and thus offers less impact protection and you don't get any extra pockets, or a dedicated carry strap (to be fair I actually prefer this arrangement for a travel bin as you can just use the strap of the bins inside and so there is less bulk).
Also disappointing is the lack of belt loop on the rear which for some people makes a great way to carry the bins.
Neck Strap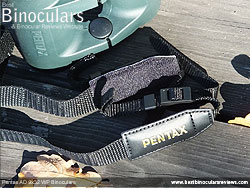 Likewise the neckstrap is perfectly usable and indeed is not made poorly.
It is just that the overall design lacks a little in terms of luxuriousness (no padding at all) and I have to say class, especially when paired up with such a great pair of optics, which for me is such a shame.
Surely Pentax must have some great neck strap designs that they could have easily taken from their cameras?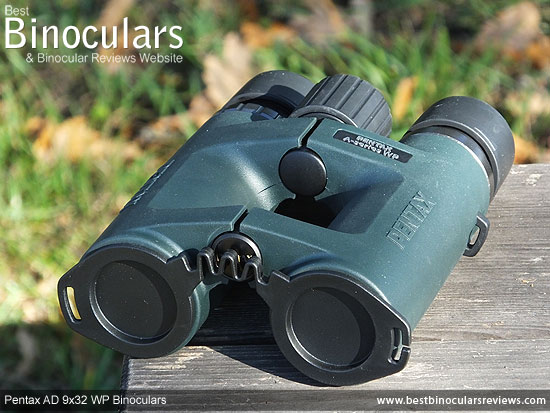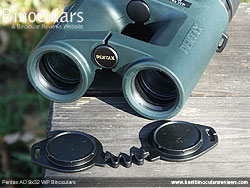 Objective Lens Covers
Unlike most bins that have a separate cover for each lens and which usually remain attached to the binocular, but hang down below it when not in use, Pentax have opted to use a single piece design similar to most rain-guards.
It does have a flexible bridge in between the two cups that fit into the ends of each barrel so is attachable no matter your IPD setting.
However, made from plastic it is really simple and whilst there are loops for you to tether it to your neck strap, I would have preferred to have had some that remain on the body of the bin when opened.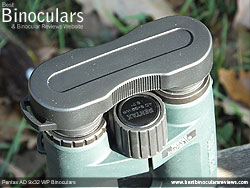 Rain Guard
Also made from plastic, the rain-guard, like all the other accessories is just a little too basic when compared to the actual bin for my liking.
I also am not a huge fan of the design which almost just sit on top of the eye-pieces. This is fine if you are carrying the bins in an upright position, but they come away too easily for my liking when carried in any other way.
No Cleaning Cloth?
Ok, so this is a really minor point and even though I would still encourage you to get a proper lens cleaning kit anyway, it is somewhat strange that Pentax don't supply these bins with a cleaning cloth.
Extras & Attention to Detail Rating: 6/10
Pentax AD 9x32 WP Comparisons
Review Conclusions:
Below are the good and bad points that really stood out for me on these Pentax AD 9x32 WP binoculars:
Strong Points: In general these Pentax binoculars have a fantastic build quality that is as good as many far more expensive products and indeed this helps them give off an aura of being far more costly than what they actually are, which is never a bad thing.
A good example of this is their truly excellent five stage twist-up eyecups with 16mm of eye-relief that provide you with a lot of flexibility and at the same time have one of the smoothest actions I have ever used.
Likewise their expertise and use of good quality glass, coatings ensure that the image produced by the Pentax AD 9x32 WP binoculars is excellent for a mid-sized device and which in my experience matches or beats any within this size and price level.
Weak points? I really wish Pentax would change and improve the lens covers and rain-guards that come supplied with their products as they really do not match the fantastic quality of the actual instrument.
Likewise the carry case and neck strap, whilst both functional, they are not of the same quality that I find on the best within this price range.
Overall:
These are a great pair of mid-sized, mid to high level bins and I think for the asking price do make good value for money and thus also make a great choice in a wide variety of applications (see Ideal Uses below). This is especially true if you need high performing, but easily transportable pair of optics.
However, I would also like to say that they are also very, very similar to the now discontinued Pentax 9x32 DCF BC binoculars with the only differences that I can see being some new coatings and method of applying them. However as Pentax is so vague about this, it is hard to quantify the difference that it makes (if any) and so because I have not been able to compare the view through them side-by-side, I cannot say too much more.
Nevertheless I would like to add that as the view through the old version was also excellent, I would be very surprised to find that there was an obviously noticeable difference in image quality and brightness.
So as the older version is no longer being produced, it does mean that are currently being offered at a far lower price in some places. So if it were me and my money and until all the old stock is bought up, I would probably choose them over this newer version - Almost identical binocular at a cheaper price = happy camper.
Ideal Uses: Like most good higher quality mid-sized bins these offer a great compromise between portability and optical performance and thus depending on your exact requirements, I can see them as being a good choice as the bin to take on your travels.
The bridging magnification of 9x also offers a nice compromise between image detail and field of view and thus are for me not only are they a good general use bin, but a great option as a safari binocular or anywhere where you are going to be combining watching larger wildlife and birds.
I think there are many hunters, especially those who are not static in a hide, but who track on foot with all their gear that will appreciate the lighter and smaller size of a mid-sized bin like these, but without loosing too much in terms of low light performance.