Please note: Pentax now produce a newer version of this Pentax DCF 9x32 BC binocular, which I have also reviewed here: Pentax AD 9x32 WP.
However I feel that it is important to point out that they are pretty much identical, so whist stocks last they are well worth checking out as they are in many cases being offered at a far cheaper price.
When I spoke to the guys at Pentax about which binoculars I should review for them next, I said that I wanted a quality pair of optics and if possible something that stands out a little from the crowd. That was when they introduced me to the DCF BC 9x32 binoculars. It comes with a whole host of quality features as wall as a fairly unique 9x magnification. Are these the ideal binoculars for those who can't decide between an 8x and 10x magnification? Take a look at my full review of the Pentax 9x32 DCF BC binoculars:
Selected Highlights
Lightweight & compact open-hinge body
Waterproof to 1m & Fog Proof
Fully multi-coated lenses
Phase Correction Coatings on the prisms
BAK-4 Prisms
Field of View: 351 feet at 1000 yards (6.7°)
The Body
The Pentax DCF BC 9x32 comes with an attractive looking as well as functional open bridge design. This design is becoming more and more popular these days and it is easy to see why. Not only are do the feel really comfortable when using them (ergonomic) but your grip on them, even with one hand is that much more secure. For me this is a fairly important feature when for example you are walking through dense vegetation or over difficult terrain as the chances of them being knocked out of your hand is greatly reduced.
The army green hard rubber armour that covers the main housing is nicely contoured and provides a nice grippy surface and should protect the optics from minor bumps and scratches. This covering will also help to dampen down any sounds made from objects striking against the binocular that could frighten away easily spooked birds and other wildlife. It also has another benefit of making the binocular less reflective - bright light reflecting off a metallic object could also easily frighten away wildlife. The body itself is made from tough and lightweight polycarbonate, which is fairly commonly used material in this price range.
On the underside of the body there are two small thumb indents that are well placed and just make it easier for you to quickly locate the right pace really to hold them to ensure that they are perfectly balanced.
The objective lenses are set fairly far back within the body, not quite far back as some, but far enough to help protect the lenses from the elements when in use. The Interpupillary Distance can be adjusted from 56mm to 74mm by opening and closing the central hinges on the binoculars.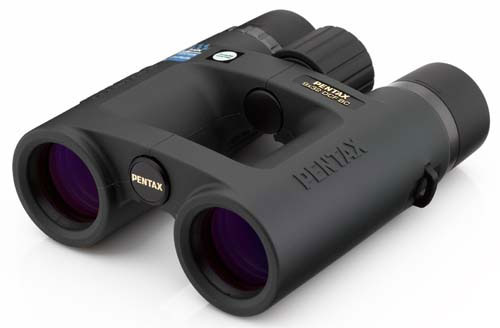 The Eyepiece & Eye Cups
The eyepiece housing looks to be made from aluminium or something similar, whilst the twist-up eyecups look to be made from a hard plastic, which have then been covered in a thin soft rubber coating. They are fairly comfortable even when pushed quite firmly against your face. The ocular lens has a diameter of 18mm, whilst the eyecup has an external diameter of 37mm.
I really love the twist-up (helicoid) mechanism on these Pentax binoculars - it is very smooth and has an impressive 5 fixed stops (3 intermediate), meaning that eyeglass wearers have a huge amount of flexibility when adjusting the eye-relief to suit their exact needs. The maximum of 16mm of eye-relief is pretty good and should be enough for most people who wear glasses to be able use these optics without having to remove their glasses and still get the full field of view without any vignetting. Non-eyeglass wearers will just use the eyecups in the fully extended position.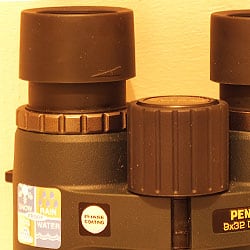 Focusing
Focusing is achieved via the very large (diameter 33mm) center focus knob, which on the sample that I used turned smoothly, but was fairly tight. It looks to be made from a combination of metal and a very hard plastic that has then been covered with a ridged rubberized coating to help with grip. Holding the binoculars up to my eyes, it was easy to reach and I had no problems adjusting the focus without having to change my grip.
To go from infinity to it's closest focusing distance of 8.2 feet (2.5 meters) takes about 1 and 1/4 turns of the dial. I have tested some binoculars that take less than a full turn, which are makes focusing from near to far (and vise versa) very quick, but can make fine tuning the focus a little tricky. Others I have reviewed take can take more than 2 full turns, which is great for finely adjusting the focus, but obviously takes longer to go from one extreme to the other. There are no rights or wrongs in regards to this and it is basically up to personal preference, but for me, I think that Pentax has got the balance just about right with these.
Diopter Adjustment
Like majority of roof prism binoculars, the diopter adjustment ring is located on the right barrel, between the eyecup and the barrel. It looks to be made from metal, but unlike most others that I review, it is not covered in rubber, however grooves in the ring do help with the grip when turning it to adjust your setting. For those that don't know, this diopter adjustment ring is used to correctly set up and focus the binoculars to your particular eyesight. This process really only needs to be done once when you first use the binoculars, or if you share them with others.
On the pair that I was testing,it was pretty tight and whist this made adjusting the diopter setting a little more difficult, it has the advantage that it is very unlikely that it will be moved accidentally. There are a number of markings on the diopter ring and barrel so you can easily see where the neutral point is, but if the setting for your eyesight is not neutral, you may want to make a small mark/etch on the ring to help you quickly return to your correct setting should it have moved accidentally.
Waterproof & Fogproof
These Pentax DCF BC 9x32 binoculars are airtight and waterproof to 1m (JIS-Class 6) which will not only protect them from moisture, but will also prevent any dust and other small debris from entering them that could lead to your view being spoilt.
The air inside of the binocular has also been replaced with dry nitrogen gas during the manufacturing process to prevent internal fogging and thus makes it possible to use the binoculars in places where there are rapid temperature changes, very low temperatures or high humidity levels without the risk of any condensation forming on the inside the binocular. Another benefit of this is that because there is no internal moisture, it also protects the inner workings from corrosion.
Best Binoculars Rating for Body Construction Quality: 8/10
Weight
These Pentax 9x32 binoculars weigh just 500g (17.6oz), which for a quality mid-sized binocular with objective lenses of around 32mm is very light. For comparison, the excellent Minox 8x33 BL Binoculars weigh 649g (22.9oz) and the top of the range Nikon EDG 8x32 weigh 655g (23.1oz), and the very best Swarovski 8x32 Traveler EL weighs 610g (21.5oz)
Weight alone can sometimes be a little misleading as binoculars like the Swarovski Traveler above use a magnesium body, which is very strong and light, but is probably not quite as light as the lesser quality polycarbonate body used on these. Having said that, the polycarbonate body on these Pentax binoculars is still easily tough and strong enough to handle pretty much everything you throw at them during "normal" usage.
Dimensions
Their dimensions of 12.8 x 13.8 x 5.2cm (5.0 x 5.4 x 2.4in) is pretty good and they compare well with most other quality mid-sized binoculars: As a reference the Swarovski 8x32 Traveler EL has dimensions of 13.8 x 11.4 x 6.0cm
Balance
I felt that the overall balance of these Pentax DCF binoculars was excellent and this is where the thumb indents that encourage you to get your hands into exactly the right position help. Whilst the balance on smaller, lighter binoculars like these might not be quite as important or even noticeable as on larger optics, it is still something that should be taken into consideration. A badly balanced binocular will be far less comfortable to use, especially over longer periods of observation. A well balanced binocular like this is also far easier to keep still, which helps you to maintain a steady, shake free view.
Best Binoculars Rating for Body Stats: 8/10
Pentax DCF BC Optics
The eyepiece on this Pentax binocular consists of 5 elements in 3 groups, with the outermost ocular lens having a diameter of 18mm. The 32mm objective lenses consists of 3 elements arranged into 2 groups. Pentax have used good quality BaK-4 roof prisms on these 9x32 binoculars as opposed to the cheaper and inferior BK-7 prisms. These prisms and lenses also have a number of coatings that help to increase their transmittance and the quality of the image produced:
Lens & Prism Coatings
To start off with, Pentax use what they call their Super Multi-Coating (SMC) on the lenses, which were actually developed by Pentax for their camera lenses and according to Pentax, is "a remarkable seven-layer lens coating process that cuts the reflection ratio down to just 0.2% per lens surface. The result is a dramatic improvement in both color fidelity and brightness and the elimination of flare and ghost images." Basically what this means is that all air-to-glass surfaces have received multiple layers of anti-reflective coatings, meaning that they are Fully multi-coated, which is great as it has the effect of increasing the amount of light transmitted compared to cheaper optics that only use multi-coated or just coated lenses and results in a brighter image and therefore the binoculars will perform better in low light conditions.
The roof prism glass has also had phase-correction coatings applied to it. This is done because when light waves are reflected at the opposite faces of a roof prism, phase shift occurs resulting in marginal deterioration in sharpness. So what these phase correction coatings do is keep the light in the correct color phases and therefore produce images that have a higher resolution, better contrast as well as having a better color reproduction than roof prism binoculars that don't have these coatings. These coatings are usually only found on higher end optics.
Silver-evaporated coatings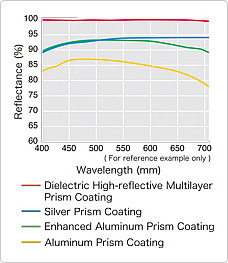 As well as the phase correction coatings, Pentax also use "silver-evaporated coatings" on the BaK-4 roof prisms. These coatings are added because whilst the roof prism design has many advantages over the porro prism design, it does have one major problem in that one surface of the prism does not have total internal reflection. Therefore to get the best optical performance it is very important for to raise the reflectivity of this surface and to do this, a mirror coating is used on those surfaces.
On most lower quality optics, an aluminum mirror coating is used due to its low cost and fairly high reflectivity of 87% to 93%. A silver mirror coating is used when a higher reflectivity (reflectivity of 95% to 98%) is needed and the benefits outweigh the increase in cost. The practice of forming high reflectivity optical coatings with silver also takes substantially more effort than with aluminum, in part because of specific material problems that arise from the aggregated structure of depositing thin metallic films.
Note: Whilst these silver mirror coatings are excellent and increase the reflectivity compared to most standard binoculars on the market, some optical manufacturers go even further and use dielectric prism coatings that have a reflectivity of more than 99% - but these are usually only found on binoculars at the very top end of the market.
Best Binoculars Rating for Optical Components Quality: 7/10
Optical Stats
Field Of View
These Pentax have a field of view of 117m at a distance of 1,000 metres (=351 feet at 1,000 yards = 6.7°), which is pretty good, but does possibly fall a little short of what I was really hoping for. Let me explain:
Pentax chose to use a 9x magnification to fill the gap for people who are looking for more power than an 8x binocular, but also want a wider field of view than what you get with most 10x binoculars, so you would expect their field of view to be wider than most mid sized binoculars with a 10x magnification, yet possibly not quite as wide as the best 8x mid sized binoculars on the market.
So lets take a look at a few other mid sized binoculars I have reviewed and see how these compare:
As you would expect, the Pentax's field of view is not quite as wide as the best mid-sized 8x binoculars that I have reviewed and they do have a wider field of view than the 10x binoculars in the same sort of price range, but compared to the very best 10x mid-sized ones, it does still fall short. I think it is important to stress that you have to keep in mind the price difference between these and the very top of the range ones on the list above.
Close Focusing Distance
The minimum close focusing distance is a decent 2.5m (8.2ft). I regard anything under 6ft as being excellent. These will hold their own if you are looking for a good general all round mid size binocular for occasionally viewing objects close up (butterflies for example), but I would not recommend them if this is your main intended use for them.
Eye-Relief:
Their maximum eye-relief of 16mm is very good, they just miss out on making it on my list of long eye-relief binoculars, but should still easily be enough for most people who wear glasses.
Best Binoculars Rating for Optical Stats: 8/10
Image Quality
To try and ensure that my opinions remain as objective as possible, I compared the view through these Pentax DCF BC 9x32 binoculars with that of my control (benchmark) mid sized binoculars (8x32's) that I use to compare with all other mid-sized binoculars that I review.
I conducted these tests on an overcast afternoon:
Brightness
In terms of image brightness, I was very impressed with these Pentax binoculars. I rate my benchmark's in this category very highly and these Pentax's, were to my eyes about the same. So it is for this reason that I would say that these produce a very bright image and are as good as or better than most others in this price and size bracket and as good as many far more expensive than these.
Colour Fringing
For me, the amount of color fringing (chromatic aberration) around the edges of objects is always a hard one to judge, but to my eyes it was extremely minimal on these and only really noticeable if you are looking for it by closely by observing the edges of light or white coloured objects sitting in front of a dark background. This is very impressive, especially when you consider that these optics don't use ED glass (extra low dispersion) that helps to reduce color fringing. I rate these very highly in this area.
Softening
The amount of softening of the image on the periphery of the view was extremely minimal and definitely wont bother you. So once again rate these very highly in this department.
Contrast & Colour Reproduction
To me the contrast of the image was very good and once you have correctly focussed on an object the image is pin sharp. I also thought that the color reproduction looks and feels natural, which is not always the case on some binoculars, especially cheap ones that often have artificial looking tints.
So to sum up, I rate the view through these Pentax's as being very good and easily as good as many binocular far more expensive than these.
More about Image Brightness and the 9x32 Configuration
Mid-sized binoculars often come with 32mm objective lenses, this is because they strike a good balance between light gathering potential and size of the actual device.
Being able to capture as much light as possible is very important because there will be many situations when using optics in the field where the lighting is sub-optimal: in thickly wooded or forested areas, early in the morning just before or at sunrise or late afternoon when most birds and other animals are at their most active. Full sized binoculars with larger 42mm objective lenses will capture more light, but will also be bigger and heavier and so less convenient to carry about. More compact binoculars with smaller lenses will of course let in even less light, but will be even more compact - so it is all about compromises and that is why a mid-sized binocular like this is a great choice for many uses and make great general use as well as travel binoculars.
It is also very important to remember that the size of the objective lens and the amount of light a pair of optics can capture is not the only factor in ensuring how bright the image you see through them is. Image brightness (and quality) is also very dependent on the quality of the optical system and their transmittance levels. Good coatings on the lenses and the prisms can double the amount of light that gets through the binocular, when compared to those that have none or poor quality coatings and as we have already discovered these Pentax binoculars use very good quality glass and coatings and that is why they produce a really good quality and bright image.
Best Binoculars Rating for Image Quality: 8/10
9x32 Pentax DCF BC Comparisons
In the table below I have compared some of the main stats and features of these Pentax binoculars with that of some of the very best similar sized binoculars that I have reviewed in the past:
| | | | | | | |
| --- | --- | --- | --- | --- | --- | --- |
| | Pentax 9x32 DCF BC | Swarovski 8x32 Traveler EL | Kowa Genesis 10x33 XD | Nikon EDG 8x32 | Swarovski 10x32 EL | Minox 8x33 BL Binoculars |
| Price (approx): | $250 (£300) | $1639 (£1360) | $1200 (£900) | $1600 | $1900 (£1400) | $470 (£370) |
| Weight: | 17.6oz (500g) | 21.5oz (610g) | 20.8ozs (590g) | 23.1ozs (655g) | 21.5ozs (610g) | 650g |
| Length: | 5.0in (12.5) | 5.4in (9.8cm) | 5.2in (13.3cm) | 5.4in (13.7cm) | 5.4in (13.7cm) | 5.4in (13.7cm) |
| Width: | 5.4in (13.8) | 4.5in (11.4cm) | 4.1in (10.3cm) | 5.5in (14cm) | 4.5in (11.4cm) | 5.1in (13cm) |
| Eye Relief: | 16mm | 15mm | 15mm | 18.5mm | 13mm | 17.5mm |
| Close Focusing Distance: | 2.5m (8.2ft) | 2.1m (7ft) | 1.5m (4.9ft) | 8.2ft | 6.6ft | 8.2ft |
| Field of View at 1000yds: | 351ft | 420ft | 357ft | 409ft | 360ft | 421ft |
| Exit Pupil | 3.6 | 4 | 3.3 | 4 | 3.2 | 4.1 |
| Twilight Factor | 17 | 16 | 18.2 | 16 | 17.9 | 16.2 |
| ED Glass | No | No | Yes | Yes | Yes | No |
| Phase Correction | Yes | Yes | Yes | Yes | Yes | Yes |
| Lens Coatings | Fully Multi-Coated | Fully Multi-Coated | Fully Multi-Coated | Fully Multi-Coated | Fully Multi-Coated | Fully Multi-Coated |
| Waterproof | Yes | Yes | Yes | Yes | Yes | Yes |
| Fogproof | Yes | Yes | Yes | Yes | Yes | Yes |
Included Extras & Attention to Detail:
Carry Case
The soft carry case looks to be made very well, but must be said is fairly basic. It has only a small amount of padding, no extra pockets and no dedicated strap - you use the actual binocular strap, which can be threaded out the sides of the Velcro fastened lid when carrying it. There is also no loop on the rear of the case that can be used to thread your belt through. One thing I do like is the binocular fits nicely into the case, without being too loose or too tight. It can be very annoying if you have to struggle, or have to adjust the eyecups and or Interpupillary Distance every time you want to put your optics into their case.
Neck Strap
Like the carry case, the neck strap is also fairly basic, with no padding at all - although to be fair, these binoculars are light enough that padding is not really that necessary.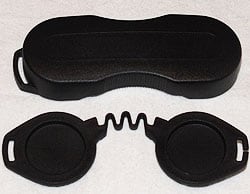 Lens Covers
The objective lens cover is different to most binoculars that have a separate cap for each lens. The Pentax one is made from thin plastic and has two cups joined together with a flexible bridge to accommodate different Interpupillary Distance settings. It has loops on each side of it that you can use to connect it to your neck strap if you wish. It fits reasonably well to the barrels of the binocular and should not easily accidentally fall off.
The rainguard (eye-piece cover) is also made from plastic, it fits fairly loosely on the eyepieces and has a loop that enable it to attach to the neck strap. The loose fit means that it can easily accommodate different inter-pupillary adjustments. This is something that is often overlooked by manufacturers meaning that the eyepiece covers will not fit, unless you store your binoculars fully open, which can be a real pain as you have to adjust them every time you use and replace your binoculars.
Best Binoculars Rating for Extras & Attention to Detail: 6/10
Conclusion
Strong Points: What really impressed me with these Pentax binoculars was just how light they are, yet they body still feels tough enough to handle most normal uses. The open bridge design not only looks good, but makes them comfortable to use when glassing and really secure to carry about even in one hand. Their twist up eyecups with a generous 16mm of eye-relief and 5 fixed stops are some of the best that I have ever used. Overall, I thought that the quality of the view through them was very good and easily matches a lot of binoculars that cost much more than these.
Weak points? These Pentax 9x32 DCF BC binoculars don't have any very bad points, but being very picky, I would have like to have seen a slightly wider field of view. Another small thing, but there is also some room for improvement in terms of the extras like the carry case, neck strap and lens caps.
Ideal Uses: Like most mid-sized binoculars these are ideal travel binoculars, perfect to take on a camping trip. Their size and 9x magnification means they also make excellent safari binoculars, especially if you like to observe birds as well as the larger land fauna that Africa is most famous for. As such, I would also say that these Pentax binoculars would be great for general wildlife observation and even some types of hunting where size and weight are important. Like most mid-sized binoculars these make a good all-round general use binocular.
Overall I would say that considering what they cost and the fact that you get high quality optics, housed in a very lightweight, water and fogproof open bridge body, these 9x32 Pentax DCF BC binoculars are really good value for money.
Acknowledgements
I would like to thank Pentax UK for sending this binocular to me to review - but would also like to point out that all the reviews on this site, including this one are my opinion of the binocular and are not influenced in any way by manufacturers, distributors or suppliers.