"ED Glass" is and has been a real buzzword in the world of optics over the last few years and whilst this special glass with it's extra low dispersion qualities gives the lens designers a little more options enabling them to potentially reduce chromatic aberrations and therefore improve the quality of the image by reducing or in some cases even eliminating color fringing, it is by no means always the case.
A well designed optical system produced from "standard" low dispersion glass elements can perform as well and even better than some that have "extra" low dispersion elements, but are not as well designed. This is why I am always interested to test high level binoculars that unashamedly steer clear of the crowd, foregoing the need to put the "ED" letters in their title to see if they can still match those that do.
A good example of this is the 9x42 Pentax DCF BR, with it's unusual 9x magnification and open bridge design, it is very modern in many ways and even though it uses many high end optical components and coatings does not have ED glass in their lenses. So to see just how well they do and compare to others, I put them through a thorough testing, both in my office and out in real world conditions and below you can find my full Pentax 9x42 DCF BR binocular review:
Main Features
9x Magnification with 42mm Objective Lenses
Fiber-reinforced Polycarbonate Open Bridge Body
Waterproof (JIS Class 6) and Nitrogen Filled
Click Stop Diopter Adjustment Ring
Fully Multi-Coated Optics
Phase & Silver Mirror Coated Roof Prisms
FOV: 321m wide at 1000m (6.1°)
18mm of Eye-Relief
Close focus: 8.2ft
Tripod Adaptable
The Body
Body Design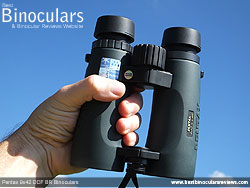 These Pentax binoculars use roof prisms and as such their eyepieces are in line with the objective lenses. The body also has an open bridge body design, which means that rather than having a single wide hinged bridge connecting the two barrels as found on more traditional roof prism bins, these have two thin bridges at each end.
The advantages of this are mainly twofold: by effectively having less body material, this design can in some cases help reduce weight, but more importantly it also opens up an area in between the hinges that helps with grip, especially when you are walking about and holding them one handed (see image on the right).
Main Chassis
The main skeleton on this Pentax DCF BR binocular is made from "fiber-reinforced polycarbonate" that they say is "for strength and rigidity". Whilst this is true and indeed many, many other binoculars also use this as the main material for their construction, some higher end bins also use either aluminium or magnesium bodies that are supposed to be even stronger!
As well as being cheaper to produce, the other advantage that polycarbonate has over the other two commonly used materials is that it tends to produce a lighter binocular.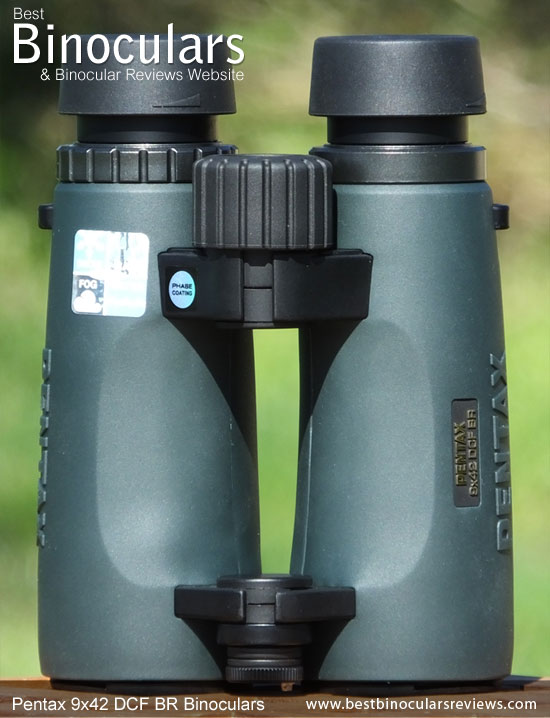 Fully Waterproof
Most better quality binoculars produced these days tend to be waterproof, but not many advertise at what level or a recognized standard that they can achieve.
These come with a JIS Class 6 rating for waterproofing, which that not only are they completely airtight and fully submersible to a depth of 1 meter, but during testing a direct jet of water was sprayed at them from all directions and they remained completely dry inside. Pentax are so confident in their waterproofing that they mention that you can rinse them off with fresh water when cleaning.
Obviously this fully sealed body also stops dust and other small particles from entering, which makes it an important feature in dry and dusty environments.
Fog Proof
The inside cavity is also filled with nitrogen gas, which unlike standard air does not contain moisture. This prevents the internal glass surfaces from misting up, which can happen to unprotected binoculars, especially when you get large fluctuations in temperature, like bringing them into a warm room after a early morning walk.
This moistureless and airless interior will also put a stop to corrosion and the mould that you sometimes see on the glass of older pairs of optics.
Rubber Armored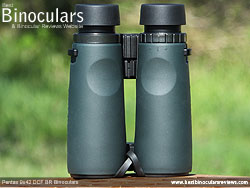 As with most modern binos, these have a rubber coating that covers most of the exterior surface. The armour on this model is acceptably thick and so will provide a good amount of impact protection. It also makes less noise than exposed metal would if you tap something like a watch strap or wedding ring against the barrel, which may lead to you exposing your position or frightening away shy birds and other wildlife.
The rubber is also very finely textured, which provides a very good amount of grip and is better than many I test, even when wet or with gloves on . On top of this, the matt green color also reduces light reflecting from the body, which if you are trying to remain hidden is a good thing.
Parts of the exterior that are not armour covered include the two bridges and two ring near the eyecups, but all of these are in a dark matt finish and so should not cause much of a problem in terms of reflections.
The 42mm objective lenses are also set at a depth of 10mm within the ends of the barrels, which will not only reduce unwanted reflections, but also protect the lenses and their coatings.
As with most bins, these have a loop on the side of each barrel near the eye-pieces that is used to thread the neck strap to the device. The ones on this bin look to be made from metal and are nice and strong.
Pentax have also added a depression on the underside of each barrel, which guide you to place your thumb in the right spot on the body when holding them up to your eyes to get the binocular well balanced. This helps ensure that you get a nice stable, shake free image and they work really well.
On the whole I found the Pentax 9x42 DCF BR binoculars very comfortable to hold, with my forefingers naturally wrapping around the barrels for a very secure grip and they do feel well balanced and have a really nice quality feel about them.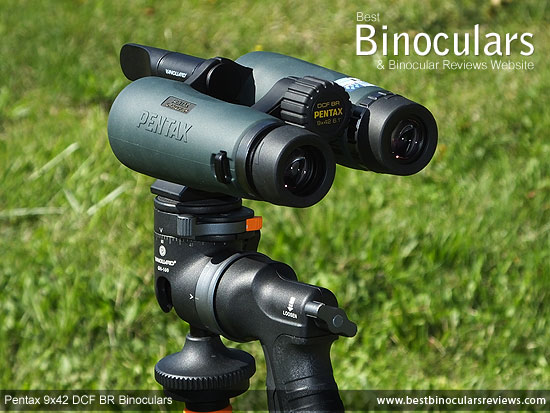 Tripod Adaptable
Because of their thin front hinge, not all open bridge bins are tripod adaptable, so it was good to see that you can indeed remove the circular cap on the front hinge, which reveals a thread that can take a standard tripod adapter. This cap also holds in place the cords for the objective lens caps should you want to remove them completely.
What I like is that because the position of the front hinge is much nearer the front of the binocular, it makes attaching the adapter much easier than on many single hinge bins, where you have to squeeze in between the two barrels. Indeed I have had some cases where an adapter with a larger tightening screw wont fit, which is something to keep in mind if you want to be sure that your bins will fix to a tripod.
For a demonstration of me adding my adapter to my Vanguard GH-100 pistol grip (pictured above) take a look at the end of my walk-around video below.
The Eyecups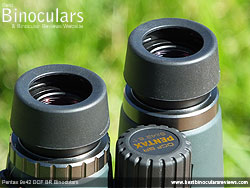 The twist up helicoid action on the eyecups of the model I was testing was smooth and turned without catching. Without any undesired play, they also had just the right amount of friction to prevent any inadvertent turning.
Made from metal, they are covered in a moderately thick and soft rubber coating, which combined with their reasonably large 39mm diameter and 6mm wide face makes for a comparatively comfortable eyecup.
Like most bins, the eyecups have a flat face and so I find that light comes in from the sides. This is not a major problem, but if you ever try adding some Eye Shields, it really does make quite a big difference to the view and so I am surprised that not many manufacturers design eyecups with some sort of shielding on the sides.
Eye-Relief
The 9x42 mm DCF BR's give you 18mm of eye-relief which is enough for them to be classed as long eye-relief binoculars and so should be enough distance to allow most who wear glasses to keep them on whilst glassing and still get the full width of view.
I tested them using my sunglasses and was indeed able to get the full view by full twisting in the eyecups. However they have an impressive two fixed intermediate click-stops which is again more than most and gives you just more options to get the distance exactly right for your exact needs. Note: most people who don't use glasses will just use the bins with they eyecups fully extended.
Inter-Pupillary Distances (IPD)
As with most bins, the distance between the two eyecups can be adjusted to match the distance between your eyes by opening and closing the hinges.
The IPD range on these goes from a minimum distance of 5.6cm up to 7.4cm, which as you can see by comparing the IPD with others is a good range for a bin in this class and means they should accommodate most people.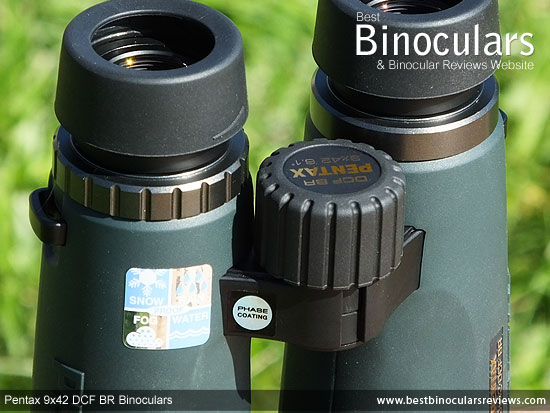 Focusing
Like most other full sized bins, the focus wheel on this bin is nice and large (diameter of 33mm) and on the pair I was reviewing, turned very smoothly without any rough spots or unwanted play.
The wheel is also well exposed, unlike some that are nestled between the barrels, this combined with the deeply channelled rubber coating means that it is easy to reach and turn accurately, with plenty of grip even when wearing large padded gloves.
Taking 1½ turns (540° of rotation) of the wheel to go from extreme near to extreme far focus, I would describe the gearing as about average, giving them a good balance between the speed at which you can change the focus over large distances and the ease of being able to fine tune your focus to get it exactly right.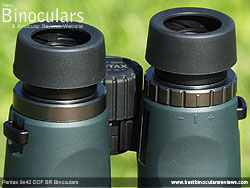 Diopter Adjustment
Located near the eye piece on the right barrel, the diopter adjustment ring that you use to calibrate your bins is fairly standard for a 42mm roof prism binocular.
Whilst it is not lockable, it does have a fine click stop system that does a better job of staying your desired setting than smooth ones.
Another small sign of the quality and attention to detail on these Pentax bins is the lockable diopter adjustment ring which will prevent any unwanted movement.
A simple feature that is missing on these and indeed most others that I test is more markings or a scale that would make it much easier to remember and return it to a particular setting should it move by chance or when you share your optics with someone else who has different eyesight than yours.
Rating for Body Construction Quality: 8/10
Weight
The weight of this Pentax 9x42 DCF ED binocular is 23.5 ounces (666g), which as you can see from the comparison table below, places them amongst with the lighter bins in this size category. The open bridge design and the lightweight polycarbonate housing will have helped in this regard.
What I like is that even though they are reasonably light, they feel very robust and sturdy and are nicely balanced.
Dimensions
The length of these 9x42 Pentax binoculars is 5.8in (14.7cm), which is achieved by twisting in the eyecups and removing the lens covers, which is about average for a full sized roof prism bin.
By extending the eyecups their length extends to 15.4cm and then with both the rain-guard and objective lens covers it moves out to 15.8cm.
Pentax Sport Optics state their width as being 5.0in (12.7cm), which is measured with the central hinges fully open. At this point their height (depth) is 2.4in (6.2cm), which is a little more than most, but does demonstrate that their focus wheel protrudes out more than most, which has the advantage of making it easier to access especially with well padded gloves on.
By fully closing the hinges, their width is reduced to 11.4cm, which increases their depth to 7.3cm.
BBR Rating for Body Stats: 7/10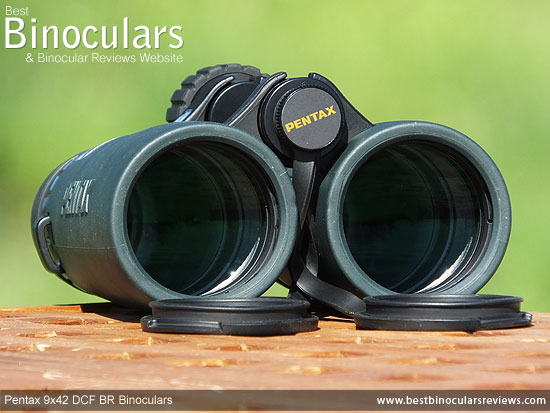 The Optics
Lenses
Eyepiece
The ocular lenses have a diameter of 22mm which is fairly standard for a 42mm binocular.
Pentax Sport Optics do not go into too much detail regarding the make up of their eyepieces on these, other than to say that they are made up of 4 elements arranged into 3 groups.
Objective Lenses
Likewise, each objective lens on these Pentax 9x42 DCF BR binoculars consists of 4 elements in 3 groups and whilst these may not use extra low dispersion glass (ED), the elements will be designed to direct the light so that it reduces the amount of aberrations for a sharper image with minimal color fringing.
Prisms
These Pentax binoculars use roof (Dach) prisms as is indicated by the DCF in their name, however Pentax do not state what glass is used, but I will assume it is Bak-4 glass, which is very commonly used in this design and price range.
Optical Coatings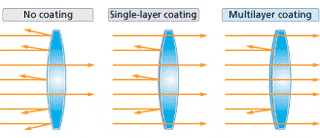 Fully Multi-Coated
The optics on these are Fully-Multi-Coated, which means that ALL of the air-to-glass surfaces in the optical system have multiple layers of an anti-reflection material added to them.
These coatings help because as the light goes through the binocular, it hits many glass surfaces and on each one there is the potential for it to be reflected or disturbed in an undesired way, which leads to a lesser quality and dimmer image being produced.
To help with this anti-reflection coatings are applied to some or all of these surfaces. Lower quality bins will apply less coatings to fewer surfaces as it makes them cheaper to produce and will be described as Coated, Multi-Coated, or Fully Coated, but not Fully-Multi-Coated like these.
Mirror Coatings
One surface in a roof prism does not reflect all of the light that arrives at it, which if left as is, results in a lower transmission level and therefore lesser quality and duller images. So better roof prism binos have a highly reflective coating added to this surface to increase it's reflectivity:
Some have aluminum mirror coatings with a reflectivity of up to 93%, whilst these Pentax binoculars use the more expensive silver mirror coatings that can reflect between 95% and 98% of the light which is excellent. (Please note that some very high end bins use dielectric coatings that can reflect as much as 99% of the light).
Phase Correction Coatings
Pentax have also added phase correction coatings to the prism that correct the "phase shift" which increases the image resolution and improves the contrast compared to other roof prisms that don't have this.
Optical Components Quality Rating: 7/10
Optical Stats
9x42 Configuration
Whilst the 42mm diameter lenses are the size most commonly used on full sized binos, Pentax have opted to combine this with a fairly uncommonly used 9x magnification, so I thought I would take a little time to discuss some of the benefits down sides to this:
All 8x42mm binoculars have an exit pupil of 5.25mm (42 ÷ 8 = 5.25), whilst these are smaller at about 4.7mm (42 ÷ 9 = 4.66) and 10x42 bins have 4.2mm exit pupils. This means that the shaft of light getting to your eyes is a little smaller than the 8x42, which in turn means that in some very poor lighting conditions when your pupils are larger than the exit pupil, these in theory will not appear as bright. The reverse is true when comparing them to a 10x42 and so these may appear a little brighter (assuming all else is equal).
However in most normal conditions, your pupils will be smaller than all of these and unless you spend a lot of time in really bad light this will not really be a major limiting factor.
The size of the exit pupil also plays a roll in how easy it is to line up your eyes with the shafts of light coming from the binocular to get the full view without any dark rings forming on the edges, with larger being easier to line up. But once again the difference is really small between all of these and for me it has never been an issue.
The Field Of View (FOV)
The Pentax 9x42 DCF BR has an angle of view of 6.1° which when measured out, makes for a view that is 107 meters wide at a distance of 1000 meters (321ft @ 1000 yards). As you would expect this is a little less than most 8x42 binoculars, but is wider than all but the best 10x42 bins and so makes quite a good compromise between the two:
Close Focus
These are rated by Pentax as having a near focus of 8.2ft (2.5m), however I measured it to be quite a bit nearer at about 5.4ft (1.66m) on my review pair, but I have to say that whilst the image was in focus, there was some cross over between the left and right barrels in the view.
I would describe the official distance as being good to very good, whilst anything under 6ft for a full sized bin is excellent.
Eye-Relief:
With 18mm, I would describe these as being long eye-relief binoculars and when you include the 2 intermediate stops on the twist-up eye-cups, these should be a good choice for most people who wear glasses.
Optical Stats Rating: 7/10
Image Quality
I compared the view through these 9x42 Pentax DCF BR binoculars, in good light and once again in poor light with that of my mid level 8x42mm and my high end 8x42 benchmark binoculars and below are my thoughts and findings:
9x vs 8x
The difference in the view between the two magnifications is small and unless you are swapping between the two, is not really that noticeable. But there is a difference and you do get just that bit closer with the higher power, but you also do have a slightly narrower view.
As I expected, I was not able to detect any difference in image shake between the two and was easily able to keep the image nice and still.
Image Brightness & Low Light Performance
Once again and as expected the image brightness between all three binoculars looked to be the same in good light.
It is only in very poor light that I was able to see a very slightly brighter image on my very high quality 8x42's, which probably has as much do do with the use higher transmittance of the dielectric coatings compared to the silver coatings as the slightly larger exit pupil.
To me the brightness on these Pentax bins looked the same as that of my mid range 8x42's, which have the same level of optics and coatings and so, for me the slightly smaller exit pupil really did not make much of a difference in this area.
On the whole I would rate their brightness as being very good to excellent and easily on a par with anything in this price range.
Color Fringing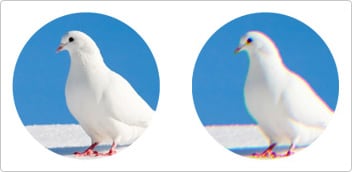 Both my benchmark bins use ED glass elements in their lenses and so in theory should reduce the chromatic aberrations that causes color fringing better than most no ED bins.
To check for color fringing, I focused on the edges of a number of objects that had a high contrast with their background, which is where it is most easy to see the effect.
Again and as expected my high end bins performed the best, with almost non detectable. Whilst it is detectable on the Pentax, the amount is really small and to be honest is only really noticeable if you are actually looking for it. What I would like to mention is that this amount was also about the same on my mid level benchmark bins that do use ED glass.
This as I expected goes to show that a well designed non ED glass system can compete in this area with some ED binoculars.
Image Softening
Also very impressive to me was just how little softening you get right at the edges of the view, making these as good as some of the very best I have looked though.
Image Flatness
On some bins you get some image distortion, where for example a straight line may curve inwards or outwards. I could not detect any of this and for me the whole image through these looks nice and flat, without any of the so called "roller ball" effect, both when focusing on near and far objects.
Colour Reproduction & Image Contrast
I thought that whilst the image was nice and bright, it does not wash out the colors and they look crisp and beautifully vivid, without any unnatural tints that you sometimes see, especially on cheaper bins.
The amount of contrast between dark and light is also very good, helping objects look nice and three dimensional. This along with the sharp image and brilliant colors also helps objects like some birds really stand out from their backgrounds.
Comparing them to my top end controls by swapping to and fro quickly and often, I really could not spot any difference between them both in the colors or their amount of contrast in the images they produce.
Depth of Field
Comparing the depth of view by focusing on an object about 5 meters away and then moving back without adjusting the focus to see how far I can go, I thought that these managed a smidgin less than my 8x bins, which for a higher powered device is to be expected. But the difference is tiny and really nothing to be concerned about.
Image Quality Rating: 8/10
Accessories & Attention to Detail:
Carry Case
The rather simple carry case that comes with these DCF BR bins is very similar in design to that of most of the other full sized bins from Pentax that I have tested.
It is a soft bag with only minimal amounts of padding and so does not offer as much impact protection as you get with some. To access the inside you lift the top flap that is held closed with a large strip of Velcro, which works well, but makes a rather loud noise unless you are careful and so is something to keep in mind in certain situations.
There are no extra internal or external pockets, nor is there a belt loop on the rear. It also does not come with it's own strap, rather you use the neck strap from the binocular when it is inside, by threading it through the holes on the sides of the main flap.
The binos fit very snugly inside and perhaps a little too snugly in terms of it's width as they are a little difficult to remove when you have the central hinges fully open (IPD set to max). However you can still close and fasten the lid of the case with the eyecups extended and the rain-guard and lens covers on, which believe it or not, is a fairly common oversight.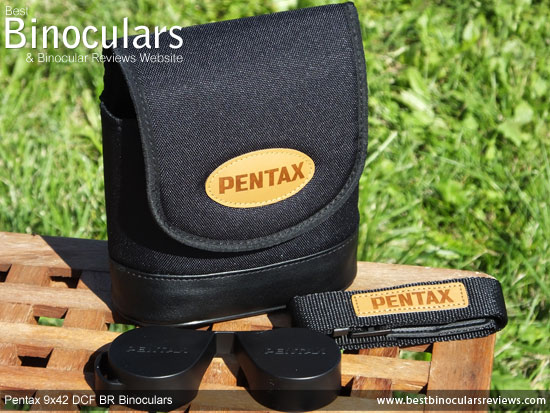 Neck Strap
Like the bag, the neck strap is also very simple and in my opinion does not do the quality of the binocular justice. Whilst it is well made, it does not come with any padding and is only 2.5cm wide, making it far less comfortable than most in this class.
Eyepiece Cover
The plastic eyepiece cover or rain-guard fits very loosely onto the eyecups and so can easily come away which I find a little annoying. It does have a flexible bridge between the two cups and so can be attached no matter what you have your inter-pupillary distance set at.
In the side of the cover is a loop that you can thread the neck strap through, that should prevent you from losing it, when it falls of.
Objective Lens Covers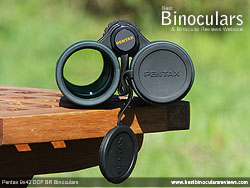 I really like the objective lens covers that you get on these bins. Made from a hard rubber, they fit very well into the ends of the barrels. They not only look a lot neater and maintain the clean lines of the binocular because they fit into the barrels and no over them as is the case with most others, but this as well as their good fit means that there is less chance of them being knocked off by accident.
The are attached to the binocular via a cord that is held in place under the dust cap on the front hinge, so when you remove the caps from the barrels and look through the bins, they just hang down below the binocular, completely out of the way.
Lens Cloth
To my surprise you do not get an included lens cleaning cloth with these Pentax DCF BR binoculars, but perhaps that is not all bad as I would suggest that you should invest in a decent r Lens Cleaning Kit anyway which will not only clean your optics better, but ensure that you do not damage the sometimes rather delicate coatings on them.
Manual & Warranty Information
These binoculars come with a 30 year guarantee and all the contact details should you need help. The included owners manual includes the main specifications and names of the parts of this model as well as some very basic information and warnings.
Extras & Attention to Detail Rating: 6/10
Pentax 9x42 DCF BR Comparisons
Because a 9x magnification combined with a 42mm objective lens is not a very common combination, I have not been able to make a direct comparisons between these and others that I have reviewed. But what I have done is to include a number of similar bins in their price range with either 8x or 10x magnifications that I think makes for some interesting reading:
| | | | | | | | |
| --- | --- | --- | --- | --- | --- | --- | --- |
| | Pentax 9x42 DCF BR | Carson 3D Series 10x42 | Celestron Granite 8x42 | Eagle Optics ED Ranger 8x42 | Hawke 8x42 Sapphire ED | Vanguard Endeavor ED 10x42 | Vortex Viper 8x42 HD |
| Approx Price: | $300 / £370 | $250 | $345 / £398 | $440 | $450 / £340 | $300 / £260 | $450 |
| Body Shape: | Open Bridge | Standard | Open Bridge | Open Bridge | Top Hinge | Open Bridge | Standard |
| Weight: | 23.5ozs (666g) | 23.2ozs (658g) | 24oz (680g) | 27.4oz (777g) | 25.7oz (730g) | 25.8ozs (731g) | 24.2oz (686g) |
| Length: | 5.8in (14.7cm) | 5.5in (14cm) | 5.8in (14.7cm) | 6.7in (17cm) | 5.5in (14cm) | 6.0in (15.2cm) | 5.8in (14.7cm) |
| Width: | 5.0in (12.7cm) | 5.0in (12.7cm) | 4.0in (10.3cm) | 5.0in (12.7cm) | 5.1in (13cm) | 5.1in (13cm) | 5.3in (13.5cm) |
| Eye Relief: | 18mm | 16mm | 17mm | 18mm | 18mm | 16.5mm | 20mm |
| Min Focusing Dist: | 8.2ft | 6.2ft | 6.5ft | 6.0ft | 6.6ft | 8.2ft | 5.1ft |
| FOV at 1000yds: | 321ft | 314ft | 426ft | 425ft | 426ft | 342ft | 347ft |
| ED Glass | No | Yes | Yes | Yes | Yes | Yes | Yes |
| Phase Correction | Yes | Yes | Yes | Yes | Yes | Yes | Yes |
| High Reflective Prism Coatings | Silver | ? | Dielectric or Silver | Dielectric | Dielectric | Silver | ? |
| Lens Coatings | Fully Multi-Coated | Fully Multi-Coated | Fully Multi-Coated | Fully Multi-Coated | Fully Multi-Coated | Fully Multi-Coated | Fully Multi-Coated |
| Waterproof | Yes | Yes | Yes | Yes | Yes | Yes | Yes |
| Fogproof | Yes | Yes | Yes | Yes | Yes | Yes | Yes |
Conclusions:
Strong Points: I started off this review wondering if a non ED glass binocular in this price category could perform as well in reducing color fringing as that of similar priced ones that do have ED glass and I can confirm that in my opinion these are indeed as good as many in this area.
I also thought that these Pentax 9x42 DCF BR 8x43 binoculars have a really great overall feel to them, both in terms of comfort and in they way they just ooze quality and good craftsmanship.
Fog proof and waterproof binoculars are fairly common these days, but with these you get the added security of knowing that that have been tested to a recognized standard, which for those who really need waterproofing is an important consideration.
Weak points? As with most of the other Pentax binoculars that I have tested, the accessories like the carry bag, rain-guard and the neck strap are somewhat a disappointment. Whilst they all perform their designed task, they nowhere near match the refined quality of the actual binocular, nor indeed of many in this price range. However I will go onto say that they are not bad and if it meant Pentax had to make a price increase to improve these, I would probably opt to keep them as is.
Ideal Uses: The 9x magnification on these makes them in many ways the ideal compromise for those who want a little more reach and image detail than you get with 8x, but do not want to sacrifice as much of the FOV that you have to with most 10x bins. For this reason these cross over into many areas and so are ideal all-round and general use binoculars.
For birding and viewing larger wildlife they will be fine in most scenarios, but will excel in open areas and for observing birds over larger distances. Compared to the best 8x42 binoculars, their slightly smaller FOV means that it will be a little more tricky to locate and track fast moving birds at nearer distances.
The tough, waterproof body means they are ideal to take on most camping, and hunting trips, but for the same reasons above, they will perform better in wide open areas than in close, frosted areas.
Even though they are fully waterproof,I would not recommend them for most marine uses, because the higher magnification means that unless you are always on still water it may be quite difficult to keep the image still.
100% Honest Review
This Pentax 9x42 DCF BR review, like all the others that I have written on BBR is my genuine and honest opinion of the binocular and I have in no way been influenced to to write in a particular way. What is more, I would like to assure you that I spend a lot of time researching, testing and using every bino I write about, unlike the many bogus binocular reviews out there, where they never even see the product in question.
I spent a lot of time researching this Pentax DCF BR binocular and I believe all the details on this page to be correct at the time of writing, but I have been known to make the occasional mistake. So please if you spot one, just let me know.