Recently I have been getting more and more requests from representatives of various binocular manufacturers located in Asia for me to test and review their products.
For the most part, these companies don't have a website and the only places where you can find or buy their binoculars are on sites like Gearbest and Alibaba.
Up until now, I have turned them all down as I already have a long backlog of binoculars from established and well-known brands waiting for me to test and almost without exception, the instruments that they want me to test have "brand names" that you can't find any information on and my fear is that they are here today, gone tomorrow types of products and as such there is no accountability, warranty or customer service which I value as a really important aspect on any instrument that I review on BBR.
Anyway, this time, with these Rivmount binoculars I relented. Partly because I eventually just got worn down by the sheer number of requests day after day and partly because I did manage to find out a little about the Rivmount brand:
Firstly, whilst they are largely manufactured in China, a small number of precision parts are made in Japan, for example, I know that some of the glass is made in Japan and then comes back to China for processing and polishing.
This piqued my interest and so I agreed because I became curious as to how these super cheap binoculars would perform.
So, to find out, please take a moment to read my 100% honest review of the Rivmount 10x42 binoculars that I wrote after thoroughly researching (as much as I could), using, testing and comparing them to other similar instruments:
Menu: Main Specifications & Features:
Very Cheap Binoculars, approx: $40 / £40 / €40
Body

Single Hinge Body Shape
Polycarbonate Chassis
Water Resistant (not waterproof)
Large Central Focus Wheel
Right Eye Diopter Adjuster
Twist-up Eyecups
Tripod Adaptable
Weight: 533g / 18.8oz
Dimensions: 15x13.5x6.3cm

Optics

Fully Multi-Coated Optics
BAK-4 Glass
Roof Prisms

Optical Stats

Eye Relief: 15.5mm
Angle of View: 5.6°
Field of view: 321ft
The Body
Shape & Design
The Rivmount has a typical shape for a modern roof prism binocular, with a single bridge connecting the two barrels and apart from the small Rivmount logo on the bridge, looks a lot like many, many other similarly priced instruments out there.
Inter-Pupillary Distance (IPD) Adjustment
By opening and closing this hinge, you can adjust the IPD (Inter-Pupillary Distance) and the hinge itself felt robust and opened and closed with a good amount of resistance to ensure that it remains at your desired setting.
Rubber Armor
The black rubber used to cover the chassis is relatively hard and only lightly textured so only improves grip by a nominal amount.
It is also relatively thin and therefore offers less cushioning and impact protection than a thicker rubber would.
According to Rivmount they use TPE which is an environmentally friendly rubber material that reduces the release of harmful substances during its degradation and combustion, and more importantly reduces the damage to the user during skin contact.
The material cost of this TPE rubber is "twice as high as that of ordinary materials".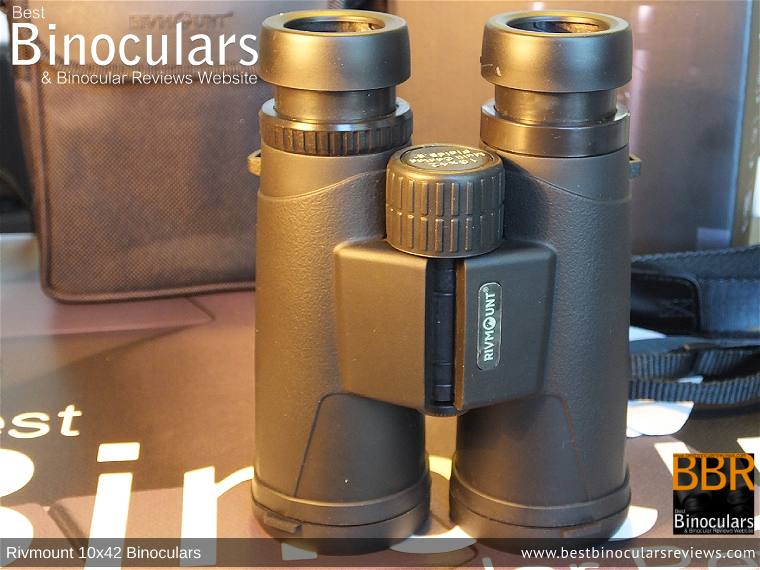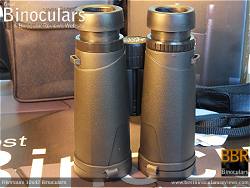 Chassis
Whilst not advertised, by the look and lightweight feel of the instrument, I believe the chassis is made from polycarbonate plastic, which at this very low cost is to be expected.
Update: Rivmount have come back to me and confirmed that the exact material used is reinforced ABS. This is a synthetic material with higher hardness, so the binocular is lighter and the net weight is less than 18 ounces. In order to ensure that the axis is of a high strength, the hinge is made from metal.
Weatherproofing
These Rivmount binoculars are advertised as being water resistant, which means that they are not fully sealed and not completely waterproof.
These water-resistant seals should prevent light rain and dust from entering, but as they are not completely airtight and don't contain a completely dry gas like nitrogen or argon inside the chassis, the interior lens surfaces are not protected against misting or fogging up.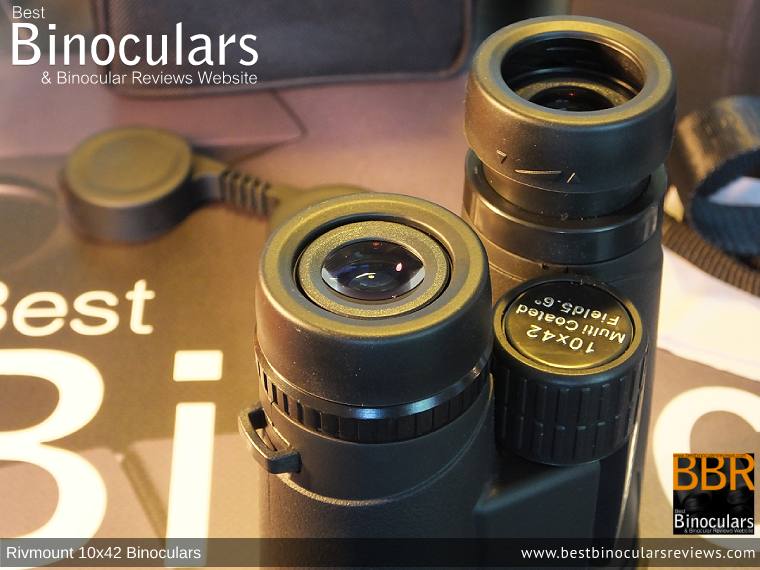 Eye-Cups & Eyepieces
At this low price, I was impressed to find that the Rivmount binocular uses twist-up eyecups and whilst not matching the quality the best, the mechanism felt pretty smooth there was not too much free play and enough resistance to ensure that they remain at your desired setting.
The eyepiece housings look to be made from a type of plastic. At this price point, this is to be expected, but as this is an area of a binocular that often gets damaged when dropped, the best binoculars use metal housings instead.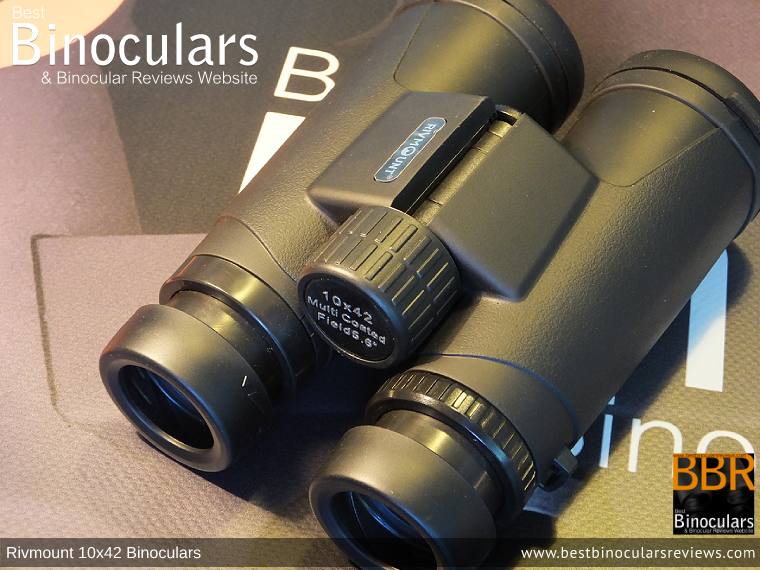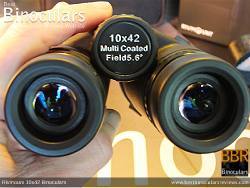 Focus Wheel & Focussing
Whilst not as luxurious as the metal ones found on more expensive instruments, the plastic focus wheel with its rubber grip cover turns smoothly and lacks any tight or loose points at any point.
It is Located in the standard central position behind the central hinge and is reasonably large and thus easy to use even with gloves on.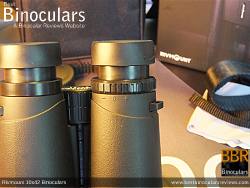 Diopter Adjustment
Used to calibrate the binoculars, I was first happy to see that there was one as I have actually come across some cheap instruments at this price that don't!
Secondly and whilst the diopter adjustment ring is not lockable like the better ones, it worked well enough.
Tripod Adaptable
Also notable is the fact that the Rivmount 10x42 binocular is 'tripod adaptable' and thus accepts a standard tripod adapter.
Body Quality Score: 6/10
Weight
Just by picking them up you can tell that these Rivmount binoculars are very lightweight for a 42mm binocular. Placing them on the scales confirms this, indeed as you can see in the table below, these are one of the most lightweight binoculars in this size class that I have ever tested.
Whilst it is always nice to have a lightweight binocular, just note that this is largely down to the fact that they have many more plastic parts than higher quality instruments. They also don't use a separate focusing lens and thus have less glass than most, but more of this in the optics section below.
| | | | | | | |
| --- | --- | --- | --- | --- | --- | --- |
| | Weight | Design | Chassis | Length | Width | Height/Depth |
| Rivmount 10x42 | 18.8oz / 533g | Single Hinge | Polycarbonate | 5.9in / 15cm | 5.2in / 13.5cm | 2.4in / 6.3cm |
| Celestron Nature DX 8x42 | 22.2oz / 629g | Single Hinge | Polycarbonate | 5.3in / 13.5cm | 4.9in / 12.4cm | 2in / 5.2cm |
| Pentax 9x42 DCF BR | 23.5oz / 666g | Open Bridge | Polycarbonate | 5.8in / 14.7cm | 5.0in / 12.7cm | 2.4in / 6.2cm |
| Bresser Condor 10x42 | 23.6oz / 669g | Single Hinge | Poly & Magnesium | 6.1in / 15.4cm | 5.2in / 13.3cm | 2.0in / 5.2cm |
| Celestron Granite 8x42 | 24oz / 680g | Open Bridge | Magnesium | 5.8in / 14.7cm | 4.0in / 10.3cm | 2.1in / 5.3cm |
| Vortex Razor HD 8x42 | 24.2oz / 686g | Single Hinge | Magnesium | 5.9in / 15cm | 5.1in / 13cm | 2.0in / 5.1cm |
| Hawke Sapphire 8x42 ED | 25.7oz / 730g | Single Hinge | Magnesium | 5.5in / 14cm | 5.1in / 13cm | 2.0in / 5.1cm |
| Opticron DBA VHD 10x42 | 25.2oz / 714g | Open Bridge | Mag & Poly | 5.7in / 14.5cm | 5.0in / 12.6cm | 2.0in / 5.0cm |
| Hawke Frontier 8x43 ED | 26.2oz / 743g | Open Bridge | Magnesium | 6.6in / 16.7cm | 5.2in / 13.2cm | 2.6in / 6.6cm |
| Swarovski 10x42 SLC | 28oz / 794g | Single Hinge | Magnesium | 5.8in / 14.7cm | 5.0in / 12.7cm | 2.4in / 6.2cm |
| GPO Passion HD 10x42 | 29.6oz / 840g | Top Hinge | Magnesium | 6.1in / 15.6cm | 5.1n / 13cm | 2.2in / 5.6cm |
| Kowa 10.5x44 Genesis XD | 34oz / 964g | Single Bridge | Magnesium | 6.5in / 16.5cm | 5.4in / 13.7cm | 2.5in / 6.4cm |
Dimensions
The dimensions are fairly typical for a 42mm roof prism binocular, so nothing to comment on here.
Body Stats Score: 8/10
Optics
One of the most interesting aspects of these Rivmount binoculars is their focusing mechanism.
Most modern roof prism binoculars use a separate focusing lens located between the objective lens and the prism. When you turn the focus wheel, this moves forward and backward and thus adjusts the focal length. You can see this focusing lens clearly in the cutaway photo of a pair of Vanguard Endeavor binoculars that I have below: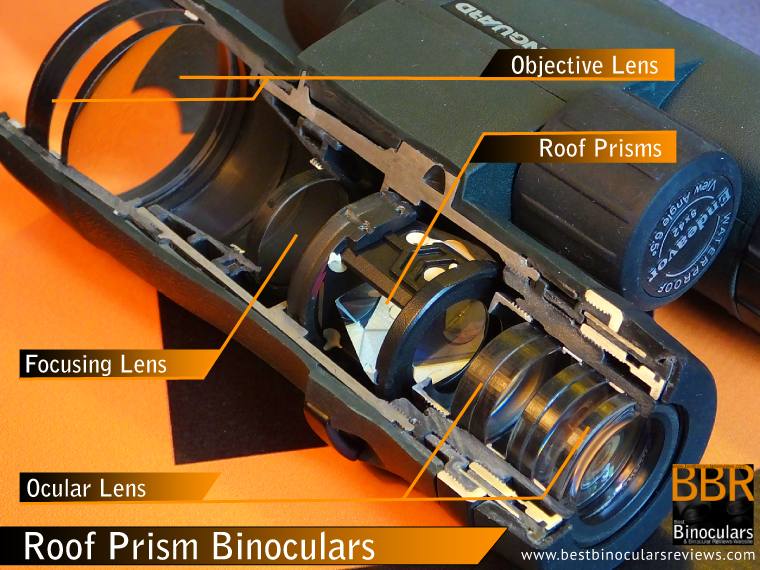 However, with the Rivmount, things are actually much simpler in that they have completely done away with this extra lens and instead they adjust the focal length by adjusting the position of the objective lens.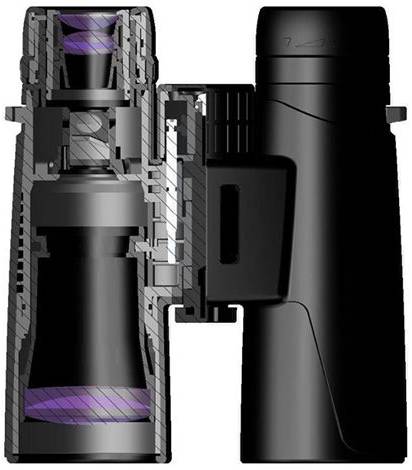 This simpler system can be seen in the cutaway structural diagram of these Rivmount binoculars.
In it you can see that it lacks the focusing lens and that there is a mechanism to enable the objective lenses to move forwards and backwards by turning the focus wheel.
In my experience, this is quite common to see on cheap Porro prism binoculars but is one of only a few times that I have come across it being used with a roof prism binocular.
The advantages are certainly that there are fewer glass lenses used, which is not only cheaper, but it also means that the light has to pass through fewer barriers on its way to your eyes. I think at the cheap end of the market, where the quality of the glass and the coatings used is not quite at the same level of more expensive instruments, this is important.
As for the disadvantages, I believe this means that it is not possible to achieve a very close focusing distance which is borne out by the fact that these have a relatively long minimum focus distance.
I am not sure of any other downsides or positives and would love to hear from anyone who may have more information to share. Anyone wanting to learn more, take a look at my guide to how binoculars work.
Ocular Lenses
I measured the outer eyepiece lens to have a diameter of 18mm, which for a 42mm binocular is on the small side. Larger ocular lenses can offer some advantages which include making it easier to line up your eyes with them. More details: binocular ocular lens size.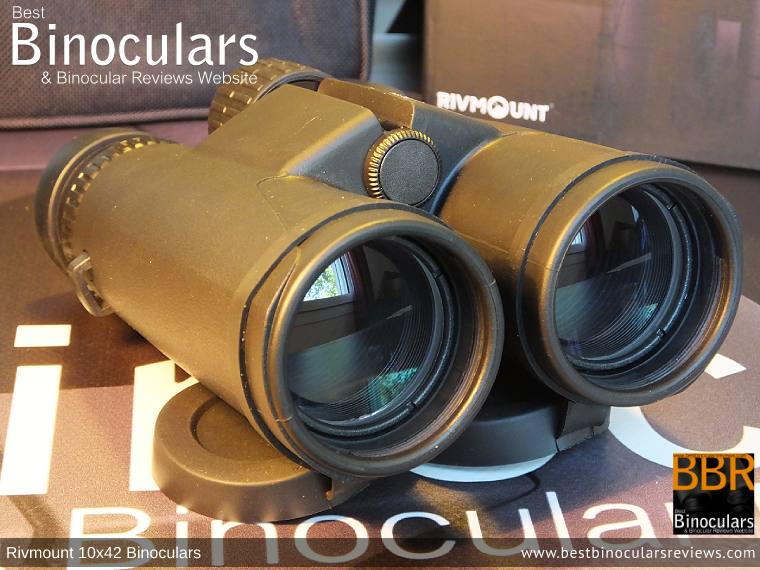 Prisms
These Rivmount binoculars use roof prisms made from BaK-4 Glass which is good as many cheap binoculars will use less expensive BK7 glass.
Indeed I have also had some further clarification from Rivmount regarding the glass used for their prisms:
Firstly some background: Not all BAK-4 prisms in the world can achieve the same standard, for an example divided into four levels of ABCD. Experienced users can notice the difference of each level, but the novice can not distinguish the four grades of prism without the aid of professional metering equipment.
According to Rivmount, the prism that they use is "optically close to BAK-4".
Optical Coatings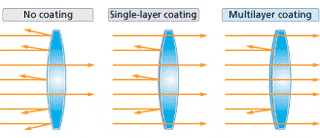 Anti-Reflection Coatings
The 10x42 Rivmount is advertised as FMC. I take this to mean that the optics are Fully Multi-Coated and which means all the surfaces of every lens is coated with a multi-layer film of anti-reflection material.
Indeed the green color you see reflected from the lens of the binocular confirms this as this is a distinguishing feature of anti-reflection FMC coatings.
The fact that these are fully multi-coated is good, especially at this price level and taking into account that the Rivmount 10x42 binocular is an entry-level roof prism binocular.
A single layer increases light transmittance and reduces undesired reflectivity, whilst a multi-layer film system also balances the color. Because the reflection of the multilayer anti-reflection coating system is emerald green, it is often called green film which you can see on the lenses.
I have also had some confirmation from Rivmount that they outer lens surface is hydrophobic which is certainly more than what I would expect at this level.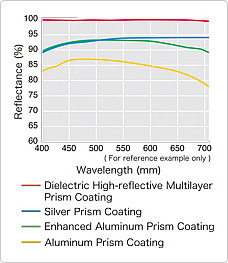 For more: What To Look For When Buying Binoculars & Anti-Reflection Lens Coatings.
Prism Coatings
I have not yet found out what mirror coatings are used on the prisms. My guess would be aluminum at this price level.
I also doubt as to whether they have phase correction coatings added to them, especially as they do not highlight the fact in the marketing and so will assume that they do not.
Coating Comparisons
To give this all some sort of context, take a look at how the level of glass and optical coatings used changes as the price of the instrument increases:
Optical Components Score: 6/10
Optical Stats
The Field Of View (FOV)
These binoculars are advertised as having a 5.6° angle of view. Which if you do the maths [tan(5.6)*1000*3], it works out to a field of view that is roughly 294ft wide at @ 1000 yards, or about 98 meters wide at 1000 meters.
However Rivmount have come back to me and updated this and have said the FOV is actually 321ft wide. For context, you can take a look at the table below:
Close Focus
Whilst they do not supply an official measurement, Rivmount supplied me with a figure of 3.1ft. However I think they may have meant 3.1 meters as I measured the minimum focus distance of my sample to be 4.1 meters (13.5ft).
Considering I consider a minimum close focus distance of 6ft to be excellent for full-sized 10x42 binocular, these are a long way off that and so are definitely not ideal for close observation of things like butterflies.
Eye-Relief:
These Rivmount binoculars offer 15.5mm of eye-relief, which is good, but not excellent. Therefore it is fine for most users, but not ideal if you wear glasses.
I tested them whilst wearing sunglasses and as suspected, I was able to achieve most of the field of view by fully twisting the eyecups down, but there was some dark edging around the outer limits of the view. For more: How To Use Binoculars With Glasses: Eye-relief & Eye-cups Explained.
Optical Stats Score for a 10x42 binocular: 7/10
Optical Performance
The hardest and part of writing my reviews is undoubtedly describing the image that I observe, so to help me be as consistent and subjective as possible I use a number of benchmark binoculars which I use to compare against the binocular under review.
For this review, I used two of my benchmark instruments, my very expensive "alpha" level 10x42 and my mid-level 10x42 pair and below are my thoughts on these Rivmount binoculars:
Overall
I have to say that whilst not at the same level as that of my higher quality and far more expensive binoculars, for the most part, I was pleasantly surprised by the image that you are presented with when you look through these binoculars and it was certainly better than what I had anticipated:
Brightness
In good light, these performed well and there was certainly not a major difference between these and my mid-range instrument.
In low light, the difference in brightness does become more apparent, but even so, I would not describe the image brightness as bad. for a 10x42 binocular.
Color Reproduction
Whilst not as vivid and perhaps a little washed out in very bright sunlight, the color reproduction was on the whole good. At this price range, I often observe a yellowish tinge to the image caused I think by the cheap glass or coatings, but there was no such problem with these.
Color Fringing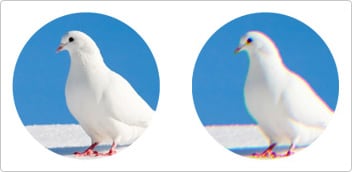 I was impressed at how little color fringing that I could detect, which was no more than what I would consider as being normal.
Image Definition, Distortions & Blurring
Softening right at the edges of the view was no more than what I would call normal and I never detected any distortions like image curvature.
Score for Image Quality: 7/10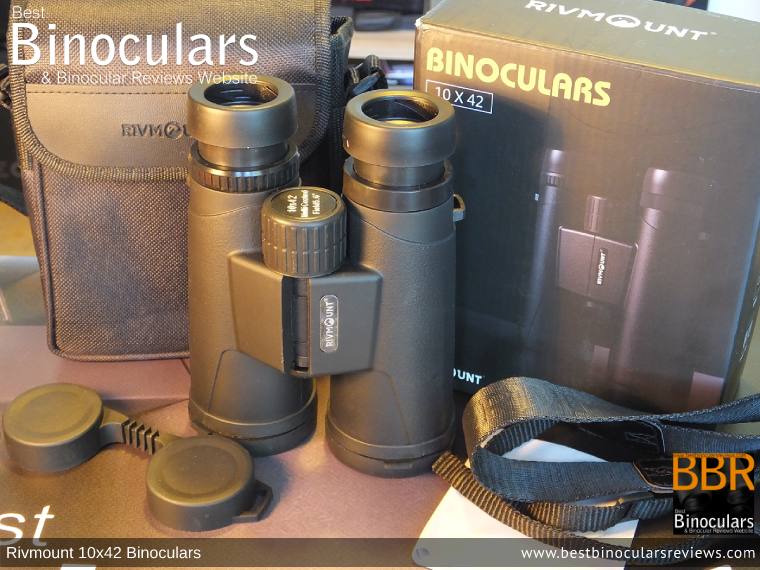 Included Accessories:
The supplied accessories are for the most part pretty much what you would expect to find with a binocular and in terms of their quality, they are also about what I would have expected to find: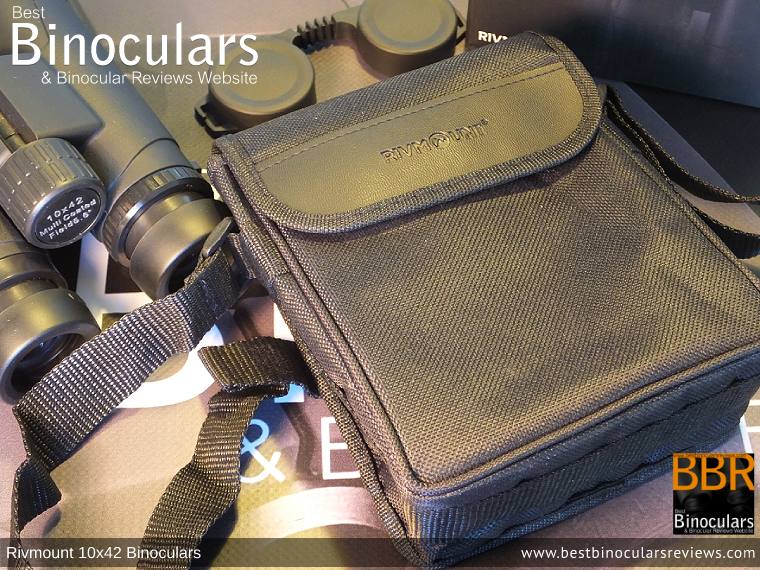 Carry Case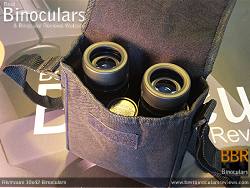 Soft case made from a tough woven Nylon material
Good Stitching and looks well made
Thin, but soft padding lining the interior
Velcro strip closure
Has it's own carry strap that is length adjustable
No belt loop on the rear
No extra pockets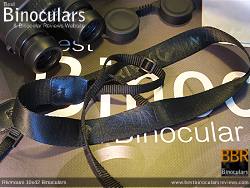 Neck Strap
Very simple nylon strap
No padding, which is a shame
Has Rivmount branding - less generic than some
Attaches in the usual way with sliders for length adjustment
Stitching looks good
Lens Covers
Both the rain guard (ocular lens cover) and objective lens covers made from soft rubber/plastic
Both fit well and don't come away too easily
Objective lens covers are tethered to the barrels which is good
Ocular cover has loops to thread through the neck strap
Cleaning Cloth
Whilst it is a small thing and I would still recommend a lens cleaning kit for thoroughly cleaning the lenses, I was impressed by the level of the cleaning cloth.
Made from fine microfiber material, it has the Rivmount embossed into it and is of far better quality than what you would expect at this price level. Indeed I have come across many mid-level binoculars with lower quality cleaning cloths.
Smart Phone Digiscoping Adapter
I was very pleasantly surprised to find a smartphone adapter included in the box. Designed to hold your phone and allow you to take photos through one of the eyepieces, I had mixed results and feelings about it.
I suppose it is understandable that considering it is being offered for "free", that it is never going to compete with a top end adapter like the excellent SNYPEX X-Wing Adapter.
Instruction Booklet
Very basic instructions in a wide variety of languages is included.
Warranty
The representative who arranged for these to be sent to me said that they come with a 12-month warranty plus a 30-day money back guarantee. But I did not find any mention of this included with the binocular.
Accessories Score: 6/10
Rivmount 10x42 Binocular Comparisons
The following table lists the main details of these Rivmount binoculars as well as a small selection of other cheap binoculars in the BBR database. To view the full results, open the table in full-screen mode.
Review Conclusions:
Considering the price, these binoculars are for the most part far better than what I thought was going to arrive on my desk and if you absolutely only had $40 to spend, you could definitely do far worse and these are far better than having nothing at all.
However, there is no denying that if you are able to stretch and say double your budget, you can get an instrument with fewer low points.
Highlights
The image is far better than I had even hoped for. Sure it is not as vibrant or bright as a mid-range instrument, but the color fringing and softening at the edges aver very minimal and well within the limits as to what I would call normal for a mid-range binocular that costs more than five times the cost of these.
Sure there is a lot of plastic about, but the advantage is that is is a very lightweight binocular and whilst the focus wheel and eyecups are also plastic, they worked well and were very smooth.
I like the fact that the accessories and the box are branded with the Rivmount logo. Most instruments at this level with be completely generic and so whilst this is a very minor point, it is something that separates them from many others at this level.
Supply Chain:
Rivmount have told me that they "work directly and closely with the producers. We have great supply chain advantages and reduce many traditional trade links. At the same time, we have sacrificed our own profits and hope to make cheap and good products. Under the premise of uncertain market acceptance, we make this ultra-cost-effective entry-level binocular. Within the cost constraints, we try our best to do our best." This is just an example of the feedback that I have had from them and which I think is impressive and well worth mentioning.
Room For Improvement
At this price, there are obviously a lot of areas where the manufacturers have to make sacrifices to keep costs down and so I won't dwell on all the weaknesses when compared to higher-end, more expensive instruments. Instead, here I will highlight the weaknesses where I think they could do better in relation to other cheap binoculars:
The field of for me is just a little on the narrow side
The neck strap is a little too simple - it would have been nice if it had been padded.
The minimum focus distance is very long
Ideal Uses