When looking for a full sized binocular that has a bit more power than the most commonly used 8x42 configuration, the usual choice is to opt for a fairly standard 10x42mm binocular.
For a lot of people, this setup generally works well enough as you get improved image detail with the higher 10x magnification, but still get a reasonable field of view and a lens size that has just enough light gathering potential to be able to capture and produce an reasonably bright image, even in low light conditions.
However what if you want or need the extra detail that a 10x bin can give, but still want to make sure you have the same low light performance as a good 8x42 binocular? The answer is to increase the size of the objective lenses, but there are down sides to doing this as this also increases the size and weight of the instrument.
I have reviewed a number of full sized bins with slightly larger than "standard" 43, 44 and even 45mm objectives that go some way to improving the light gathering, but without sacrificing too much on size and weight and whilst you can get a large selection of 10x50 porro prisms, the amount that use roof prisms in this configuration is fairly small.
Snypex Knight ED 10x50 Binoculars
That is why when I saw that Snypex Optics had a 10x50mm binocular within their Knight ED series of roof prism bins, I was immediately interested to see just how much bigger they would be than your more common (and comfortable) 42mm bins and just how much better they would perform, especially in low light.
Below you can read my full Snypex Knight ED 10x50 binoculars review:
Please Note: I recently wrote a full review on the Snypex 8x42 Knight ED and so whilst many of the specifications like their size, weight and field of view for example are quite different, many of the features like their optical components and coatings are the same. So as not to simply repeat myself in all these areas, I will refer you to that particular section in the 8x42 review, whilst in this one, I will focus on their main differences and the unique properties of this 10x50 binocular.
Key Areas
ED (Extra Low Dispersion) Glass Lens Elements
APO (apochromatic) Lens
Fully Multi-Coated Optics
Waterproof and Fogproof
Phase Coated, Bak4 Roof Prisms
Silver Mirror Prism Coatings
Field of View of 309ft @ 1000yds
Close Focus: 4.92ft
20mm of Eye-relief
Weight: 30.68ozs (870g)
The Body
Shape
As I mentioned earlier all models in the Knight ED series use roof prisms and so like the 8x42 version, these are very similar and still feature an open bridge body design.
To read more about the general benefits of the open bridge body shape and the external rubber armour covering, please take a look at the body section of the 8x42 Review here.
However because of the larger 50mm objectives, they are slightly different in shape than the 42mm version., with the most no tic able difference being the shape of the barrels that flare out much more towards the ends to accommodate the larger lenses.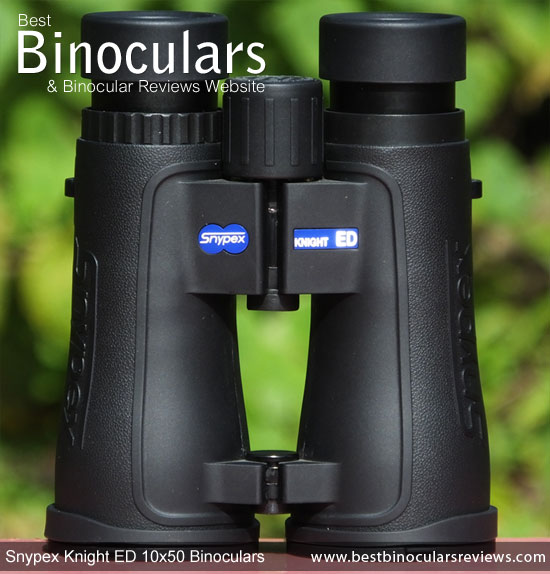 Like the 42mm Knight ED, the objective lenses are set at a depth of about 6mm from the ends of the barrels. Whilst this is less than on a lot of bins, I feel that the lenses still benefit from some protection from scratching and prevents dust and light rain falling onto them.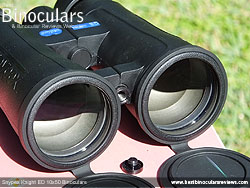 Tripod Adaptable
Unlike the 8x42 version, where you can remove both, on this 10x50 Night ED version, you can only remove the dust cap on the bridge nearest the objective lenses. This then revels a thread which you can then screw a tripod adapter into, which in turn fixes to a tripod.
A point to note is that because of the larger diameter objectives, the ends of the barrels are much closer together than on most standard full sized bins and so unless your tripod adapter is fairly thin, it will not be able to squeeze in between them to screw into the thread.
Chassis Material
As with all the other 42 and 50mm models in the Knight ED series, the chassis and barrels on these 10x50's are made using both Magnesium and Aluminum parts, which are both usually better than the polycarbonate bodies that you sometimes get in this class, but more often on cheaper optics.
Fog & Waterproof
Filled with dry nitrogen gas, the sealed body is thus both waterproof and fogproof.
Eyecups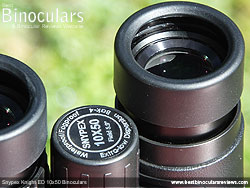 These Snypex binoculars have the helicoid-type twist-up eyecups, which for most purposes is better than the fold up and down rubber ones.
The eyepiece housing is made from metal and the eyecup itself also looks like it is metal which is superior to the plastic ones as they are not only more robust, but I find that the twist-up mechanism often works much better as well. This indeed was the case with these as I found that they were nice and smooth, with no free movement or play on my test pair.
The eyecups on these Snypex 10x50 Knight ED's are also slightly different to those of the 8x42 model in that at 43mm, they are a tiny bit smaller in diameter, but I did not find that this made much difference to the comfort, which due to the fairly hard and rather thin rubber coating was good, but not brilliant.
Eye-Relief
On these Snypex 10x50 Knight ED binoculars you get a brilliant 20mm of eye-relief, easily making it onto the list of long eye-relief binoculars and whilst there is only one intermediate fixed stop between fully retracted and fully extended, there is enough friction to stop the eyecup and keep it at any point between fully twisted in and out.
All this is great news for those who wear glasses as it means that you should easily have enough distance as well as the adjustability to ensure that you can keep your glasses on and still get the full image through the bins.
Those like me who don't wear glasses will just use them with the eyecups fully twisted outwards.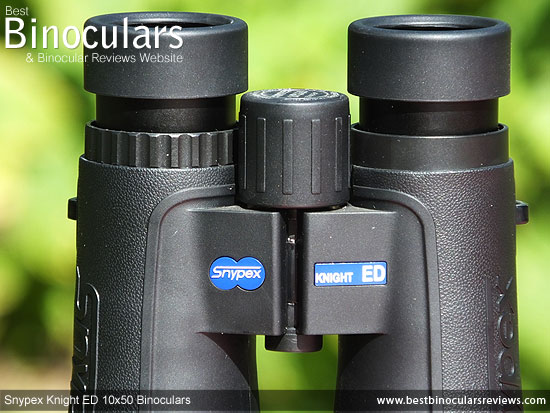 Focus Wheel
Made from plastic and then covered in rubber, the wheel on my test pair turned smoothly and without any unwanted play. But taking into account that the chassis and other parts of the body like the eyecup housing and diopter ring are made from metal, I was a little disappointed that it was not also metal.
At 28mm, the focus wheel on the 10x50 Snypex Knight ED is a couple of millimeters smaller in diameter than the 8x42 Knight ED and indeed a tiny bit smaller than most 42mm full sized bins I have tested.
This slightly smaller diameter focus wheel is used to allow it to fit in between the barrels which are obviously a little larger and therefore closer together.
To make up for this, the focus wheel is quite a bit longer than normal. So for example on the 8x42 version it is 22mm long, whilst on these it is 27mm long, giving you plenty of area to locate with your fingers.
The focus wheel is covered in rubber that is ridged. However this rubber is a little harder and the ridges less prominent than on the 8x42 Knight ED, which does offer a little less grip. However because of the smooth way it turns and because it is longer, I found that I was still able to easily find and turn it when testing it with my thick winter gloves on.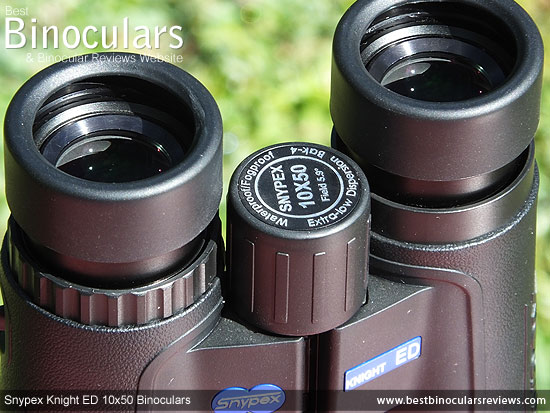 Focusing
Adjusting the focus from one end from near to infinity takes 1.5 turns of the wheel (540°) on the 10x50 Knight ED and is a quarter of a turn less than the 8x42 Knight ED.
For me this is good as I feel that the gearing on these is a little better balanced, making it quick to change focus from near to far, but still easy to fine tune the focus to get it spot on.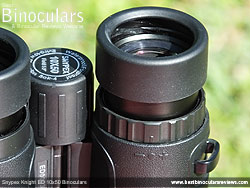 Diopter Adjustment
It is no surprise that like most bins and like the 8x42 Knight ED, the diopter adjustment ring is located on the right eyepiece.
Adjusting this changes the focus of the right eyepiece, independently of the left one, which in turn enables you to make up and equalize any differences between your right and left eyes.
This calibrating only really needs to be done once when you first set up your optics, or if you share them with someone else who may have a different variance between their eyes.
The ring on these 10x50 Knight ED's is metal and has a fine ratchet or click-stop mechanism which is great. It also has just the right amount of friction to keep it in place, but without making it too difficult to move.
What I feel that it is missing is some sort of scale or simply some more markings as that would help you to remember and return to your exact setting, without having to re-calibrate should you move it or it get moved accidentally.
Rating for Body Construction Quality: 8/10
Weight
Whilst they do feel a little heavier, at 870g (30.68oz) these only weigh just over 100 grams more than the 42mm Snypex Knight ED's and as you can see from the comparison table below, compared to a number of other bins with larger 43, 44 and 45mm objectives their weight is still competitive and don't forget to keep in mind that these have much larger 50mm lenses, which I think is impressive.
Snypex like many other manufacturers of higher end bins use magnesium and aluminium to make the main body components, this is usually a little heavier than the plastic ones found on cheaper end products, but is much longer lasting and you get a much more satisfying feeling of quality.
Dimensions
Whilst I have already gone over the subtle differences in the their body shape, comparing these 10x50 Snypex binoculars to the other full sized bins in the table above, you can see that their dimensions are not that far off most other full sized bins with smaller objectives and they really are not that much bigger than many 42mm binoculars (see image below).
I think this is very impressive as you get a binocular that is pretty much standard in size (and weight), yet with a much improved potential for gathering light.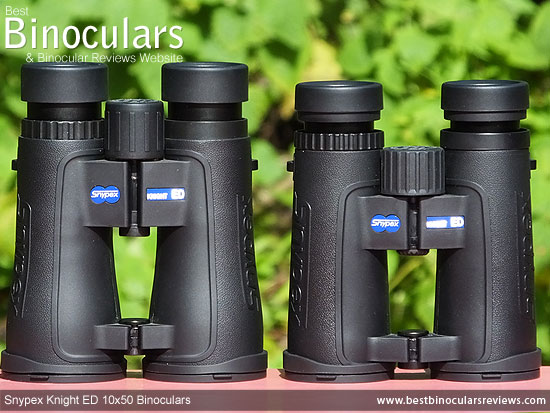 Size comparison between the 10x50 and the 8x42 Snypex Knight ED Binoculars
Notes on the Dimensions:
Snypex Optics advertise the height as being 5.9cm, this measurement is achieved by fully opening the hinges and removing the objective lens covers. Adding the covers increase their height to 7cm and closing the hinge raises the height to 7.3cm.
In the same way, their advertised width of 13.5cm is taken when the central hinges are fully open, fully closed, this reduces to 12.5cm.
Whilst the advertised length is 15.5cm, I measured it to less than that at 15cm with the eyecups twisted in, but adding the ocular and objective lens covers does increase it to the 15.5cm. Fully twisting out the eye-cups and adding all lens covers increases their length to a maximum of 16.2cm.
Inter-Pupillary Distance (IPD)
As you would expect, the difference in circumference of the barrels to accommodate the larger objective lenses also affects the amount you can change the Inter-Pupillary Distances.
The maximum IPD of 7.7cm is achieved with the hinges fully opened, this is pretty wide compared to most others I have reviewed and so these are ideal for those with larger faces and wide set eyes.
Fully closed, their minimum IPD of 6.3cm, is on the wide side and so may not suit those with especially narrow eyes or with small faces.
Because of the fairly unique 10x50 configuration, it is quite tricky to score these Knight ED's on their body stats. This is due to all my scores being relative and used to compare other similar binoculars within the same size class. However even with the large lenses, they are still essentially full-sized bins and whilst I was impressed that they were close to most 42mm bins, I had to compare and rate them against the best in this size class, hence the slightly lower score:
BBR Rating for Body Stats: 7/10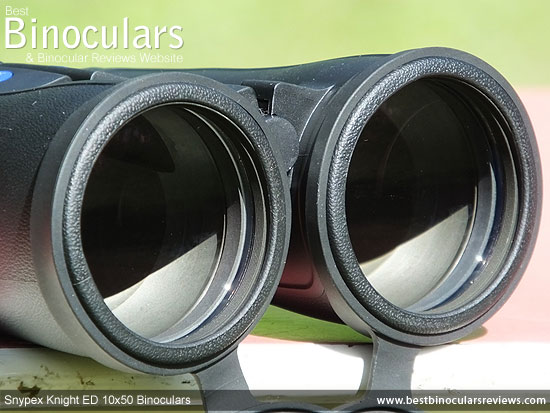 The Optics
Apart from the 8mm larger objective lenses, these Snypex Knight ED 10x50 binoculars feature the same optical components and coatings as the 8x42 Knight ED:
This includes:
Apochromatic lens (APO) design
Extra Low Dispersion (ED) Glass Lens Elements
Roof (Dach) prisms made from Bak-4 Glass
Fully Multi-Coated with Anti-reflection Material
Phase-Correction Coatings on the prisms
Highly reflective Silver Mirror Coatings on the Prisms
To read about all the details including each of their respective strengths and weaknesses on each of these components and coatings listed above, please take a look at the optics section of the 8x42 Knight ED Review here.
Optical Components Quality Rating: 8/10
Optical Stats
10x50 Configuration
These and all other binoculars that combine a 10x magnification with 50mm objective lenses will produce an exit pupil of about 5mm in diameter (50÷10).
Compare this to a more standard 10x42 with it's 4.2mm exit pupil or even the only slightly larger 5.25mm exit pupil produced by an 8x42 binocular and you can see why these potentially have the ability to perform much better in low light conditions.
For more on this please take some time read my guide to the exit pupil and image brightness.
The Field Of View (FOV)
These 10x binoculars produce an image that is 309ft wide at a distance of 1000 yards away (103m wide at 1000m), or to describe it another way, they have an angle of view that is 5.9°.
Whilst this is not terrible, you can see on the table below that they have a narrower FOV than many other 9x and 10x binoculars of the same sort of quality that I have reviewed:
Near Focus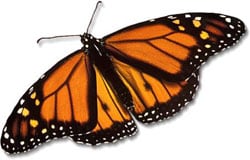 At only 4.9ft the minimum close focus advertised by Snypex Optics is exceptional and way less than the 6ft mark that I consider to be excellent, which for those who view things like butterflies, other insects, flowers and even birds from close range is great news.
However what is even more impressive is that on the pair I was testing, I measured the close focus to an even nearer distance of only 0.92m (3ft)!
Eye-Relief:
The 20mm of eye-relief is excellent and ranks them up there with the best, which you can see on my page containing long eye-relief binoculars - very important for those who wear glasses.
Optical Stats Rating: 8/10
Image Quality
As I do not have a benchmark 10x50 binocular, I compared the view through these with my standard 10x42 benchmarks as well as with the 8x42 Knight ED as I thought this may also give an insight into just how the two compare:
Image Brightness
I started this review by suggesting that by choosing this 50mm bin over a more standard 42mm one, you are sacrificing a little on size and weight for improved image brightness and therefore better low light performance.
As you may know, the brightness of the image that you perceive when looking through your optics is not only affected by the size of the objective lens, but the magnification, quality of the glass and their coatings.
As we have already seen in the Optical Stats section above, the 5mm exit pupil on these 10x50's is far superior to that of the 4.2mm one on a 10x42 binocular.
However in good light the opening in your eyes (pupil) is probably only between 2 and 4mm wide, so both configurations send more than enough light to them and that is why I was not surprised to discover that I could not notice any change in brightness between these Snypex binoculars and my similar specification 10x42 controls during the day when the light was optimal.
The brightness between these and the 8x42 Knight ED also looked about the same in these conditions.
However it was in very poor light where it got interesting as I was just able to detect a small improvement with these compared to my 10x42 benchmark bins and to my eyes they did indeed match the 8x42 Knight ED.
Colour Reproduction & Image Contrast
As with the 8x42 version, I thought that the color reproduction was good as the overall image looked normal without any artificial tinting.
Whilst the image was bright, there was also a good amount of contrast between dark and light, which gives a really good feeling of depth and makes sure the image does not look washed out.
Depth of Field
For this test, I focus on an object around 5 meters away and then take the view back without altering the focus wheel until it is no longer in focus. I then compare this distance with the control bins.
Compared to my 10x42 controls, the depth of view looked to be about equal and therefor about the same as most other 10x bins. As expected, the 8x42 Knight ED, with it's lower power seemed to have a slightly longer field of view.
Color Fringing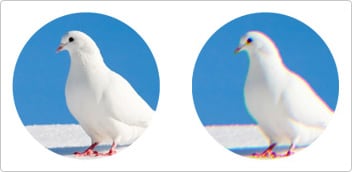 As a result of chromatic aberrations, color fringing is the thin line of color that you sometimes see on the edges of an object.
Snypex Optics have added a number of high quality optical components that should help reduce this to an absolute minimum, this includes the Apochromatic lens design and ED glass elements in the lenses (see optics section above), so I was expecting this Knight ED to perform very well in this area and they did not disappoint:
Under normal conditions and using the bins normally, you really can't notice any color fringing. It was only when I started looking at dark objects with the bright sky in the background that I could then see a thin maroon line on the edges.
Image Softening
Whilst it was present, the degree of fuzziness or image softening right at the edge of the view on these Snypex 10x50 binoculars was minimal and nothing to worry about.
Image Quality Rating: 8/10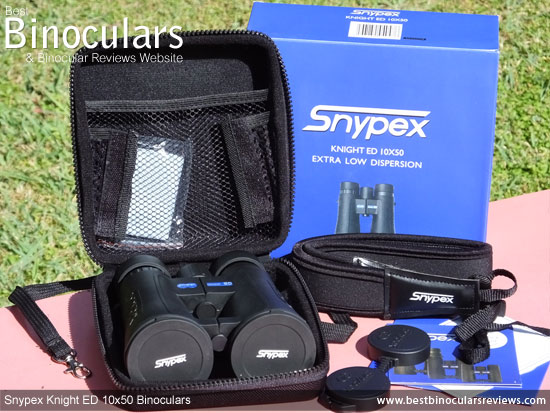 Accessories: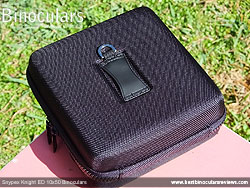 Carry Case
These Snypex Knight ED 10x50 binoculars use the same excellent designed rigid case (box) that as that used on the 8x42 version, so as not to repeat myself, you can read all the details about it on the Accessories section of the 8x42 Knight ED Review here.
What I would like to add that because the 10x50 version is slightly bigger, it has a slightly bigger box as well.
The bins themselves lay snugly inside which prevents them from moving about, but not so tightly that it makes replacing them difficult. However if you replace them with the eyecups twisted out and the lens caps and rainguard on, they do fit, but it is tight.
Other Accessories
Also included is a neck strap, lens covers, instructions and a lens cleaning cloth that are also exactly the same as that used on the 8x42 Knight ED, so please read all about them on the on the Accessories section of that review here.
Warranty Information
You get a 5 year limited warranty on all the Knight Series ED binoculars. Full information on this and the registration warranty card is included within the box.
Extras & Attention to Detail Rating: 8/10
Snypex 10x50 Knight ED Comparisons
Because I have not reviewed another 10x50 binocular before, rather than comparing these to bins with the same configuration, I have decided to compare them to a range of high end optics. This table also included the 8x42 Knight ED, which I think clearly demonstrates how the larger lenses affect the size and weight of the device:
| | | | | | | |
| --- | --- | --- | --- | --- | --- | --- |
| | Snypex Knight ED 10x50 | Snypex Knight ED 8x42 | Kowa Genesis XD 10.5x44 | Hawke 8x42 Sapphire ED | Pentax 8x43 DCF ED | Vanguard Endeavor ED 8.5x45 |
| Approx Price: | $600 | $480 | $1000 / £950 | $450 / £340 | $850 / £770 | $399 / £300 |
| Weight: | 30.68ozs (870g) | 26.8ozs (760g) | 34ozs (964g) | 25.7oz (730g) | 25.2oz (715g) | 27.2ozs (771g) |
| Length: | 6.1in (15.5cm) | 5.5in (14cm) | 6.5in (16.5cm) | 5.5in (14cm) | 5.7in (14.6cm) | 6.3in (16cm) |
| Width: | 5.31in (13.5cm) | 5.2in (13.2cm) | 5.4in (13.7cm) | 5.1in (13cm) | 5.0in (12.6cm) | 5.1in (13cm) |
| Eye Relief: | 20mm | 18.4mm | 16mm | 18mm | 22mm | 20mm |
| Min Focusing Dist: | 4.9ft | 6.6ft | 5.5ft | 6.6ft | 6.6ft | 8.2ft |
| FOV at 1000yds: | 309ft | 393ft | 324ft | 426ft | 330ft | 340ft |
| Chassis | Aluminum | Aluminum | Magnesium | Magnesium | Magnesium | Aluminium? |
| ED Glass | Yes | Yes | Yes | Yes | Yes | Yes |
| Phase Correction | Yes | Yes | Yes | Yes | Yes | Yes |
| High Reflective Prism Coatings | Silver | Silver | Dielectric | Dielectric | Full reflection coating? | Silver |
| Lens Coatings | Fully Multi-Coated | Fully Multi-Coated | Fully Multi-Coated | Fully Multi-Coated | Fully Multi-Coated | Fully Multi-Coated |
| Waterproof | Yes | Yes | Yes | Yes | Yes | Yes |
| Fogproof | Yes | Yes | Yes | Yes | Yes | Yes |
Review Conclusions:
Strong Points: I think the standout feature is their large 50mm objective lenses that gather plenty of light, but what is really impressive is that Snypex Optics have managed to pack these into a body that really is not that much bigger or heavier than most 42mm binoculars.
Like the other Snypex Knight ED's that I have used, I thought that their general build quality is very high which compliments the use of quality materials and components, translating to that nice feeling that you get when you have a pair of quality optics in your hands.
Snypex have included some top end optical components and coatings which combined with their large lenses translates to bright as well as high quality image that is on a par with any within this price range.
Their close minimum focus distance and their massive 20mm of eye-relief are both excellent.
I really like the semirigid carry case that comes with these optics, not only are they quite different from the crowd, but they look great and perform well.
Weak points? I would definitely like to have seen a wider field of view with these, even if it meant sacrificing a few millimeters of eye-relief.
Whilst the silver mirror coatings they have on the prisms is very good, there are a few bins in this class that use the even better Dielectric coatings.
Because they have metal eye-piece housings and diopter ring, It is a shame that they could not carry this theme through to the focus wheel and a have metal one rather than the plastic. It must be said however that it works perfectly, but a metal one would have just added a little more class.
This is also true with the neck-strap, it works well enough, but does not quite match the quality of the carry case and the bins themselves.
Overall - If you are looking for a high quality bin with a 10x magnification, but don't want to sacrifice low light performance compared to an 8x42, then I would highly recommend that you take a look at these Snypex 10x50 Knight ED binoculars.
Ideal Uses: These will be perfect in any situation where you require a little more power or image detail than an 8x bin can offer and where image brightness as well as clarity are really important:
So I am thinking of most wildlife observation uses including hunting, where you can often find yourself in poor light either very early in the morning or late in the afternoon or evening. Other scenarios would include woodland, forest and jungles where available light is often very bad. However if you are going to be viewing wildlife or birds at closer ranges you may also want to consider reducing the power with the 8x50 Knight ED as that increases the field of view, making it easier to spot and follow your quarry, especially at closer ranges.
Those who do a lot of their bird watching in wide open areas or over longer distances like at the coast or on the shores of a river or open fields will also appreciate the higher power and better image detail that these can offer and once again their superior low light performance over the same quality 10x42 can be very important in enabling you to get the best view possible at any time of day in conditions.
100% Genuine & Honest Review
It is important to note that this review of the Snypex Knight ED 10x50 binoculars is completely my own and honest opinion of the instrument and I have not been asked or compensated in any way to write it in a particular way or with some sort of bias.
Before publishing, I spent a considerable amount of time testing and researching these optics. Because of this I believe to the best of my knowledge that all the facts that I have given on this page to be correct. However I do make the occasional mistake and sometimes manufacturers give incorrect information, so please if you spot any errors, feel free to contact me with the details.