The perfect mid-sized binocular is one that gets as close as physically possible to delivering the same image quality and brightness as that of an equal quality full-sized version, but at the same time is also as near as possible in size and weight as a full compact instrument.
This ideal is in no ways easy to achieve and is why I use it as the biggest indicator of what separates the very best mid-sized bins from the rest.
Snypex Knight D-ED Binoculars
Snypex recently updated their already excellent "standard" Knight ED series with the Knight D-ED, which added a number of improvements, but most notably the addition of Dielectric mirror coatings to the roof prism.
As you can read in my review of the 8x42 Snypex D-ED binoculars, these coatings (along with the other changes) took what was already a really very good binocular to another level.
This is especially true with the improved image quality and brightness and which for certain helped them to achieve the award as the best wildlife/hunting binocular that I tested that year.
So when I learnt that Snypex were also producing the Knight D-ED in mid-sized options, I was immediately interested to test one to see if they too would take the image brightness and quality to even higher levels and thus potentially be a truly great mid-sized binocular.
Snypex Knight D-ED 8x32 Binocular Review
Also available in a 10x32, Snypex were kind enough to send me the 8x32 version and below you can read my thoughts and findings, which I wrote after thorough testing and research:
Headline Features
Mid-High Value Bins - approx $430 / £500
Open Bridge Body Design

Dimensions: 4.25in (10.8cm) x 4.64in (11.8cm)
Weight 13.4ozs (380g)

Fully Sealed & Nitrogen Filled Chassis

Material: Fiberglass reinforced Polycarbonate

Optics:

32mm APO Objective Lenses
BaK-4 Roof Prisms

Phase Corrected
Dielectric Coated

Field of View: 351ft at 1000yds
Min Focus Distance: 3.9ft
Eye Relief: 16.8mm
From these initial advertised specs and features, you can already get a pretty good understanding that this instrument means business, so let's take a closer look at each area and try and separate the marketing hype from what really matters:
The Body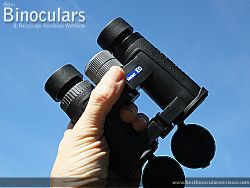 Design
The open bridge body of the newer Knight D-ED is the same as the older non dielectric versions, which I think for the most part and for most users is a good thing.
As I have mentioned many times, the main advantage of this cut-away design is that it offers a super secure section to hold onto as you can wrap at least one of your fingers in between the two bridges and right around the barrel.
If like me, you often find yourself carrying your instrument in one hand, this small detail is important.
Rubber Armor
The black rubber coating on the Snypex Knight D-ED binoculars is the same as on the standard Knight Ed's, so to not repeat myself, you can take a look at this section and my thoughts on it here: body section of the 8x42 Knight ED Review
Chassis Material
Snypex describe the chassis of these as being made from fiberglass reinforced polycarbonate.
This is one are where these differ from the full sized versions that have a higher specification magnesium chassis. However whist I would prefer magnesium, I think at this size this is not a major issue and you do have the advantage of it being more lightweight.
Which as we have already discussed is a desired feature of a good mid-sized binocular.
Tripod Adaptable
Not every mid-sized binocular is tripod adaptable and thus easy to attach a tripod adapter to, so it is good to see that Snypex have kept this feature on this model.
I say this because whilst there won't be many who need to attach their 8x32 to a tripod, for some users, like perhaps an artist or someone at the shooting range who needs to keep their instrument trained on a certain spot this is invaluable.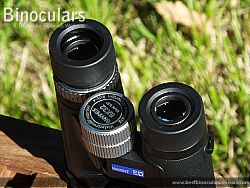 Eye-cups
These have twist up eye-cups with a single click stop at the mid point between fully retracted and fully extended.
The mechanism is nice and smooth with just about the right level of resistance to turning which enables you to position and maintain the cups at any point.
This can be useful for those who really need to fine tune the distance between the ocular lenses and their eyes, but for most non eye-glass wearers, fully extended will be ideal.
For eye-glass wearers, there is 16.8mm of eye-relief, which for a bin in this size class is good and should be enough for you to use them with your glasses on.
I like it that the cups did not wobble or rattle and there was no free-play at all on my sample. Whilst a small detail, this is an area where higher quality instruments shine through.
Inter-Pupillary Distance (IPD)
Whilst not advertised, I measured the IPD range on these Snypex Knight D-ED 8x32 binoculars to be from a minimum of 5.5cm, to 7.4cm with the hinges fully opened.
This Inter-Pupillary Distance (IPD) range is good for a mid-sized binocular.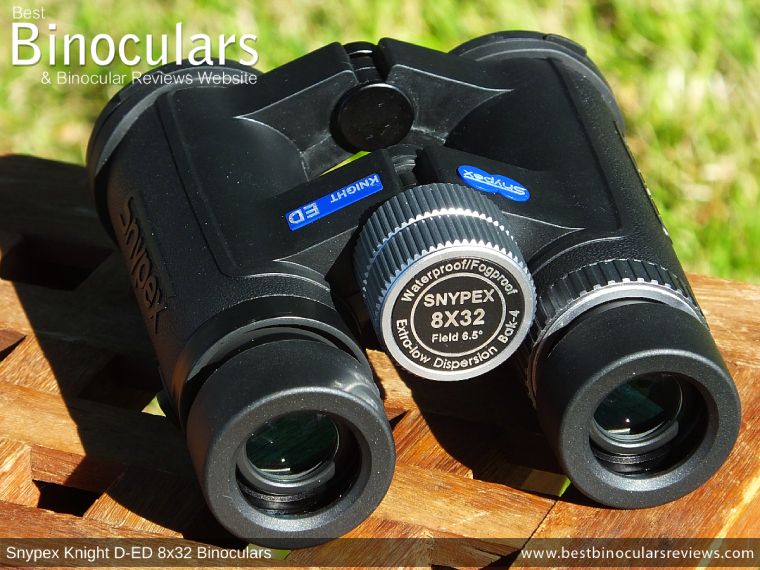 Focus Wheel & Focusing
A real standout feature and almost a signature on the whole series of Snypex Knight D-ED binoculars is their large aluminium focus wheels which I really love for a whole bunch of reasons.
Firstly I would like to highlight that the mechanism on my sample model was super smooth, with the perfect amount of friction to movement and without any free-play, loose or rough sections.
You use the focus wheel a lot and so whilst this may seem trivial, it is important as there are many binoculars out there where the focus wheel has a little free play and so just makes it that much more difficult or time consuming to get the focus perfect.
The fact that it is aluminium is not super important, but for me it just looks a whole lot better and indeed feels of a better quality than the zillions of plastic coated ones out there.
This is also one area where the D-ED version has improved on the standard Snypex Knight ED binoculars that have plastic focus wheels.
Next it is worth pointing out the relatively deep serrations on the wheel that enhance the level of grip. For day-to-day use this is nice, but this feature really comes into it's own when you have freezing cold hands and are wearing thick winter gloves as it just makes handling and focusing your instrument a whole bunch easier to do.
To take the focus from one end of the spectrum to the other it requires 1¼ turns of the wheel. This is a average gear ratio and a good compromise between speed of making large changes and ease of making fine adjustments.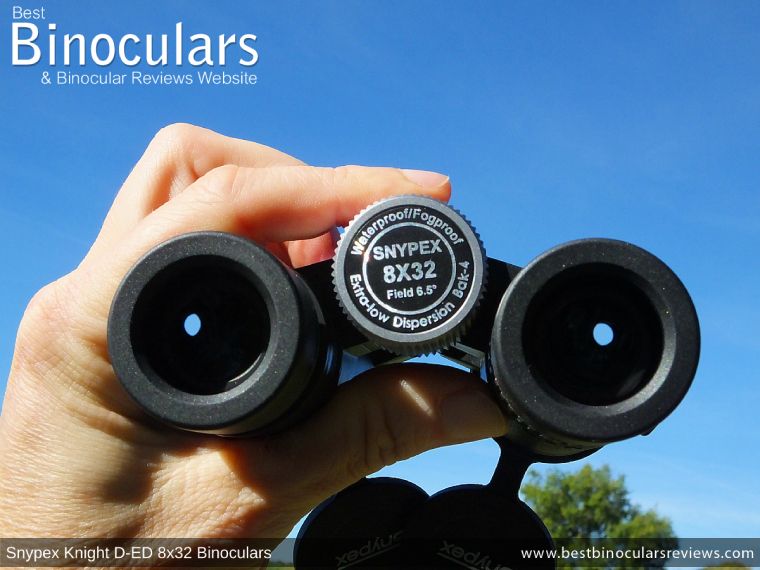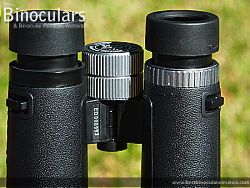 Diopter Adjustment
To calibrate the binoculars to your particular vision you use the diopter adjuster, which in the case of the Snypex Knight ED binoculars is located in the usual position on the right eyepiece.
I like that the ring is aluminium which ties in with the focus wheel in terms of style, bur more importantly it has a very fine ratchet.
So whilst it is not lockable, the chances of it moving by accident are far less than the majority of others that don't have this feature.
Again this is a very small detail, but they all add up and do show that Snypex place a lot of importance in the finer points that separate the good from the great.
Rating for Body Construction Quality: 8/10
Weight
The Snypex 8x32 Knight D-ED binocular has an advertised weight of 13.4ozs (380g), which as you can see is exactly the same as the older standard version.
This did surprise me a little as this newer version has features like an aluminium focus wheel and not a plastic one, so I weighed them myself and they turned out to be even more lightweight at only 345g!
So as you can see Snypex have included a rather large tolerance buffer, but more importantly you can see via the table below, these Knight D-ED's are extremely lightweight for a 32mm binocular.
Dimensions
In terms of their dimensions, these are also on the more compact side for a 32mm binocular, which as I mentioned at the start of the review is for me a very desirable attribute for a mid-sized binocular.
BBR Rating for Body Stats compared to Mid Sized Bins: 8/10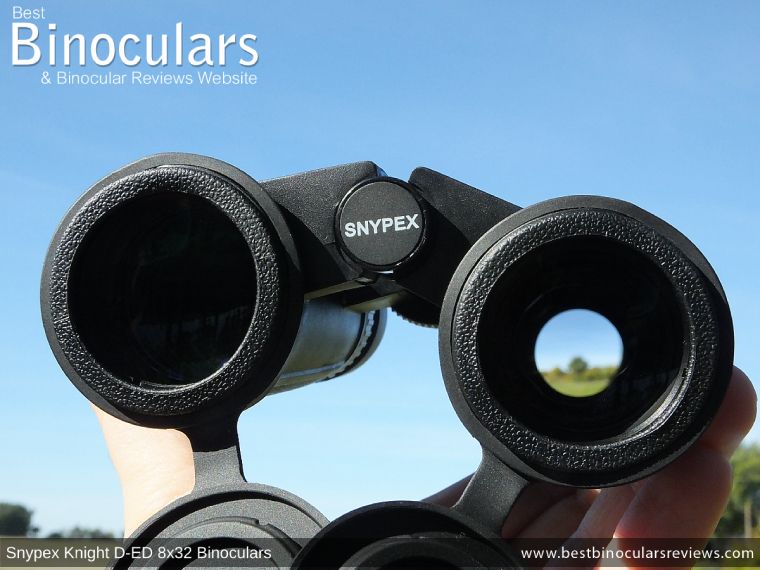 The Optics
As you will read below, the level of optical components and the coatings used on the Snypex Knight D-ED binoculars is extremely high:
ED vs D-ED
One of the major improvements of the D-ED version over the standard ED Knight's is the inclusion of Dielectric mirror coatings on the prism.
Dielectric Mirror Prism Coatings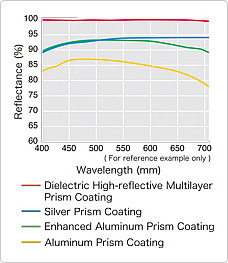 All good roof prism binocular will have some sort of mirror coatings added to the surface of the roof prism that does not naturally reflect all the light that hits it.
Cheaper products will use an aluminium material and most mid to high end instruments will use silver, which is more expensive, but increases the reflectivity of this surface to between 95% and 98%.
The best however are those that use dielectric prism coatings as these can have a reflectivity of more than 99% across the full spectrum.
What this means is that you get a image with a more accurate color reproduction and improved image brightness as more light gets reflected through the prism and on towards your eyes.
Dielectric mirror coatings are technically difficult and expensive to apply and which is why you do not find them on all binos.
Lenses
Objective Lenses
The objective lenses on these 8x32 Snypex knight D-ED binoculars are made up of 4 Groups, with 5 Elements.
Apochromatic Lens (APO)
What is also very interesting and quite special is that Snypex Optics state that they use an Apochromatic lens (APO) design on these and indeed all other Knight ED binoculars.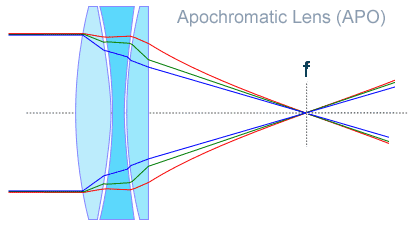 Most binoculars will have a main lens that consist of two elements and are thus called achromat lenses and which can bring two wavelengths of light (usually red & blue) into focus in the same plane.
However an APO lens usually has three lens elements and can get three different wavelengths of light (most often red, green & blue) to focus at a common point.
Expensive to make, the potential advantage of an APO lens is that they are better at correcting chromatic aberration as well as spherical aberration.
ED Glass Elements
I am not sure exactly what optical glass each of the elements in these is made from, but we do know that at least one of them has extra low dispersion (ED) properties.
These special elements enable improved control of individual light wavelengths and thus can make lead to a better quality image that shows less color fringing.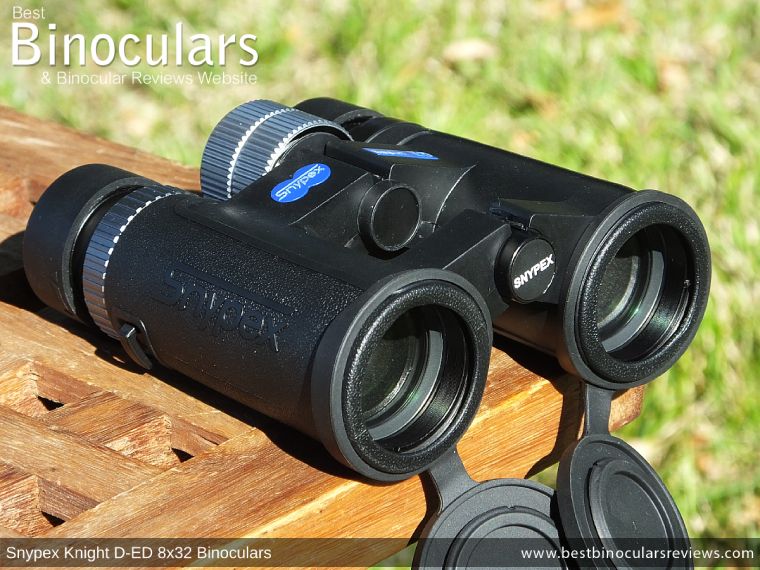 Eyepieces
The exterior lens on the eye-piece has a diameter of 17mm and once again according to Snypex is made up of 3 Groups, with 5 lens elements.
Whilst most manufacturers do not state the configuration of their ocular lenses, this is more than many that do.
However the 17mm diameter is not huge which amongst other things can make lining them up with your eyes a little more difficult, although I never had any such issues with these. For more take a look at this article: Ocular Lens Size in Binoculars.
Prisms
These Snypex Knight D-ED 8x32 binoculars (and all others) use Roof (Dach) prisms made from BaK-4 glass which is what we want to read, so all good here.
Optical Coatings
As well as the Dielectric coatings on the prism which we have already discussed, these Snypex binoculars have a number of other coatings on the glass that help further improve the image:
Anti-Reflection
As we would expect at this price the optics are fully multi-coated this means every exterior element has multiple layers of an Anti-reflection material added to them.
Lower quality products will only coat some elements and sometimes only using a single layer.
This makes a big difference to the image brightness and quality and is something that you really should ensure as a minimum.
Phase Correction
The roof prisms on these are also phase corrected. This is also good as it corrects the phenomenon known as phase shift and thus ensures that the image resolution remains as high as possible and definitely better than those without.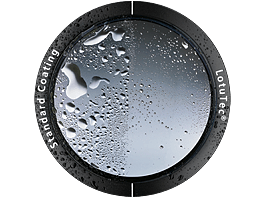 Water Repellent Coatings
Lastly, the exterior lens surfaces have a water repellent material added to them. The properties of this make water form into beads and not cover the glass (as is demonstrated by the equivalent Zeiss LotuTech coatings on the right).
This makes it possible to continue using them in wet conditions without having to continuously wipe your lenses.
As well as being less irritating, it does mean that you don't have to clean your lenses as often and when you do, often less pressure needs to be used, which certainly means less chance of you scratching or permanently marking them.
Coating Comparison Table
As a quick demonstration as to the high level of coatings used on these, the table below contains a number of mid-sized binocular arranged in order of price and is really one of the areas where you can see where the extra money goes:
Optical Components Quality Rating: 9/10
Optical Stats
Field Of View (FOV)
As you can clearly see on the table below, the width of view that is 351ft wide at a distance of 1000 yards ok, but not great for a mid sized binocular with an 8x magnification.
So whilst I never felt that it was overly narrow when looking through them during my tests and when out using them in the field, it is a slight disappointment to me that it is not any wider.
Close Focus
The minimum focus distance of only 3.9ft on these is outstanding an most certainly makes them a very strong contender should you often observe butterflies, other insects, flowers or even birds from close range.
Eye-Relief:
16.8mm of eye-relief is very good and usually more than enough for those who wear glasses.
Optical Stats Rating: 8/10
Image Quality
I can sum up the image quality and brightness that you get whilst looking through the Snypex Knight D-ED with one word: Outstanding!
To get a little more specific and to explain why I say this please read on:
Image Brightness
During the day and in good ambient light, to me the image brightness was equal to that of my mid range 8x42 binoculars which is really impressive considering the 10mm difference in size of the objective lenses and the resulting smaller exit pupil.
Even in poor light at sunset, the image brightness was very good. it was a big improvement against my mid level 8x32 benchmark and whilst less bright than the 8x42, the difference was not massive.
Contrast & Color Reproduction
The colors and level of contrast are spot on and by that I mean the image I saw was vivid, but still true to life.
Sometimes you get an image that has too much contrast and can kind of look unreal, this was not the case on this pair of optics. Likewise, an image that is bright but with washed out colors and low contrast is also undesirable.
The Snypex Knight D-ED 8x32 binocular sits in the middle of this spectrum, which for general use is ideal.
Color Fringing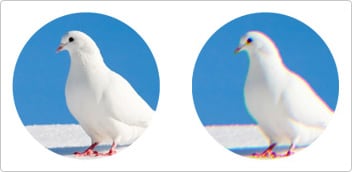 Levels of color fringing that I could observe were very low and definitely on a par with the very best in this area.
Here the use of an APO lens design with ED glass elements has certainly ensured that the amount of chromatic aberrations are kept to an absolute minimum.
Image Flatness & Softening
The image you see through these bins is perfectly flat and through all my use and testing, I never noticed any sort of abnormal image distortions where the image can looked curved or wavy.
As well as this, once correctly focused, the view you see is sharp right to the edges of the view. indeed the level of softening at the edges is about as minimal as I have ever seen. Super!
Image Quality Rating: 9/10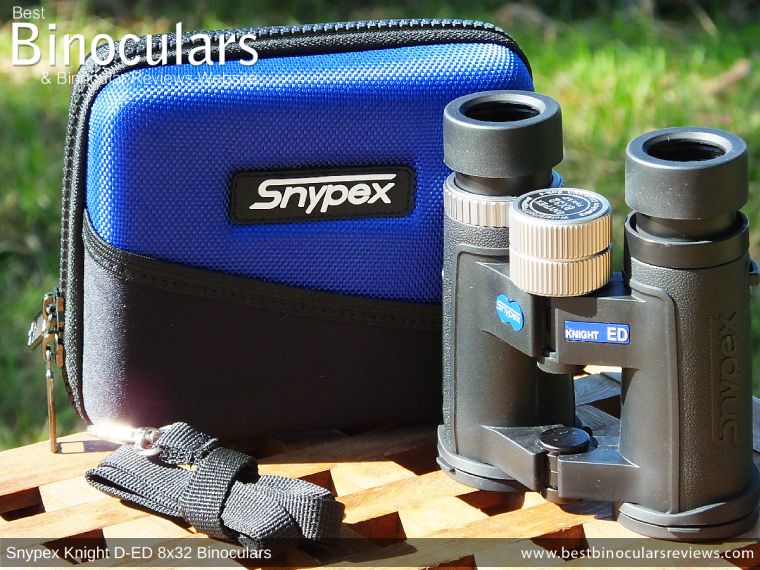 Included Accessories:
Apart from being smaller, the included accessories are exactly the same as those which come with the larger version, so rather than just repeating myself, you can read about them in detail here and there is also a video: Accessories on the Snypex Knight D-ED 8x42 Binoculars.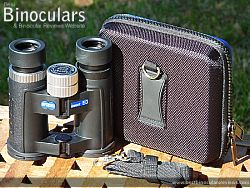 Carry Case - Main Points
Excellent quality
Semirigid construction - offers plenty of protection
Zipped Closure - Secure, but a little more time consuming to open than Velcro
Internal webbed pocket
Separate carry strap
Binocular fits well inside, can be closed even with eye-cups extended
Overall the case is one of the best and of a far better standard than the majority that come included with a pair of optics.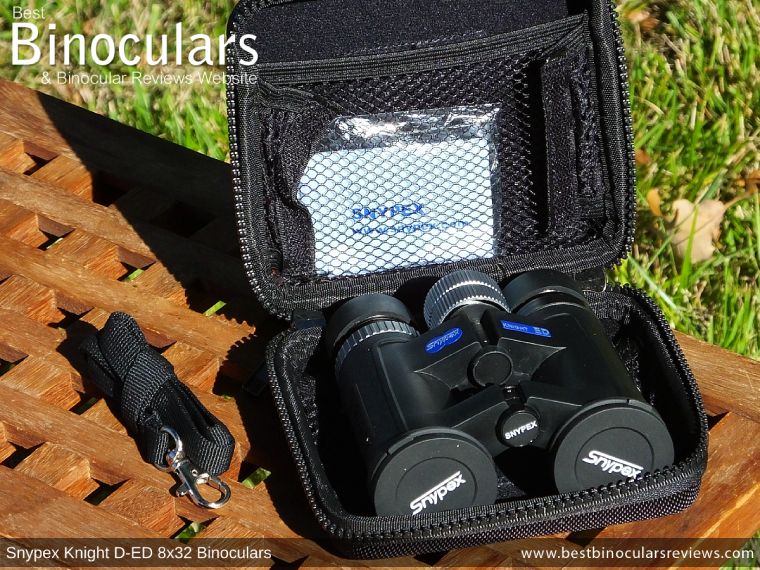 Neck Strap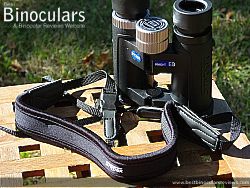 Main Points
Excellent quality
Plenty of padding even for a full sized instrument
Rubber underside stops the strap sliding about
Quick release clips makes it easy to remove and quick if you switch between strap and binocular harness
Once again the quality is excellent and better than most others out there.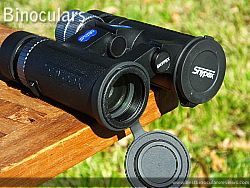 Main Points
Tough but flexible rubber - stronger than most I see
Fit well on the cups and into the barrels
Objective covers are tethered for easy access
Cleaning Cloth
The Snypex Knight D-ED 8x32 Binoculars come with a good quality cleaning cloth, which is more than fine for cleaning the body and occasionally light use on the lenses. I would still recommend making the small investment in a lens cleaning kit to ensure that you don't mark the lenses when thoroughly cleaning them.
Extras Rating: 8/10
Snypex Knight D-ED 8x32 Binocular Comparisons
The table below displays a small selection of 8x32 binoculars in the BBR database.
Open table in full screen mode to view the full results.
Review Conclusions:
These Snypex Knight D-ED 8x32 binoculars are in almost every section an excellent pair of mid sized binoculars and for my money really do compete with and in many cases beat the very best.
So whilst they might not be the cheapest out there, in this case you really do get what you pay for and in my opinion their mid-high range price tag is fully justified.
Strong Points:
The outer construction is superb and I love all the small details like the aluminium focus wheel, ratchet diopter adjuster and excellent quality carry case.
The body is both lightweight and compact for a 32mm binocular, which if you are buying a mid-sized binocular to make it easier to carry and pack away than a full sized version is really important and should not be understated.
Close focus distance is outstanding and makes these an ideal choice for many users who view garden birds from close ranges, as well as insects and flowers or even those who frequent museums and galleries etc.
There is no faulting the optical components and coatings. They are all of the highest order, which directly translates to a superior image that is both bright and of a higher quality than the majority of 32mm instruments that I have tested.
Weak points:
The use of a polycarbonate chassis (even if it is reinforced with fiberglass) could be an issue if you absolutely must have a binocular that is super robust and resistant to expansion with large temperature variances.
However for the vast majority of users, this really should not be a deal breaker. In fact for most of us, the lighter weight of this material will be of more importance than the loss in strength.
The field of view is another very slight weakness. This is countered by the outstanding close focus distance and good level of eye-relief, but there may be some that absolutely must have a wide view that may be put off by this.
Like the chassis material, I would say for the majority of users, this should not however be of major concern. it may not match the best, but it is also far from being bad.
Final Thoughts
I started this review by describing what my ideal mid-sized binocular would be. Basically as close to a full sized version as possible in terms of optical performance, but also almost as small and lightweight as a compact.
With optics there are always some compromises that have to be made, but with the Snypex Knight D-ED 8x32 binoculars for most people and uses these are very minor and in my opinion for the price these come about as close as any to being the perfect mid-sized general use binoculars.
Very Highly Recommended.