Designed specifically with marine uses in mind and with a whole host of interesting features and components, sure on paper, these Steiner Navigator Pro 7x30 binoculars do look like they could pretty much be the ultimate binocular to have on just about any smaller vessel on the water, be that a speed boat, yacht, kayak or canoe and indeed they also seem like they could also more than hold their own for many dryland uses as well. So good on paper, but just how well do they fare in reality under real-world testing and use, well in this review we find out:
Whilst planning for an upcoming 4-day kayaking and camping trip down the Dordogne river in France, I reached out to a number of binocular manufacturers who make what I thought would make a good binocular for this particular use and asked if they would be willing to send me a sample to test and then review on my return. (See my article & video on Choosing The Best Binoculars for Kayaking & Canoeing).
For me, pretty much the very first binocular brand to spring to mind, and indeed ended up being the first I contacted was Steiner. Famous for their toughness and ability to survive whatever you throw at them, Steiner Optik supply a number of Navies around the globe and are widely accepted as making some of the very best marine binoculars money can buy.
The problem for me and choosing my binoculars for my kayaking trip is the fact that most marine binoculars are designed to be used on larger boats/vessels and so size and weight are not a big priority and thus a 7x50 is probably the most common configuration.
The good news is Steiner produces a few slightly more compact options because of this, I zeroed in on their 7x30 Navigator Pro which I thought could be ideal.
Steiner very kindly accepted my request and a few days later a brand new pair landed on my desk and below is my initial "mini" review along with the thoughts and opinions after testing and using them on my kayaking trip I solely focus on how they performed for me as a binocular for kayaking/canoeing (note: the full review, where I will go into far more depth will follow in due course):
Steiner Navigator Pro 7x30 Binoculars Review
Main Features & Contents:
The Ultimate Binocular for Kayaking, Canoeing or for use on any other Small Boat or Yacht?
Because I took my time and did a lot of research before selecting these Steiner Marine binoculars as one of the instruments that I would take to use as and test on my 4-day Kayaking / Camping trip down the Dordogne river in South West France, I was pretty confident that they would excel in this environment and for my intended use and I had very high expectations for them.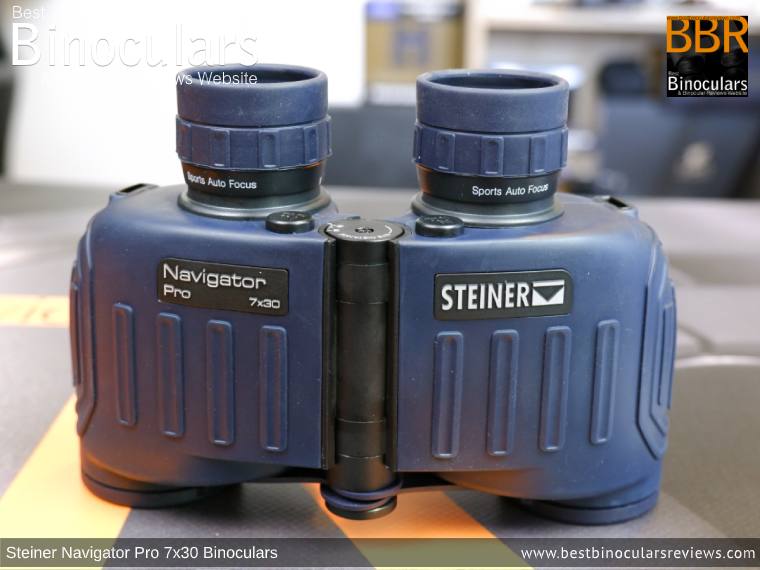 The Body
Shape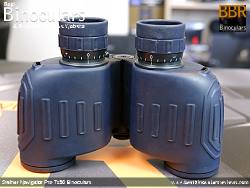 In terms of comfort when holding them in my hands, I really can think of many (if any) instruments that I would call more comfortable to use than these 30mm Steiner Navigator Pro binoculars.
The combination of the fairly traditional Porro prism shape and the excellent NBR rubber coating that Steiner uses on these just works. The level of grip you get is also excellent, which on a small boat where you can and often do get wet is of more importance than ever.
Rubber Coating
Like many, if not most of their other top-end instruments, Steiner incorporates their "NBR Long Life rubber" armor on all their marine binoculars.
Made from Nitrile butadiene rubber(NBR) it is more often called Buna-N or Nitrile rubber, it is special because it is able to resist the perishing effect that oil, fuel, and other chemicals have on most other types of rubber.
One other very important aspect is that NBR rubber, especially in relation to marine uses where you will often leave the binoculars on your boat, is that it also has an excellent level of resistance to sun and heat aging and so does not harden and perish as natural rubber does.
Steiner also states that it is resistant to the perishing effects of salty water.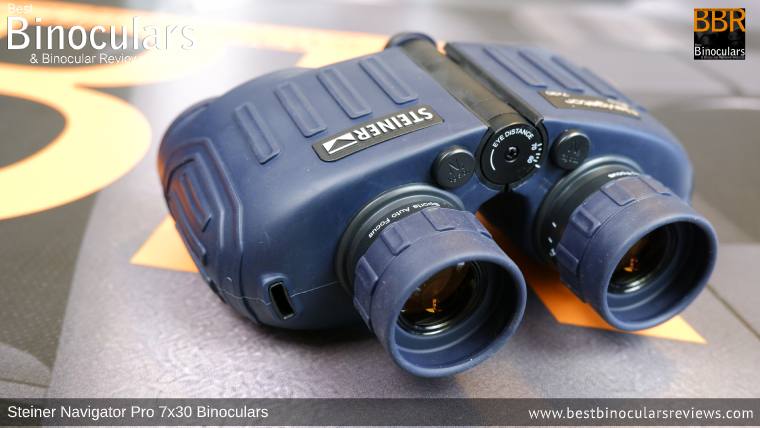 Main Chassis Material
As with the exterior armor, Steiner has obviously put a lot of thought into the materials used for the chassis: Instead of magnesium that many higher-end instruments will nowadays use, Steiner actually uses a polycarbonate Makrolon housing.
Made for them by Bayer, it is lightweight and very robust. Indeed Steiner advertises it as being able to withstand 11G's of impact. So whilst it may not be as luxurious as a magnesium chassis, it is more lightweight and I would suggest easily strong enough to handle most mishaps onboard.
Weather Proofing
As with any marine binocular worth its salt, the Steiner Navigator Pro 7x30 binoculars have fully waterproof and fogproof O-ring seals.
Indeed they are designed to withsand a water pressure of up to 5 meters. As with many of their other instruments these are also filled with nitrogen gas under pressure and are said by Steiner to prevent fogging up inside at temperature range of between -20°C to +60°C.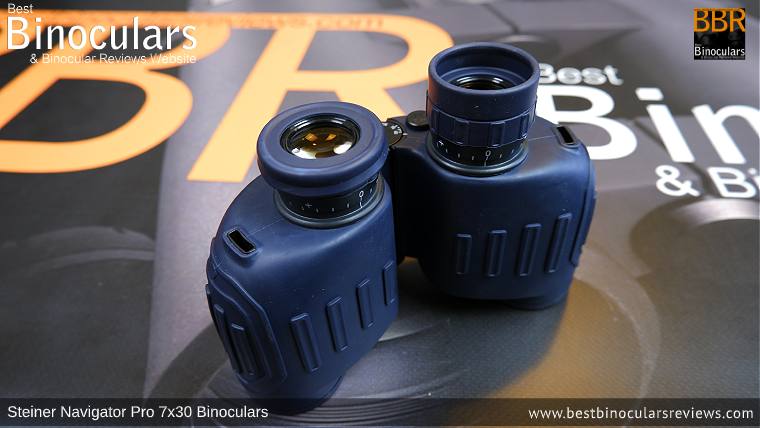 Eyecups
As is most often the case on this design of binocular, all Steiner Navigator Pro binoculars use the fold-down type of eyecups.
As they are less complicated and thus easier and probably also cheaper to make than twist-up eye-cups, this type of eyecup is often found on cheap binoculars, and as such these low-quality cups (often with very little eye-relief) tend to offer a poor user experience.
Rather unfairly, they all get tarred with the same brush and I will admit to often stating in my reviews of binoculars using folding cups that I would have preferred to have had the twist-up type instead.
But as I say, this is usually at the cheaper end of the market, because whilst I would still probably just give the edge to a high-quality twist-up cup, the ones one these Steiner Navigator Pro binoculars are extremely good:
Simple
The simple design means there is less to go wrong, and less to break should you drop your instrument.
Comfortable
I found the cups themselves to be very comfortable even when pushed firmly against my face and this is certainly one area where they have the advantage over the twist-up type on most binoculars.
Adjustable
If you need to reduce the eye-relief for example because you wear glasses, then you can simply fold down the cup. This works, but it has to be said does not give you as many options as the better twist-up ones which will often have one or more intermediate click-stops.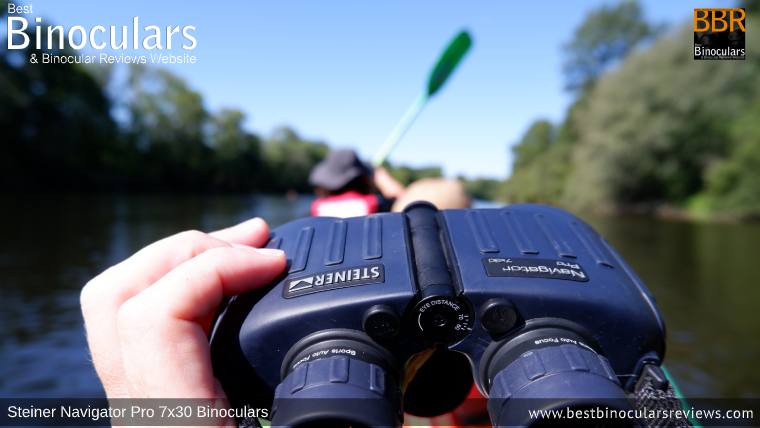 Focusing
Steiner's Sports-Auto-Focus System & Diopter Adjustment
These Steiner Navigator Pro 7x30 Binoculars don't have a focus wheel, rather they incorporate a diopter adjuster on each of the eyepieces.
Often rather erroneously described as an "Auto Focus" system which Steiner markets as their "Sports-Auto-Focus" system, I prefer to think of them as an "Always in Focus" binocular as once you have adjusted each of the diopters to complement your particular vision the image you see remains sharp and in focus from about 20 meters away right to infinity and no further adjustments are ever required.
On the kayak and with a paddle and camera to deal with, this was certainly an advantage as it made it much easier for me to use these Steiner Navigator Pro 7x30 Binoculars with just one hand.
The only real downside to this is the fairly long minimum focus distance, but in this situation, I found I was mostly looking at the bank, up at the tops of trees, cliff faces or further up the river to navigate the best route and thus this was not often an issue for me.
Indeed the only times I wished I could focus at a closer range was to observe things like the dragonflies and dropwings that would often land on our canoe.
Also note that if you really need to, you can actually reduce the minimum focus distance on this type of system by adjusting each of the diopters and I managed to get these down to about 5 meters, however, this is obviously more time consuming than on a binocular with a single focus wheel mechanism and the depth of view is also greatly reduced.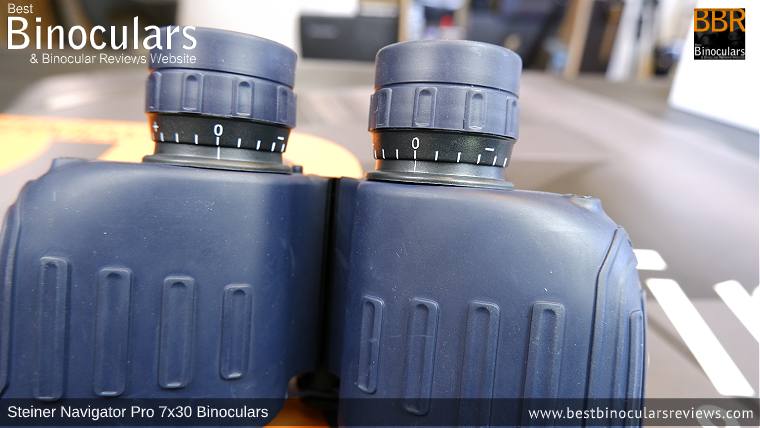 Rating for Body Construction Quality: 8/10
Weight
To a point and whilst on a boat, the weight of your binoculars is not really an issue as unlike walking, the vessel is doing most of the carrying for you. However, I would say that whilst I would not describe them in any way as being heavy, after a full day of kayaking, I did start to feel the weight of these Steiner Navigator Pro binoculars around my neck towards the end.
Nicely padded and with Steiner's excellent click-lock attachment system.. I really do like the included neck strap that Steiner provides which is excellent in every way... except for the fact that it is too narrow and thus the weight of the instrument is more concentrated and becomes a little uncomfortable.
If I was going to use this binocular more often on the river over long periods of time I would definitely consider getting a wider strap, or even better the Steiner Floating Strap (Item Number 76800004 - fits Navigator Pro 7x30 binoculars) which would not only be more comfortable but ensure your instrument is more easily retrieved should you drop it overboard.
Dimensions
In the past, I have always used a full compact binocular (usually around 26mm lenses) when either canoeing or kayaking, and thus before receiving this mid-sized Steiner with its wide Porro prism shape, I must confess to being a little worried that they may not be quite as compact as I would have preferred.
But on my first inspection after taking them out of the box, I felt they would be fine, they fitted quite easily into my daysack along with all my other gear and then once out on the river and in the kayak, their slightly larger size was really never an issue for me and I do think that the extra performance I got from their larger 30mm lenses was well worth it in this case. Had my trip involved more hiking and backpacking, then yes perhaps I would once again switch back to a full compact.
BBR Body Stats Score (compared to 30mm Bins): 7/10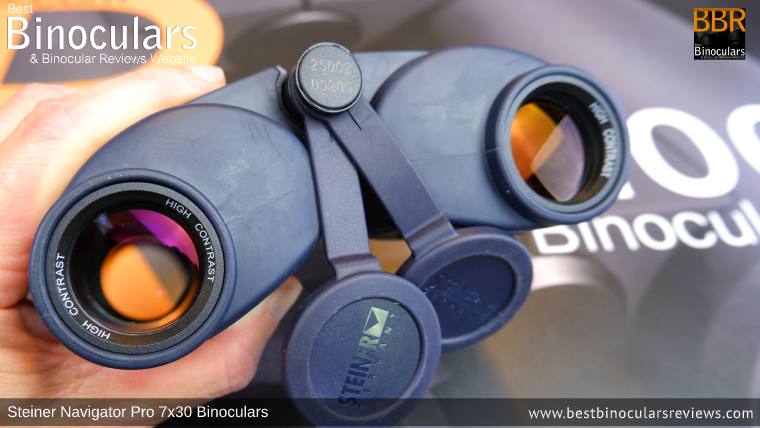 The Optics
The fact that they use Porro prisms means these Steiner Navigator Pro 7x30 binoculars do not require a number of specialist coatings on the prisms and thus the list of optical coatings is shorter than that of most high-end roof prism binoculars, yet I would still expect them to deliver an equal if not better quality of image.
7x30mm Configuration
Combining a moderate 7x magnification with mid-sized 30mm objective lenses is an interesting setup for a marine binocular:
Firstly the moderate 7x power helps make it much easier to keep the image steady and shake-free with a lower magnification, which on the unsteady platform of a boat or yacht on the water is of great importance.
But this relatively low magnification also produces a few other advantages: Firstly it helps produce a wide field of view and then secondly it also creates a larger exit pupil when compared to binoculars with the same or similar size lenses, but with higher magnifications:
7x30 binoculars produce a healthy 4.3mm exit pupil (30÷7). Considering that the objective lenses are fairly small and thus cant collect as much light as larger lenses, these 4.3mm shafts of light exiting the ocular lenses counter it to a degree and ensure that your eyes receive enough light in all but the worst light conditions when your pupils are dilated and thus larger than the exit pupil.
If for example, you compare these to an standard 10x42 and their 4.2mm exit pupil the difference is very minor. However if you need a very good low light performance, you would still have to sacrifice on size and weight and go for a larger instrument, so something like a 7x50 for example that produce massive exit pupils of more than 7mm.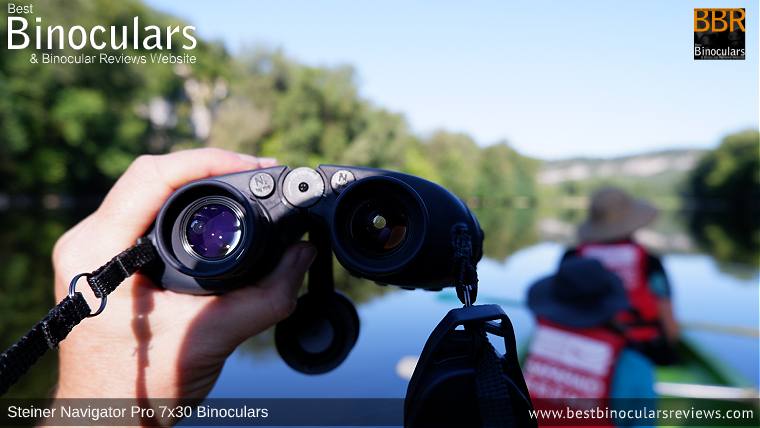 Ocular Lenses
At 21mm in diameter, these have pretty large ocular lenses for a mid-sized binocular in my experience.
Large ocular lenses are desired for a number of reasons, which I go through in detail in this article on ocular lens size in binoculars, but one of the most important is that they make it much easier for you to line your eyes up with them. This combined with their reasonably large exit-pupil makes this instrument very easy to use with less chance of black rings forming on the edges of the view.
All this combined with the lack of having to make any sort of adjustments to the focus makes for an incredibly easy instrument to just pick up and use and was something that I really appreciated when out on the water, especially when using the binocular one-handed..
Prisms
Just from this type of body shape, it is obvious that these Steiner Navigator Pro 7x30 binoculars and indeed all their marine binoculars have Porro prisms inside of them to correct the inverted image created by the lenses.
As I mentioned in the body section above, this design of prism does not make for the most compact shaped binocular, but it does have a number of advantages over the more compact roof prism design:
Probably most importantly is that a Porro prism is far simpler and does not require any special coatings added to them to correct the light going out of phase as it passes through them, nor do they require any highly reflective mirror coatings to increase the light transmission levels, both of which are needed on a Roof prism to get the best out of them.
Optical Coatings
Whilst the prisms do not need any special coatings, Steiner has added a number of coatings to the lenses that help improve light transmission and improve image quality: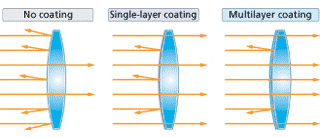 Anti-Reflection Coatings
Steiner has added multiple coatings of a special anti-reflection material to ALL of the optical surfaces throughout the system and not just the first and last lenses, which is sometimes the case on lesser instruments.
This is certainly what we want to hear and is one of the key features of what to look for when buying binoculars. You can also read more on Anti-Reflection Lens Coatings here, but essentially these coatings ensure that as little light as possible gets reflected in unwanted directions and away from each of the lenses and so increases the amount of light gets transmitted right through the instrument and onto your eyes.
Steiner Nano-Protection Coatings
One optical coating that is important to mention here for their intended marine uses is that they have a hydrophobic/aquaphobic material on the outer lens surfaces.
Steiner markets this as their "Nano-Protection" which repels water and thus maintains a better view in wet conditions, which if you are involved in activities like sea kayaking for example is important. Even if you are not, this layer also helps prevent dust and dirt from sticking to the lens surface and prevents watermarks from being left behind, meaning that you need to clean the lenses less often, and then when you do, less force is needed which is always a good thing.
Optical Components Quality Rating: 9/10
Optical Stats
Field Of View (FOV)
At 123m wide when measures at a distance of 1,000 meters away (369ft at 1,000 yards), the field of view on the Steiner Navigator Pro 7x30 Binoculars is certainly wide if you are used to looking through an 8x mid-sized binocular.
However, considering the 7x power, I was half expecting them to have a slightly expecting a slightly wider FOV, for example, the Steiner 7x50 C Navigator Pro Binocular has a FOV of 373ft @ 1000 yds and at the very top end of this sector, the Steiner 7x50 Commander C binoculars lead the way with a massively wide 8.3° / 438ft @ 1000 yds / 145.4 m @ 1000 m, but just keep in mind that those more than 4x the cost of these about $1300.
Having said all that, for me and how I used them the FOV was plenty wide enough and I never had an issue with being able to quickly locate and then follow small fast-moving birds (like a kingfisher) on the bank of the river from the kayak.
Close Focus
Fixed focus / always in focus binoculars like these are designed to have a very long depth of view (large hyperfocal distance) and thus it is normal for them to have a relatively long minimum close focus distance when compared to a standard focusing binocular.
This is one of the "prices to pay" for not having to make any adjustments to the focus and these Steiner's are no different.
So once you have set up both diopters to match your vision, the close focus distance on these is about 20 meters away (depending on your eyesight).
If you need to, you can actually reduce the minimum focal distance a fairly long way by adjusting both of the diopters. Indeed, I managed to get it down to a minimum of about 5 meters. However, doing by doing this you also vastly reduces the depth of view. Indeed at this extreme, I would found it to be about 1 meter, however, this can still be very useful if you sometimes need to focus on something fairly close by.
Either way, this is not really what this type of binocular is designed for and so I would still not recommend them to anyone who often needs to view objects at close range.
Eye-Relief:
At 17.4 mm, I would not describe the Steiner Navigator Pro 7x30 binoculars as having a very long eye-relief, but for a mid-sized instrument, it is pretty good and should be enough for most eyeglass wearers.
Note: I tested them using my sunglasses and as expected was able to achieve the full field of view with them on after completely folding down the eyecups.
Optical Stats Rating (compared to 7x Bins): 8/10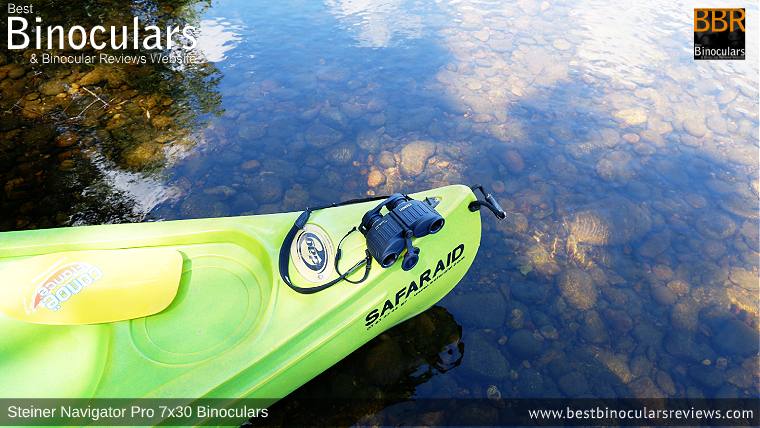 The Image Quality
Image Steadiness: 7x magnification
The section of the Dordogne river that we paddled down was pretty slow-moving and tranquil most of the time and even the "rapid sections" were for us pretty easy to navigate (except for one!). This was by choice as we were going as a family and thus as well as my camera, we had my nine-year-old daughter as well as our dog in the canoe.
Even so, and as calm as much of the water was, I do think it is worth keeping the magnification down to 8x or less as even a slight rocking motion on the boat makes it much more difficult to keep the image steady. So for me, the 7x power on these Steiner binoculars was a good choice and I would say that on the water is generally a good compromise between image detail and steadiness.
Image Brightness & Low Light Performance
The 7x30 configuration gives you exit pupils of around 4.3mm (30÷7), which is pretty much the same as the 4.2mm that you get with a 10x42 binocular and thus in terms of image brightness I was expecting these to provide me with a similar type of experience meaning that, they should perform well enough in all but pretty poor light conditions and this indeed turned out to be the case:
As well as this, I know from a tour of their factory, that Steiner uses excellent quality glass (either Hoya from Japan or Schott in Germany) on all their higher-end instruments and so this combined with the knowledge that all the lenses along the whole optical pathway on the Navigator pro have multiple layers of anti-reflection coatings applied to them (fully multi-coated) meant it was no surprise to find that the image brightness, in general, and especially in the good to average light conditions that we mostly experienced on our trip was excellent.
In moderate and even fairly low light conditions I still thought these performed as well as I had hoped and it was only in very low light at sunset that the performance noticeably drops off if you compare them to a larger instrument like an 8x42 or 7x50 for examples.
Color Reproduction & Contrast
I thought both were very good and these binoculars deliver a vibrant, but natural-looking image with a good variation between the lightest and darkest areas of the view
Color Fringing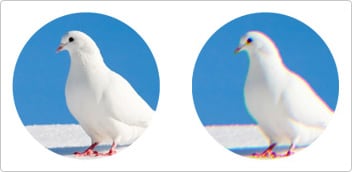 Due to the moderate 7x magnification and excellent quality optics, I was hoping and half expecting that this instrument would only show a very minimal amount of color fringing and thankfully I was not to be disappointed:
Caused by chromatic aberrations, color fringing is generally more difficult to control with high magnifications, so even though the Steiner Navigator Pro 7x30 Binoculars does not have ED glass (which is designed to reduce chromatic aberrations), the level of observable color fringing, even under extremes like viewing a black telephone wire against a bright blue, sunlit sky only showed very little amounts which is impressive and they compare very favorably even against the very best in this area.
Image Flatness & Softening
In terms of the image quality, this is another area where this Steiner binocular really impressed me.
The image remains sharp and in focus from the center of the view right to the edges and they show almost zero image softening at the edge of the view. In my experience, this extremely minimal amount is certainly less than the majority of instruments that I test.
Also worth noting is that I never noticed any sort of distortions that can make the image look curved or wavy.
Image Quality Rating (for Mid-Size Binoculars): 9/10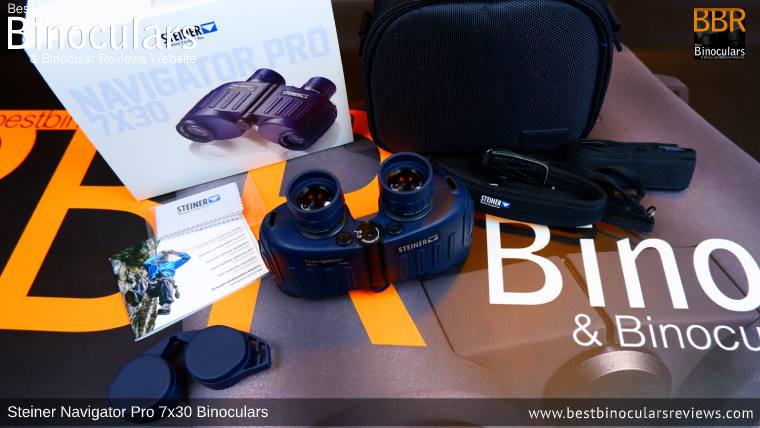 Included Accessories: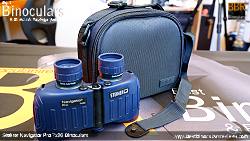 Included in the box with these Steiner Navigator Pro 7x30 binoculars are a number of accessories.
This includes a soft carry bag, padded neck strap, objective lens covers, rain-guard, cleaning cloth, and an instruction booklet:
Carry Case
The carry case is well made and well padded, but other than that it is pretty basic and lacks any extra pockets or a belt loop.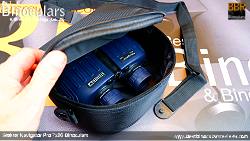 The fit of the binoculars when inside is a little too spacious for my liking meaning that they can flop about somewhat, although this is reduced somewhat when you include the neckstrap in with them.
The case does come with its own carry strap, but this is unpadded.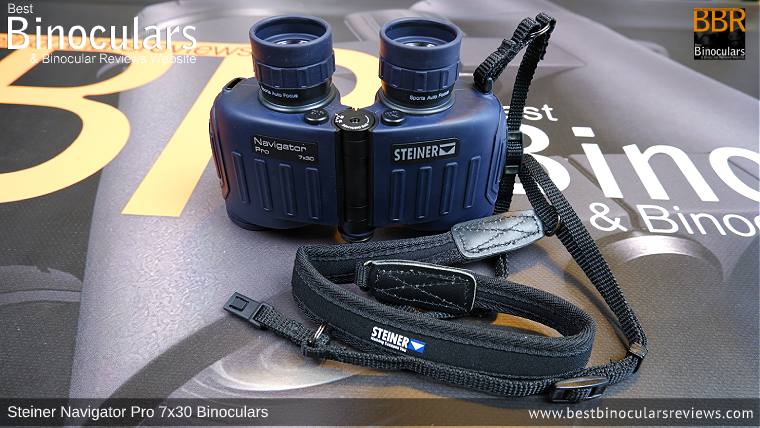 Neck Strap
As I have already mentioned in the weight section of this review, for the most part, I feel that the included neck strap is excellent and I would rate it as one of the best...except for one area:
For a start, you can instantly tell that it is well made using good quality materials and the stitching looks reasonably good and there is no doubt in my mind that it will be long-lasting.
I like the attention to fine details, for example, Steiner has added not one, but two metal ring connectors on each side of the strap (4 in total), these free up the strap to move into a more natural position as you bring the binocular up to your eyes. I'll agree that this is a very minor point, but the many, many, many straps that I have tested that don't have these can often feel rather stiff and get in the way much more frequently and so it is something that I do certainly appreciate.
As well as this, the two lower rings are actually split-rigs which makes it very simple for you to attach these binoculars to just about any binocular harness should you wish. I was actually going to try this, but because I was also testing two other instruments and had my camera around my neck, I decided against a bino harness, but I think using one on a canoe could be a very good idea.
Another highlight of the strap is that Steiner uses their ClicLoc Strap Attachment System on it which is excellent: Instead of the usual slider system where you fold and thread the strap back on itself, that is a bit of a pain to set up (especially for me as I have done it literally thousands of times!), Steiner has a quick-release clip on the end of the strap that simply clicks into a receptor located ether side of the body of the binocular.
Not only does this make for a much cleaner, integrated look, but it is far, far quicker to add an remove the strap should you wish.
The padded section is for me the part that lets this strap down a little. It is well padded, but just to narrow (25mm). So whilst it is fine for short periods, I found that it would dig into my neck and thus become uncomfortable after about an hour or so.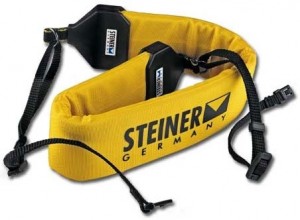 For a lightweight compact, this would be the just about best strap you could ever hope to get, but for these, I would have much preferred wider padded section that would distribute the weight more evenly.
Steiner Floating Neck
Strap Steiner does make some excellent floating neck staps designed for marine uses and one that is designed to work with these Navigator Pro 7x30 binoculars (Item Number 76800004). It looks to me to be wider, and I will ask for confirmation. So if you are planning on using these bins often on a boat and for long periods, I would consider getting it. Priced at around $49 / 49 Euros. Click Here for Current Prices & Where to Buy
Lens Covers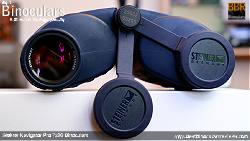 The objective lens covers are excellent, but when you consider them for use on the water whilst a small boat like a kayak, I would upgrade this to them being truly superb where it is certainly the case of a number of small things all adding up:
Embossed with the Steiner logo on the ends, I like the fact that the cups are obviously designed specifically for this model and not a generic part made in their millions and used by many manufacturers.
Made from what looks like a combination of rubber and plastic, the cups are designed to fit into the ends of the barrels whereas most cups fit over the ends and often just look like an afterthought and not a part of the instrument. The fit is also tight enough to ensure they don't come away too easily, yet are reasonably easy to take off and put back.
I also like that they are tethered to the central hinge and not over each of the barrels. This allows them to hang down in the center of binocular and completely out of the way when not in use, but always there for you to easily replace when needed. Also important to note here is that the rubber used for the tethering looks and feels fairly robust and thus should last as this is a part that often fails on binoculars that I test.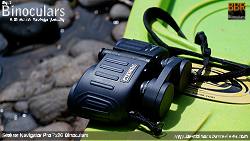 Rain-Guard
Another seemingly insignificant part, which becomes much more important on a boat like a canoe is the ocular lens cover (rain-guard):
Whilst I ALWAYS ensure that they are replaced once I get home in order to prevent dust from settling into the ocular lenses. When out in the field (on dry land), I usually don't use them much and almost never take the time to attach the rain-guard to the neck strap as it just gets in the way.
However, on water (and especially where sea spray is involved), they ensure the oculars remain dry and in optimal condition and so for my trip I took the time to thread the rain-guard onto my neck strap and so used it much more than usual. Once again, this process was made much easier because of Steiner's quick-release neck strap.
The fit on the one that comes with the Steiner Navigator Pro 7x30 Binoculars is perfect and they easily flop over the top of the eyecups making them a cinch to return, but at the same time the rubber of the eyecup and that on the rain-guard, rub together just enough to ensure that it does not come away too easily.
Cleaning Cloth
As with all the Steiner binoculars that I have reviewed, made from amicro-fiber material, the included cleaning cloth is of good quality. Even so, I would still highly recommend purchasing an inexpensive lens cleaning kit for the proper cleaning of the lenses.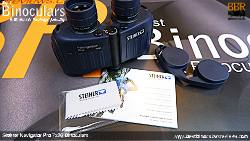 Instructions
As is the norm, the included instruction booklet looks substantial, but includes a number of languages and so only includes some basic information like naming the parts, how to attach the strap, adjusting the IPD, focussing as well as cleaning and maintaining the instrument.
Warranty
In the US, these Steiner binoculars come with a Lifetime Warranty. In Europe, they are covered by a 30 year guarantee.
Extras Rating: 8/10
Review Conclusions:
So did the Steiner Navigator Pro 7x30 binoculars live up to my high expectations?
Yes, most certainly: If you are in the market for a high performance, but reasonably compact binocular to take on just about any canoe, kayak, boat, yacht, or indeed just about any marine vessel then I have absolutely no hesitation in highly recommending these Steiner Navigator Pro 7x30 binoculars and I will most certainly be using them again of future trips and probably use them as my benchmark for this type of use.
Sure they may not be able to match a 7x50 in terms of optical performance (in low light), so if you are in a larger vessel where size and weight are not as important, then a 7x30 may not be the right configuration and you should rather opt for something like the Steiner Navigator Pro 7x50 or Fujinon Polaris 7x50 FMTRC-SX Binoculars that I have also reviewed.
But on the flip side, these are far smaller and more lightweight than a full-sized marine binocular, and whilst not quite as small, they easily outperform a full compact, thus for me, they perfectly fill that middle ground of providing a good performance to size/weight ratio.
Strengths & Highlights:
Buid Quality
An extremely well-made instrument using high-quality components very comfortable in the hands, with high levels of grip.
Excellent Optics & Image
High-quality glass and coatings deliver a bright, vibrant view with extremely low levels of color fringing and almost no softening around the edges of the view.
Ease of Use
The "always in focus" system and not having to adjust the focus is an excellent feature in this context of using it on a canoe/kayak and certainly made the binocular much easier to use in one hand and ensured I didn't miss out on seeing that kingfisher darting about.
The 7x magnification helps produce a steady shake-free image and allows for the really wide field of view, which along with not having to make any focal adjustments meant that I was easily able to find and follow even the fastest moving birds on the shoreline.
Attention to Detail
The objective lens covers are excellent as they fit very well into the ends of the barrels (as opposed to over them) and I also really like how they are tethered to the central hinge and thus hang down in the center of binocular and completely out of the way when not in use, but always there for you to easily replace when needed.
Whilst certainly not essential, Steiner's Hydrophobic "Nano-Protection" is a very nice feature to have on the water and I love the way the water acts like it is almost allergic to the glass and simply runs off it. As well as enabling better views in spray/rain, cleaning the glass is easier because of these coatings.
Weaknesses:
Well padded and well made using excellent quality materials... the neck strap is excellent in just about every way, except for the fact that it is too narrow. Over shorter periods, this is fine for a relatively lightweight instrument, but after a full day in my canoe, I did start to feel it around my neck and wished for a wider strap. It is a pity Steiner doesn't supply these Navigator Pro's with their excellent looking floating strap as standard.
Minimum Focus Distance
I guess you would include the relatively long minimum focus distance as a weakness of this type of instrument that does not have a single focusing mechanism and so if you need to observe objects from close range, this will not be the binocular for you.
Ideal Uses:
Marine Binoculars
This is a no brainer: with their moderate 7x magnification, tough waterproof housing and aquaphobic coatings these are designed specifically for this purpose. The Steiner Navigator Pro 7x30 binocular an excellent choice for use on most small vessels, be that speed boating, sailing, yachting or indeed kayaking and canoeing.
More than Just a Marine Binocular:
Obviously designed with watery environments in mind I feel these Steiner Navigator Pro 7x30 binoculars can also be used in a wide variety of other applications that do not necessarily include water.
Birdwatching Binoculars
From my canoe, I spent a lot of time birding, be that waders like wagtails on the bank, birds on the water like ducks, swifts in the many cliffs faces we passed and then smaller fast-moving birds like kingfishers as well as larger raptors like the buzzards we get in this part of France.
The wide field of view you get from these along with an excellent quality image in my mind makes these an excellent option as a mid-sized birding binocular, be that from a boat or on land.
Wildlife & General Wildlife
Likewise and so long as you don't need a very short minimum focus distance or indeed need a lot of detail at a long-range, I feel these Steiner Navigator Pro's can more than hold their own as an all-round wildlife and general use instrument.
Sports Binoculars
Here again, the wide field of view ensures that you are able to take in more of the onfield action at once without having to pan about and I feel their size is still compact enough for you to easily pack them away into your daysack.
Survivalists & Binoculars for Preppers!
Here again their toughness, durability will all be of great use.
Not Good For:
Because of their relatively long minimum focal distance, I wouldn't recommend them for uses like insect or butterfly observation, taking to museums or anywhere where you need to focus on objects at close range.