New Version Available:
Please note: Since I wrote this review, Steiner has updtaed this series and whilst much reamains the same, there have also been a number of important changes. For more information take a look at my: Steiner SkyHawke 4.0 Binoculars Review.
Having said that, I do feel that this review is still worth taking a look at. As I said, there is much that has not changed, it will also give you an idea of what kind of quality you can expect and you can still find some of the older SkyHawk Pro models on the web, which may be worth considering as they are now available at a far reduced pice.
Ok, so on with the SkyHawk Pro binocular Review:
I have wanted to get my hands on one of the Steiner SkyHawk binoculars to review, ever since I first saw them at the British Birdwatching Fair in Rutland last year and finally thanks to the guys at Warehouse Express, who sent me this 10x42 SkyHawk Pro, I now have the chance.
SkyHawk in the US?
Rather confusingly and somewhat annoyingly, I can't find Steiner SkyHawk Pro binoculars in the US, I think that in America they may be either marketed under a different name or not available at all - if anyone does know for sure, I would love to hear form you.
The Body
Weight
Weighing 25.4oz (720g) they are not the lightest pair of full sized binoculars that I have ever reviewed, but they are also far from being the heaviest. You have to be careful if you just look at the weight of a binocular as it can sometimes be misleading as very light binoculars are sometimes so light, because the body is made of much weaker and inferior materials (like plastic). However there is no far of that with these (see build quality below).
Dimensions
The dimensions of this 10x42 SkyHawk binocular is 5.9in (15.1cm) x 4.9in (12.5cm), which again makes them about average for a full sized binocular with objective lenses of about 42mm. Holding them, I thought that they felt very comfortable and I like the thumb indents on their underside and would say that they were well balanced. T the focussing wheel is easy to get to as well as easy to adjust when you hold them up to your eyes.
Best Binocular Rating for Body Stats: 9/10
Build Quality
Steiner say that they have been built using a glass fibre reinforced high-performance polymer which apparently offers the greatest resistance to mechanical stresses compared to conventional synthetic materials and therefor gives excellent protection to the optics contained in SkyHawk Pro binoculars. I obviously did not test them to destruction (I have to return them!), but it feels very solid and robust.
They look well made and have been covered with a tough rubber armoring which should protect them from scratches and small bumps and knocks. This NBR-Longlife rubber composite that Steiner use is hard enough for lasting durability and ]is said to be oil, acid and saltwater resistant.
The rubber armor on these and other binoculars also have a number of benefits other than just protection of the body: This includes helping with grip, especially when wet, or if you are using thick gloves in cold weather. It also makes the pair of optics less reflective than if the bare metal was exposed. This helps as bright sunlight reflecting off a metal object could frighten away wildlife.
Any sound made from an object striking against them that could frighten away birds or other timid animals is also dampened down by the rubber armour. Examples of this would be your watch or your wedding ring when you grab hold of the binoculars, something that often happens to me.
Fog and Waterproof
These SkyHawk binoculars use Steiner's nitrogen pressure system that have a hidden 2-way-valve to prevent them fogging up on the inside, it completely eliminates any possibility of condensation forming on the inside of the binoculars and will also protect them from internal corrosion. According to Steiner, even temperature fluctuations between -20°C and +70°C will not have any adverse effects on the functionality these nitrogen-filled binoculars. Because they use a 2-way-valve, it makes it possible for a qualified technician to inspect the binoculars even after a number of years.
They are also waterproof to a depth of 1m, which apart from water also protects them from small debris and dust found in dry environments.
The Eye Cups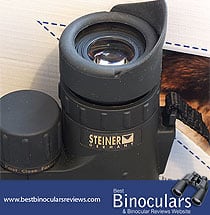 The twist-up eyecups seem to be made from metal or a very hard plastic and have a thin soft rubber like coating (actually hypoallergenic silicone!) on them making them feel fairly comfortable even when pushed quite firmly against your face. I also love the rubber side flaps on the eyecups that really help with blocking out any light from the sides of your face, but can be folded down if not needed.
Steiner don't state their amount of eye-relief on these, but I measured it at about 8mm, which I have to say does fall a little short of the best binoculars out there. To get on my list of long eye relief binoculars, they needed to have 16mm or more of eye-relief.
The twist-up mechanism on the eyecups works well, although it is a little more stiff/awkward than the best. They have two intermediate stops which will help people who wear glasses to get the right amount of eye relief. Non-eyeglass wearers will just use the eyecups in the fully extended position.
Focusing
Like the eye-cups, the focussing wheel on the 10x42 SkyHawk also has a rubber coating on it and on the pair that I tested turned very smoothly. It is large enough so as to make using them even with thick gloves no problem.
The focusing mechanism is geared fairly lowly, taking and takes 1 and a half turns to go from infinity to it's minimum focusing distance of 2m (6.6 feet). What this means is that focusing from near to far (or vise versa) is not as quick as a binocular that takes less amount of turning (some take as little as half a turn), but this does have the advantage of making fine tuning your focus to get it exactly right, much easier.
Steiner do advertise that these binoculars use their "Fast-Close-Focus System" that I think is supposed to make focusing on objects at less than 20m away quicker. I guess it works by having variable gearing, but to be honest I could not notice any difference.
Diopter Adjustment
Located on the left barrel, between the eyecup and the barrel is the diopter adjustment ring. The are markings on both the barrel and diopter ring so you can easily see where the middle point is. It was tight enough on the pair that I tested and very lightly ratcheted so as to prevent it from easily being moved accidentally, yet not so tight as to make adjusting it difficult. For those who don;'t know, the diopter setting is used to correctly set up and focus the binoculars to your particular eyesight and only needs to be done once.
Best Binoculars Rating for Body Construction Quality: 9/10
The Optics
Lenses & Prisms & their Coatings
Steiner seem a little shy when when explaining exactly what quality of glass, prisms and coatings they use in these binoculars. So I have assumed that the fact that they are not shouting about a quality feature means that they don;t have it. So below are the details on what I have been able to find out:

They do highlight that their association with the World Wildlife Fund (WWF), the UNESCO project "Schutzstation Wattenmeer" in Northern Germany and a number of other global conservation projects has meant that they use "green" eco-glass for lenses and prisms and hypoallergenic chloride-free rubbers. Glass refining takes place without arsenic, antimony or other harmful heavy metals.
As you would expect to find on any quality roof prism binocular, Steiner use BaK-4 prisms as opposed to the cheaper and inferior BK-7 prisms.
Steiner only mention that a "special coating technology and High-Contrast-Optics are used for a brilliant visual experience." This does not tell me much, but I am sure that this "special coating technology" means that their lens are Fully multi-coated and all air-to-glass surfaces have received multiple layers of anti-reflective coatings which will increases light transmission, for a brighter image and therefore better low light performance.
Best Binoculars Rating for Optical Components Quality: 7/10
Optical Stats
Field Of View
The field of view for these 10x42 Steiner SkyHawk Pro binoculars is 105m at 100m / 315ft at 1000 yards (6°) - which, for a binocular with a 10x magnification is above average, but does fall a little short of the very best. For example something like the Minox 10x42 BV's have a field of view of 342ft at 1000 yards (6.5°).
Close Focusing Distance
The minimum distance that you can focus on an object is a pretty good 2m (6.6ft) away. I consider anything under 6ft to be very good.
Best Binoculars Rating for Optical Stats: 7/10
Image Quality
As I do for all my reviews, I compared the view through these Steiner 10x42 SkyHawk Pro binoculars with that of my control binoculars:
Brightness
I would rate the brightness of the image produced by these Steiner's as good, well above average, but not excellent.
Focusing on an object (my black weber BBQ!) that contrasted greatly with the background, I looked for any signs of color fringing (chromatic aberration) on the edges of it. On quality optics it can be very hard to tell if there is any and these were no different. If there was any color fringing, it was barely visible. I also rate the contrast of the image as good to very good and once you are correctly focussed on an objet the image is sharp, but because they were not as bright as my control binoculars, the image does seem a little softer.
Another thing I look for is the amount of softening of the image on the periphery of the view, high quality optics have almost none which is what I detected through these Steiner's and and so I rate them extremely good in this area.
Best Binoculars Rating for Image Quality: 8/10
10x42 Steiner SkyHawk Pro Comparisons
Below is a table comparing this Steiner SkyHawk with a selection of other full size roof prism binoculars with magnifications 10x. The Minox 10x42 BV's, the Swarovski 10x42 EL's, the Leica 10x42 Ultravid HD Binoculars and the Zeiss 10x42 Victory FL Binoculars.
| | | | | | |
| --- | --- | --- | --- | --- | --- |
| | Steiner 10x42 SkyHawk | Minox 10x42 BV | Leica 10x42 Ultravid HD | Swarovski 10x42 EL | Zeiss 10x42 FL |
| Price (approx): | £390 | $250 (£220 | $2100 (£1500 | $2480 (£1650 | $2000 / £1400 |
| Weight: | 25.4oz (720g) | 27.5oz (780g) | 26.5ozs (751g) | 27.5ozs (780g) | 26.8ozs (760g) |
| Length: | 5.9in (15.1cm) | 5.5in (14cm) | 5.78in (14.7cm) | 6.2in (15.7cm) | 6.81in (17.3cm) |
| Width: | 4.9in (12.5cm) | 5in (12.7cm) | 4.72in (12cm) | 4.8in (12.2cm) | 5.43in (13.8cm) |
| Eye Relief: | 8mm (approx) | 18mm | 16mm | 15mm | 16mm |
| Close Focusing Distance: | 2m (6.6ft) | 1.2m (3.94ft) | 2.9m (9.7ft) | 2.4m (8.0ft) | 2m (6.6ft) |
| Field of View at 1000yds: | 315ft | 342ft | 336ft | 330ft | 330ft |
| ED Glass | No | No | Yes | Yes | Yes |
| Phase Correction | Don't Think So | Yes | Yes | Yes | Yes |
| Lens Coatings | Fully Multi-Coated | Fully Multi-Coated | Fully Multi-Coated | Fully Multi-Coated | Fully Multi-Coated |
| Waterproof | Yes | Yes | Yes | Yes | Yes |
| Fogproof | Yes | Yes | Yes | Yes | Yes |
Comparing a mid-high priced binocular like these SkyHawk Pro binoculars with some that are far more expensive may seem a little unfair at first, but as long as you keep in mind the price difference, it does throw up a few interesting points and can highlight a few of their relative strengths and weaknesses.
What the table above does highlight is the fact that they are fairly light weight for a full size 10x porro prism binocular, they have a pretty good minimum close focussing distance but their field of view does fall a little short of the very best 10x binoculars.
Included Extras & Attention to Detail:
Neck Strap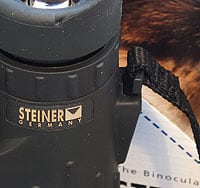 I love the neoprene neck strap that comes with these Steiner binoculars as it looks to be very well made, well padded and is also curved making it sit better on your neck and is therefore very comfortable. Most binoculars come with straight neck straps, so this is a nice touch and shows some good attention to detail. I also like the connectors that sit between the straps that attach to the binoculars and the actual padded part that sits on your neck, they have been designed to allow for the movement of the binoculars from your chest up to your eyes, without disturbing their position on your neck, it's a very small thing, but once again is a sign that Steiner have not cut corners with the extras.
The other feature is Steiner's "ClicLoc" strap attachment which makes connecting (and removing) the strap to you binoculars far quicker and easier than the standard way of threading it through an eyelet and strap buckle as you can release and connect the strap with just one click.
Carry Case
The high-quality semi-soft carry case is one of the best that I have ever reviewed, it has what looks like a rubberized front and rear that will protect the binoculars very well and far better than most other cases that I have seen. It looks and feels very well made, has an internal canvas pocket, ideal for storing small items like a lens cleaning cloth, some money or keys. Also Included is a carrying strap that can be attached to the case.
Lens Covers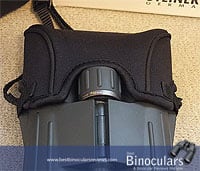 Steiner has a rather unique way of protecting the eye-pieces on their 10x42 SkyHawk binoculars and that is with a neoprene rain protection hood, that fits like a sock over both lenses. It has two small straps on the side that you can thread the neck strap through to keep it attached to the binoculars, even when not in use. Or just un-click them and remove it completely. Whilst there is no doubt that it will protect your eyepieces, from both dust and rain, it is a little bulky and tricky to put on which may put off some people from using it all the time.
The soft rubber objective lens caps are excellent and fit very well over the ends of the barrels of the binocular and will take quite a bit to for them to accidentally fall off. A feature that I really like is that they also have Steiner's ClicLoc system that tethers them to the barrels of the binocular which saves you from having to put them somewhere safe, so as to not loose them when you take them off the lens to use the binoculars. Some people don't like to have their lens caps hanging down from their optics when they are using their binocular, if so, you can just take un-click them and put them away.
These Steiner SkyHawk binoculars also come with a lens cleaning cloth as well as a comprehensive, but generic instruction booklet that covers their whole range of binoculars. It includes details on adjusting the eyecups, how to properly attach the neck strap with the ClicLoc system, the inter-pupillary adjustment, how to properly focus your binoculars, the eye-cups, lens care and cleaning, and details on the very impressive 10 year Steiner Guarantee.
Steiner 10 Year Guarantee
If you need a repair, the Steiner team of technical experts will check out your binoculars and repair them within the terms of the warranty agreement. You just have to send your binoculars to them directly or to your dealer.
Tripod Adaptable
There is a small cover or cap on the front of the central pivoting point that screws off. This allows you to then screw on a binocular tripod adapter (not included) that uses the standard ¼-inch threading, which you can then attach to your tripod.
Best Binoculars Rating for Extras & Attention to Detail: 9/10
Conclusion
Strong Points: The standout features of these Steiner 10x42 SkyHawk Pro binoculars is the quality of their construction, the included accessories and their attention to detail. I love the side flaps on the eyecups that really do improve the view by blocking out any light from the side of your face. As for the optics, I wouldn't say that they are the best in any area, rather their strong point is that they don't really have any poor points.
Weak points? To be honest there are no major weak points, I can only say that possibly their weak point is possibly that they don't really excel in any area. Higher quality optical elements like extra low dispersion glass or phase correction coatings on the prisms would have been nice, although having said that, to the naked eye, the quality of the view through them is still well above average.
Ideal Uses: These SkyHawk's are ideal wildlife observation optics, and whilst their field of view is narrower than the 8x42 version, they make good birding binoculars, especially if most of your birding is done in wide open areas over longer distances. Hunting is another ideal use and I would say that they are light and adaptable enough so as to be considered great general use optics.
Whilst this Steiner SkyHawk would more than hold it's own as a binocular to take camping, on safari or to an outdoor sporting event, I would suggest the ideal binocular for these purposes would be a little more compact: The 10x32 Steiner SkyHawk Pro would be ideal.
For their price I thing you are getting a very good binocular and whilst it is true that you can get binoculars at this price point with features like extra low dispersion glass and phase correction coatings on the prisms, I feel that these more than make up for that in other areas.
Acknowledgments

I would like to thank Warehouse Express for organising this Steiner binocular to be sent to me to review. I would also like to point out that all the reviews on this site, including this one, are my opinion of the binocular and are not influenced in any way by manufacturers, distributors or suppliers. If you live in the UK, Warehouse Express is however a great place to purchase these and may other brands binoculars, check the current prices of these Steiner Binoculars on Warehouseexpress.com.