Binoculars designed with bird watching in mind
The Peregrine XP binoculars are interesting as it is as if Steiner has started with a clean sheet of paper and with all their years of experience, put together a pair of binoculars designed to put a smile on any birdwatchers face.
Of all the features that you look out for in a great pair of bird watching binoculars, the most important are probably: a wide field of view, the ease and speed at which you can focus on a subject and obviously the clarity and brightness of the view through the optics.
With the Steiner Peregrine XP Binoculars you can be sure that you have all three of these as well as many other bases covered.
High Definition Optics - Steiner's XP Lens Technology
Steiner have used the purest index matched glass, and coatings using rare-earth formulations of titanium, fluorite and other mineral substrates to ensure that the view through the optics are as bright as possible with excellent contrast and with true to life colour. The Peregrine XP's also use large 44mm objective lenses which are nearly 10% larger than the more commonly used 42mm lenses. What this means is that more light is taken into the system and then transmitted to your eyes. This Steiner XP binocular also has an unusually large 30mm ocular lenses. These larger lenses combined with their XP Lens Technology mean that the image is exceptionally bright and makes these binoculars ideal to use in poor light conditions like early morning and late afternoons - precisely when birds are at their most active.
Steiner NANO Protection
Steiner us what they call their revolutionary new lens coating application called "NANO protection" on this Peregrine XP, which eliminates rain, snow and moisture from your view. NANO is a permanent hydrophobic coating that is so smooth that it's even smooth at the molecular level. The NANO coating is applied to both the objective and eye-piece lenses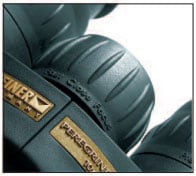 Fast Center Focus
With only one and a half turns, you go from the 6.5 foot close focus to infinity. This mechanism is quick enough to help ensure that you identify the bird before it has flown and yet not so quick as to make fine tuning your focus difficult. What is also interesting is that the Peregrine XP has a much higher depth of field than most other roof prism binoculars in their class. What this means is that not only is the focusing is fast and precise, but you will now need to do it less often.
Wide Field of View
Most people new to binoculars assume that the more powerful the magnification, the better and in many cases this is wrong. The main problems with a high powered pair of binoculars is that it is very hard to keep the image that you see through them still and in general the higher the magnification, the smaller you field of view. The field of view is basically the width of the scene that is in view when you look through your binoculars and so optics with a wide field of view make it easier to find small, fast moving and erratic objects like birds.
Whilst these Steiner's may not have the widest field of view at 390 feet @ 1,000 yards (7.4°) they are well up there and should easily be enough for most peoples needs.
Other Highlights
Gel-pad Thumb Grips
One of the first things that you notice when you pick them up is the uniquely "grip-able" surface on the thumb pad area of the Peregrine XP. Soft and comfortable - As Steiner put it, they are "like little pillows for your thumbs."
Fully Fog & Waterproof
Like many Steiner models, the Peregrine XP 100% waterproof and the is pressurized at 22 PSI with dry nitrogen gas. This Nitrogen Purging and Pressurization process making moisture invasion a virtual impossibility in any climate.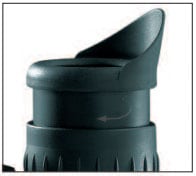 Eye Relief
Twist-up Eye-cups give you 20mm of eye relief. What this means is you'll be able to set the desired eye-distance or eye relief for maximum viewing comfort. This is a feature that is most important to those who wear glasses as you should be able to use the XP's without having to remove them. Another nice touch are the glare blocking side flaps.
With 30mm wide eyepieces or "oculars", you not only gain a "into-the-image" feeling, but you also get the highest comfort of any roof prism binocular – making the view very engaging with no light or peripheral interference.