Swift Sport Optics say that their Audubon Binoculars were designed by birders, for birders and whilst many opt for 8x42 binoculars for bird watching, according to a survey conducted by Swift on some of the worlds leading ornithologists the ultimate size for birding binoculars is 8.5x44. Swift have taken this information along with the wish list of the ornithologists and designed the Swift Audubon Binocular.
The Swift Audubon 828 HHS Binoculars
There are three binoculars in the Audubon series, all of which are 8.5x44's, two of which are porro prisms, and this the new roof prism design that still features BaK4 prisms, fully multi-coated optics, twist-up eyecups and a lightweight rubber armored body.
Main Highlights

5-Lens Ocular System
BaK4 Prisms
Fully Multi-coated Optics
Center Focus Diopter Adjustment
Waterproof, Fogproof & Shock Proof
SwiftPremier Twenty Five Year Warranty
Roof or Porro Prism?
The roof prism design means that the objective lenses and ocular lenses line up making the binocular smaller and lighter, but because the objective lenses are closer together than the porro prism design, the depth of view is slightly reduced, as is the field of view. So the choice is really a matter of what is most important to your needs, a smaller, lighter more compact design, or better depth and field of view. See comparison details below for the main differences:
820 & 820ED Porro Prism Swift Audubon 8.5x44 Binoculars
Weight: 24oz / 682g
Field of view at 1000 yds/m: 430ft/143m
Close focus distance: 10ft/3m
828 Roof Prism Swift Audubon 8.5x44 Binoculars
Weight: 23.4oz / 663g
Field of view at 1000 yds/m: 336ft/112m
Close focus distance: 9ft/2.7m
Audubon Optics
These 8.5x44 Swift Audubon binoculars come with multi-coated optics, meaning that all the all air to glass surfaces have multiple layers of anti-reflection coatings and BaK4 prisms that are constructed from superior optical glass producing clearer images with excellent light transmission and edge-to-edge sharpness. I tested these binoculars on a dull overcast day and the image that the produced was extremely bright and sharp and you are sure not to be disappointed.
Body Design
The feel of these binoculars is fantastic, perfectly balanced and the rubber armour not only helps with grip, but will protect the binoculars from small bumps and bashes. The 828 Swift Audubon binoculars are also fully waterproof and fogproof and so should handle even the toughest of conditions that you may encounter whilst out birdwatching.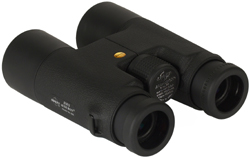 Eye-relief
The twist up eyecups provide an excellent 19mm of eye-relief easily putting them into my category of long eye relief binoculars, so more than enough even if you wear eye-glasses. The image on the right shows the eyecups once they have been fully twisted out.
Focusing
Focusing is via the large center focus knob that was both fast and smooth. They have also added a combined diopter ring adjustment to the knob that you just click out to adjust the left eyepiece independently to allow for any differences that you may have in each of your eyes. This is an important part in correctly focusing your binoculars to your own eyesight and this system makes it simpler than ever. What is also good is that the diopter locks into place as I have often changed the adjustment accidentally on other systems, whilst this not a train smash, it can get annoying having to re-adjust it.
What's Included
Neoprene neck strap, rainguard and objective lens covers, microfiber lens cloth and padded field case as well as the impressive SwiftPremier 25 year warranty.
Conclusion
I loved the look and feel of these binoculars, light enough to easily carry with you, yet they have a solidness about them that is reassuring. The eye-relief is excellent, the optics were extremely bright and the fully multi-coated lenses and BAK4 Prisms are what you would expect on a quality pair of binoculars. Compared to the "standard" 8x42 setup of most birding binoculars, I like the larger 44 mm objective and .5 power increase, which also makes them much more useful and I would also recommend these for safari and wildlife viewing. Even though they are larger, they are as light and in some cases even lighter than many of the top 8x42 binoculars. The field of view (336ft/112m at 1000 yds/m) compares favourably with other top roof prism birding binoculars, but then when you take into account the added magnification it becomes a little more impressive.
Customer service
Last, but not least I would like to thank Swift Sport Optics and Pyser - SGI Limited, the UK distributors of Swift Binoculars for providing me with the binoculars to review. This review is completely independent and I have no preference over which brand of binoculars people buy on Best Binoculars Reviews, but I would go on to say that the UK distributors and Swift Europe got back and dealt with my request to review their products promplly, unlike many other popular binocular brands which is a big plus in my opinion.