Tom Lock Binoculars
I am sure that most of you reading this will probably not hear of the Tom Lock brand before. This is partly down to the fact that they are a new brand, but also because they have an interesting concept where they cut back on all the costs that don't specifically relate to the product itself (this includes marketing) and it is in this way that they aim to bring you an instrument that is every bit as good as their direct competition, but at a lower price.
Initially they they tested the waters with one very cheap binocular known as the Series 1 which I reviewed here. This worked really well for the intended market and so they have decided to take it up a level and bring a higher specification model to market.
Tom Lock Series 2 Binoculars
A short time back, I was given the opportunity to test the pre-production model of these Tom Lock Series 2 binoculars (you can read the report here). At the time, I thought that they showed a lot of potential and would do well within their intended low cost price range.
Apart from testing them, I was also asked to give my feedback as to any improvements that could be made prior to the final product being produced. Keeping in mind that their intended price point, I did suggest a few very small alterations, like adding a higher specification padded neck strap that in my opinion would take the production model just one step further that much of their competition without the manufacturer having to increase the final cost.
From reading the covering note that was included when this production Series 2 arrived on my desk to test, I can happily report that my suggestions as well as a number of other improvements were incorporated into the final product, which I believe offers the Tom Lock Series 2 the potential to be one of the best binoculars under £100 currently available on the market.
To see if this potential was fully realized, take some time to go through my in-depth Tom Lock Series 2 8x42 binocular review below:
Main Features:
Waterproof & Nitrogen filled body
Metal Focus wheel and Twist-up Eyecups
Fully Multi-Coated Optics
BaK-4 Silver coated roof prisms
Wide Field of View: 388ft @ 1000yds
Close Focus: 6.6ft
Lifetime Warranty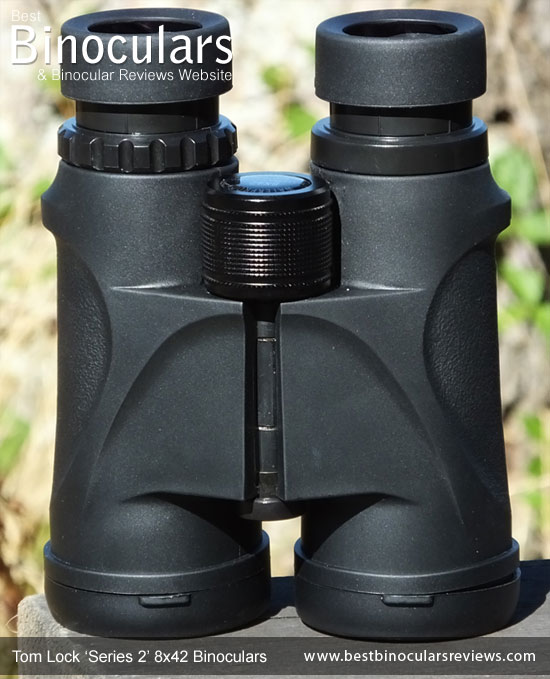 The Body
Body Shape
One thing that has not changed from the concept version is the body shape, which design is very orthodox and common to many full sized, single hinged, roof prism bins. However there are a few subtle differences and other points that I feel are worth noting: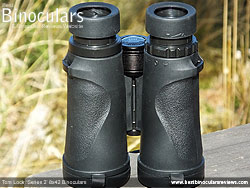 External Surface
The Series 2 has a completely unbranded black rubber armour that covers all but a few small areas on the eyepieces and the focus wheel. The rubber itself is quite thick, but also quite hard. This hardness ensures the durability and has less chance of perishing than soft rubber coatings.
However this also makes it a less sticky surface than soft rubber and so offers less grip. To help with this Tom Lock have added textured areas that are slightly recessed to the side panels and the undersides. This not only adds a little styling to the instrument, but also improves grip.
The neck strap fixing loops are located in the usual positions on each side panel near the eyepieces. From what I can see they look to be part of the main chassis mould and not attached to to them. This is good as they feel really strong and I doubt anything other than a extremely hard blow would damage them.
Chassis Material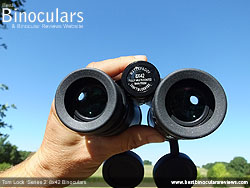 Whilst they do not state it, my suspicion from what parts I can see under the rubber cover is that the body shell is moulded from polycarbonate. This is pretty much standard at this price range as it costs a lot less to produce than the aluminium or magnesium ones. Whilst polycarbonate may not exude as much in terms as quality as more expensive materials, it is generally more than tough enough and has the advantage of being lighter.
Fog & Waterproof
Even if you never take your bins out in bad weather, it is good to see that the shell of the Series 2 has been fully sealed and that these have a waterproof rating of 1.5 meters for 3 minutes. I say this because the seals also prevent dust from entering which can also damage your optics.
Tom Lock have also had the shell filled with dry nitrogen gas, which plays an important part in ensuring that the internal glass surfaces do not mist up.
Central Bridge & Hinge
These Tom Lock Series 2 8x42 binoculars have a single central bridge and hinge design. The bridge itself is fairly normal in terms of it's width (4.9cm) for this size class. This provides a long contact area onto each barrel for plenty of strength to ensure perfect and durable barrel alignment, but leaves less area on the barrels to hold onto than those with either thinner bridges or open bridge designs.
Inter-Pupillary Distance (IPD)
By opening and closing the hinge on the bridge you can alter the space between the eyecups so that it equals that between your eyes. These Tom Lock binoculars have a Inter-Pupillary Distance range of 5.6cm to 7.4cm that should mean they can accommodate the majority of people.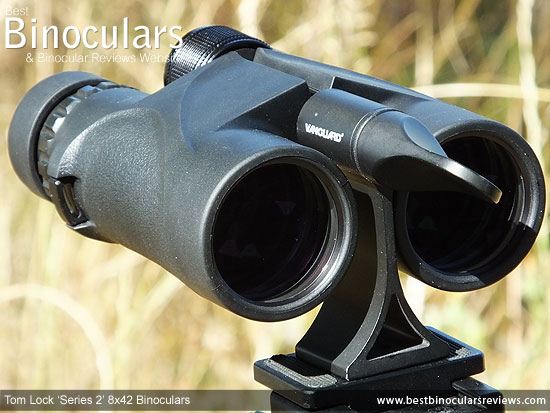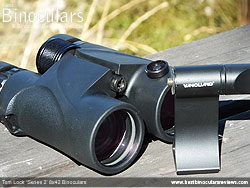 Tripod Adaptable
Fixing your bins to a tripod for a completely steady view can help in many situations. For instance when you are in a hide and looking at the same area over long periods or especially when you want to take photos through the bin using something like this great Carson Universal Optics Adapter.
With this bin this is easily achieved by removing the small cap that sits on the front face of the bridge. This revels a standard ¼ inch thread that will accept all standard tripod adapters.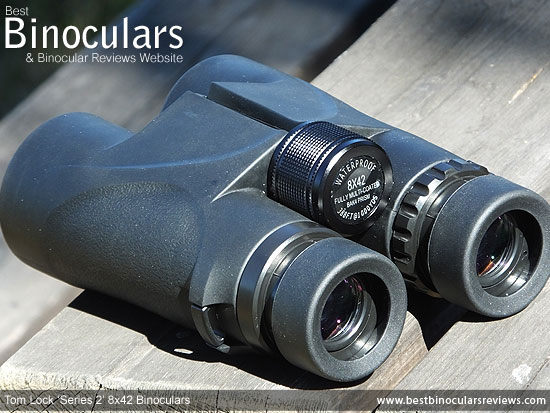 Focusing
The focus wheel is one of the real highlights on this binocular. Whilst this may not initially sound that exciting, remember this is one of the parts and adjustments that you will be using most often and so it is important to get it right.
Most cheap binoculars have very basic plastic focus wheels and whilst some may work well enough, they never quite have the same feeing and smoothness that you get on good quality higher end products.
Lite the prototype, Tom Lock have kept the full metal focus wheel on this final production model, which I am really happy to see. Not only does it look better than most plastic or rubber covered ones, but the fine tooth ridged surface provides plenty of grip and feedback when using it.
This combined with a large surface area (the wheel is 31mm in diameter and 25mm wide) and a very smooth operation makes it easy to reach and adjust accurately even when I tested them whilst wearing my winter gloves.
Adjusting the focus plane from the extremes of near to far takes a full two rotations of the wheel (720°). This gearing is on the low side of average. The advantage of this is that it makes fine adjustments easier to make, but takes a little longer to make big adjustments as you have to turn the wheel further than those that are higher geared.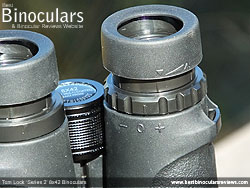 Diopter
Whilst the focus wheel is extraordinary at this price level, the diopter adjustment ring is absolutely typical.
Positioned just under the right eyecup, it consists of a simple plastic ring that when turned adjusts the focus on the right side independently of the left and it is in this way that you can calibrate the binoculars so that they compensate for any differences in vision between your two eyes. The diopter on this Tom Lock bin can adjust the focus by ±4 degrees which is fairly standard.
In theory, this calibration only needs to be performed once when you first set-up your optics, or if you share them with others. So whilst it is easy enough to re-calibrate, it can become a pain if you have to do it often because of a loose ring that turns unwontedly. Whilst you can't lock this ring nor is it ratcheted like on the best ones, my sample was tight enough to stop it being moved with too much ease.
Eye-cups

If you consider that the eyepiece is the most commonly damaged area on a binocular. another important upgrade where these differ from the majority of cheap binoculars is the use of metal twist-up eyecups.
At this price level I expected to find plastic ones, many of which do the job well enough, but as with the focus wheel, they are not as strong and never quite match the feeling of quality you get from well made metal ones.
On top of this, the these are excellent as they have a lovely smooth operation without any free play and also slot into the click-stops with a rather satisfying clunk. Speaking of which these have 4 click stops (two intermediate ones in between fully retracted and extended) - this give you plenty of flexibility when adjusting the eye-relief to suit your particular needs and thus view the full image without any black rings forming on the edges of the view, with or without glasses on.
Body Quality Score: 7/10
Weight
The stated weight of these is 670g (23.6oz) which is exactly what my scales have them at with both the lens covers attacked, but without the neck-strap. Remove the covers and their weight drops slightly to 628g.
Either way, you can see from the comparison table below that this is reasonably lightweight for a full sized bin, but not quite a light as the Series 1. However much of this extra weight is probably down to the inclusion of metal eyecups and focus wheel on the Series 2, which I feel is well worth the few extra grams in weight!
Dimensions
For a 42mm binocular this Tom Lock Series 2 feels and looks nice and compact and taking a look at the published dimensions of 5.3in (13.5cm) long x 4.9in (12.5cm) wide x 2in (5.2cm) high, this is confirmed.
Body Stats Score compared to other 42mm binoculars: 8/10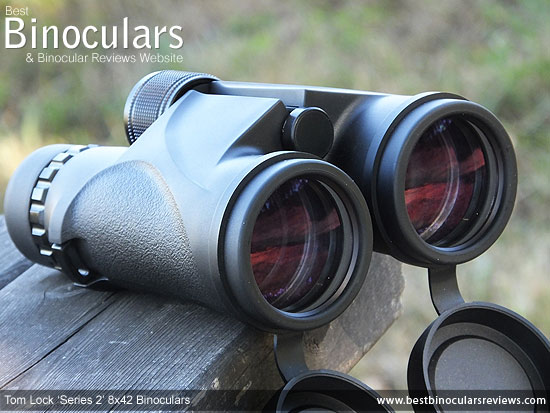 Optics
Lenses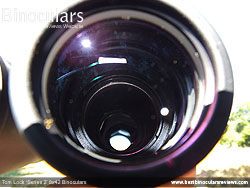 As with most, Tom Lock do not go into specifics regarding the exact makeup of their lenses other than to state that the number of lenses in the optical system consists of 8 pieces divided into 6 groups so I can't comment too much.
What I can say is that the two 42mm objective lenses are positioned about 5mm in from the ends of the ends of the barrels. This is quite shallow compared to many in this size class and so offers the lenses less protection than those that are set more deeply.
The external ocular lenses have a 21mm diameter, which is standard for this size of bin.
Prisms
The roof prisms in these Tom Lock binoculars are made from BaK-4 glass, which is good too see as some bins in this price category will have cheaper BK-7 glass prisms and generally considered inferior when used in bins.
Optical Coatings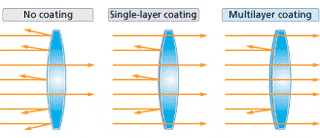 Anti-Reflection Coatings
Being "Fully Multi-Coated", it is great to see that Tom Lock have not skimped on the anti-reflection coatings as many manufacturers do on their cheaper optics which have only "Multi-Coated" optics as this really does make a noticeable difference to the transmittance levels and thus the quality and brightness of the image.
For more on this take a look at this guide to Anti-Reflection Lens Coatings on Binoculars.
Prism Coatings
For a roof prism to perform to it's optimum level, it needs a number of special coatings added to it. This obviously requires a certain level of expertise and costs money to do so. Thus at the lower end of the market, it is common to find bins that either don't have these coatings or use cheaper alternatives to keep production costs down.
Reflectivity
To ensure that all faces of the roof prism reflect as much light as possible, coatings of a highly reflective material can be applied which can make a big difference to the transmittance levels and thus increase brightness and image quality.
The very best option is to add dielectric coatings to this surface as it raises the reflectivity to over 99%, although this is a very expensive process and thus is only found on much more expensive instruments.
For comparison, "good" binoculars in this price range will often add Aluminium coatings that can raise the transmittance to between 87% and around 93%. This is what I would have expected to have found being used on these Tom Lock Series 2 binoculars and indeed this is what they used on the prototype that I tested.
However Tom Lock have managed to go one better than most at this level and have decided to use a silver mirror coatings on the final production model of the Series 2 which costs more, but has a much higher reflectivity of around 98% which is excellent.
Phase Correction Coatings
Not content with just adding better reflective coatings, these Tom Lock's also have phase correction coatings on the prism. Once again this is not something I often see at this price point and means that the Series 2 should produce a better contrasting and higher resolution image than most of its direct competitors because it rectifies the phase shift that occurs within the roof prism.
Coating Comparisons
From the comparison table above, you can clearly see that in terms of optical coatings, the Tom Lock Series 2 beats similar priced bins and matches many that are far more expensive which for me is really impressive.
Optical Components Score: 7/10
Optical Stats
Field Of View (FOV)
With a FOV of 388ft wide at 1000 yards (129m wide @1000 meters), these Tom Lock 8x42 Series 2 binoculars have a 7.4° angle of view.
As you can see from the table below is very good and whilst it may not quite match the widest 8x42 binoculars out there, is more than wide enough for most uses including closer range birding where a wide field is important.
Eye-Relief:
The 17.5mm of eye-relief is excellent and when combined with the superb quality metal twist-up eyecups that have 4 click-stops for plenty of customisation, I would say that these make an excellent choice for those who need to wear glasses whilst binning.
Close Focus
The minimum close focus range of 6.6ft is very good for a full sized 8x42 bin and perfectly fine for most general uses.
Optical Stats Score: 8/10
Image Quality
I compared the view through these Tom Lock Series 2 8x42 binoculars against my mid and high level control 8x42 binoculars, once during the day in good light and then again in the evening at and just after sunset and below are my thoughts and observations.
Image Flatness
To me the image looked nice and flat from the center, right to the edge of the view and it lacked any sort of distortions that you sometimes see where the image looks like it is curving either inwards or outwards.
Colors & Contrast
Both the contrast levels and the colors that are produced look normal to me and whilst the may perhaps be fractionally less vivid than my high end 8x42's the difference is very minimal and really nothing to worry about. What is far more important is that these Tom Lock's don't exhibit ant sort of tinting that you sometimes get in this class due to the use of lower quality glass and coatings.
Image Brightness
Unless the optics are really bad, the large 5.25mm (42÷8) Exit Pupil produced by all 8x42 binoculars make spotting differences in image brightness very difficult, even in very bad light and indeed this proved to be the case with these.
Against my mid level controls, I could not notice any difference in brightness, no matter what the ambient conditions were and whilst both were marginally less bright than my high end 8x42's, this is to be expected on a bin that costs almost 10x less. Within it's class, I would rate these as bright to very bright.
Color Fringing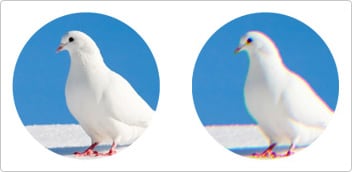 The small coloured halo that you sometimes can see around the edges of an object when you look through a pair of binos is known as color fringing and is the result of chromatic aberrations where the individual wavelengths of light get separated in the optical system and then are not focused back into exactly the same plane again.
Modern binoculars use compound lenses with elements that have different properties and thus made correctly can direct the wavelengths of light better in an effort to perfectly align them and thus reduce these and other aberrations.
Even so almost all bins will exhibit some amount of color fringing, it just depends how much. My high and mid level controls both contain extra low dispersion (ED) glass elements that are specifically designed (but not guaranteed) to reduce chromatic aberrations and so I was expecting them to perform better in this test.
Surprisingly I found that whilst my high end 8x42s were the clear winners, the difference between the Tom Lock and my mid range controls was not that obvious. What I would also like to stress is that whilst it was visible under extreme conditions, the amount is really nothing to worry about, no more than what I would consider to be normal and only really becomes noticeable when you are looking for it.
Blurring
A highlight for me in regards to the view through these 8x42 To Lock Series 2's was just how little blurring of the image there is right on the edges of the image. This is one area where many cheap binoculars really fall down on and this was most certainly not the case with these and in my opinion this is about as good as it gets at this and indeed on most mid level bins.
Score for Image Quality: 7/10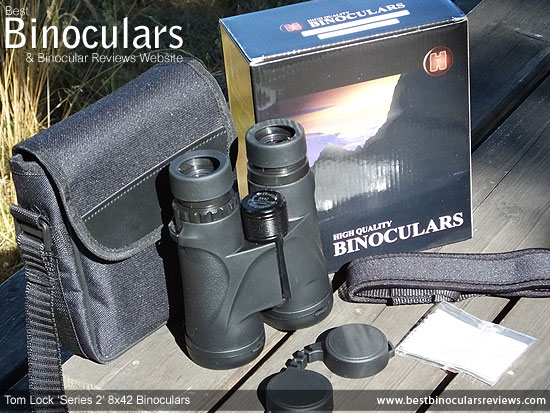 Included Accessories:
One area where many cheap binoculars look to save costs is with the included accessories which tend to be of a far lower quality than that with which you get on more expensive products. Whilst this it completely understandable and indeed preferable to manufacturers saving costs on elements that affect the actual build quality or view through the binoculars, it is still nice to have accessories that are half decent and perform as they should:
These Tom Lock 8x42 Series 2 binoculars come a soft carry case, neck strap, lens covers, cleaning cloth and user manual which is what you typically find supplied with most bins.
Carry Case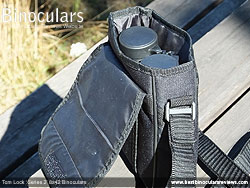 Like the actual binoculars, the black soft carry case is unbranded and like the bins, looks to be well made from good quality materials and no loose stitching visible.
The soft carry case is very similar to the majority of ones out there and looks to me to be made from something like woven nylon, which then has a padded internal liner sewn into it. Overall it looks to be of a good quality with excellent quality stitching.
The padding, whilst fairly lightweight should be just enough to protect the optics from all but the heaviest impacts.
The Series 2 fits nicely inside without being too loose or tight and the flip over lid can still easily be fastened with the eyecups fully extended and the lens covers in place, which is a small detail that often gets missed.
This lid is held closed with a simple strip of Velcro. This works well enough, but is not as secure as those with a Zip and you have to be a little careful when opening it in some circumstances where you don't want to make too much noise that could frighten birds or wildlife away for example.
The case comes with it's own un-padded shoulder strap that has a slider to change it's length. On the rear side of the case there is a belt loop, so you can carry it on your waist, but as the shoulder strap cannot be removed this may not work that well in practice.
The bag also features a separate pocket on the front face that makes a great place to store your cleaning cloth and a few other small items.
On the whole this bag works well and is better than what I would expect to find at this price point.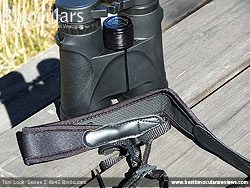 Neck Strap
The Series 2 prototype that I tested came with a very basic un-padded neck strap that to be honest was a little disappointing and so I am really glad to see that this has been replaced with a slightly higher specification padded strap on this final production model.
Whilst this neck strap may still not match those that you get on expensive instruments, it works well enough, has enough padding to be reasonably comfortable and is as good as any that I have seen supplied at this price range.
Objective Lens Covers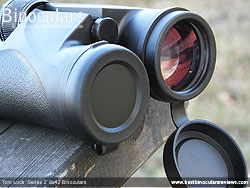 The soft rubber objective lens covers fit nicely onto the ends of the barrels and thus will not come away too easily by accident and at the same time are not too difficult to replace, both of which can get irritating if the manufacturer gets it wrong.
I also like it that they are attached to the barrels via a loop. This simple yet very effective system allows the covers to hang down below the binocular and out of the way when you are glassing, yet are always available and easy to replace when you are finished.
Rain-Guard
Like the lens covers, the rainguard is made from the same soft rubber and sits equally well over the eyecups.
The cups on the guard are connected to each other via a thin flexible bridge that enables you to replace them no matter what distance you have set your inter-pupillary at.
If you want to keep the guard handy at all times, each cup also has a loop on it's side that you can thread the neck strap through before you attach it to the binocular.
Cleaning Cloth
The included cloth is of a reasonably good standard and on a par with the vast majority that come included. So whilst it may not be quite as good as the best microfiber cloths that you get with a specialist lens cleaning kit, it is far better than the simple cotton ones that I often find included with cheaper optics.
Manual
Tom Lock include a very basic and generic instruction sheet with the Series 2 which very briefly goes over how to make IPD adjustments, focusing, adjusting the eyecups and caring for the binocular.
Quality Control
You will also find a quality control sheet in the box as well as a seal that is placed on every box so that you know your purchase has been passed through their quality control procedure. This procedure includes placing every bin on their Fujinon binocular tester where it is checked for collimation before being placed into stock. The owner of Tom Lock stressed to me that he thought that this degree of quality control is as important as the optical value for money that they offer and hope that the combination will make the Tom Lock brand stand apart from the rest of the products that are available within their target market place.
Extras Score: 6/10
Tom Lock Series 2 8x42 Comparisons
Review Conclusions:
Whilst it would be completely unrealistic to expect a binocular that costs a
Strong Points: Firstly apart from the general build quality which at this price point is good, the inclusion of high quality metal eye-cups and focus wheel is far better than what you would normally get in this class. Not only does this make the instrument look better and more expensive than you would guess, but the function of both of these important parts is excellent.
With fully multi-coated optics, silver coated, phase corrected BaK-4 prisms, optically these are also way better than what I would expect at this price point and indeed they are on a par with many mid priced bins.
The great news is that these higher specification optics do contribute to what is a surprisingly good quality image that in my opinion is class leading and once again on a par with many mid level bins.
Their field of view, close focusing distance and amount of eye-relief are all also good.
Weak points? At this price point and with so many strong points, it is hard to be too critical and in my opinion against their direct competition (low costing 8x42 binoculars) they really do not have any major weaknesses.
Sure against higher end and more costly 8x42's you would say that it would be better if these had dielectric coatings instead of silver ones and the addition of ED glass may make them optically even better. But remember that these additions would also add to their overall cost and take them out of this price level and into the next.
The same could be said with the accessories, none of which quite match the standard of higher end optics, but all of which work perfectly fine and match or beat others within their class.
There may also be some people who may prefer a instrument with some well known brand stamped on it, but apart from some bragging rights or for those who have a special affinity with a particular brand, this really does not make a difference to the performance. Besides there will also be others who prefer the uncluttered and unbranded look of these and so for them this will not be a weakness, but a strength.
Ideal Uses: An 8x42 binocular with a nice wide FOV, low weight and tough waterproof body - these are an ideal instrument for a wide variety of uses and indeed make perfect general use bins.
I can also highly recommend them to those wanting a low cost birding, nature and general wildlife observation bin.