This year I have been introduced to a particularly large number of new brands, one of which are the American company Upland Optics who recently sent me the 10x42mm version of their Perception HD binoculars to test and then write a review on.
The company firmly positions these as "hunting binoculars" and say that they have been "Built specifically with hunters in mind". However from my initial inspection, they don't seem to have anything on them that is specific to hunting (e.g. rangefinder etc) and thus to me they look like they will perform equally as well in a much wider range of areas and uses.
Upland Optics Perception HD 10x42 Binocular Review
Specs & Features at a Glance:
Mid Level Binoculars: Approx: $250
Fully Multi-Coated Optics

42mm Lenses with ED Glass Elements

BaK-4 Roof Prisms with:

Phase Correction Coatings

Single Hinge Body:

Magnalium chassis with rubber coating exterior
Fully sealed and thus waterproof
Nitrogen filled for fog proofing
Twist-up eyecups with 17.2mm of relief
Tripod Adaptable

FOV: 339ft @ 1000 yards
Close Focus Distance: 2.5m (8.2ft)
The Body
Shape
These Upland Optics Perception HD binoculars have what is a very typically shaped single hinge body design for a roof prism instrument.
The large, almost centrally hinge offers plenty of support for the barrels and thus less chance of them becoming misaligned and it all felt very sturdy and robust to me.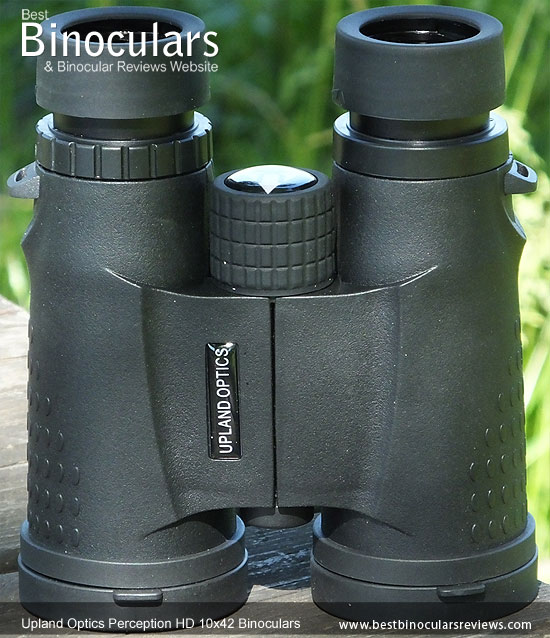 Housing
According to the company, the Upland Optics Perception HD 10x42 binocular has a Magnalium chassis which according to Wikipedia is an "aluminium alloy with magnesium and small amounts of nickel and tin".
I am not sure what percentages are used, but whatever the case, it is sure to be more robust than the polycarbonate ones that you now often find, but also heavier.
Rubber Armour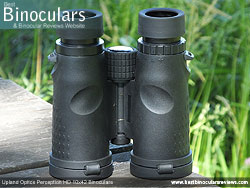 Upland Optics have added a rubber coating to almost the whole exterior surface on this instrument for protection and for grip.
I like the fact that the rubber has a extremely tight fit and so will not move about as is the case on some instruments that I test.
On the sides of each barrel they have added a dimple pattern as well as a fine texture to the whole surface that really does increase the level of grip when compared to a smooth metal or even rubber surface.
Another point to mention here that will be of particular interest and importance to hunters is the dull black rubber and the texture on it help to make the bins more stealthy in a couple of ways:
Firstly the rubber coating dampens down any sound. For example imagine the noise it would make without the rubber coating and the metal chassis was exposed should you lightly knock it against your rifle or bow.
Secondly the amount of light that reflects off the body is far less than if it were a smooth metal or even smooth rubber surface.
Underneath there are a couple of thumb indents, which are not in any ways essential, but I feel always do a good job of just encouraging you to hold the bin in the right way and at the perfect spot so that you achieve a nice balance, even without thinking about it.
Fully Sealed
Upland Optics do not state if their Perception HD are tested to a specific depth and time, but they do advertise these as being both water & fog proof, which means that the body is fully sealed and thus should at least survive the wettest of days out in the field.
Nitrogen has been used for the fog protection. Pumped into the interior during manufacture, this dry gas takes the place of air and thus prevents the interior glass surfaces from misting up that can ruin the view on unprotected devices.
Hinges & Inter-Pupillary Distances (IPD)
On my sample Upland Optics 10x42 Perception HD binoculars, the single central hinge felt robust and had just the right amount of stiffness when opening so that they maintained the desired IPD (Interpupillary Distance) setting, but not too tight so as to make opening and closing the hinge to difficult.
Upland don't advertise the IPD range on these bins, but I measured the closest that you can place the eyecups together as being 5.6cm (center to center of ocular lenses) to a maximum of 7.5cm, which is typical for a standard sized roof prism binocular.
Tripod Adaptable
The small cap on the front face of the hinge can be unscrewed and removed. Here you can easily screw in a tripod adapter to make these very simple to fix to a tripod. Once again this is a feature that many hunters and indeed birders who operate from a hide will appreciate.
Eye Pieces & Cups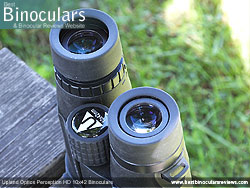 As you would expect, these Upland Optics Perception HD 10x42 binoculars use twist-up eyecups as opposed to the folding rubber ones that you sometimes see on cheaper lower quality products.
To me it looks like the main eye-piece housing and the cups are made from metal, which is great news as many use plastic nowadays, which may be cheaper, but not as robust. Which if you consider that this is a part that is exposed and gets banged about very often (especially when dropped) is important.
These 10x42 Upland Optics Perception HD binoculars have 17.2mm of eye-relief which is excellent and should be enough to accommodate most face shapes and eye-glass wearers.
The twisting mechanism on the cups is pretty good and they turn with what I would say is the perfect level of resistance that enables you to position them at any point to suit your needs. The do have one fixed stop located half way between the extremes of fully extended and retracted. More would have been nice, but as I say the resistance is such that you can actually stop them where you like and being careful, they will remain there. The only point I have to raise here is there is a little bit of free play right at the point of this fixed stop, which is a bit of a shame, but something I see on many others as well.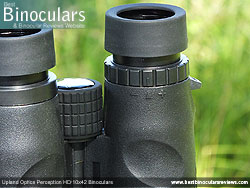 Diopter Adjustment
The diopter enables you to adjust the right side of the bin independently of the left and thus calibrate your instrument to allow for any differences in the vision of your eyes.
On these Upland Optics Perception binoculars, this adjustment is very typical in that it is achieved by turning the ring located on the right eyepiece.
The best ones are lockable so will certainly stay in place once you have your setting. Whilst the ring on this bin does not lock, the resistance to accidental movement is good and so should be fine as long as you are a little careful... and keep it away from your kids!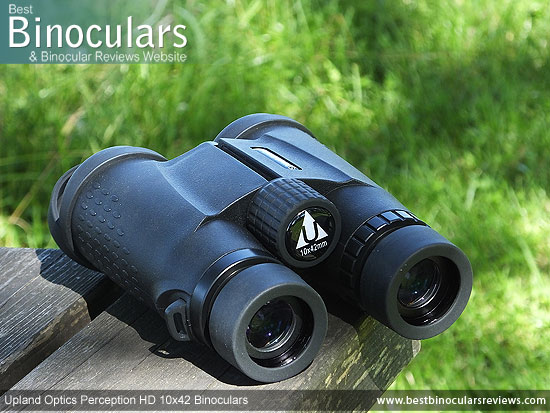 Focusing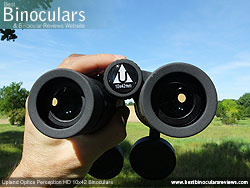 These Upland Optics Perception HD binoculars have a nice large centrally located focus wheel, that offers a good level of grip due to the soft rubber exterior and thus is easy to reach and use, even when I tested them whilst wearing my winter gloves.
Whilst it was only a small amount, the focus wheel and the mechanism on my sample did have a fraction of free play. By this I mean that you had to turn the wheel a couple of degrees before the mechanism would engage and any adjustment in the focus would occur. I am not sure if this was particular to my sample and it is not a huge deal, but it is something that I look for and appreciate on instruments that don't exhibit this issue.
Other than that the wheel turned smoothly and with a good level of resistance, making it easy to use, but not too susceptible to accidental adjustments.
The gearing on the focal mechanism is such that it requires 1¾ turns of the wheel (630° of rotation) to go from one extreme to the other (near to far focus or far to near), which is what I would describe as being fairly low geared. The downside is that it takes more turning and thus more time consuming to make large focal adjustments, but the potential advantage of this is that it should be better for fine adjustments. However I have to say that the small amount of free play did negate this somewhat for me.
Rating for Body Construction Quality: 7/10
Weight
At only 23oz / 652g, the low weight of these Upland Optics Perception HD binoculars is impressive. As you can see from the table below is about the same weight as many polycarbonate bodied instruments which I have to say worried me a bit. So just to check, I weighed them myself on my electronic scale and I measured them to be even lighter at only 645g. Impressive.
| | | | | | | |
| --- | --- | --- | --- | --- | --- | --- |
| | Weight | Design | Chassis | Length | Width | Height/Depth |
| Celestron Nature DX 8x42 | 22.2oz / 629g | Single Hinge | Polycarbonate | 5.3in / 13.5cm | 4.9in / 12.4cm | 2in / 5.1cm |
| Upland Perception HD 10x42 | 23oz / 652g | Single Hinge | Magnalium | 5.5in / 14cm | 5in / 12.7cm | 2in / 5.1cm |
| Pentax 9x42 DCF BR | 23.5oz / 666g | Open Bridge | Polycarbonate | 5.8in / 14.7cm | 5in / 12.7cm | 2.4in / 6.2cm |
| Celestron Granite 8x42 | 24oz / 680g | Open Bridge | Magnesium | 5.8in / 14.7cm | 4in / 10.3cm | 2.1in / 5.3cm |
| Vortex Razor HD 8x42 | 24.2oz / 686g | Single Hinge | Magnesium | 5.9in / 15cm | 5.1in / 13cm | 2in / 5.1cm |
| Hawke Sapphire 8x42 ED | 25.7oz / 730g | Single Hinge | Magnesium | 5.5in / 14cm | 5.1in / 13cm | 2in / 5.1cm |
| Opticron DBA VHD 10x42 | 25.2oz / 714g | Open Bridge | Mag & Poly | 5.7in / 14.5cm | 5in / 12.6cm | 2in / 5.0cm |
| Hawke Frontier 8x43 ED | 26.2oz / 743g | Open Bridge | Magnesium | 6.6in / 16.7cm | 5.2in / 13.2cm | 2.6in / 6.6cm |
| Swarovski 10x42 SLC | 28oz / 794g | Single Hinge | Magnesium | 5.8in / 14.7cm | 5in / 12.7cm | 2.4in / 6.2cm |
| Athlon Ares 10x42 | 29.8oz / 845g | Open Bridge | Magnesium | 6.6in / 16.7cm | 5.1n / 13cm | 2.5in / 6.5cm |
| Kowa 10.5x44 Genesis XD | 34oz / 964g | Single Bridge | Magnesium | 6.5in / 16.5cm | 5.4in / 13.7cm | 2.5in / 6.4cm |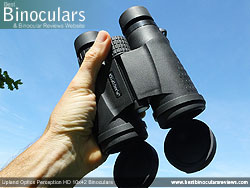 Dimensions
I think part of the reason for these Upland Optics being as lightweight as they are is that they also have what is a very compact shape for a "full sized" 42mm roof prism bin.
A lightweight and a compact body are both great attributes if you are having to carry about your bins and perhaps other gear when out in the field. Here I am thinking of photographers with a camera or hunters who will of course have their rifle, bow etc.
BBR Rating for Body Stats: 9/10
The Optics
As you will see below and considering their relatively low price point, the high level of optics and coatings used within the Upland Optics Perception HD binocular is pretty impressive:
Lenses
Upland Optics don't offer up any details as to the makeup of the ocular lenses, so I can't really comment other than to say that I measured the external lens to have a diameter of 21mm, which whilst not abnormally small, is on the smaller end of what I like to see on a 42mm device.
Larger ocular lenses can offer a number of benefits, but certainly do make it easier to line up your eyes correctly and thus you can eliminate the black edges to the image more swiftly. This is a minor point and to be fair once I'd set up the IPD properly, I did not really have an issue with this, but in fullness do feel it is worth mentioning.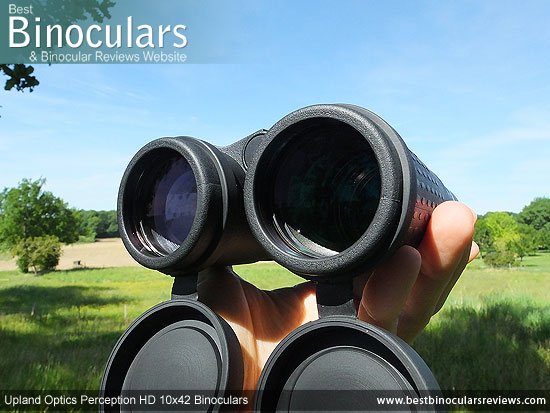 Objective Lenses
At only 5mm, the 42mm objective lenses are set fairly shallow from the ends of the barrels. This is one downside to these bins having such a compact (shorter) body in that this relatively small amount extends the lenses less protection than if they were more deeply positioned.
ED Glass
At least one of the elements within each of the lenses contain a glass that has special extra-low dispersion properties. This ED glass makes it possible for the designers of the lens to better manipulate the individual wavelengths of light so that they arrive at the same focal plane after leaving the lens with the result that they are able to reduce chromatic aberrations which in turn means the image you see will potentially exhibit less color fringing along the edges of objects that you are looking at:


Prisms
The the 8x42 and these 10x42 Upland Optics Perception HD binoculars use roof prisms made from BaK-4 glass to rectify the inverted image, which is what we want to see.
Optical Coatings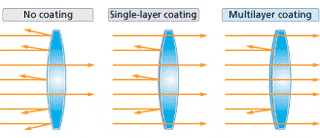 Anti-Reflection Coatings
Whilst Upland Optics do not state it explicitly, judging by the quality of the glass and the other coatings used, I fully expect and assume the optics on these Perception HD's to be full multi-coated. I will seek further confirmation, but as I say I am sure this will be the case anyway.
Mirror Coatings
I am very happy to report that Upland Optics have confirmed with me that they have used dielectric mirror coatings on the roof prisms. This has the best level of reflectivity, but is expensive to the other options and so is rarely found on cheaper products, so to see used within this mid level price range is always good.
Phase Correction Coatings
I can also happily reveal that the roof prisms on the Upland Optics Perception HD binoculars are 'phase corrected'. These coatings effectively eliminates the "phase shift" problem that roof prisms have. The result is the image will have a better resolution and contrast than roof prism bins that are untreated.
Coating Comparisons
As you can see from the comparison table below, for the price the level of coatings used is good and all that is really lacking are special protective coatings on the exterior surfaces that you sometimes see on high end products:
Optical Components Quality Rating: 8/10
Optical Stats
The Field Of View (FOV)
This Upland Optics Perception HD 10x42 Binocular offers you a view that is 339ft wide & high at a distance of 1000 yards away (113m @ 1000m), which as you can see from the comparison table below is very good for 10x42 binocular:
Near Focus
At 8.2ft, their close focus is good, but a little off what I would deem to be excellent for a full sized binocular. For most this will not be an issue at all, but if one of your main interests is observing insects or flowers from very close range, you may be better off with a more specialist close focus instrument.
Eye-Relief:
With 17.2mm, these very narrowly miss out on the 18mm required to be classed as having Long Eye-Relief here on BBR. However this amount is still excellent and should easily be enough for most users, including those who want/need to keep their glasses on whilst binning.
Optical Stats Rating: 8/10
Image Quality
In order to be as objective and consistent as I possibly can, I compared the view through these Upland Optics Perception HD 10x42 Binoculars against my mid range "control" 10x42 binoculars that I use on all my 10x42 reviews and thus ranked them accordingly in this way:
Colours & Contrast
I have no issues at all, indeed I would say I was very happy with both the bright colors and contrast levels when looking through the 10x42 Upland Optics Perception HD.
There was no obvious tints or discolouration to the image which I do see on some optics, especially where lower quality glass is used.
Image Brightness & Low Light Performance
Once again my opinion is that this Upland Optics binocular performs well in this area for a mid range 10x42 binocular:
In both good and bad light the view to me looked to be as bright as my mid-range control which is good.
Just for interest and as a point of reference, I also compared the view against my very high end 8x42 control bin. The difference in normal daylight was very minimal, if any at all. Whilst in very poor light I did notice that it was not quite as bright as my 8x42, but this is to be expected as the smaller exit pupil of the 10x42 configuration becomes a limiting factor in these conditions.
So to sum up, in terms of image brightness and low light capabilities, these perform really well and are on a par or better than any 10x42 in the mid level price range in my experience.
Color Fringing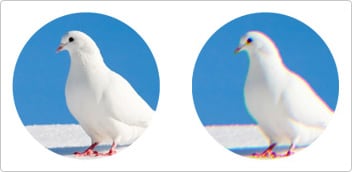 As with any binocular, if you look hard enough you will see it, but it is really nothing to worry about and I thought that the amount of color fringing that these Perception HD's show is minimal even under extreme situations like looking along telephone wires against a bright sky.
Here I would say the use of extra-low dispersion (ED) glass has definitely helped
Softening & Flatness
My sample Upland Optics Perception HD 10x42 binoculars showed no signs of image distortions that can make the image look like it curves which is good and the level of softening around the extreme perimeter of the view was also very minor. Indeed it is less than what I would expect to see at this level, so once again this is impressive.
Image Quality Rating: 8/10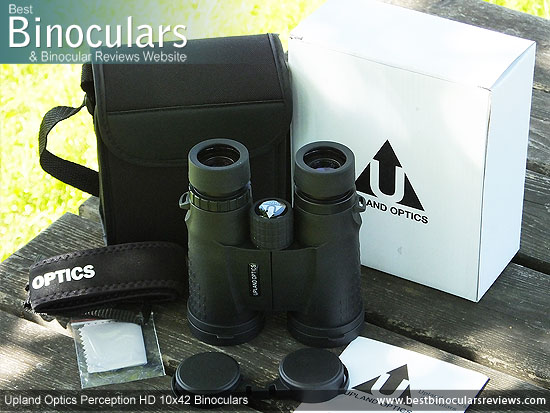 The Accessories
Carry Case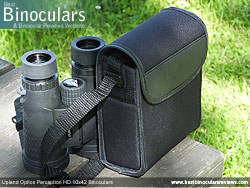 On the whole, the included soft carry case is more than adequate and does a reasonably good job of protecting your instrument when transporting or storing, which is the most important, but basic bases covered. However for me it is little too generic and lacks in few areas when compared to the best ones out there:
Main Points
Looks to be well made from a nylon type of fabric that is tough and should be reasonably hard wearing
Nice soft interior padding, and whilst not the most amount of padding, should be just enough to provide protection from all but the most severe impacts
Flip-over lid with Velcro fastener makes the binocular quick and easy to access, however Velcro can make some noise when opening, so you may need to be careful in certain situations (stealth)
Binoculars fit snugly in the bag, but with enough room to allow for the neck strap - a detail that is often missed!
Lid can still be closed and fastened with the binocular in the bag with eye-cups extended, lens covers in place and the neck strap which is good - this is another detail that often gets overlooked by manufacturers!
Belt loop on the rear
Has a separate un-padded shoulder strap which is nice, but it can't be removed, so is annoying if you want to attach the bag to your belt
No separate pockets either internally or externally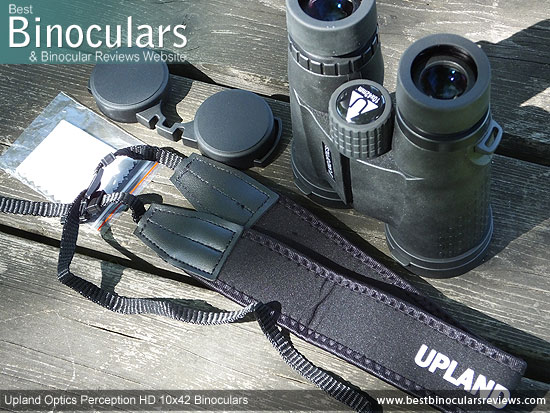 Neck Strap
Similar to the carry case in that the neckstrap works well enough, but it does just seem all a little generic and lacking some of the finer points that distinguish the good from the best.
Made from what looks to be a Neoprene type of material, the main padded section of the strap is slightly elastic and reasonably thick, so easily comfortable enough for these lightweight bins. The stitching on the edges looks good, as does it on the faux leather connectors, so I don't imagine them breaking apart too easily.
Where the strap could easily have been improved here would be to made this section slightly curved, so as to fit more naturally around the neck and shoulders.
The strap connects to the binocular in the standard way via the thinner nylon cords that you thread through the eyelets on each side of the bin and with the use of a slider you can adjust the length to suit.
So all pretty standard. Here again some more luxurious straps have quick release clips that enable you to easily remove the padded section (to see what I mean take a look at my guide to neck straps) and then if you wish you can use these clips to attach the bins into a harness, which I know for many people, especially hunters is a really nice feature, so in my opinion I'd say Upland Optics are missing a trick here.
Objective Lens Covers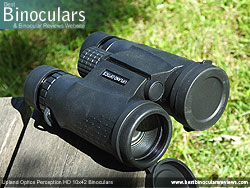 The rubber lens covers work well in that they fit nicely over the ends of the barrels and don't fall away too easily.
I like that each one is connected to the barrel via a separate ring, so that they are always handy and easy to replace after you have finished looking through the bins.
So all the basics are covered, however for me it is nicer when the covers fit into the ends of the barrels rather than over them, not that this improves their function, it just looks cleaner and makes the covers look like they are more a part of the instrument, rather than just an afterthought.
Rain-Guard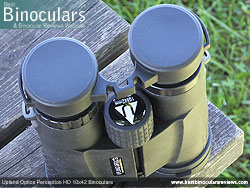 The eye-piece cover (or rain-guard as it is known) for these Upland Optics binoculars is pretty standard and whilst it is not the most exciting accessory out there, it is important and these do their intended job well enough.
Fashioned from soft plastic, the cups fit perfectly over the eye-pieces making them easy to take on and off, but at the same time tight enough so that it does not fall away too easily.
I like that the bridge that connects the two cups is flexible and so you can maintain your desired IPD setting when putting it back on the eye-pieces, unlike some that force you to open up the hinge on the binocular every time, which can get annoying.
Lens Cloth
Inside the Perception HD box you will find a reasonably good quality cleaning cloth that I would use for cleaning the body and very light use on the lenses when out in the field if I had to. As usual, I still suggest that you get a separate Lens Cleaning Kit to ensure the best results when cleaning the lenses..
Manual
The instructions consist of a single double sided sheet of paper that includes very basic info on how to use your bins, maintenance and diopter adjustment info.
Lifetime Warranty
The instruction sheet also includes details on the limited lifetime warranty that Upland Optics include with these bins which is excellent to see.
Accessories Rating: 6/10
Upland Optics Perception HD 10x42 Comparisons
Final Thoughts:
Highlights:
The fact that the Upland Optics Perception HD binoculars have a tough Magnalium shell is good, but what is really impressive is that even though it is metallic, these are very lightweight and compact for a 42mm bin.
The level of optical features is very good at this price range and so it is no surprise to see that they also deliver a view that is really impressive at this level.
For a 10x42 binocular, these also have a really nice wide field of view, so with more reach than an 8x device and almost as wide a view, you pretty much have your cake and get to eat it too!
The level of eye-relief is very good and thus if you wear glasses whilst using your instrument will be an important highlight to these bins.
Weaknesses:
I am not sure if this is the case with all Perception HD's, but the focus wheel on my sample did have a fraction of free play, meaning that you had to turn it a few degrees before any adjustment in the focus would occur. Not a major deal, but is something which in not the case on high end instruments.
As I have already gone over, you can't fault the build quality and the performance is really good, but I think these bins just lack originality and that little something that sets them apart from the crowd. Now I know that this is not at all a weakness in terms of their function (indeed in some ways you could argue the opposite as it is tried and tested), but for me the overall design, parts used and the accessories are very generic and apart from the stickers on the body and the end of the focus wheel, these look exactly the same as many other binoculars out there
I would like to add here and to be fair to Upland Optics, I do see and use A LOT more binoculars than the average person, so the point above is probably more particular to me than most of you guys reading this review, but thought that it was worth mentioning.
BBR: Genuine & Honest Reviews
Here I would like to make a super important point clear: In contrast to the many, many fake "reviews" that I see on the web where the tester often has not even seen or used the product in question, and are little more than adverts, I would like to assure you that this review consists of my truthful opinions of these binoculars which I arrived at after thoroughly testing and using them.
I will be the first to admit that I don't know everything and I do make mistakes, be that in my researching of the product, writing the review or when making certain assumptions, so if you do spot any, please feel free to point any out so that they can be corrected.
I would also really like to thank Upland Optics for sending in their Perception HD 10x42 for me to test and review as well as you for taking the time to read it and hope that it has been helpful to you.